Best Crypto Exchange Australia for 2023
So you're keen on signing up with a crypto exchange, or maybe you want to switch to another exchange but you're not sure where to start as there are so many these days.

We've done the research to bring you the best cryptocurrency exchanges to use in Australia. We've reviewed over 100 crypto exchanges comparing a huge range of factors. Factors including ease of use, trading fees, customer support, security and more.

Best Cryptocurrency Exchanges in Australia
Based on our research and reviews, these are the top crypto exchanges in 2023:
Affiliate Disclaimer: This site is supported by its visitors. We may earn a commission for purchases made through the links on our site, which helps keep everything running and grow the knowledge base.
To put together the following list, we reviewed the many bitcoin exchange options, looking at their security, fees, supported currencies, and other important factors.
Let's get into our crypto exchange reviews of the top crypto trading platforms Australia has to offer!
1. Swyftx: Best Australian crypto exchange

Country: Australia
Currency: AUD
Fees: 0.6%
Available cryptocurrencies: Over 300 cryptocurrencies
Despite hundreds of new platforms emerging on the maturing crypto market here in Australia, we believe Swyftx remains the best Australian crypto exchange! The reason is pretty simple – no other crypto exchange out there can provide a sleeker environment for AUD-to-crypto transactions.
Swyftx offers 200+ cryptocurrencies that you can trade against BTC, AUD, and even USD. What I really appreciate about this platform is that with Swyftx, l never have to worry about whether I can exchange my fiat money for crypto, as the platform supports all commonly accepted payment options in Australia — PayID, POLi, bank transfers, as well as credit and debit cards.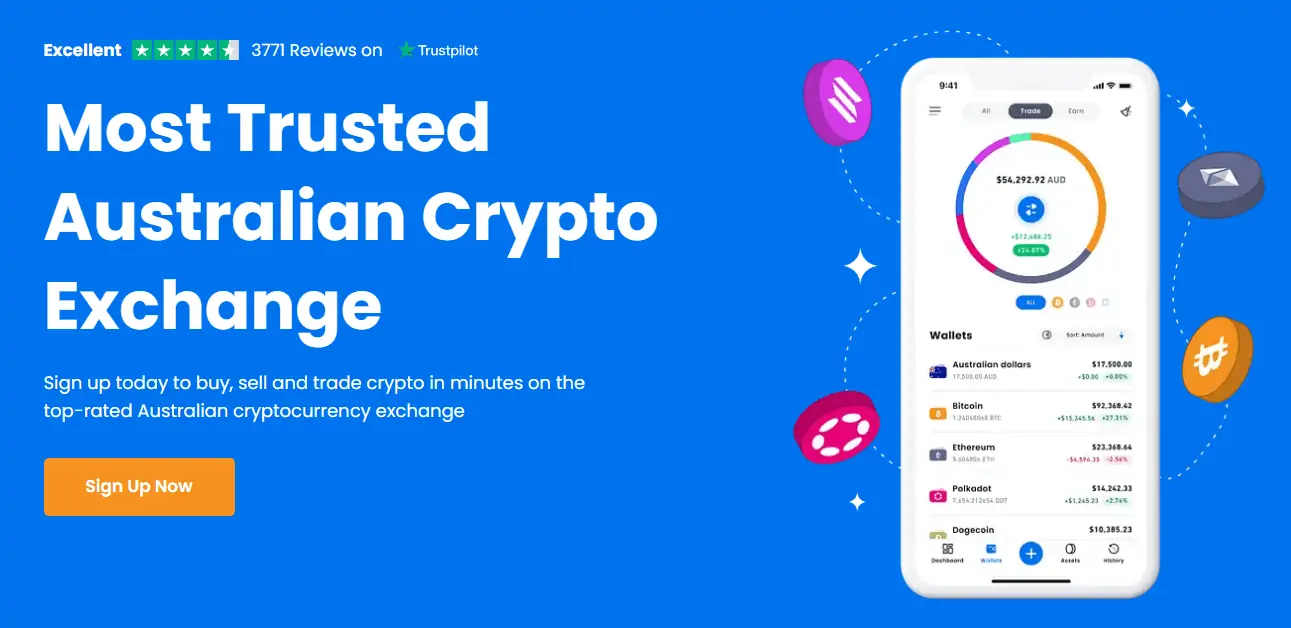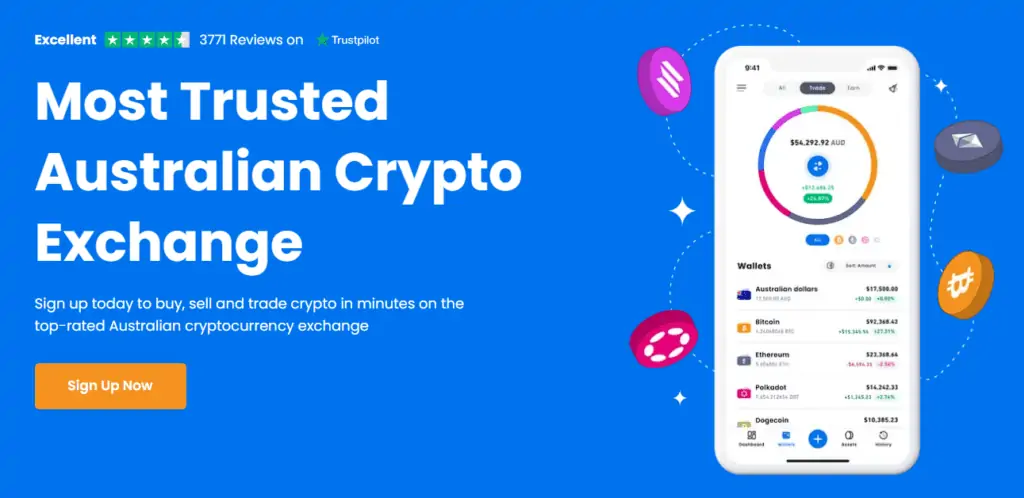 What's more, you can use Swyftx to buy, and swap coins, with incredible ease (they also have one of the best crypto apps). The user-friendly interface gives an immediate impression that Swyftx was designed exclusively for beginners.
However, I could also spot some advanced options while navigating through the platform, such as in-depth charing tools, which are pretty similar to what TradingView has to offer, as well as complex order types and automated recurring deposit features.
Another thing I like about Swyftx is its upfront fee schedule. The trading platform will charge you a 0.6% trading fee and 2 AUD for withdrawals and deposits under AUD 200 — there is a zero fee for deposits and withdrawals above this amount.
Finally, I'd like to point out that even though Swyftx is an AUSTRAC-registered company, fully compliant with KYC and AML policies, the verification process has been automated for further convenience — I was able to complete this stage in just a few minutes.
Pros:
Very user-friendly
Big range of cryptocurrencies
Fast verification process
Great mobile app
24/7 live chat support
Cons:
Available only for Australia and New Zealand
2. CoinSpot: Best crypto exchange for beginners

Country: Australia
Currency: AUD
Fees: 1%
Available cryptocurrencies: Over 100 cryptocurrencies
CoinSpot is a veteran of the Australian crypto scene, robustly providing brokerage services since 2013. As one of the best crypto trading platforms, Coinspot has never failed to amaze me with its easily navigable interface and attractive feature set.
Similarly to Swyftx, the platform supports various deposit methods adjusted to the needs of Australian users and multiple digital currencies, ranging from prominent options like Bitcoin to lesser-known altcoins.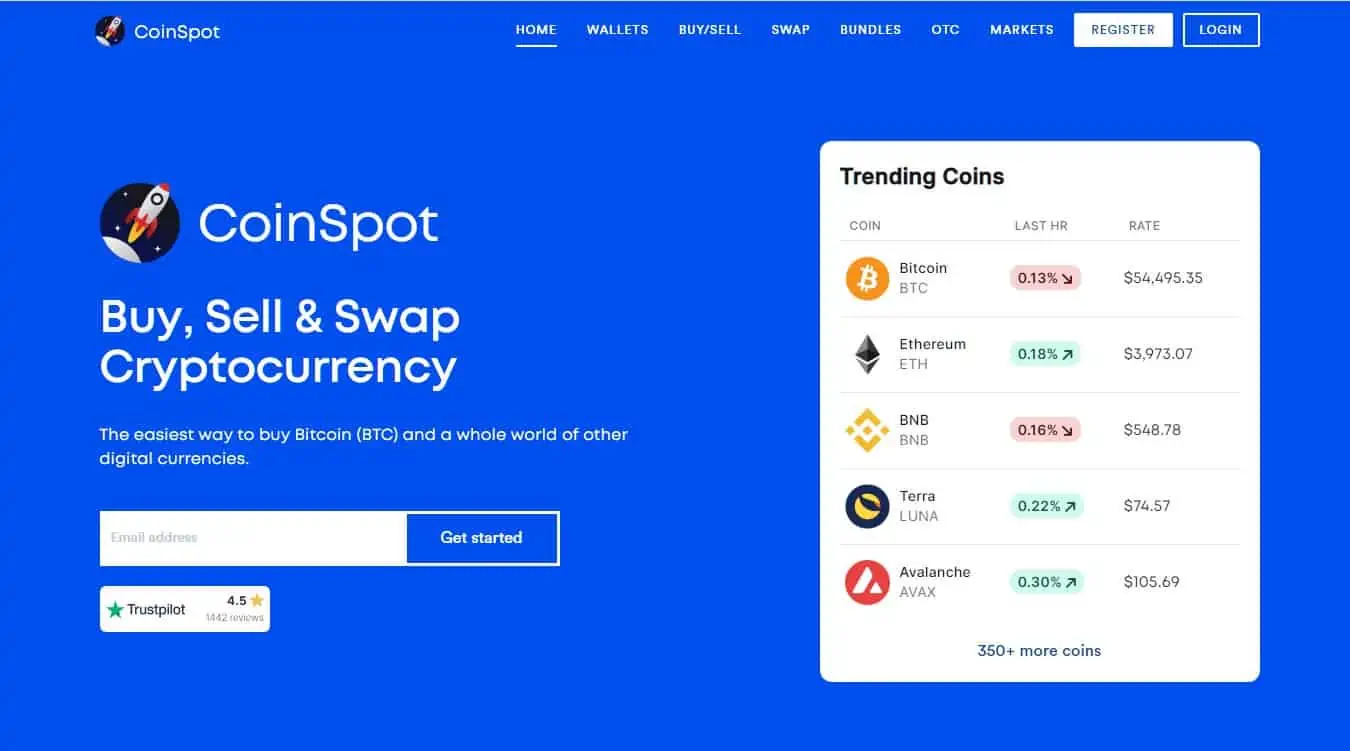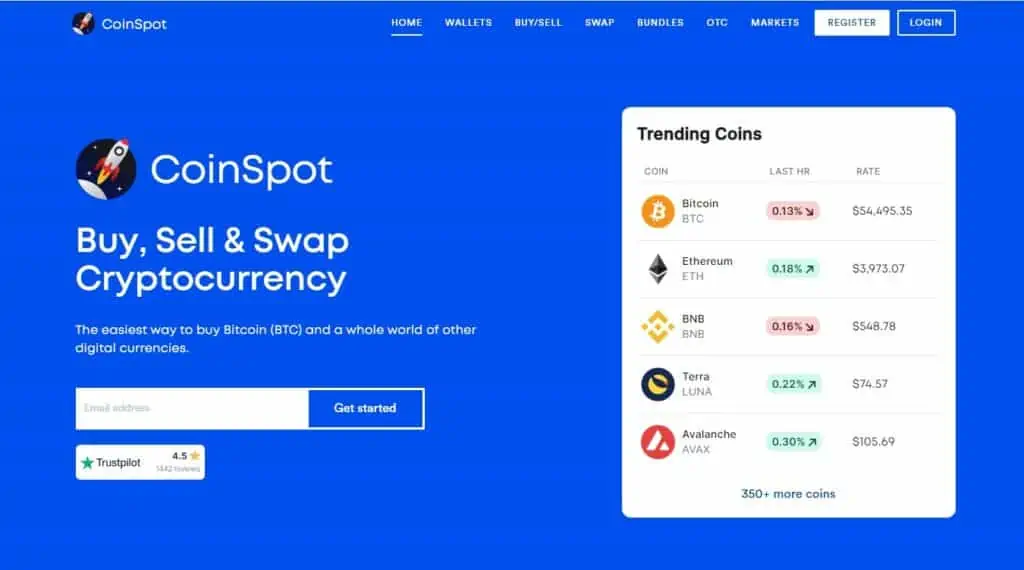 I share the opinion with the local crypto community, which regards CoinSpot as a very safe platform thanks to its institutional-grade security measures that protect its customers' funds and accounts. In fact, CoinSpot was the first Australian cryptocurrency platform to receive the ISO 27001 certification for information security.
Remember that you'll need full ID verification before making a move on CoinSpot. This includes providing a picture of a government-issued ID and a copy of a utility bill to prove your identity and residence.
Because of the impeccable customer service and user protection, let me warn you about the overpriced trading fees. CoinSpot will charge you 1% per transaction, which is much more than what is considered a standard in the industry — trading fees in the range of 0.20-0.25%. While CoinSpot is safe, easy to use, and has 24/7 customer support available, its slightly high fees are a significant downside.
Pros:
Recurring buys
Easy to use
No withdrawal fees
Cons:
No advanced trading platform
Higher trading fees
3. Binance: Best crypto exchange for day trading

Country: Global
Currency: Over 42 currencies
Fees: 0.1%
Available cryptocurrencies: Over 300 cryptocurrencies
Binance comes next in the series of best international exchanges adapted for the Australian market. Although I'd always recommend Coinbase before Binance due to its unparalleled ease of use, you should know that Binance is a global leader in all relevant success parameters — market cap, trading volume, liquidity, and traffic.
The platform targets a wider clientele with its endless list of trading options, from an immense spot-trading pit with over 400 trading pairs, margin trading, and derivatives trading, to a separate P2P market. All these options are well organized into separate modes or even separate platforms to provide smooth access for all categories of users.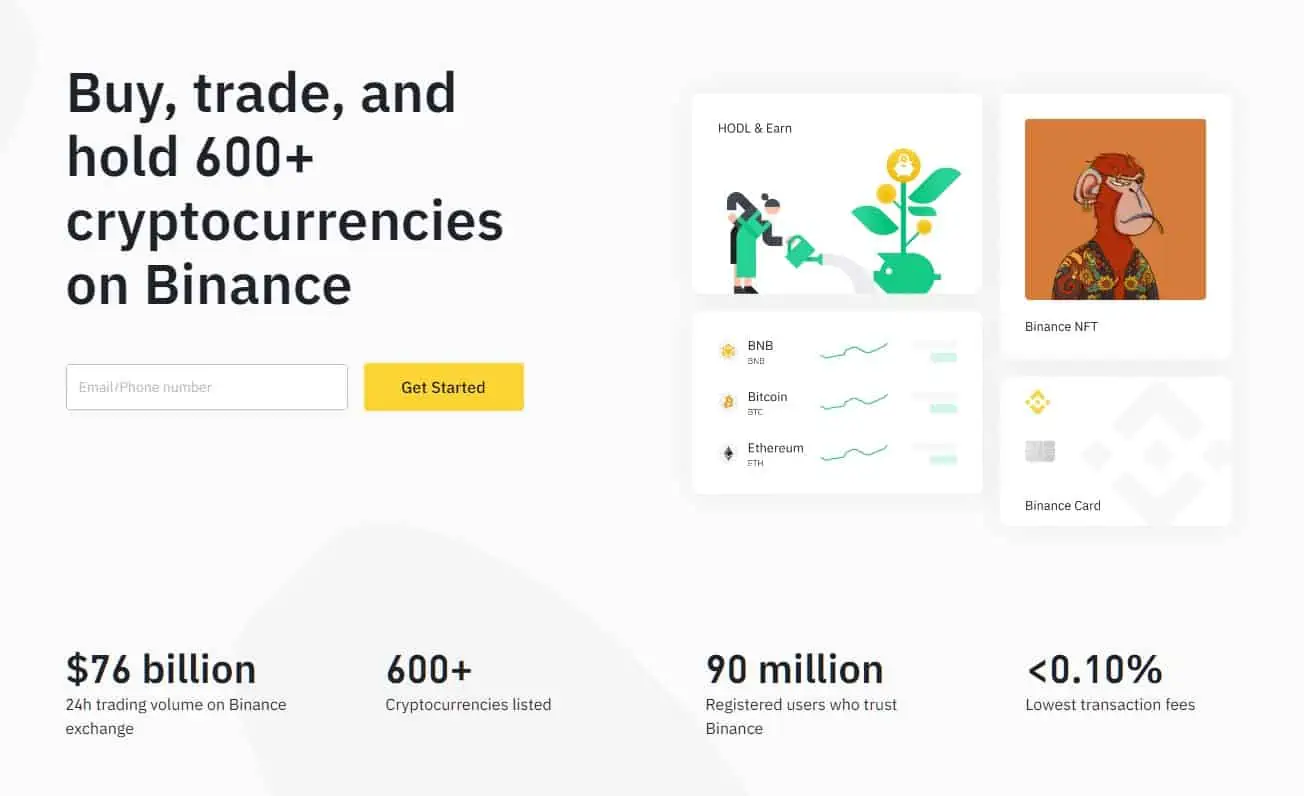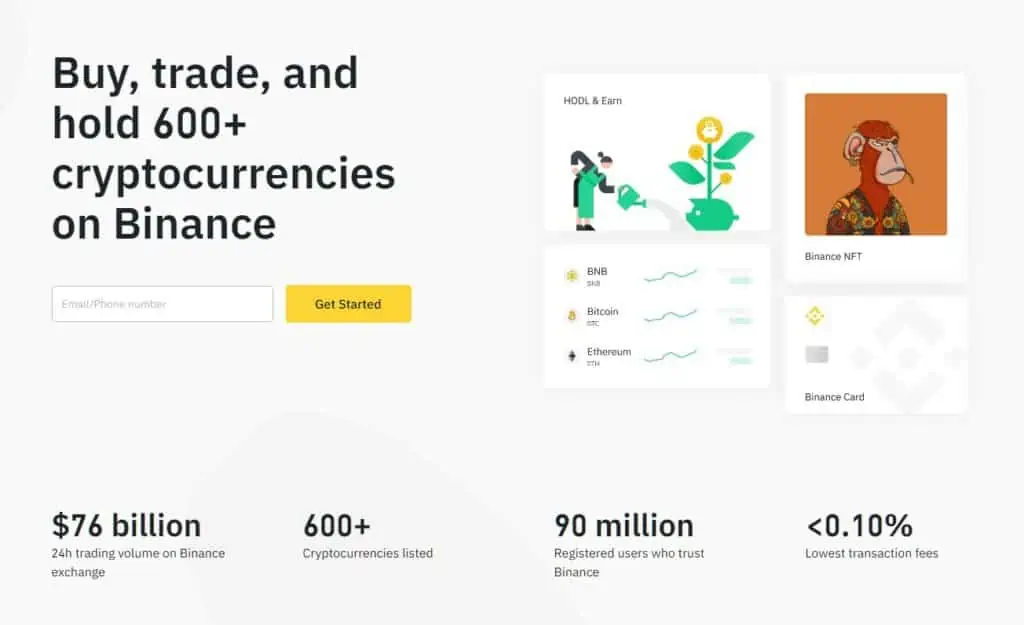 Personally, the most tempting feature of Binance is their super-affordable fees. Trading fees start from 0.1%, and you get an additional discount if you decide to use their Binance native token (BNB).
I was very pleased to learn that the company officially launched Binance Australia in July 2020, offering local traders instant AUD-to-crypto purchases, zero-fee deposits through PayID/Osko and the most favourable grounds for debit/credit card payments — a 1% fee per transaction.
Pros:
Advanced trading platform
Futures trading
A massive number of cryptocurrencies
Great trading fees
Highest liquidity on the market
Cons:
Not beginner-friendly
Customer support could be better
4. Bybit – Best for Experienced and Advanced Traders


Country: Singapore
Currency: 50+
Fees: 0.06% to 0.1%
Available cryptocurrencies: 160+ cryptocurrencies
Bybit was founded in Singapore in March 2018 and is comprised of experts from the forex industry, tech companies, and investment banks, and also the early adopters of blockchain. Bybit is registered as a crypto exchange within the British Virgin Islands and has more than 2 million users at the time of writing this.
Bybit is a cryptocurrency exchange platform that allows the option of spot trades and trading derivatives. They concentrate on margin trading, which can provide up to 100 times leverage for BTC/USD and ETH/USD trading pairs.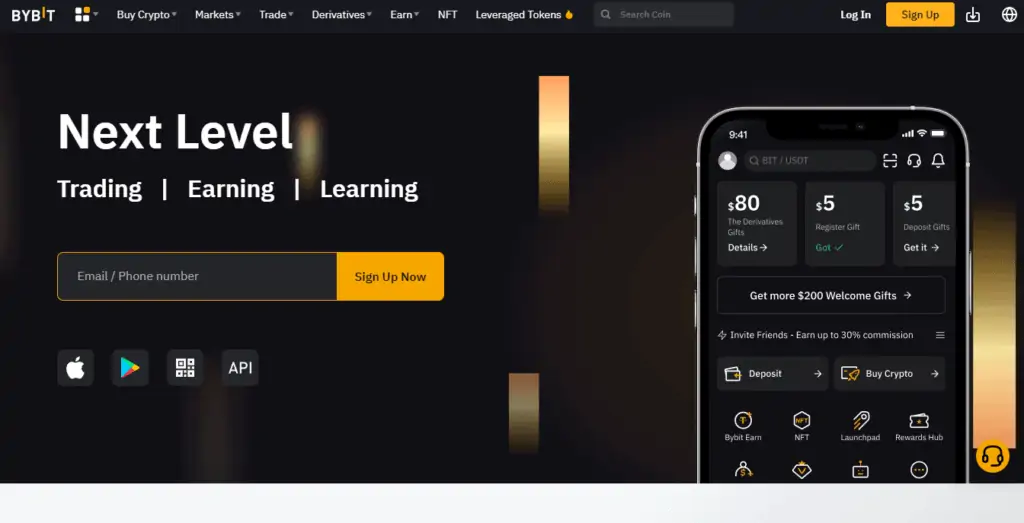 Bybit is a great cryptocurrency trading platform since it is a specialist in advanced crypto trading. This implies it offers a wide array of features ideal for beginners and experienced traders.
Apart from a range of other trading platforms for crypto, Bybit also has a Testnet platform that allows users to try out trading in crypto without having to spend any money or cryptocurrency. This feature is ideal for people who are just beginning their journey and would like to learn about trading without spending money.
In terms of Bybit costs, which comprise fees for withdrawals, deposit fees, and trading. The cryptocurrency exchange is competitive.
Bybit doesn't charge any fees for deposits. However, there are fees for withdrawals and trading charges. In the case of derivatives, the cost ranges from 0.1 percent to 0.06 percent. In the case of spots trading, the cost is 0.1 percent.
If you are having issues regarding Bybit, or have any issues with Bybit do not worry, as they offer a live chat support service that is available to assist you at any time of the day.
Pros:
Offers margin trading, which you can trade crypto up to 100x leverage
Advanced crypto tools and features
Offers a Testnet platform where you can practice trading and technical analysis
Cons:
NFTs can't be purchased with AUD
5. Independent Reserve: Best exchange for OTC purchases

Country: Australia
Currency: AUD, USD, and NZD
Fees: 0.5%
Available cryptocurrencies: 13 cryptocurrencies
Independent Reserve has been around for quite a time now, serving over 200,000 users since 2013. For me, it has remained one of the most trustworthy marketplaces in Australia, which should be a key factor amid the multitude of fly-by-night virtual businesses popping up every day.
Not just one of the best bitcoin exchanges, Independent Reserve offers a selection of around 10 different cryptocurrencies — which is too little for my liking but you'll certainly find Bitcoin and other best-sellers like Ethereum, Ripple, and Cardano. AUD deposits for residents are widely accepted through PayID, POLi, and wire bank transfers, which is not the case for credit and debit cards.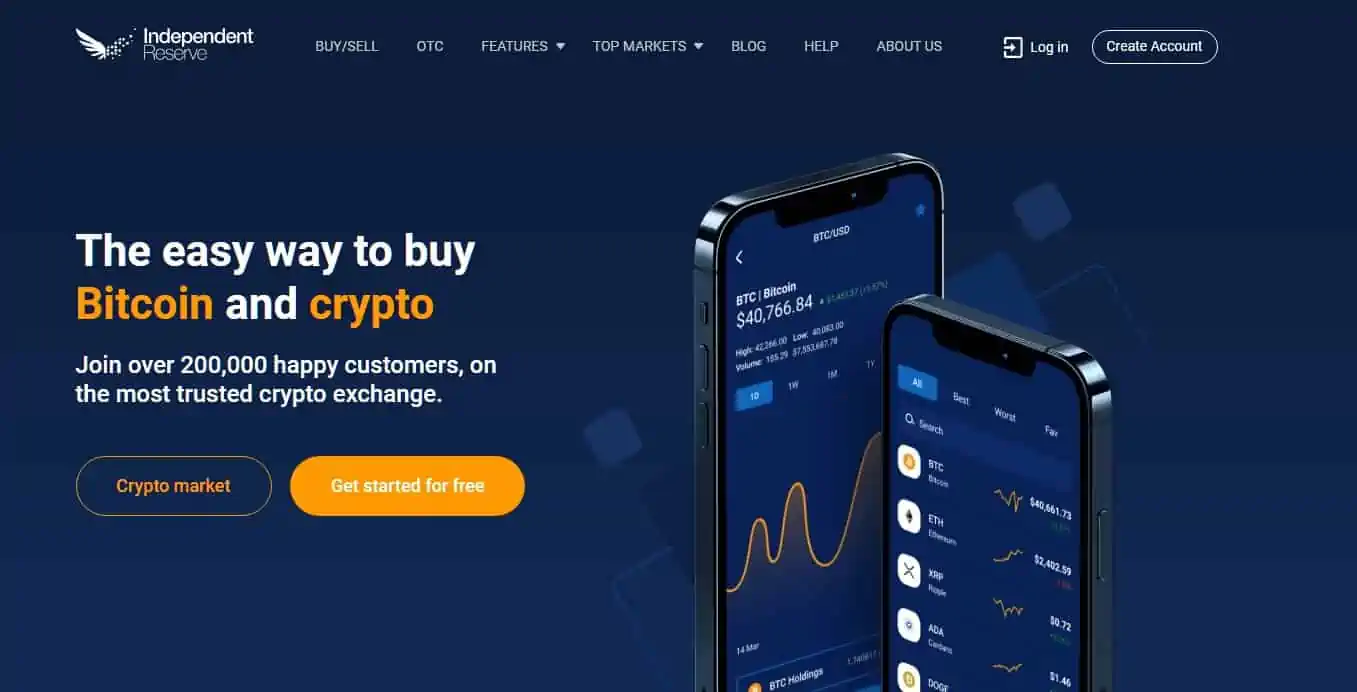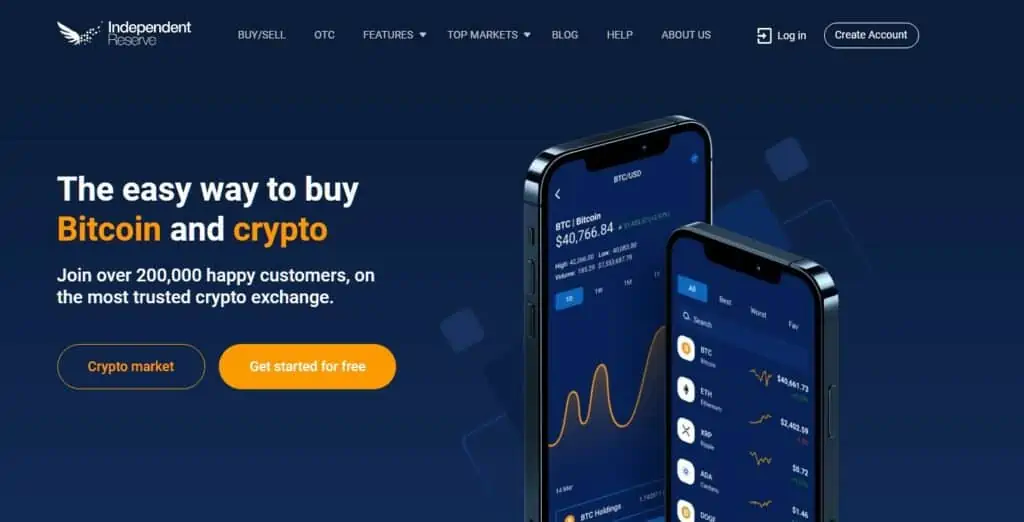 My first reaction to the IR interface was discouraging, as it seemed rather difficult to follow. However, after spending some time on the platform, I realized it's fairly comprehensive despite the multi-layered presentation of different trading options. However, it still keeps a professional touch because of the option for advanced order types, automated trading strategies, the possibility to "hire" a personalized OTC broker, and a tax calculator tool for your crypto earnings.
Regardless of the user category you belong to, I bet you'll be perfectly fine with the IR fees that start from 0.5% and can be lowered down to 0.02% as your trading volume rises over a 30-day period.
Pros:
Cons:
A limited number of cryptocurrencies on offer
6. Crypto.com: Best exchange for passive income


Country: Singapore
Currency: USD, NZD, SGD, JPY & 15+ more
Fees: 0.04% to 0.4%
Available cryptocurrencies: 250+ cryptocurrencies
Crypto.com is a fantastic cryptocurrency trading platform accessible on both desktop and mobile. It is not just a place to purchase and sell digital assets however, there are many additional options like the marketplace for NFT, Visa debit card, earning, and staking.
One of the primary reasons Crypto.com is so well-known is that it provides more than 250 crypto coins for users to purchase, sell or trade. The cryptocurrencies supported are BTC, ETH, XRP, ADA, DOGE, SOL, as well as CRO (their native token).
The benefit of CRO is that it allows you to put it in a position to cut down on the cost of trading and earn rewards. Additionally, it can offer cashback on purchases using the Visa debit card.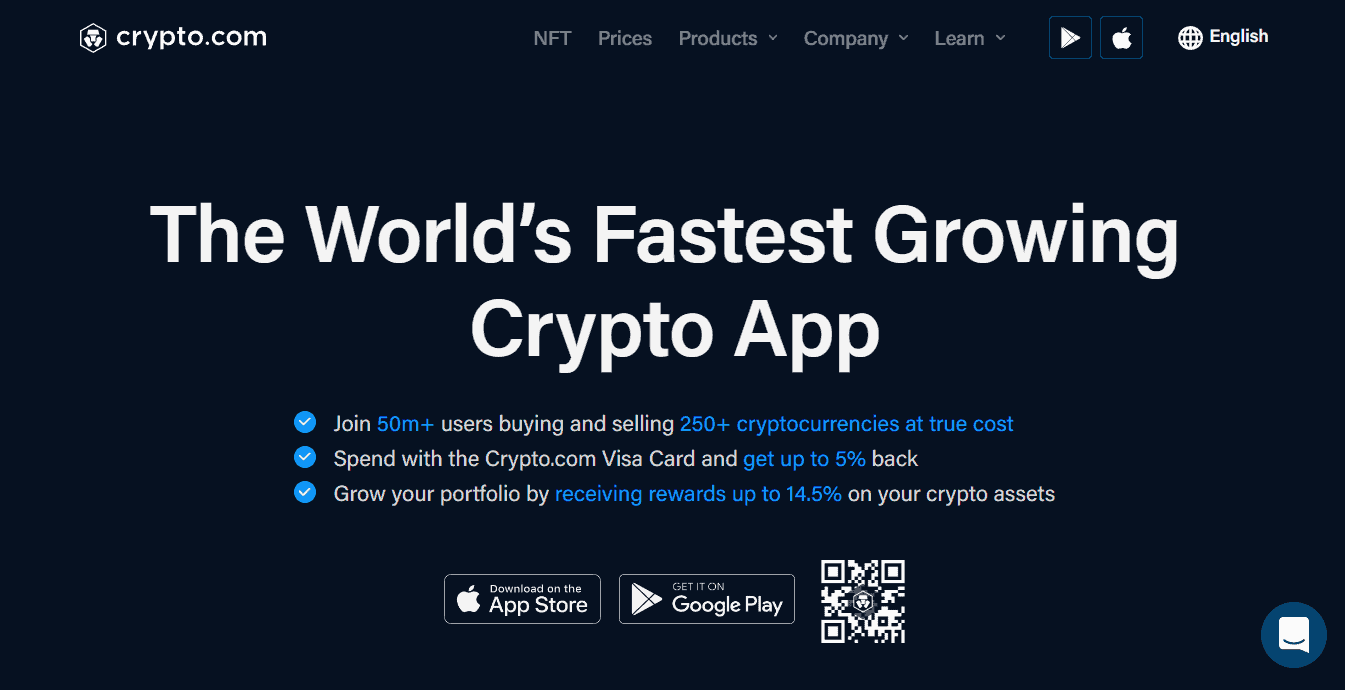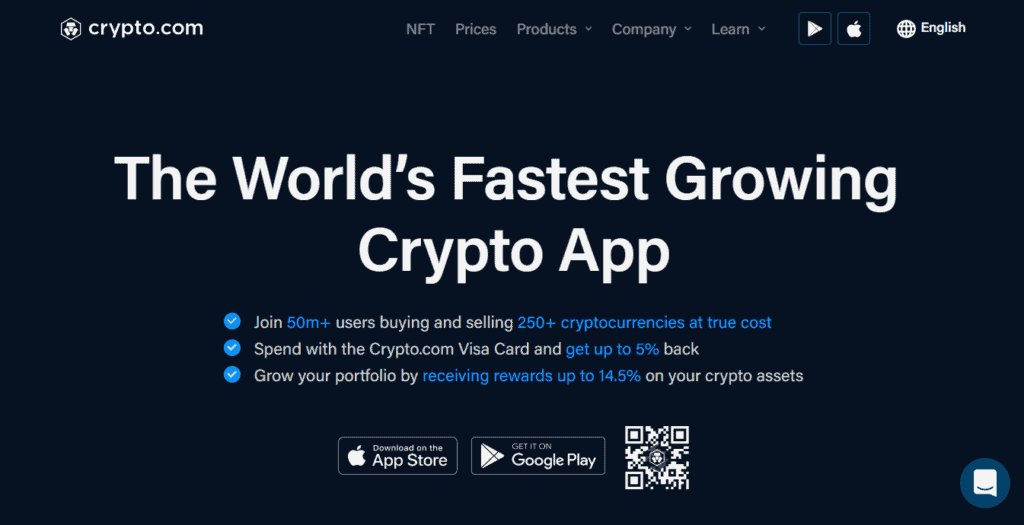 Crypto.com also has a metallic Visa debit card. Apart from being stylish, it also offers numerous advantages. This card lets you earn various rewards based on the card level you own – which is determined by the amount of CRO coins that you put in.
You could earn up to 5 percent cash back on purchases. You can also get 100% cash back for Spotify and Netflix subscriptions, and 10 percent rebates on Expedia or AirBNB bookings, and even airport lounge access!
One of the major benefits of Crypto.com is Crypto.com Earn which enables you to earn interest from your cryptocurrencies, while hodling the assets. There are over 40cryptocurrencies that can be staked with the company, and the dividends are each week credited to the cryptocurrency you own staked. You can even increase the rate of interest or yield from your crypto staked dependent on the amount of CRO coins you've placed a stake in.
Then, Crypto.com comes with an outstanding customer service. The most appealing aspect is that they provide live chat support available to assist you at any time during the day. If they are busy, however you can expect to be responded to via email at a later time and you are able to reply to their email via Live Chat if you like. In general, Crypto.com's support team is fairly responsive, regardless of the level of activity. The email ticketing system is also useful when you're not in a hurry.
Pros:
Derivatives and margin trading are available on desktop exchange
Insurance cover on crypto assets
Lend and borrow crypto assets fast and easily
Crypto.com Visa debit card comes with 5% cashback
Cons:
Crypto.com Visa card may need currency conversion fees
7. Coinbase: Biggest US cryptocurrency exchange

Country: United States
Currency: USD, GBP, EUR, and more
Fees: 4%
Available cryptocurrencies: 40+ cryptocurrencies
On a worldwide scale, Coinbase is my favourite marketplace for all sorts of buy-and-sell crypto activities. This exchange runs as an entry-level brokerage service providing the most amicable environment for instant crypto purchases.
Launched in 2012, Coinbase was one of the first bitcoin exchanges I've ever visited and I can tell you that it has always been in line with the ongoing design and functional trends of crypto trading. However, it's been a bit stiff when it comes to expanding the list of supported cryptocurrencies. Coinbase works with around 40 mainstream crypto coins and has a very strict policy known as the Digital Asset Framework that thoroughly processes the "candidate" currency metrics such as its demand, liquidity, and market capitalisation before the company decides whether to support it or not.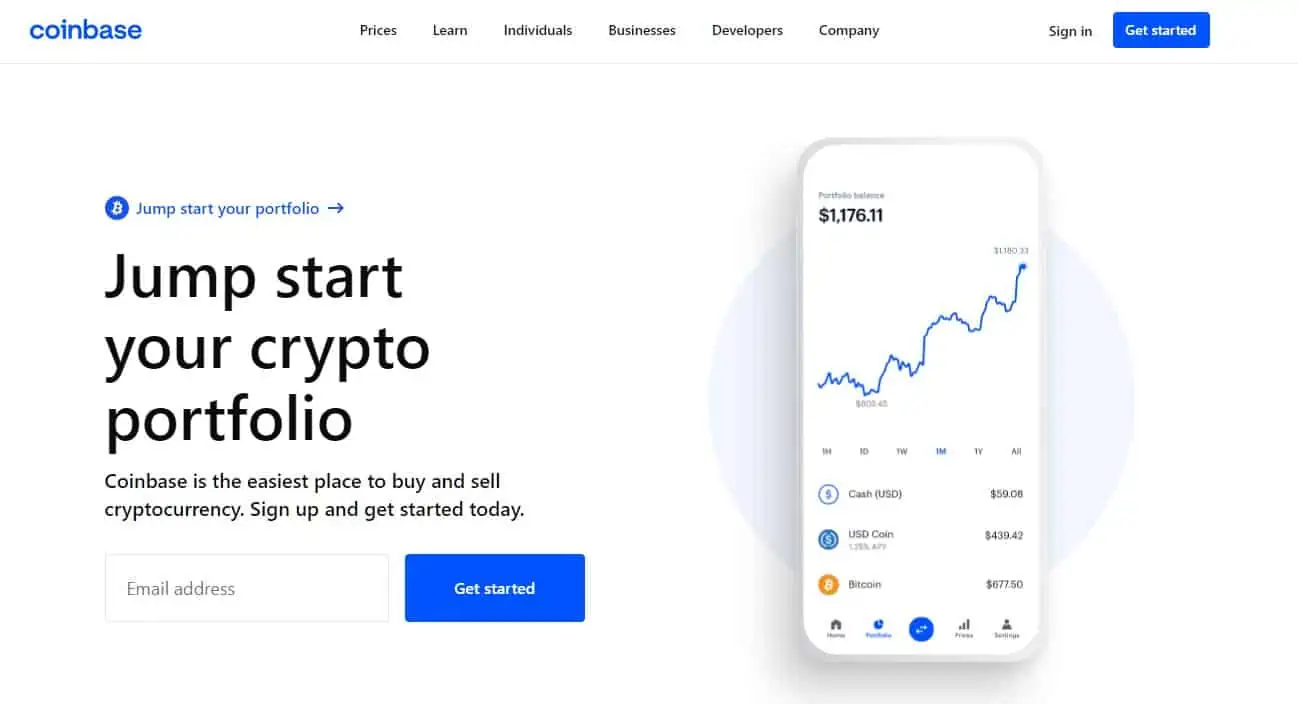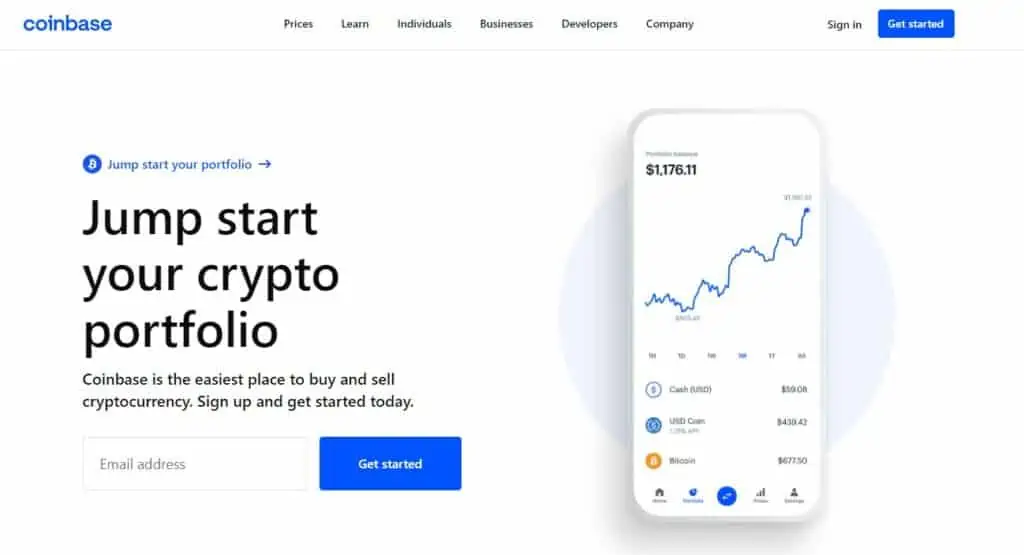 Apart from the exceptional ease of use, I'm sure that Coinbase's popularity lies in its regulatory compliance practices. This US-based trading platform is a FinCEN-registered Money Services Business that has obtained multiple licenses from valid financial regulators. This also means that Coinbase requires a full ID verification.
Although Australian residents are widely welcome on the Coinbase platform, AUD-to-crypto purchases are available with debit cards only. The ease of use comes with a certain price — this service costs 3.99% per transaction.
Pros:
User-friendly
Coinbase Pro for advanced traders
Global and trusted
Cons:
8. Coinjar: Longest running exchange in Australia

Country: Australia
Currency: AUD & GBP
Fees: Varies
Available cryptocurrencies:

50+ cryptocurrencies
I highly regard CoinJar as one of the first players on the Australian crypto scene, actively operating since 2013. It's a well-known marketplace among the local Bitcoin community as it enables easy AUD-to-crypto purchases through their bank accounts. Moreover, it's one of the very few Australian bitcoin exchanges that allow cash funding through Blueshyft terminals.
Concerning the main scope of operation, I'd say that CoinJar is focused on instant crypto purchases and sales. As a typical brokerage service, the exchange features easy navigation, fast transactions, and a neat interface. In return, it charges handsomely for the smooth service — 1% per transaction. Furthermore, an additional 1% is added for each fiat withdrawal settled on your Australian bank account and 1.5% if you make a deposit through Blueshyft.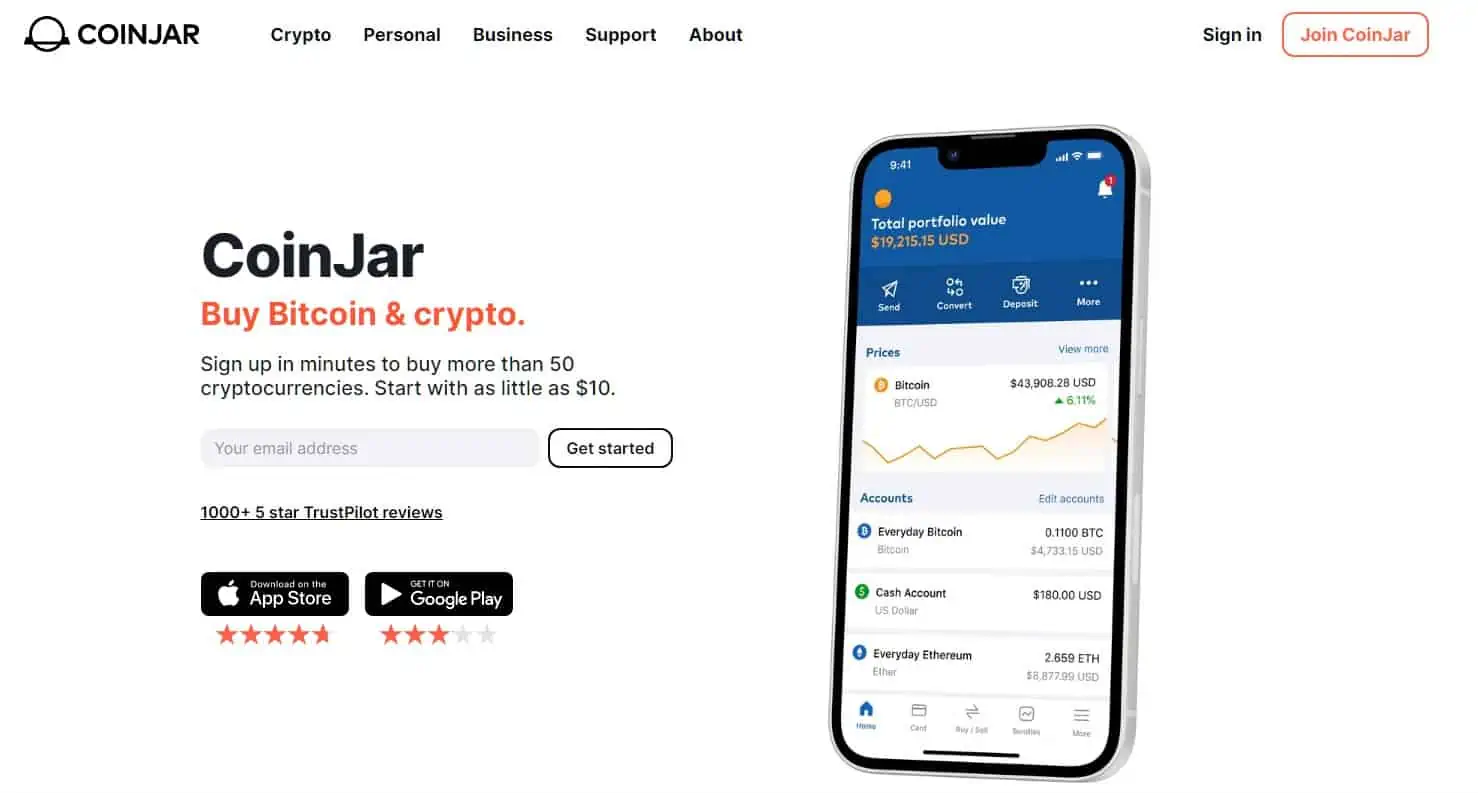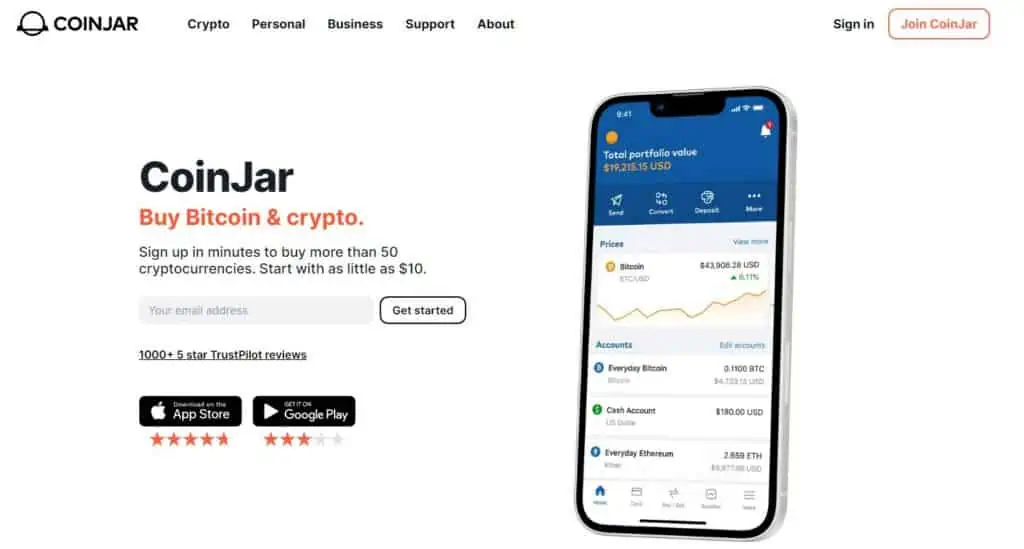 For crypto-savvy users, CoinJar offers a professional crypto trading platform with selected crypto-to-crypto pairs and, in comparison to other Australian-native exchanges, a decent selection of charting tools and market indicators. The trading fees here are drastically lower than the brokerage market, starting from 0.1%.
Their handy CoinJar Card enables people to easily spend their crypto like cash (whether it's online or in-store). It's powered by Mastercard, has no fees, and earns you CoinJar Rewards with every purchase!
CoinJar is an AUSTRAC-registered business and fully complies with the local AML practices. CoinJar also employ high-security measures such as 2FA, cold and multisig online storage, and website encryption.
Pros:
User-friendly
Bundles and recurring buys
CoinJar Mastercard
CoinJar reward points
Cons:
Limited range of cryptocurrencies
9. Kraken: Leading global crypto exchange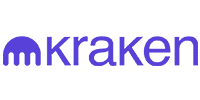 Country: US
Currency: 7+ Currencies
Fees: 0.26%
Available cryptocurrencies:

50+ cryptocurrencies
If you ask me, Kraken has built its high reputation on the basis of its impeccable security standards and user protection. This US-based exchange to buy and sell crypto has been present in the highest ranks of the global crypto realm since the early Bitcoin stages.
Kraken's founder, Jesse Powell, was a first-line witness of the unfortunate fall of the largest exchange at the time, MtGox, and he knew that users' trust comes before anything else in such a volatile ecosystem.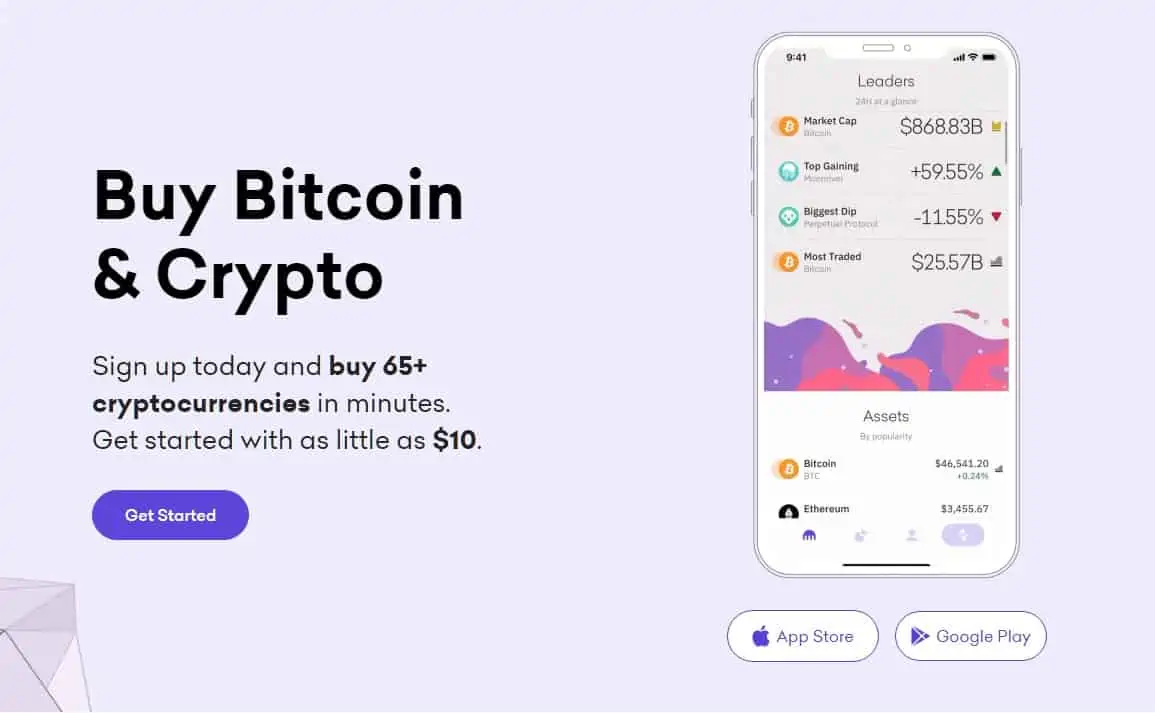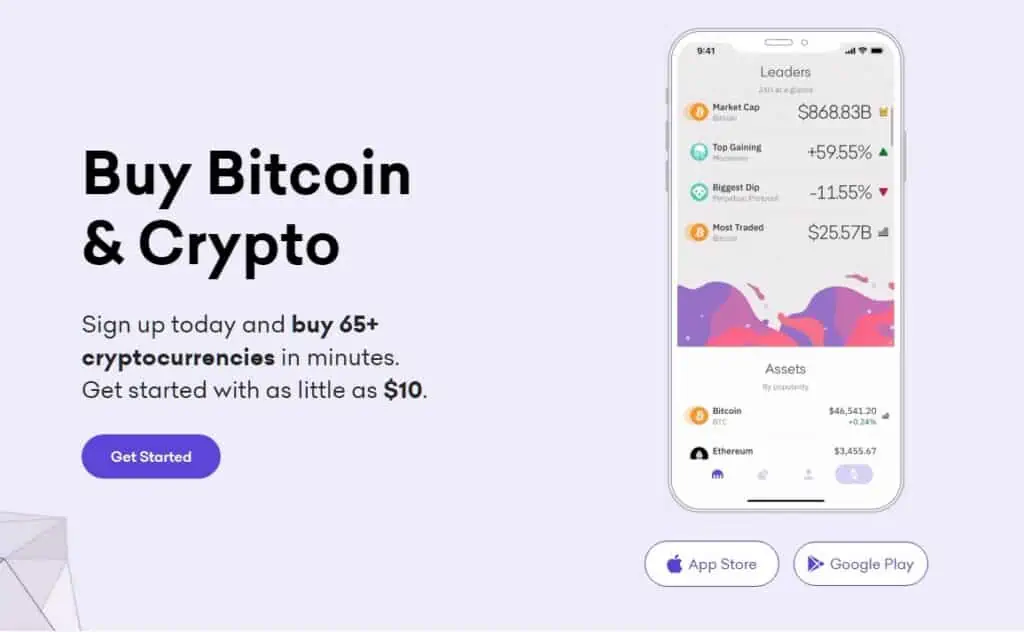 Thus, he and his dedicated team built a reputable marketplace that, from what I've read, has a corporate backup by prominent financial institutions in Japan and Germany, which keep over 90% of Kraken users' funds in cold storage. The exchange has become a mainstream brand — it provides its services across 175 countries worldwide and accepts 7 different fiat currencies including AUD.
When I tried to make an AUD deposit, OSKO was the only given option. I must point out though, the account funding was free of charge but it took nearly 2 business days to be completed.
Finally, trading fees on Kraken are much lower than I could expect from such a robust service. They start from 0.26% and are in line with the industry standard together with the common differentiation between takers and makers. When you take into account the stability and quality of the crypto trading services against the size of the trading fees, they come out as a real bargain.
Pros:
Great security
Trusted and international platform
Wide range of fiat currencies
Cons:
High minimums on deposits and withdrawals
10. BTC Markets: Popular Australian exchange


Country: Australia
Currency: 3+ Currencies
Fees: 0.22%
Available cryptocurrencies:

17+ cryptocurrencies
Established in 2012, BTC Markets is another Australian-native crypto exchange that I consider worthy of your attention mainly because of its wide field of cryptocurrency trading opportunities and excellent customer support. My first impression was that BTC Markets was tailored exclusively for advanced crypto traders but its interface is coherent enough even to those who're making their first moves into the crypto game.
I really like how BTC delivers top-notch tech solutions powered by TradingView, where you can trade with 20 supported trading pairs that have either AUD or BTC as an underlying asset. TradingView ensures multi-scope charting tools and a variety of market indicators for a fully professional bitcoin trading experience. With regard to fiat options, I was able to make AUD deposits through OSKO, BPAY, or PayID.


On top of this, I was really glad to find out that BTC Markets supports the most popular advanced order types such as take-profit, stop-limit, and time-in-force orders. Active users on the BTC Market can take advantage of SMSF (Self-Managed Super Fund) — a sophisticated tool for reporting taxes that operates in a personalized manner.
As for the fee structure, I want to add that for BTC-based pairs, you'll pay a fixed amount of 0.22%, while trading fees for AUD pairs depend on your 30-day trading volume.
11. Easy Crypto: Newer exchange in Australia/NZ

Country: Australia
Currency: AUD
Fees: 0.90%
Available cryptocurrencies:

130+ cryptocurrencies
For those who insist on keeping their crypto holdings safe in their hardware wallets, I'd like to recommend Easy Crypto — a non-custodial crypto service that focuses on providing a user-friendly environment for trading cryptocurrency. The exchange was founded in 2017 and it currently has 5 registered offices across several countries, including Australia.
First, I'd like to emphasize that Easy Crypto operates on a retail level, which makes crypto trading a "come-and-get-served" process as opposed to placing orders on a chart-based platform that requires a bit of crypto fluency for proper interpretation of trading tools.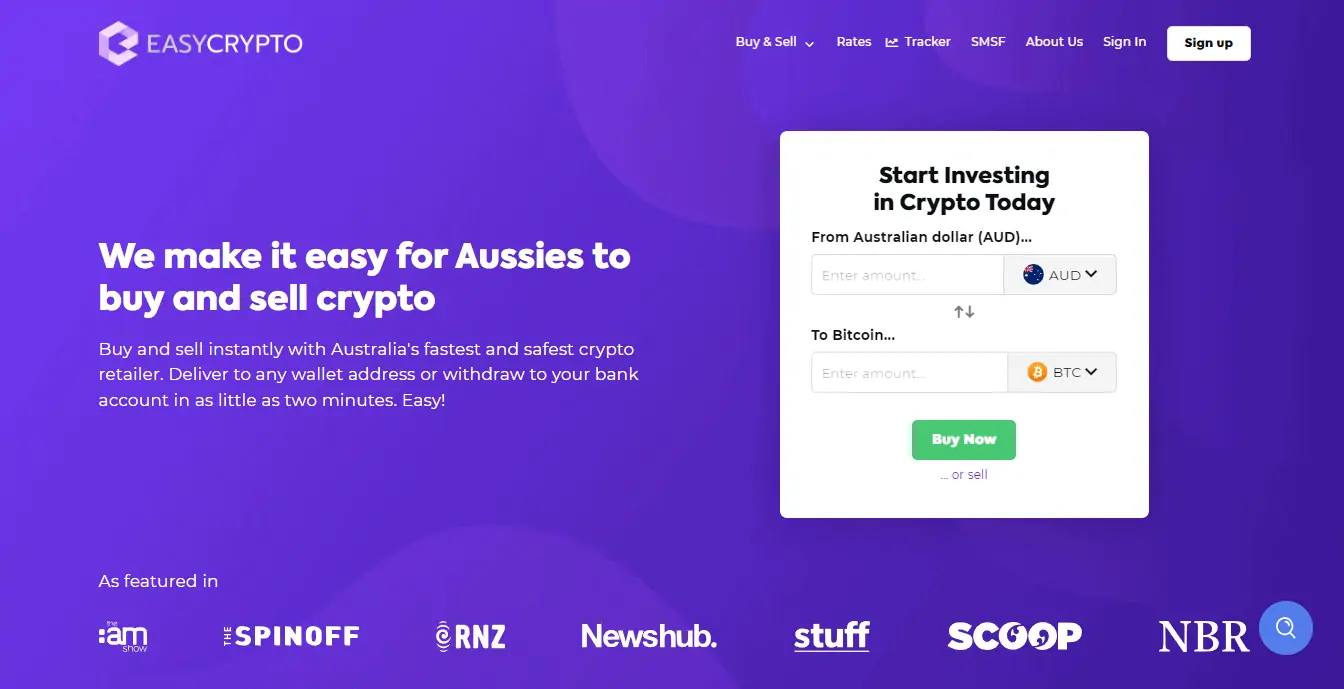 Thereby, don't get surprised if you notice a sharp difference in trading fees while observing the features of different cryptocurrency exchanges. Retailer crypto services ensure guaranteed execution of your order as to some extent, they do "the hard job" instead of you. The fees that I came across on their page are unacceptable for me but you may be fine with them if you're a one-off investor who prefers time-efficiency over price. Namely, you'll be charged between 0.70% – 0.90% on every single purchase and sale on Easy Crypto.
However, there is a super-convenient feature that I like and that is the possibility to make purchases and sales directly through your bank account. This option will certainly protect you against additional multi-layer conversions, which can be double-priced or considerably time-consuming if, for example, the exchange accepts only BTC as an underlying or settlement currency.
12. eToro: Best for CFD crypto trading

Country: Israel
Currency: AUD, CAD, EUR, SGD, GBP, NZD, USD, and more
Fees: 1% – Varies
Available cryptocurrencies:

70+ cryptocurrencies
eToro is one of the most prominent brokers in the world, established in 2007. The company offers Aussie traders and investors access to different kinds of markets under one account. eToro users can trade crypto, ETFs, stocks, indices, commodities, and forex (but of course, we will be mainly discussing crypto here).
The main factor that sets eToro apart from the competition is their focus on what's called 'social trading. eToro has a social media platform that enables their users to interact with other traders and investors, and even copy-trade successful traders automatically. This aspect makes eToro an ideal start for beginners to learn.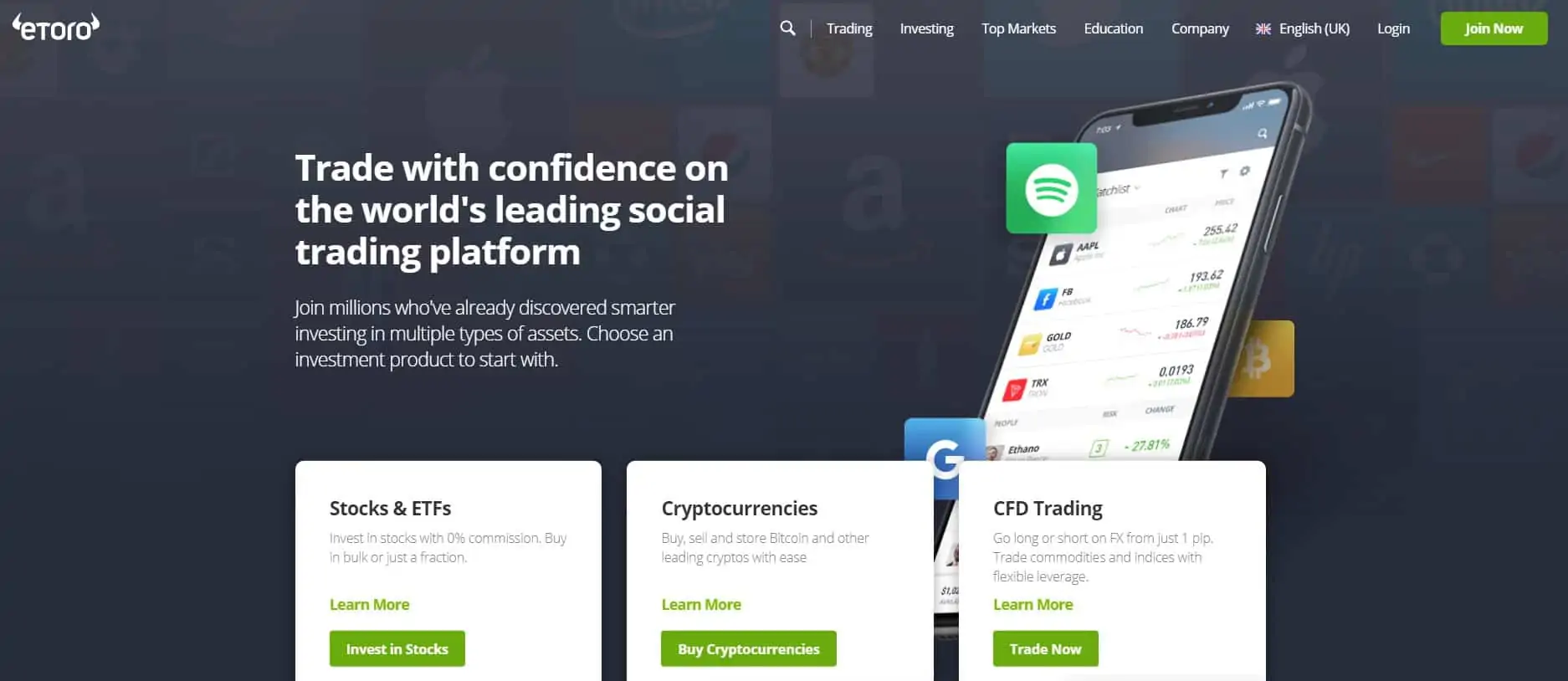 eToro boasts an easy-to-use and simple interface that is suitable for both newbies and seasoned traders alike. They also has a mobile app for both Android and iOS users to help their users stay on top of their trades and investments, anytime and anywhere.
As for supported cryptocurrencies, eToro supports 75 different crypto assets, including the most popular cryptocurrencies out there such as BTC, XRP, ETH, BNB, DOGE, and ADA. Compared to well-known crypto exchanges, you'll notice that eToro has a small range of supported cryptocurrencies, but that's understandable as they are not a specialized crypto broker. But what sets eToro apart from full-time cryptocurrency exchanges is that not only can you purchase the actual crypto, but if you want, you can also trade crypto CFDs.
Overall, eToro's popularity in Australia, and in the rest of the world, is because of the different kinds of features offered by the platform such as safe, secure, and regulated broker, deposits using POLi, debit card, credit card, PayPal, or bank transfer, social media platform, margin trading, CFDs trading, crypto staking, decent number of cryptocurrencies, demo account, user-friendly interface, and many more!
eToro AUS Capital Ltd ACN 612 791 803 AFSL 491139. eToro offers both real crypto assets as well as crypto assets as OTC Derivatives.
Real crypto assets are unregulated & highly speculative. Being unregulated, there is no consumer protection. Your capital is at risk.
Leveraged positions and short positions are OTC Derivatives, which are regulated financial products. OTC Derivatives are considered risky financial products, speculative and include leverage. Not suitable for all investors. Capital at risk. See PDS and TMD
13. MEXC: Best Liquidity and Supported Number of Coins


Country: Singapore
Currency: USD, NZD, AUD
Fees: Futures: 0.02/0.06% (Maker/Taker), Spot: 0.2%
Available cryptocurrencies:

BTC, MEXC, ETH, EOS, BCH, LTC, and 1,520+ more
MEXC is the most suitable option for cryptocurrency traders with advanced skills, who are looking for a wide range of currencies, diverse markets, and high liquidity. On MEXC traders can make spot transactions and margin trade (with up to 130x leverage) as well as derivatives trade and have access to more than 1,520 coins as well as 2114 trading pairs. It will be difficult to find a trading platform with greater selection of coins than MEXC.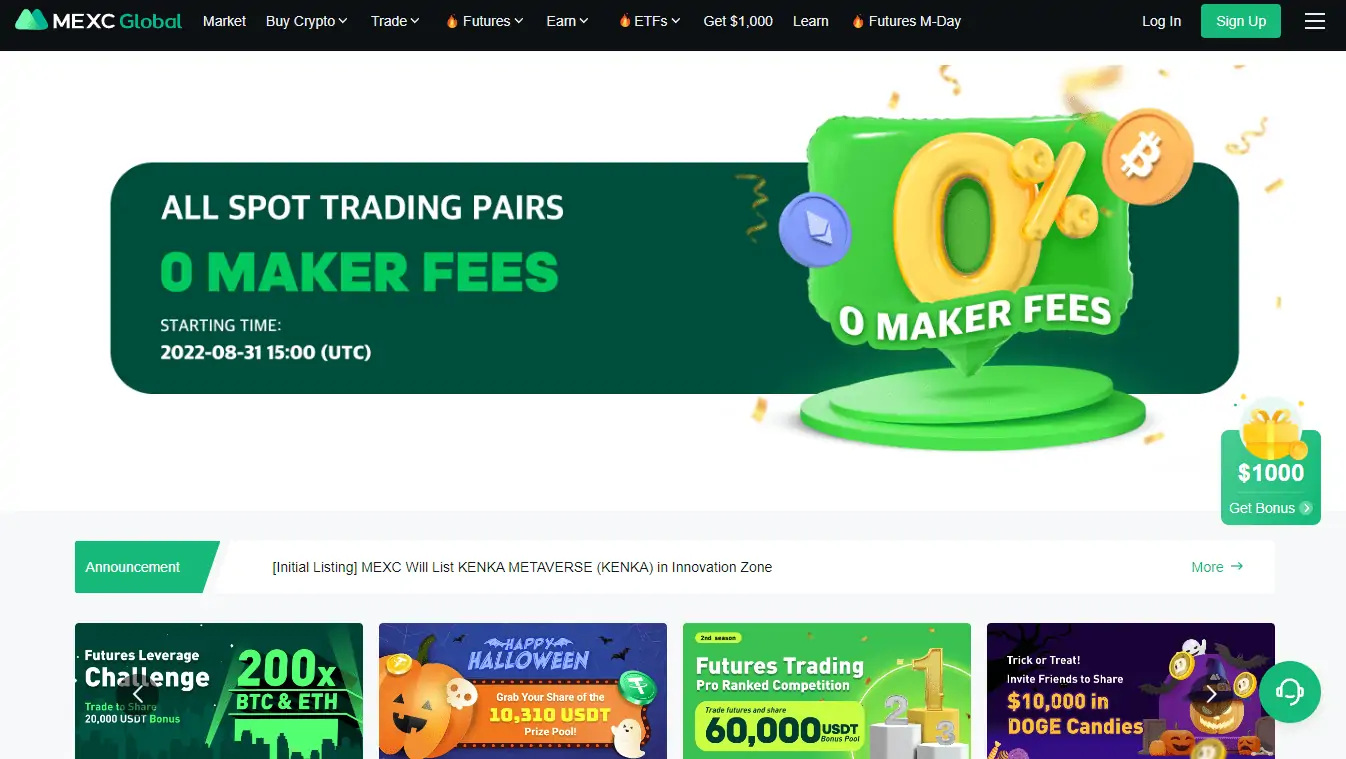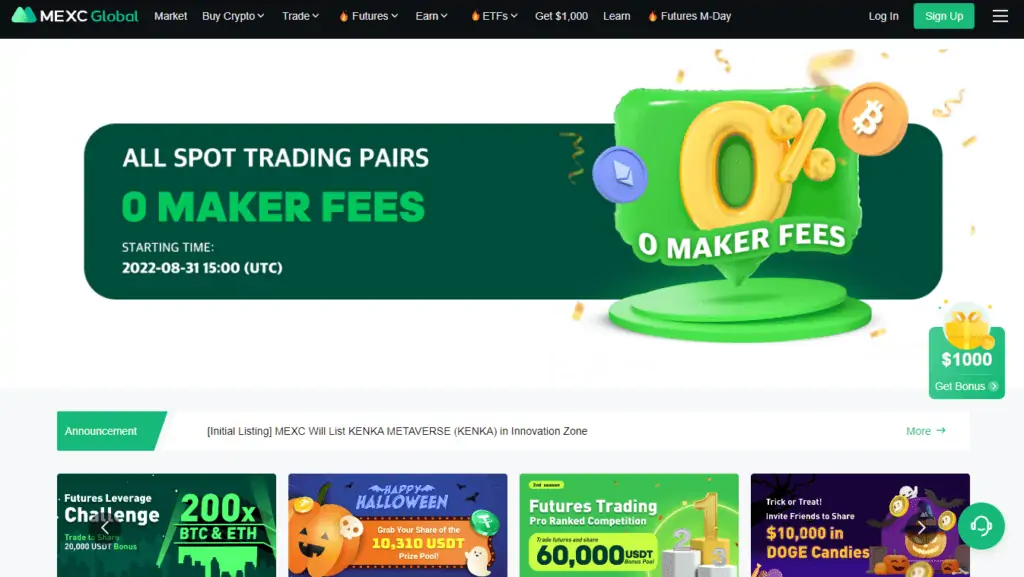 The fees for trading are extremely minimal, with just 0.2 percent for spot trading and 0.02/0.06 percent (maker/taker) to trade in futures. If you sign up using our link, you'll also get 10% off all fees associated with trading and $25 USDT for free. Apart from normal trading, there's also copy trading available on MEXC. For those who aren't familiar about this concept it's a type of trading that allows you to automatically execute the identical trades with a profit-making investor you choose. This is a fantastic feature for those who don't have time to conduct a thorough technical study of the market prior to making trades. Another feature that is beneficial is the trading bots for free that are available in the exchange. You can configure them according to your preferences and trading will take place 24/7 even when you're sleeping or not online.
MEXC has extremely high liquidity and boasts the highest level of liquidity of any cryptocurrency trading platform that includes crypto giants like Bybit, Binance, KuCoin and Huobi. When you examine the below graphs of liquidity for BTC/USDT and ETH/USDT you'll notice that MEXC is far ahead of its nearest rival Bitget and the rest of the competition is nearly insignificant. That means, even are a very large quantity trader, you transactions will be processed immediately.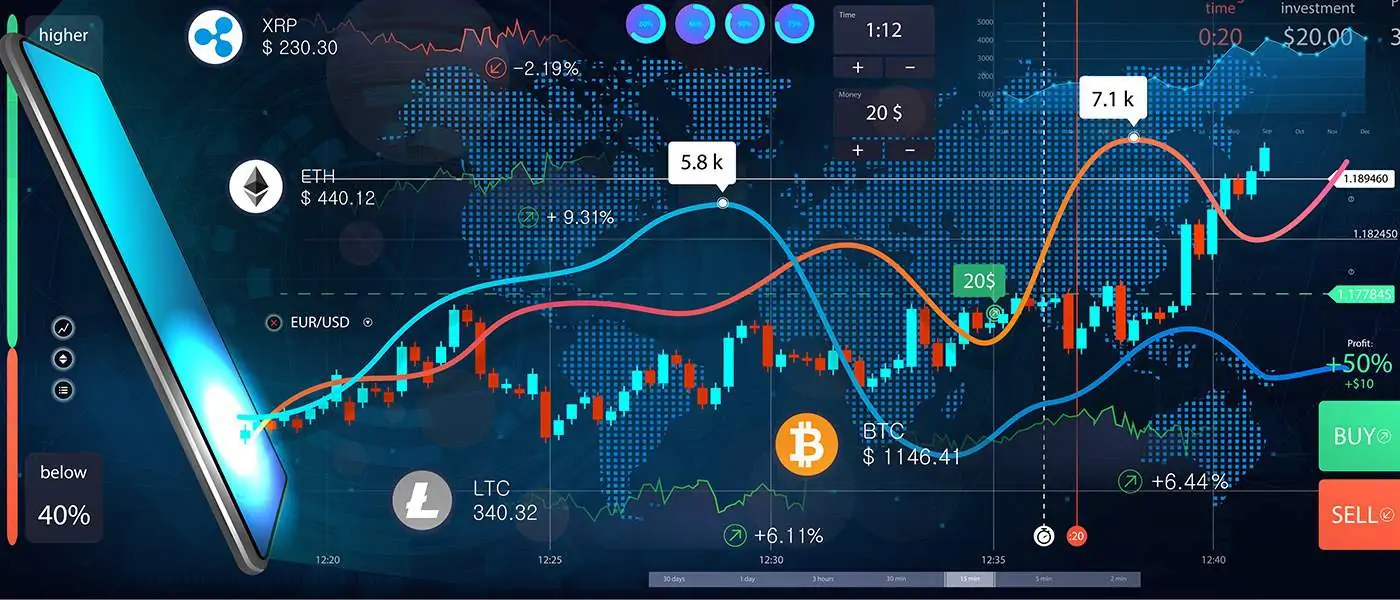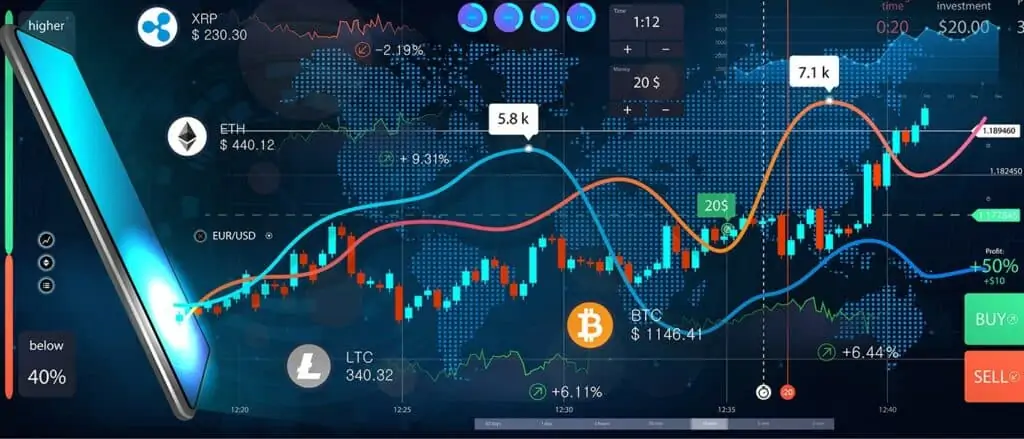 How to choose a Crypto Exchange in Australia
While the different types of crypto exchanges and the numerous available options can make it daunting for anyone to choose the best option, there are certain factors that you can look for to help you make the right decision.
User-Friendliness: If you are new to crypto trading, then we recommend looking for platforms that are user-friendly and have little or no learning curves.
Supported Cryptocurrencies: There are a LOT of different cryptocurrencies that you can trade with. If you already have a target cryptocurrency, ensure that the crypto exchange supports it.
Transaction Fees: When comparing two or more crypto exchanges, it could help to go for the one whose fees are more reasonable to you. Also, find out whether withdrawals and deposits incur costs.
Payment Methods: You should also look at the payment methods the crypto exchange offers. Can you pay via a debit or credit card? In some cases, opting for a fiat-to-crypto exchange is better because you might need to deposit fiat currencies to purchase your first coins.
Security: Regardless of the crypto exchange you go for, you must feel assured that your funds and data are safe. As such, always look at the security methods each platform uses. Ensure that the exchange at least offers cold storage, a withdrawal whitelist, and two-factor authentication.
Customer Support: Ensure that the customer support team is responsive. Reading some user comments and reviews can give you an insight into how helpful the exchange's customer team is
How to use a crypto exchange
It is easy to use a cryptocurrency exchange. Most platforms have simplified the process. Here are the steps:
Compare exchanges to find the one that suits your needs.
Register and create an account at the exchange
Verify your identity (KYC).
You can fund your account with AUD by using any of the available payment options like PayID, Polipay, bank transfers or credit/debit cards.
Once funds have been transferred to your account, you can start searching for the cryptocurrency that you want to trade.
Click the Buy button and enter the amount in either AUD or cryptocurrency.
Best Crypto Exchange FAQs