1inch Exchange Review 2023
Centralized cryptocurrency exchanges (CEX) have a long history of platform vulnerabilities, yet they have consistently had a significantly greater trading volume than any decentralized exchange platform (DEX) despite this fact. Moreover, DEXs provide their clients with total ownership over their digital resources, whereas CEXs demand traders to make deposits into their trading accounts before engaging in any transactions. Nonetheless, as compared to CEXs (like Binance, OKEx, Gemini), the DEXs remained quite a few.
Although DEXs (like Uniswap, SushiSwap, or Bancor) were originally considered a niche market, with the emergence of the decentralized finance idea (DeFi), they have now surfaced as the new, developing crypto niche on the market. Over the course of 2020, DeFi projects rose to prominence by introducing governance tokens and yield farming initiatives.
As a result of these developments, the new trading platforms oriented themselves toward bringing together decentralized protocols and automated market makers (AMM) to promote cost-efficient and reliable atomic transactions. This came as a perfect solution to the liquidity problem of the DeFi platforms, as the increased number of users contributed to the liquidity of these decentralized exchanges. The 1inch Network is one of these platforms. Stay with us to learn more about it.
About the 1inch Exchange
Established by the Russian developers Anton Bukov and Sergej Kunz, 1inch is not your usual cryptocurrency exchange. Instead, it primarily serves as a DEX aggregator. For this, the platform uses a variety of specialized protocols to search a number of high-liquidity decentralized exchanges for the lowest rates.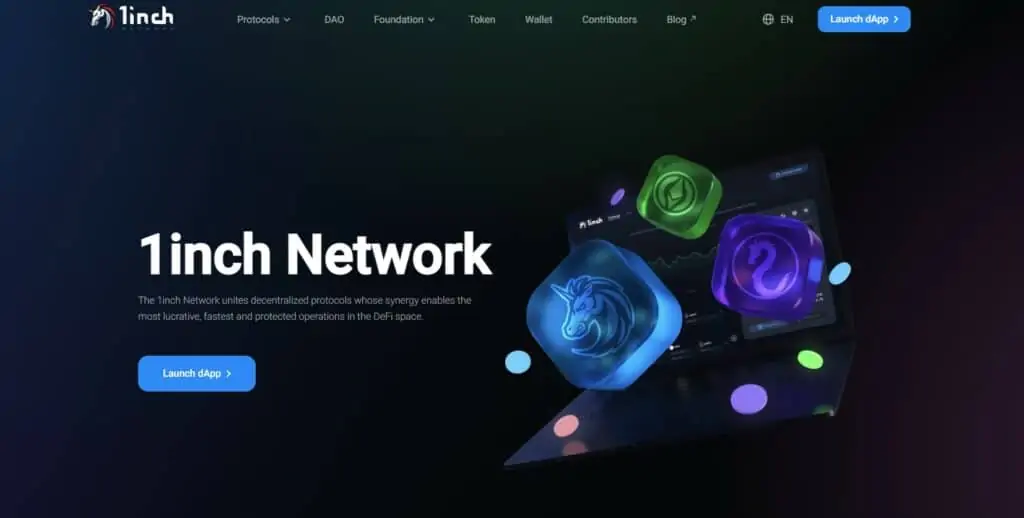 Then, it redirects its clients' trades between these exchanges. As a result, 1inch ensures that the customers of this decentralized exchange platform will get the best rates for their token swaps. Additionally, users can execute limit orders on a great array of tokens available through this exchange aggregation.
It's interesting to know that the founders of 1inch exchange had created a separate site for yield farming called Mooniswap. When the 1inch platform was released in December 2020, Mooniswap was deprecated.
How Does 1inch Exchange Work?
The 1inch aggregation protocol aggregates liquidity from several trading platforms and is able to spread a specific trading operation over several DEXs in order to secure the best possible pricing for all parties involved.
Next, the aggregated information is delivered by the aggregation protocol via various exchange mechanisms and networks. One of its essential components are Ethereum's smart contracts.
1inch V3 Smart Contracts
The 1inch v3 smart contract is the central component of this 1inch protocol which is responsible for authentication of the transaction during its runtime. The same protocol has also been integrated in Uniswap, SushiSwap, 0x Relayer, MultiSwap, Kyber Network, Curve, and Balancer as they are all Ethereum-based DEXs.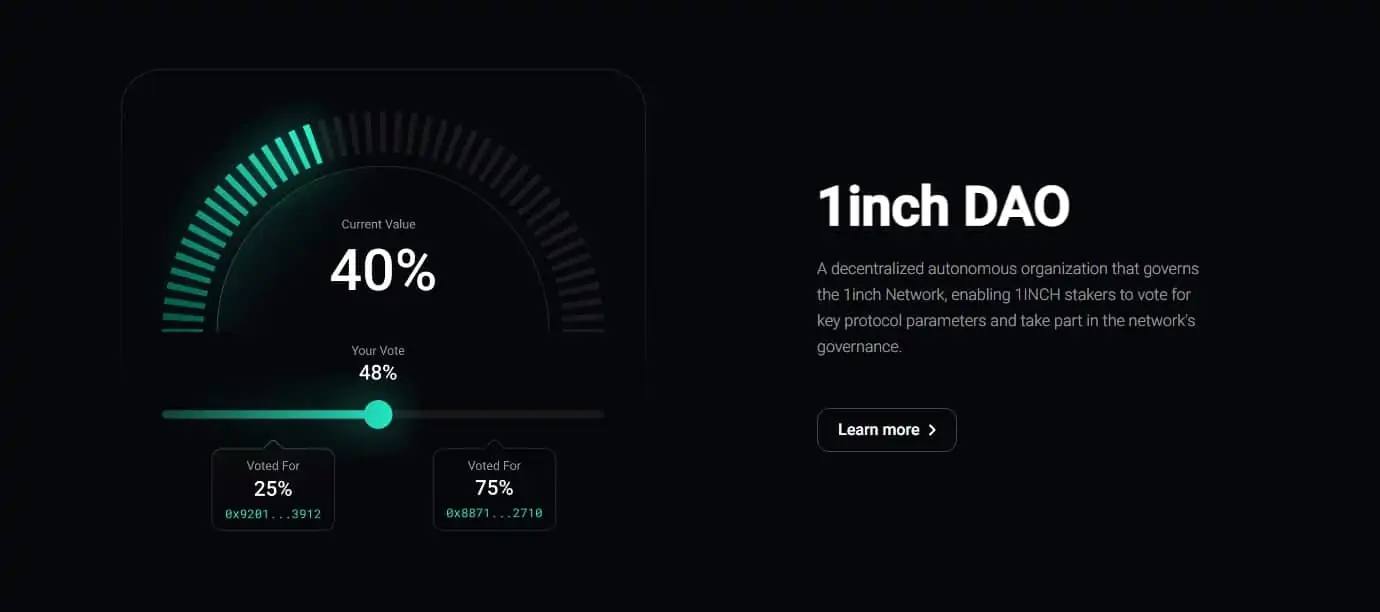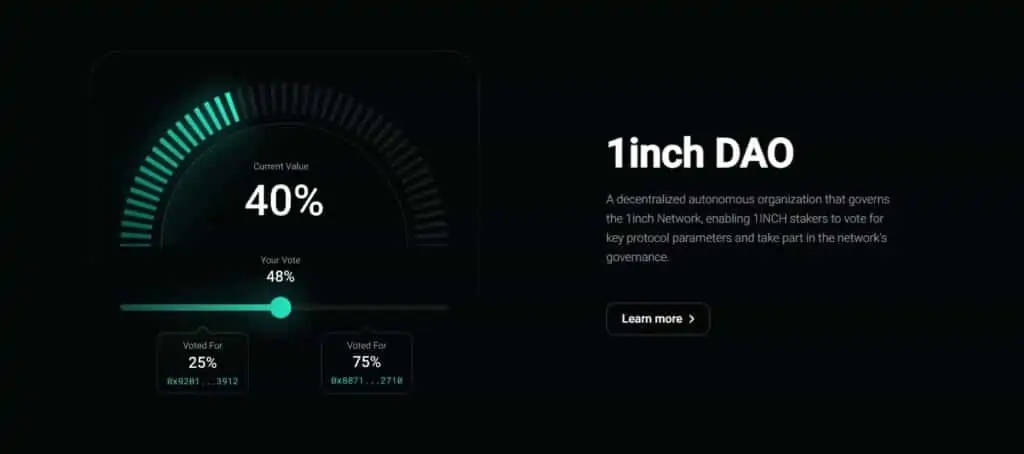 Consequently, even if the user interacts with an untrustworthy liquidity provider, the assets of the user are protected. As the smart contract guarantees the safety of the user's funds, this protocol may be utilized in different information aggregation platforms, such as Pathfinder. Regarding the safety of the assets, it's worth mentioning that the 1inch exchange also functions as a non-custodial network since it doesn't store any of the user's assets on the trading platform.
Infinity Unlock Feature
All trades on the 1inch platform are completed in a single transaction from a user's Ethereum-based wallet using the Infinity Unlock function. This function was designed to decrease transaction costs and time by unlocking all tokens at the same time rather than rolling them out individually.
How to Trade and Stake on 1inch Exchange?
Users may benefit from three key services provided by the DEX aggregator and liquidity algorithm: trading, staking, and liquidity mining. In order to start trading with 1inch, all you need to do is open a web3 wallet (preferably MetaMask) and connect it to the platform by clicking on the 'Connect Wallet' button. After your wallet is connected, you will see your Ethereum address at the top of the 1inch's UI.
When it comes to staking on 1inch, you'll need ETH to pay for the network charges, as well as some digital currency in your web3 wallet (WalletConnect, TrustWallet, MEW, or Ledger). By tapping on the DAO tab of the 1inch UI, you'll open the staking section. If you own at least one 1 INCH token in your digital wallet, then you'll need to unlock it by simply clicking on the dedicated button.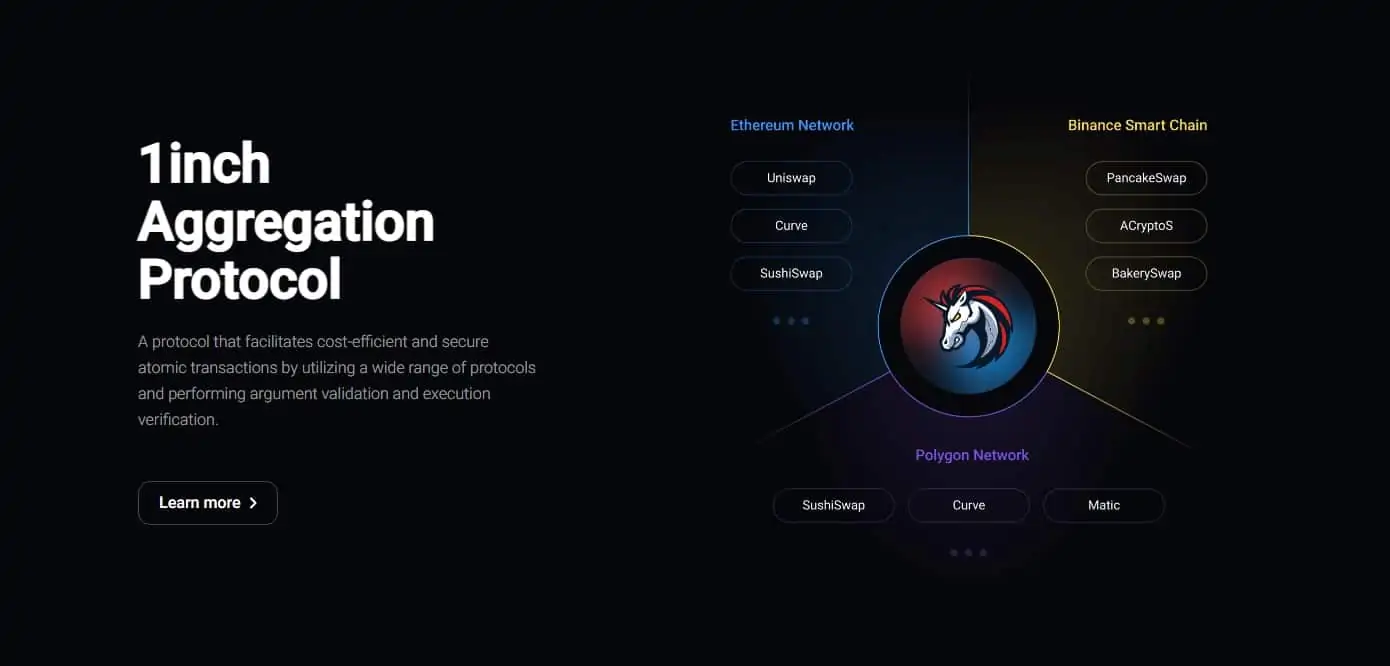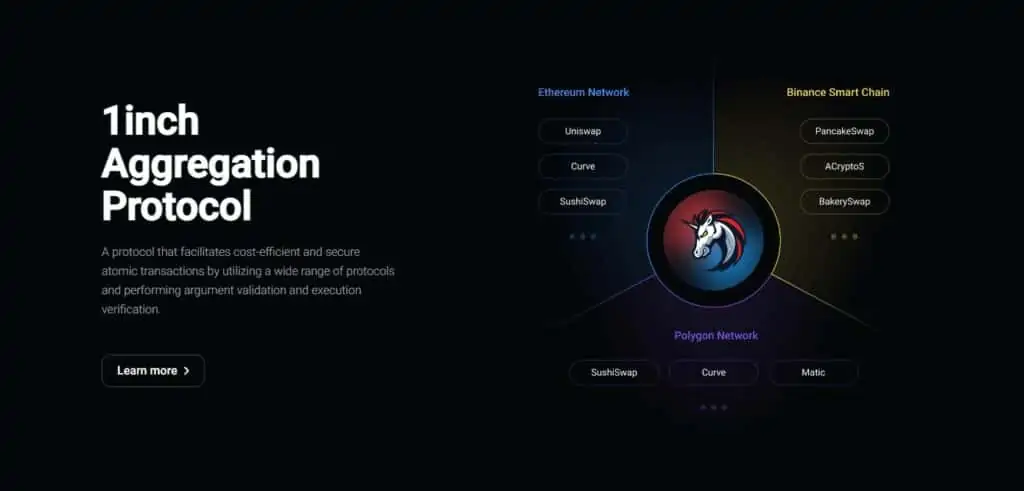 Next, indicate whether you'd want a one-time lock or the "Infinite Lock" for your transactions, and confirm the request. Finally, complete the transaction by inputting the number of tokens you wish to stake and press the 'Stake Token'. That would be it.
The 1inch exchange also provides liquidity mining programmes, as an excellent opportunity for clients to generate income by contributing coins in the liquidity pool of the exchange. In this way, liquidity providers facilitate the trades on the platform, but also obtain token incentives as a compensation for their contribution.
The 1INCH Token
Launched in December 2020, 1INCH is the governance and utility token of the 1inch exchange. It's a multichain token that is now accessible on the Ethereum blockchain network, as well as on the Binance Smart Chain (BSC). The BSC merger was carried out through bridging, with no additional tokens issued.
Moreover, the 1INCH utility token is most commonly used in the 1inch Liquidity Protocol and the 1inch Liquidity Protocol's governance modules as a connector, to enable high-efficiency routing. This token is also used to manage all present and potential protocols on the 1inch Network.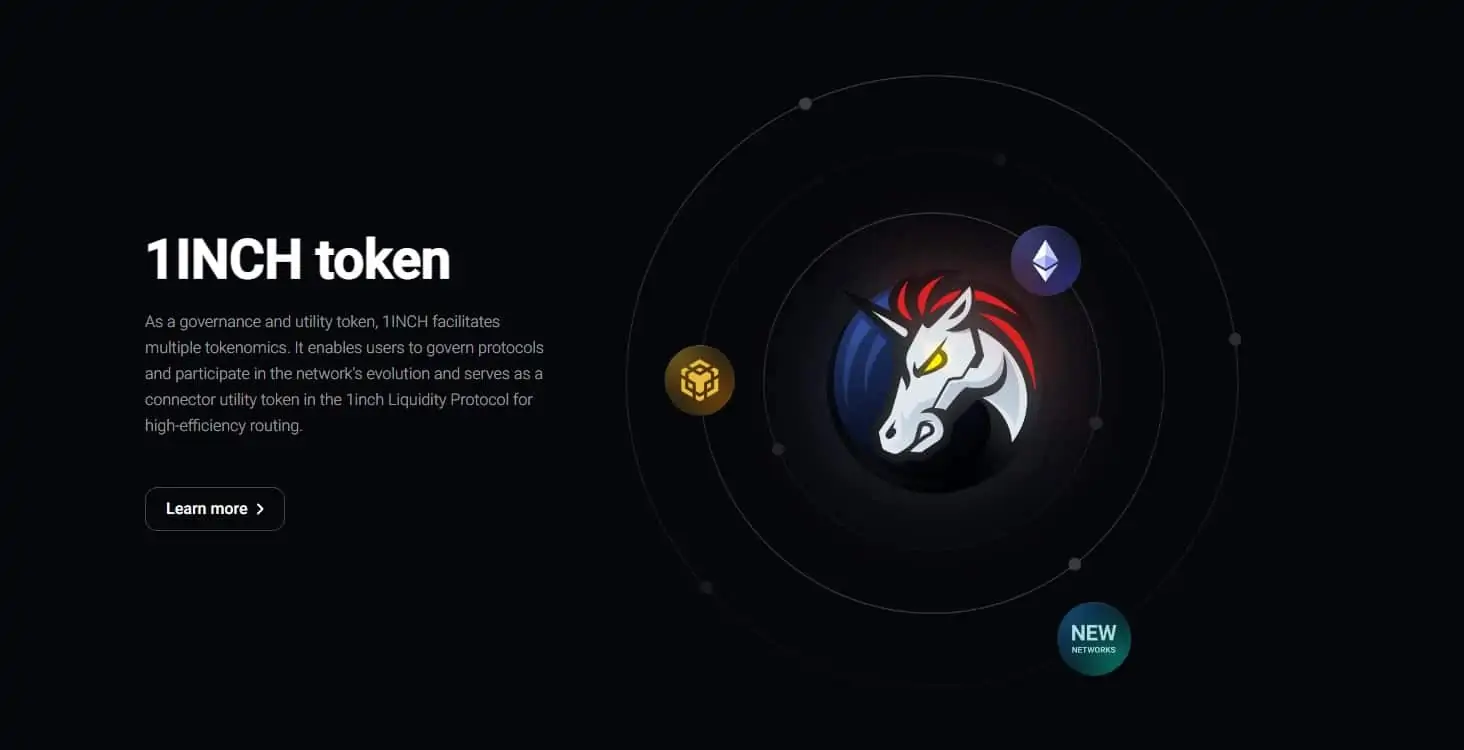 1inch Airdrops
When the token was first issued, 6% of the total supply of 1.5 billion 1INCH tokens were released during a promotion event as airdrops (reward tokens) for both 1inch and Uniswap users. The remainder of the 1INCH tokens is planned to be progressively unlocked by December 30, 2024.
Supported Cryptocurrencies
If you're looking to exchange over 400 Ethereum-based (ERC-20 tokens), Binance Smart Chain-based (BEP-20 tokens), Arbitrum, Optimism, or Polygon network tokens at the lowest possible prices, 1inch Network is a great place to start.
Payment Methods
When it initially started providing its financial services, 1inch did not support purchasing crypto with fiat currency (like USD or EUR). However, you may now buy Ethereum (ETH) with a debit card or a credit card with MoonPay (a third-party payment service provider). However, there's one drawback to it – the processing costs are exorbitant!
This crypto exchange can also generate additional income from the positive slippage of orders. Slippage refers to the difference between the value you assume a token you've acquired has and the current cost you paid for it.
Exchange Fees and Limits
The 1inch exchange guarantees strong liquidity and great pricing by combining DEX order books while lowering the exchange rates. For this, 1inch does not impose any transaction fee or withdrawal fee, nor does it charge its users for making a deposit on their 1inch trading account.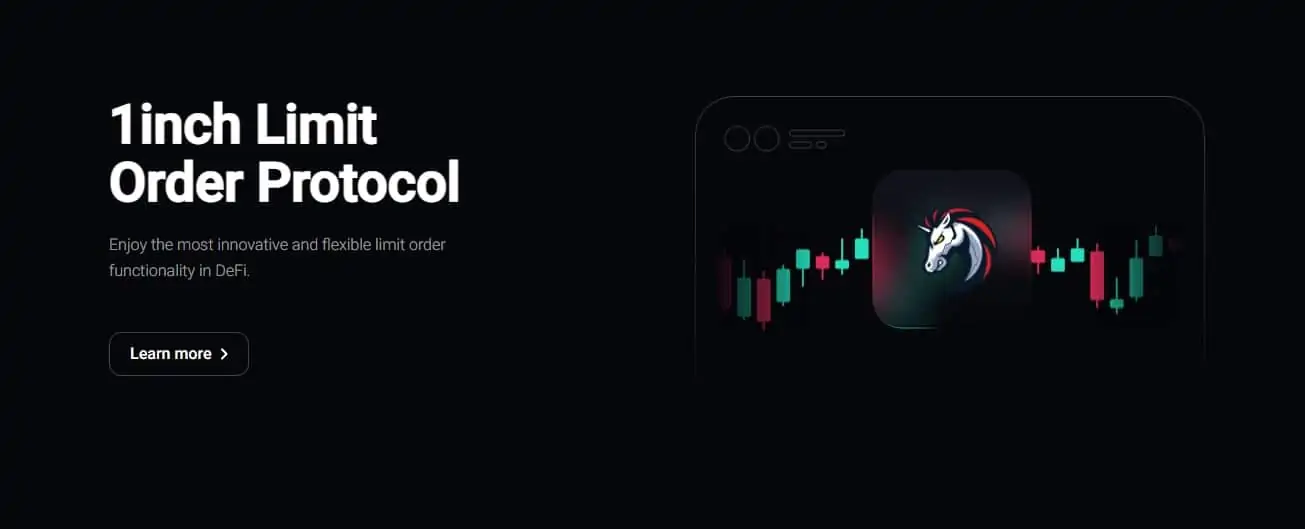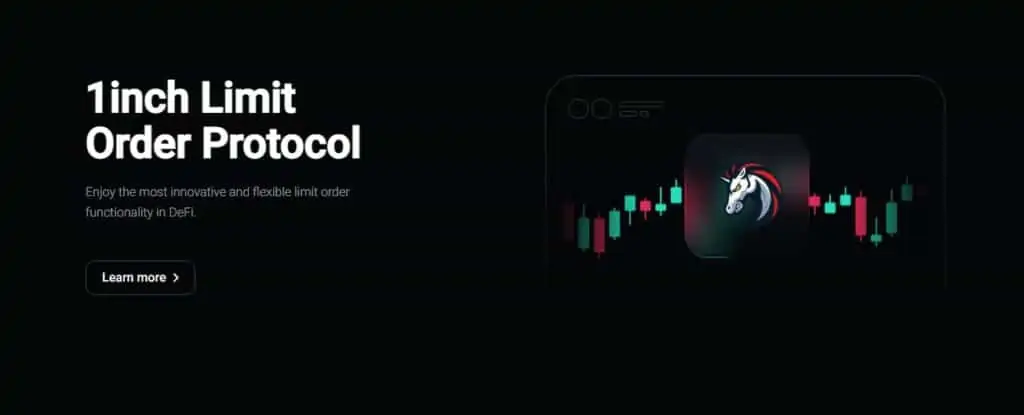 You can also pay your GAS fees with Chi Gas token (CHI) to lower network fees even more. The CHI token is an Ethereum-based token of the 1inch exchange platform, which was designed for the same purpose, i.e. to reduce the GAS price for providing liquidity on the Ethereum network.
Is 1inch Safe to Use?
While this trading platform has never been a target to hacks previously, there's one particular feature the exchange has that could indicate a potential weakness – the Infinite Lock feature, that unlocks all transactions done by a user at once, instead of one by one, which would be the safer approach.
While this is a both time and cost-efficient method, unlocking all conducted transactions at the same time may perhaps create a weak point in the network, which could make it more susceptible to cyber-attacks.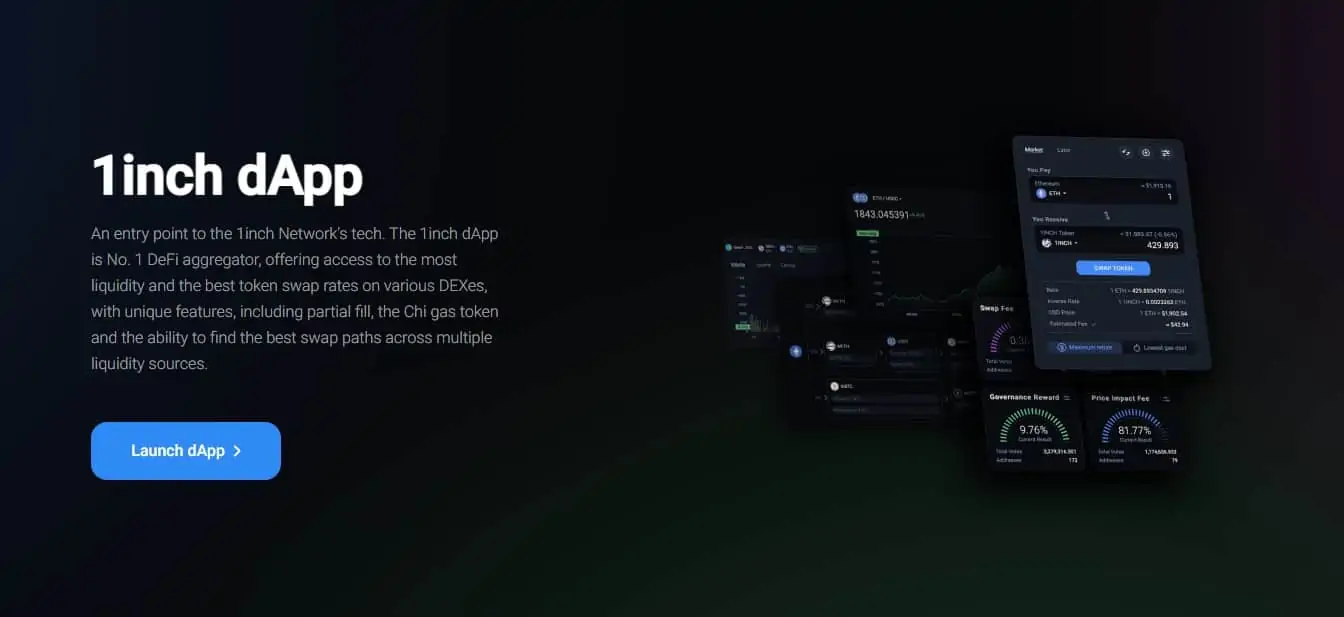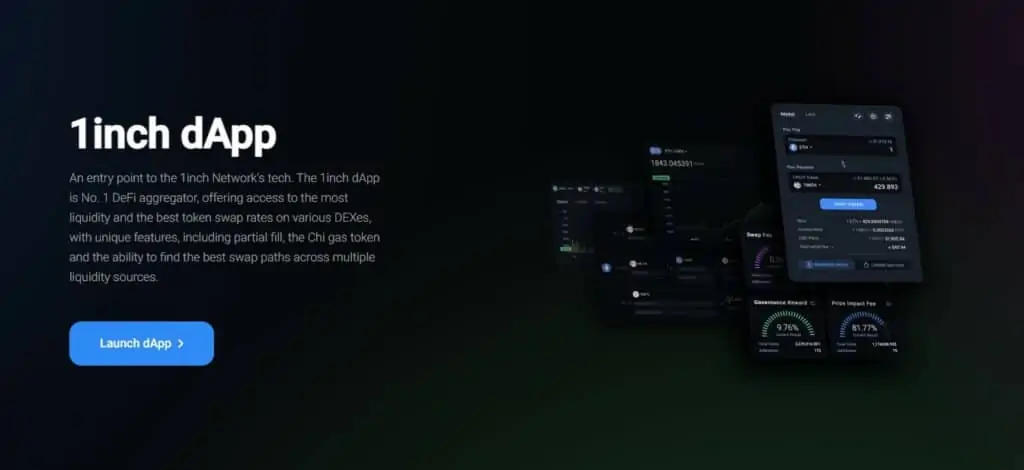 Customer Support
1inch exchange includes a Help Center that features information on everything a user would be interested in – from fundamental crypto theory to useful guides on how to pick a digital wallet or how to start trading on the site.
If you have a particular issue, there is a customer support team that works 24/7. You can contact them via the Live Chat button on the home page, as well as on Telegram and on Discord, where they have an official support group. You may also reach them via their social media pages on YouTube and Twitter.
Frequently Asked Questions
What is Pathfinder?
Pathfinder is an information aggregation service (API) built by the same people that created the 1inch Network. This API operates on the basis of a routing and discovery algorithm. It calculates the most profitable trade routes across numerous markets in under a second, factoring in the GAS fees along the way.
Namely, when using Pathfinder, customers can save about 40% on GAS costs when using Pathfinder, because it runs on both the Ethereum blockchain and the Binance Smart Chain (BSC).
Does BitMEX provide a built-in wallet?
The 1inch exchange employs the decentralized autonomous organization (DAO) model of management. The 1inch DAO is a decentralized organization that manages this trading platform's operations, allowing 1INCH owners to participate in the selection of the most vitally important protocol parameters by voting and receive governance rewards for their participation.
This feature empowers users to instantly engage with the 1inch network, gain incentives, and vote for certain protocol configurations, avoiding long polling sessions.
The Bottom Line
The 1inch platform offers a new trading approach in the field of decentralized financing. Even though the site is relatively user-friendly, beginners might struggle to gain a handle on how to utilize 1inch as automated market makers operate somewhat differently from typical trading platforms.
On the shinier side of the coin, 1inch is probably the only fee-free exchange, if we disregard the blockchain fees imposed by the decentralized exchanges included in the trade. But even these can be remedied by the Infinite Unlock feature, designed by 1inch creators.
Overall, the 1inch exchange aggregator is a highly innovative DeFi solution that aggregates the best prices from the most liquid decentralized exchanges in order to boost traders' profits. While this may not be your usual cryptocurrency exchange, it certainly could be the trading solution you were looking for. The 1inch DEX aggregator is certainly worth a try, but do make sure you are thoroughly acquainted with its operating concept and the fee structure prior to making any investments.
1inch Compared
| Exchange | Cryptocurrencies | Fiat Currencies | Trading Fees | Deposit Methods | Sign Up |
| --- | --- | --- | --- | --- | --- |
| Swyftx | More than 320 | Australian Dollars, New Zealand Dollars | 0.6% | Osko, PayID, Credit Card, Debit Card, Bank Transfer, Cryptocurrency | Visit Swyftx |
| CoinSpot | More than 370 | Australian Dollars | OTC: 0.1% Market Order: 0.1%* (applies to LTC, BTC, ETH, XRP, POWR, DOGE, TRX, NEO, XLM, GAS, RChain, RFOX, EOS) Instant Buy/Sell: 1% | POLi, PayID, Cash, Cryptocurrency, Bank Transfer, BPAY | Visit CoinSpot |
| Binance | More than 600 | US Dollars, Australian Dollars, and 8 more | 0% to 0.1% | Osko, PayID, Credit Card, Debit Card, Crypto | Visit Binance |
| Bybit | More than 160 | 50+ | 0.1% to 0.6% | Crypto, EFT, wire transfer, bank transfer, debit card or credit card | Visit Bybit |
| Independent Reserve | 27 | Australian Dollars, US Dollars, New Zealand Dollars | 0.05% to 0.5% | EFT, SWIFT, Osko, PayID, Crypto | Visit Independent Reserve |
| Coinbase | More than 210 | Australian Dollars, US Dollars, New Zealand Dollars | Fees Vary | EFT, SWIFT, Osko, PayID, Crypto | Visit Coinbase |
| CoinJar | More than 50+ | Australian Dollars, Pound Sterling | Taker: 0.04 to 0.1% Maker: 0.04 to 0.1% | Apple Pay, Google Pay, Credit Card, Debit Card, Bank Transfer, Fiat, Crypto | Visit CoinJar |
| Kraken | More than 140 | Australian Dollars, US Dollars, and 5 more | Taker: 0.10% to 0.26% Maker: 0.00% to 0.16% | Apple Pay, Google Pay, SWIFT, Osko, SEPA, Crypto, Wire Transfer, Bank Transfer | Visit Kraken |
| BTC Markets | More than 15 | Australian Dollars | Taker Fee (for Bitcoin pairs): 0.20% Maker Fee (for Bitcoin pairs): -0.05% Australian Dollars Market Pairs: 0.10% to 0.85% | Crypto, BPAY, EFT, PayID, Osko | Visit BTC Markets |
| Easy Crypto | More than 40 | Australian Dollars, New Zealand Dollars, South African Rand | 1% | P2P, POLi, and Bank Transfers | Visit Easy Crypto |
| Coinstash | More than 140 | AUD | Taker fees: 0.85% Maker fees: 0.85% | Cryptocurrency, Bank Transfer, PayID | Visit Coinstash |
| eToro | More than 70 | Australian Dollars, US Dollars, Euro, and 12 more | Vary | Online Banking, Skrill, Neteller, PayPal, Bank Transfer, Debit Card | Visit eToro |
| KuCoin | More than 645 | US Dollars, Euro, Australian Dollars, and 6 more | 0.1% | Credit Card, Debit Card, SEPA, PayPal, Wire Transfer, Crypto | Visit KuCoin |