Airswap Review
Peer-to-peer trading is a trading system in cryptocurrency that many trading platforms choose not to accept. But, the Airswap community, focusing on decentralized trading possibilities, has created a technology that supports peer-to-peer trading quickly and easily.

Because of how they work, decentralized crypto exchanges don't need a third party for funds storage. Users are always in complete control of their crypto assets and can transact with other users. Decentralized exchanges are the conduit that ensures a successful transaction.

AirSwap's goal is the free-flowing movement of digital assets globally. In this review of AirSwap, we'll take a closer look at how the exchange platform works, its features, and its functionality.

About Airswap
AirSwap combines different internet protocols and smart contract technology based on Ethereum. The AirSwap technology utilizes the swap protocol that allows different people to exchange Ethereum blockchain tokens on demand. The exchange platform also employs the Request for Quote (RFQ) trading process.
As a decentralized trading platform, you don't need to deposit any cryptocurrency to use AirSwap. Similarly, you don't need to create an account before carrying out peer-to-peer trading. It's as simple as logging on to the website and making trades as fast as possible. With this exchange protocol, it's almost impossible for traders to get scammed since there's no wallet, account, or deposit on AirSwap.
Every trade on AirSwap requires two entities — a signer and a sender. The signer is the initiator of the trade order and is the party that signs the order cryptographically. The sender is the person that takes the order to the Ethereum blockchain to get settled. The sender and the signer don't need to know themselves or develop trust.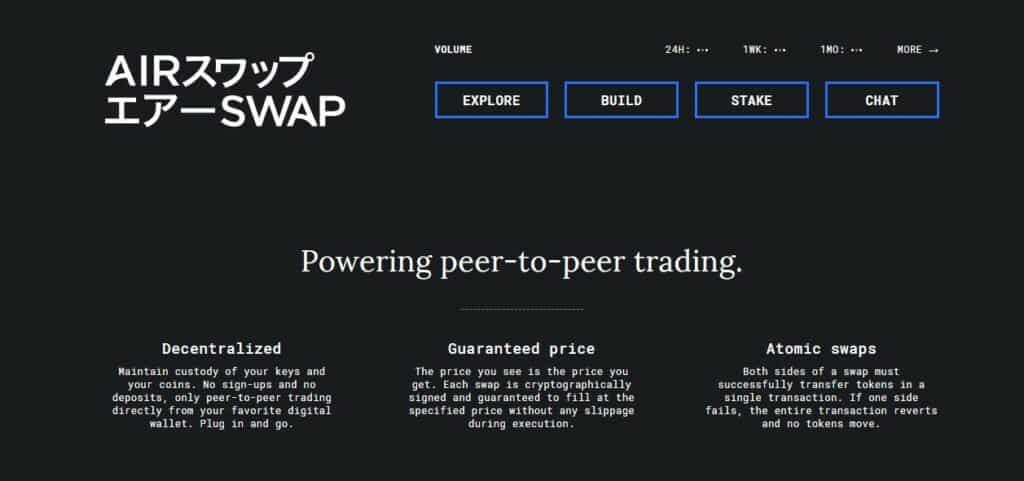 The reason you can trust AirSwap is the "atomic" swap feature. It's either the whole transaction gets successful between both pairs, or there's no deal at all.
It's impossible to discuss AirSwap's operation method without covering its native token. AirSwap launched its token on the 10th of October, 2017. In 24 hours after release, AirSwap sold tokens worth over $30million. Founders Don Mosites and Michael Oved launched the token as a staking measure to carry out trades on the platform.
Instead of requesting a fee for trades on AirSwap, the platform uses its token as a stake for exchange. Consequently, traders don't exactly need to pay a transaction fee.
Supported Cryptocurrencies
Airswap depends on the Ethereum blockchain technology to operate its smart contracts and its peer-to-peer trades. Therefore, you'll need a crypto wallet that supports the Ethereum blockchain technology (a good example is Metamask) to use AirSwap.
Most of the supported cryptocurrencies on AirSwap are mostly tokens from the Ethereum blockchain. Some notable mentions include:
Binance Coin
Bloom token
Dai (DAI)
DigixDAO
Enjin Coin
Decentraland Token
Augur Coin
Ox Protocol
Aelf
Ether (ETH)
AirSwap token
Grid+ Coin
OmiseGO Coin
RChain Token
Features
Apart from providing a platform where traders can trade peer-to-peer, AirSwap is a crypto community. So the first tabs you'll see on the homepage are the learn, build, vote, and chats buttons.
The learn tab is for newbies looking to familiarize themselves with all of AirSwap's functionality. With the build tab, you have the opportunity to see the technology of AirSwap and build on it. The vote and chats tab are both targeted at fostering true community engagements.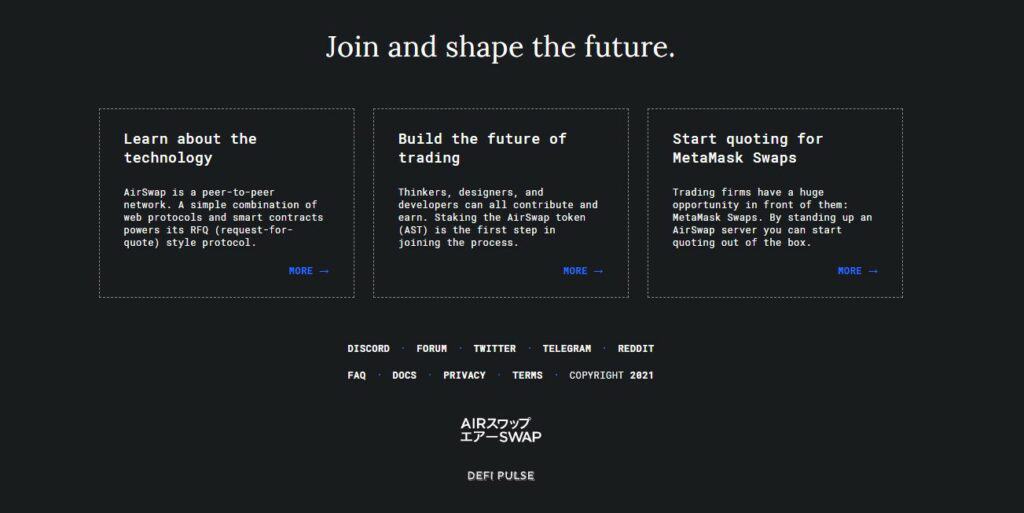 On AirSwap, there are three types of trade processes to complete your peer-to-peer trading.
Request for Quote: Here, the peers make a request and get an automated response. Traders who request it use the JSON-RPC.
Last look: Clients can check the pricing through the JSON-RPC and place their orders.
Over-the-counter: This process involves two peers trading over chat and emails but using AirSwap as a settlement method.
On AirSwap, innovation never ends. The team continues to design new technology to settle their users. Some of the applications available on AirSwap includes:
AirSwap CLI – This is a command-line interface that allows users to interact with the AirSwap community.
AirSwap Web – This is a web application built with open source technology.
AirSwap OTC – It's an over-the-counter platform for large swaps on AirSwap.
Customer Support
AirSwap's platform hardly has any issues because it uses a decentralized exchange. Simply connect your digital wallet, and you can start secure peer-to-peer trades.
Technology can be flaky, and on occasion, their network servers may go down. Fortunately, AirSwap's customer support service is more than ready to help you in an emergency situation.
Call them on 1201-282-5400. If you're inclined, there's a live chat option on the website.
Payment Methods
You'll need to use a wallet that works perfectly on the Ethereum blockchain to make transactions on AirSwap.

AirSwap doesn't accept fiat currency. If you have zero crypto holdings, you'll need to buy on other exchange platforms. There's no need for a payment method since users don't have to make deposits on AirSwap.
If you wish to buy the AirSwap token, you can get it on any exchange platform like Binance and Kriptomat. On these platforms, you can pay with your credit or debit cards.
Trading Fees
Trading fees don't exist on AirSwap. So it's surprising, and you should question how they generate revenue from such a business model. The profits come from the increased value of their AirSwap token.
To complete a peer-to-peer exchange on the platform, you'll need to buy and stake 250 AirSwap tokens. Increased utility of these tokens will drive up their value.
Security and Safety
Security isn't something to worry about while trading on AirSwap. You don't require an account, nor do you need to deposit any amount of cryptocurrency to complete a trade. While carrying out a trade, the platform uses an atomic swap protocol to ensure all transactions get completed or nothing happens.
AirSwap is a standalone decentralized exchange. There's no third-party managing or storing customer funds. As a result, every user can rest safe knowing that they remain in complete control of crypto holdings.
Frequently Asked Questions
Here's what you need to know:
Is AirSwap Regulated?
AirSwap is a crypto community founded and operating in the United States of America. With many crypto platforms avoiding the US, AirSwap has its due registrations with the authorities and abides by US crypto regulations.
What is the Difference Between Uniswap and AirSwap?
Uniswap works as a peer-to-contract platform only on the blockchain, while AirSwap is a peer-to-peer contract that works with negotiations off blockchain and settlements on blockchain.
Final Take
AirSwap is a highly-rated decentralized exchange. It doesn't require a sign-up and the atomic swap feature ensures scam-free transactions.
With AirSwap, you have the added advantages of community and fast customer support for all peer-to-peer trades. Check it out!