Airswap Review for 2023
Slowly but surely, people are becoming aware of the power of decentralized crypto finance, which we can gather from the sheer abundance of decentralized cryptocurrency exchanges on a global scale.
But how does this decentralized approach affect your crypto-trading experience? Is it true that DEXs are obscure and hard to navigate?
To answer these questions, we're having an "accredited" DEX representative on our discussion board today— AirSwap. After a brief overview of the decentralized operational model, we'll go through all the distinctive features of AirSwap, and hopefully, help you decide whether this DEX is the right choice for you
Centralized vs Decentralized Cryptocurrency Exchanges
Decentralized Finance (DeFi) is a newly developed domain with a major utility in the flourishing crypto industry, represented by decentralized crypto exchanges (DEXs) and automated protocols (AMM). Fascinating enough, DEXs are miles apart from the retail-level crypto investments that became extremely popular amid the recent Bitcoin rush.
That being said, mainstream crypto marketplaces or centralized exchanges (CEXs) follow the same operational pattern as traditional e-commerce websites — sign up, verify your identity, pick a product, pay for the product and finally, pay for the service. There is nothing wrong with this concept. On the contrary, such a familiar environment helped the average population to accept blockchain-based assets as part of their daily investment routine.
However, trading crypto in such a centralized manner goes against the core principles of blockchain technology. As a matter of fact, cryptocurrencies did appear as resistance against centralized finance systems by providing trustless, immutable, and anonymous mechanisms for trading.
And that's exactly what DEXs do. They use a P2P (peer-to-peer) protocol that allows users to set the terms of the transaction directly with their counterparty without any mediation from a third party. Instead, decentralized exchanges employ self-executing smart contracts to confirm the transaction when all conditions are met by both parties. This independent and trustless trading approach usually comes with no option for fiat payments and incorporated (custodial) exchange wallets.
From a beginner's point of view, this may sound a bit complex at first glance. However, once you learn the ropes, decentralized exchanges can give a fully rewarding crypto enforced by:
No room for human-factor manipulation;
No need for private credentials;
No geographical restrictions;
No excessive and hidden fees that pop up out of nowhere.
Now, let's move on and see how AirSwap fits this description.
About AirSwap
AirSwap is a decentralized exchange that works on top of the Ethereum blockchain. This decentralized trading platform supports direct trading with Ethereum, other ERC-20 tokens, the most popular stablecoin Tether (USDT), and the exchange-native ASP token.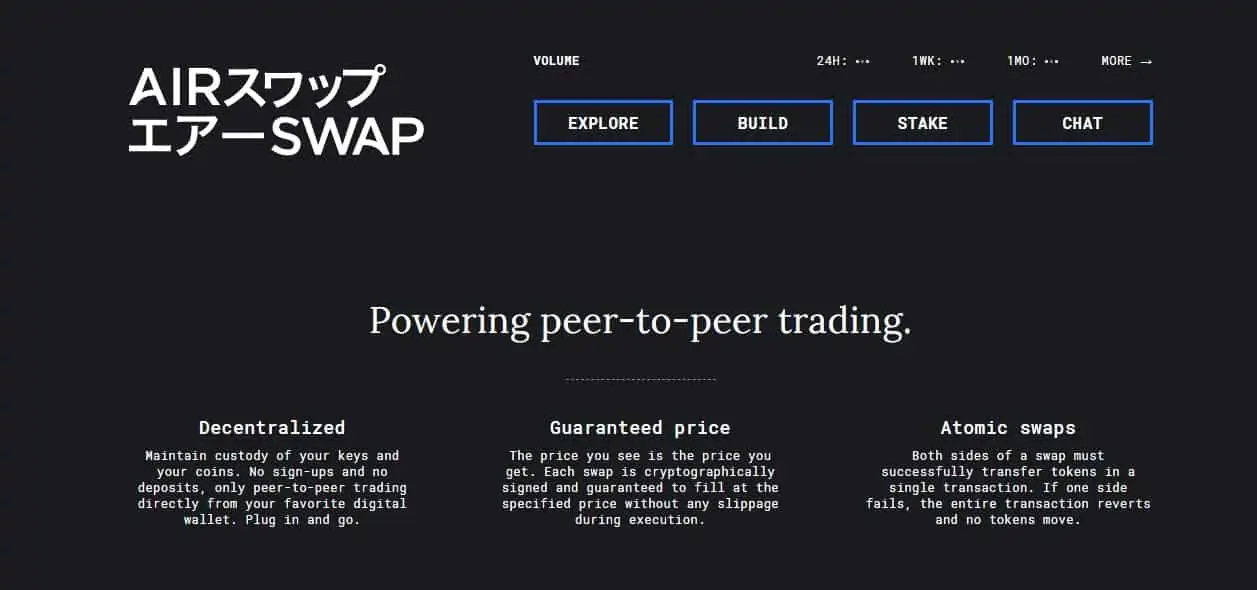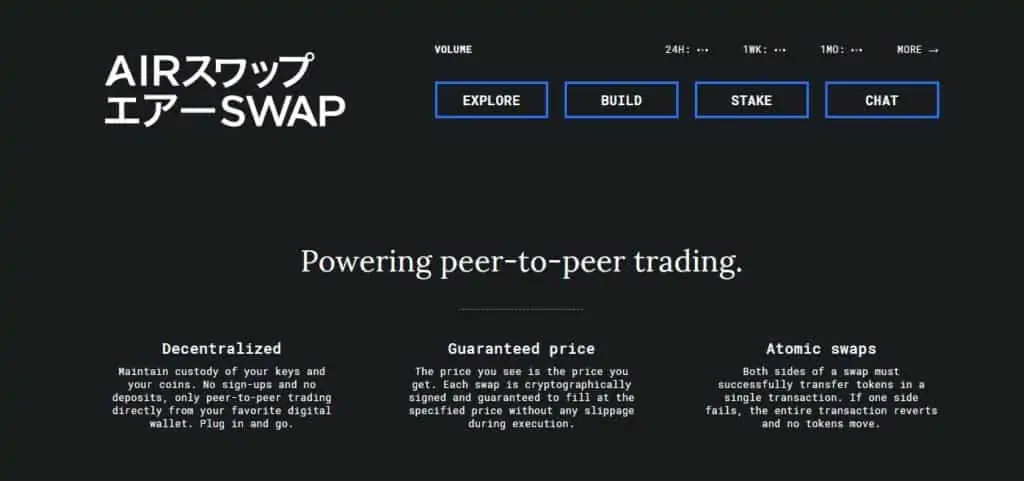 In comparison to other DEXs, AirSwap doesn't incur any trading, deposit, or withdrawal fees. At this point, you're probably wondering how the exchange "makes a living." Well, it's speculated that it earns enough from the rising price of their native token.
You should also know that AirSwap doesn't set trading limits and its users are not required to set up an account in order to use the platform. Despite all this, AirSwap is claimed to be a highly secure marketplace with an interface that's pretty for a decentralized exchange.
The platform was established in 2017 as a US-based start-up by Michael Oved, Don Mosites, and Sam Tabar. Before AirSwap, Oved was a prominent algorithm trader, Mosietes worked as a web developer at giants like Google and Zynga, and Tabar came with 15-year expertise in finance. Together they created a renowned brand — a DEX whose main goal is to provide a secure and private trading environment without trading fees or any interference from a third party.
For the first time, AST tokens hit crypto exchanges after the crowd sale ICO in October 2017, when the team raised 33 million USD from a token sale.
How Does AirSwap Work?
The Trading Platform
From an end-user perspective, the AirSwap online platform (https://www.airswap.io/) features a user-friendly interface that delivers an intuitive framework for trading pairs with the supported tokens. Unlike other popular DEXs, like Kyber Network and Bancor, when you insert the amount of token you plan to buy or sell, AirSwap turns into an "agent" and searches for the most favourable price for you. More notably, you have a see all results option where you can find more available offers apart from the recommendation made by the exchange. Since the AirSwap engine mechanism generates the trading orders, you won't face any issues concerning the price difference which is the case with the majority of DEXs.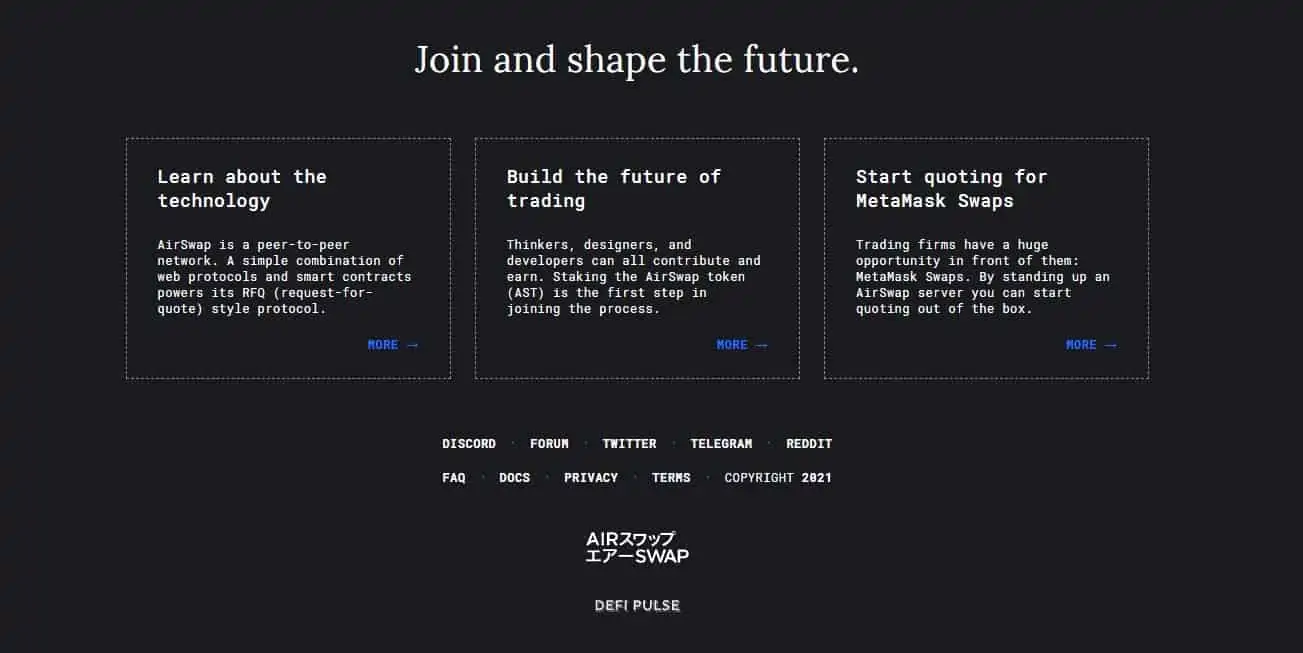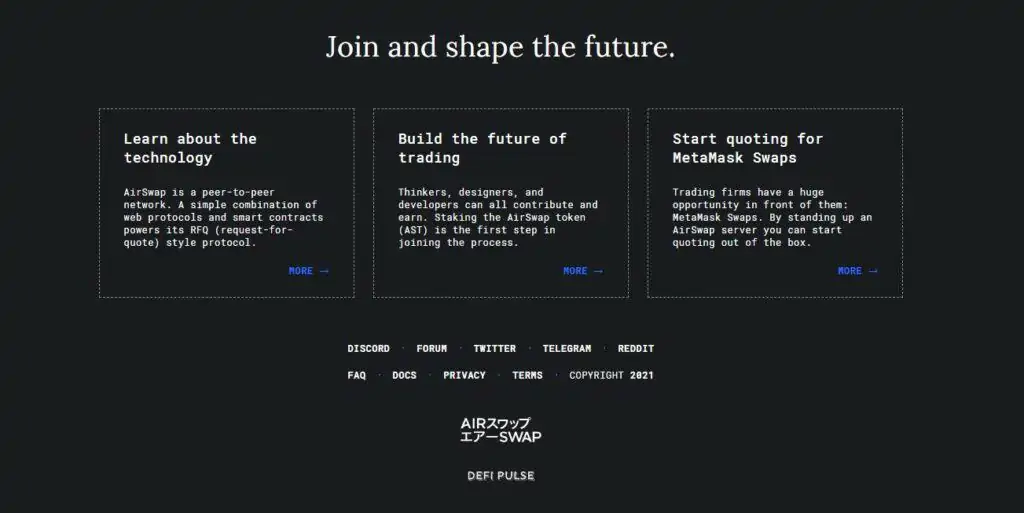 Note that every time you attempt to make a trade on AirSwap, there will be a time limit of 3 minutes so don't forget to adjust the gas price to an amount that is slightly higher than the average standard to incentivize miners. Otherwise, the trade won't be executed because of a slow confirmation.
Swap Protocol
On the blockchain side, AirSwap has its own Swap Protocol that enables free trading. The Swap Protocol employs smart contracts on the ETH network in order to settle the selected orders and trades. Apart from the utilization of atomic swap (smart contracts), all other stages of the trading process are managed off-chain. According to the AirSwap team, the off-chain connection between users makes the trade faster and smoother than DEXs that rely exclusively on the blockchain for the completion of orders and the distribution of other trade-related information. On-chain trades need around 15 seconds to get fulfilled — the time Ethereum blockchain takes waiting for the nodes to achieve consent for the pending transaction. In comparison, a high-performing exchange completes the order in milliseconds.
The Swap Protocol doesn't use a centralized order book and instead utilizes AirSwap Index and Oracle services. AirSwap Index has the same function as the search engine on most DEXs while Oracle generates price suggestions with a simplified overview of current market offers.
AirSwap Token (AST)
If the name of AirSwap sounds familiar to you, it's more likely you've come across their native token — listed on another exchange that supports ERC-20 tokens — rather than the exchange itself.
The AST token serves as a medium for market makers to establish new markets on AirSwap. Makers use AST as an underlying asset when they want to make an offer for a new token. By doing so, they provide liquidity to the AirSwap exchange and make a profit out of the difference between the bid price and the ask price, also known as spread.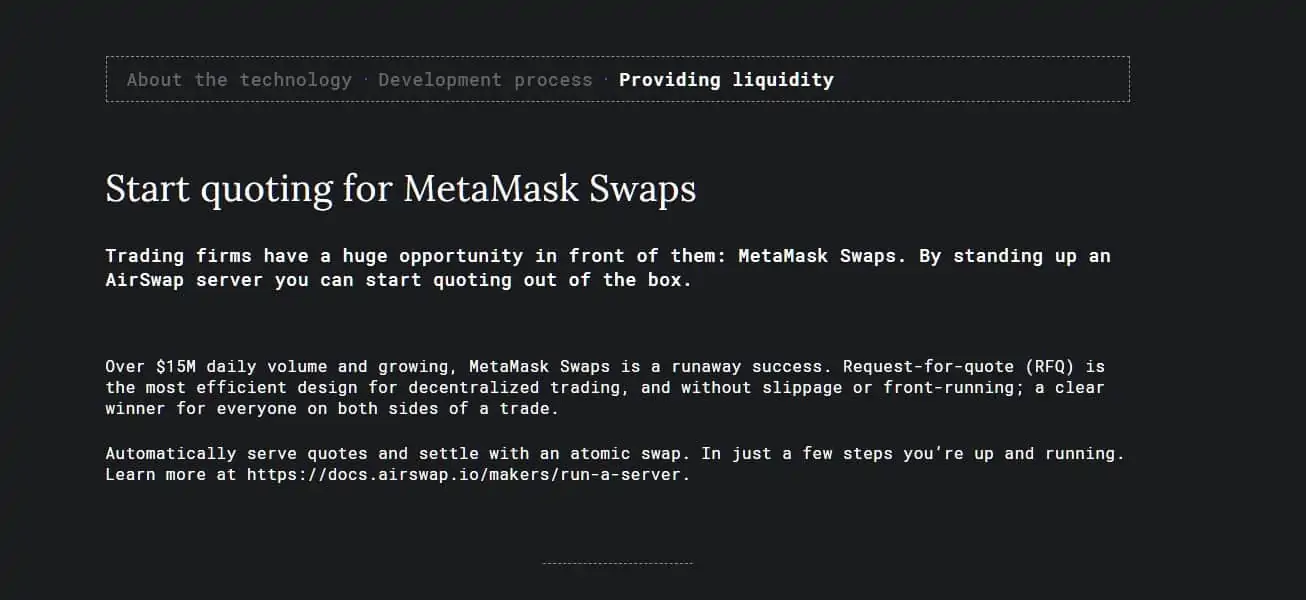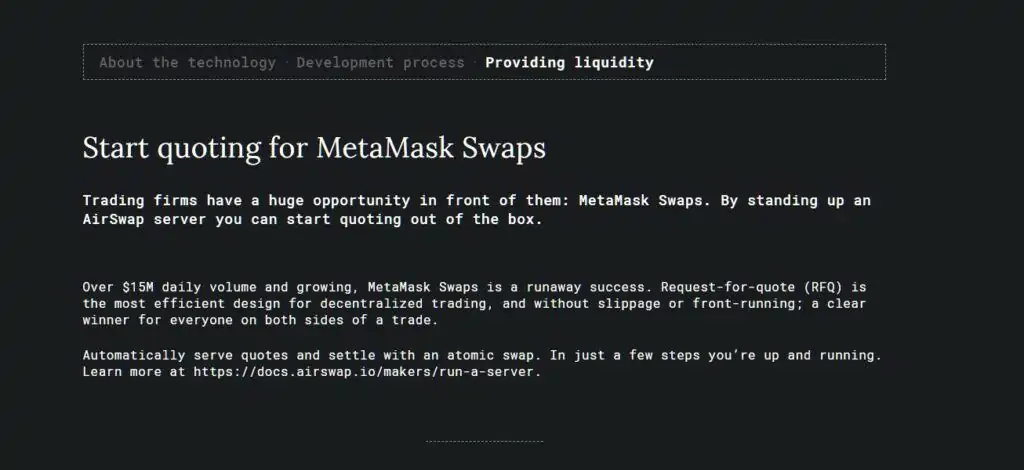 Unlike traditional crypto exchanges that appoint market makers, AirSwap warmly accepts anyone who wants to contribute to the platform's liquidity. This can be done simply through staking. You'll have to stake 250 AST (until recently the minimum staking amount was 100 AST) and once you do so, your ATS will be locked up for 7 days after which the market will be created automatically.
The AirSwap native token has a strictly predefined total supply of 500 million AST and currently, there are around 170 million circulating tokens. It has an average trading volume of 8 million ASTs per day and since its launch, AST has never fallen below the top 500 cryptocurrencies by market cap.
Supported Cryptocurrencies
As an Ethereum-based exchange, AirSwap supports ERC tokens exclusively. Here, you can find the following tokens: AST, Ether (ETH), 0xProtocol (ZRX), Basic Attention Token (BAT), Dai (DAI), Binance Coin (BNB), RChain Token (REV), DigixDAO (DGD), Bloom token (BLT), OmiseGO Coin (OMG), Augur Coin (REP), Kyber Network Coin (KNC), Grid+ Coin (GRID), Decentraland Token (MANA), and Enjin Coin (ENJ).
Just like the majority of DEX, the exchange doesn't support fiat payments.
Supported Crypto Wallets
DEXs never operate as crypto custodians that provide built-in wallets along with your exchange account. It's against their purpose — when you entrust your funds to an exchange, you don't have control over your private keys anymore. But the issue here isn't only the disrupted privacy. Custodial crypto exchanges utilize a combination of hot and cold storage to store your virtual assets, which means that part of funds reside online, where they are vulnerable to hackers and virtual scams. With DEXs, built-in wallets and private key custody are off the table so it'll be only you to take care of your virtual treasure.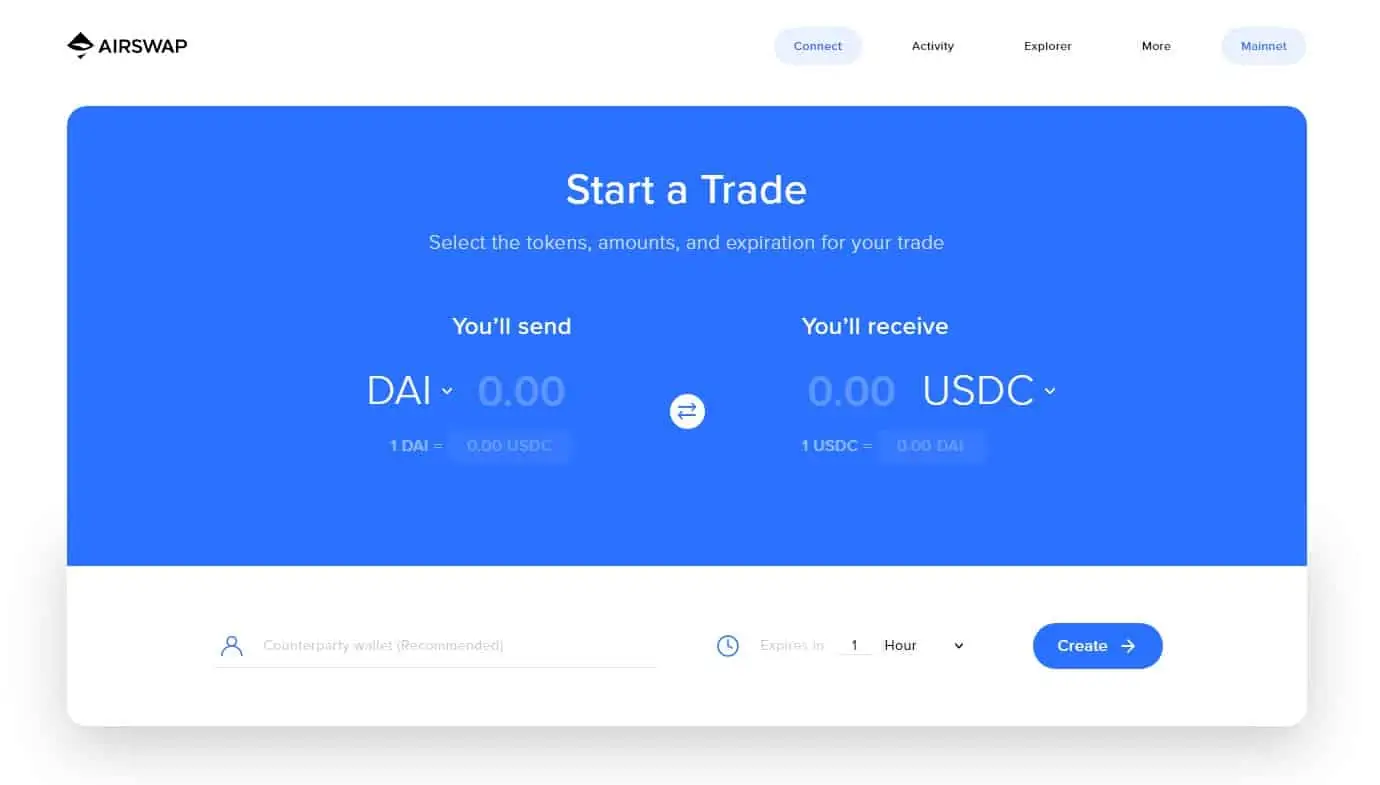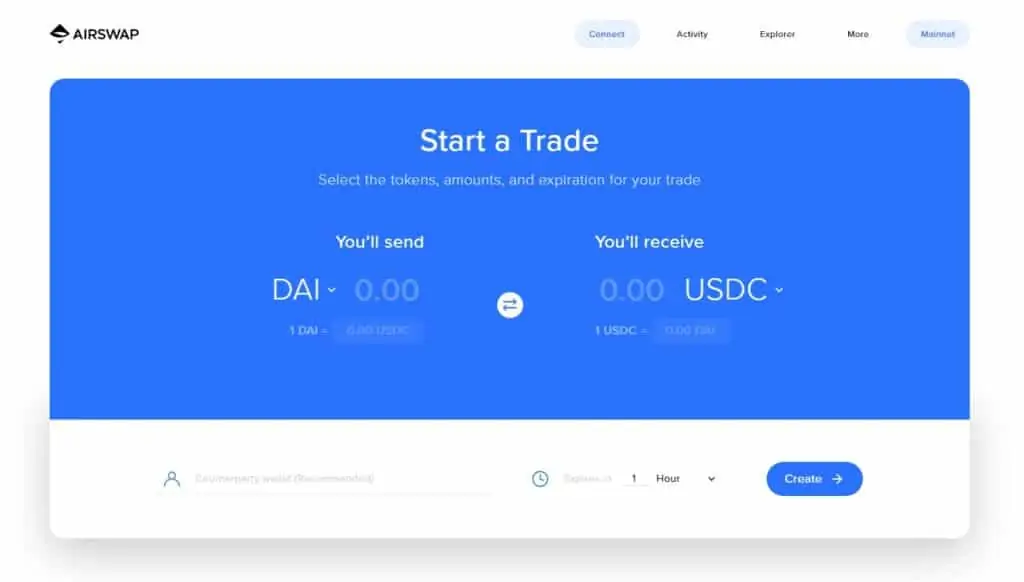 So, in order to start trading on the AirSwap platform, you'll first need to acquire an independent crypto wallet. Hardware crypto wallets (cold storage) are the most reliable alternative since they are tangible devices that keep your altcoins offline. On the other hand, there are many online and software wallets (hot storage) out there that can store your crypto tokens and make trading easy. As convenient as hot storage is, the very fact that your private keys are online makes hot wallets an unreliable storage solution for large amounts of crypto in the long term. The AirSwap exchange is compatible with the most popular cold crypto wallets: Trezor and Ledger as well as a variety of hot storage wallets such as MetaMask, Portis, Opera Touch, Coinbase Wallet, Argent, Gnosis, and imToken.
Is AirSwap Safe?
AirSwap's servers are spread out across multiple field sites in the USA and Europe, which reduces the risk of server downtime. More importantly, the geographic distribution of their servers makes AirSwap resilient to virtual criminals. For instance, even if a hacker manages to enter one of the servers, the performance of the network won't be affected to a critical extent.
However, DEXs non-intermediary behaviour is what contributes the most to their impeccable security. In a word, decentralized exchanges have no contact with your funds. Hence, it's hardly possible for a DEX to get hacked but even if this were to happen, the thief won't be able to reach your assets as they've already been withdrawn to your external wallet and the exchange doesn't process any records of your credentials or private keys.
Frequently Asked Questions
Can I buy AST tokens with cash?
Unfortunately, you can't make a direct AST purchase using cash. However, it doesn't mean that it's impossible to spend some fiat money on AST even though it seems a bit more complicated. Namely, you'll first have to find an entry-level exchange that supports fiat payments in cash and buy the desired amount of BTC or ETH. In Australia, you can go for a Blueshyft terminal payment, which is available on CoinJar. Once you get them delivered to your independent crypto wallet, start looking for a marketplace that supports AST/BTC or AST/ETH pairs. Our team has detected these markets on the following exchanges: CoinSpot, Binance, Bitfinex, OKEx, and the majority of Ethereum-based decentralized crypto services.
What is Fluidity?
Fluidity is a US-based blockchain technology company that has invented several blockchain-based products, such as tokenized security trading and real-estate tokenization. It's also the original developer of AirSwap and a host of the popular conference on finance innovations — Fluidity Summit.
In 2020, Fluidity joint-venture partner ConsenSys announced that it acquired Fluidity even though the terms of the transfer haven't been disclosed in detail yet.
A Few Words Before You Go…
Given the experts behind the brand, AirSwap was announced as a revolutionary peer-to-peer trading network. The crypto community expected that such an innovative concept with no fees and no ID verification would reshape the crypto industry.
It's not that AirSwap didn't evolve into a well-established marketplace within the crypto ecosystem. On the contrary, AirSwap's user-friendly approach inspired even institutional clients to give DEXs a shot. The thing is that many younger DEXs and AMMs like Balancer and UniSwap that feature either on-chain order books or operate as AMM protocols managed to surpass AirSwap in traffic, liquidity, and reputation.
However, based on the AirSwap features we covered in this article, you can't go wrong by choosing this trading platform as your entry point to the world of ERC-20 tokens.
Airswap Compared
| Exchange | Cryptocurrencies | Fiat Currencies | Trading Fees | Deposit Methods | Sign Up |
| --- | --- | --- | --- | --- | --- |
| Swyftx | More than 320 | Australian Dollars, New Zealand Dollars | 0.6% | Osko, PayID, Credit Card, Debit Card, Bank Transfer, Cryptocurrency | Visit Swyftx |
| CoinSpot | More than 370 | Australian Dollars | OTC: 0.1% Market Order: 0.1%* (applies to LTC, BTC, ETH, XRP, POWR, DOGE, TRX, NEO, XLM, GAS, RChain, RFOX, EOS) Instant Buy/Sell: 1% | POLi, PayID, Cash, Cryptocurrency, Bank Transfer, BPAY | Visit CoinSpot |
| Binance | More than 600 | US Dollars, Australian Dollars, and 8 more | 0% to 0.1% | Osko, PayID, Credit Card, Debit Card, Crypto | Visit Binance |
| Bybit | More than 160 | 50+ | 0.1% to 0.6% | Crypto, EFT, wire transfer, bank transfer, debit card or credit card | Visit Bybit |
| Independent Reserve | 27 | Australian Dollars, US Dollars, New Zealand Dollars | 0.05% to 0.5% | EFT, SWIFT, Osko, PayID, Crypto | Visit Independent Reserve |
| Coinbase | More than 210 | Australian Dollars, US Dollars, New Zealand Dollars | Fees Vary | EFT, SWIFT, Osko, PayID, Crypto | Visit Coinbase |
| CoinJar | More than 50+ | Australian Dollars, Pound Sterling | Taker: 0.04 to 0.1% Maker: 0.04 to 0.1% | Apple Pay, Google Pay, Credit Card, Debit Card, Bank Transfer, Fiat, Crypto | Visit CoinJar |
| Kraken | More than 140 | Australian Dollars, US Dollars, and 5 more | Taker: 0.10% to 0.26% Maker: 0.00% to 0.16% | Apple Pay, Google Pay, SWIFT, Osko, SEPA, Crypto, Wire Transfer, Bank Transfer | Visit Kraken |
| BTC Markets | More than 15 | Australian Dollars | Taker Fee (for Bitcoin pairs): 0.20% Maker Fee (for Bitcoin pairs): -0.05% Australian Dollars Market Pairs: 0.10% to 0.85% | Crypto, BPAY, EFT, PayID, Osko | Visit BTC Markets |
| Easy Crypto | More than 40 | Australian Dollars, New Zealand Dollars, South African Rand | 1% | P2P, POLi, and Bank Transfers | Visit Easy Crypto |
| Coinstash | More than 140 | AUD | Taker fees: 0.85% Maker fees: 0.85% | Cryptocurrency, Bank Transfer, PayID | Visit Coinstash |
| eToro | More than 70 | Australian Dollars, US Dollars, Euro, and 12 more | Vary | Online Banking, Skrill, Neteller, PayPal, Bank Transfer, Debit Card | Visit eToro |
| KuCoin | More than 645 | US Dollars, Euro, Australian Dollars, and 6 more | 0.1% | Credit Card, Debit Card, SEPA, PayPal, Wire Transfer, Crypto | Visit KuCoin |