BaseFEX Review for 2023
Have you noticed that the world has become a large arena for trading cryptocurrency? All you have to do is find the right pit to put your bet on. Just so you know, that won't be such an easy job. There are over 400 active cryptocurrency exchanges out there — each with a specific feature set, which makes it impossible to choose the best package based on your common sense only.

However, we must start somewhere. The most reasonable way is to get a clear understanding of your personal reasons for entering the crypto game. If, by any chance, you're interested in making a profit out of the fierce volatility on the crypto market, then direct your attention to derivatives crypto exchanges. They allow you to buy and sell contracts whose value derives from the value of the underlying crypto asset without owning the actual cryptocurrency.

Today, we're discussing BaseFEX — one of the most advanced representatives of this kind. In a nutshell, it's a futures trading platform that allows leveraged crypto contracts settled in Bitcoin (BTC) and Tether (USDT) with a margin of up to 100x and exceptionally low fees. The exchange comes with a series of in-built advanced features such as Insurance Fund, TestNet account, and top-grade API.

About BaseFEX
BaseFEX is a relatively new brand on the crypto scene, operating since 2018 from Hong Kong. The company is a Seychelles-registered entity due to the crypto-friendly landscape and operates as Base Investing Corporation under the local regulations. It's supported by several major-league venture capital firms such as Ceyuan Ventures and InBlockchain, as well as one of the largest spot-trading exchanges, big.ONE.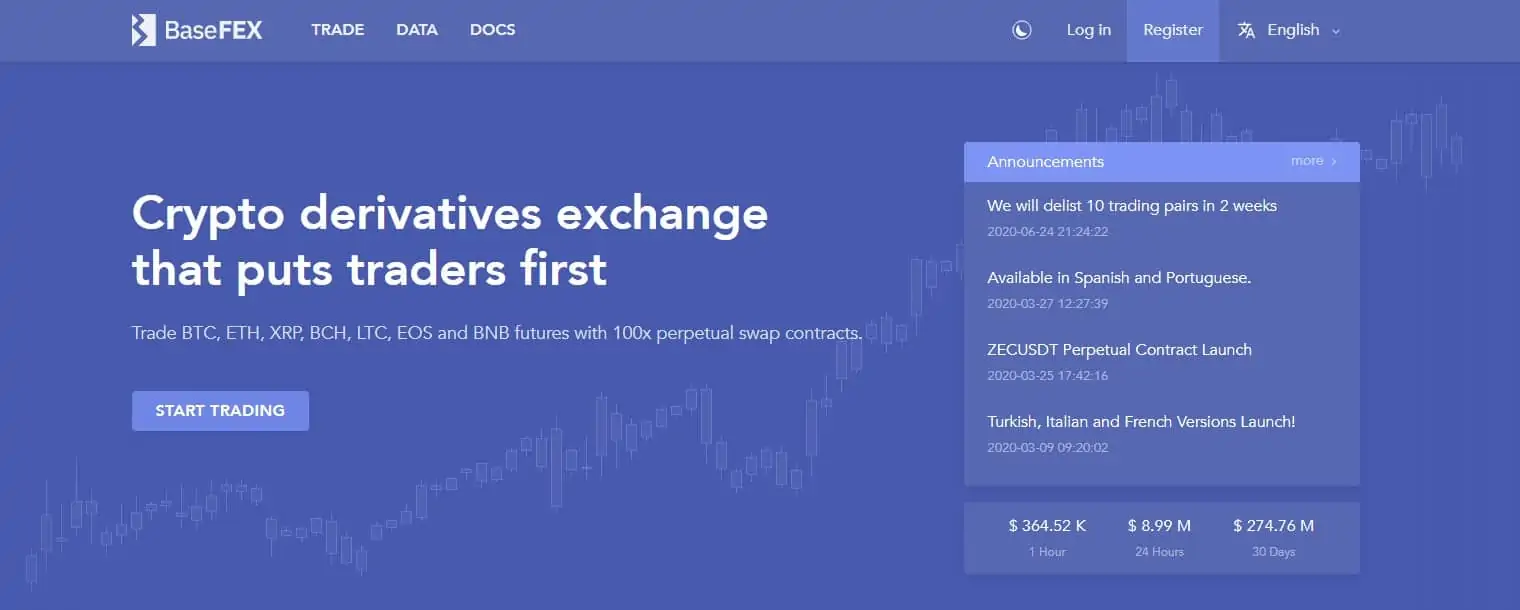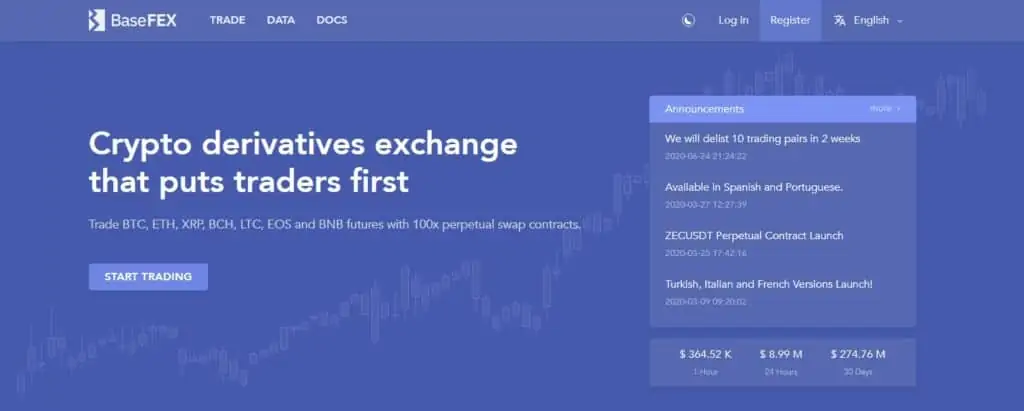 BaseFEX leaves an impression of an innovative and genuine marketplace that utilizes the latest technology trends in its operational platform structure. The exchange was founded by Jesse Wu and Isaac Zeng, who had a clear mission to make BaseFEX the most reliable, transparent, and advanced cryptocurrency derivatives exchange. It's worth mentioning that the exchange's co-founders have considerable experience in software development and forex trading. We'll see just right now to what extent they have managed to complete the initial goal.
How to Get Started With BaseFEX?
Setting Up a BaseFEX Account
You'll need just a couple of minutes to set up an account on BaseFEX. The exchange doesn't require (and claims it never will) a KYC verification with document and selfie uploads. The only thing you'll have to submit is an email address, set your own username and password. You will get a code on your email address that you need to insert into the box shown on the account page to confirm your email address and afterward, you're all cleared for your first deposit.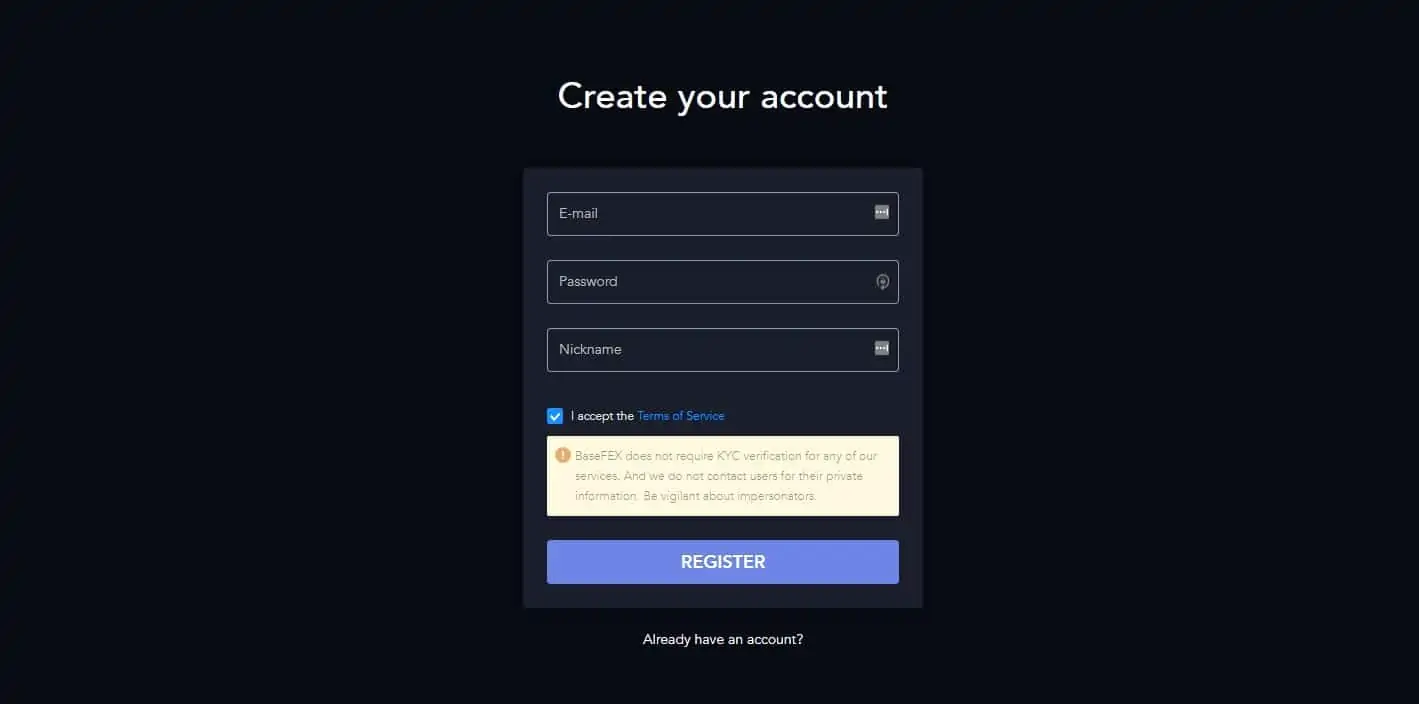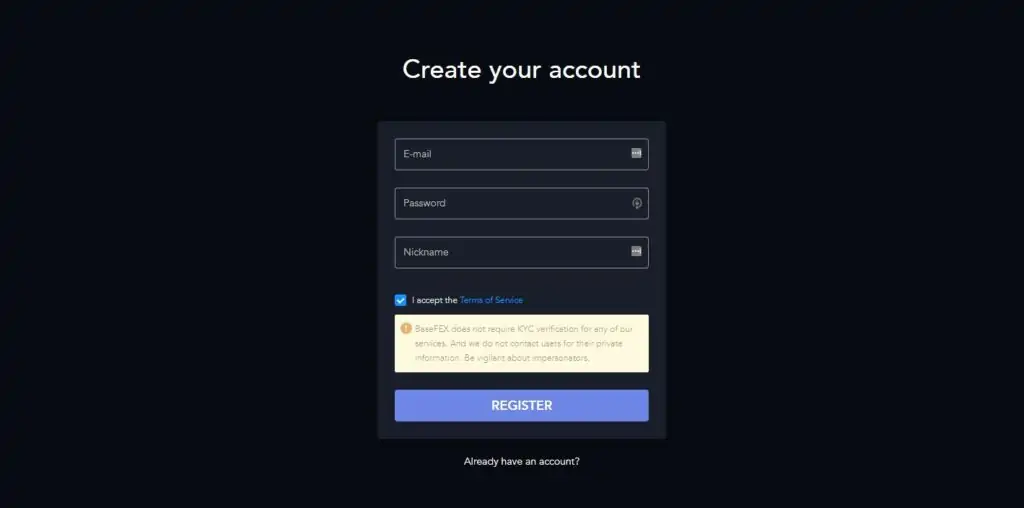 The first time you log in to the platform, it'll remind you to activate 2FA (two-factor authentication). You'd better set this layer of protection at the first outset. Find Security under My Account and enable 2FA.
Making a Deposit
BaseFEX accepts Bitcoin (BTC) deposits exclusively. There is no option for fiat or altcoin funding. If you're a newcomer in the industry, you'll first have to make an instant BTC purchase on an entry-level exchange and transfer the funds to your BaseFEX account. The same refers to any alternative crypto coins you might possess — swap them for Bitcoin on a regular spot-trading exchange first.
The deposit process doesn't take more than a few clicks as well. If you click on Account, it'll automatically divert you to the Balance Page, where you can see the Deposit option. On the popping-up deposit screen, you'll see the address to send BTC to or a QR code if you use a mobile wallet app.
How to Trade on BaseFEX?
The BaseFEX Trading Platform
You'll notice the cutting-edge technology behind BaseFEX immediately after landing on the platform. BaseFEX features a trading interface that is highly illustrative and well-organized at the same time.
BaseFEX offers a wide variety of perpetual contracts quoted either in BTC or USDT. You'll find them on the left side of your dashboard, and underneath, you'll have full insight into all supported cryptocurrencies shown as trading pairs together with their most recent prices and 24-hour price changes shown in percentage.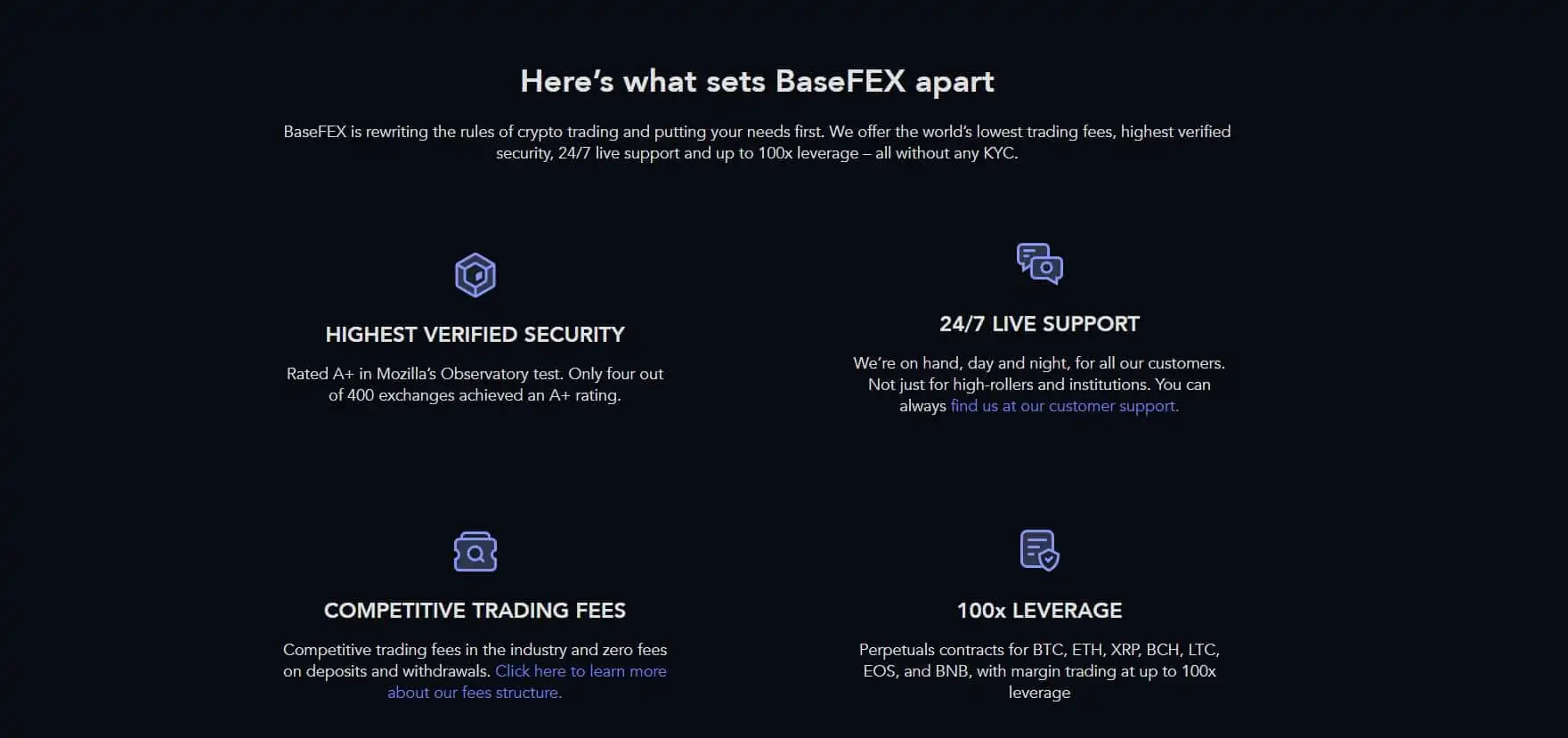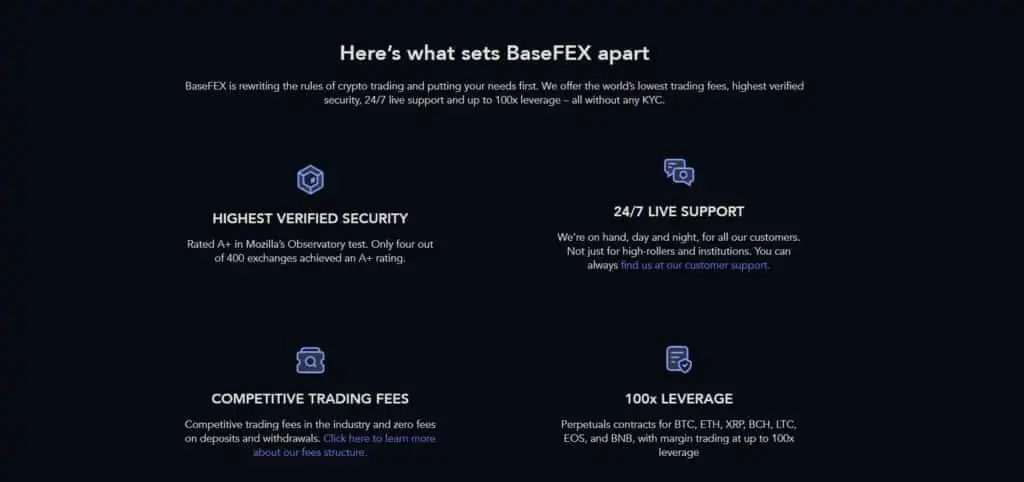 Time intervals can be customized against your personal preference to 1, 4, or 12 hours or 1, 5, 15, or 30 minutes, while the default price chart can be turned into a depth chart within a click.
Advanced traders will be thrilled to know that BaseFEX utilizes the TradingView charting system, which ensures intuitive and in-depth trading tools. TradingView delivers an ultimate trading edge with a broad spectrum of options — from tools for drawing trend lines to multiple time frames.
All your active positions are clearly shown at the bottom page along with their real-time size, margin, entry price, funding rates, and unrealized profit and loss.
How to Place an Order
There is a simple order form on the dashboard where you can insert prices and quantities and choose between a market or limit order. After submitting this information, you'll need to select Buy/Long or Sell/Short and wait for an updated status on its balance and order value.
Apart from the general market and limit orders, BaseFEX goes a step further with advanced order types such as good-till-cancel, fill-or-kill, immediate-or-cancel, post-only, and reduce-only orders.
Margin Trading on BaseFEX
Margin trading is a well-established practice in the traditional investment market that turned out to go perfectly well with the volatile behaviour of crypto derivatives. The basics are pretty clear — you borrow funds in order to leverage your position and hence, the potential profit. However, leveraged positions involve high levels of risk and viable financial disasters if the market shifts in an undesired direction.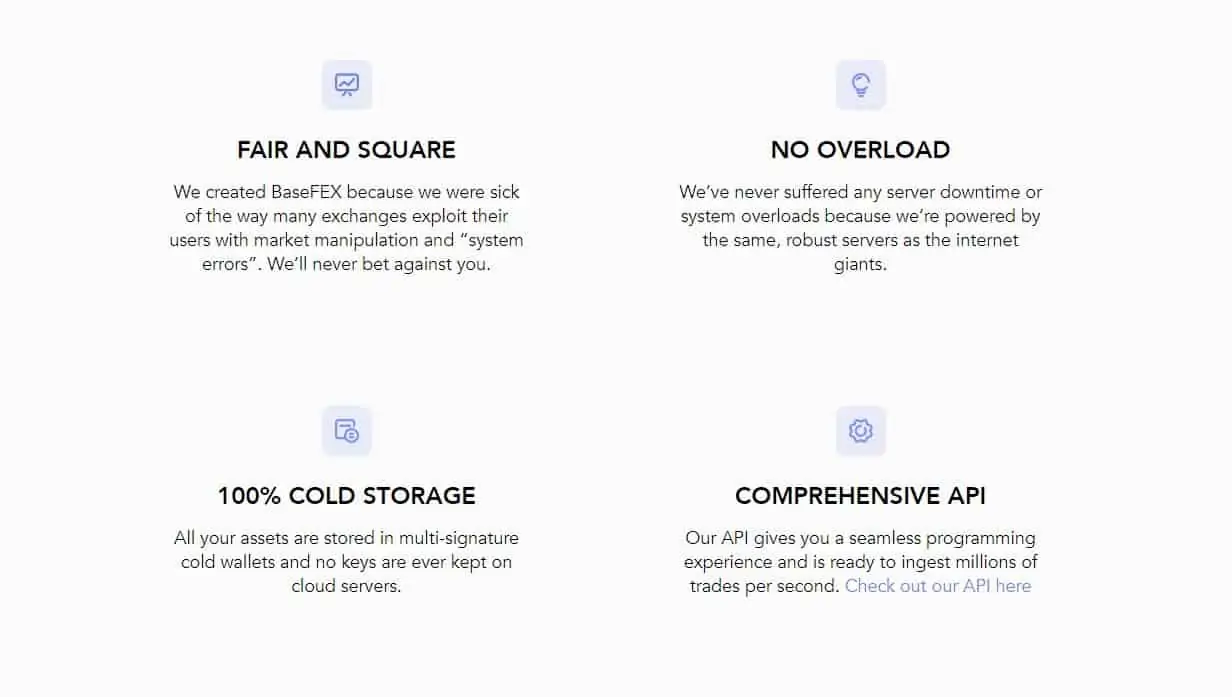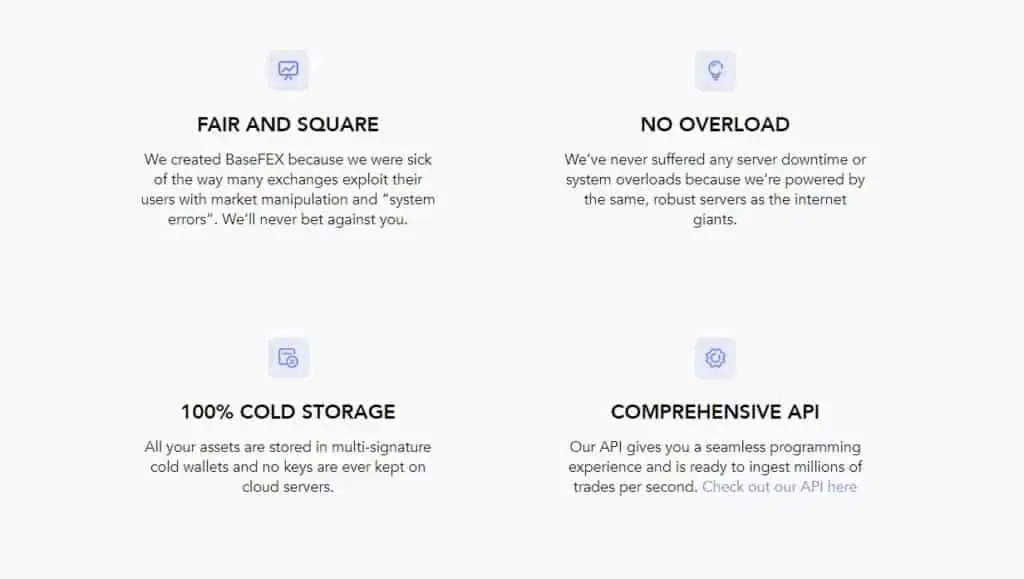 BaseFEX allows you to open positions with up to 100x leverage but this amount is valid only for BTC as an underlying asset. The other leverage-adapted cryptocurrencies can be traded with up to 20x leverage. These include Ethereum (ETH), Litecoin (LTC), Ripple (XRP), Bitcoin Cash (BCH), EOS (EOS), and Binance Coin (BNB).
For example, if you set 100x leverage for BTC, you'll have to invest a margin of 1% of the initial notional value of the trade.
Bitcoin and Other Supported Cryptocurrencies
By nature, BaseFEX is a crypto derivatives exchange, which means that all trades are eventually reimbursed either in BTC or USDT. The fact that USDT pegs its market value to the US Dollar makes the use of the stablecoin rather advantageous — the amount of the final trade settlement won't be modified by frequent market changes.
However, for perpetual contracts, BaseFEX supports a handful of dominant cryptocurrencies such as BTC, BCH, ETH, BNB, LTC. XRP, and EOS.
BaseFEX Fees
When it comes to futures contracts with high leverage, pricing is a deciding factor. This approach usually involves large-scale amounts and fees are calculated based on your position size, not your initial margin.
BaseFEX features a transparent pricing model, with trading fees that are slightly lower than Bybit and BitMEX, its direct competitors on the derivatives market.
The exchange has drawn a clear line between maker fees and taker fees. Namely, as makers contribute to the exchange's liquidity, BaseMEX incurs no fee for most crypto contracts and -0.2% for the BTCUSD pair. This means that market makers are rewarded for placing orders on the exchange's order book. Takers, on the other hand, will be charged between 0.2% and 0.5% depending on the contract type. BaseFEX takes a funding fee from the open positions every 8 hours.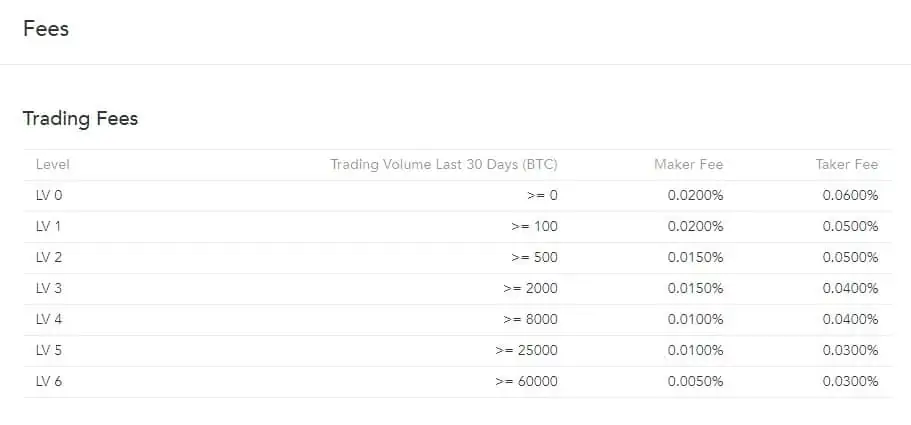 One of the most noticeable features of BaseMEX is its fee-discount system, which is designed for high-net traders. The exchange can reduce commission fees to 50% for those users who will reach a total order value of 35 million USD in seven days. The exchange also recognizes 6 discount levels based on the 30-day trading volume. For example, if your trading volume doesn't exceed the amount of 100 BTC in this timespan, you're a Level-1 user and as such, liable to higher trading fees in comparison to level-6 traders.
Finally, the minimum deposit amount on BaseFEX is 0.0001BTC. The exchange doesn't incur any deposit or withdrawal fees but this doesn't exclude network fees — imposed by the blockchain network itself.
Is the BaseFEX Exchange Safe?
BaseFEX hasn't been associated with any critical hack or security breaches so far. Moreover, according to Mozilla's Observatory Test, BaseFEX is one of the four exchanges that managed to score A+ out of the 400 active exchanges out there. This speaks a lot about the legitimacy of BaseFEX and the integral security standards the exchange implements.
That said, BaseFEX supports 2FA (two-factor authentication) to prevent unauthorized access, conducts security audits and stress tests on a regular basis, and utilizes SSL encryption to provide safe website traffic.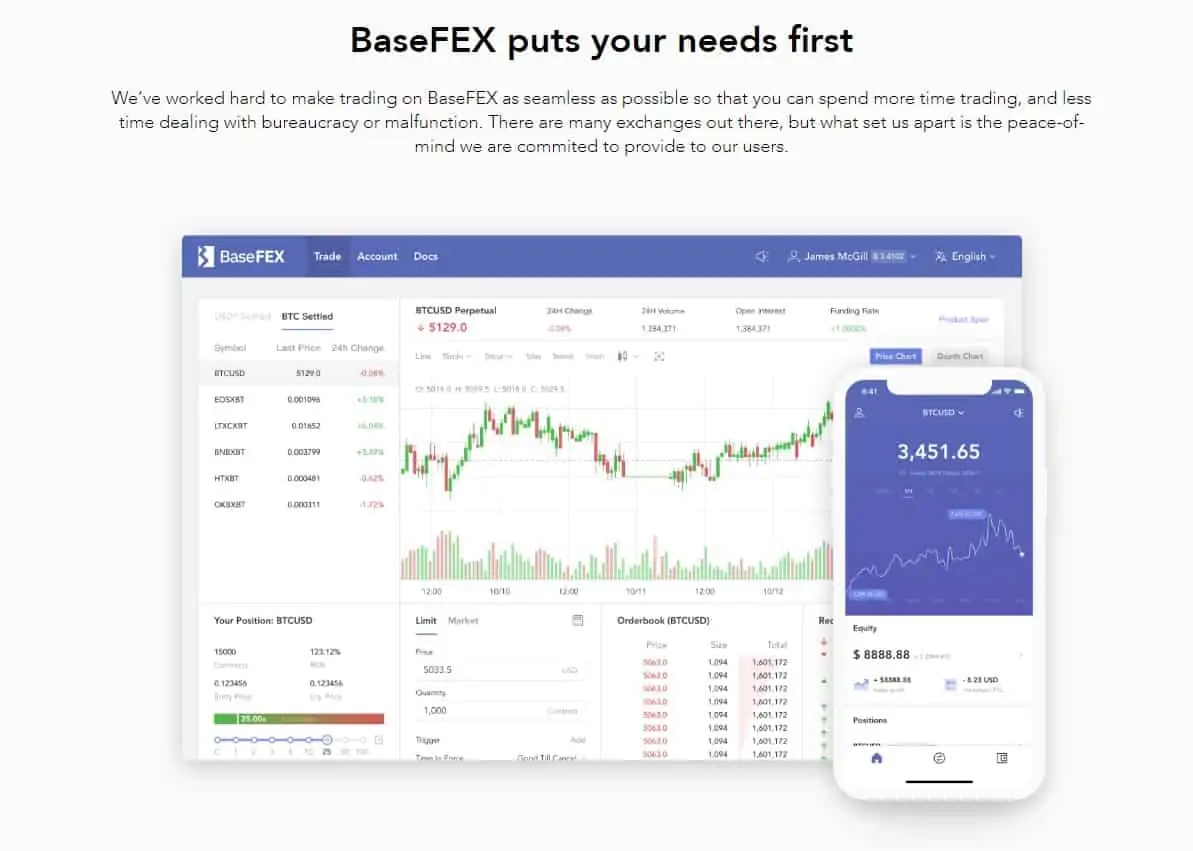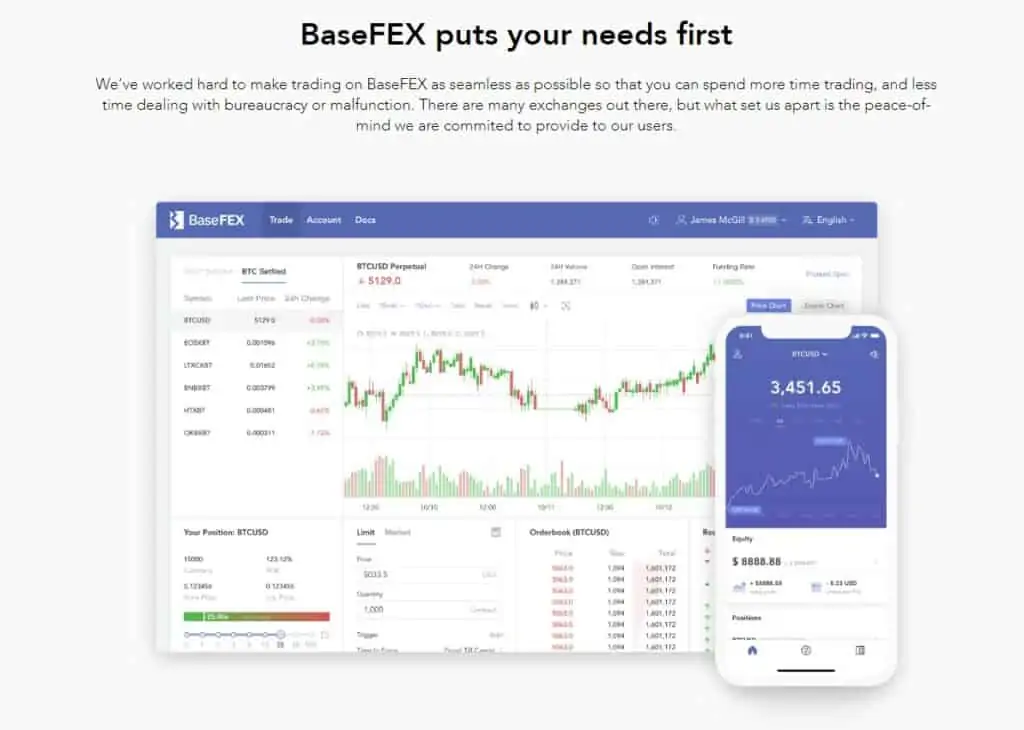 From a server side, BaseFEX stores all customer funds in multi-signature cold wallets in cold storage, outside the online space and hence, outside the reach of cybercriminals and virtual scams.
On BaseFEX, withdrawals are processed with exceptional caution — each withdrawal is manually processed by several BasefEX employees in a coordinated action.
Customer Support and BaseFEX Reviews
The exchange is relatively new and you can't find many user reviews on discussion boards and online forums. So far, the general consumer experience is positive and traders rate BaseFEX's accessibility in four different languages besides English (Korean, Chinese, Japanese, and Russian) quite highly.
If you face a particular issue at any stage of the trading process, you can contact the BaseFEX support team through a live chatbot, which is claimed to be highly responsive in processing customers' queries. You can also reach out to the BaseFEX team through their social media channels on Twitter and Telegram.
Don't forget to check out the extensive FAQ section on BaseFEX official website, as there you can find numerous step-by-step guidelines on the exchange performance, carefully organized by topic. You'll find detailed explanations of everything that can appear as a source of concern to a regular trader such as margin trading, insurance fraud, Auto-Deleveraging, liquidation, and many more. There are also clarifications related to fees, deposits, and security, including how to deposit, minimum amounts, wallet information, and support.
Frequently Asked Questions
Can I download a BaseFEX mobile app?
Yes. BaseFEX aims at a top-notch user experience and the recently launched mobile app is part of the full UX package design. The app features a simple and flexible pattern where users can easily manage poisons and review their active trades. It's available for both Android and iOS systems.
How can you use the BaseFEX Testnet?
BaseFEX provides a separate testnet platform (testnet.basefex.com) that enables you to trade on the platform without involving any real assets. The testnet trading option is browser-based and it has the same layout and functionality as the regular platform. It's a great opportunity to practice your crypto-trading strategies and get used to the trading view before making the actual investment. However, you won't be able to log into the testnet version with your live BaseFEX account. Instead, you'll have to set up a separate account in order to get access to the testnet platform and start trading with demo funds (that have no actual value), given by the exchange in the amount of 10 BTC.
What countries does BaseFEX support?
As a derivatives exchange that applies the best security practices, BaseFEX is popular across the majority of territories worldwide. However, there are several countries – such as the USA, Canada, and China – where BaseFEX transactions aren't allowed due to regulatory non-compliance.
A Few Words Before You Go…
BaseFEX belongs to the new generation of derivatives trading platforms that feature a user-friendly interface and intuitive navigation through different markets and trading tools. As such, BaseFEX is suitable for both seasoned traders and novices even though cryptocurrency futures platforms are better associated with high-experience trading.
The platform has managed to live up to its image of a trustworthy marketplace, even though there are plenty of derivatives exchanges that have been present on the crypto scene much longer than BaseFEX.
Certainly, the exchange performance leaves room for improvements, especially in end-user segments such as live customer support and expansion of its list of supported cryptocurrencies. All in all, BaseFAX is a destination for a pleasant, professional, and cost-effective experience with crypto derivatives.
BaseFEX Compared
| Exchange | Cryptocurrencies | Fiat Currencies | Trading Fees | Deposit Methods | Sign Up |
| --- | --- | --- | --- | --- | --- |
| Swyftx | More than 320 | Australian Dollars, New Zealand Dollars | 0.6% | Osko, PayID, Credit Card, Debit Card, Bank Transfer, Cryptocurrency | Visit Swyftx |
| CoinSpot | More than 370 | Australian Dollars | OTC: 0.1% Market Order: 0.1%* (applies to LTC, BTC, ETH, XRP, POWR, DOGE, TRX, NEO, XLM, GAS, RChain, RFOX, EOS) Instant Buy/Sell: 1% | POLi, PayID, Cash, Cryptocurrency, Bank Transfer, BPAY | Visit CoinSpot |
| Binance | More than 600 | US Dollars, Australian Dollars, and 8 more | 0% to 0.1% | Osko, PayID, Credit Card, Debit Card, Crypto | Visit Binance |
| Bybit | More than 160 | 50+ | 0.1% to 0.6% | Crypto, EFT, wire transfer, bank transfer, debit card or credit card | Visit Bybit |
| Independent Reserve | 27 | Australian Dollars, US Dollars, New Zealand Dollars | 0.05% to 0.5% | EFT, SWIFT, Osko, PayID, Crypto | Visit Independent Reserve |
| Coinbase | More than 210 | Australian Dollars, US Dollars, New Zealand Dollars | Fees Vary | EFT, SWIFT, Osko, PayID, Crypto | Visit Coinbase |
| CoinJar | More than 50+ | Australian Dollars, Pound Sterling | Taker: 0.04 to 0.1% Maker: 0.04 to 0.1% | Apple Pay, Google Pay, Credit Card, Debit Card, Bank Transfer, Fiat, Crypto | Visit CoinJar |
| Kraken | More than 140 | Australian Dollars, US Dollars, and 5 more | Taker: 0.10% to 0.26% Maker: 0.00% to 0.16% | Apple Pay, Google Pay, SWIFT, Osko, SEPA, Crypto, Wire Transfer, Bank Transfer | Visit Kraken |
| BTC Markets | More than 15 | Australian Dollars | Taker Fee (for Bitcoin pairs): 0.20% Maker Fee (for Bitcoin pairs): -0.05% Australian Dollars Market Pairs: 0.10% to 0.85% | Crypto, BPAY, EFT, PayID, Osko | Visit BTC Markets |
| Easy Crypto | More than 40 | Australian Dollars, New Zealand Dollars, South African Rand | 1% | P2P, POLi, and Bank Transfers | Visit Easy Crypto |
| Coinstash | More than 140 | AUD | Taker fees: 0.85% Maker fees: 0.85% | Cryptocurrency, Bank Transfer, PayID | Visit Coinstash |
| eToro | More than 70 | Australian Dollars, US Dollars, Euro, and 12 more | Vary | Online Banking, Skrill, Neteller, PayPal, Bank Transfer, Debit Card | Visit eToro |
| KuCoin | More than 645 | US Dollars, Euro, Australian Dollars, and 6 more | 0.1% | Credit Card, Debit Card, SEPA, PayPal, Wire Transfer, Crypto | Visit KuCoin |