The Best Anonymous Cryptocurrency Exchange in Australia 2023
If cryptocurrency transactions are anonymous by nature, then why on earth am I required to undergo an exhausting verification process before being permitted to trade my Bitcoin?
When looking at the
best crypto exchanges in Australia
you might come across the concept of anonymous exchanges. This is a common source of confusion for a potential trader who has shown some interest in the new wave of digital finance. But let's clarify things from the core and find out whether the opening question is wrongly formulated.
Each transaction registered on the blockchain ledger is public. It means that
everyone
is granted access to the full transaction history. However, you will find no single credential in the blockchain record. The sender or receiver is identified by their wallet address, not by their name, last name, or email. Therefore, we would say that the blockchain system is
pseudonymous
rather than
anonymous
.
On the other hand, considering the figures and the number of active crypto users, it's evident that cryptocurrencies have become part of the mainstream economy. And here's the crucial twist! A great percentage of the assets flow is run by such "mainstream handlers" or centralized corporations, bound to operate under strict local government and financial regulations. Full compliance means full implementation of anti-money laundering (AML) and a "know your customer" (KYC) verification process. Apart from submitting a bunch of personal details, these time-consuming processes require you to submit a copy of government-issued documents like ID, driving license, or passport. For some users, this is the highest act of privacy intrusion.
But, on the other hand, to what extent should personal privacy be treasured when dealing with valuable assets?
Best Anonymous Cryptocurrency Exchanges for 2023
1. ShapeShift Exchange

Country: Switzerland
Currency: Crypto Only
Fees: Varies
Available cryptocurrencies: 70+ Cryptocurrencies
"ShapeShift is no longer anonymous" was one of the most discussed topics on online forums in the fall of 2018. Until then, the platform was the top non-custodial spot for fast conversion of Bitcoin and 40 other altcoins. The primary trading service of ShapeShift has been supported by a neat interface, easy navigation from one asset to another, and real-time transactions. Plus, the company purchased the popular KeepKey wallet, allowing its users to store their funds outside their computers. All that was delivered in a completely anonymous manner.

However, in 2018, ShapeShit had to add the KYC registration protocol amid new regulations implemented worldwide. Such a drastic policy shift cost the company around 95% of its customers.
At this point, ShapeShift is ready to fight back. At the beginning of 2021, the founder Voorhees announced that the platform was going full DeFi to regain the image of a fully anonymous, decentralized marketplace. ShapeShift has already integrated with several decentralized exchanges (DEX) such as Uniswap, Curve, Balancer, Bancor, Kyber, 0x, etc, which means that the course of available assets will be moved towards Ethereum (ETH) and ERC20 tokens, making the exchange a decent anonymous option should they persevere in their ways.
2. Bisq Exchange

Country: Global
Currency: Most currencies supported
Fees: 0.1% to 0.7%
Available cryptocurrencies: 11+ Cryptocurrencies
Bisq is another decentralized exchange, frequently associated with anonymous trading, founded by Manfred Karrer. The platform is built on Bitcoin and has been successfully operating on a peer-to-peer model since 2014.
What distinguishes Bisq from the majority of well-known crypto platforms is that it isn't a browser-based exchange. You can access the platform by downloading its open-source desktop software on Windows, Mac, Ubuntu, Linux, and Fedora devices. No prior registration is required and once you have the software downloaded, trading can start within several minutes. On Bisq, you can buy and sell Bitcoin in return for fiat currencies or other cryptocurrencies. The purchase/selling process is said to be incredibly time-effective, taking no longer than 10 minutes in total.


The anonymity is accompanied by full security, as user data has no connection to a central server whatsoever, being stored locally on your personal device. Plus, P2P transactions are covered with escrow service and arbitration in case of a potential counterpart dispute.
Regarding fees, takers' and makers' transaction costs are calculated on a complex algorithm in BTC, starting from 0.007% BTC.
3. KuCoin Exchange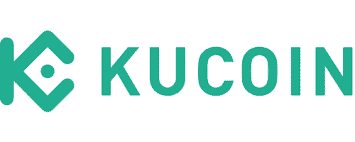 Country: Hong Kong
Currency: 20+ Currencies
Fees: 0.1%
Available cryptocurrencies: 150+ Cryptocurrencies
"The people's exchange", as KuCoin is usually referred to, offers a full package in terms of services and customer support, but when it comes to anonymity, KYC-less trading is allowed with certain limits.
KuCoin was established in 2017 by Michael Gan and Eric Don. This Seychelles-based trading platform delivers an overall positive experience both to novices and crypto professionals. KuCoin supports 200 altcoins on around 400 available markets. Plus, you can also find KuCoin's native coin Kucoin Shares (KSC), which comes with a fantastic discount on transaction fees.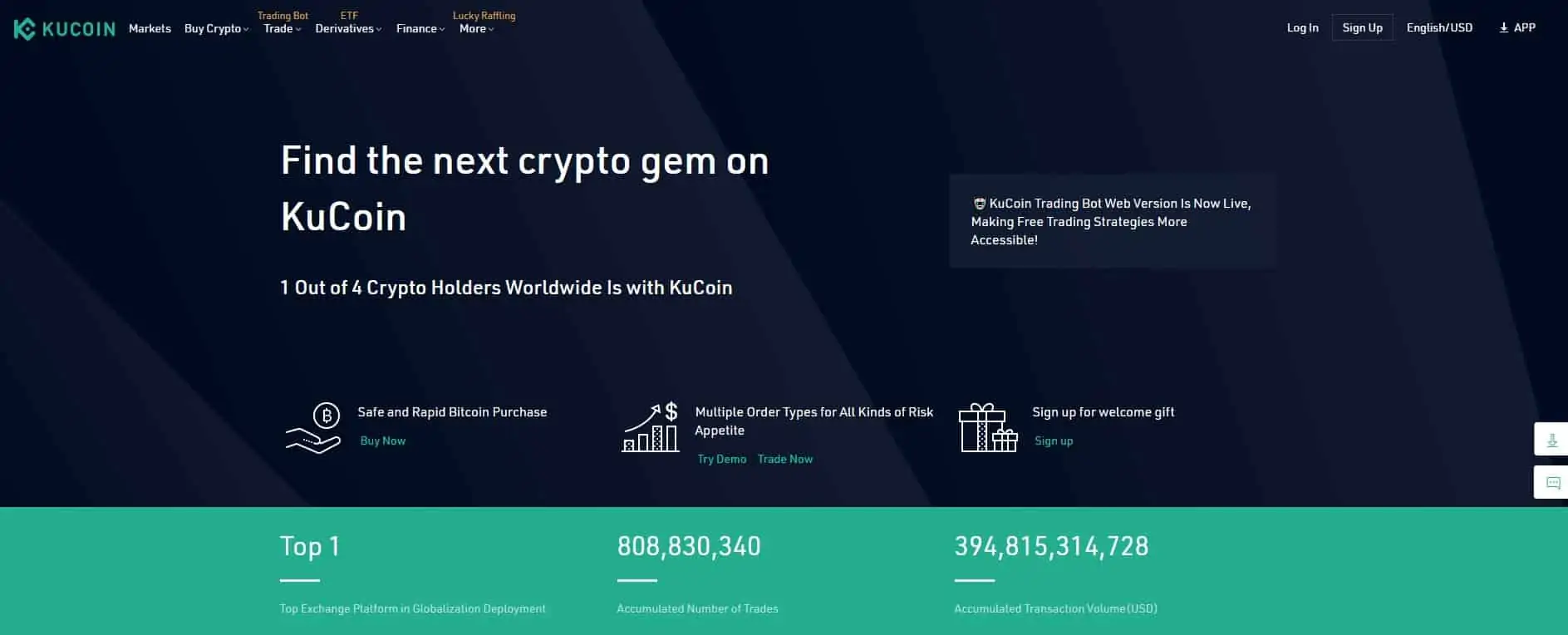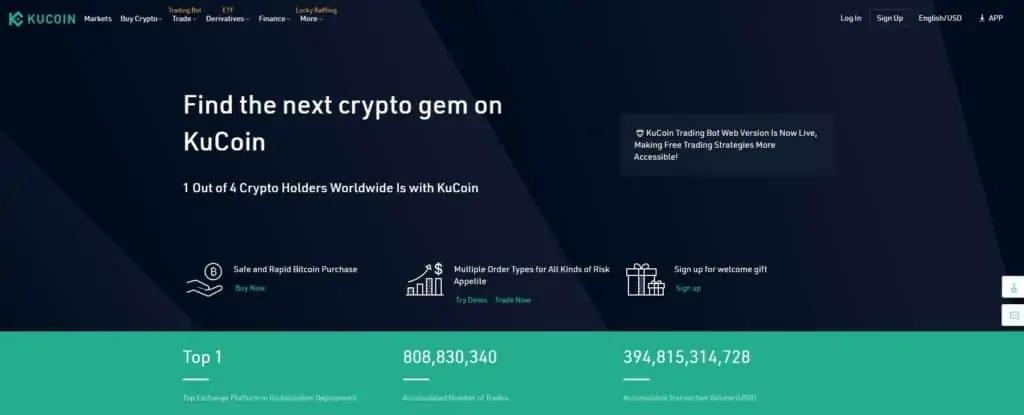 Fiat gateways have been recently opened after the platform faced criticism by potential users for supporting only crypto-to-crypto transactions and thus discouraging a great deal of their target audience. Now, you can make direct fiat purchases through SEPA, credit/debit card, PayPal, or Apple Pay. More advanced options like P2P services, derivatives, futures, and margin trading are also available. On top of it all, you'll get all these for an incredible trading fee of 0.1%.
However, unverified users are limited in terms of daily trading and withdrawals. You aren't allowed to withdraw more than 2 BTC a day and exceed the trading limit of 1,000 USD without KYC verification.
4. Uniswap Exchange

Country: United States
Currency: Crypto Only
Fees: 0.3%
Available cryptocurrencies: 185+ Cryptocurrencies
The principle on which Uniswap operates is what we call a way toward full decentralization of crypto trading. Uniswap is an Automated Market Maker (AMM) protocol allowing traders to swap tokens without relying on an intermediary.
Uniswap was launched in 2018 and it has been considered the most ambitious DeFi project (decentralized finance) so far. The automated liquidity protocol is built on Ethereum and supports Ethereum and ERC20 tokens. It runs completely differently than traditional order books. Users browse for a liquid pool while token swaps are executed directly through their crypto wallets using "Factory" and "Exchange" smart contracts. Smart contracts can be leveraged, providing fully autonomous transactions at a minimal cost. In addition, Uniswap launched its own token UNI, the main purpose of which was to govern protocol changes.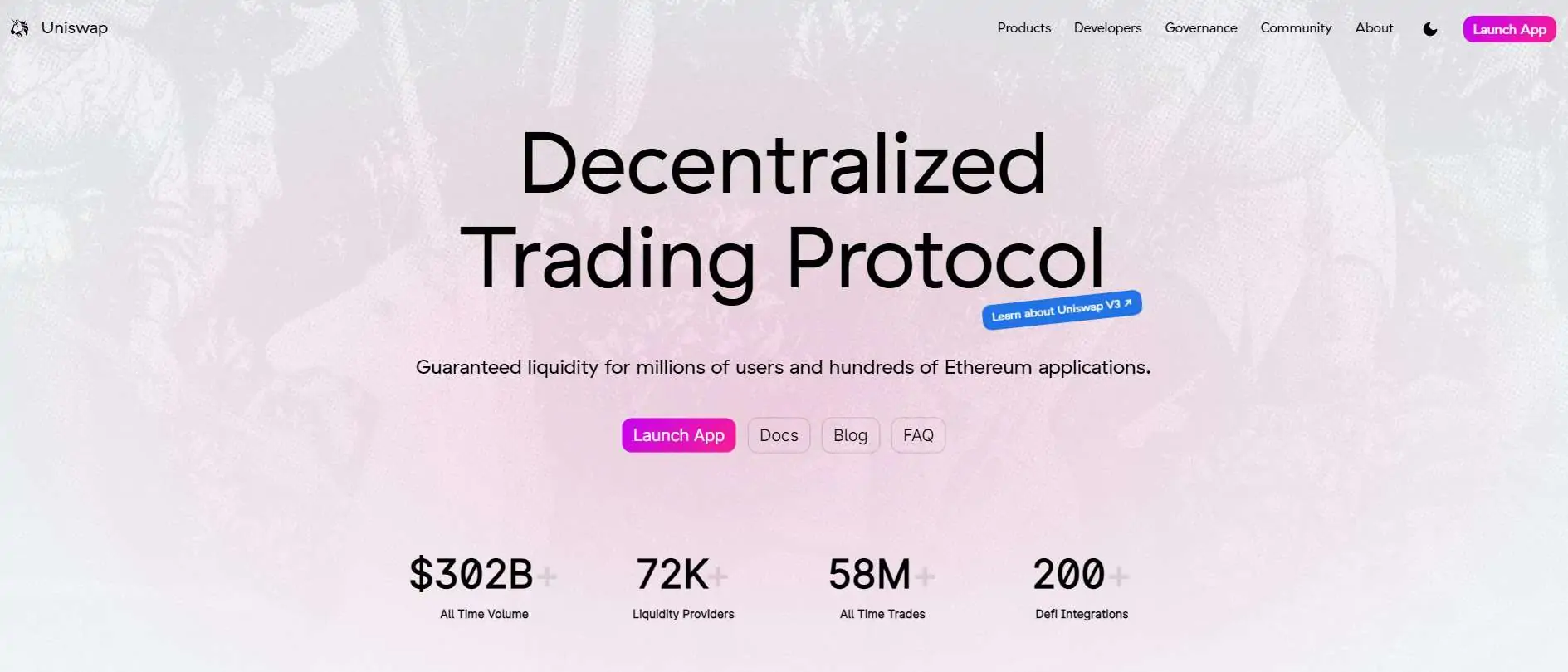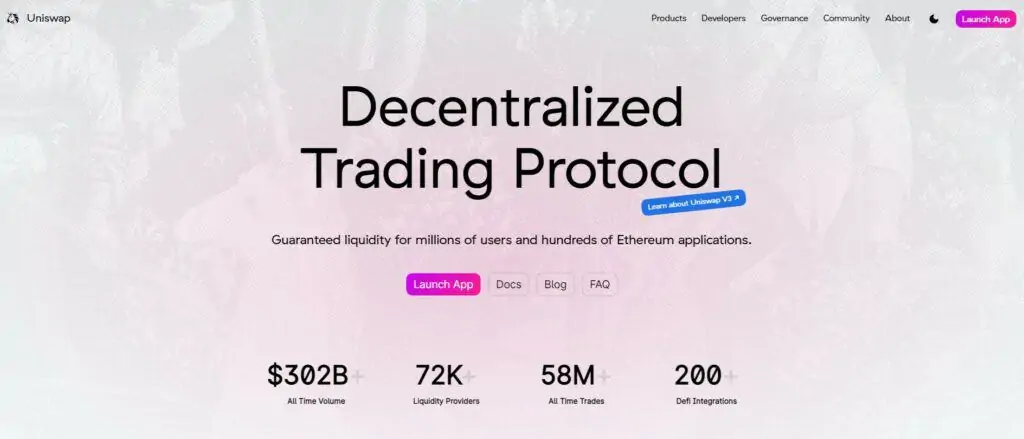 Accordingly, this trading pattern doesn't include any custodial service and KYC verification, but if you're familiar only with the regular, centralized way of trading, it will take some time to learn the rules. That said, Uniswap has surpassed its market competitors in terms of easy access, navigation, and functionality. The platform does not require listing fees, while the native tokens and their gas costs are some of the cheapest on the DEX Ethereum market.
5. Balancer Exchange

Country: USA
Currency: Crypto Only
Fees: Varies
Available cryptocurrencies: 100+ Cryptocurrencies
Following the core principles of the blockchain industry, DeFi apps are gaining massive popularity in the crypto ecosystem. Established in 2019 by Mike McDonald and Fernando Martinelli, Balancer is another automatic market maker protocol (AMM) that caught the eye of professional traders looking for a fully non-custodial crypto experience.
Balancer ($BAL) is a decentralized market maker providing liquidity to a range of available assets such as Ethereum (ETH), WBTC, BAT, SNX, USDC, ZRX, DAI, MKR, WETH, COMP, KNC, OCEAN, REP, BTC++, LINK, DZAR, REN, LRC, UMA, LEND, etc.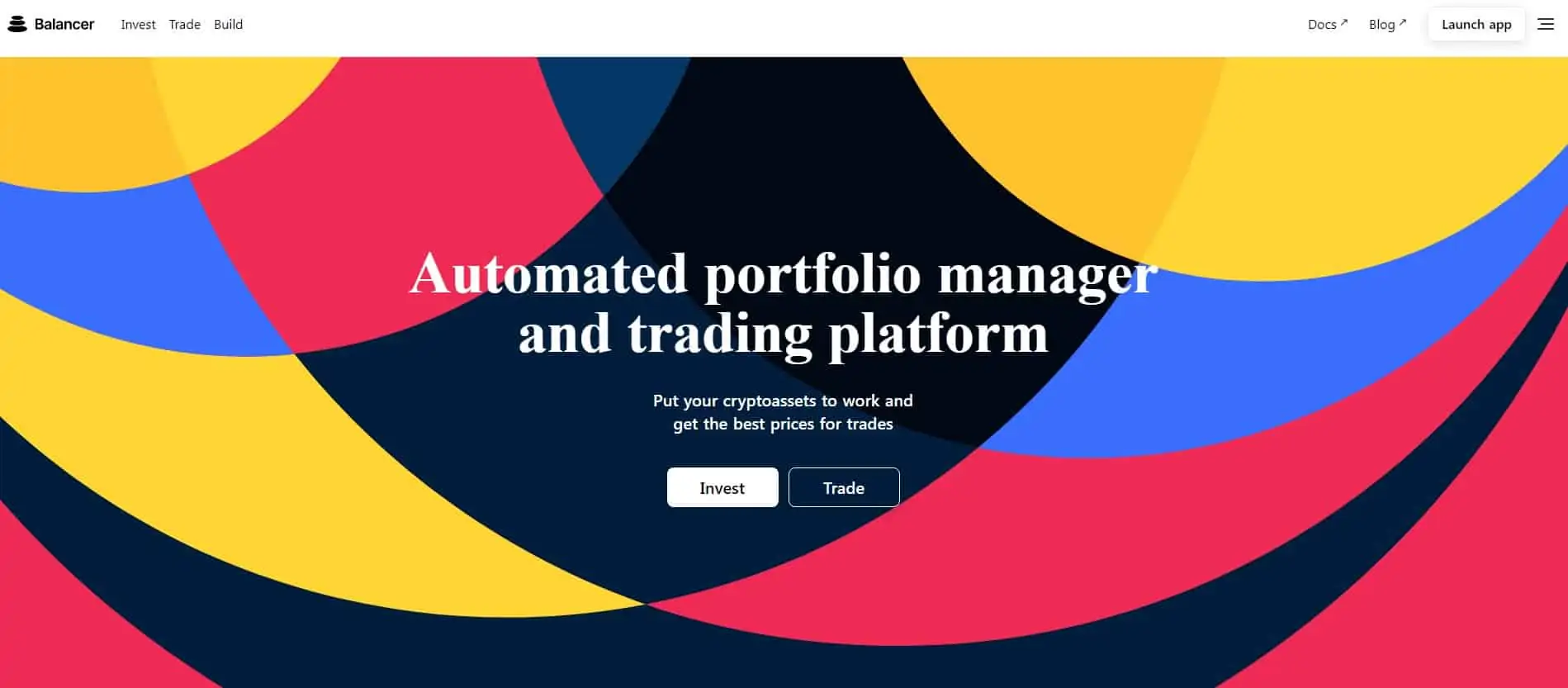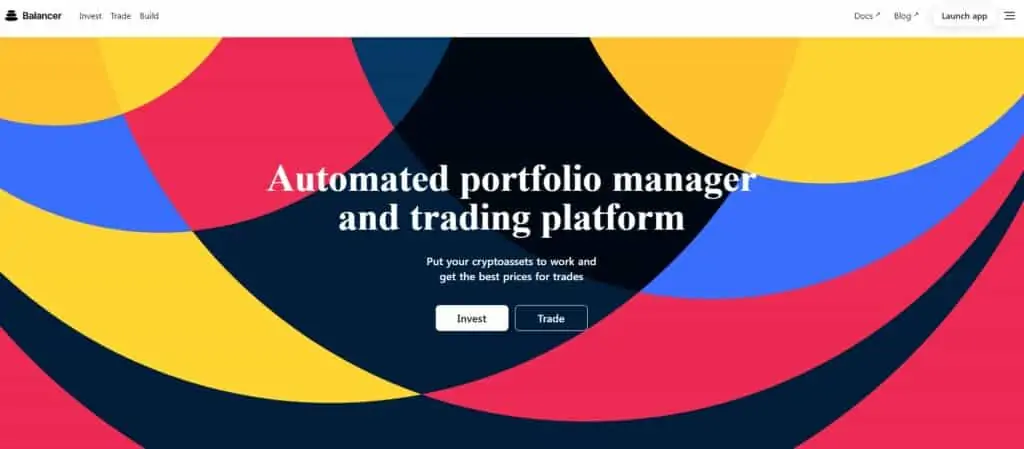 On Balancer, you can also find tokens that have no liquidity pools including sBTC, PNK, pBTC, sBTC, ANT, cDAI, and tBTC. The main objective of Balancer is to deliver a flexible marketplace for programmable liquidity. Accordingly, each trader can add liquidity to an existing pool or even create a multi-asset pool, specifying any maintainable distribution.

The protocol also aims at lowering the costs and slippage occurring in the trading process. Regarding fees, Balancer has set certain withdrawal and trading costs, contributing to the award fund of liquidity providers as well as to the general service improvement.
6. Block DX Exchange
Country: Global
Currency: Crypto Only
Fees: Varies
Available cryptocurrencies: 100+ Cryptocurrencies
Block DX is described as the spot for ultimate trustless trading. It satisfies all the criteria for a decentralized crypto exchange: funds storage, orders, order matching, and settlement, allowing its users to have full control over their wallets. There is no central governing authority, no need to create an account, and no KYC/AML verification requirements.
The platform has been built on Blocknet Protocol—an interoperable peer-to-peer protocol that provides communication and exchange between both private and public blockchain nodes, delivery of P2P services, as well as integration to external APIs through oracles.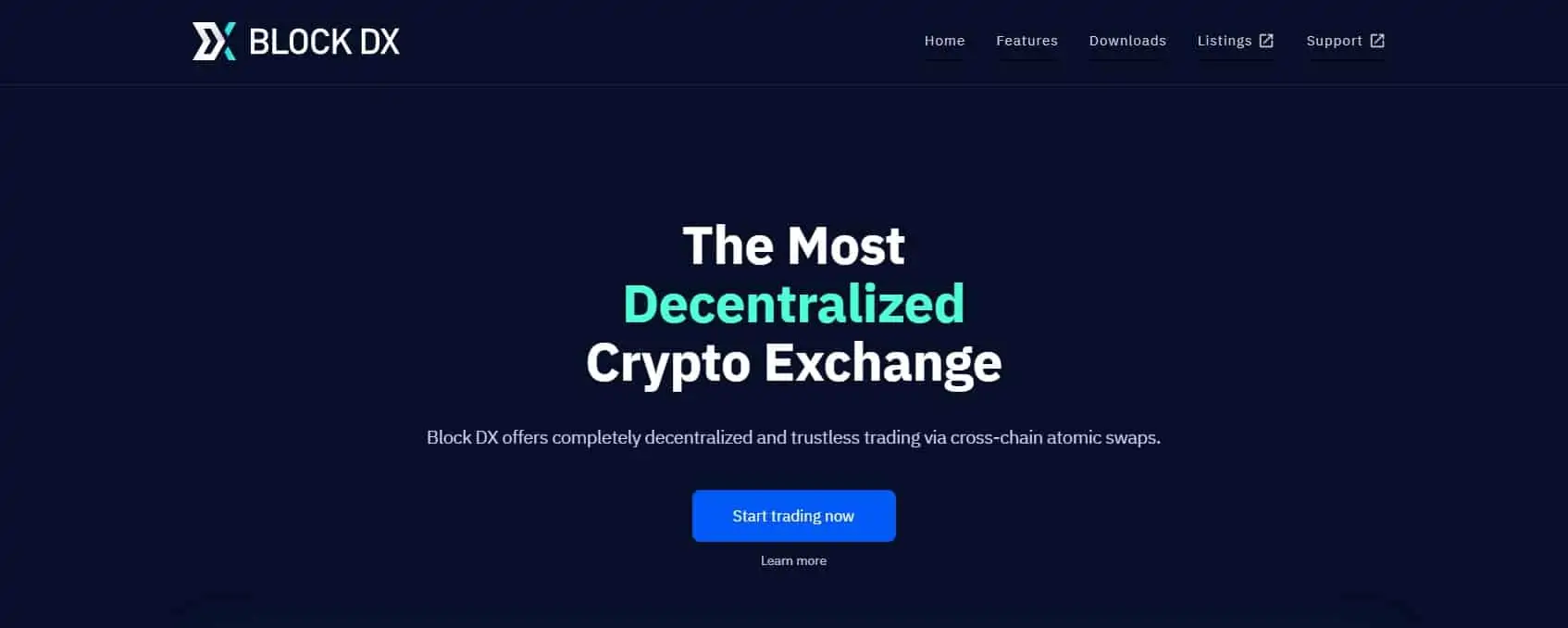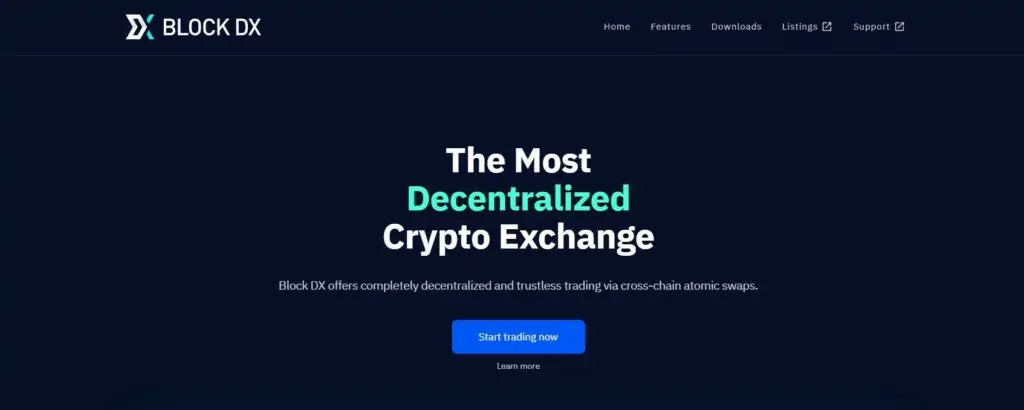 The cross-chain trading on Block DX is enabled through the use of atomic swaps, excluding the existence of third parties to control the transaction flow.
As a result of the fully anonymous trading circumstances, there is no limitation when it comes to withdrawals and trading pairs on Block DX. You can find a continuously growing number of 100 supported assets making a huge spectrum of 7000 trading pairs.
Furthermore, unlike centralized exchanges and other decentralized platforms, the trading fees on Block DX are incredibly low. In fact, all collected funds are distributed to service nodes to support the network system.
7. Bybit Exchange

Country: British Virgin Islands
Currency: 20+ Currencies
Fees: Varies
Available cryptocurrencies: 200+ Cryptocurrencies
Bybit is a crypto derivatives exchange, founded in 2018 in the British Virgin Islands and it's tailored for advanced crypto-savvy traders. It features an intuitive user interface, handles up to 100,000 Bitcoin transactions per second, and what's more, trading on Bybit doesn't follow an obligatory KYC verification process.
The platform has been recognized as one of the most stable on the market, offering high leverage trading with the dominant cryptocurrencies like BTC up to 100x, and ETH, XRP, and EOS with up to 50X leverage. The leverage level can be modified after opening a position, which is not the case with other services facilitating margin trading.

Bybit is evidently oriented towards crypto-to-crypto trading, but it does support fiat purchases for the main altcoins in cooperation with external payment providers like Moonpay. And here's the catch concerning anonymity; even though KYC isn't mandatory on Bybit, users must perform KYC with third-party payment providers to ensure seamless fiat deposits. Otherwise, all you have to submit when signing up on the Bybit platform is a valid email and password.
Disclaimer! Citizens of the United States aren't allowed to use Bybit services.
8. Binance Exchange

Country: Global
Currency: 40+ Currencies
Fees: 0.1%
Available cryptocurrencies: 400+ Cryptocurrencies
Established in 2017, this young platform has surpassed all crypto veterans in terms of liquidity and trading volumes. Its founder, Changpeng Zhao, successfully conveys the vision of a "global form of money" across the 190 countries where this platform is available.
Binance's global success didn't happen by chance. The exchange offers spot, futures, and margin trading with over 400 altcoins including Bitcoin, Bitcoin Gold, Bitcoin Cash, Bitcoin SV, Dash, Doge, Ethereum, Litecoin, Monero, and Zcash, stablecoins, and DeFi tokens for incredibly low fees of 0.1%. The team has also launched their own BNB coin and it's being actively promoted by giving additional fee discounts to users who trade with BNB.


Another reason why Binance attracts a massive number of users is its open approach towards its target clientele and available assets. That being said, Binance doesn't aim at a specific group of users and it's always welcoming towards new promising coins. Users can choose between multiple trading interfaces based on their experience including basic, standard, and advanced.
Concerning anonymity in trading, the very opening of a Binance account doesn't require KYC or any other type of verification process. However, if you don't want to move to the second verified level, you will be restricted to only basic transactions. More specifically, you won't be able to withdraw more than 2 BTC a day.
9. 1inch Exchange

Country: Global
Currency: Crypto Only
Fees: Varies
Available cryptocurrencies: 300+ Cryptocurrencies
Another noteworthy crypto exchange for anonymous trading is 1inch, a decentralized aggregator, founded by the Russian software professionals Sergej Kunz and Anton Bukov in 2019.
Even though all decentralized exchanges operate on the same blockchain principles, they differ to a certain level in terms of operational structure, asset price, and trading fees. It means that the Ethereum price can be significantly higher on one DEX than on another.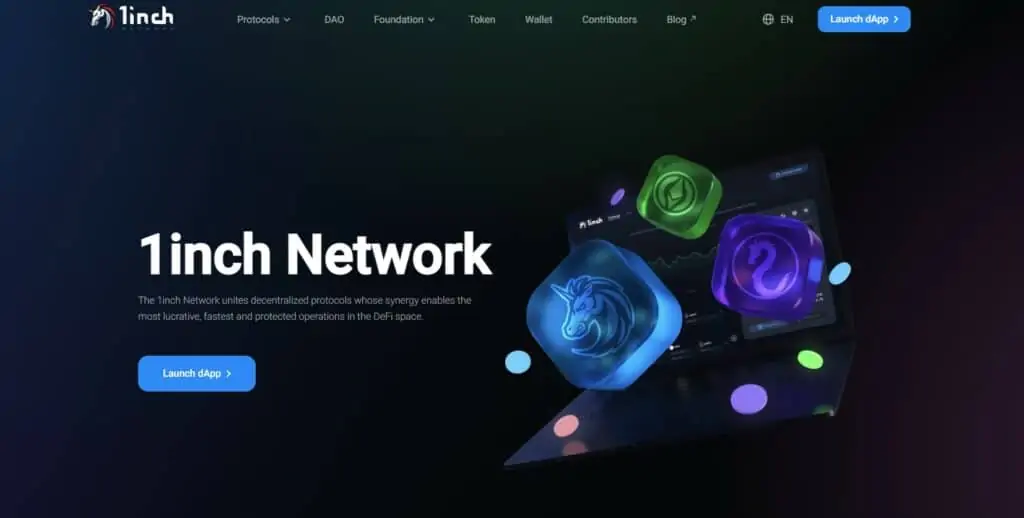 1inch has developed an algorithm that brings the best prices from 21 reliable decentralized exchanges and liquidity protocols in one place. So if you want to buy some Wrapped Bitcoin in exchange for Etherum, 1inch will find the most affordable place for doing so. This may involve swapping the ETH across several protocols and currencies before it arrives in your desired one, but you'll be sure that you got the best-value Wrapped Bitcoin.
For example, you may want to acquire Wrapped Bitcoin (a synthetic version of Bitcoin) using Ethereum on a decentralized exchange. Look at different DEXes and you'll find that the prices vary, as do the fees. You can avoid pinpointing the best prices by simply using 1inch; they do that for you.
1inch has also launched its token 1INCH in 2020, which can be earned by supplying liquidity to the token's liquidity platform.
10. Paxful Exchange

Country: United States
Currency: 140+ Currencies
Fees: Varies
Available cryptocurrencies: Bitcoin & Others
Paxful is a famous P2P crypto exchange with an incorporated digital wallet. The platform was established in 2015 and it's currently headquartered in New York, providing crypto trading services across the globe using over 350 payment methods and currencies.
These payment methods can be used only for Bitcoin (BTC) and some of the prevalent altcoin purchases, which makes Paxful rather limited in choice.
The P2P Paxful system works through live social connections between trading counterparts and reputation ranking schemes. Highly reputed sellers have greater pricing power on the market.


Until recently, Paxful and other popular P2P services like Localbitcoins and Changelly had a recognizably loose verification policy but now most of their trading services are bound with AML/KYC protocols.

However, here we're talking about a typical P2P platform where transactions can be also negotiated in person and paid for in cash. It isn't a recommended manner of acquiring or selling Bitcoin, yet it can protect you from revealing personal and bank information. It goes without saying though, unverified buyers are not amongst the most reputable candidates for a potential business deal.
The Disadvantages of Trading Cryptocurrency Anonymously
From what we have covered so far, you will conclude that an anonymous exchange is one that doesn't require a verification process. You can access the platform using only your Bitcoin wallet or a valid email. The advantages here are apparent.

However, let's put things straight, the number of anonymous crypto exchanges is rapidly dropping. Even those that can be found on the market as such set a specific threshold for users who want to avoid verification. In other words, unverified users are restricted in terms of trading volumes, payment methods, and daily/monthly withdrawals. This can be critical in cases where you want to trade huge amounts or engage in day trading.
Another concern regarding trading crypto anonymously is the credibility of anonymous platforms. The decreasing number of anonymous trading spots opens room for fraudulent platforms and cyber scams. Furthermore, central authorities shouldn't always be perceived as usurpers of privacy. On the contrary, they give users a feeling of safety, stemming from the fact that there is "someone" providing supervision over the safe execution of transactions on an institutional level.
However, there are millions of reasons why a potential crypto trader would prefer not to provide any personal or bank information. So, before relying on alternatives like logless VPN, address change, and cash purchases, we recommend that you go through the list of best legit exchanges we've put together for you. These exchanges allow you to stay anonymous to a certain extent.
FAQs
What are semi-anonymous exchanges?
There are a few Bitcoin exchanges where you can go trading immediately after signing up. It means that such classified exchanges don't require KYC and AML verification but the process of signing up does include providing "traceable" personal information like phone number and email.
In most cases, semi-anonymous exchanges involve multiple verification tiers and unverified account holders aren't allowed the full range of trading services. Kraken is a typical example of a semi-anonymous platform.
Registration on Kraken includes submitting a full name, phone number, residence country, and date of birth. Having provided all this information does not restrict you in terms of trading but it incurs withdrawal limits of $2,500 per day.
Are Bitcoin ATMs anonymous?
Bitcoin ATMs or usually referred to as BATMs are getting massively accepted by Bitcoin users worldwide. Their popularity lies in the convenient as-you-go manner of acquiring crypto assets. BATMs are the handiest payment method so far, but they're not as anonymous as you may think. There are various BATM models on the market today, each with its individual set of features.

All of them, however, require some sort of verification. Depending on the model, you'll have to undergo an ID verification that may include scanning your palm print, face recognition, ID card, or an SMS. You can choose what type of information disclosure suits you and what level of anonymity you want.
Also, don't forget that BATMs incur one of the most expensive transaction fees in the crypto industry reaching up to 8%.
Can I buy Bitcoin anonymously on Coinbase?
Anonymous Bitcoin exchange is not possible on Coinbase. This US-based platform operates under full compliance with the New York State Department of Financial Services following the strict KYC and AML regulations. Coinbase didn't always require identity verification in the past, but it's now an obligatory stage in the signing up process. This being said, any new customer who creates a Coinbase account and all previously registered Coinbase users are required to verify their identity before engaging in any trading activities on the platform.