The Best Centralized Cryptocurrency Exchanges in Australia 2022
Crypto exchanges have been a dominant marketplace for Bitcoin and other cryptocurrencies since the very beginning of the blockchain industry. The revolutionary demand for digital assets has created over 300 crypto exchanges available as of today with a
huge range of cryptocurrency exchanges in Australia
. Understandably, it can be tough for you to differentiate a reliable platform from a scam, based solely on your personal research experience.
Ahead of everything, you should be aware that despite the immense diversity, crypto exchanges fall into two core categories: centralized (CEXs) and decentralized (DEXs) exchanges. We'll start with a direct comparison of their basic features, discussing benefits and drawbacks side by side.
Once you learn that Bitcoin and other altcoins can be traded either through a central authority or directly, without relying on a dedicated central server, you'll see why centralized exchanges turned out to be a greater commercial success. Finally, we'll provide a compact guide to the best 10 centralized crypto exchanges. If this sounds exciting, let's first dive into the basics of the crypto game.
Best Centralized Cryptocurrency Exchanges for 2022
1. Binance Exchange

Country: Global
Currency: 40+ Currencies
Fees: 0.1%
Available cryptocurrencies: 400+ Cryptocurrencies
Binance was founded in 2017 by the software developer Changpeng Zhao, popularly known as CZ. It's currently headquartered in Malta with 12 local offices across the world. In a relatively short time, Binance has taken the lead in the crypto market according to trading volume figures and liquidity charts.
So, what makes Binance the best overall package? Binance offers over 100 trading pairs between various cryptocurrencies. Even though its main focus is directed towards altcoin trading, fiat-crypto pairs are also available. You can buy Bitcoin and other cryptocurrencies by depositing USD and 12 other fiat currencies via SWIFT or purchase them directly with a credit or debit card.

Binance's popularity also lies in the standardized fees of 0.1% for both the taker and maker. The fees can be lowered to 0.02% as users' trade volume increases by a provided rate. The trading fees for using their native token BNB are reduced by an additional 25%.
Furthermore, the Binance platform is suitable for newcomers and crypto-savvy professionals alike, as the interface can be adapted to your experience level. Excellent customer support is provided to both the Basic or Advanced platform versions. Apart from the fancy tools and detailed price charts, advanced traders can also go for margin trading on Binance.
2. Coinbase and Coinbase Pro Exchange

Country: United States
Currency: USD, EUR & GBP
Fees: Varies
Available cryptocurrencies: 70+ Cryptocurrencies
Both Coinbase and Coinbase Pro are owned by Coinbase Global, a US-based company established in 2012 by Brian Armstrong and Fred Ehrsam. The concept of a dual-platform exchange turned out to be the key to Coinbase's global success. The fundamental difference between Coinbase and Coinbase Pro is their interface. Coinbase is designed to help beginners make their first purchase, while Coinbase Pro targets advanced crypto-traders offering a professional platform with advanced trading options.
Coinbase is available in over 130 countries, but the full range of its services is restricted only to the USA, Canada, Australia, Mexico, and Singapore. The other 125 countries can use only the basic custody and crypto-to-crypto exchange services. Coinbase allows buying, selling, and trading around 40 altcoins, which is a rather limited number considering that there are 4,000 existing cryptocurrencies. All prices are quoted in US dollars and you can buy fractions of the supported altcoins but the order mustn't be smaller than 0.001 BTC and 0.01 ETH, BCH, LTC.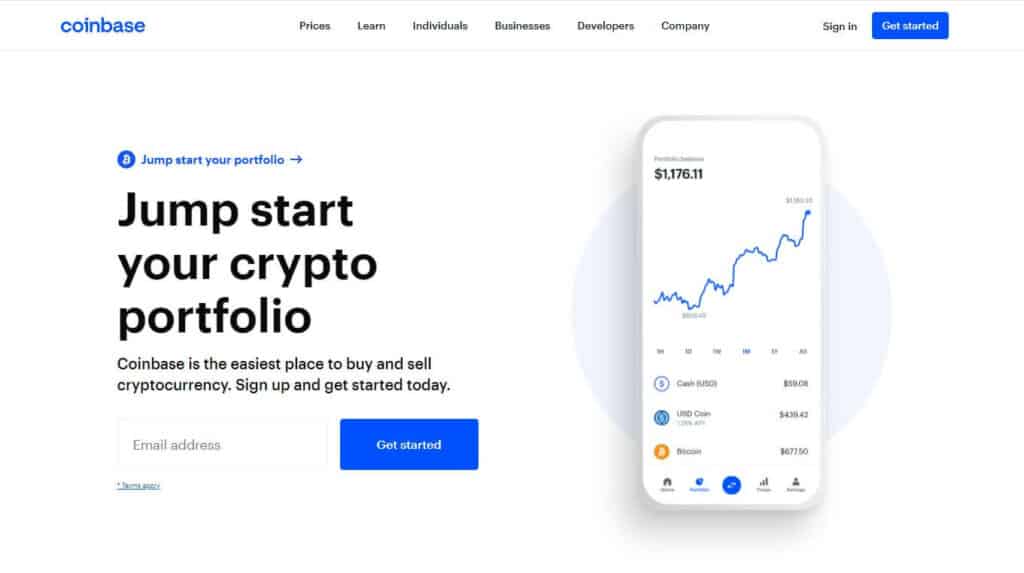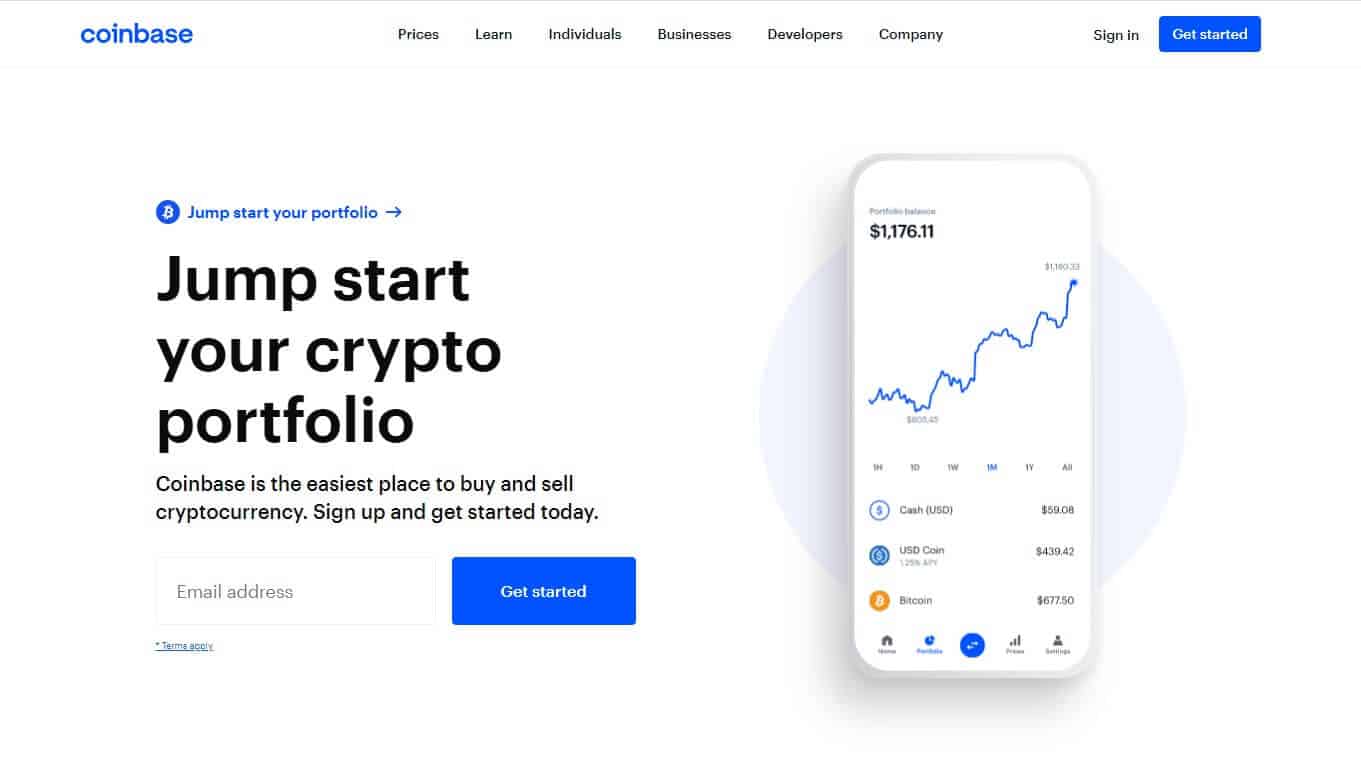 Even though Coinbase is considered the most user-friendly and intuitive platform in the crypto ecosystem, most of the users get confused by their fee system, which is not fixed per transaction. Namely, transaction fees vary between $0.99 and $2.99 depending on the trading amount and there is an additional fee reaching up to 3.99%, based on the selected payment method.
When it comes to user protection, Coinbase is fully regulated and licensed by the New York State Department of Financial Services and complies with the strict KYC and AML regulations. It provides users with multi-layer protection including Two-Factor Authentication and FDIC Insurance (up to $250,000).
3. Kraken Exchange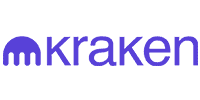 Country: United States
Currency: USD, GBP & EUR
Fees: 0.26%
Available cryptocurrencies: 50+ cryptocurrencies
Kraken is a centralized exchange with a long-established tradition in the crypto world. It has always been a part of the top-ranked platforms due to the remarkable effort to implement the highest security standards.
Kraken was founded in 2013 in San Francisco by a recognized crypto expert, Jesse Powell. He'd developed his expertise as a founder of Lewt, Inc., one of the first e-commerce platforms for supplying currencies for online games. Furthermore, he was a part of the Mt. Gox "rescuing team" in 2011, when the former crypto exchange was a victim of a multi-million hacker's attack.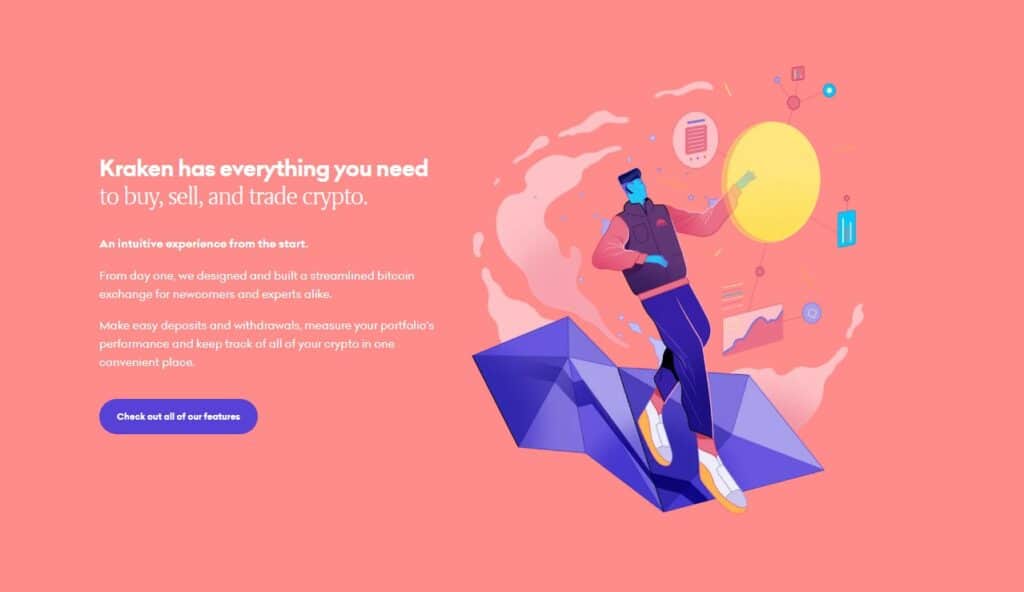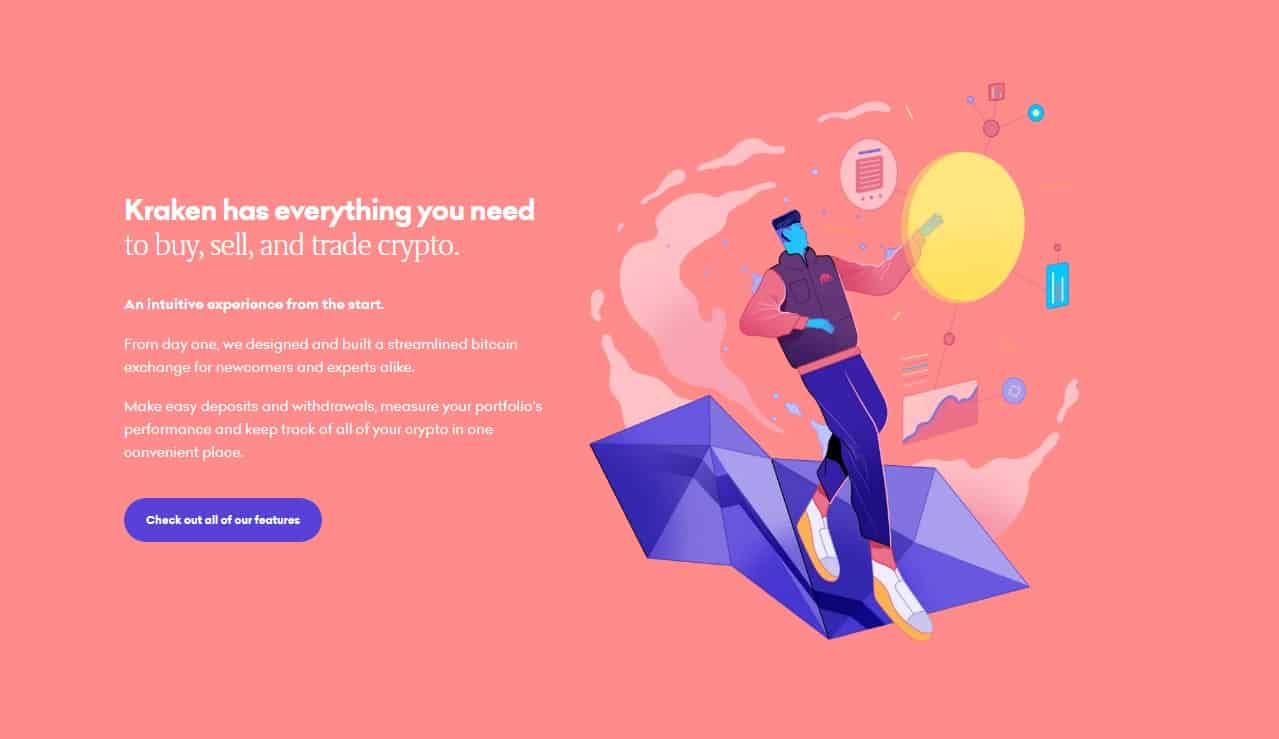 For that reason, Kraken is concentrated on building up trust among users in collaboration with reputable financial institutions in Germany and Japan. It was the first centralized cryptocurrency exchange listed on the Bloomberg Terminal, a trusted international banking tool. Up to this day, Kraken has never been hacked since over 90% of all deposits are kept in offline cold storage.
Besides impeccable security, Kraken offers 54 altcoins for trade, margin trading, and private OTC brokers, Its services are available to users in 176 countries. It accepts deposits in USD, GBP, EUR, CAD, AUD, CHF, and JPY. Regarding fees, Kraken used to charge a bit higher commissions compared to its competitors. However, the prices have been reduced lately, so there is a flat fee of 5 USD for all deposits except for a 35 EURO SWIFT deposit. The withdrawal fees depend on the payment method and the selected cryptocurrency.
Kraken's interface is considered neat and attractive at the same time, suitable for both beginners and professional traders.
4. Gemini Exchange

Country: United States
Currency: USD
Fees: 1%
Available cryptocurrencies: 5+ Cryptocurrencies
Gemini is another US-based platform ranked among the top ten centralized crypto exchanges. It is owned by the famous Winklevoss twins, well-known worldwide for winning a lawsuit against Mark Zuckerberg over the ownership of the idea for Facebook.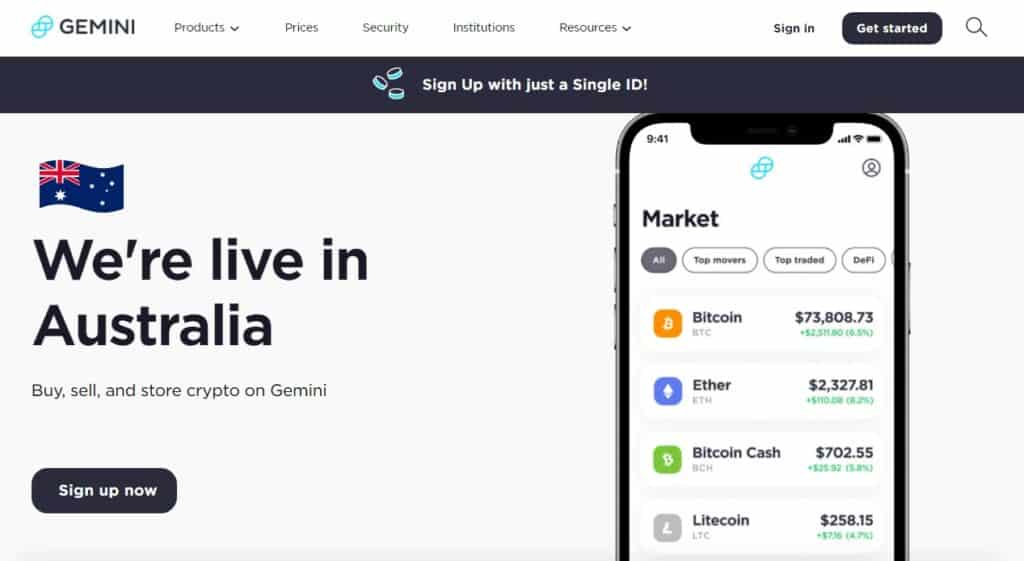 Gemini has a fair fee policy. For trades below $200, it charges a fixed amount of 1.49% and 0.50% for trades above $200. When it comes to deposits, you won't be charged if your deposit is made through wire transfers or ACH (limited to 10 transactions per month). In case you use a credit card to deposit fiat money (only USD allowed), there is also a fixed fee of 3.49%.
Gemini features a very simple and clean interface. However, it may appear a bit confusing to absolute beginners because of all the charts and ambiguous crypto terms. On the other hand, experienced traders find advanced options such as ordering their coins in an auction format quite helpful.
5. Bittrex Exchange

Country: United States
Currency: EUR & USD
Fees: 0% to 0.75%
Available cryptocurrencies: 40+ cryptocurrencies
Bittrex was established in 2014 by three professionals in the field of security: Rami Kawach, Bill Shihara, and Richie Lai. The company is based in Seattle, the United States, and Liechtenstein. They operate as separate exchanges that share liquidity to meet the standards of both US and international regulatory authorities.
Bittrex is perfect for users looking for a simple and user-friendly exchange. It maintains a top-notch balance between the three most desired features from a crypto exchange: high-security practices, fixed fees, and a wide range of cryptocurrencies. Bittrex has never experienced any security breaches as it operates in direct compliance with the KYC and AML procedures.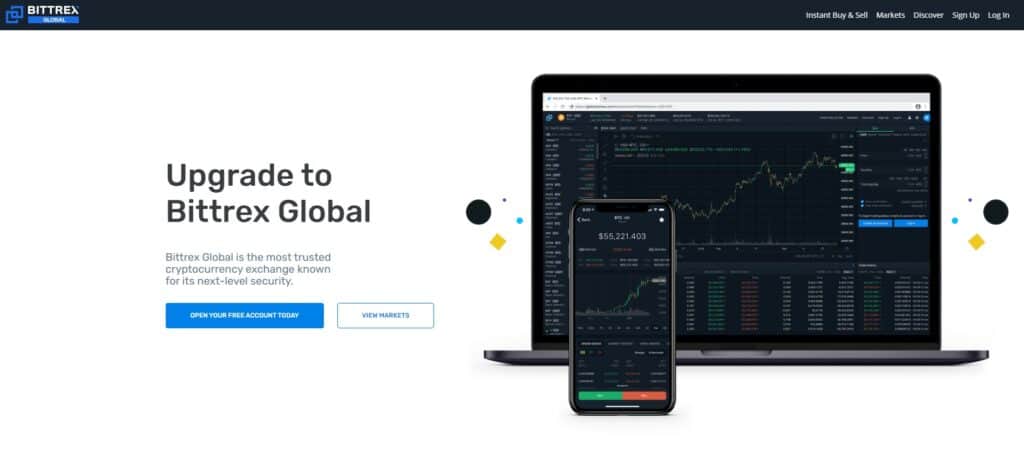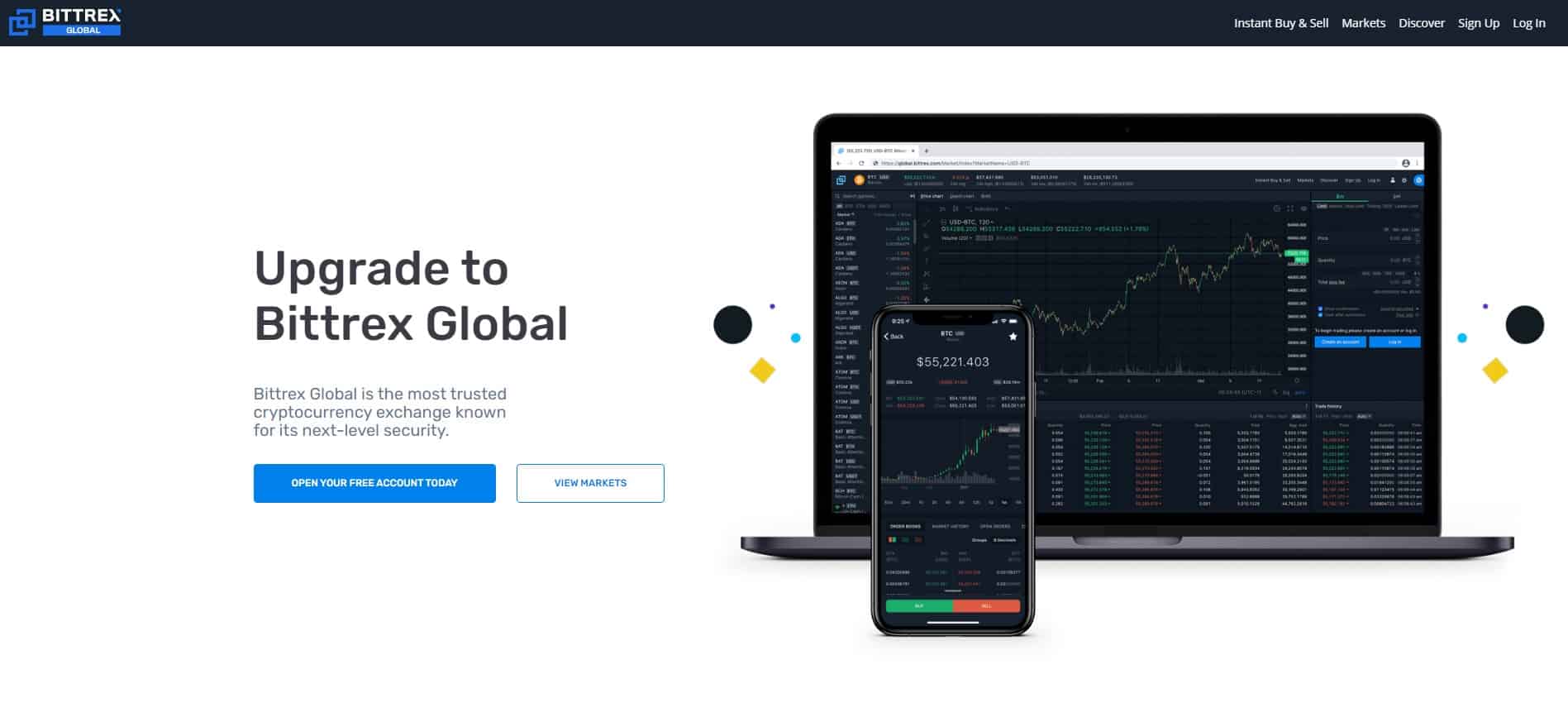 Concerning the offered cryptocurrencies, Bittrex supports over 250 altcoins including the leading ones: Bitcoin (BTC), Ethereum (ETH), Litecoin (LTC), and Tether (USDT). The fiat currency can be deposited either in USD or EUR through your bank account or instantly with a debit or credit card, with a fee of 3% (less than other exchanges accepting credit/debit cards).
This platform offers a Corporate Account to respond to the institutional needs of high-net legal entities like hedge funds, ATMs, other crypto exchanges, etc. The benefits of the corporate account include fast deposits, API integration, and no funding limits.
6. CEX.io Exchange

Country: UK
Currency: 4+ Currencies
Fees: Varies
Available cryptocurrencies: 70+ Cryptocurrencies
CEX.io began as a mining services provider in 2013 and it evolved into one of the leading crypto exchanges on the market. Apart from Bitcoin, CEX.io supports trading with a variety of other digital currencies, including Ethereum, Litecoin, Bitcoin Cash, and Ripple.
One of the primary advantages of CEX.io is that it accepts four fiat currencies: GBP, USD, EUR, and RUB, an important success factor in global terms, especially for a company accessible in over 90% of the countries across the world. The fees are slightly above the industry average, starting from 0.25% for takers and 0.16% for makers, but they are reduced as the trading volume increases.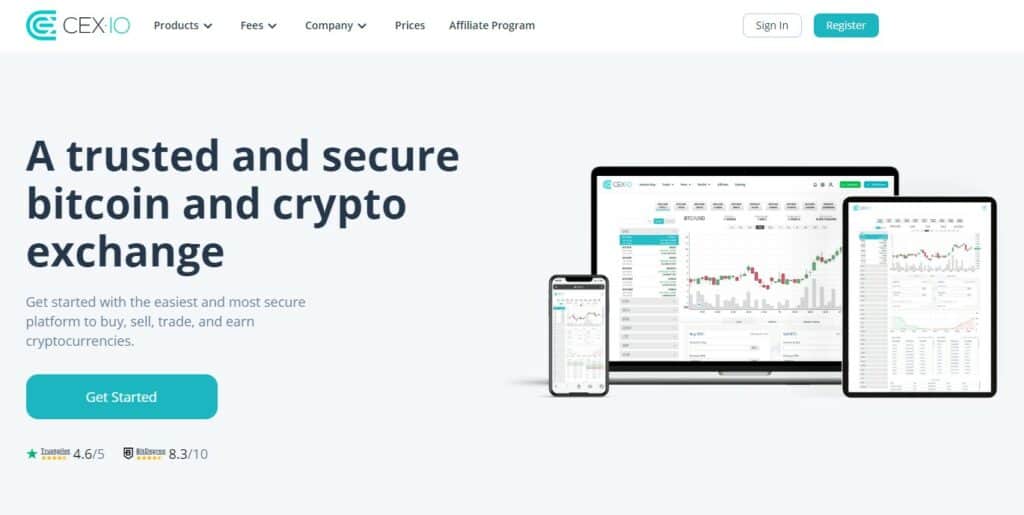 This UK-based platform has been singled out for offering different account types depending on the level of verification. There are four levels: Basic, Verified, Verified Plus, and Corporate. Why is this so important? The account type determines the deposit and withdrawal limits and the number of payment methods you can use. Users with a Basic account, for example, are allowed to use only credit/debit cards and trade up to $400 worth of Bitcoin daily, and $2,000 monthly.
To reach the Verified level, you'll have to complete a verification process that includes submitting a scanned copy/photo of your passport, a national ID card, or a driver's license. There is no place for worries, though! The verification process is not as time-consuming as it sounds.
Also, CEX.io offers great customer support you can rely on 24/7. Finally, its interface is intuitive and easy to navigate, with stellar reviews given by both newbies and professional traders.
7. Bitstamp Exchange

Country: Luxembourg
Currency: USD & EUR
Fees: 0% to 0.5%
Available cryptocurrencies: 25+ Cryptocurrencies
Bitstamp is one of the earliest cryptocurrency exchanges operating since 2011. It's currently registered in Luxembourg and headquartered in the UK. Bitstamp is considered a halfway point between beginners and advanced trading, following a simple rule: "quality over quantity". It allows trading BTC, ETH, LTC, XRP, and BCH against each other and the following fiat currencies: USD, GBP, and EUR.

When it comes to fees, there is a fixed rate of 0.25% for all transactions under $20,000, which is a big plus as scalable fees can be intimidating most of the time. Bitstamp features a clear interface although some users find it complicated to navigate across the numerous separate dashboards.
The fact that Bitstamp has been active for over a decade (equals to an era in the crypto world) speaks a lot about its reputability and customer protection, even though Bitstamp didn't manage to avoid a few hacker attacks back in 2014 and 2015.
8. Bitfinex Exchange

Country: Hong Kong
Currency: USD, EUR, JPY & GBP
Fees: 0.2%
Available cryptocurrencies: 100+ Cryptocurrencies
Bitfinex is a sophisticated exchange platform launched in 2012, in Hong Kong. It's tailored for intermediate and advanced traders and corporations offering a broad range of charts and other complex trading tools. Bitfinex operates globally except for several countries that are excluded due to local regulatory issues.
This exchange allows fiat deposits and a variety of altcoins with more than 70 mark active pairs. Bitfinex supports only bank transfers as a payment method for depositing and withdrawing funds. The exchange rates are based on your position either as a maker or a taker which is 0.10% and 0.20% respectively. If your monthly trading volume surpasses the amount of $500,000, you will be rewarded with an additional fee discount.

Regarding security and user protection, Bitfinex experienced a couple of cyberattacks in 2015 and 2016. However, it managed to maintain its good image due to the ambitious team that
spared no effort to fix existing security breaches and implement additional security features such as 2FA, DDoS protection, and whitelists of IP addresses.
9. Coinmama Exchange

Country: Ireland
Currency: All currencies
Fees: Varies
Available cryptocurrencies: 5+ Cryptocurrencies
Coinmama is a centralized brokerage service registered in Slovakia, with headquarters in Israel, as part of the New Bit Ventures group. It was established in 2013 and since then it has regularly held a highly-ranked position on crypto top lists. Currently, Coinmama has expanded to 188 countries offering fast service for direct altcoin purchases.
Many instant buyers find this type of service exceptionally convenient and simple as they don't have to look for a counterpart to execute the trade. Coinmama supports the seven leading cryptocurrencies: BTC, BCH, ETH, LTC, Ethereum Classic (ETC), Cardano (ADA), and Tezos (XTZ).

The good thing about Coinmama is the diverse range of payment methods available for users to make crypto purchases. You can use your credit or debit card, Fedwire, SWIFT, SEPA bank transfers, Apple Pay, or Faster Payments.
According to users' reviews, this company is particularly valued for outstanding customer support, available in several languages via email. Coinmama will charge you a 5.5% transaction fee per purchase. If you use your credit card to make the purchase, there is an additional 5% fee, assessed by the credit card processor, Simplex.
10. KuCoin Exchange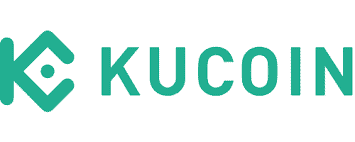 Country: Hong Kong
Currency: 20+ Currencies
Fees: 0.1%
Available cryptocurrencies: 150+ Cryptocurrencies
KuCoin is a relatively young and popular cryptocurrency exchange, founded in 2017 by a group of enthusiastic business specialists with previous experience in Ant Financial and iBox PAY. KuCoin's founders Michael Gan and Eric Don had a clear mission to create 'The People's Exchange' which is cost-effective, user-friendly, and secure.
KuCoin allows you to buy, sell, and trade cryptocurrencies with a superb number of over 200 coins and 400 trading pairs. It also features some more advanced crypto-trading opportunities like margin trading, futures trading, derivatives, and P2P services.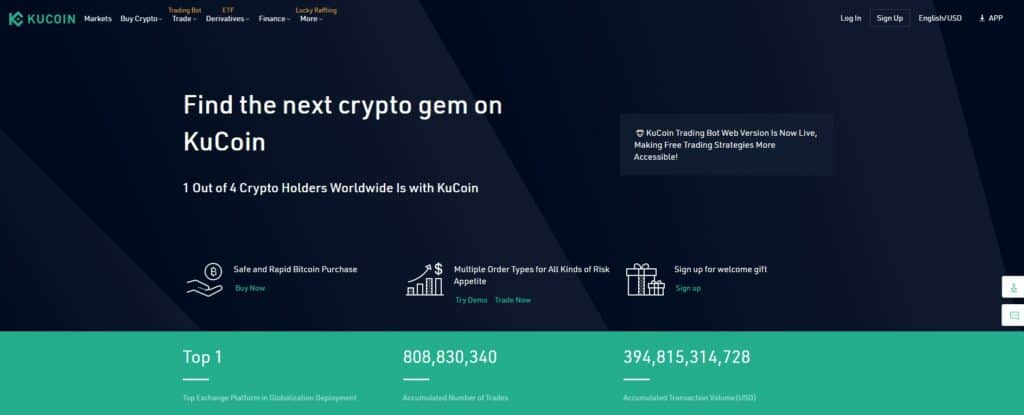 Until recently, KuCoin didn't accept fiat deposits. However, now you can choose one of the three fiat payment methods applicable: SEPA, Apple Pay, PayPal, or credit/debit card (in cooperation with Simplex). Finally, the top reason to use KuCoin are the extremely low fees. More specifically, crypto deposits are free of charge. As a buyer, you'll have to pay 0.1% of the total amount you plan to purchase. It's worth trying, isn't it?
What's a Centralized Cryptocurrency Exchange?
Centralized crypto exchanges are online platforms that facilitate buying and selling cryptocurrencies with fiat money and other cryptocurrencies.
The word "centralized" stands for a centralized authority or a third party you trust to handle your crypto assets. More specifically, all the fiat money or altcoins you deposit and the personal data you provide during the registration process end up in the hands of the respective exchange provider. They (CEXs) operate as registered financial institutions, charge specific fees for their services, and comply with local financial/taxation regulations, which differs in no respect from any e-commerce site you use daily.
You submit sensitive bank and personal information, you know that the institution grants total access to everything you share, but according to the reviews, you believe that it is a reliable entity with strict security measures and so you trust it. In this context, all centralized cryptocurrency exchanges require an ID verification process to allow access to their trading platforms.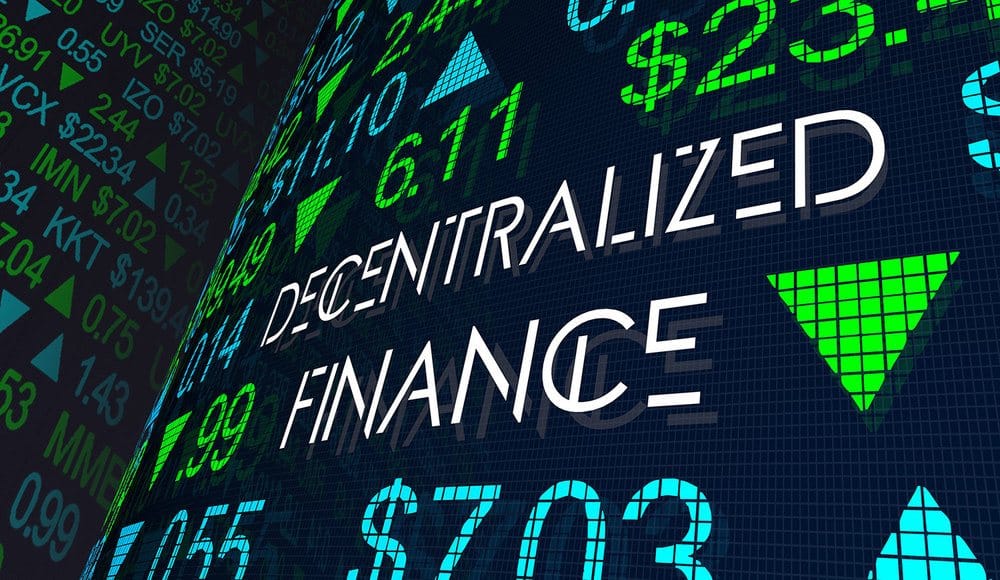 Centralized vs Decentralized Cryptocurrency Exchanges
Since Bitcoin and the other blockchain currencies are decentralized by nature, you can find various decentralized exchanges like LocalBitcoins and Changelly actively operating on the crypto market. They use peer-to-peer linking technology, without an intermediary or any other type of centralized authority to control the trading.
When using such decentralized services, the "deal" is made directly between the buyer and the seller, usually through a smart contract or an atomic swap. Some crypto traders find DEXs superior to centralized crypto exchanges as they get total control over the terms of their exchanges and absolute privacy.
However, new users are most likely to head towards well-established centralized exchanges due to the sense of security and protection that they provide. Besides, CEXs offer sophisticated user interfaces, reliable customer support, and free mobile apps.
FAQs
What is the best crypto exchange for me?
Choosing the most suitable crypto exchange can be seriously tough due to the overwhelming number of existing platforms over there. Even though the final choice should meet your purchase needs on a personal level, there are several general factors you should consider: security, fee system, cryptocurrency type, purchase methods, and interface.
What's most important is to always check whether the selected crypto exchange is suitable for beginners. Besides, you can always rely on our detailed list, where we've compared the basic features, advantages, and drawbacks of the best Bitcoin exchanges.
Are all crypto exchanges the same?
On the contrary, even though all crypto exchanges are present on the market for trading purposes, if you do some research on cryptocurrency trading platforms, thousands of alternatives will appear that are completely different.
Different crypto exchanges offer different terms of services based on the altcoins accepted, payment options, eligible locations of operation, etc. Basically, there are two types of crypto exchanges: centralized (CEX) and decentralized (DEX). A new type is currently being developed, referred to as a hybrid crypto exchange.
They aim to make the best of the two worlds: the liquidity of CEX with the anonymity of DEX. Qurrex is one of the few characteristically hybrid platforms, although their number is expected to rise in the near future.
How can I avoid a fake exchange?
As cryptocurrencies exist only in the digital space, they have been the favorite target of cybercriminals since the invention of Bitcoin exchanges. The risk of potential frauds and scams is currently even greater due to the huge amounts invested in cryptocurrencies. Some of the major crypto exchange hacks include Mt Gox and Poloniex back in 2014 resulting in a loss of millions of dollars.
So, before investing your assets in a certain exchange, always double-check its history and background. Do extensive research and read all the exchange reviews and comments carefully, issued by relevant sources such as high-authority websites and real existing customers.