Best Crypto Margin Trading Exchanges in Australia 2022
Margin trading is a perfect example that high-risk investing practices are always welcome in the crypto world. It boosts the chance of increasing your profits in correlation with your trading strategy and sharp price fluctuations. The chances of financial losses are immense as well, but let's admit, such a venture – win big or lose big – perfectly suits the nature of the most daring of crypto traders.

In this article, you'll learn that the margin trading concept is quite straightforward but it requires an advanced strategy, profound knowledge, and the "luck factor" for any tangible success. In this article, our team will guide you through the core principles of margin trading in the crypto world. Afterward, we'll compare the features and services of the best exchanges that allow margin trading as a step-ahead alternative for more advanced traders.

Best Cryptocurrency Margin Trading Platforms for 2022
At this point in the crypto revolution, margin trading is readily available on the majority of well-established crypto exchanges. Based on our detailed analyses and reliable reviews, we've made a careful selection of the most trustworthy ones.
Just one more thing before we move on: we'd like to emphasize once again that margin trading is a risky game. The fact that some exchanges are more transparent than others doesn't reduce the risk factor to a high enough extent. Start small, play cautiously, observe price movements carefully, and never go without a plan and clear risk management strategies.
1. Bybit Exchange

Country: British Virgin Islands
Currency: 20+ Currencies
Fees: Varies
Available cryptocurrencies: 10+ Cryptocurrencies
Bybit is our absolute favorite when it comes to crypto margin trading. This relatively young platform, based in Singapore, has climbed in industry rankings due to several key factors. First, you can start trading on margins immediately after creating a Bybit account. Second, Bybit is one of the few crypto platforms that allow high levels of anonymity, as the KYC process isn't required.
Unlike the majority of platforms, on Bybit, you don't have to switch to a separate Margin Trading section or fulfill particular conditions to become an eligible user for margin trading. Leverage can be customized up to 100x and even modified after opening a position. All information related to your trade is combined into a single page together with stop-loss and take-profit target options.

There are two basic perpetual contracts you can find on Bybit: USDT and inverse. For USDT contracts, the stablecoin Tether (USDT) is the perpetual currency that serves as an underlying margin against 1 USD base collateral value. In this case, USDT can be paired with Bitcoin (BTC), Ethereum (ETH), Chainlink (LINK), Tezos (XTZ), Ripple (XRP), and Litecoin (LTC).
On the other hand, for inverse contracts, Bybit supports trading with the following pairs: BTC/USD, ETH/USD, EOS/USD, and XRP/USD with the cryptocurrency operating as an underlying margin. The maintenance margin rate is 0.5% for BTC and 1% for the other altcoins.
2. Binance Exchange

Country: Global
Currency: 40+ Currencies
Fees: 0.1%
Available cryptocurrencies: 400+ Cryptocurrencies
Binance is a globally recognized cryptocurrency platform established in 2018, by Changpeng Zhao, currently headquartered in Malta. The platform is a world leader in crypto trading, and its regularly high trading volume attests to this. Binance is popular for the wide range of altcoins it offers, their low fees, and their firm security measures. Its high-brand image increases the customers' trust, so many crypto traders rely on this platform when they decide to go on margin.
When it comes to margin trading on Binance, there are several things you should be aware of. Despite the outstanding number of 12 fiat currencies supported on spot trading, there are no crypto/fiat pairs available for margin traders. However, there is a solid selection of around 50 crypto pairs you can choose from. To initiate margin trading on Binance, you should open a separate margin account. The funds will be automatically transferred to your margin wallet. For this purpose, you must enable 2FA authentication.

You should also differentiate between Cross and Isolated Margin trading mode on Binance as the leverage and liquidation price are based on the mode you've selected. In cross-margin trading, the total margin balance is shared with all open positions to prevent liquidation and there is fixed leverage of 3x and 5x for regular and master accounts respectively.
Contrarily, isolated margin mode is suitable for short-term investments giving you an opportunity to limit the risk by assigning separate leveraged positions. The leverage is adaptable depending on the borrowed funds and can go up to 10x.
3. Kraken Exchange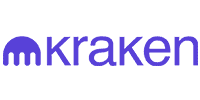 Country: United States
Currency: USD, GBP & EUR
Fees: 0.26%
Available cryptocurrencies: 50+ cryptocurrencies
Kraken is one of the earliest US-based exchanges, founded in 2013 by Jesse Powell, an established professional with long-term experience in the crypto industry. The key objective of Kraken is providing top-notch security to its users, which, of course, concerns traders who want to focus their attention on margin trading.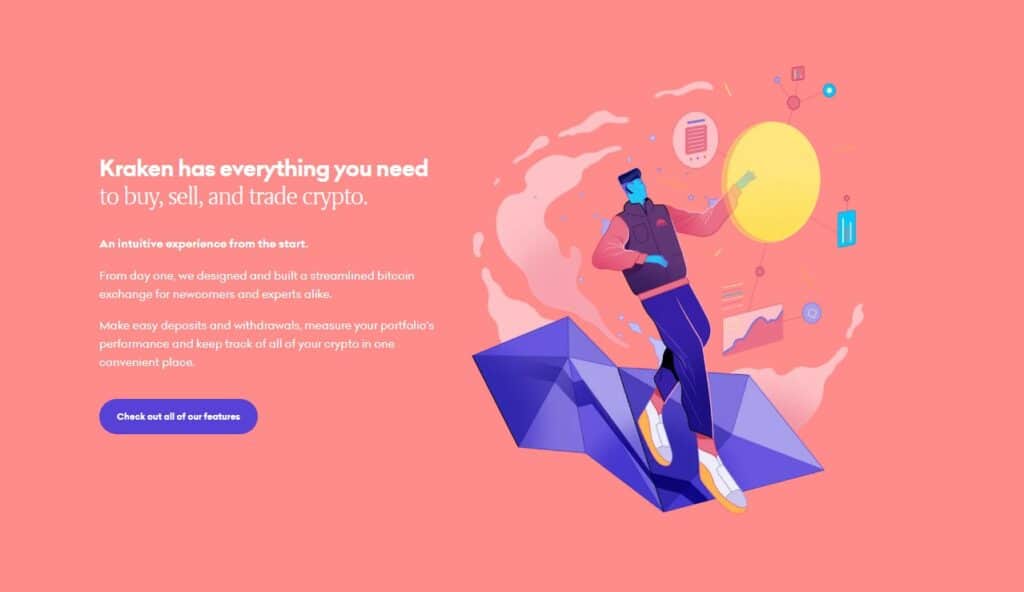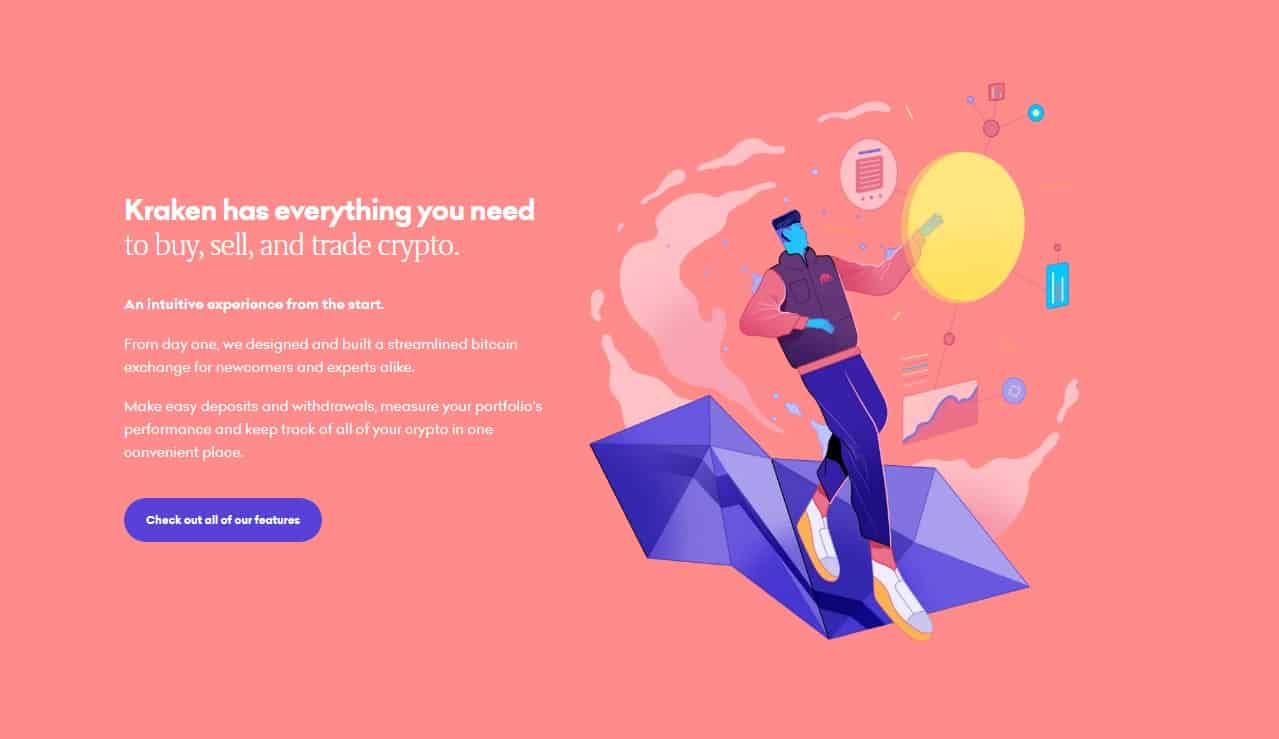 The margin trading option on Kraken was launched by the end of 2018, and it allows users to increase profits substantially while exposing their funds to as little risk as possible. Kraken allows opening both long and short positions, which can be closed either by creating opposite orders or by using the Settle option.
Before you initiate Margin, we suggest you read carefully which altcoins are supported by the platform for margin trading because Kraken doesn't have fixed leverage. Rather, it's calculated based on the base and quoted currency. For example, the allowed leverage for a BTC/EUR pair is up to 5x. On the other hand, leverage isn't supported when pairing BTC and ETH.
As a drawback, some users find the Kraken customer support rather slow and its interface inappropriate even for advanced traders.
4. Bitfinex Exchange

Country: Hong Kong
Currency: USD, EUR, JPY & GBP
Fees: 0.2%
Available cryptocurrencies: 100+ Cryptocurrencies
Established back in 2012, Bitfinex is now considered one of the most elegant solutions for professional crypto traders. Therefore, it doesn't come as a surprise that it features a highly developed margin trading system. Until recently, Bitfinex offered up to 3.3x leverage, but now the leverage can reach up to 10x, which is considered pretty high.

The process of initiating margin doesn't differ to a great extent from any other platforms that support leverage funding. However, what makes Bitfinex superior over its competitors is the spot margin opportunity, where you can borrow funds to take positions temporarily on the same market as traders who don't use borrowed funds.
Furthermore, Bitfinex allows P2P spot margin, where you can borrow funds from other users and pay certain interest rates. Such borrow-lending contracts have a separate room on the platform, where lenders compete over the most competitive offers. So even if you don't engage in margin trading yourself, you can use your assets for passive income by lending them to other traders. This option can be found under Margin Funding.
5. eToro Exchange

Country: Europe
Currency: EUR, GBP & USD
Fees: Daily Fees
Available cryptocurrencies: 90+ Cryptocurrencies
Established before the Bitcoin era, eToro is a broker service run by eToro Group Limited, with offices in China, Cyprus, Israel, and the United Kingdom. Its platform offers a wide range of assets for investment and trading.
Following the latest global trends, eToro has quickly become a serious player in the crypto world. Its wallet system currently supports over 126 cryptocurrencies and 10 various fiat currencies. For those who are interested in margin trading, there is a separate margin account for Contracts For Difference (CFD) trading.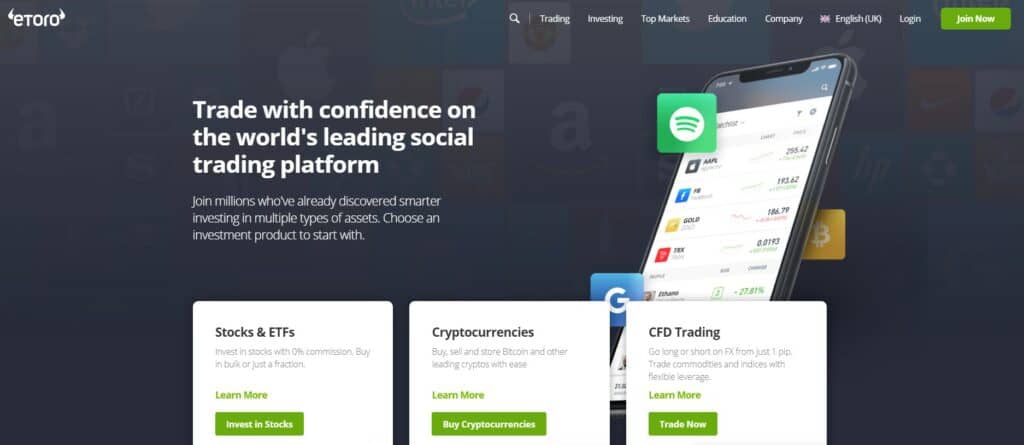 If you want to place an order directly on eToro, you can get up to 2x leverage. You have the opportunity for positioning both short or long orders when you buy a contract with a value that is proportional to the underlying asset value. Experienced crypto traders know that this is a unique chance to trade long and short positions with a cryptocurrency you don't necessarily possess.
Once the price reaches the target, you will see how price volatility can be beneficial for you. If the market starts moving in the opposite direction of your prediction and the price drops to a certain point, your position will be automatically closed, so the broker won't be subjected to any financial losses.
Disclaimer: At the beginning of 2021, eToro announced that they would cease margin trading for European traders. It was massively criticized for the short notice it gave users ahead of margin cancellation. Namely, they had only 4 hours to increase their margin collateral to 100%. The platform non-transparently closed all positions to those who failed to do so.
6. Poloniex Exchange

Country: United States
Currency: 6+ Currencies
Fees: 0.075%
Available cryptocurrencies: 200+ Cryptocurrencies
Poloniex is a familiar name in the crypto sphere. Headquartered in Seychelles, this crypto exchange has been operating since 2014. Poloniex quickly became one of the leading global platforms in terms of the number of users and trading volumes. However, it faced considerable obstacles on its way in the form of security breaches, transaction delays, and poor customer support.
In 2019, Poloniex was taken over by Circle, an internet finance company and it seems it managed to regain its former glory. With considerably improved security regulations, previous experience, and an interface that features clear margin views, traders find Poloniex to be an attractive spot for margin trading once again.

On Poloniex, the leverage is determined based on the initial and maintenance margin. More specifically, for BTC, you can leverage up to 2.5x and margin trade in 11 cryptocurrencies, including the most prominent ones like XRP, ETH, LTC, etc.
Poloniex offers a separate margin account that holds the initial capital that ensures your eligibility for margin trading. You should know that when depositing new funds, they first go to your regular trading account and you need to transfer them to your margin account through the Transfer Balances page.
7. Deribit Exchange

Country: UK
Currency: Crypto Only
Fees: Varies
Available cryptocurrencies: Bitcoin & Ethereum
Deribit is a Bitcoin-only exchange platform founded in 2016 by John Jansen, Sebastian Smyczýnski, and Marius Jansen. Today, it's a leading Bitcoin derivatives trading platform mainly focused on Bitcoin and Ethereum options contracts and Bitcoin futures. It is highly ranked on our list because of its easily manageable platform that allows users to trade Bitcoin and Ethereum on a highly liquid market.
When it comes to margin trading, you are allowed to deposit BTC and use it as a margin for BTC/USD trading on selected leverage up to 100x, with an initial margin of 1%. You can open isolated margin positions to protect your funds as Deribit supports creating subaccounts.

As an additional protective measure, Deribit offers a Testnet version, which allows you to get a real insight into the trading rules before engaging in such potentially risky activities.
However, to qualify for a Margin Portfolio on Deribit, you must meet several requirements:
A minimum of 0.25 BTC or 7.5 ETH net-worth;
A declaration that you have a clear understanding of margin trading;
Level 1 KYC verification.
The maintenance margin on Deribit is 3%, so if your margin falls under the minimum of 3%, your position will be liquidated by default.
8. BaseFEX Exchange

Country: Hong Kong
Currency: Crypto Only
Fees: 0.06%
Available cryptocurrencies: 10+ Cryptocurrencies
BaseFEX is another young Hong Kong-based cryptocurrency exchange that managed to attract crypto traders in a relatively short amount of time. It's a futures trading service that offers up to 100x leveraged contracts for Bitcoin and other blockchain-based altcoins settled either in BTC or USDT.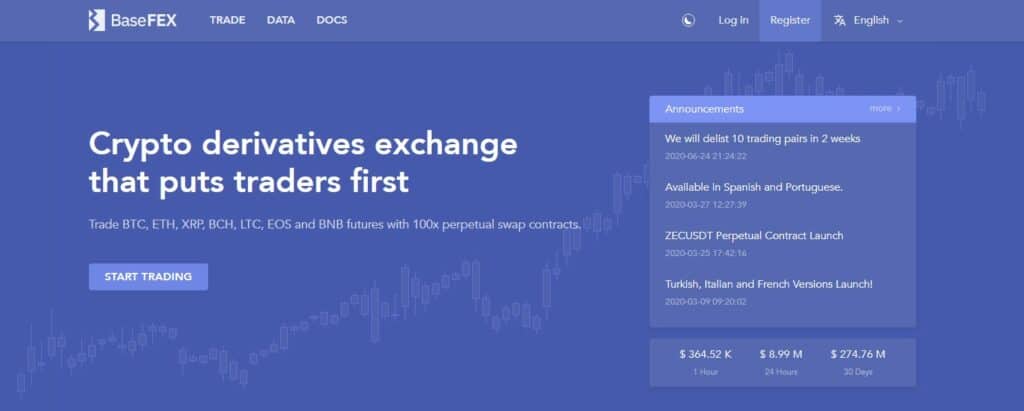 As a crypto-to-crypto service, BaseFEX allows only cryptocurrencies to be used as collateral. So, if you go for the maximum leverage of 100x, you will have to deposit a 1% of the initial trade amount. To illustrate, if the contract is worth $20,000, you will need to invest $200 as an initial margin. However, the leverage level depends on the altcoin type. The 100x leverage is allowed only for Bitcoin. Other cryptocurrencies are restricted to 20x leverage. Some of the most popular coins traded on BaseFEX are BTC, ETH, BNB, and LTC.
You should know that BaseFEX accepts only Bitcoin deposits and withdrawals. So, it can be a perfect choice for you if you aim to amplify your BTC holdings by "playing" with leverage on the volatile market.
9. Prime XBT Exchange

Country: Seychelles
Currency: Crypto Only
Fees: 0.05%
Available cryptocurrencies: 5+ Cryptocurrencies
PrimeXBT was established in 2018 in Seychelles and it's currently used in over 150 countries worldwide. It has earned a high reputation due to the instant access it offers to a wide range of assets including forex, commodities, and cryptocurrencies such as BTC, ETH, EOS, and XRP.
Despite the large variety of services, PrimeXBT is astonishingly simple to navigate, meeting the trading needs of all types of customers. In 2020, PrimeXBT won the award for Best Bitcoin Margin Trading at the ADVFN International Financial Awards. This platform offers up to 100x leverage for all cryptocurrencies available on PrimeXBT, mass liquidity from various providers, advanced trading tools, and what's more, a reliable trading ecosystem.

Unlike other margin trading exchanges, users on PrimeXBT can simply select the leverage by adapting the position size rather than adjusting the level itself. For instance, you can open a 10 BTC position with a 1 BTC deposit on your account, resulting in an effective 10x leverage.
Last but not the least, PrimeXBT is a completely anonymous platform, which is highly appreciated among users concerned about online privacy and identity fraud.
10. BitMEX Exchange

Country: Seychelles
Currency: Crypto Only
Fees: 0.075%
Available cryptocurrencies: 21+ Cryptocurrencies
BitMEX is one of the leading P2P crypto trading platforms perfectly appropriate for experienced traders who manage to profit from the high volatility of the crypto market. Established in 2014, it's now run by HDR Global Trading Limited and has several offices across the globe.
BitMEX features advanced types of orders such as market, stop limit, and trailing. The fees are competitive and fair, the interface is exceptionally illustrative, plus, there is Testnet available. This virtual tool allows users to test the platform without investing actual assets so they can learn what to expect.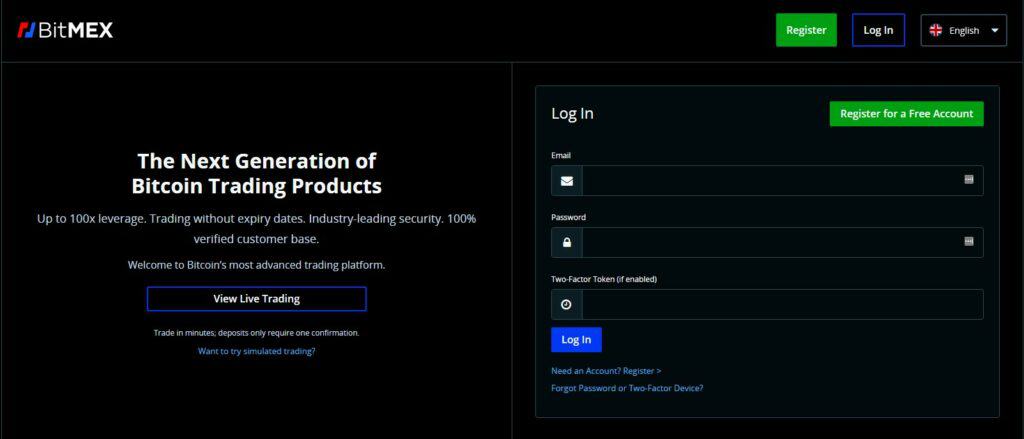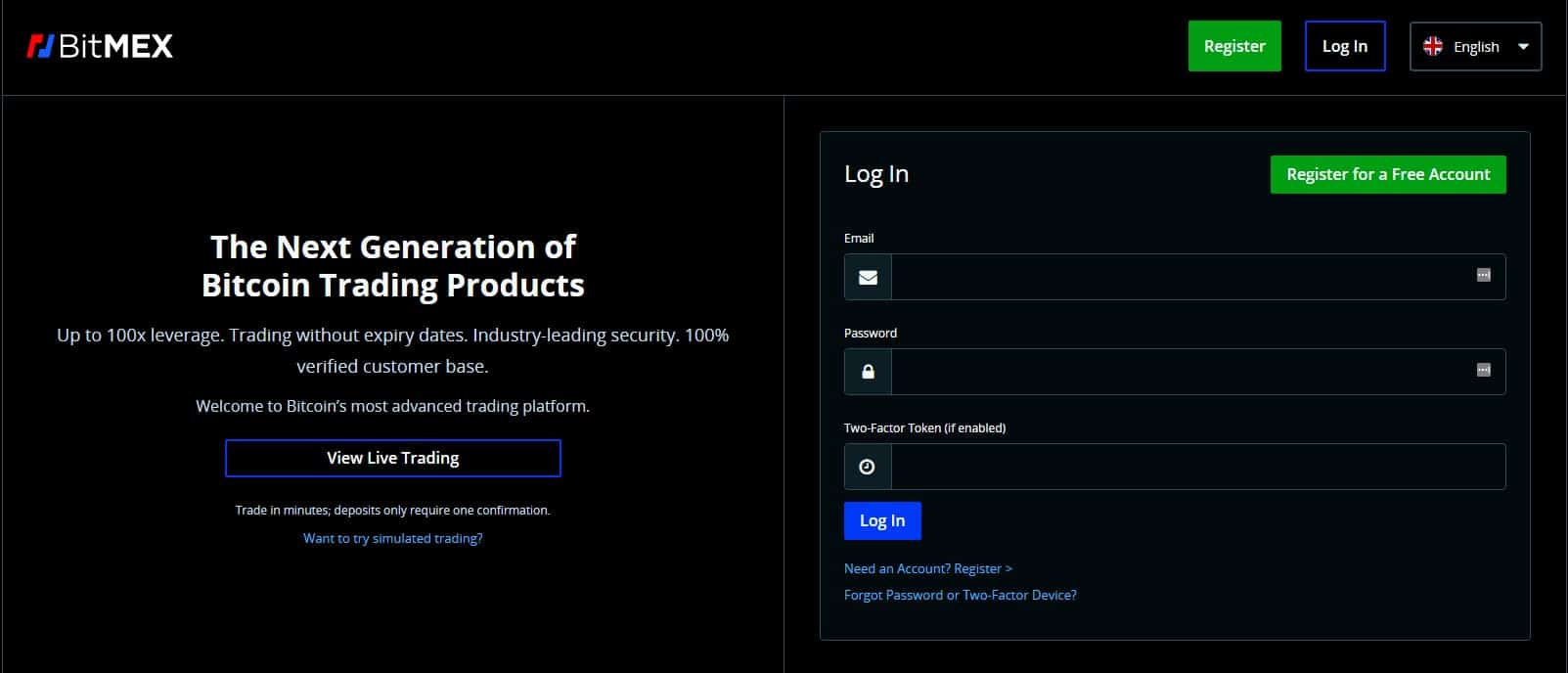 Honestly, BitMEX would have been ranked higher on this list if it weren't for the recent controversies about their violation of the Bank Secrecy Act, largely because the platform was late to integrate AML and KYC protocols. While this served to protect the user's privacy, it also made the platform a viable space for money laundering. But let's go back to all that's good.
Regarding margin trading, BitMEX offers up to 100x leverage contracts, which can be bought and sold only in Bitcoin. However, the 100x leverage doesn't apply to all cryptocurrencies. For example, Litecoin can reach up to 33x, while Tron, BCH, and EOS are restricted to 20x leverage, and so on.
What Is Margin Trading?
To put it simply, margin trading is a trading practice where you can borrow assets to get greater buying power and maximize the potential for higher profits. In the language of crypto, you borrow digital assets from an exchange or other peer traders to open a position of much higher worth than your initial investment capital.
The initial capital is usually referred to as collateral. Depending on the exchange, you can "leverage" the collateral by a certain amount. For example, 5x leverage enhances your $200 worth Bitcoin position to a $1,000 position. This is why margin trading is also known as leverage trading. Pretty straightforward, right?
It's simple math; you will use $1,000 to buy Bitcoin and if the market moves in a favorable direction, you will sell the Bitcoin for a much higher price, settle the $800 loan, pay the interest rate (you've already guessed that borrowing isn't free) and still, your profit will be far larger than the collateral.
But, what if the price of Bitcoin fell instead? Do the same math again and you've lost much more than you've invested in the first place. Luckily, there are margin limits to keep both traders and exchanges safe. If the value of assets in your account falls under that limit, you will get a margin call, which is a request to deposit more collateral to secure your position. Otherwise, your position will be automatically liquidated. The margin limit and the stages of liquidation depend on the exchange's internal policy. That's why we'll guide you through the best margin trading platforms one at a time, so you'll know full well what you can expect from each.
FAQs
What are the benefits of crypto margin trading?
The greatest financial advantage of margin trading is undoubtedly the chance to multiply your capital from a small investment. You will also diversify your portfolio since you'll open multiple positions at the same time. Multiple positions are convenient for users because large transfers and confirmations are not that time-consuming. However, you might decide that you'd prefer to go for a more popular crypto exchange in Australia.
What's the best platform for Bitcoin margin trading?
Bitcoin is the dominant blockchain-based currency, so all of the above-listed platforms include Bitcoin. The final decision, however. should be based on your personal trading preferences. In other words, you should compare the highest-ranked platforms that support margin trading and see which features meet your trading needs the best. The features you should consider are leverage level, trading fees, trading pairs, the order types allowed, and the opportunity for isolated/cross-margin accounts.
You've probably noticed that the majority of crypto exchanges allow Bitcoin and other altcoin purchases using credit cards. As convenient as it may seem, credit cards are not the most recommended payment method. The risks include unnecessary exposure of sensitive bank information online and a negative effect on your total credit score. Apart from potential security scams, you should also avoid crypto purchases with your credit card because of the ridiculously high fees and price limits.
Are "crypto margin trading", "leverage trading", and "shorting Bitcoin" the same?
All of these names refer to the same trading practice on the crypto market – margin trading. They can be used interchangeably as long as you understand what the terms "leverage" and "margin" mean. Margin is the borrowed assets that you use to invest in order to gain a larger profit, while leverage is the amount by which your initial capital is multiplied. The initial capital is also known as collateral.
Both Bitfinex and Bitstamp have a reputation as the most sophisticated trading platforms on the market. However, they're designed for intermediate and advanced individual traders and corporations. The platforms feature the most innovative trading tools and complex interface structure, which won't help you at the very beginning in the same way that they would help crypto-savvy professionals. Instead, such high-profile exchanges will make you feel more confused and reluctant towards crypto trading.