Best Crypto Exchange Apps for Australia in 2022
We don't think you need a particular introduction to mobile apps and their prevalence in our dynamic daily routine. Consumer behavior has changed to such an extent that a functional mobile app is imperative for a successful business regardless of the services provided. The crypto industry is not an exception. On the contrary, over the past years,
most cryptocurrency exchanges
have launched cutting-edge apps, available to users for handling their accounts on the go and enjoying the perks of flexible trading.
When it comes to mobile apps, the main concern of deep-rooted crypto traders is whether the respective app covers all options available on the exchange's website. Novices, on the other hand, are familiar with the dual concept of mobile and desktop versions, but they also wonder whether they can rely on mobile apps exclusively.
For this reason, our team has prepared a selection of the top ten ranked crypto apps and the most important features your choice should be based on.
Can the mobile app be the deciding feature when choosing the best cryptocurrency platform? Let's find out.
Best Cryptocurrency Exchange Apps for 2022
1. Coinbase Exchange

Country: United States
Currency: USD, EUR & GBP
Fees: Varies
Available cryptocurrencies: 70+ Cryptocurrencies
Coinbase is one of the pioneers in the crypto industry that has established the rules for high-performance trading since the earliest stages of Bitcoin. This US-based platform was founded by Brian Armstrong and Fred Ehrsam back in 2012 and it leads the international crypto sphere with over 30 million registered users across 100 countries worldwide.
Coinbase is not the cheapest platform out there. It offers a limited amount of around 40 altcoins available for trading, but it's always the first choice of many beginners due to the incredibly intuitive interface and support. For seasoned traders, there is a separate platform – Coinbase Pro – featuring more sophisticated trading tools and charts. Users can easily switch to the upgraded Pro version once they master the basics of cryptocurrency trading.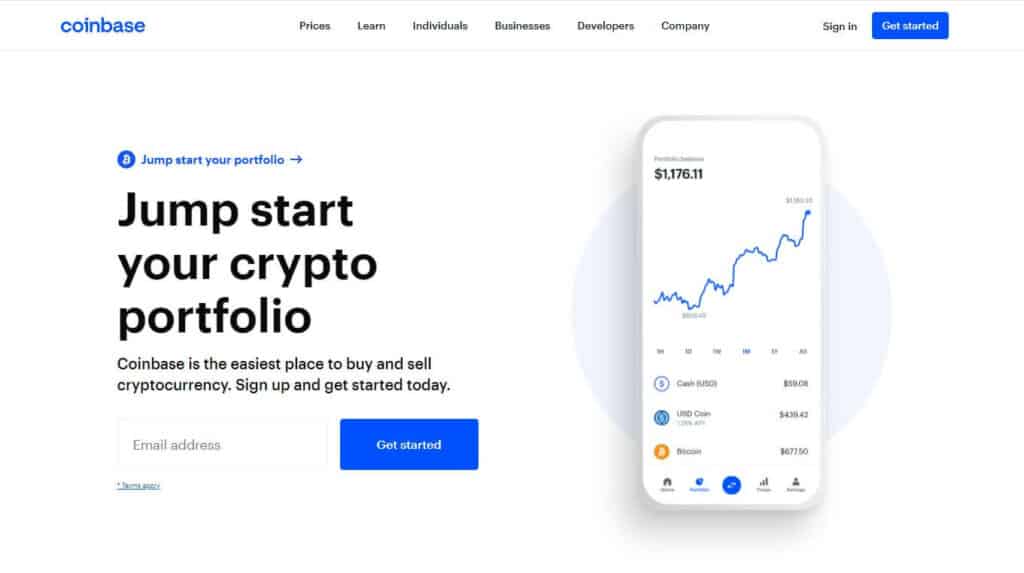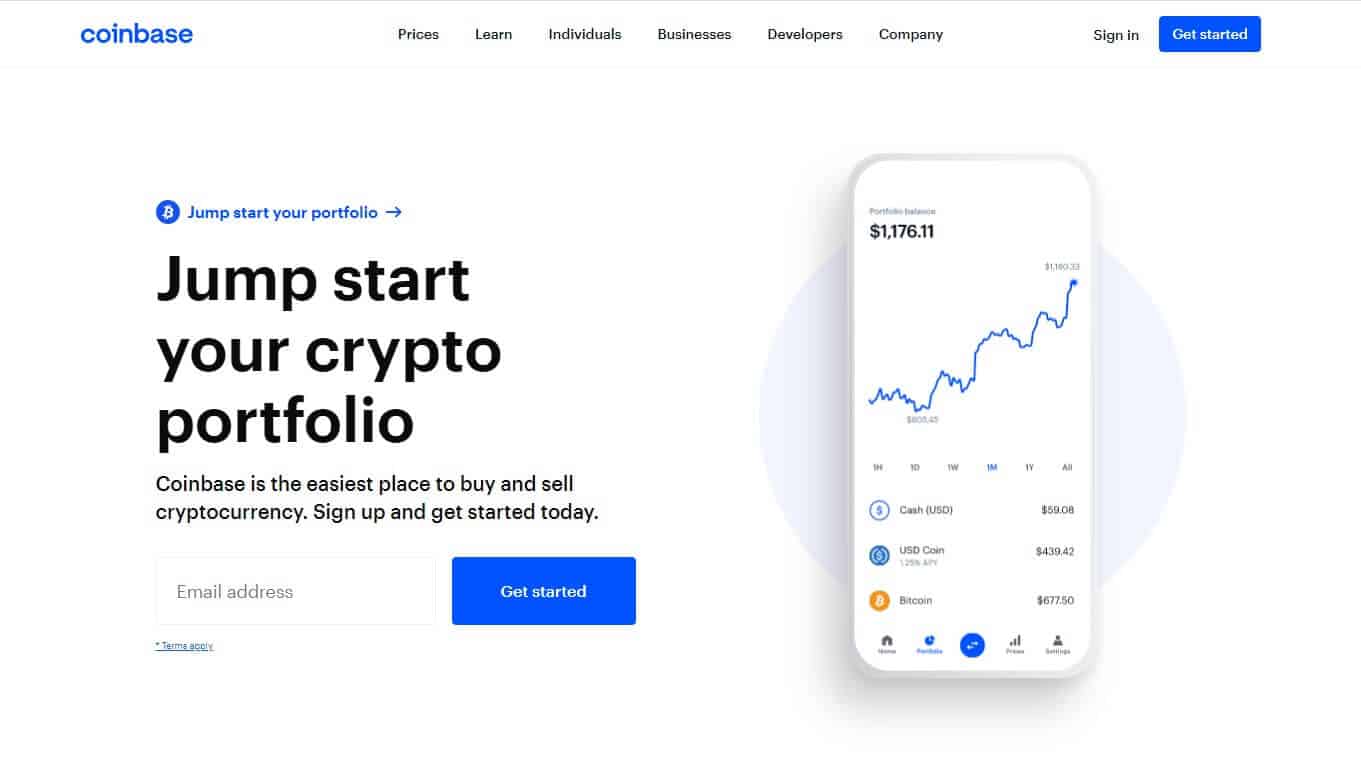 Both Coinbase and Coinbase Pro have a respective mobile app available for free for iOS and Android devices. The apps allow users to perform the same functions as the regular desktop website including the opportunity to buy, sell, deposit, and withdraw funds as well as get a full insight into your balance.
By installing the free Coinbase app, users also get access to the Smart Tools option providing beginners with all necessary features, updates, automatic trades, and price alerts to improve their knowledge and build their portfolio.
However, please note that irrespective of the device you use to navigate this exchange, only citizens of the United States, Canada, Australia, Mexico, and Singapore are eligible for the entire range of Coinbase services including fiat-to-crypto trading, the full set of payment methods, and custody.
2. eToro Exchange

Country: Europe
Currency: EUR, GBP & USD
Fees: Daily Fees
Available cryptocurrencies: 90+ Cryptocurrencies
eToro was established in 2007 as a highly illustrative forex platform. Today, eToro is a recognized multi-asset and social brokerage service operating in over 190 countries worldwide, with registered offices in Israel, the UK, Cyprus, the USA, and Australia. The platform features an outstanding interface and besides forex, it supports trading cryptocurrencies, commodities, ETFs, CFDs, indices, etc.
In terms of crypto assets, eToro offers trading with 16 popular cryptocurrencies including Bitcoin (BTC), Ethereum (ETH), Bitcoin Cash (BCH), Dash (DASH), Litecoin (LTC), Ethereum Classic (ETC), Ripple(XRP), EOS, and Cardano (ADA). Depending on the availability in your country, fiat deposits can be made through one of the following payment methods: bank transfers, debit/credit card, PayPal, Skrill, etc.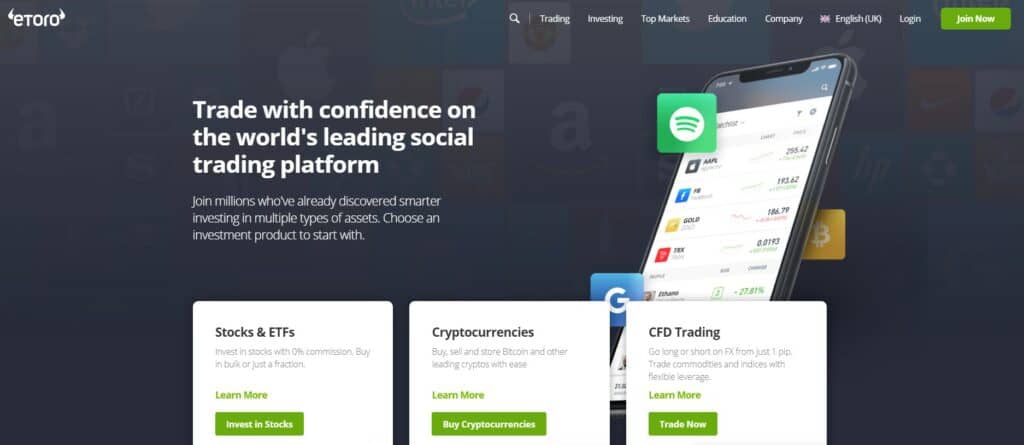 eToro has launched a mobile app available for free on AppStore and PlayStore, which is almost identical to its website with the exception of a few analytical tools. Users can buy and sell orders in exactly the same manner as on the website.
The eToro app allows creating a coin watchlist where you can observe charting tools and statistical data in real-time. Plus, you can customize alerts based on your particular interests. The eToro mobile app enables seamless integration with the mobile-based eToro wallet, owned by eToro as a different entity, licensed by Gibraltar Financial Services Commission in compliance with the Investments and Financial Fiduciary Services Act.
3. Binance Exchange

Country: Global
Currency: 40+ Currencies
Fees: 0.1%
Available cryptocurrencies: 400+ Cryptocurrencies
Established in 2017, Binance is the largest global crypto service measured by trading volume and liquidity. In a relatively short time, its founder Changpeng Zhao has successfully implemented his vision to ensure a global form of money. Binance today operates across 180 countries and offers a broad range of trading services with over 100 available cryptocurrencies, combined with fixed low fees of 0.1%. Plus, using Binance's native coin, BNB, lowers fees by an incredible 25%.
According to numerous reviews, Binance has one of the best crypto mobile apps so far. Just like their web-based platform, both the iOS and Android app let you choose between basic or advanced modes at the beginning.

The Binance mobile app also has a verification process and offers instant access to the cryptocurrency market and quick trading analysis. Right from the home screen, you can access 10 options such as deposit, savings, leaderboard, pool, P2P trading, etc. However, the Binance mobile app is slightly limited in chart presentations. So, we recommend you use the mobile version mainly for small trades and fast market checkups.
Binance is one of the rare cryptocurrency services that feature its desktop application for both macOS and Windows. Desktop apps offer high quality and more secure performance but have considerably fewer integrated options than websites.
4. Gemini Exchange

Country: United States
Currency: USD
Fees: 1%
Available cryptocurrencies: 5+ Cryptocurrencies
Gemini was established in 2014 in New York by the famous Winklevoss twins. Cameron and Tyler Winklevoss didn't take the credit for the revolutionary social networking idea, but they used the $60 million settlement from the legal dispute against Facebook to invest in Bitcoin and afterward, in their own Bitcoin platform. Today Gemini is a direct competitor of global crypto leaders like Coinbase and Binance, available in over 50 countries across the globe.
Gemini's key focus doesn't include a wide range of trading services or altcoins. Instead, this platform is an elegant alternative for seasonal Bitcoin-focused traders and corporate investors.
Gemini launched its mobile app in 2018. It is evident that the mobile version was designed with a clear purpose to offer a simplified solution to less advanced traders.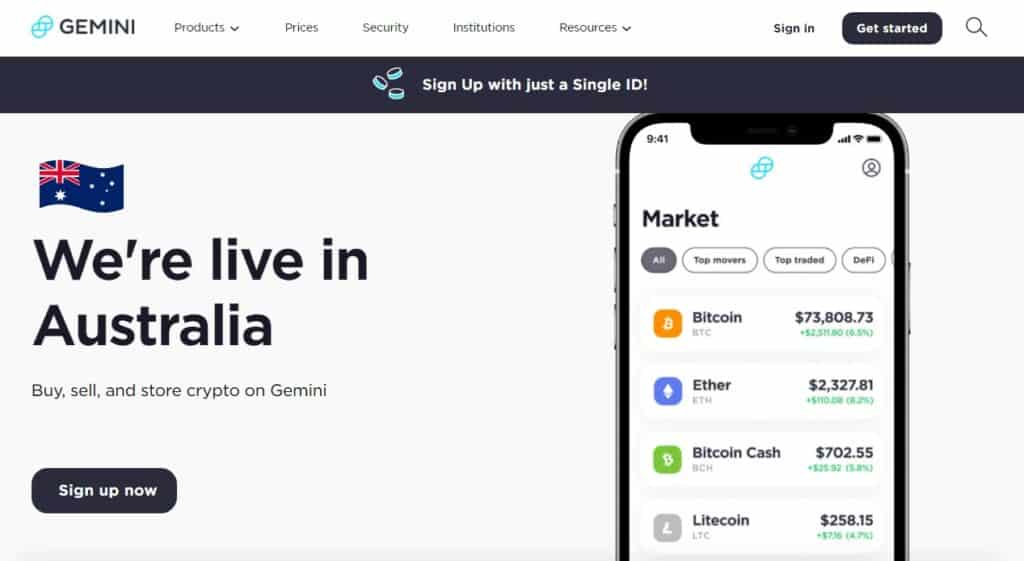 The mobile app is a perfect balance of Gemini's institutional-grade protection and intuitive UI approach. It includes digital currency purchase and selling, a clean overview of market prices and account balance, as well as basket orders. Gemini's mobile app also enables users to set active alerts when a selected coin reaches an estimated price.
For instance, you can customize a notification when the price of Bitcoin drops below $60,000. Admittedly, it's a far more convenient way of monitoring than re-opening the app a million times a day. This is the reason why advanced traders also download Gemini's mobile app while trading on its website.
However, users single out the fact that Gemini charges an additional convenience fee to those who buy and sell cryptocurrencies through their mobile app as a major drawback.
5. Kraken Exchange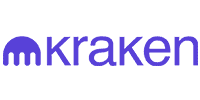 Country: United States
Currency: USD, GBP & EUR
Fees: 0.26%
Available cryptocurrencies: 50+ cryptocurrencies
Kraken has built its high reputation on security grounds. It was launched back in 2013 as an ambitious project of Jesse Powell, a proven crypto expert who had a clear idea of what makes a trustworthy crypto exchange.
Kraken has a growing list of over 50 supported cryptocurrencies, fixed deposit fees, and a wide fiat gate accepting USD, EUR, CAD, AUD, GBP, CHF, and JPY. Payment methods depend on the availability of your country.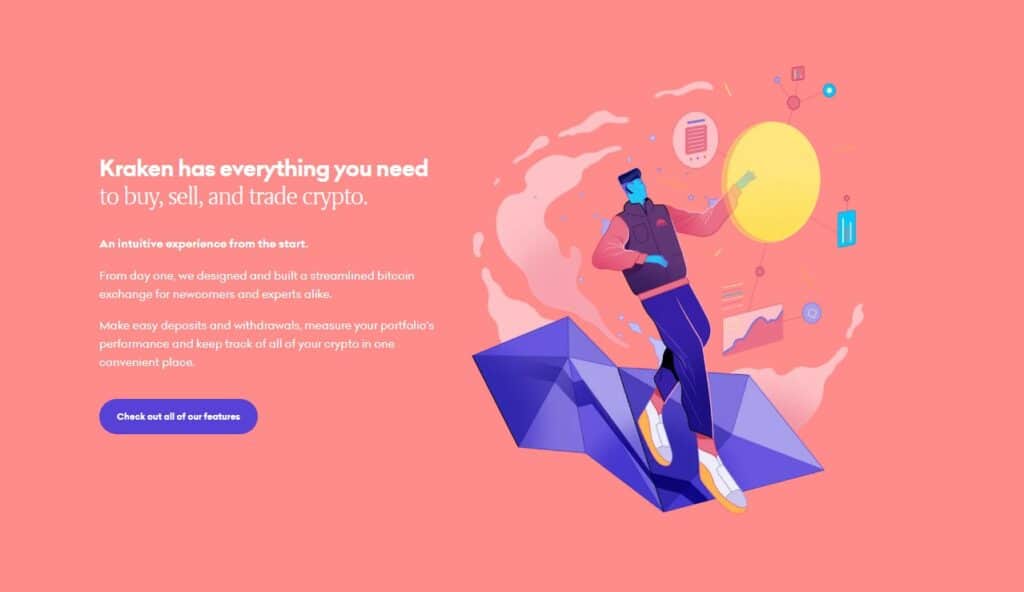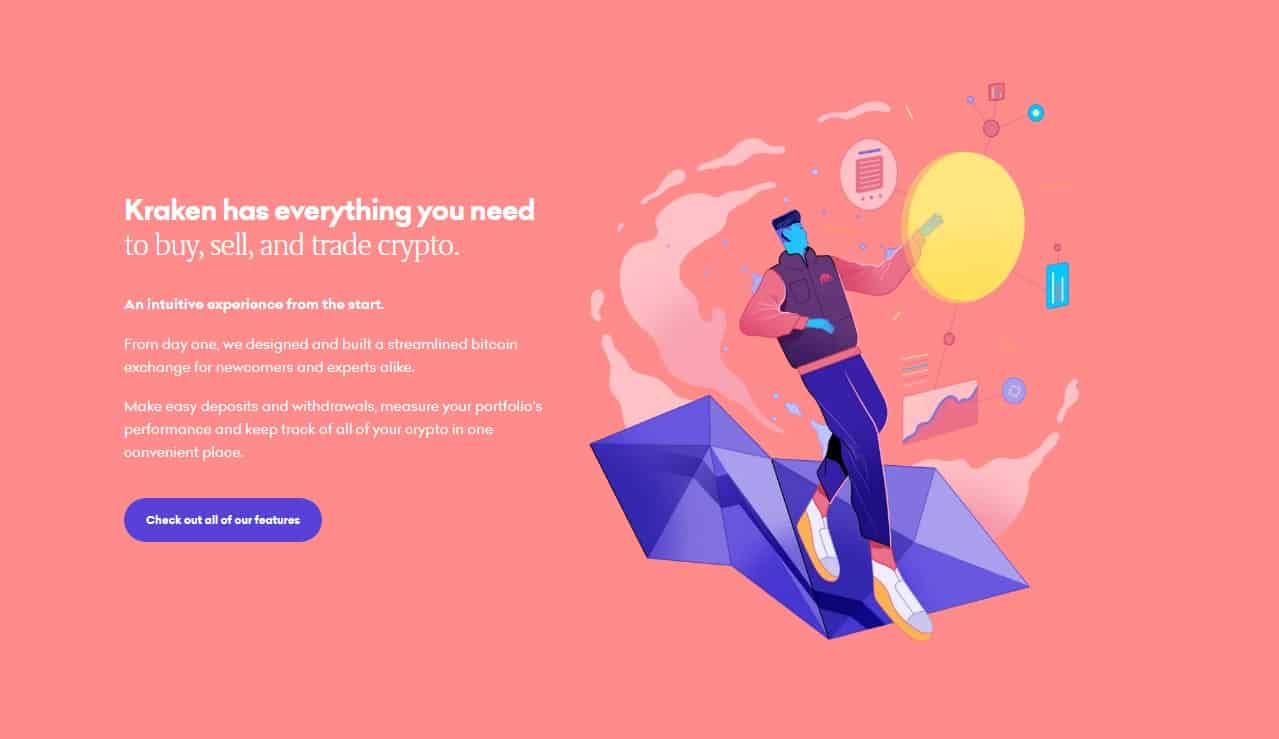 Kraken offers three separate apps to satisfy the specific trading needs of all traders – Kraken Pro, Kraken Futures, and the new Kraken App. Interestingly enough, the regular Kraken app was launched last, at the beginning of 2021. Its design was also based on the security-first mindset combined with a clear and consumer-oriented interface.
The app is available worldwide and allows fast secure trading of all supported altcoins. It has a debit and credit card option to follow the modern concept of on-the-go trading. The new Kraken app features top-notch tracking tools where users can monitor their investments and market prices, save their favorite altcoins, and buy them with predefined prices like $50, $100, or $200.
6. CEX.io Exchange

Country: UK
Currency: 4+ Currencies
Fees: Varies
Available cryptocurrencies: 70+ Cryptocurrencies
CEX.io was established in 2013 as a local cloud mining service. Over the several years, it has managed to transform into one of the most reputable centralized crypto exchanges on the market. CEX.io services are available in over 90% of the countries with 4 million registered users.
CEX.io allows the direct purchase of BTC, ETH, LTC, XRP, XLM, Dash, and ZCash and trading with over 60 altcoins. It supports four fiat currencies GBP, USD, EUR, and RUB. The important thing is that CEX.io continuously expands its marketplace and the number of supported altcoins.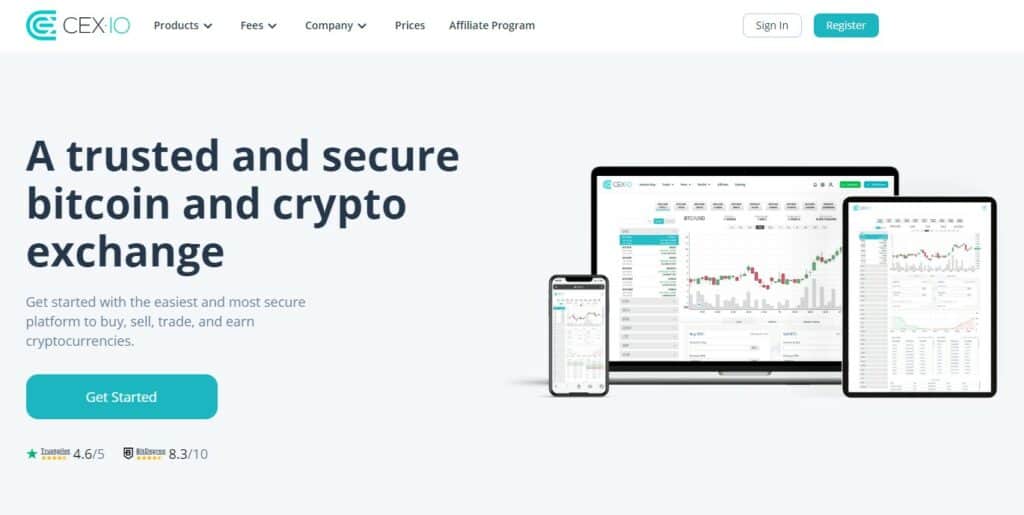 CEX.io has offered almost identical trading services on its mobile app since 2016. Like the majority of exchanges, CEX.io provides full custodial services with an incorporated digital wallet. Hence there is a growing number of users who rely on the mobile app simply because they can have their digital wallet in their pocket. Besides, the CEX.io app offers instant crypto purchases either using your credit/debit card or your digital account. There is a convenient exchange option where altcoins can be converted in a few clicks without analyzing the complex trading features.
Plus, you can customize alerts and bookmarks in relation to your personal trading interests. With the CEX.io mobile app, you will be able to compare the prices from other exchanges like Bitstamp, Kraken, Binance, etc.
7. KuCoin Exchange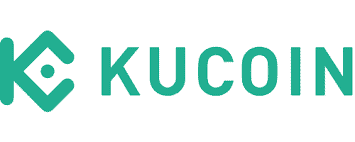 Country: Hong Kong
Currency: 20+ Currencies
Fees: 0.1%
Available cryptocurrencies: 150+ Cryptocurrencies
KuCoin is a new generation exchange, designed to make cryptocurrencies available to everyone. The idea of "The People's Exchange" was developed by Michael Gan and Eric Don in 2017. The KuCoin platform has become popular by offering users a full package for a pleasant crypto experience, customer protection, fair fees, and an uncluttered interface.
You can instantly buy coins with fiat money and trade with over 200 different altcoins. Fiat deposits can be made through SEPA, credit or debit card, Apple Pay, PayPal, etc without any hidden deposit commissions. As a more advanced trader, you can try derivatives and margin trading.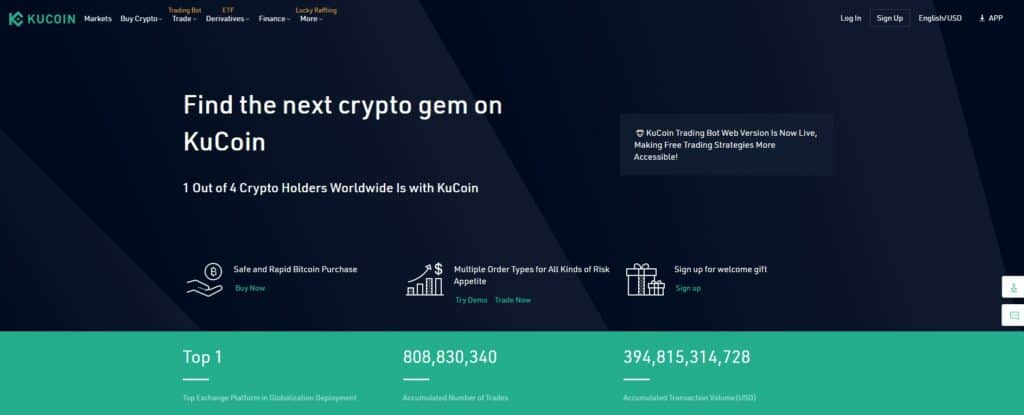 The KuCoin mobile app is functional and practical. Quotes are synchronized with the website in real-time. As an active trader, you will have the opportunity of instantaneous trend view with a vibrant candlestick chart, price warnings, your selected trading pairs, and support for the most important trading orders.
Users also noticed that the trading bot option, which enables you to follow and complete trades automatically, is available only on the KuCoin mobile app.
8. Bitpanda Exchange

Country: Vienna
Currency: USD, EUR, GBP & CHF
Fees: Varies
Available cryptocurrencies: 50+ Cryptocurrencies
Bitpanda is an Austrian cryptocurrency exchange actively operating since 2014. It allows users to trade with 30 altcoins using American Dollars, Euro, British Pounds, Swiss Francs, or Turkish Lira. Bitpanda aims at providing convenient and neat crypto trading both to novices and crypto-savvy professionals. Therefore, the company runs two separate platforms – Bitpanda and Bitpanda Global Exchange.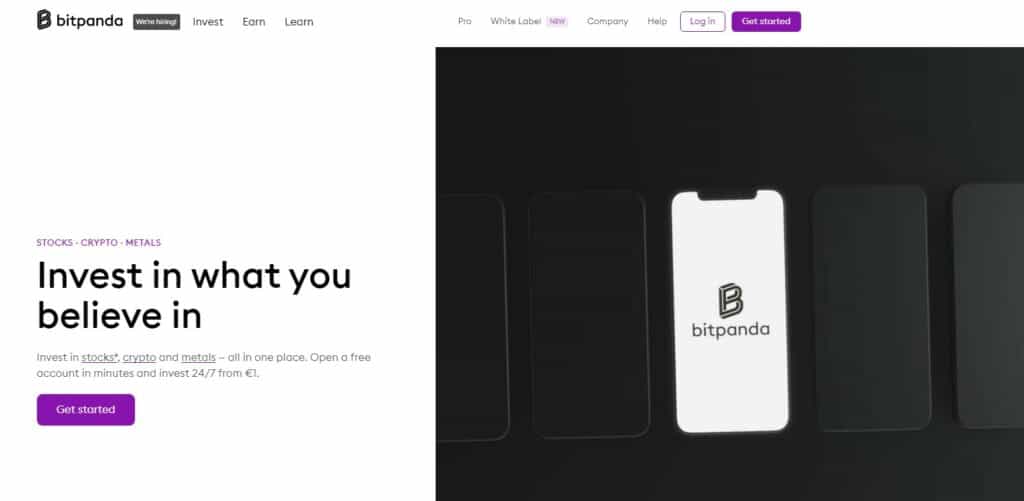 The latter is oriented towards more experienced traders offering customized buy and sell orders and advanced trading charts. The "regular" Bitpanda is easier to navigate and allows various payment methods including regular bank account transfers, credit card, SOFORT, and iDEAL. Expectedly, it's considerably more expensive. However, one account is enough to access both Bitpanda and Bitpanda Global Exchange.
Bitpanda features a well-designed mobile app that allows you to handle your account on the go, deposit fiat currency, and trade altcoins. Plus, you can send cryptocurrencies to other accounts free of charge. The Bitpanda mobile app offers a fully automated order system available 24/7 and a separate tab where you can track all crypto market prices.
9. Changelly Exchange

Country: Czech Republic
Currency: USD, EUR & GBP
Fees: Varies (5% for crypto-to-fiat)
Available cryptocurrencies: 90+ Cryptocurrencies
The last two crypto exchange apps on our list are based on different operational principles from those we've already covered. Changelly is a decentralized exchange (DEX). It means that buy/sell transactions are based on peer-to-peer protocols without a centralized authority to play the intermediary role. It also means that the platform doesn't provide digital wallets integrated within your account. So, if you prefer the entire custody of your balance and wallet, Changelly is the perfect alternative for you.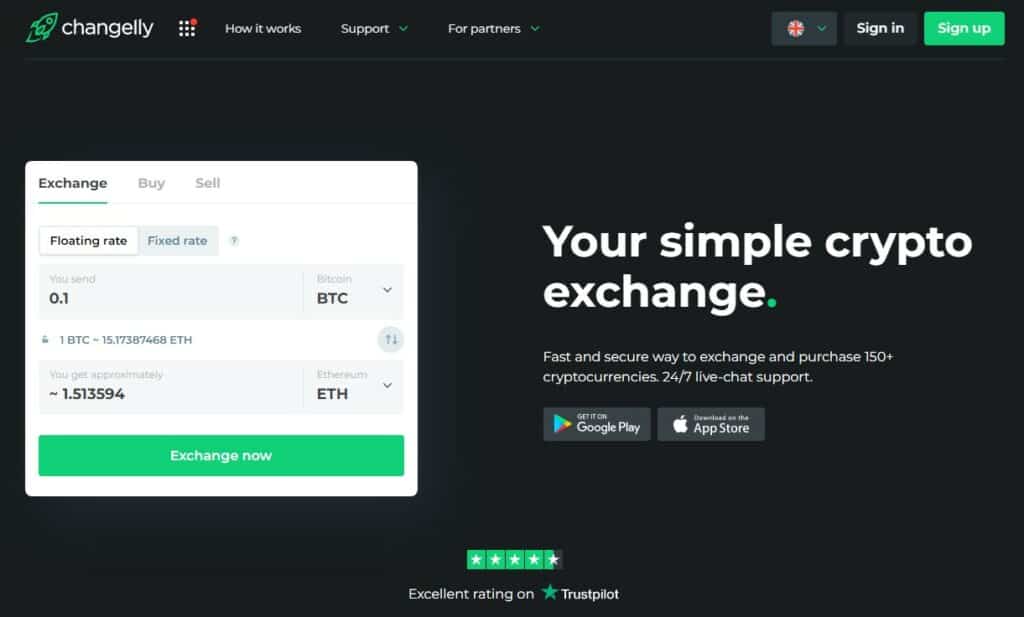 Changelly is available in over 190 countries and offers over 150 altcoins and fiat deposits in USD, EUR, and GBP. You can also exchange or buy stablecoins like Tether (USDT), USD Coin (USDC), and EURS, as well as tokens, such as Maker (MKR), Huobi Token (HT), BTT, etc. Because of its decentralized nature, you have the opportunity to choose a payment method when buying or selling the selected cryptocurrency. P2P trading allows you and your counterpart to arrange payment details based on your preferences and location availability.
With Changelly's mobile app, you can explore the market and track assets' prices in real-time. You can also buy and exchange coins using your debit or credit card. What makes the app unique is the opportunity to do all this with either fixed or floating exchange rates. If you choose to trade with fixed rates on the mobile app, you'll get the same amount of cryptocurrency displayed at the beginning of the trade irrespective of the potential market fluctuations.
10. ShapeShift Exchange

Country: Switzerland
Currency: Crypto Only
Fees: Varies
Available cryptocurrencies: 70+ Cryptocurrencies
ShapeShift is another decentralized exchange on our list, established in 2014 in Switzerland.
Its primary goal is a fast and secure exchange of Bitcoin and the other 40 supported cryptocurrencies. ShapeShift services are accepted almost everywhere across the world and, according to the number of users, it seems that there are a lot of traders who prefer real-time crypto-to-crypto swaps. The main strength of this platform is the straightforward user interface and the option for users to switch from one cryptocurrency to another with ease.

The platform's high functionality is transferred to the ShapeShift mobile app as well. It enables users to buy, sell, and transfer digital assets with full custody and control over their digital keys. Users can also buy crypto directly with their debit or credit cards in cooperation with Simplex. However, inform yourself about the extremely unfavorable fiat/BTC conversion fees. Fiat deposits also require users to undergo a verification process, which is not the case with regular crypto-to-crypto swaps.
What to Look for in a Crypto Exchange App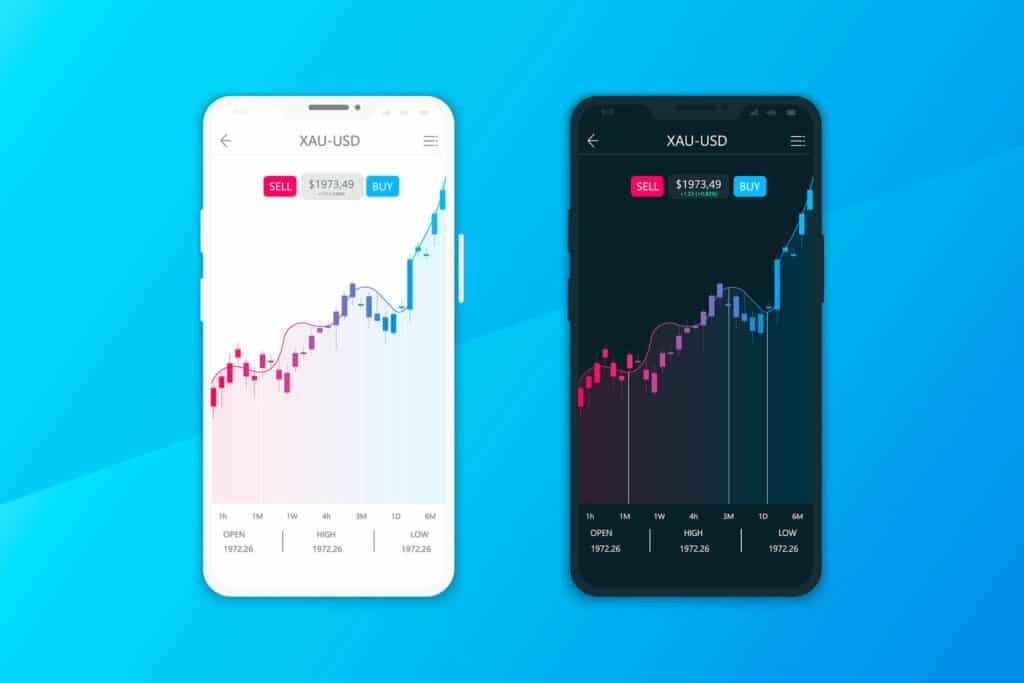 Top-Level Security
In a few words, a highly secure app has to be your priority without exception. Crypto transactions are not covered with the regular backup measures that enable cancellation, order-tracker, and financial loss insurance. Once a transaction is approved, there is no way back.
Furthermore, cryptocurrency exchanges' trading volumes are reaching billions nowadays, which makes them a perfect target for cyber-attacks and identity fraud. However, there is an evident tendency by the well-established crypto services to implement rigorous security measures in compliance with local finance and anti-laundering regulations. What can you do as a potential crypto trader? Above all, you should never underestimate these two steps that are essential for impeccable personal protection:
Don't keep all your digital assets online. Cold storage is always a better idea for long-term capital savings.
Don't forget to enable two-factor authentication (2FA) and look for backend encryption.
One thing before you go; before installing the App, take a closer look at Google Store and App Store users' reviews and warnings about actual scams.
Local Availability
Unfortunately, sometimes the attractive interface and the user-friendly app navigation have nothing to do with your final choice. Before everything else, you need to check whether the crypto app is available in your country.
In certain instances, you can notice that the full set of trading services, altcoins, and payment methods are available only in a restricted number of countries. Pay attention to local crypto regulations before you spend your time and energy on a fancy app. However, you can always download whichever crypto app you want in order to track prices and learn new trading skills.
Accurate Data
You've come across the term "real-time" more than once in the above app descriptions. The accurate data provided by crypto apps is the key advantage of these "pocket trackers".
Therefore, you must choose an app that ensures accurate data, as in the crypto world, it's the minutes that matter. Yesterday's price is obsolete information on such a volatile market. So, don't let yourself miss out on a good deal just because the app failed to inform you at the very same moment.
FAQs
Does Coinmama have a mobile app?
Coinmama is a well-recognized purchase service for Bitcoin and the other most dominant altcoins. Since it's not a regular trading spot that supports selling crypto, Coinmama doesn't see an immediate need for launching a separate mobile app.
However, you can access Coinmama from a mobile browser and use its API to make a customized trading application.
What is the best cryptocurrency exchange for beginners?
The essential success factor when joining the crypto game for the first time is to find an easily accessible exchange platform. There are several features that define a beginner-friendly crypto exchange: an interface that is easy to use, reliable customer support, high levels of security, and fixed trading fees. Based on these criteria and supported by user reviews, Coinbase is the most suitable trading platform for beginners.
Do all exchanges accept credit cards to buy Bitcoin?
The majority of the globally-established Bitcoin exchanges do accept credit cards as a payment method. It's considered an instant way of buying cryptocurrencies, so most crypto apps offer both credit and credit cards as the first payment solution on their homepages. However, this isn't the most favorable method due to the considerably higher fees and the risk of exposing sensitive bank information.