Best Cryptocurrency Exchanges for Beginners in Australia 2022
Do you have the feeling that the digital revolution caught you unprepared? Yes, you're perfectly aware that Bitcoin and other blockchain-based coins are the future. Yet, all these charts and graphs seem so far-fetched and difficult to navigate.
And then there's another concern:
do I have enough knowledge to cope with such a volatile market?
No worries, your reluctance is justified. The crypto market is inherently unpredictable and you'll need time to master various, fancy tracking tools. On the bright side, however, entering the crypto game has never been easier and on top of that, you won't have to be a newbie for too long. While you may be looking at
our main list of crypto exchanges within Australia
it might be better to look at ones that are more focused on beginners.
The crypto community has grown into a welcoming ecosystem and there is a wide range of user-friendly platforms with outstanding customer support. Of course, we're here to help. Our team has listed the top ten cryptocurrency exchanges that are most suitable for newcomers. Plus, there is a compact guide of the key factors to consider when choosing the starting point for your crypto journey.
So, let's make the first move towards the digital economy!
Best Beginner-Friendly Crypto Exchanges for 2022
1. Coinbase Exchange

Country: United States
Currency: USD, EUR & GBP
Fees: Varies
Available cryptocurrencies: 70+ Cryptocurrencies
The owners of Coinbase Global, Brian Armstrong, and Fred Ehrsam came up with a genius "audience target" solution by presenting two separate exchanges: Coinbase and Coinbase Pro. Since you'll need substantial experience in trading cryptocurrency to join Coinbase Pro, we'll focus our attention on Coinbase, the highest-rated platform for new users.
Founded back in 2012, in the United States, this crypto exchange is a departure station for many crypto novices across 130 countries worldwide. Let's see why.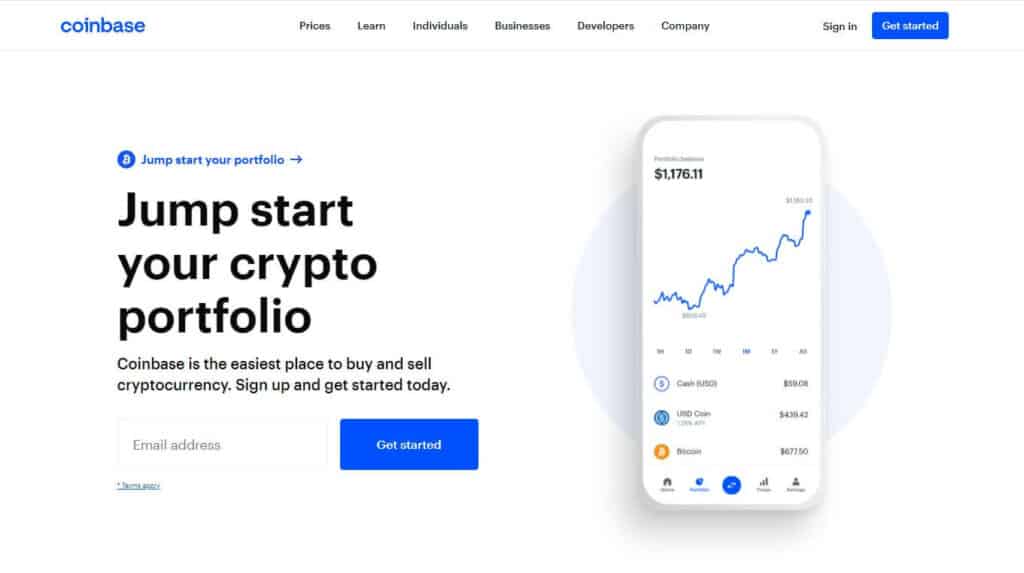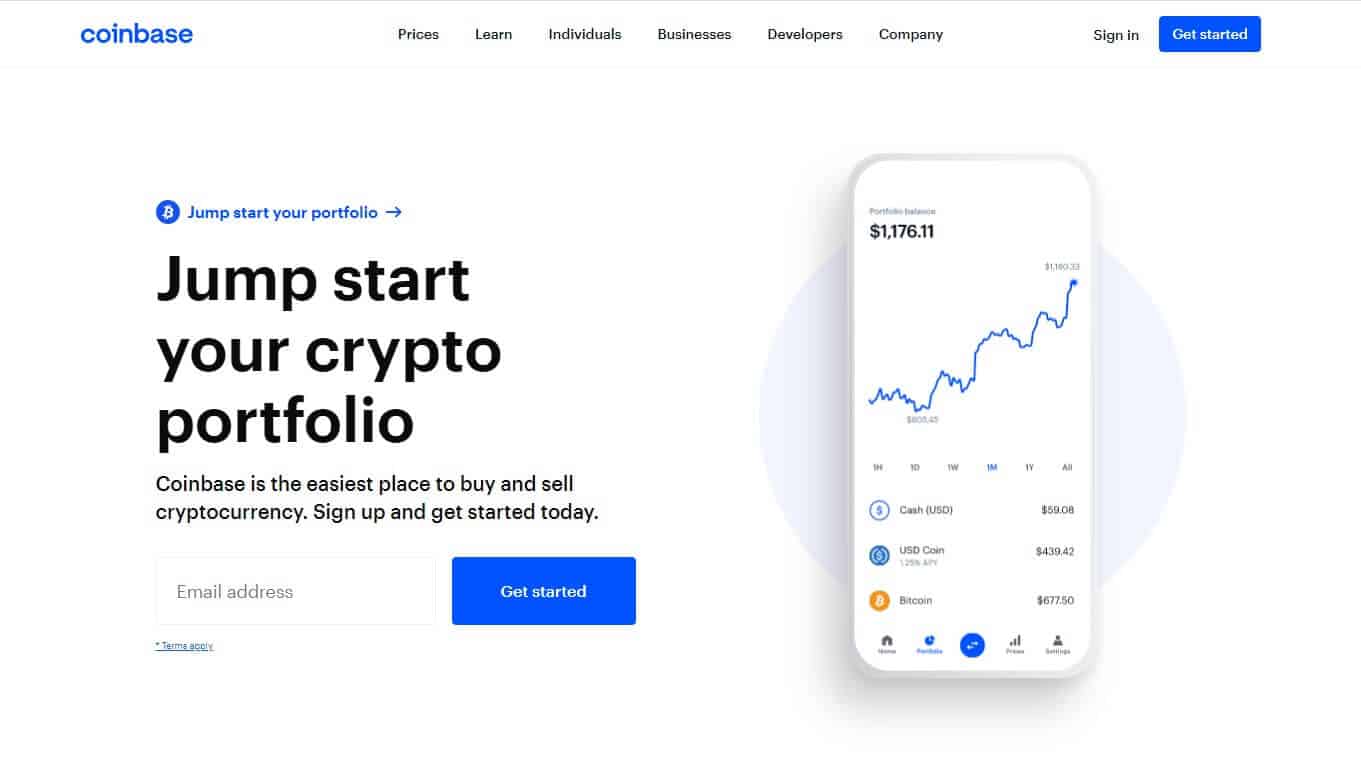 First, the Coinbase site has an exceptionally intuitive interface and the trading operations are usually done fast, with a click or two. Trading becomes easy on Coinbase since you have various walkthroughs to rely on in case you get stuck at some point. Besides, Coinbase offers a top-notch mobile app available for free, for both iOS and Android devices.
For security purposes, you'll need to activate two-factor authentication and complete a verification process to comply with KYC (Know Your Customer) regulations. Coinbase also offers a pin locking option that allows you to disable the app if your device gets stolen.
What about trading? Apart from Bitcoin, you can trade cryptocurrency assets like Ethereum (ETH), Litecoin (LTC), and many more. However, you shouldn't be concerned about the number of available coins at this stage. The key information for you as a newcomer is that Coinbase accepts fiat deposits, made either through a wire transfer or a debit/credit card. The trading fees are calculated based on the payment method and can reach up to 3.99%.
2. Binance Exchange

Country: Global
Currency: 40+ Currencies
Fees: 0.1%
Available cryptocurrencies: 400+ Cryptocurrencies
The leader of cryptocurrency exchanges, Binance is certainly the right place to break a new investment path. Binance was established in 2017 by Changpeng Zhao, and its rapid success lies exactly in its adaptability to different-level users. The platform offers two modes — Basic and Advanced — to suit the needs of both beginners and advanced traders.
The Basic mode displays all the basic data you need to make a trade, including volume bars, moving averages, basic candlesticks, and a MACD indicator. For buying purposes, you have a standard limit and market orders. If you find trading more convenient on your mobile, the new Binance Lite version is claimed to be the best crypto application for beginners ever. You can download it for free on AppStore and Google Store.

Since Binance has been holding the top position on trading volume charts for a rather long time, you shouldn't have any concerns about market liquidity. Additionally, the number of available crypto trading pairs exceeds 100. As a beginner, you may find it useful that fiat/crypto pairs are also available, although not in a great number.
Funds can be initially deposited in over 10 fiat currencies either with SWIFT or directly by using a debit or credit card. The fees of 0.1% are fixed and much lower than the market average. Furthermore, if you use BNB, their native token, you'll get an additional discount of 25%.
3. Kraken Exchange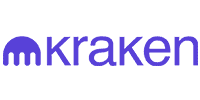 Country: United States
Currency: USD, GBP & EUR
Fees: 0.26%
Available cryptocurrencies: 50+ cryptocurrencies
Kraken has built up a reputation as one of the most reliable crypto exchanges worldwide. The "hero" behind this success story is Jesse Powell, a proven crypto-security specialist who used his experience to establish a security-driven platform available in 176 countries. Kraken has no history of security breaches and cyber-attacks as it keeps the majority of digital assets offline.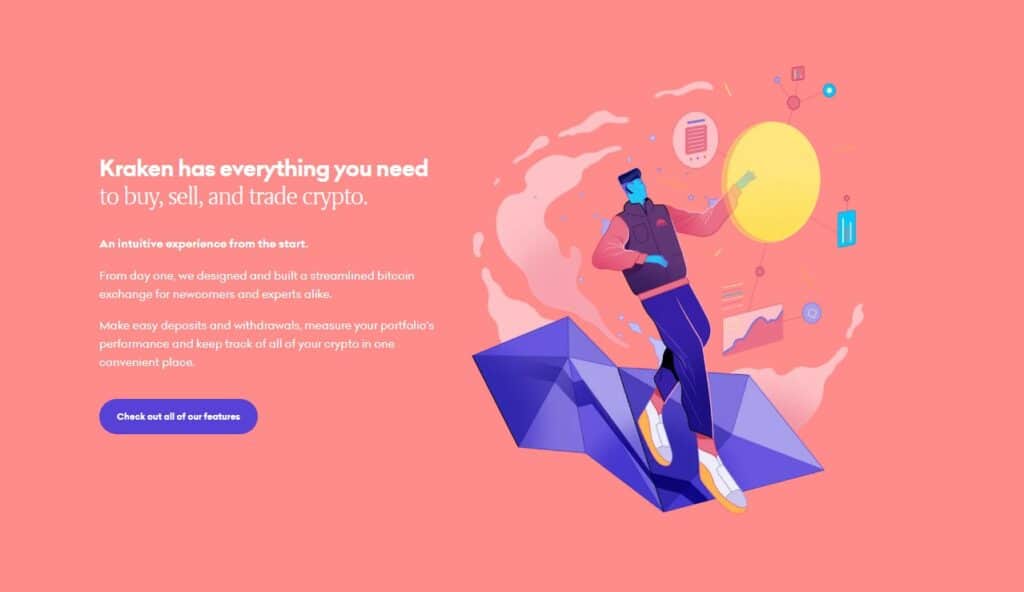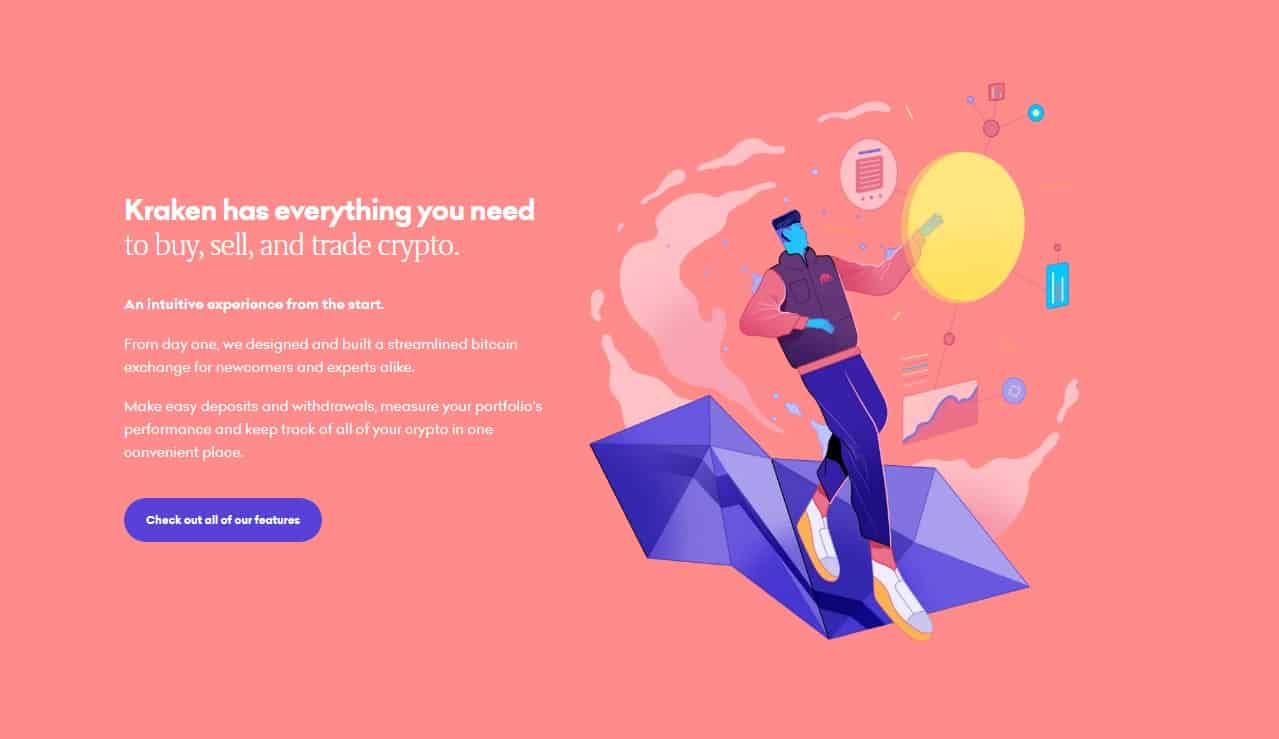 When it comes to the interface, Kraken's platform is described as rather complex for an absolute beginner because of the great number of trading facilities it consists of. Although, that doesn't mean that it's messy and incomprehensive. More experienced crypto traders claim that once you learn to navigate Kraken's site, you have learned a life lesson in crypto trading. Therefore, it's worth trying.
You can buy your first Bitcoin or some of the other 50+ altcoins available by depositing fiat money (USD, EUR, CAD, GBP, AUD, JPY, and CHF) to your trading account through a bank transfer. Don't get discouraged by the time-consuming purchase process as it usually takes 1–5 business days for deposit transfer. Plus, a tier-2 verification process is required to start with regular market trades. For deposits, you'll be charged a fixed rate of $5 (only Swift deposits cost $35), whereas the withdrawal fee system is based on the altcoin type and the payment method.
4. Bittrex Exchange

Country: United States
Currency: EUR & USD
Fees: 0% to 0.75%
Available cryptocurrencies: 40+ cryptocurrencies
In 2014, Bittrex was founded by Rami Kawach, Richie Lai, Bill Shihara, and Ryan Hentz, an experienced team in the field of security with a clear vision to create a platform that can be fully trusted.
The Bittrex interface is rather advanced but all the features are presented in a simple way.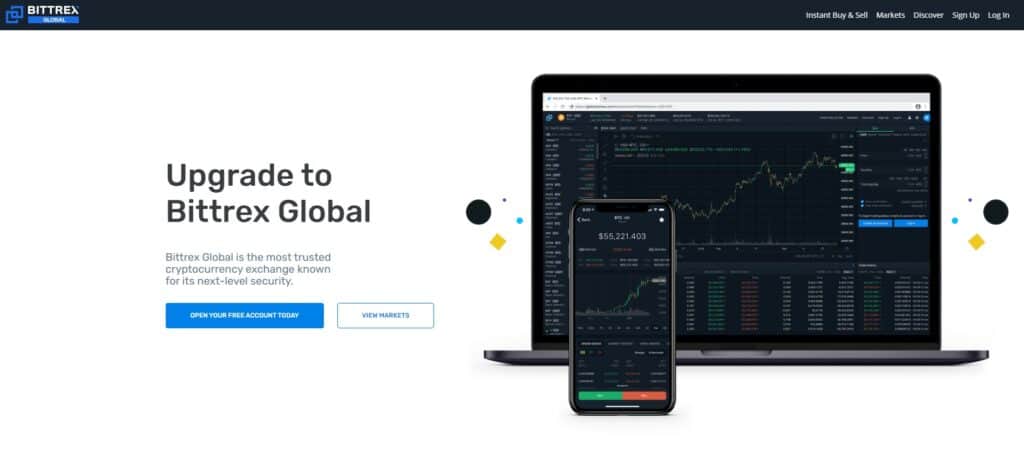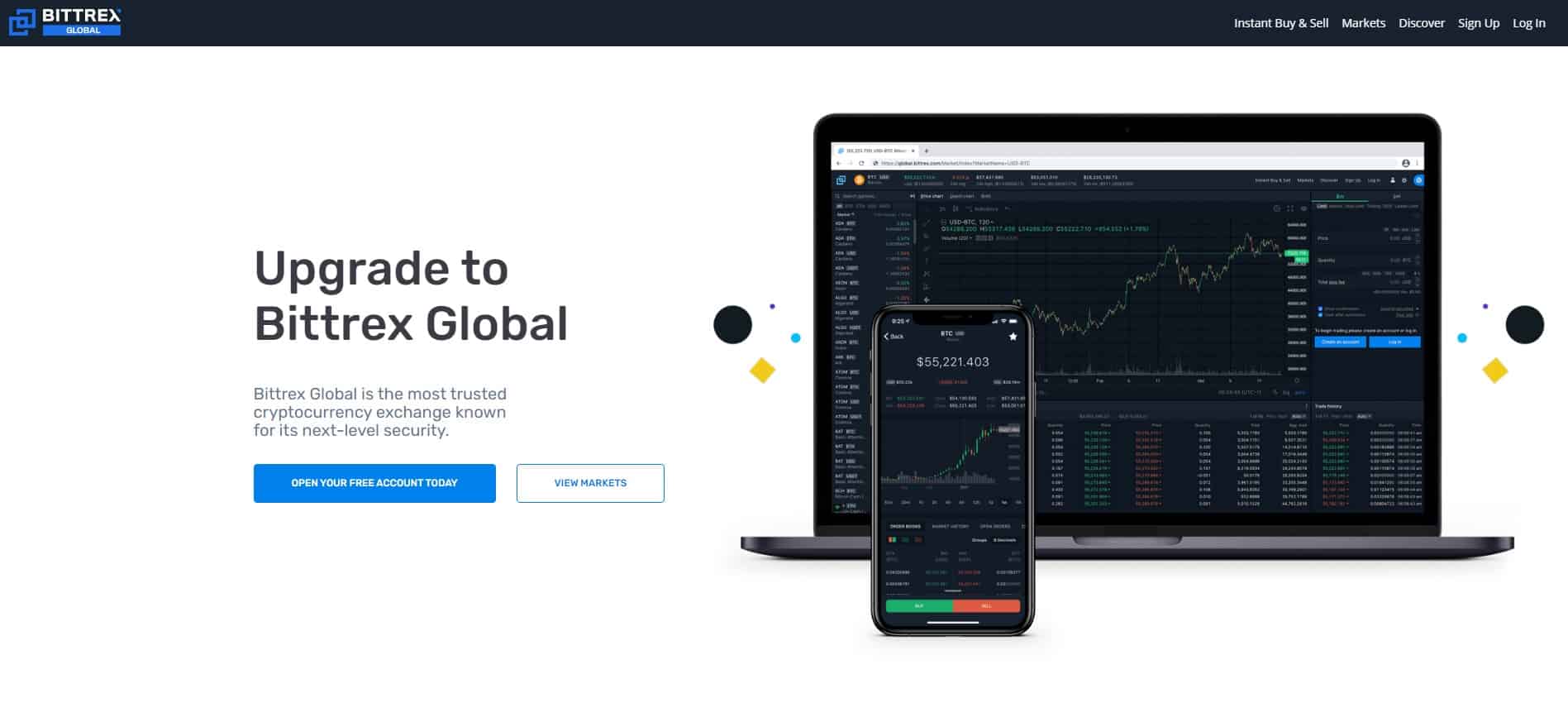 The good news is that they recently enabled the option to buy altcoins with fiat currencies (USD and EUR for now) directly from your bank account. Accordingly, you'll be required to complete a verification process to check your financial background and eligibility.
However, Bittrex features an automated verification process, supported by Jumio, a service that checks records across 200 countries. It's a great relief for newcomers as all you have to provide is basic personal information. Bittrex is now available in 190 countries and offers over 250 trading pairs.
As a beginner, it;s recommended that you stick to the most popular ones, like Bitcoin (BTC), Ethereum (ETH), Litecoin (LTC), Ripple, and Tether (USDT). The trading fees of 0.25% are maybe higher than other popular crypto exchanges, but at least it won't take much time to calculate costs based on your current position and the type of altcoin.
5. Gemini Exchange

Country: United States
Currency: USD
Fees: 1%
Available cryptocurrencies: 5+ Cryptocurrencies
Gemini was founded in 2014, in New York, USA, by Cameron and Tyler Winklevoss. Their names may sound familiar to you, as the Winklevoss brothers sued Mark Zuckerberg back in 2007 for stealing their idea for Facebook. Interestingly enough, they invested the $60 million settlement into Bitcoin. Encouraged by the profitable Bitcoin investment, the Winklevoss twins launched their own cryptocurrency exchange, which is one of the most reputable platforms on the market today.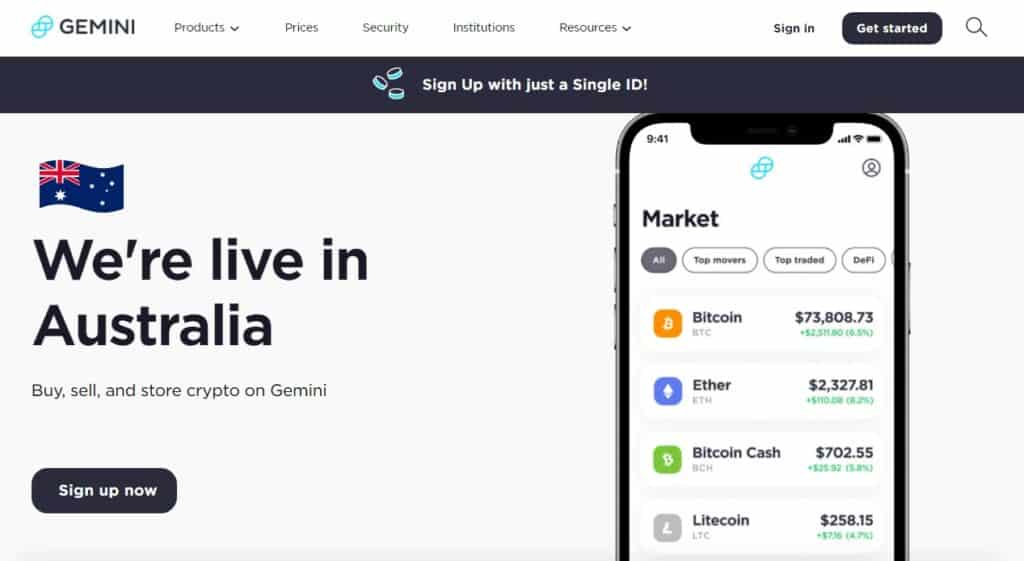 Gemini is the first crypto platform licensed and regulated by the New York State Department of Financial Services (NYSDFS). Gemini's interface may look a bit ambiguous to beginners due to the sophisticated trading tools. However, it's clean and straightforward enough to navigate. As a beginner, you can rely on Gemini's mobile app which is pretty intuitive and convenient for executing simple operations.
Gemini is focused on Bitcoin and the leading crypto coins, so there are only around 20 cryptos you can trade with. Plus, they've recently launched their own coin called Gemini dollars (GUSD). You can initially fund your account with fiat money through a wire transfer, ACH, or credit cards. A deposit fee of 3.49% is only applicable if you use your credit card. General trading fees are 1.49% for transactions under $200 and 0.50% above this amount.
6. Coinmama Exchange

Country: Ireland
Currency: All currencies
Fees: Varies
Available cryptocurrencies: 5+ Cryptocurrencies
Coinmama is a Slovakian brokerage service launched in 2013 and run by New Bit Ventures, Ltd., an Israel-based parent company. Coinmama is a simple, beginner-friendly service tailored for novices and instant crypto buyers. You can instantly buy Bitcoin or one of the six supported altcoins: Bitcoin Cash (BCH), Ethereum (ETH), Litecoin (LTC), Ethereum Classic (ETC), Cardano (ADA), and Tezos (XTZ).

Unlike traditional exchanges that offer various forms of trading, Coinmama is a one-way marketplace where you can only buy digital currencies instantly. The amount of cryptocurrency you can purchase depends on your account's verification level. There are 3 tiers, each with a growing purchase limit. Tier 1, for example, is limited to $7,500.
The platform is incredibly easy to navigate and accepts global, diverse payment methods such as SWIFT, SEPA, Apple Pay, Fedwire, Faster Payments, and credit/debit cards. There is a flat transaction fee of 5.5% for all payment methods except for credit cards, for which you will be charged an additional fee of 5%. Coinmama is also a perfect alternative for beginners because of the fantastic customer support service available 24/7 via email. The support for users is available in several different languages.
7. CEX.io Exchange

Country: UK
Currency: 4+ Currencies
Fees: Varies
Available cryptocurrencies: 70+ Cryptocurrencies
CEX.io is a UK-based crypto exchange, founded in 2013 for Bitcoin-mining purposes. Throughout the years, it has become one of the most popular platforms globally, suitable both for beginners and experienced traders.
CEX.io has a modern, easy-to-use interface that includes Fill or Kill (FOK) orders. As a newcomer, you should know that this order type will enable you to make an instant purchase, executed immediately on the market for a specified price, or canceled immediately if not filled.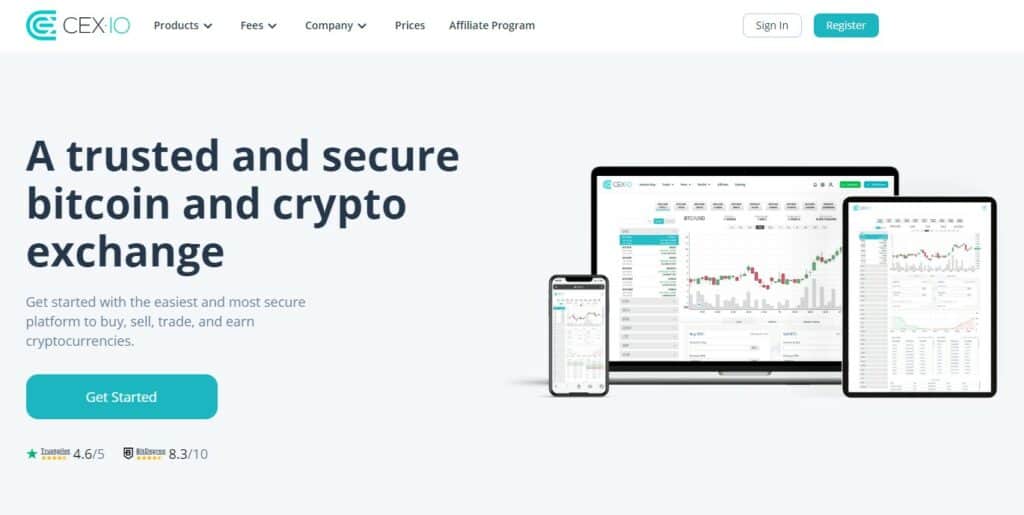 You can make your first purchase on CEX.io by depositing one of the four accepted fiat currencies: USD, GBP, RUB, and EUR. Afterwards, you can proceed to trade with some of the widely accepted cryptocurrencies: BTC, ETH, BCH, XRP, BTG, DASH, XLM, and ZCASH. As a customer-oriented company, CEX.io will protect you from potential financial losses if the price of your trading asset falls during the transaction process.
Similar to Coinmama, the purchase limit and the payment methods depend on the verification level you've completed. As a beginner, we recommend the tier-2 verified level, which will allow you to make wire transfer deposits and transactions higher than $2000 per month. The CEX.io fee system is based on scalable commissions starting from 0.25% for takers, whereas makers are initially charged 0.16%.
8. eToro Exchange

Country: Europe
Currency: EUR, GBP & USD
Fees: Daily Fees
Available cryptocurrencies: 90+ Cryptocurrencies
Established in 2007, eToro is an Israeli multi-asset brokerage company that operates across 100 countries, serving more than 17 million users. There is a wide range of financial assets that can be traded on eToro including regular currencies, cryptocurrencies, commodities, indices, and ETFs.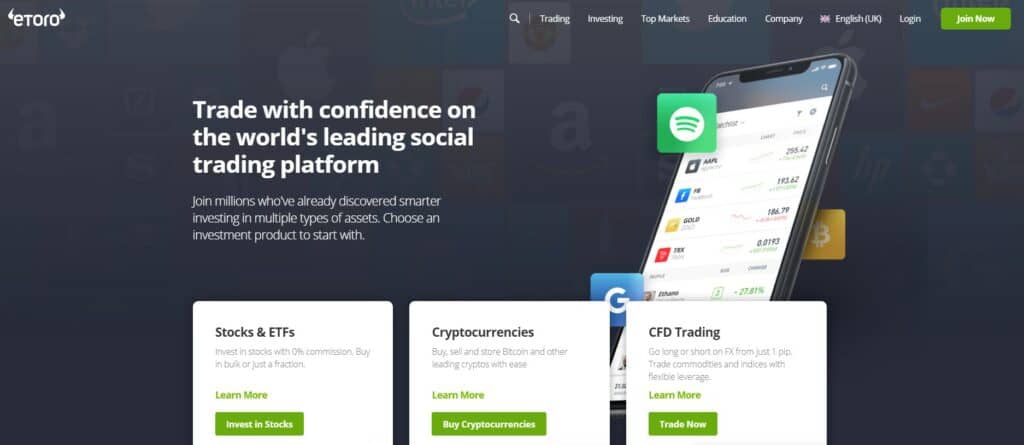 The substantial number of trading assets may mislead you to believe that trading on eToro requires a great deal of skill. On the contrary, when it comes to cryptocurrency, eToro features one of the most straightforward trading navigations. You can make your initial deposit through a bank transfer or credit/debit card and trade with over 15 available cryptocurrencies including BTC, ETC, ETH, BCH, etc.
Besides the convenient user interface, eToro's key advantage for beginners is the opportunity to implement copy trading. You can follow the trades and risk-management strategies of the most experienced and successful traders on the platform in real-time. Of course, it doesn't guarantee secured success, but learning from proven trading patterns can be a valuable lesson for your future steps in investment.
9. Changelly Exchange

Country: Czech Republic
Currency: USD, EUR & GBP
Fees: Varies (5% for crypto-to-fiat)
Available cryptocurrencies: 90+ Cryptocurrencies
Changelly is a cryptocurrency trading service, founded in 2015 and headquartered in Malta.
It's a decentralized exchange, following a different trading pattern from provider-based exchanges that operate as an intermediary. It's more than a decent spot for beginners offering instant, easy, and more or less, anonymous crypto trading.
You can buy over 150 crypto assets with USD, GBP, and EUR using your credit/debit card or bank account. Deposit fees depend on the payment method, while regular transactions are charged a fixed exchange rate of 0.25% for both takers and makers.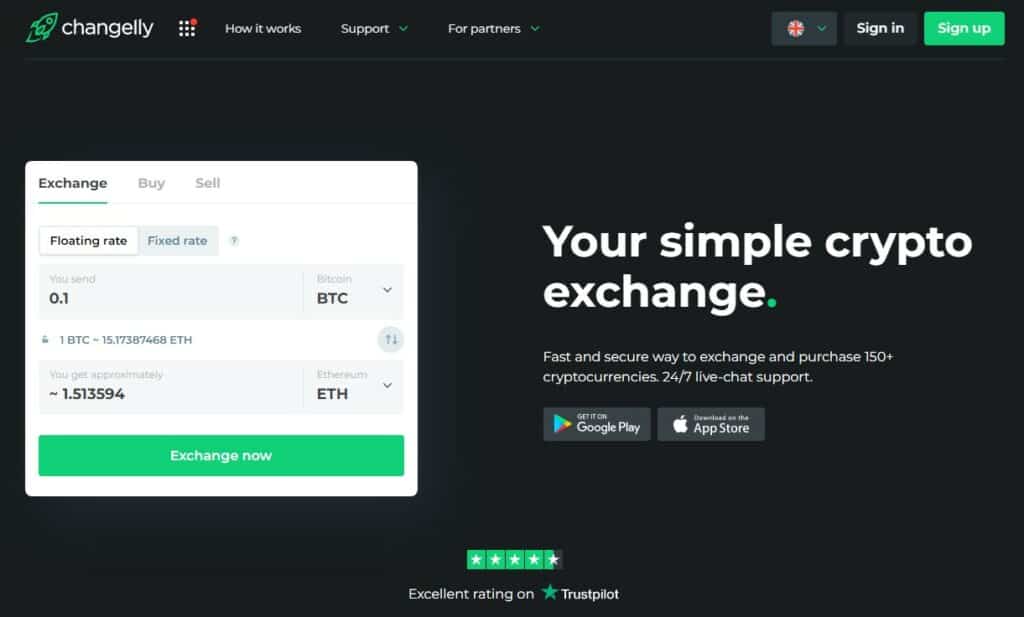 The platform can be accessed through their official website, mobile app, or even through third-party cryptocurrency wallets including some of the most popular hardware wallets like TREZOR, Ledger, and Exodus.
Changelly has implemented a trading robot that integrates with other crypto platforms like Bittrex and Binance and makes bids based on their price suggestions. If you get stuck for some reason, there is a 24/7 chat service you can count on.
10. KuCoin Exchange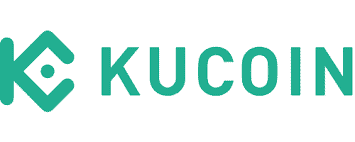 Country: Hong Kong
Currency: 20+ Currencies
Fees: 0.1%
Available cryptocurrencies: 150+ Cryptocurrencies
KuCoin is a modern crypto exchange established in 2017 by Michael Gan and Eric Don under the motto 'The People's Exchange'. Following the company's key principles, they managed to build a secure, inexpensive, and simple platform that satisfies the needs of all levels of users.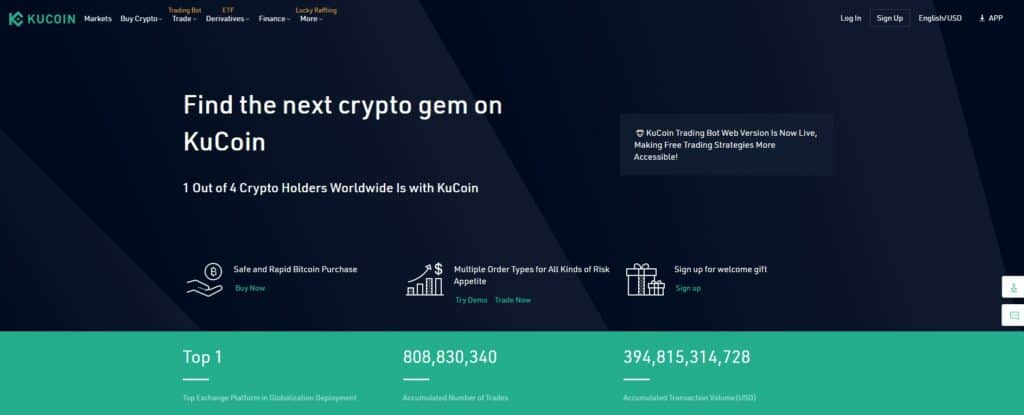 Furthermore, the KuCoin interface is claimed to be attractive and illustrative, yet uncluttered. KuCoin offers a broad range of advanced services including OTC (over-the-counter desk) and derivatives and margin trading.
In fact, KuCoin became part of the top-ranked crypto exchanges for beginners after it started accepting fiat deposits. Now you have the opportunity to fund your account through SEPA, Apple Pay, PayPal, or credit/debit card and trade with over 200 different altcoins. KuCoin doesn't charge you for crypto deposits, while the flat trading fee of 0.1% is more than favorable.
How to Look for a Beginner-Friendly Crypto Exchange?
Even though numerous trading features make a reliable exchange, as a beginner, you should look for exchanges that have the following characteristics:
A clear and intuitive user interface without excessive charts, candlesticks, and additional price, volume, and market trackers. At this stage, they will intimidate rather than help you.
A platform that offers a separate basic mode suitable for your experience level.
A high-security platform that complies with local financial and anti-money laundering regulations. Cybercriminals are lurking and your inexperience may cost you an irreparable financial loss unless all necessary measures are implemented.
An exchange that allows fiat deposits in your local currency.
An exchange with low fees. Always pay attention to the platform's fee system. A flat rate is always the most convenient solution for a beginner.
An exchange with proven customer support. Read customer reviews carefully before you start trading to learn which platforms have support teams that you can rely on.
FAQs
What's the best Bitcoin exchange for beginners?
When it comes to Bitcoin, all of the exchanges that are part of our top-ten list allow you to buy and sell Bitcoin either for fiat money or other altcoins. Coinmama is the only exception since it allows users to buy Bitcoin only. As you can see from our list, Coinbase is the overall best solution for beginners as it's designed particularly to meet the needs of new crypto players and offers incredible ease of use. However, all of the other listed platforms satisfy our criteria for a beginner-friendly platform. The final decision is yours to make!
What are the risks when purchasing Bitcoin with a credit card?
You've probably noticed that the majority of crypto exchanges allow Bitcoin and other altcoin purchases using credit cards. As convenient as it may seem, credit cards are not the most recommended payment method. The risks include unnecessary exposure of sensitive bank information online and a negative effect on your total credit score. Apart from potential security scams, you should also avoid crypto purchases with your credit card because of the ridiculously high fees and price limits.
Are Bitfinex and Bitstamp suitable for beginners?
Both Bitfinex and Bitstamp have a reputation as the most sophisticated trading platforms on the market. However, they're designed for intermediate and advanced individual traders and corporations. The platforms feature the most innovative trading tools and complex interface structure, which won't help you at the very beginning in the same way that they would help crypto-savvy professionals. Instead, such high-profile exchanges will make you feel more confused and reluctant towards crypto trading.