Best Crypto Exchanges for Altcoins in Australia 2022
Bitcoin (BTC) is the first currency that comes to mind when talking about crypto. The world doesn't accept disruptive concepts easily so it was Bitcoin that took the plunge and led the tough way to general approval. A decade later, people still talk about cryptocurrencies in terms of "Bitcoin and other altcoins". The latter, however, stands for over 4,000 cryptocurrencies, some of which are more popular, accessible, or expensive than others.
Even though Bitcoin holds 40% of the market, charts on Coinmarketcap suggest that people do show significant enthusiasm towards altcoins. As Bitcoin's "moments of glory" have already come to pass (which is not to say that there aren't more to come), traders are simply looking for a new crypto "star". Therefore, in the search for
an appropriate crypto exchange
, the variety of altcoins available frequently plays a key role.
There is a considerable number of highly reputable exchanges like Gemini or BitMEX that target Bitcoin-oriented traders or don't aspire to expand the number of available altcoins. For this very reason, we'll focus our attention on the exchanges that facilitate the best trading opportunities for digital assets
other
than Bitcoin.
Best Crypto Exchanges for Altcoins In 2022
1. Binance Exchange

Country: Global
Currency: 40+ Currencies
Fees: 0.1%
Available cryptocurrencies: 400+ Cryptocurrencies
Binance is the undisputed champion on exchange leaderboards even though it was launched in 2017. This exchange follows a straightforward mission for diverting users towards a "global form of money".
Binance is headquartered in Malta, offering its services in 180 countries worldwide. The Binance platform features a highly visual interface, which can be adjusted to your experience level, either in basic or advanced mode.

There are two main reasons behind Binance's instant success. The first is the transparent fee system with a fixed rate of 0.1% for both takers and makers. The second key point is the outstanding number of altcoins available for trading. In fact, the Binance platform supports over 100 cryptocurrencies including some stablecoins like Binance USD (BUSD), Tether (USDT), and Coinbase USD (CUSD).
Direct fiat-crypto purchases are also allowed with around 10 currencies and can be made through SWIFT or instantly purchased with a debit or credit card. The Binance spot market includes leveraged tokens with leverages varying from 1:1.25 to 1:4.
In this context, Binance has launched its native token BNB. The exchange encourages users to trade with BNB by providing an additional discount of 25% to the determined trading fee.
2. Coinbase Exchange

Country: United States
Currency: USD, EUR & GBP
Fees: Varies
Available cryptocurrencies: 70+ Cryptocurrencies
Coinbase is a well-established crypto marketplace operating since the early stages of Bitcoin. The exchange is based in the United States, and since its beginning in 2012, it's been a departure point for millions of crypto novices worldwide. Beginners rely on Coinbase due to the exceptionally intuitive interface and guidance provided. The company targets advanced traders with a separate platform known as Coinbase Pro. The pro version displays tracking tools and charts more illustratively.
When it comes to services, Coinbase provides a range of services including cryptocurrency investing, corporate accounts for institutions, an incorporated digital wallet, and a U.S. dollar stablecoin (USDC). Unlike its direct competitor Binance, Coinbase doesn't offer such a broad array of trading pairs.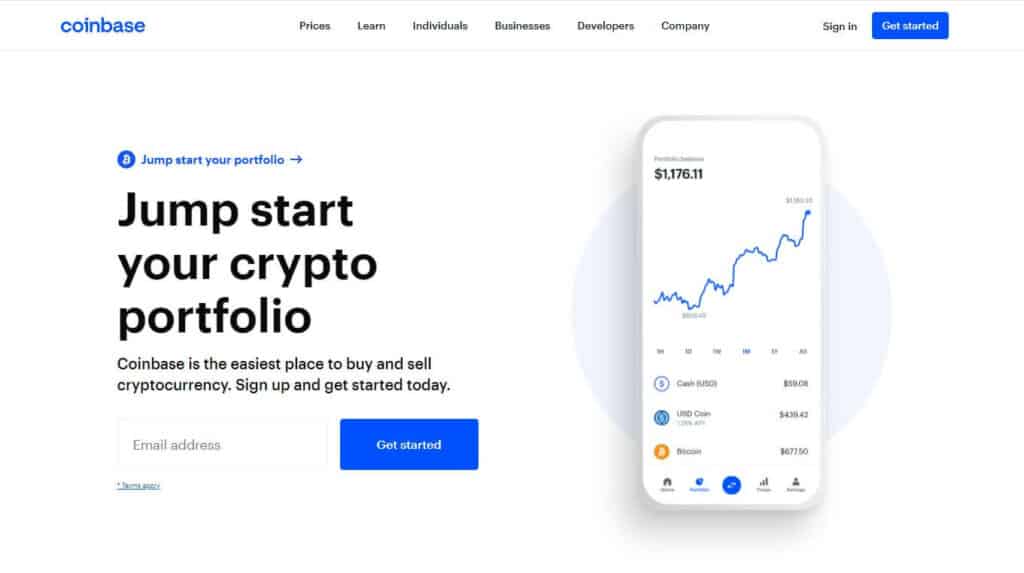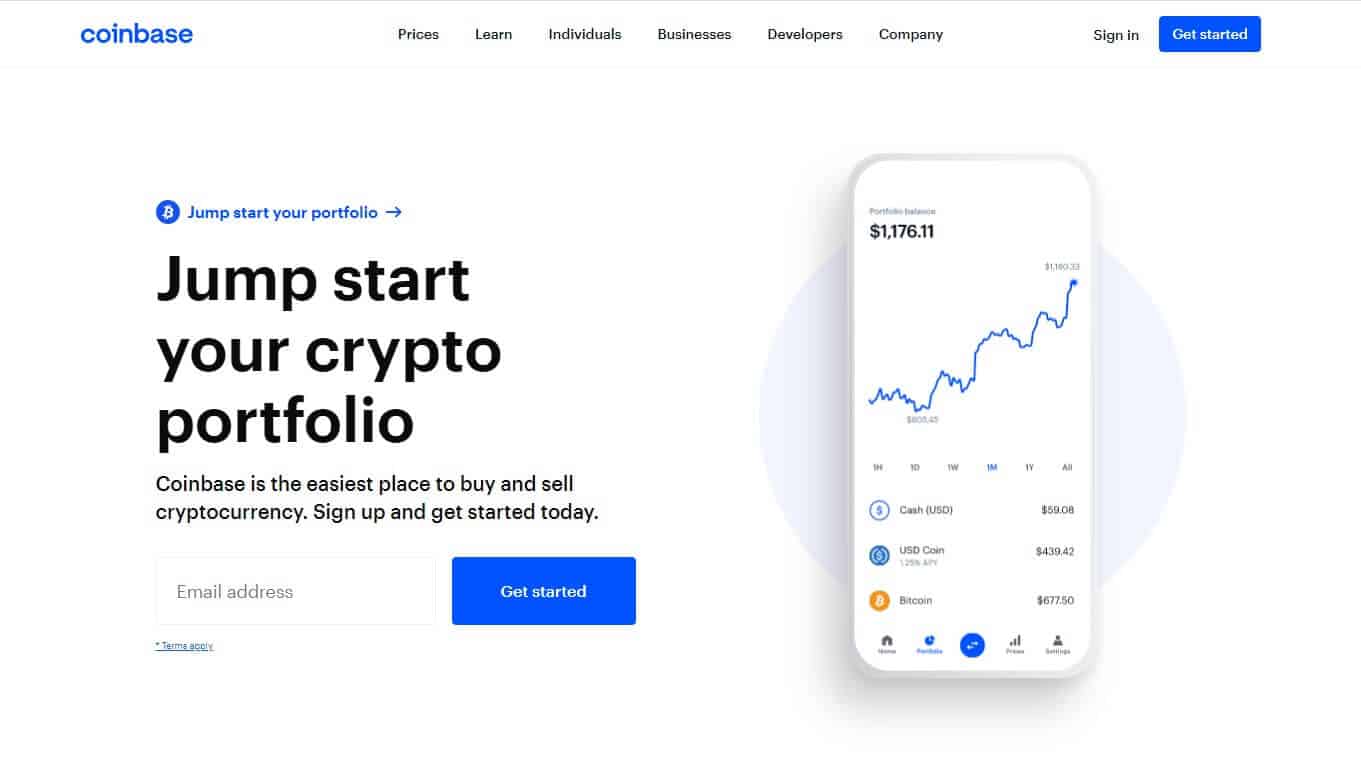 However, it supports around 40 altcoins other than Bitcoin (BTC), making the exchange a decent choice. Some of the most reputable altcoins offered include Ethereum (ETH), Litecoin (LTC), Bitcoin Cash (BCH), Stellar (XLM), Cardano (ADA), etc. The accepted altcoins can be also purchased with USD, EUR, and GBP.
Coinbase works under the New York State Department of Financial Services and it's fully covered with KYC and AML verification. It offers multi-layer protection such as Two-Factor Authentication (2FA) and FDIC Insurance.
The Coinbase fee schedule is volume-based and reaches up to $2.99 per transaction, plus there is a calculated spread of 0.5%. For instant credit card deposits, you will need to pay a fixed rate of 3.99%.
3. Kucoin Exchange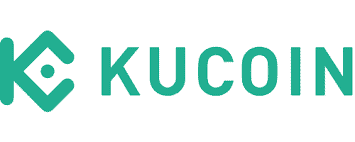 Country: Hong Kong
Currency: 20+ Currencies
Fees: 0.1%
Available cryptocurrencies: 150+ Cryptocurrencies
KuCoin is another fresh spot on the crypto market, highly ranked on our list due to the variety of altcoins it offers. The exchange was established in 2017 by Michael Gan and Eric Don, highly skilled professionals with proven experience in finance.
KuCoin aims at striking a perfect balance between security, price, and easy navigation. This open approach caught the eye of many crypto traders immediately upon launching, but the global recognition came when KuCoin opened the fiat gates for direct crypto purchases.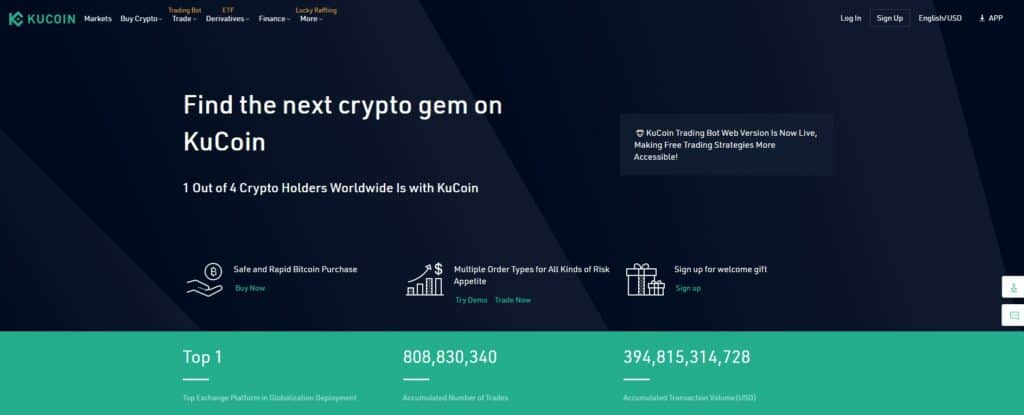 Now, you can buy altcoins through SEPA bank transfers, credit/debit cards, and some alternative payment methods like PayPal and Apple Pay. The platform has a high-end design and users can access it directly from the KuCoin website or download the mobile app, available for both Android and iOS devices.
KuCoin provides a variety of opportunities, apart from regular spot trading, including margin trading, derivatives, futures, OTC services, and P2P funding. The great part is that you can use over 200 altcoins combined in 400 trading pairs. The transaction fees are more than favorable. You will pay 0.1% per transaction, regardless of your position as a taker or a maker.
4. Bittrex Exchange

Country: United States
Currency: EUR & USD
Fees: 0% to 0.75%
Available cryptocurrencies: 40+ cryptocurrencies
Bittrex was established back in 2014, in Seattle, the United States. Today the company is represented by Bittrex and Bittrex Global as separate companies that share liquidity.
This exchange is tailored primarily for crypto-savvy traders and institutional clients, offering corporate accounts with considerable benefits for such high-net investors.
Besides the sophisticated platform, Bittrex is recognized for its top-notch security measures and impeccable user protection. However, the exchange is often criticized for the lack of customer support and account freezing.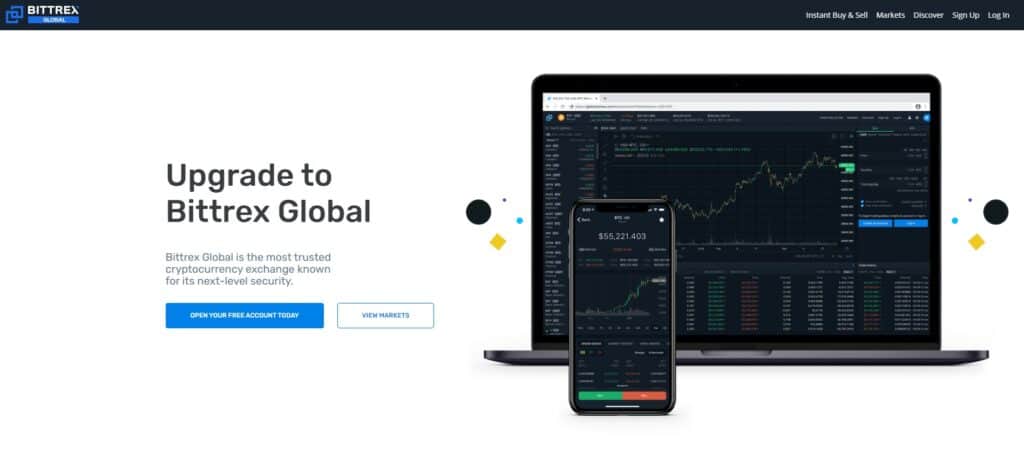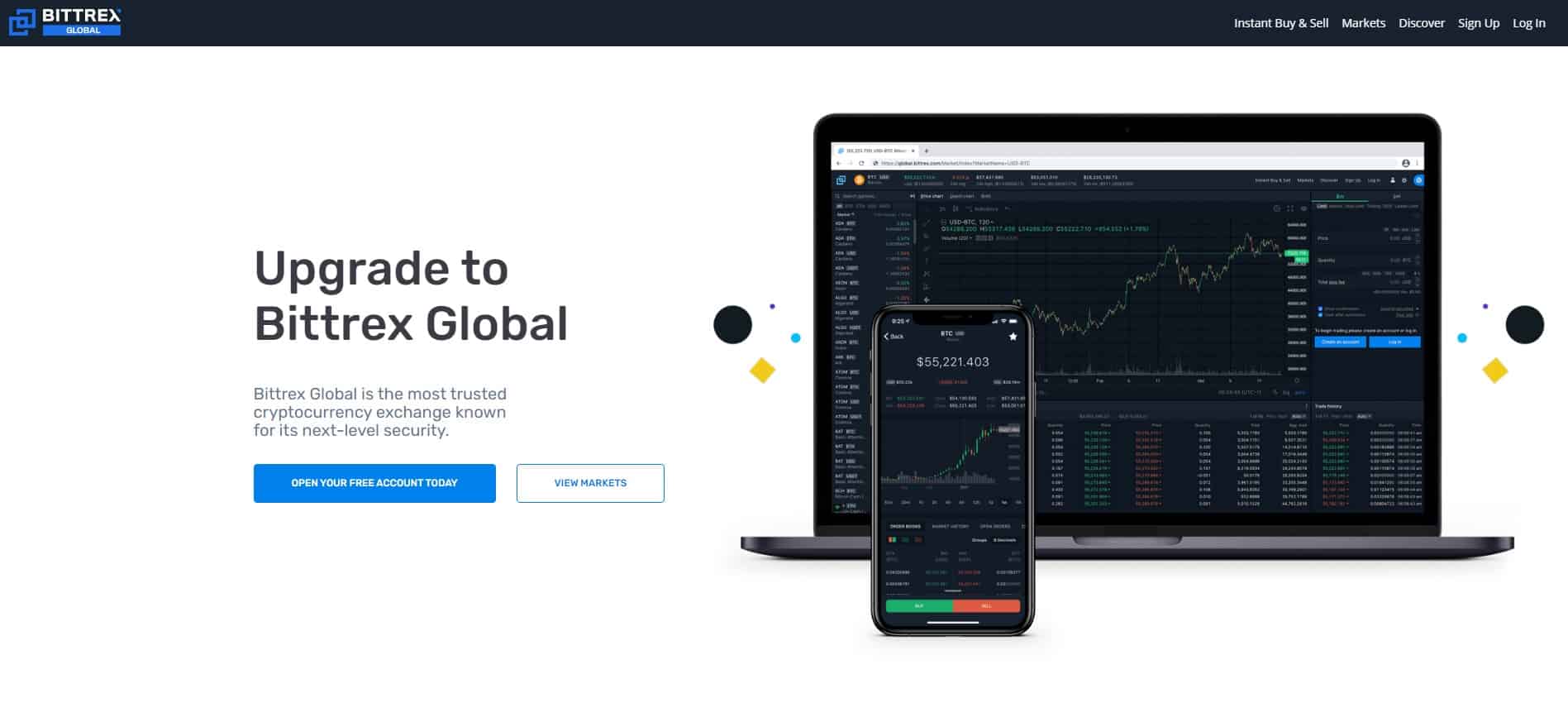 On Bittrex, you can trade on a custom-built trading platform that enables live order execution and one of the fastest balance updates on the market. Bittrex provides the standard trading features like instant buy and sell, stop loss, and good until canceled (GTC) and over 250 altcoins for you to trade with.
Cryptocurrencies can be bought with fiat money as well, but you first need to apply for fiat trading. Bittrex accepts USD and EUR deposits, made through a regular wire transfer or instant credit/debit card purchases, an option that was recently added to their list of services.
5. Kraken Exchange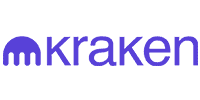 Country: United States
Currency: USD, GBP & EUR
Fees: 0.26%
Available cryptocurrencies: 50+ cryptocurrencies
Kraken's ultimate target is robust security. This exchange was founded by Jesse Powell, a high-profile specialist in the field of crypto security. The founder played a significant role in attempting to restore the hacked funds of Mt. Gox.
At the time, it was the largest Bitcoin marketplace that suffered a huge cyberattack, resulting in a loss of $450 million worth of Bitcoin. Powell learned that the first step towards a successful platform is gaining and keeping the users' trust, and he knew exactly how to do that: with top-notch security.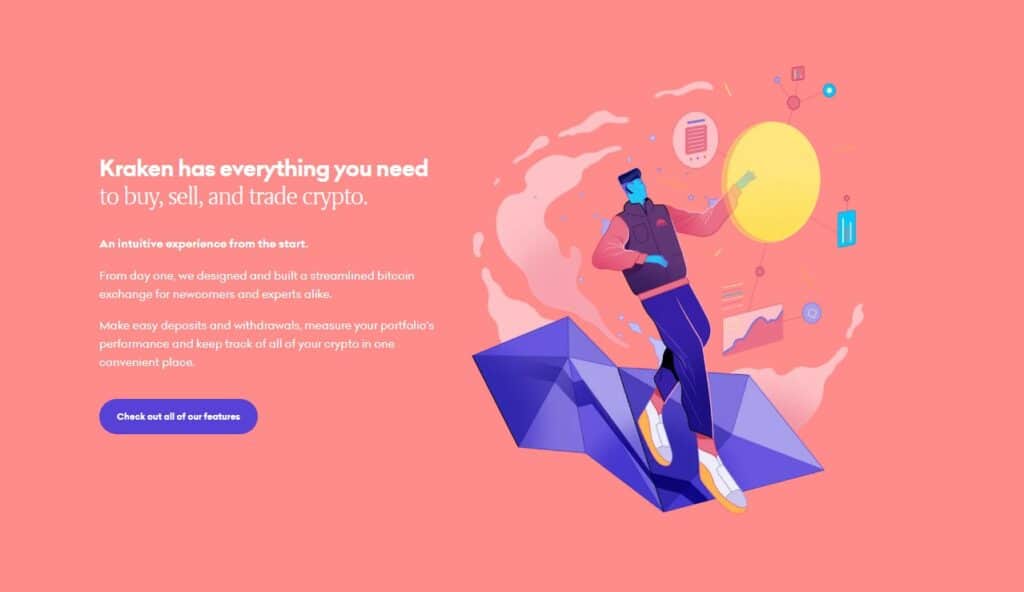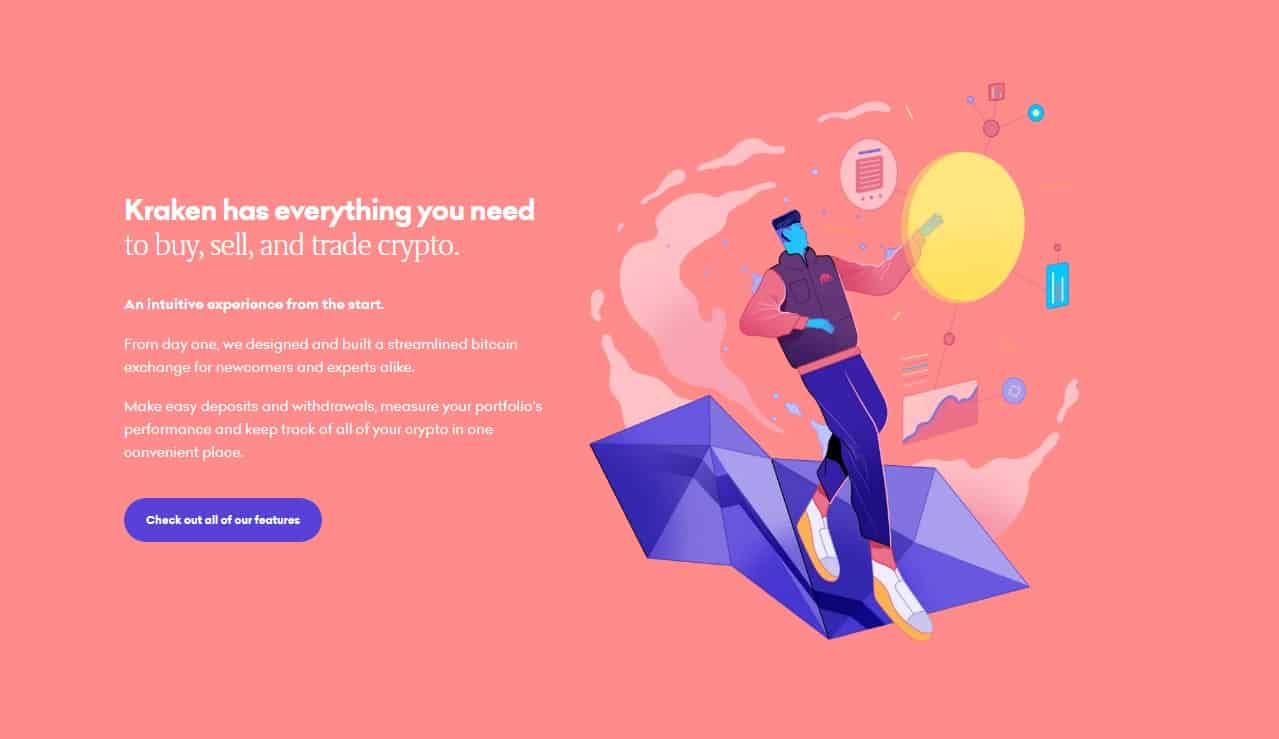 Today, Kraken is one of the most reputable crypto platforms worldwide. Over 90% of Kraken's total assets are kept in cold storage. The company has eminent institutional clients in Germany and Japan and long-term cooperation with Bloomberg Terminal, an illustrious banking tool on an international level. User accounts are protected with the highest security protocols including 2FA, Master Key, and Global Settings Lock.
In terms of services, you can trade with the most popular altcoins like Bitcoin (BTC), Ether (ETH), Litecoin (LTC), Tether (USDT), Ripple (XRP), EOS, and 50 more cryptocurrencies. More experienced traders have the opportunity to trade with leverage and there are personalized OTC (over-the-counter) services for high-net investors.
6. Changelly Exchange

Country: Czech Republic
Currency: USD, EUR & GBP
Fees: Varies (5% for crypto-to-fiat)
Available cryptocurrencies: 90+ Cryptocurrencies
Changelly is the leading decentralized exchange on the crypto market today. Just so you know, decentralized exchanges don't include custodial services and the process of trading is based on a peer-to-peer model. It means that no centralized authority in the capacity of a third party will control your transactions. Plenty of crypto users prefer this decentralized model as it gives a great sense of freedom.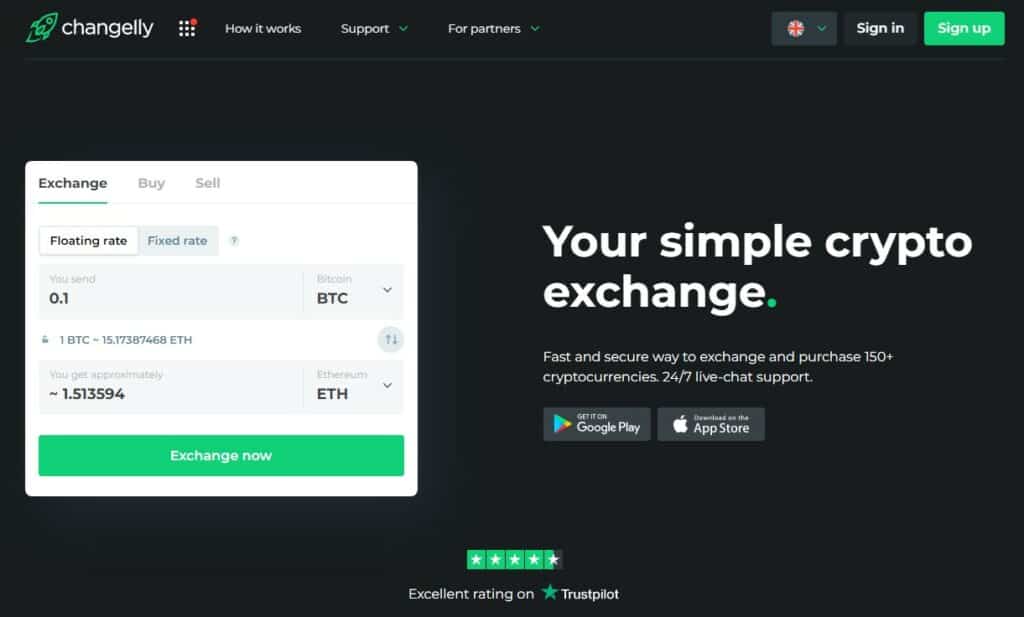 Launched in 2015, Changelly is a beginner-friendly platform, most popular for the instant crypto-to-crypto service offering a wide range of over 170 altcoins to trade with. It also supports fiat purchases in around 60 currencies. The platform integrates with well-established names like Poloniex, Binance, and Bittrex to find the best exchange rates of the selected trading pair.
Trading fees follow the industry average, with a fixed rate of 0.25%, whereas deposit fees depend on the payment method (bank transfer, Apple Pay, debit/credit card). If you use your credit card for a fiat deposit, be prepared to pay a deposit fee of 5%. Furthermore, Changelly can be accessed through a third-party digital wallet (Exodus, LEDGER, or Trezor) apart from their website or mobile app.
7. CEX.io Exchange

Country: UK
Currency: 4+ Currencies
Fees: Varies
Available cryptocurrencies: 70+ Cryptocurrencies
CEX.io was founded back in 2013 in London, but it operated exclusively as a cloud mining service until 2015. The platform turned out to be one of the global leaders in crypto trading, accessible through its website, mobile app, as well as on WebSocket and REST API.
CEX.io complies with FINCEN, as it applies the standard KYC and AML (anti-money laundering) policies, which require identity verification before users are allowed to buy or sell. There are four levels of verification determining the withdrawal/deposit limits and available payment methods.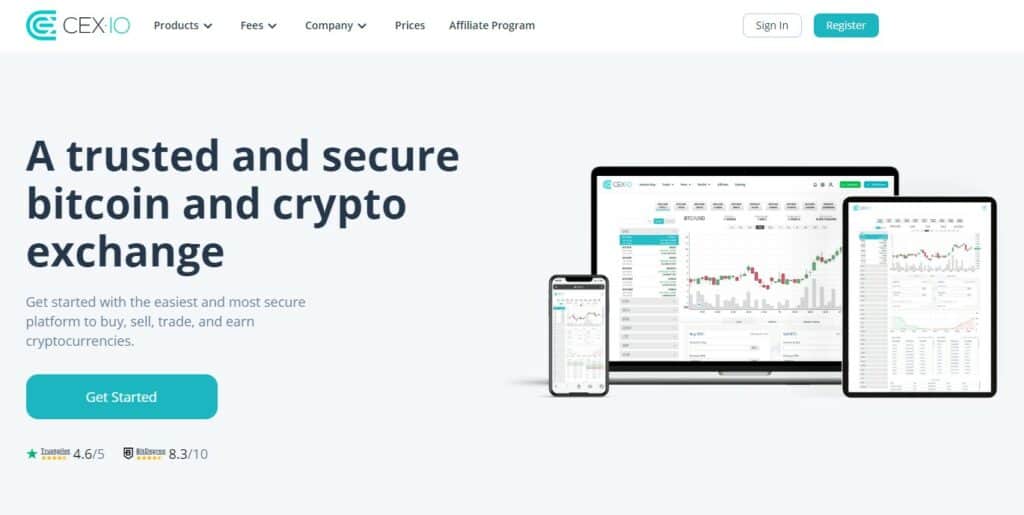 On CEX.io, users can buy around 20 different altcoins using their brokerage service, but there is a trading option only for BTC, ETH, BCH, and XRP. All altcoins can be bought in USD, but for some of them, CEX.io also supports GBP, EUR, and RUB payments.
Fiat purchases can be made through domestic bank transfers or international wire transfers like SEPA. European and UK residents can use Skrill as well. CEX.io was one of the first crypto services that accepted credit/debit card purchases. However, it's often criticized for the hidden fees and transactions reaching up to 7% when buying with fiat currencies.
8. Bitstamp Exchange

Country: Luxembourg
Currency: USD & EUR
Fees: 0% to 0.5%
Available cryptocurrencies: 25+ Cryptocurrencies
Bitstamp has been present on the crypto market since 2011. The exchange experienced critical cyber attacks back in 2014 and 2015, but it managed to restore the damaged reputation by applying the highest security standards and becoming the first nationally licensed cryptocurrency exchange.
In order to regain the public trust, Bitstamp cooperates on an international level with highly reputable financial corporations like Crédit Agricole, Swissquote, and Chicago Mercantile Exchange.

Bitstamp follows the quality-over-quantity rule, meaning that it focuses only on the prevailing cryptocurrencies, namely BTC, ETH, LTC, XRP, and BCH, while it only allows USD, EUR, and GBP as fiat gates. However, Bitstamp creates an overall positive trading experience, which is why it's on our altcoin list despite the limited number of supported cryptocurrencies.
The platform is considered a sophisticated solution for more advanced traders, featuring an uncluttered interface with separate dashboards. Plus, Bitstamp has announced that it is considering including USDC, ETC, ZEC, and 0x (ZRX) in the near future.
Concerning fees, for transactions under $20,000, you will pay a flat maker/taker fee of 0.25%.
9. Poloniex Exchange

Country: United States
Currency: 6+ Currencies
Fees: 0.075%
Available cryptocurrencies: 200+ Cryptocurrencies
Established in 2014, Poloniex is a veteran in the crypto sphere, distinguished for the variety of digital assets it offers. It wasn't an easy road for Poloniex, though, as it faced multiple security breaches over the years. The exchange seems to finally overcome the serious downhills in 2019 when it became part of the Circle corporation and started providing a secure trading environment.
Even though Poloniex tends to eliminate dubious coins, it's still one of the largest marketplaces concerning available trading pairs. Regular spot traders can choose between 250 crypto-to-crypto and fiat-to-crypto pairs. For those who trade cryptocurrency with leverage, there are around 25 pairs.

Another winning feature of Poloniex is the low-cost fee system. There is a fixed rate of 0.125% for both makers and takers with a possibility of further reduction as your trading volume grows to a particular limit, over 30 days.
Direct fiat purchases aren't the main focus of Poloniex services. However, fiat deposits have been recently enabled in cooperation with Simplex to buy crypto assets with your credit/debit card or Simplex bank account.
10. Huobi Global Exchange

Country: Seychelles
Currency: 24+ Currencies
Fees: 0.35%
Available cryptocurrencies: 340+ Cryptocurrencies
We're completing our list with Huobi Global, an exchange platform gearing towards new categories of digital assets. Huobi was founded in 2013 in Beijing, but was soon relocated to Singapore due to the Chinese banishment of fiat-to-crypto trading.
The exchange features a state-of-the-art interface consisting of advanced price feed and in-depth data illustrations, as well as separate profiles describing each digital currency. In fact, Huobi offers different platforms depending on your trading needs for both margin and OTC trading. The progressive interface isn't tailored for beginners, though.

Huobi Global allows trading with over 400 cryptocurrencies and ICO tokens and this number is growing constantly since the platform has a voting policy for new assets. The voting system can be accessed through a separate platform known as HADAX, which is part of Huboi corporation.

The range of services also includes institutional trading accounts, Huobi User Protection Fund, derivatives trading, and on-the-spot customer service.
Even though there are certain shortcomings in access and international regulations, Huobi is a rather ambitious project threatening to overshadow giants like Binance and Coinbase. Besides, Huobi is considered our direct link to tokens from the Asian market.
What Are Altcoins?
As their name suggests, altcoins are a collective term for Bitcoin alternatives. They follow the same operational pattern as Bitcoin, using blockchain technology that enables transparent peer-to-peer transactions. However, each altcoin sets its own rules regarding the total supply, acquiring methods, and purpose.
For example, Litecoin (LTC) has a maximum supply of 81 million LTC against the 21 million BTC. Furthermore, Litecoin can produce coins faster than Bitcoin, and unlike Bitcoin's mining equipment, it allows regular computer hardware for mining. Some altcoins are humble and enthusiastic projects while others are ambitious projects that grow their separate marketplaces or independent financial applications. But regardless of their reputation, an altcoin's level of volatility is generally higher than Bitcoin's.
As a potential crypto trader, you should learn to make a clear distinction between the basic types of altcoins: stablecoins and digital tokens. The purpose of stablecoins is to fight against market volatility and they do so by binding the value to an underlying index or security. Tether (USDT) is a stablecoin example that "tethers" its value to the value of a national currency – the US dollar. Digital tokens, on the other hand, are native tokens on underlying decentralized platforms and tend to make a further step towards the complete decentralization of cryptocurrency trading.
FAQs
Can I buy Bitcoin with PayPal?
The general impression is that PayPal hasn't been fully integrated into crypto purchases yet. There are several exchanges where PayPal is an accepted payment method including Paxful, LocalBitcoins, and Coinbase. However, it's not a recommended gateway mainly because it's unavailable on the busiest Bitcoin purchase platforms.
Also, as you can see, most exchanges that do allow you to buy Bitcoin with PayPal are P2P ones. This means the transaction is made directly between the seller and buyer on PayPal. Finally, deposit/withdrawal fees are drastically higher when you use PayPal in comparison to regular wire transfers.
What is the best Bitcoin exchange?
There is no single or simple answer to this question. There are so many exchanges out there, making the choice much more difficult than expected. The final choice, however, should be based on your individual trading preferences and purpose as a potential crypto trader.
There is a general pattern that defines a reputable Bitcoin trading platform. The key criteria include a user-friendly interface, low fees, high-security measures, and reliable customer support. If you measure reputability in terms of an exchange's trading volume, liquidity, and market cap, we can say that Binance is currently the best exchange platform.