The Best Cryptocurrency Exchange for Day Trading in Australia for 2022
Have you bought some Bitcoin or another altcoin and buried it deep into your digital wallet? Or are you looking for a way to make your investments more dynamic? If the latter describes you better, you're in the right place. In this guide, we're discussing the best practices and exchanges for the so-called crypto day trading.
The crypto market is an extremely volatile trending venue. Can you imagine making a profit out of the sharp price movements? If you do, it can be a full-time job. Whether the "job" will be rewarding depends on your knowledge, luck, and the appropriate use of trading strategies acquired over time. It will be exciting, that's for sure. While most exchanges listed
on our best crypto exchanges in Australia list
are excellent, they aren't all focused on day-traders.
Depending on whether you enjoy all those blinking charts and candlesticks and their perpetual ups and downs you can either become a casual trader or a full-time day trader. Simply put, the benefits of day trading arise from frequent price fluctuation. If that's what you're after, you'll need the best exchanges for this particular type of trading.
Best Crypto Day Trading Platforms for 2022
1. Binance Exchange

Country: Global
Currency: 40+ Currencies
Fees: 0.1%
Available cryptocurrencies: 400+ Cryptocurrencies
High volumes ensure high liquidity. So, the trading volume leader Binance is expectedly first on our day trading list. This exchange platform makes a perfect marketplace for dynamic asset management.
First, Binance provides two types of interfaces depending on the users' experience level. Regardless of whether they've chosen the basic or the advanced one, there is an option to adjust charts to either candlesticks or depth view. Even though the interface isn't always described as the most user-friendly one on the market, Binance users never experience lag issues, which is of crucial importance when operating daily.

Binance supports an impressive number of 200 digital currencies available to deposit, withdraw, and trade, including the most dominant ones like Bitcoin (BTC), Ethereum (ETH), Litecoin (LTC), Bitcoin Cash (BCH), Ethereum Classic (ETC), and EOS (EOS), plus their native Binance coin (BNB).

In order to encourage BNB trading, Binance offers a special trading fee discount of 25%. In general, the trading fee schedule is a strong advantage of Binance. Compared to its direct competitors, Binance features significantly lower trading fees of 0.1%. Deposits are made at no cost, while withdrawal fees do regularly apply but they're also exceptionally competitive, ranging between $1 and $15.
These numbers refer to both fiat and crypto withdrawals. When it comes to withdrawals, a day trader may find it useful that their digital assets will be delivered to their crypto wallets in no longer than 10 minutes upon the withdrawal request.
2. Kraken Exchange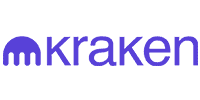 Country: United States
Currency: USD, GBP & EUR
Fees: 0.26%
Available cryptocurrencies: 50+ cryptocurrencies
Kraken is also a suitable environment for day trading. Admittedly, this US exchange targets more high-profile traders and financial institutions providing high liquidity and top-notch security. The high level of user protection is in fact the ultimate goal of Kraken in terms of international recognition and a well-established reputation. For this reason, an active trader should be aware that the full range of trading services, withdrawals, and fiat purchases aren't allowed without undergoing a full KYC and AML verification.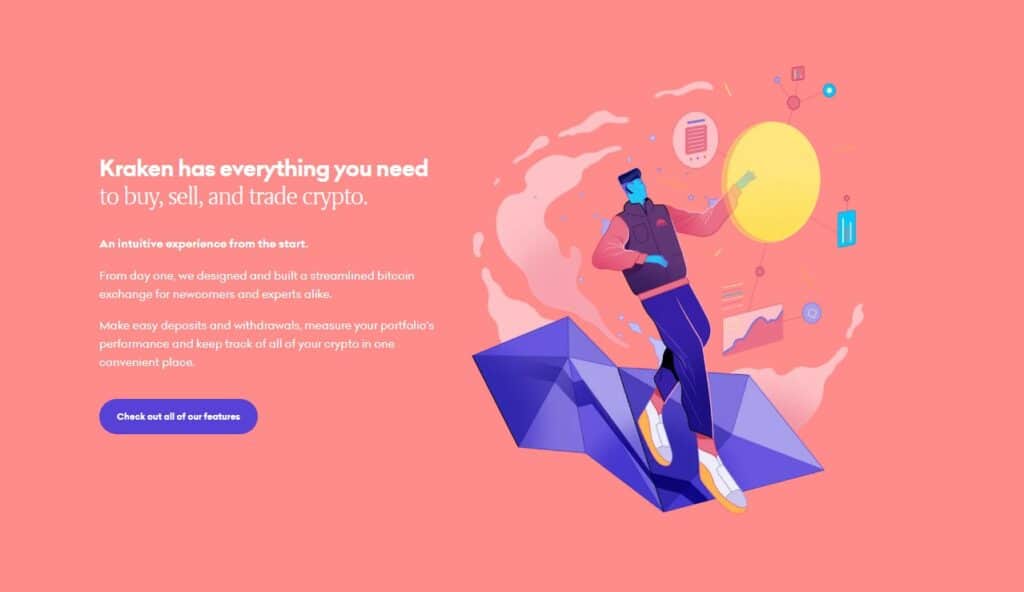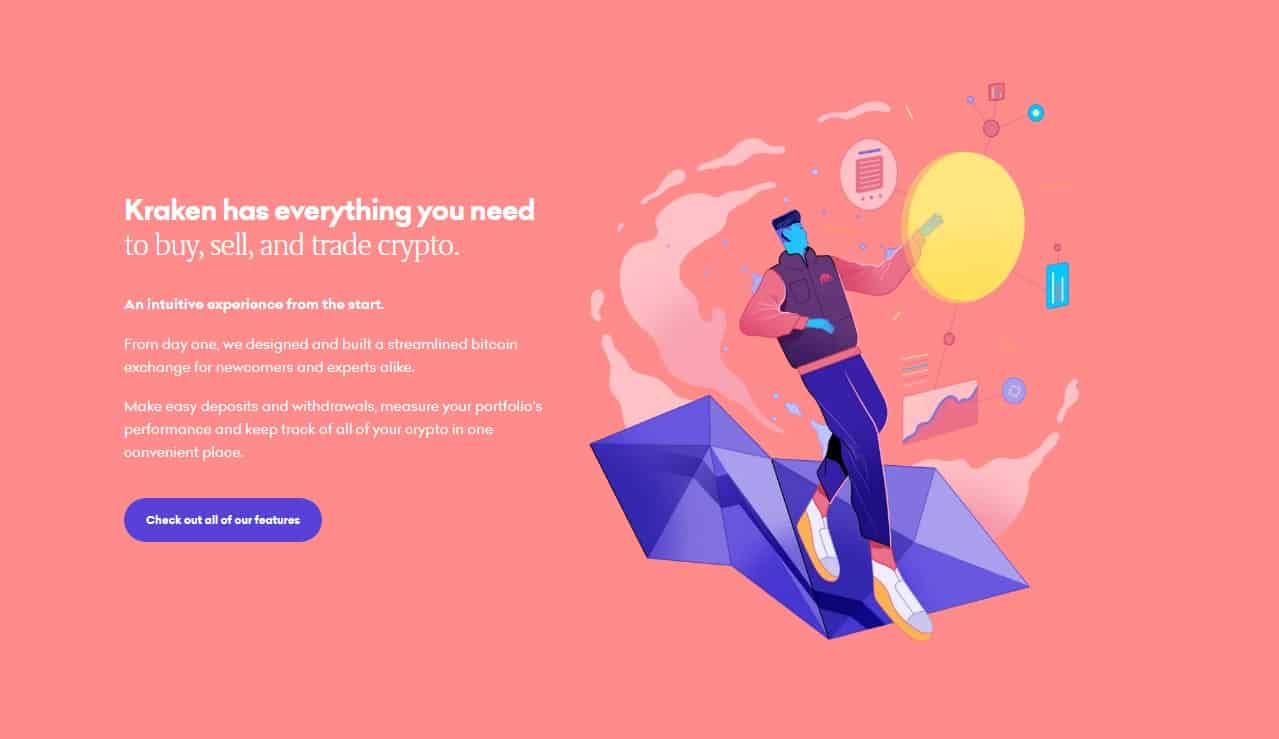 The platform offers 50 cryptocurrencies and various trading options to keep day traders busy. They can go for margin trading with 8 trading pairs with a leverage of up to 5x. Futures trading allows up to 50x leverage on crypto indices and 6 pairs. Fiat deposits are available in USD, EUR, GBP, CAD, AUD, CHF, and JPY, but beware of the time that direct fiat transactions take. Sometimes execution time goes up to 1–5 business days, which is too much if you're aiming at fast deals.
In this context, it's important to mention how useful Kraken mobile apps can be. Yes, there are three separate apps: the standard Kraken app, Kraken, Pro, and Kraken Futures, available for both Android and iOS devices. They feature excellent trading tools where you can get notified in real-time and track your selected altcoins, investments, and price movements on the go.
3. Bittrex Exchange

Country: United States
Currency: EUR & USD
Fees: 0% to 0.75%
Available cryptocurrencies: 40+ cryptocurrencies
Having realized that the crypto business breaks all geographical limits, the services of the well-established US platform Bittrex were adjusted to the global market under the name of Bittrex Global. Similar to Kraken, this exchange puts emphasis on security and aims at a high-profile clientele although its interface is suitable for traders of all backgrounds.

Undoubtedly, Bittrex features a sophisticated yet neat interface with the standard charting and tracking tools. Concerning day trading, the Bittrex interface has quick loading times and no hanging issues. The trading platform offers automated features like instant buy and sell, good 'til canceled (GTC), and stop loss. However, there is no option for trading with leverage.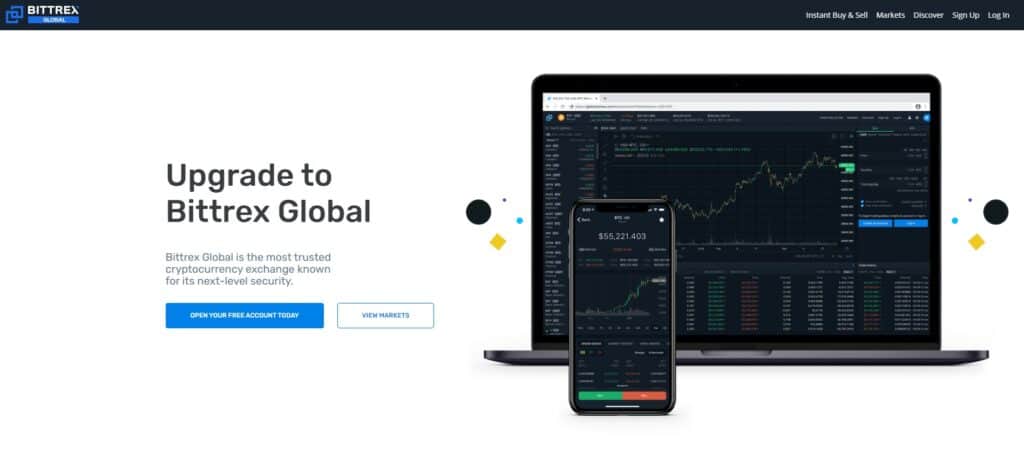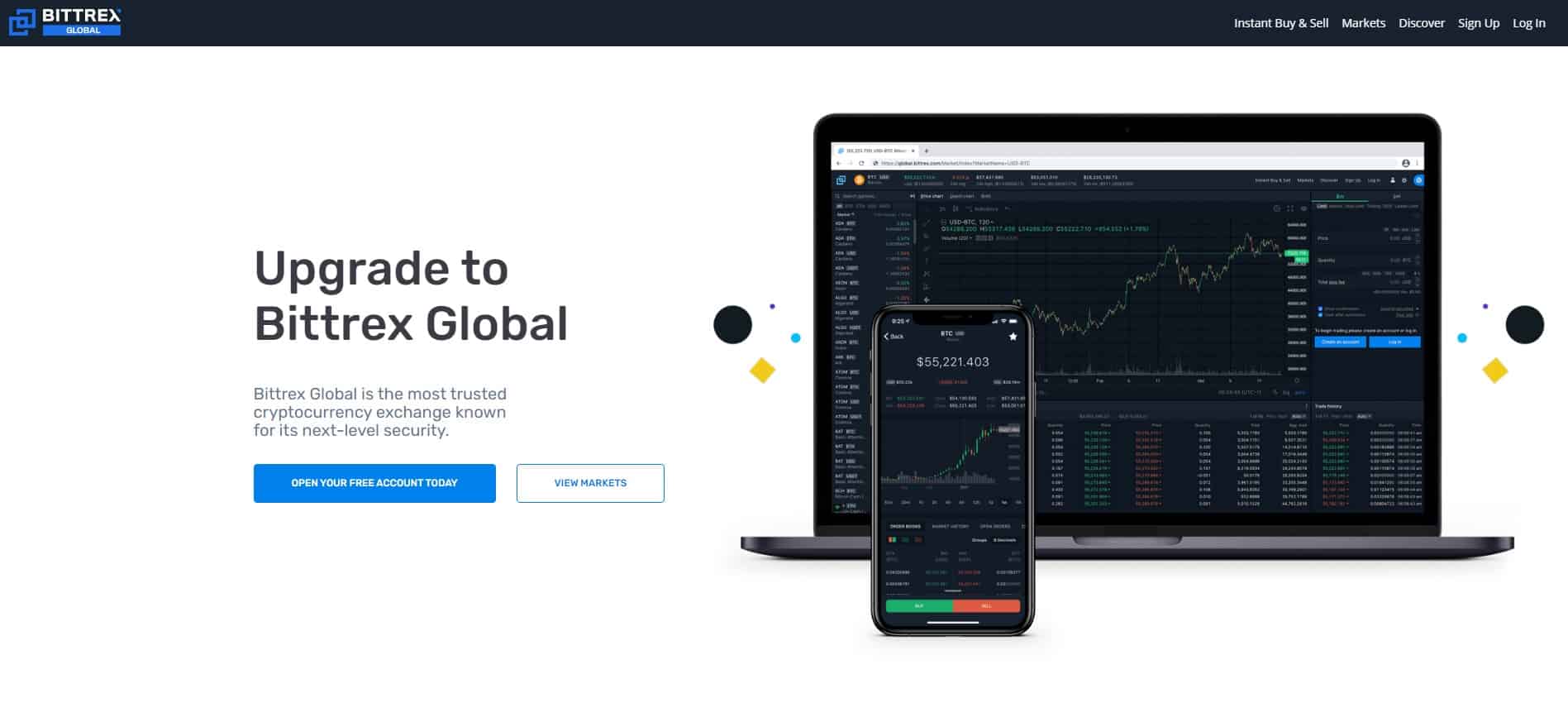 Bittrex Global allows trading with over 250 cryptocurrency pairs. Fiat deposits can be made in EUR or USD through a wire or international bank transfer or debit/credit card. Deposit fees of 3% for instant credit card purchases are relatively low in comparison to most competitors.
Bittrex has a fair withdrawal policy without any intention of making considerable profit out of users' withdrawals. The exchange charges an insignificant amount only to cover the altcoin's network transfer fee. The amount is transparently displayed before you confirm the withdrawal and you always have the chance to edit or cancel the transaction.
4. BitMEX Exchange

Country: Seychelles
Currency: Crypto Only
Fees: 0.075%
Available cryptocurrencies: 21+ Cryptocurrencies
BitMEX is designed to satisfy all the needs of day traders who intend to benefit from the high volatility of the cryptocurrency market. It's been present in the crypto sphere since 2014 and it has never ceased to be part of the top trading volume charts.
The BitMEX interface is fully functional, consisting of all the necessary insight widgets that can be adjusted according to your display preferences. Some users find the BitMEX platform rather outdated and cluttered.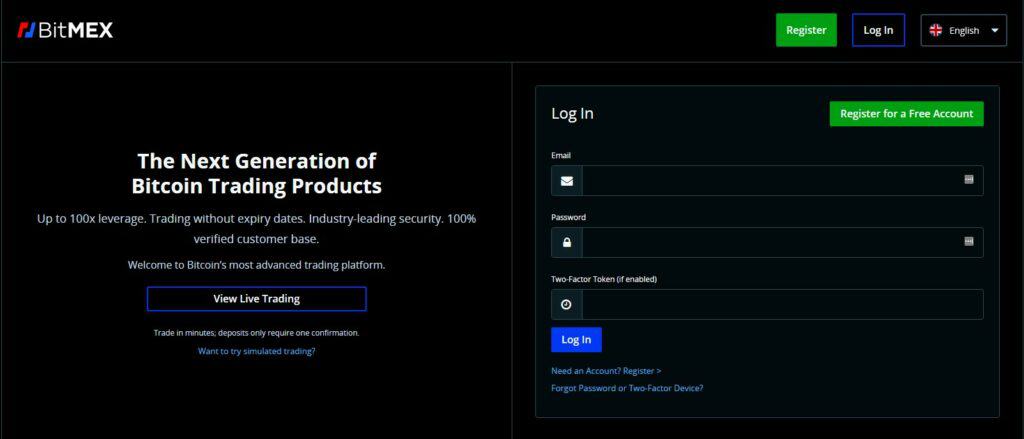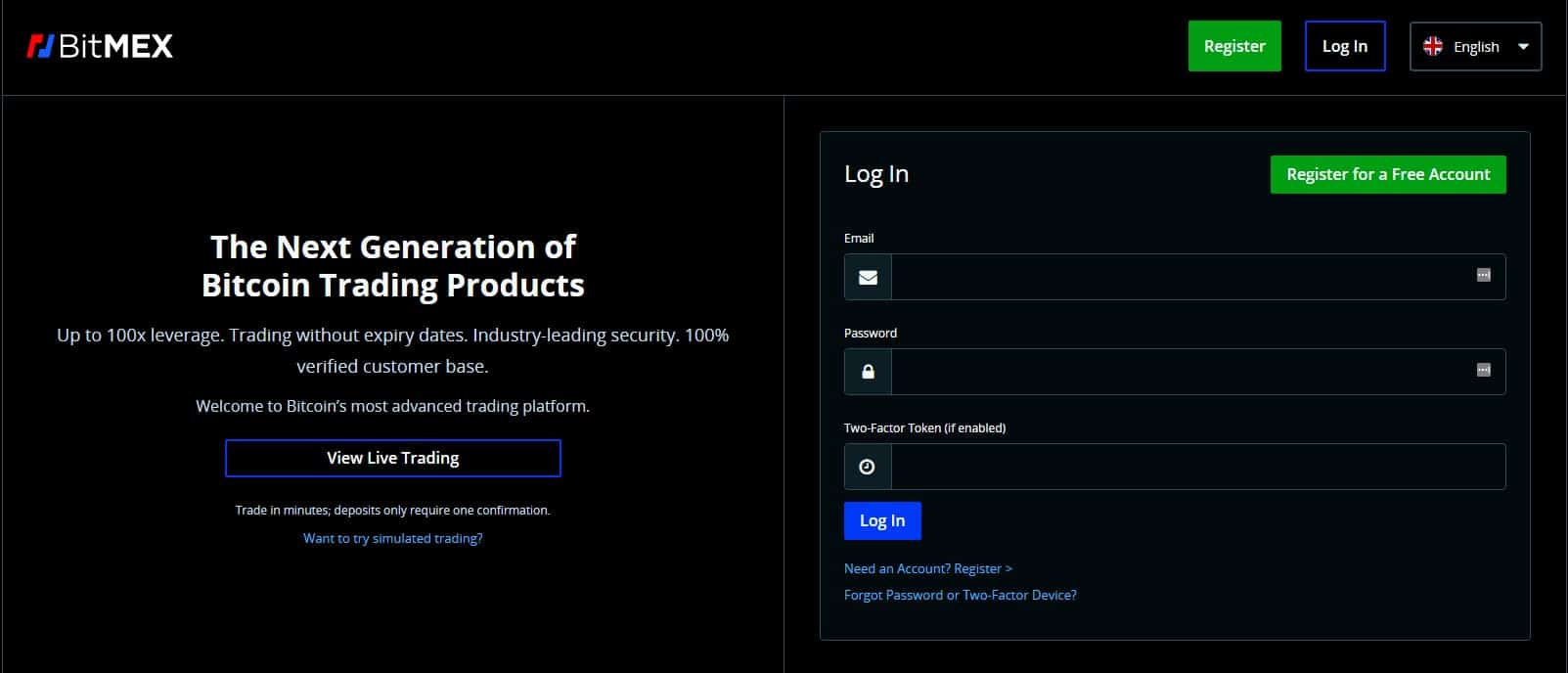 What makes BitMEX a perfect day trading spot are the advanced order types (market, stop limit, and trailing), the TestNet demo account, and margin trading with up to 100x leverage. Plus, deposits and withdrawals are free of charge.
However, deposits on BitMEX must be made in Bitcoin. That said, the platform allows trading with a variety of cryptocurrencies against other crypto assets or fiat money like USD, JPY, and CNY. When you deposit Bitcoin, it's used as a payment method to purchase other available currencies.
The reason why BitMEX's place has recently dropped in the lists of the most reliable crypto trading platforms is the confirmed charge for violating regulations by CFTC (the US Commodity Futures Trading Commission). The failure to comply with local regulations negatively affected their entire company image and led to general public controversy.
5. Bitfinex Exchange

Country: Hong Kong
Currency: USD, EUR, JPY & GBP
Fees: 0.2%
Available cryptocurrencies: 100+ Cryptocurrencies
Established back in 2012, one of the pioneers of Bitcoin, Bitfinex, faced critical issues on its way to becoming a reputable crypto trading spot. First came the series of cyberattacks in 2015 and 2016 resulting in hundreds of millions of dollars lost. T
he company managed to survive the theft crisis, but in 2019, Bitfinex ended up under investigation for being engaged in covering up the loss of $850 million with Tether, which controls the leading stablecoin Tether(USDT). The platform, however, seems quite capable of gradually overcoming obstacles. For example, it has since successfully integrated high-security tools like two-factor authentication and DDoS.

Bitfinex features one of the most sophisticated platforms leaning towards crypto professionals who enjoy a range of price indicators, pattern tools, and enhanced reports. It supports over 100 crypto-to-crypto pairs as well as pairing coins with the traditional fiat currencies including USD, EUR, GBP, and JPY.
Apart from the dominant altcoins, you can go for less prevailing coins like Tron and Neo. There is an opportunity for OTC (over-the-counter) trading to handle high-net investments without slippage as well as derivatives and margin trading.
The fee system is based on a maker/taker fee model. Taker's fees range between 0.2% and 0.055%, while the starting rate for the market makers is 0.1% and can reach 0% as the user's trade volume grows. Deposit and withdrawal fees are charged with a fixed rate of 0.1% except for a 1% fee for international withdrawal.
Last but not least, on Bitfinex, there is a $10,000 minimum limit for both deposits and withdrawals.
6. eToro Exchange

Country: Europe
Currency: EUR, GBP & USD
Fees: Daily Fees
Available cryptocurrencies: 90+ Cryptocurrencies
eToro is a well-recognized player in the investment ecosystem, operating since 2007. This multi-brokerage service attracted the attention of passionate day traders long before Bitcoin entered the digital market, offering a variety of trading assets including indices, commodities, ETFs, etc.
What makes eToro a desirable day trading platform is the opportunity to speculate prices through CFD contracts. This contract type enables users to make a profit by guessing the asset's price without necessarily owning the involved assets. Furthermore, eToro offers a unique opportunity for the so-called copy trading where newbies can learn new trading strategies by copying the trades from more experienced traders.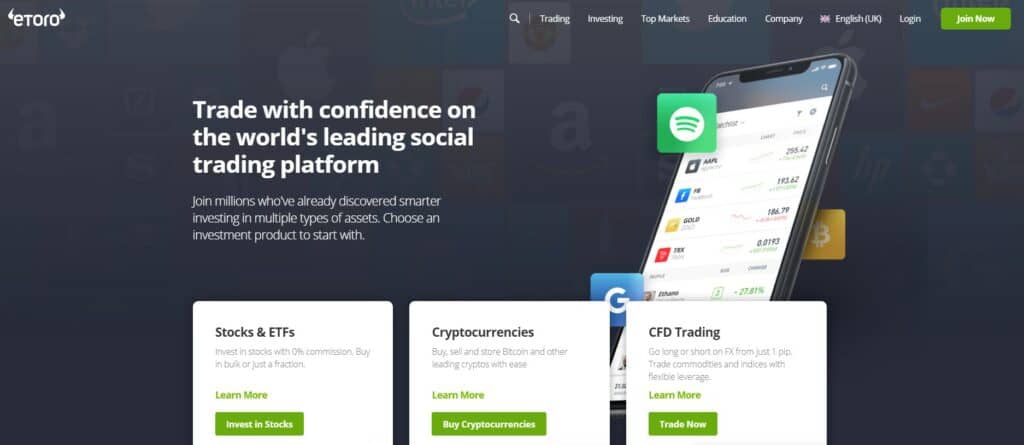 The platform supports around 15 cryptocurrencies: Bitcoin (BTC), Bitcoin Cash (BCH), Ethereum (ETH), Ripple (XRP), Litecoin (LTC), Cardano (ADA) Stellar (XLM), Ethereum Classic (ETC), DASH, Binance Coin (BNB), NEO, IOTA, Tron (TRX), Zcash (ZEC), EOS, and Tezos (XTZ).
Another encouraging advantage of eToro is the fiat accessibility in numerous regular currencies as well as the broad spectrum of available payment methods which includes regular wire transfers, instant credit card purchases, and alternative financial providers like PayPal and Skrill. Their availability, however, depends on the user's current geographical location. When it comes to fees, there is no fixed schedule since eToro operates on percentage spreads, calculated separately for each coin.
7. Coinbase Exchange

Country: United States
Currency: USD, EUR & GBP
Fees: Varies
Available cryptocurrencies: 70+ Cryptocurrencies
This US-based platform was established in 2012, and since then, Coinbase has been the best overall choice for millions of users worldwide, mostly because of the incredibly easy navigation.
If you're looking for a secure platform that can offer you to buy, sell and exchange cryptocurrencies daily as well as to store your funds in a protected digital wallet, Coinbase is your next destination.
However, before jumping in at the deep end, check which trading services, payment methods, and cryptocurrencies are available in your area. Despite serving over 130 countries on a global level, Coinbase's full range of services is granted only to citizens of a limited number of countries.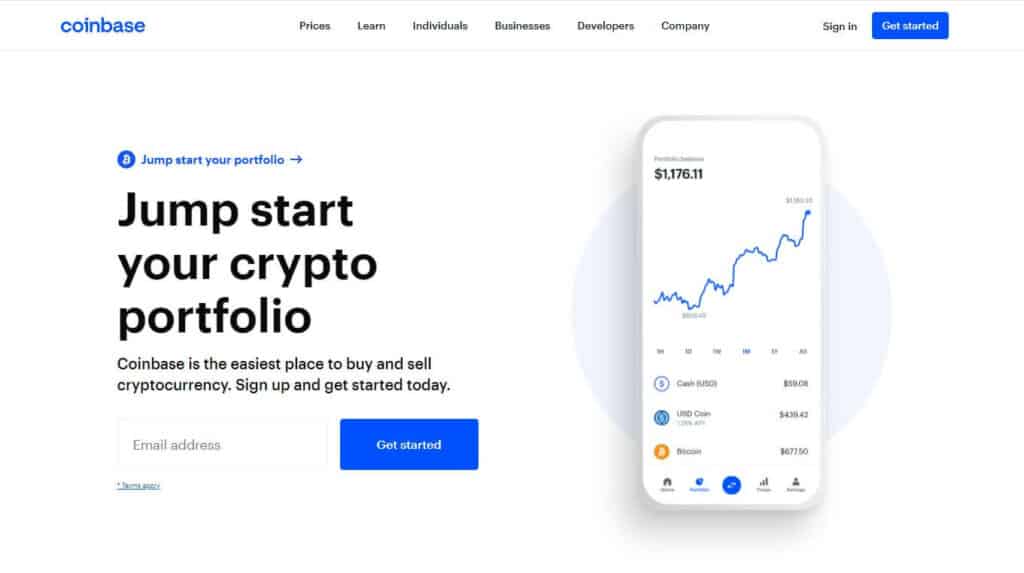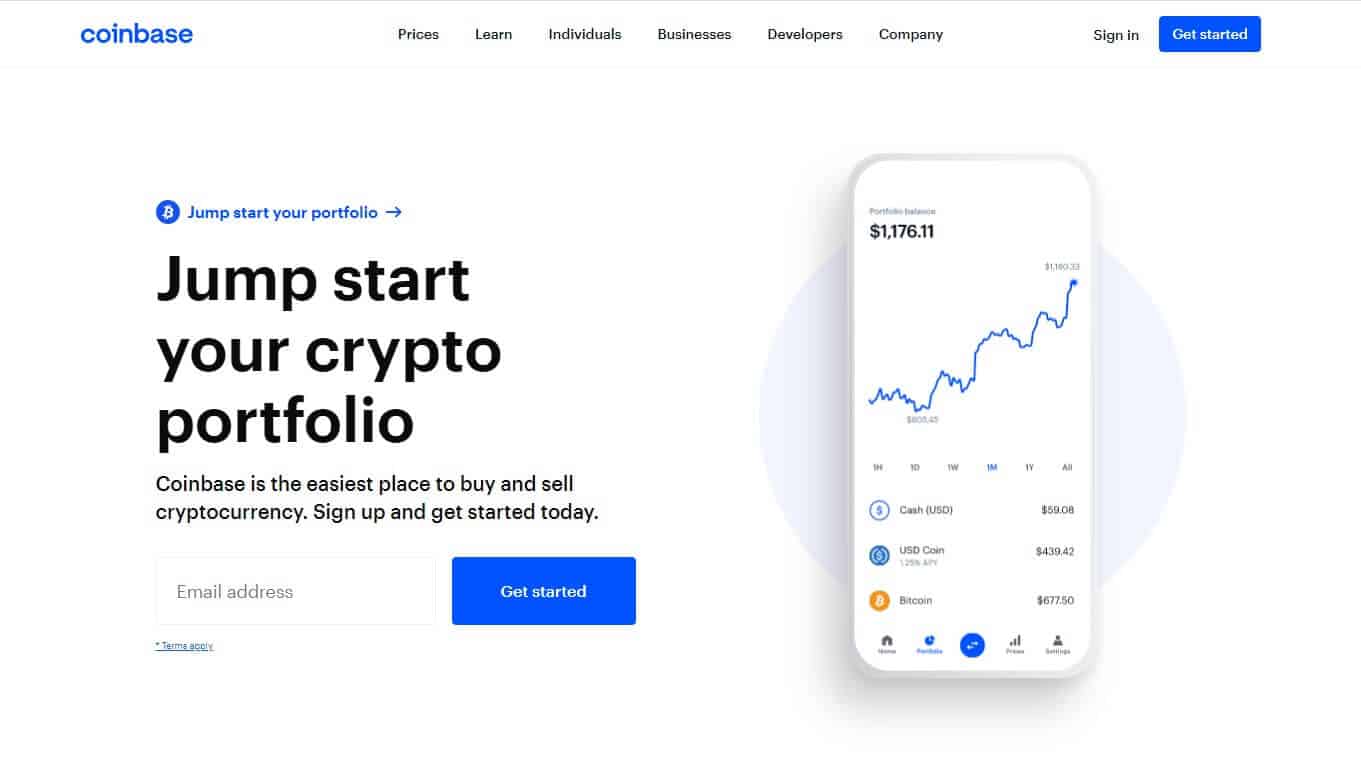 The user-friendly interface features logbooks, illustrative charts, and a very comprehensive ordering process, which can be a great advantage if you plan to spend the day handling price movements. Furthermore, once you develop more profound knowledge in cryptocurrency trading, you can switch to Coinbase PRO, an upgraded Coinbase version where insights are presented on a significantly higher level.
There are around 40 altcoins available on Coinbase to be traded or purchased directly with USD, EUR, or GBP. The trading fee system is scalable and determined by several factors: your trading position, type of currency, and the transaction amount. Fees start from $0.99 and can reach up to $2.99; plus, you should consider the spread of around 0.5%.
Deposit and withdrawal fees also vary up to 3.99%. When withdrawing funds to your bank account via SEPA, you should wait for 1-2 business days for transaction completion. Regular wire transfers are usually done within the same day.
8. Bitstamp Exchange

Country: Luxembourg
Currency: USD & EUR
Fees: 0% to 0.5%
Available cryptocurrencies: 25+ Cryptocurrencies
Founded in 2011, Bitstamp belongs to the earliest crypto exchanges. Hence, it's one of the most trustworthy and respected trading platforms in the blockchain industry. Bitstamp is designed to suit the delicate needs of intermediate to advanced users, featuring a clean yet leading-edge user interface.
Day traders can choose between limit or instant orders and trade with BTC, ETH, LTC, XRP, and BCH or purchase one of the supported altcoins with USD, GBP, or EUR.

When it comes to deposits, if you make the deposit through a bank wire transfer, your funds will be delivered in 2 to 5 days. SEPA transfers usually take 1 to 3 days.
On the other hand, withdrawals can be made to your debit card, digital wallet, or through SEPA. The applied withdrawal fee will be displayed on the screen, once you initiate the withdrawal process. If you select a debit card, expect a fixed withdrawal fee of $10 if the transaction amount doesn't exceed $1,000.
For transactions over $1,000, a withdrawal fee of 2% will be applied. SEPA withdrawals incur a flat fee of 0.90 EUR if the funds are cashed out in EUR, while International charges are 0.09%.
9. OKEx Exchange

Country: Malta
Currency: 30+ Currencies
Fees: 0.15%
Available cryptocurrencies: 200+ Cryptocurrencies
OKex is described as an ambitious, professional, and well-backed platform, perfectly adequate for day traders. The exchange can be accessed through its official website, a mobile app, and in the form of downloadable desktop software.

The first striking feature when analyzing OKex is the outstanding number of cryptocurrencies the exchange supports. There are 200 different altcoins generating 500 trading pairs you can trade on several markets such as spot, futures, margin, derivatives, option, and swap. There are also rumors that OKEx intends to launch its Etherum-based public Blockchain soon, but nothing has been officially confirmed yet.
The only thing that's missing in such a diverse range of services is a broader fiat gate for direct crypto purchases. OKEx accepts deposits only in CNY, which makes it technically oriented towards the east market.
Another convenient OKEx feature for day traders is the opportunity for users to customize a list of categories and activities based on their interests, instead of switching from one market to another from the main menu.
10. PrimeXBT Exchange

Country: Seychelles
Currency: Crypto Only
Fees: 0.05%
Available cryptocurrencies: 5+ Cryptocurrencies
PrimeXBT is a young but promising trading platform established in 2018. The exchange aims at anonymous trading following the basic principles of blockchain technology. On PrimeXBT, you have the chance to stay anonymous but only if you use your Bitcoin wallet to deposit funds.
The exchange doesn't support wire transfers, but to be more accessible to the general public, PrimeXBT allows credit card funding, where anonymity is obviously out of the question. Another great advantage of this innovative platform is that you can test the site for free without prior registration.

Trading cryptocurrency is only part of the huge list of asset categories PrimeXBT provides including commodities, indices, and forex. There are 5 cryptocurrencies available for spot or margin trading (up to 100x leverage): BTC, ETH, XRP, LTC, and EOS. You can find crypto among the three main market sections in the upper right corner: CFD, Crypto, and Forex.
Fees are more than competitive, varying according to the coin type but in general, you won't pay more than 0.05% of the total transaction.
What Is Day Trading?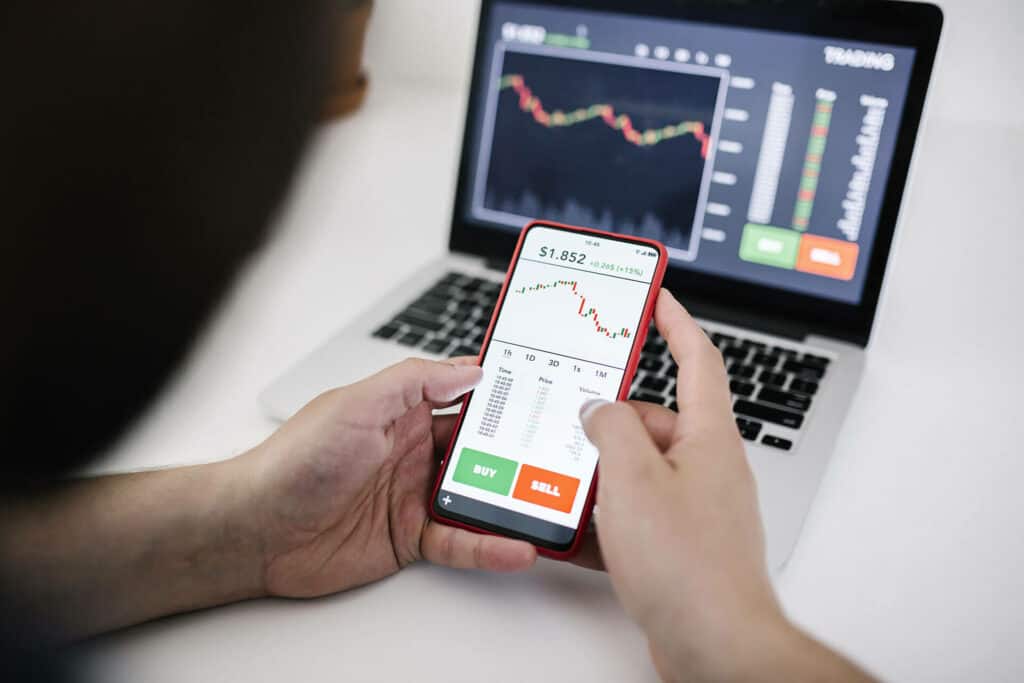 Regardless of the asset being traded, the purpose of trading is universal: buy an asset and sell it for a price higher than you paid. Day trading aims at doing exactly the same, only in an extremely short time frame.
A day trader does not hold the asset after the day ends. The potential profit is relatively small, but it's quick and frequent. For example, you buy 100 Cardano (ADA) for $120 in the morning. Meanwhile, a high-net corporation announces that it plans to use this asset for international payments. Accordingly, the price starts rising and by the afternoon, it reaches $180. In the next few minutes, you sell ADA for $180. Technically you've earned $60 with two clicks.

However, this is the happy-end version of the story. The crypto you've bought can also easily plummet. For that reason, you should learn to accept losses. Most traders fail because they chase the loss, especially in such short runs.

Furthermore, if you're already familiar with day trading in regular currency, commodities, or forex, you'll know that practice makes you better. Once you learn the subtle tricks, you'll feel more confident in setting your target and stop-loss options. Certainly, as your experience grows, you'll find out how to handle risk management and day trading strategies like scalping, range trading, high-frequency trading (HFT), etc.
But for starters, let's see which crypto exchanges are the most suitable for this thrilling business.
FAQs
Is Gemini a good Bitcoin exchange?
Gemini is one of the most secure and respected platforms where you trade Bitcoin. Launched in 2012, Gemini is headquartered in the United States and features an elegant interface, transparent pricing, and excellent customer support. It does accept other cryptocurrencies as well, but the general impression is that it's implicitly orientated towards Bitcoin-only traders and corporate investors, which is why it wasn't included in our day trading list.
How to avoid scams when trading crypto?
It isn't a secret that crypto marketplaces and personal digital wallets/accounts are tempting targets for cybercriminals due to the growing popularity and trading volumes that count in billions. For that reason, the attention of the major platforms is focused on implementing the highest security standards and strict measures for users' protection. The best exchanges in security terms are Kraken, Bittrex, and Coinbase.
You, as an individual, can protect yourself from potential fraud and identity theft by careful consideration of ads promoting various offers and platforms. So, you should avoid sending assets to unknown addresses and never fall for promised giveaways on social media that require address verification for participation.