Best Crypto Exchanges With Low Fees in Australia2022
Irrespective of the goods or services in question, there are two types of customers – those who try to get the best value for money and those who heartily believe that the good things are never cheap. Do you think that these purchasing habits are relevant when we discuss crypto? What types of fees can we expect on blockchain-based marketplaces?
While
our most recommended crypto exchanges in Australia
vary with fees, our team has prepared a compact collection of cryptocurrency exchanges that charge the lowest fees. You see, we've realized that despite the evident enthusiasm to join this investment game, there is a certain degree of reluctance that's tied to fee transparency.
Cryptocurrency exchanges are the backbone of the blockchain industry and, therefore, the leading rule-makers of the crypto game. Encouragingly enough, today we have a clear picture of what makes a fair and reliable crypto exchange. The fee factor is undeniably one of the fundamentals.
So, let's find the bargains together!
Best Cryptocurrency Exchanges With the Lowest Fees for 2022
1. Poloniex Exchange

Country: United States
Currency: 6+ Currencies
Fees: 0.075%
Available cryptocurrencies: 200+ Cryptocurrencies
Poloniex is a long-lasting crypto name operating since 2014. Despite the instant success, it went through hard times facing repetitive security issues and public criticism for delays and lack of customer support. The company was acquired by Circle in 2019 and it seems that it's back on track with regulated KYC (Know Your Customer) verification and clearance of the dubious tokens.
Poloniex offers buy-and-sell crypto services and a wide range of trading options including regular spot trading with 250 pairs and 25 available trading pairs for margin trading. You can also trade perpetual futures and earn awards.

However, Poloniex has taken the champion's position on our list due to the clear and incredibly fair fee schedule. This platform doesn't distinguish between takers and makers when it applies a regular trading fee per transaction. There is a flat fee of 0.125%, which can be additionally lowered if your trading volume has exceeded the given thresholds over the preceding month.
When it comes to deposits, fiat deposits made through a bank transfer are charged at a rate of at a rate of 0.5%,, but if you go for a faster fiat-to-crypto purchase using your credit or debit card, the fee is 3.5%.
Withdrawal fees depend on the digital currency. The Bitcoin (BTC) fee, for example, is 0.0005 BTC per withdrawal.
2. Changelly Pro Exchange

Country: Czech Republic
Currency: USD, EUR & GBP
Fees: Varies (5% for crypto-to-fiat)
Available cryptocurrencies: 90+ Cryptocurrencies
You've probably noticed that well-established brands in the crypto industry frequently offer separate platforms for beginners and experienced traders. "Pro" versions, however, tend to be more fee-friendly. Changelly Pro was launched in 2021 as an advanced version of the European crypto giant Changelly. This new crypto exchange platform offers fast and convenient trading with over 80 crypto/crypto and fiat/crypto trading pairs with incredibly low fees.
Crypto deposits on Changelly Pro are free of charge, but if you want to deposit fiat money, there is a fee varying between 1%-7% depending on the payment method. Reasonably, instant credit/debit card purchases are far more expensive than depositing your bank account.

Trading fees are calculated in BTC, based on the user's trading volume over a 30-day period. They start from 0.1% for both takers and makers. The taker's fee is lowered after reaching the limit of 4,500 BTC whereas makers are awarded lower fees when their trading volume exceeds the amount of 50 BTC.
Changelly Pro also offers the lowest withdrawal fees in the industry. Their withdrawal fee is fixed regardless of the withdrawn volume. However, different fees apply for different altcoins. For example, the Bitcoin withdrawal fee is 0.0004 BTC and for Tether it is 4 USDT.
3. CEX.io Exchange

Country: UK
Currency: 4+ Currencies
Fees: Varies
Available cryptocurrencies: 70+ Cryptocurrencies
CEX.io is a London-based cryptocurrency exchange established in 2013 as a cloud mining provider, owner of one of the largest mining pools – GHas.io – in those days. Over the years, CEX.io has evolved into one of the most reputable crypto trading platforms.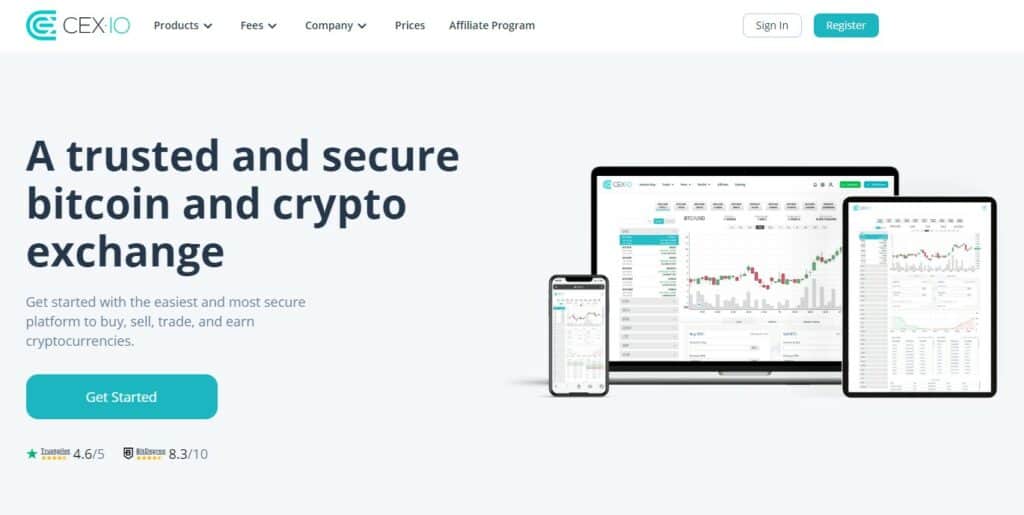 CEX.io is now available in more than 90% of the countries worldwide offering an outstanding platform interface where you can buy, sell, and trade Bitcoin and other popular cryptocurrencies such as Ethereum (ETH), Litecoin (LTC), Bitcoin Cash (BCH), and Ripple (XRP). This platform also supports some of the most popular stablecoins and DeFi tokens including MTA, SUSHI, YFII, REN, CREAM, BUSD, and BAND.
Concerning fees, CEX.io has the lowest deposit fees for instant fiat purchases made with credit/debit cards, only 2.99%. Bank transfer deposits are free of charge for EUR, USD, and GBP while deposits in RUB cost 0.5%. Withdrawal fees also depend on the payment method and the currency and they can reach up to 3.5%. Finally, transaction fees for takers and makers start from 0.25% and 0.16% respectively, and are gradually lowered by growing trading volume.
4. Bittrex Global Exchange

Country: United States
Currency: EUR & USD
Fees: 0% to 0.75%
Available cryptocurrencies: 40+ cryptocurrencies
Bittrex Global was launched on the basis of the already established US crypto pioneer, Bittrex, to enter the international market. Headquartered in Liechtenstein, Bittrex Global is a well-known trading spot for both advanced traders and less experienced crypto professionals. It also targets high-net corporations and financial institutions offering a Corporate Account with certain benefits like real-time transfers, unlimited transfer amounts, and integration with their sophisticated API.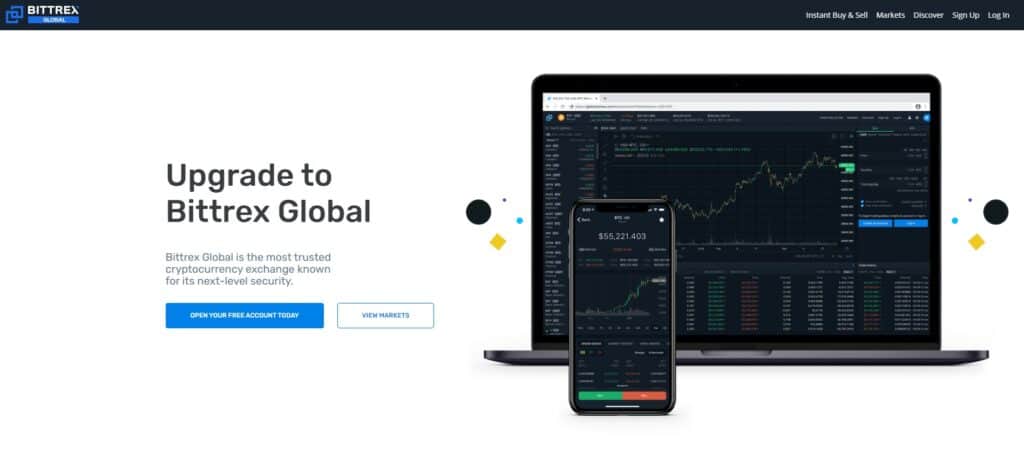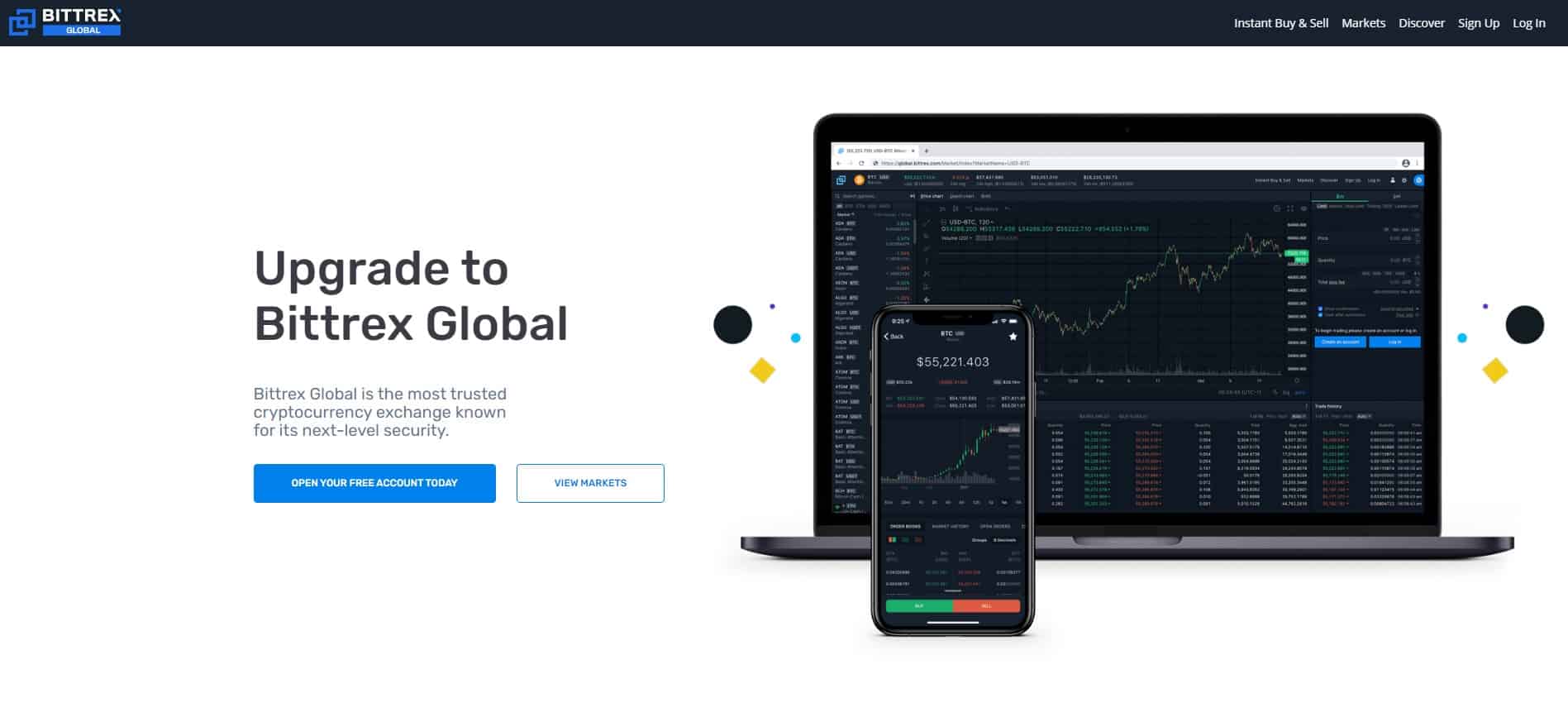 Concerning fees, Bittrex Global trading fees start from 0.75% for both makers and takers. The same as with already discussed exchanges, these fees get lower if your total 30-day volume exceeds a certain limit, in this case, 5,000 BTC. Bittrex global charges a 3% deposit fee only for VISA and Mastercard deposits.
Withdrawal fees, on the other hand, depend on the assets. These are the Bittrex fees applied to the most requested withdrawals: BTC / 0.0005 BTC, ETH / 0.006 ETH, Ripple (XRP) / 1.0 XRP, LTC / 0.01 LTC, BCH / 0.001BCH, USDT / 5.0 USDT, Stellar (XLM) / 0.01 XLM, TRON (TRX) / 0.003 TRX, EOS / 0.1 EOS, and Cardano (ADA) / 0.2 ADA.
5. Binance Exchange

Country: Global
Currency: 40+ Currencies
Fees: 0.1%
Available cryptocurrencies: 400+ Cryptocurrencies
Binance is the exchange in terms of high volume and active users. This platform has managed to earn this title for a relatively short time. Binance was founded in 2017 by a famous crypto visionary recognized as CZ. Today, the company is headquartered in Malta, operating successfully in over 180 countries around the globe. Binance has recently rerouted its US traders to a separately designed platform, Binance US, in order to avoid potential violation of US regulations on some questionable coins.

Binance is an overall crypto trading package. It features two interface modes, basic and advanced, to respond to the requirements of both novices and professionals. Binance provides a variety of trading services with more than 100 trading pairs and accepts deposits in 10 fiat currencies. You can also find some stablecoins including Binance USD (BUSD), Tether (USDT), and Coinbase USD (CUSD).
A great deal of Binance's success lies in the low-cost fee model. Deposits aren't charged and the withdrawal fees are modified according to the status of the market. You will have to pay a 0.1% fixed trading fee regardless of your position either as a maker or taker. If you trade the native Binance coin BNB, you will get a discount of 25% that's calculated automatically.
6. Kraken Exchange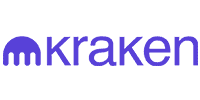 Country: United States
Currency: USD, GBP & EUR
Fees: 0.26%
Available cryptocurrencies: 50+ cryptocurrencies
Kraken is one of the earliest, most trusted crypto exchange platforms. Premium user protection and high-security standards have been imperative for Kraken since the very beginning. Kraken was founded in 2011 in the United States by Jesse Powell, a well-known name in the crypto security field. This platform is tailored for professionals and institutional investors due to strict regulatory compliance and advanced options such as futures and margin trading.
On Kraken, you can trade with around 50 different altcoins and seven fiat currencies. You should know that fiat deposits and withdrawals are not possible without a KYC verified account. KYC and AML verification also affect your withdrawal limits and futures trading.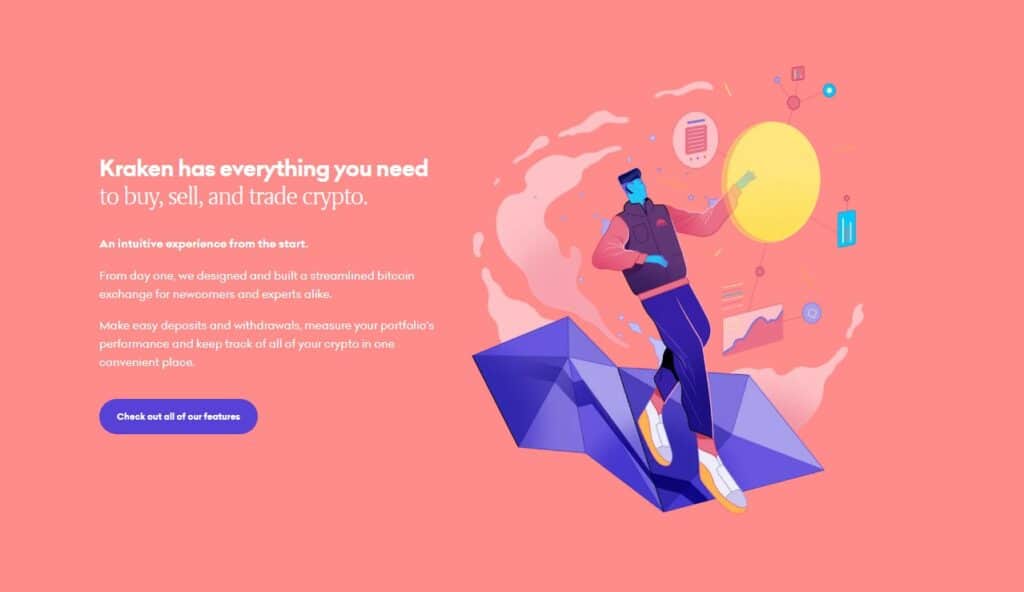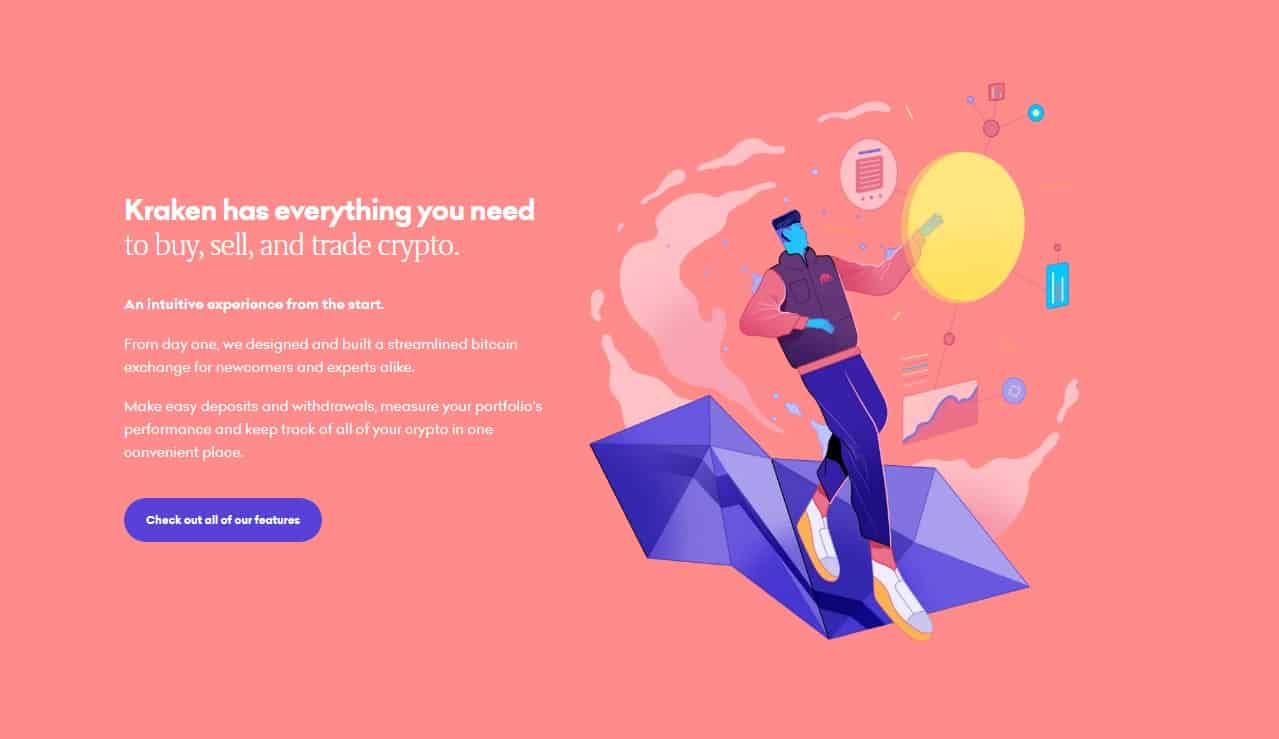 Kraken's trading fees range from 0% to 0.26% depending on three factors: the trading pair, the 30-day trading volume, and your position as a maker or taker. Makers will start with 0.16% and takers with 0.26% per transaction. If you choose margin trading, there are two additional fees to consider, margin opening fee and margin rollover fee.
The good thing about Kraken is that no fees are incurred if the order is canceled before being executed. All deposits are charged differently and costs can reach up to 35 USD. The withdrawal fees are calculated separately for each altcoin. You can read the full withdrawal fee summary here.
7. eToro Exchange

Country: Europe
Currency: EUR, GBP & USD
Fees: Daily Fees
Available cryptocurrencies: 90+ Cryptocurrencies
eToro is a multi-brokerage company that has been active in the investment world since 2007 offering a broad range of assets to trade including stocks, ETFs, indices, commodities, and CFDs. Cryptocurrencies came on board in 2013 and were easily adapted within eToro's unique trading approach.
Despite the incredible variety of services, eToro features an incredibly user-friendly interface that ensures an enjoyable crypto experience. There are around 15 different cryptocurrencies available for trading and a wide fiat gate for deposits. You can find a great number of payment methods available for fiat deposits, from regular bank transfers to PayPal and Skrill. However, you must check which of the offered payment opportunities is available in your country.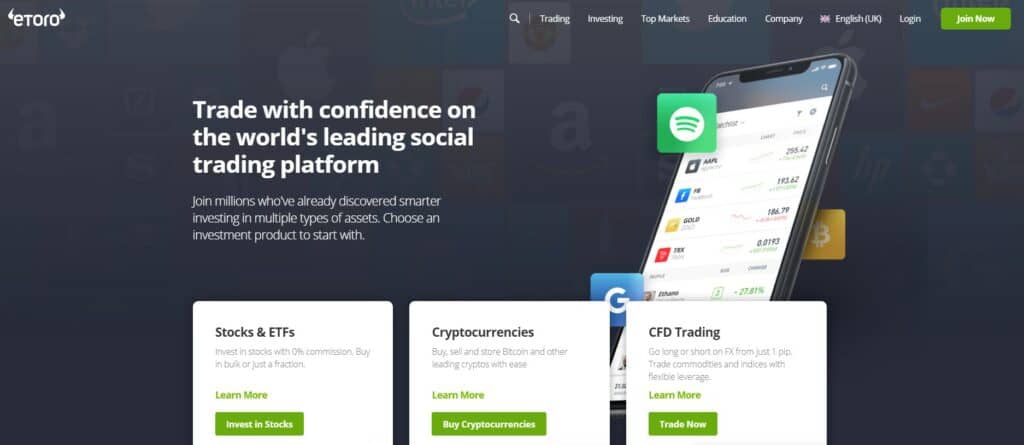 There is no single answer to whether eToro is a cost-effective trading spot as its fee structure is based on individual percentage spreads. A spread is a fee that the company collects in exchange for executing a trade, but you are not exposed to any other further costs beyond the established spread.
The spread you'll pay when you purchase an asset is automatically adjusted for further selling. What does this mean? In case you finish the trade with a considerable loss, the percentage of your spread will be refunded to your amount. This is one of the benefits that make eToro superior to its competitors.
8. Coinbase Exchange

Country: United States
Currency: USD, EUR & GBP
Fees: Varies
Available cryptocurrencies: 70+ Cryptocurrencies
If you're trading cryptocurrency for the first time, Coinbase is the perfect starting point. This US exchange platform was launched in 2012 by Brian Armstrong and Fred Ehrsam and it's most frequently thought of as the beginner-friendly platform thanks to the easy and intuitive navigation it provides.
A great deal of the 40 million active users is being redirected to Coinbase Pro, an updated version of the regular platform that features a more sophisticated interface with advanced trading tools and fancy insight trackers.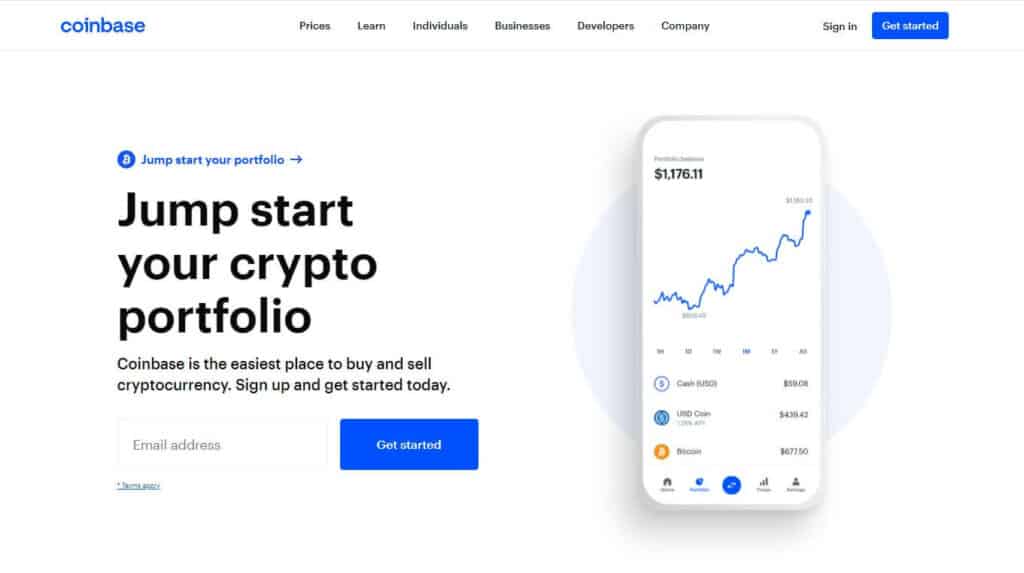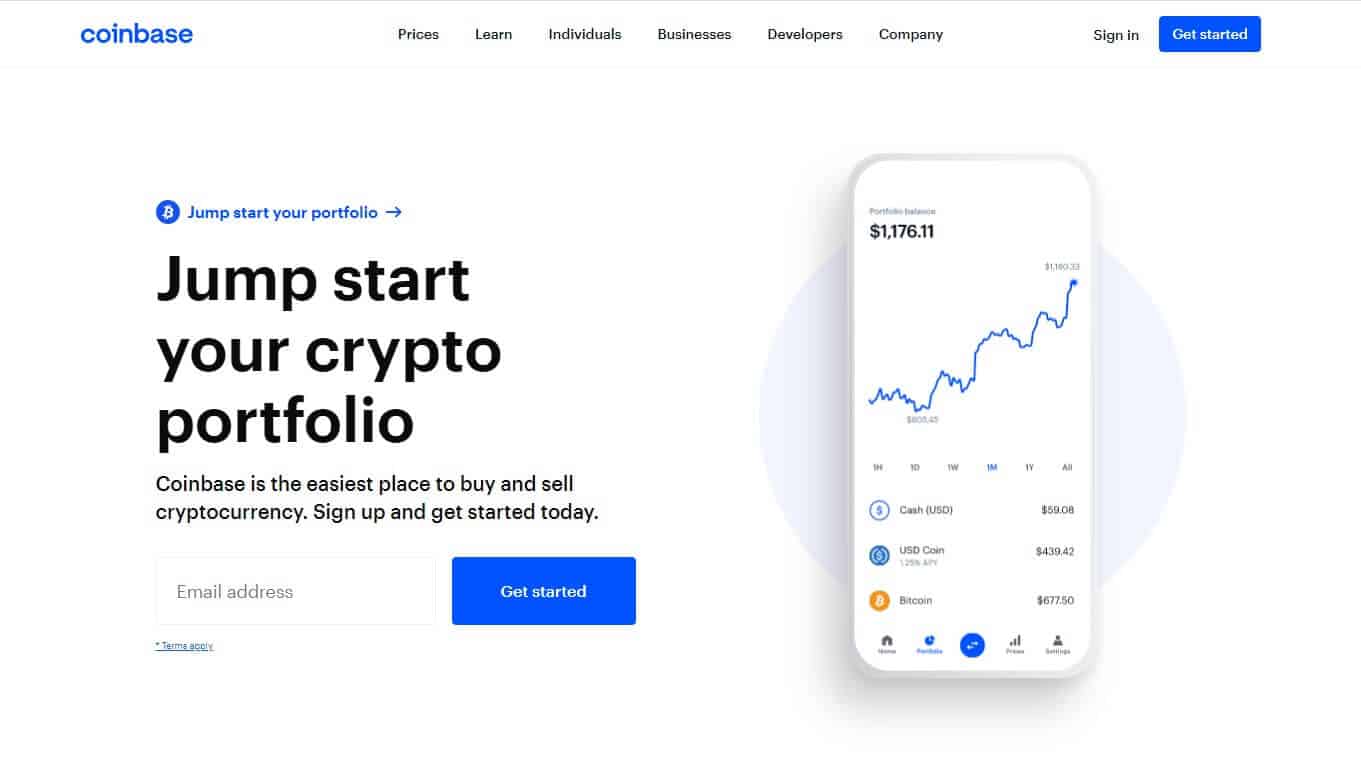 Both platforms offer a diversity of trading services, from spot trading to digital wallets and a dollar-backed stablecoin. Coinbase supports around 40 altcoins and fiat deposits can be made in USD, EURO, and GBP. Users are protected with multi-layer safeguards including two-factor authentication and FDIC Insurance. Undoubtedly, the platform is encouraging, straightforward, and convenient in every aspect. Except when it comes to fees.

The Coinbase fee model is sometimes considered ambiguous by inexperienced traders and it tends to be slightly higher than the market average unless you use Coinbase Pro. Deposit and withdrawal fees range from 1.49% to 3.99% depending on the payment method. Transaction fees also vary between $0.99 and $2.99 plus there is a spread of around 0.5%.
9. Gemini Exchange

Country: United States
Currency: USD
Fees: 1%
Available cryptocurrencies: 5+ Cryptocurrencies
Tyler and Cameron Winklevoss launched Gemini in 2014 and the platform soon earned the status of a highly-respected cryptocurrency trading service in over 50 countries worldwide.
On Gemini, crypto trading is available with around 30 cryptocurrencies, yet you'll probably notice that this platform has remained Bitcoin-oriented, providing advanced trading tools and superior security to Bitcoin professionals.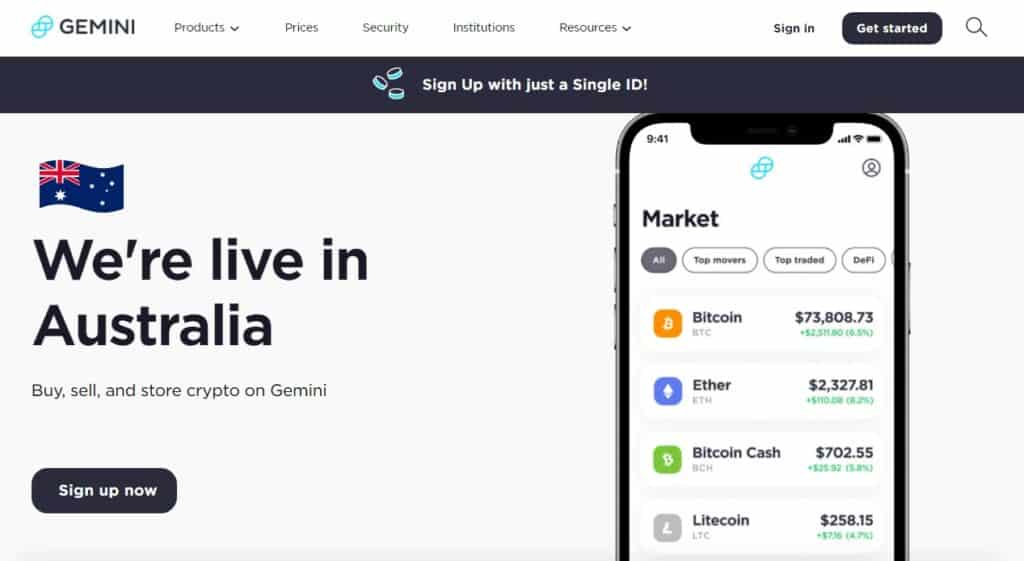 Gemini may not feature the cheapest fees in the crypto ecosystem, but it offers a clean and fair fee schedule comprehensive to any level of users.
For trades below $200, you'll pay a fixed amount of 1.49%, and if the trade exceeds the amount of $200, you'll pay 0.50%. Concerning deposits, you won't be charged anything if your deposit is made through wire transfers or ACH (up to 10 transactions per month are allowed). However, if you use a credit card to fund your account, there is an additional fee of 3.49%. Users who trade on the Gemini mobile app are also exposed to a further convenience fee of 1.49%.
10. Bitfinex Exchange

Country: Hong Kong
Currency: USD, EUR, JPY & GBP
Fees: 0.2%
Available cryptocurrencies: 100+ Cryptocurrencies
If you've developed great crypto expertise and you're looking for a challenging platform with advanced insights and tools, Bitfinex is your next destination. The platform was established in Hong Kong and it has been active on an international scale since the beginning, in 2012.
Bitfinex targets experienced traders and institutional investors by offering more than 70 trading pairs, OTC (over-the-counter), and P2P facilities, as well as derivatives and margin trading.

It applies the highest security standards like 2FA and DDoS protection after the unfortunate serial hacker attacks several years ago.
In terms of fees, Bitfinex is not as expensive as you may think. Deposit fees are 0.1% per transaction and this refers exclusively to bank transfers as credit cards aren't supported on this platform yet. The trading fees start from 0.10% for makers and 0.20% for takers. Once your 30-day trading volume exceeds the amount of $500,000, you'll be rewarded with a cheaper exchange rate.
Disclaimer: the USA is one of the few countries where Bitfinex's services have been banned due to local regulatory disputes. If you are a US citizen, we recommend you try Bitstamp for a similar experience.
Types of Cryptocurrency Exchange Fees
To varying degrees, all trading platforms recognize the same types of fees:
Trading fees or transaction fees are the main revenue source for all cryptocurrency exchanges. Usually, they're unified for all available trading pairs. As the name suggests, trading fees are charged when a trade/transaction is completed. If you offer to sell a certain cryptocurrency on the exchange, you'll need to pay a maker fee whereas taker fees are applied when you accept an existing offer. Reasonably, fees for makers tend to be lower since they contribute to retaining the exchange's high liquidity.
You have probably come across deposit and withdrawal fees as one of the most distinctive criteria in exchange reviews. Deposit fees, if any, are charged when you deposit fiat money to buy crypto assets on the exchange. Quite frequently, crypto exchanges offer free-of-charge deposits to encourage users to fund their accounts. On the other hand, withdrawal fees sometimes depend on your physical location and the withdrawal type.
 As margin trading has become an important segment of many well-established crypto exchanges, we will mention margin fees as well. Take into account that you'll pay a considerable interest for the assets you borrow to leverage your capital. Margin trading fees are determined individually by the exchanges.
FAQs
You should also know that all types of fee schedules listed above can be either flat or volume-based. Some exchanges calculate their fees based on the number of assets transacted. That being said, the fees are reduced as your trades rise in volume. When the fee rate is fixed, there is no need for additional calculation, which is a relief, especially for new users, yet not a favorable outcome if you trade occasionally with small amounts.
What makes a Bitcoin exchange best?
There are so many exchanges out there today that you are given the chance to choose a platform based exclusively on your personal trading preferences. However, several general factors define a reputable exchange: a platform with a friendly user interface, high-security levels, low fees, and trustworthy customer support.
Can I sell Bitcoin on Coinmama?
The answer is yes. Coinmama is a popular crypto platform worldwide, recognized for its fast and straightforward purchase services. It only allows users to directly buy and sell Bitcoin and other supported cryptocurrencies. You can sell your Bitcoin through a bank transfer provided you have an active Coinmama account. However, Bitcoin trading is not part of the services allowed on this exchange.
Do I need a hardware wallet?
Software wallets frequently referred to as hot storage, are a convenient and free crypto wallet alternative. However, they are not the most secure solution because your cryptocurrency savings are kept online. On the other hand, hardware wallets, or cold storage, are more recommended for large amounts of long-term digital savings since your assets are stored in a physical device inaccessible to hackers or digital scams.