Best International Crypto Exchange in Australia 2022
It's incredible how powerfully the crypto industry is diminishing the meaning of borders in the world economy. For one thing, Bitcoin and other altcoins match the profile of a commodity you can manipulate in front of your screen. They have no physical representation in the actual world and platforms where they are traded focus on creating a borderless economy.
However, these cryptocurrency exchanges do comply with national financial and anti-money laundering rules and regulations. The majority accept fiat deposits in local currencies and provide support in local languages with a single purpose: to attract an international clientele.
Let's put it this way: what would an average beginner choose? A
popular domestic crypto exchange focused on Australians
or a well-established international name? Potentially, the second option. As the world has turned into one, large marketplace nowadays, our team has tracked down the best international crypto exchanges for you.
Do you think there is a single crypto platform that suits all users worldwide? Let's see.
Best Crypto Exchanges for 2022
1. Binance Exchange

Country: Global
Currency: 40+ Currencies
Fees: 0.1%
Available cryptocurrencies: 400+ Cryptocurrencies
Binance is synonymous with high liquidity scores and is one of the most popular exchanges worldwide. It was launched in 2017 in China by the exceptionally charismatic developer Changpeng Zhao. The company was transferred to Japan after China banned crypto trading the very same year. Later, Binance moved its offices to Taiwan and finally settled in crypto-friendly Malta in 2019.
In any case, CZ often states that his key objective is to get more people to use a global form of money and the company that would provide that doesn't need an office. So, Binance is currently available for users in over 180 countries.
When you open the Binance platform, the first thing you'll notice is that there are two versions—Basic and Advanced—that you can choose from based on your experience level. While the Basic mode is tailored for inexperienced traders, the Advanced one offers sophisticated charting with numerous indicators and overlays.

In general, Binance focuses on providing a wide range of digital currencies to trade with. There are over 100 crypto-to-crypto trading pairs. However, Binance also supports around 10 fiat currencies including USD, GBP, and EUR for buying Bitcoin or other altcoins. You can use some of the supported stablecoins like Binance USD (BUSD), Coinbase USD (CUSD), Tether (USDT) for the same purpose or buy crypto directly from your peer traders. When it comes to fиat deposits, you can make a choice between SWIFT or a direct transfer using your credit or debit cards.
Users across the world choose Binance due to the fair and cheap fee system. Both maker and taker fees are 0.1% with a possibility to go down as your trading rises in volume. There is a special discount of 25% if you trade with their native token, BNB.
Besides regular spot trading, advanced users can try margin trading and futures contracts.
2. Coinbase and Coinbase Pro Exchange

Country: United States
Currency: USD, EUR & GBP
Fees: Varies
Available cryptocurrencies: 70+ Cryptocurrencies
Coinbase and Coinbase Pro are run by Coinbase Global, a veteran in the crypto game, formed back in 2012 in the United States by Brian Armstrong and Fred Ehrsam. Today, they're the leading players in the international crypto-exchange scene with over 30 million registered users.
When it comes to international access, it must be pointed out that the full set of Coinbase services is available only to users in the USA, Australia, Canada, Singapore, and Mexico. The other 100+ countries are restricted to basic custody and crypto-to-crypto trading.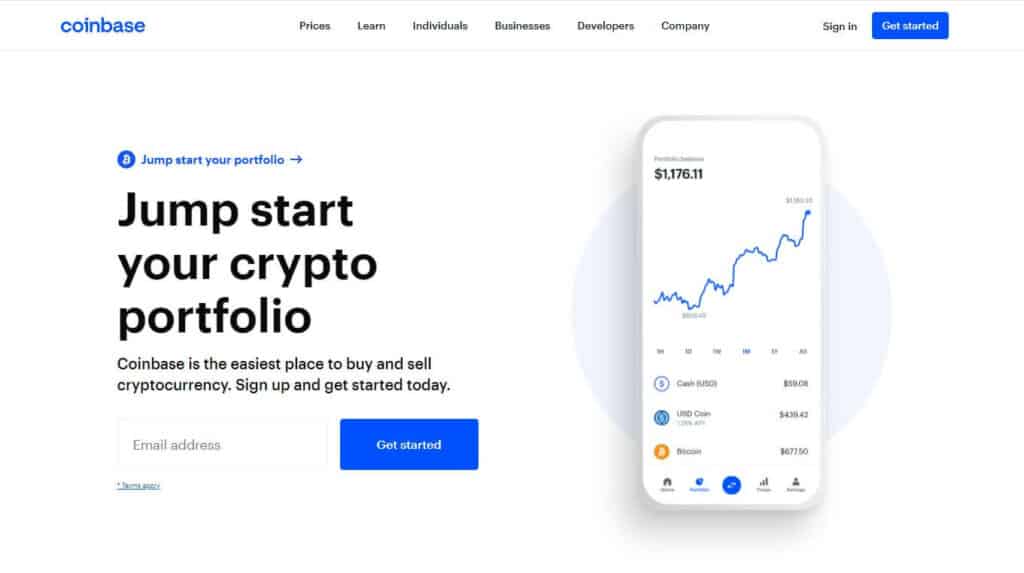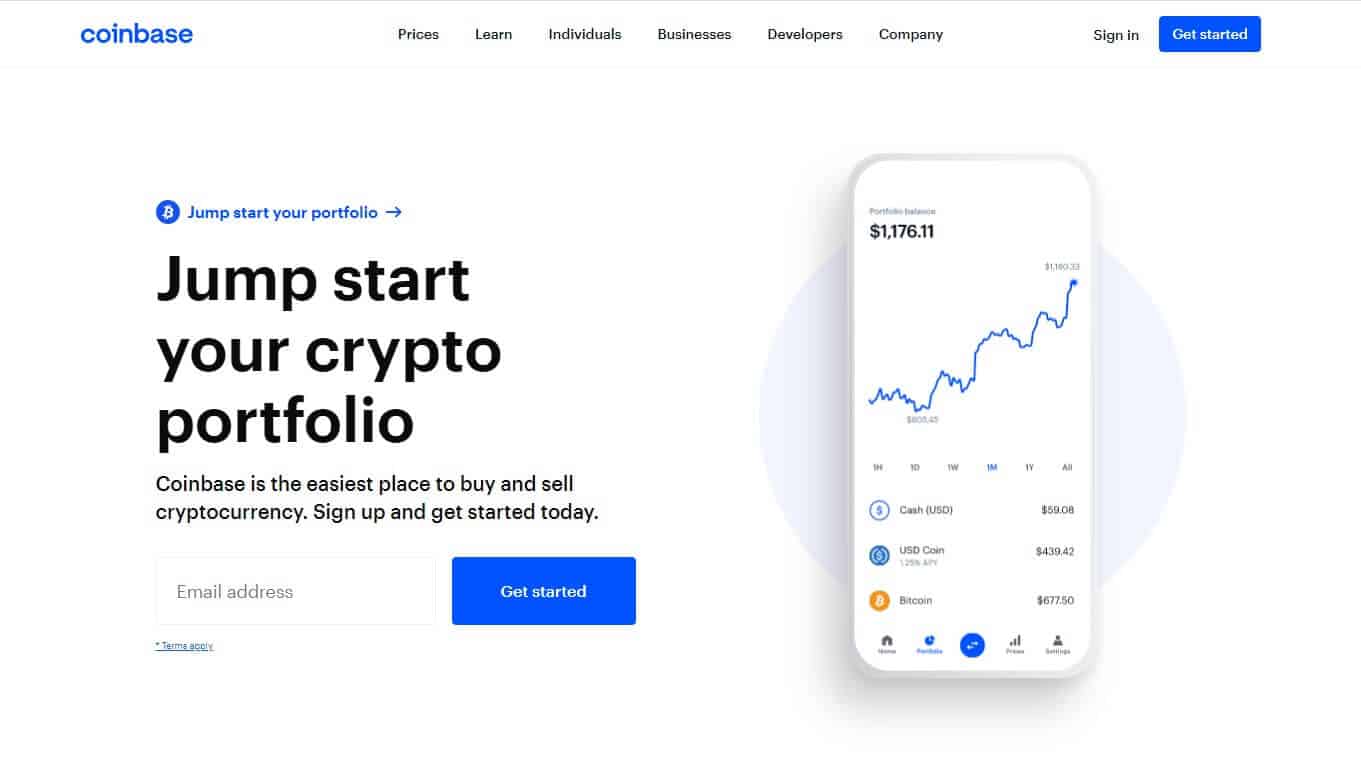 The idea behind having two separate platforms is to get closer to the needs of both beginners and advanced traders. While Coinbase features a basic interface line, Coinbase Pro offers an illustrative solution with professional trading and tracking tools.
Both interfaces are intuitive to navigate and trade around 40 cryptocurrencies with ease. Prices are quoted in US dollars, but fiat deposits can be made in EUR and GBP as well. Coinbase has a scalable fee structure in the range of $0.99 to $2.99, based on the amount you trade. If you use your credit/debit card to deposit, there is an additional fee of 3.99%.
Coinbase strictly complies with KYC and AML regulations operating under the New York State Department of Financial Services.
3. Kraken Exchange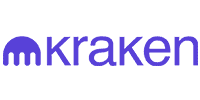 Country: United States
Currency: USD, GBP & EUR
Fees: 0.26%
Available cryptocurrencies: 50+ cryptocurrencies
Kraken is one of the oldest, most trusted crypto exchanges and it's available in 176 countries around the world. It was established in 2013, in San Francisco, and since then, it has maintained a top position as a highly liquid and reputable crypto exchange. Its founder Jesse Powell used his valuable experience from Mt. Gox's unfortunate fall due to a cyberattack to create a platform that puts user security first.
That's why Kraken stores around 90% of its deposits in cold storage, which makes it impossible for hackers to target the funds that the company has custody over.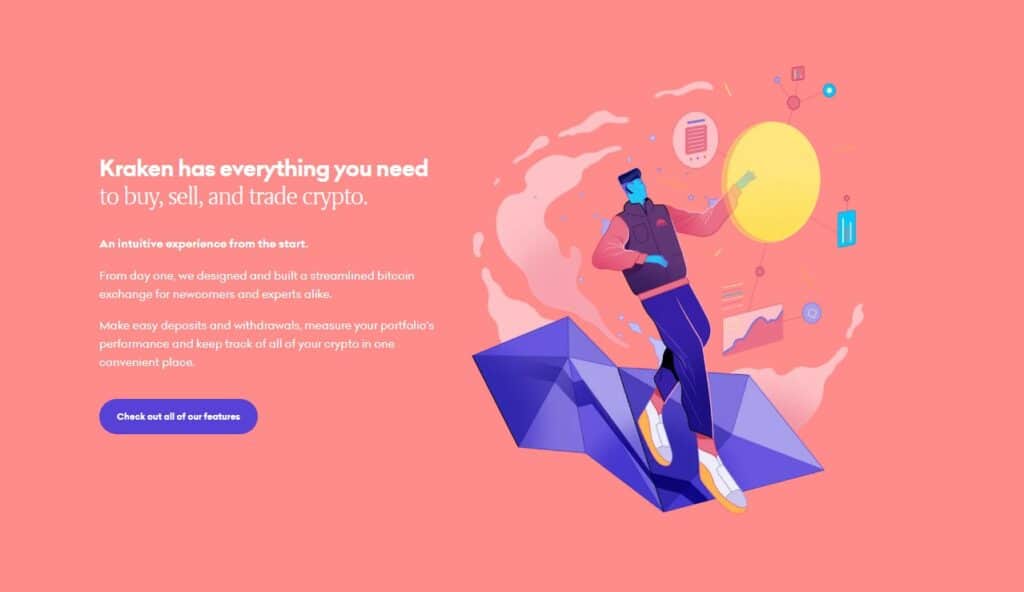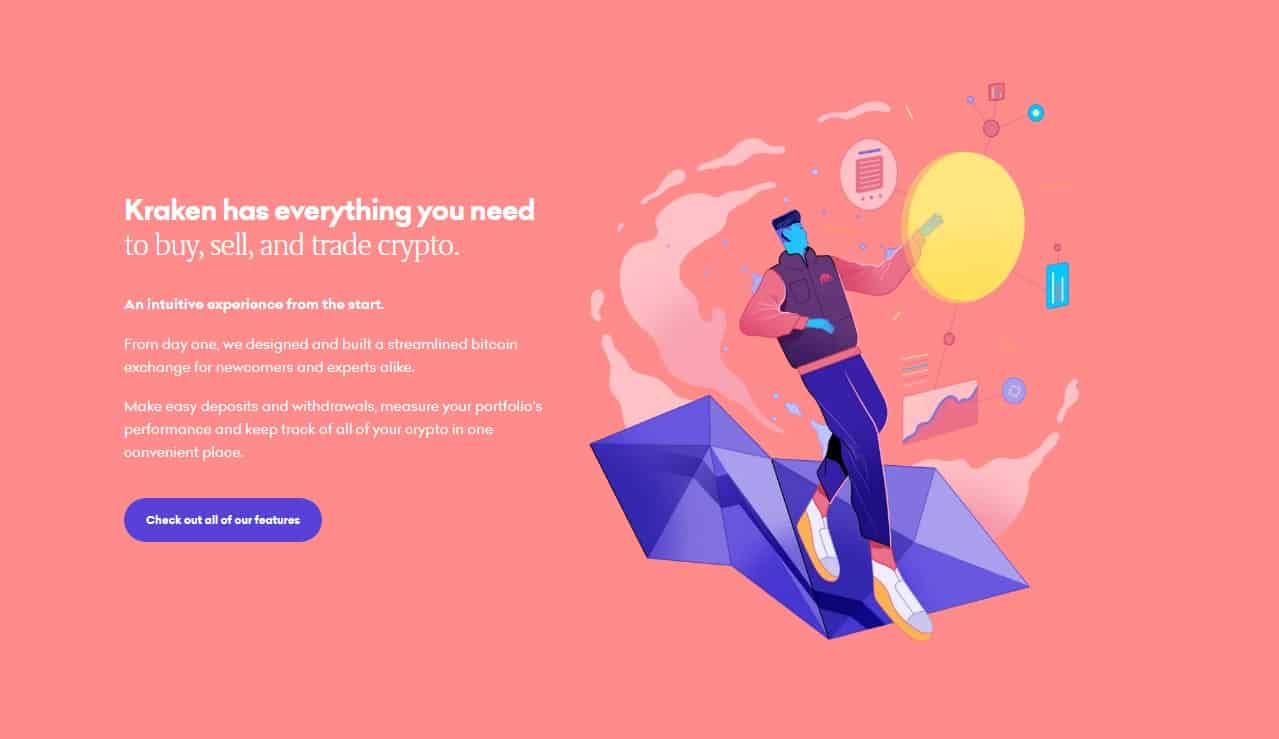 Regarding trading services, Kraken offers regular spot trading with Bitcoin and over 50 other cryptocurrencies. Fiat deposits can be made in EUR, USD, GBP, CAD, AUD, JPY, and CHF, and the payment method can be selected based on the availability of your location.
There is a fixed deposit fee of 5 USD with the exception of international SWIFT deposits that cost 35 USD. The initial funding of your account can take 1–5 business days to be processed. Besides, more experienced users can try margin trading with up to 5x leverage, whereas high-net transactions are offered personalized and private over-the-counter (OTC) services.
4. Bittrex Global Exchange

Country: United States
Currency: EUR & USD
Fees: 0% to 0.75%
Available cryptocurrencies: 40+ cryptocurrencies
Founded in 2014 in Seattle, Bittrex is one of the most reputable exchanges among US residents whereas Bittrex Global was established for international purposes and it's headquartered in Liechtenstein. Bittrex Global serves users across 200 countries worldwide.
On Bittrex Global, you can trade with over 250 cryptocurrency trading pairs in addition to the most dominant ones like Bitcoin (BTC), Litecoin (LTC), Tether (USDT), Ripple (XRP), EOS, and Ethereum (ETH). Fiat deposits can be made in EUR or USD. You can buy different cryptocurrencies in exchange for fiat money regularly through a bank transfer or use your debit/credit card for a relatively low deposit fee of 3%.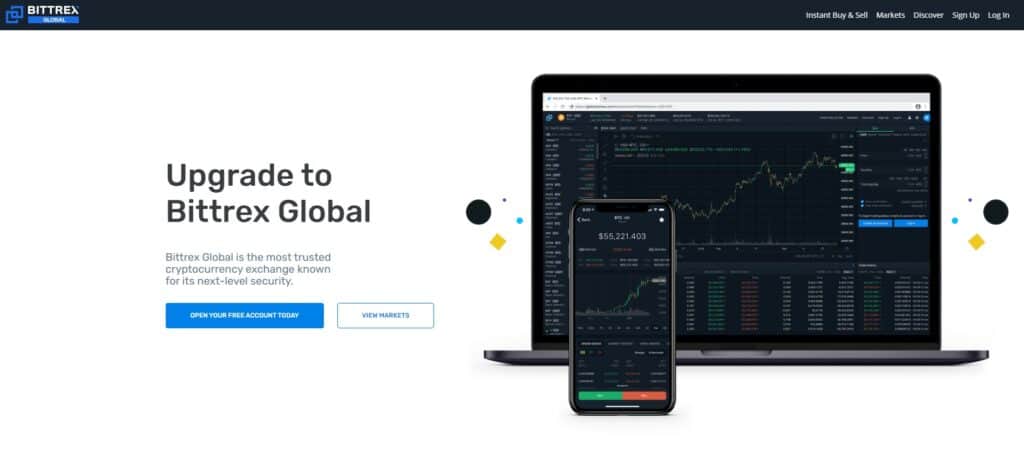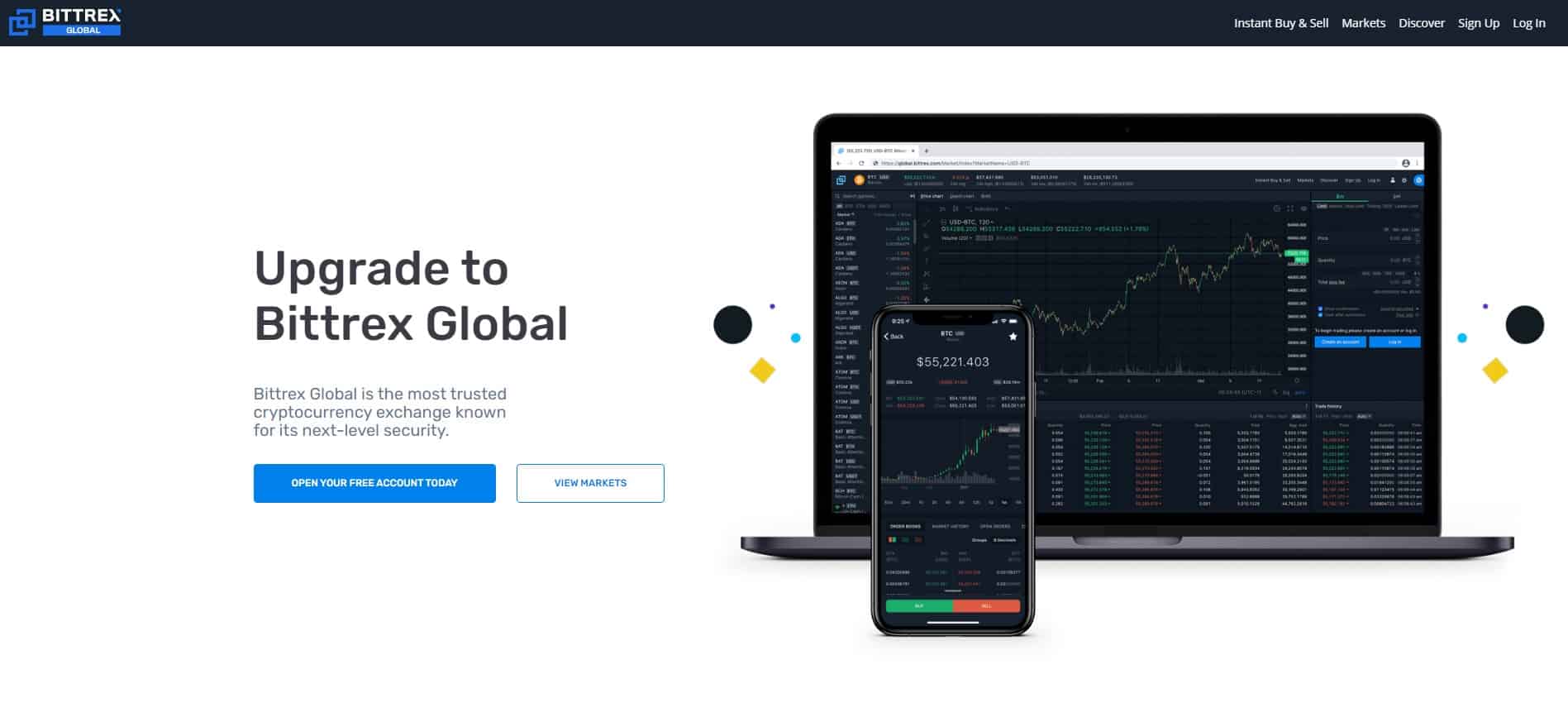 This platform features a clean interface that is aimed at more advanced traders, yet intuitive enough to be navigated by less experienced users as well. Furthermore, Bittrex outsources high-profile corporations and financial institutions by offering a Corporate Account that includes API integration, time-saving transfers, and limit-free transactions.
When it comes to the latest technology trends, the exchange has simplified the obligatory verification process by using Jumio, a data provider that has access to records in 200 countries.
Unfortunately, there have been several blemishes in the generally spotless record of Bittrex's security. Back in 2019, the exchange was sued over a SIM swap resulting in 100 Bitcoin theft. Despite the notorious reference that Bittrex gained as a result of this unfortunate event, the exchange has managed to overcome the crisis by implementing all industry security standards.
5. Gemini Exchange

Country: United States
Currency: USD
Fees: 1%
Available cryptocurrencies: 5+ Cryptocurrencies
Gemini is another crypto exchange from the USA that has earned its place on our top-ten international crypto platforms list. It was founded in New York by Tyler and Cameron Winklevoss in 2014, and it's trusted in over 50 countries across 6 continents.
Even though Gemini offers trading with 30 various altcoins, Gemini is a perfect solution for regular Bitcoin traders who'd enjoy its simple yet highly informative interface with a unique price presentation format. It's also popular among institutional investors, providing access to a downloadable account and transaction history.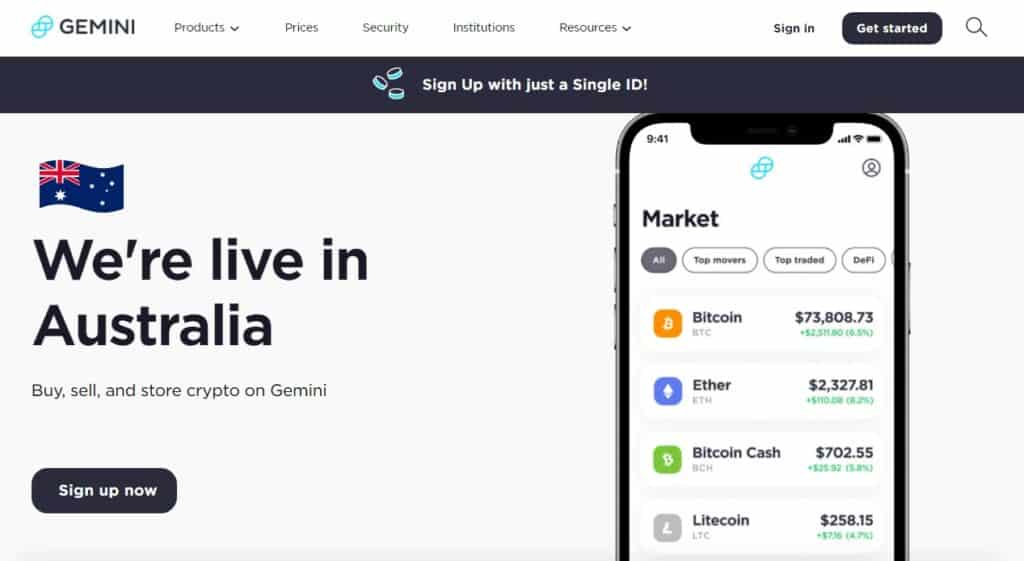 The fees are transparent and fair. Deposits are not charged unless you use a credit card, in which case you will pay a 3.49% commission. Trading fees vary between 0.50% and 1.49%, depending on the amount of the transaction.
However, what makes Gemini an especially trustworthy spot for international traders is the fact that in June of 2016, this company became regulated under the New York State Department of Financial Services (NYSDFS), which made Gemini the world's first licensed cryptocurrency exchange.
6. Bitfinex Exchange

Country: Hong Kong
Currency: USD, EUR, JPY & GBP
Fees: 0.2%
Available cryptocurrencies: 100+ Cryptocurrencies
Bitfinex is an advanced crypto platform, established early in 2012, that managed to survive the rocky beginnings of Bitcoin. It wasn't an easy road, though, as the company experienced numerous accusations of insufficient liquidity and 120k units of Bitcoin were stolen back in 2015 and 2016.
However, Bitfinex is actively operating all around the globe today with the exception of a very few countries, and if we count the number of active users and daily trading volume, Bitfinex is one of the most popular exchanges on the market.

Security holes are always promptly mended, and users are kept safe via protection practices like two-factor authentication (2FA) and anti-DDoS attack software. New users even sometimes criticize the exhaustingly time-consuming process of account verification – even though it's to secure their own funds. Nonetheless, Bitfinex is still the favorite spot for experienced crypto traders as it features a top-of-the-line interface and allows trading with over 70 active pairs, margin and derivatives trading, and access to peer-to-peer (P2P) and over-the-counter (OTC) services.
Bitfinex supports fiat deposits in USD, GBP, EUR, JPY, and CNH through your bank account with a lower limit for a deposit of 10,000 USD, which seems to disqualify casual traders and beginners as the target audience. The fee rate depends on whether you hold a taker or a maker position. Takers are charged 0.20% whereas makers pay 0.10% per transaction. Additional discounts are calculated if your trading volume exceeds the amount of $500k.
7. CEX.io Exchange

Country: UK
Currency: 4+ Currencies
Fees: Varies
Available cryptocurrencies: 70+ Cryptocurrencies
CEX.io is a British crypto exchange platform founded in 2013. Initially, the company operated as a cloud mining provider with one of the largest mining pools at that time – GHash.io. Now, CEX.io is a globally recognized centralized crypto exchange that allows access to users in over 90% of countries across the globe.
CEX.io is attractive to international users mainly because it combines a user-friendly interface with a wide range of services and reliable customer support. You can buy and sell crypto instantly, and instant buyers can pay using their credit/debit cards. Generally, fiat gateways are allowed in GBP, USD, EUR, and RUB. The fees start from 0.25% and 0.16% for takers and makers respectively but can be lowered as your trading activities reach a higher volume.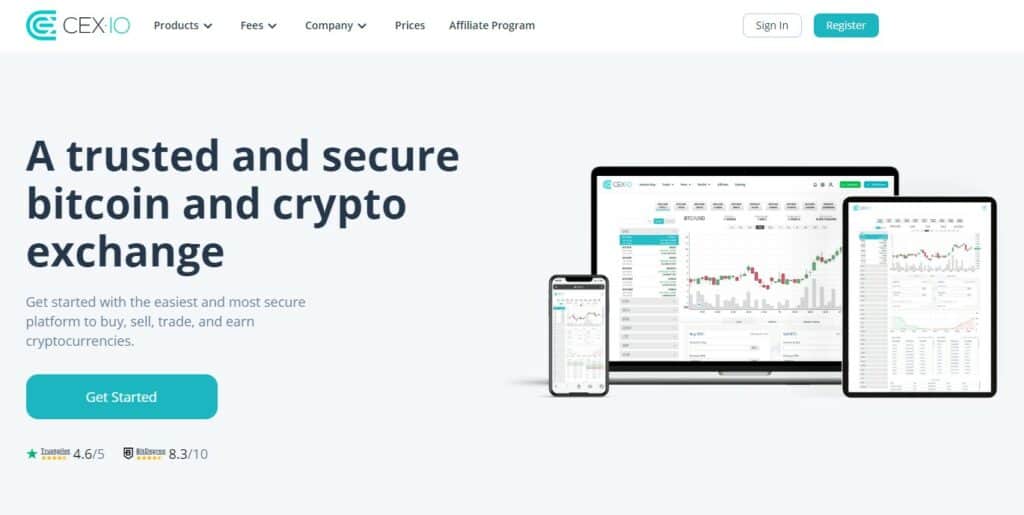 CEX.io has implemented an account-limit system that determines the amount you can deposit or withdraw and the payment methods you can use to deposit fiat money depending on the verification level of your account. To illustrate, CEX.io has four types of accounts: basic, verified, verified plus, and corporate. The basic level account doesn't require a verification process, but your account has a limit of $2,000 worth of Bitcoin per month and the only payment method you can use is a credit/debit card. Your options increase with each higher verification level.
CEX.io is a perfectly fine solution for a beginner who wants to experience some real-life trading. However, keep in mind that as your profile grows in volume and you gain more experience, you'll need to undergo an identity verification process and achieve at least a verified account level.
8. eToro Exchange

Country: Europe
Currency: EUR, GBP & USD
Fees: Daily Fees
Available cryptocurrencies: 90+ Cryptocurrencies
eToro is an Israeli brokerage service established in 2007. Don't get confused by the year. Years before Bitcoin entered the picture, eToro offered various investment and trading assets such as commodities, indices, and ETFs. It's only later that the company began accepting cryptocurrencies. Today, it serves more than 17 million users across 100 countries worldwide with four official offices in the UK, China, Cyprus, and Israel.
eToro offers an incorporated wallet system that accepts around 120 cryptocurrencies and 10 various fiat currencies. However, the platform supports trading only with Bitcoin and 16 other popular altcoins. Fiat deposits can be made through various payment methods (regular wire transfers, credit or debit cards, PayPal, Skrill, etc), but their availability is based on users' geographical location.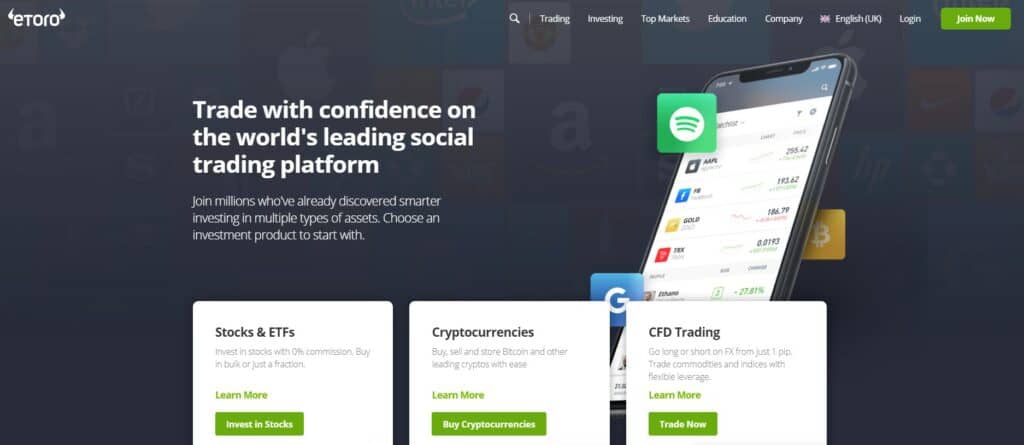 The key factor for eToro's continuous success is the highly intuitive user interface, which features incredibly easy access and navigation despite the large variety of trading services and options. In this context, eToro allows margin trading with 2x leverage and a separate margin account for CFD trading.
Another unique feature on this platform is the so-called copy trading, where you can follow the trading steps of experienced crypto traders. If you are the experienced one, you can allow beginners to stick to your trading pattern and portfolio and get paid (from commission) in return. It's worth trying, isn't it?
9. Changelly Exchange

Country: Czech Republic
Currency: USD, EUR & GBP
Fees: Varies (5% for crypto-to-fiat)
Available cryptocurrencies: 90+ Cryptocurrencies
Changelly is a decentralized trading service founded in 2015. It's available in over 196 countries worldwide for users who want instant and cheap crypto conversion. Unlike the exchanges we've listed so far, Changelly is a decentralized crypto exchange meaning that users have total power over the course of the transaction, without using an intermediary. Basically, it's the seller that specifies the price, the payment method, and the number of coins/tokens they want to sell. The buyer, on the other hand, browses or filters the potential trading counterpart within the platform. Such a peer-to-peer trading model is seamlessly and securely handled via smart contracts.
Changelly features a simple interface that guides you intuitively through any requested action on the platform. In case you get lost or confused, there is a 24/7 active customer support team that you can rely on.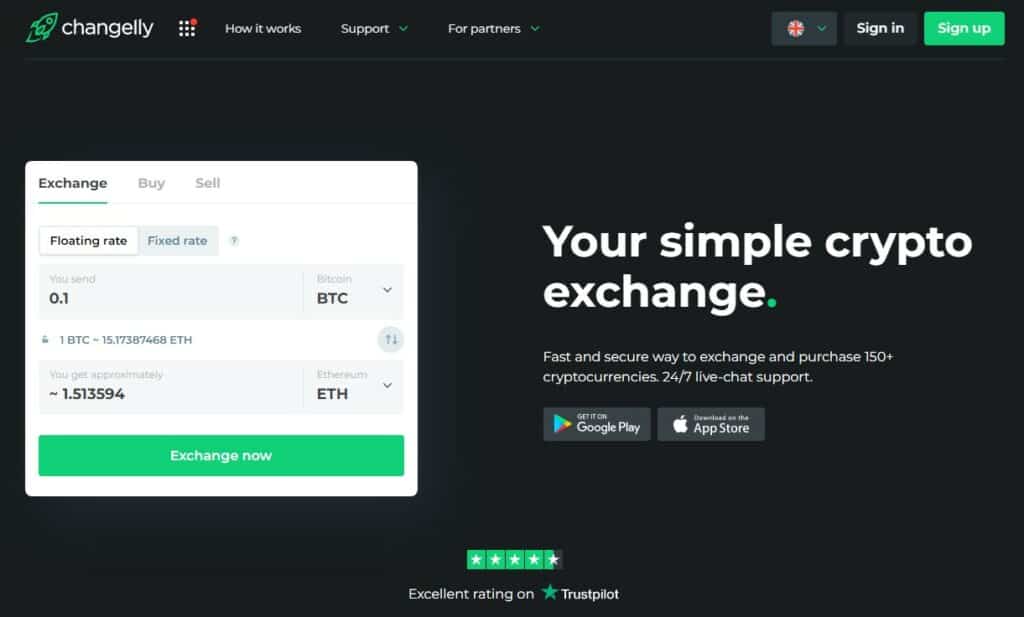 Changelly allows trading with more than 150 altcoins as well as the alternative to buy some of the available cryptocurrencies with fiat USD, GBP, and EUR deposits. Deposit charges are calculated based on the payment method (wire transfer or credit/debit cards). The taker/maker fees, on the other hand, are fixed to the percentage of 0.25 per transaction.
Changelly has used its decentralized structure to cooperate with big names like Binance, Poloniex, and Bittrex, and use their price predictions to make bids and offers. Furthermore, the platform doesn't offer any custodial services meaning you can trade on Changelly but you'll need to use a third-party wallet. Luckily, you can connect your account to some of the most popular hardware wallets like Exodus, TREZOR, or Ledger. In any case, you can simply visit their website or download their top-notch mobile app.
10. Coinmama Exchange

Country: Ireland
Currency: All currencies
Fees: Varies
Available cryptocurrencies: 5+ Cryptocurrencies
Coinmama was established back in 2013 and it's currently run by an Israeli company called New Bit Ventures, Ltd. The platform is available in over 180 countries.
Coinmama differs from the previously listed exchanges since it doesn't operate as a typical exchange marketplace in matching an independent buyer and seller. Coinmama is better referred to as a brokerage service that holds cryptocurrencies and sells them to users in exchange for fiat money. However, Coinmama has earned its place on this list as it's a great place for fast and direct crypto purchases.

The platform's interface is designed to suit the needs of absolute beginners, but crypto-savvy traders who need an instant purchase often rely on Coinmama as well. Apart from Bitcoin, you can also buy Ethereum (ETH), Ethereum Classic (ETC), Bitcoin Cash (BCH), Litecoin (LTC), Cardano (ADA), and Tezos (XTZ).
There is a broad range of payment methods including SWIFT and SEPA transfers, credit/debit cards, Apple Pay, PayPal, Fedwire, Faster Payments, etc. The purchase fee is 5.5%. In case you use a credit card, you will be charged an additional 5%. Also, note that there is a tier-based limitation system with an increasing purchase limit as the tier number grows.
FAQs
What is the best Bitcoin exchange for beginners?
Bitcoin exchanges available on the market today offer a wide range of trading services and tools to make your crypto experience as convenient as possible. However, as a beginner, you must take into consideration features like a user-friendly interface, flat fees, fiat deposits, and security measures of a crypto exchange.
According to these criteria, Coinbase and Binance are considered the most beginner-friendly platforms to start your crypto journey with.
What is the difference between a crypto exchange and a brokerage?
Both crypto exchange and brokerage services are a way to acquire Bitcoin and other blockchain-based currencies. However, a cryptocurrency exchange is a platform where buyers and sellers trade Bitcoin and other digital assets based on the current market price.
The exchange operates as an intermediary and charges transaction fees for the services provided. Cryptocurrency exchanges are usually the first choice among beginners, casual, and average crypto traders.
On brokerage services (usually referred to as OTC services), on the other hand, users' assets are traded through a dealer network. Such brokers connect sellers with buyers who own high-net crypto pools. This process is more favorable, convenient, and faster than a regular centralized exchange, but it's only suitable for large-volume trades.
Is Binance better than Coinbase?
Binance and Coinbase have been competing for some time now over the leading position in all exchange reviews and charts. Both are globally recognized exchanges with separate platforms for beginners and professionals, and both offer low fees and various types of trading services.
According to Coinmarketcap, Binance has a drastically larger trading volume but many users claim that Coinbase is the best cryptocurrency exchange as it's the most intuitive crypto-trading platform.