Bexplus Review for 2023
Cryptocurrencies have turned out to be top-pick derivative products as their volatile nature opens quite a bit of room for speculating on crypto prices. Derivatives originate from the traditional investment world and have evolved over the years into one of the most attractive trading practices among seasoned crypto traders. In such a fast-developing market, you'll find an overwhelming selection of top-notch crypto exchanges with a focus on Bitcoin derivatives trading.

A great deal of well-established regular cryptocurrency exchanges have expanded the scope of their services towards derivatives but there are quite a number of crypto exchanges that operate exclusively with speculative futures contracts, with a focus on leveraged trades.

Bexplus belongs to these new-gen crypto exchanges and, as a crypto derivatives trading platform with 100x, it allows users to earn a hundred-times larger profit than their initial investment capacity — or face equally strong losses if the market fails to follow the desired direction.

Just to get started, we want to highlight that the platform provides a demo account which is a good way to "test the waters" before you make an actual investment, not to mention that it ensures full anonymity and admits a welcome bonus for joining the exchange. Finally, you can always rely on highly responsive customer support and earn from the platform's interest-bearing crypto wallet.

But let's give you an overview of Bexplus, see its special features and products, and help you gain a more detailed perspective of this versatile platform.

About Bexplus
Beplus was founded in 2017 by a team that is claimed to have consisted of financial professionals, internet specialists, and high-qualified blockchain architects. However, the exchange doesn't reveal the identities of the co-founders, which has sparked suspicion in regards to the exchange's legitimacy.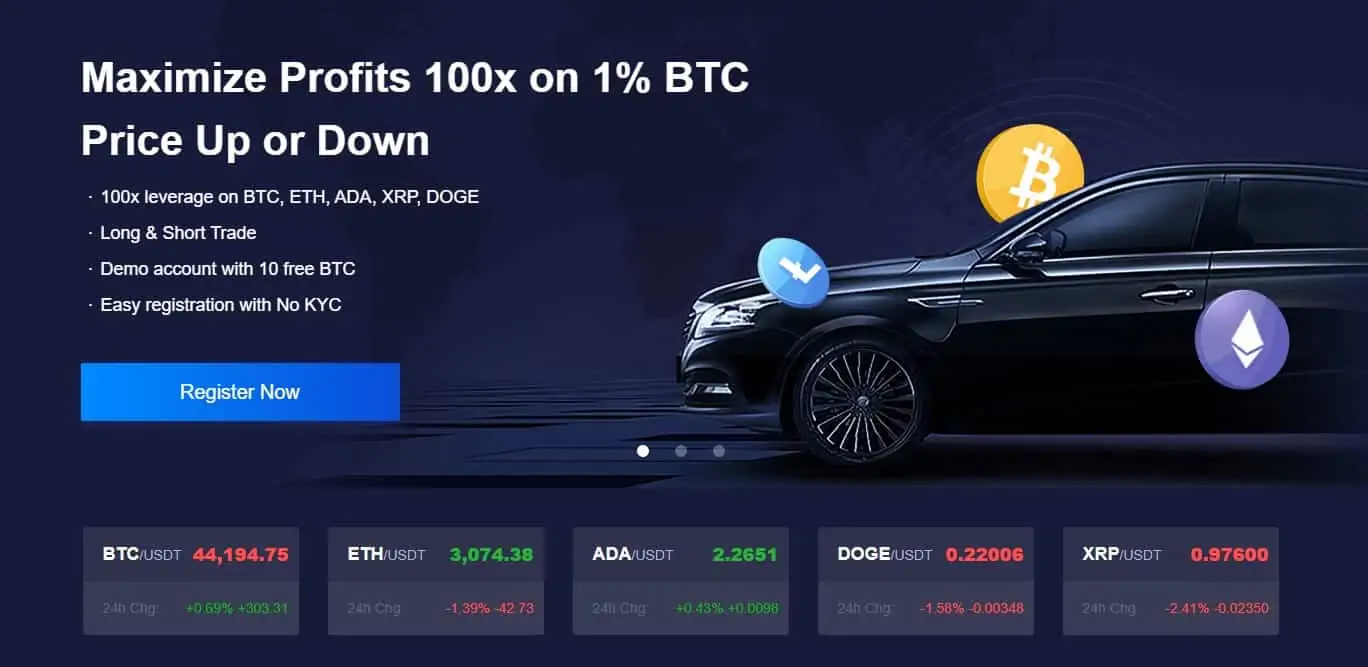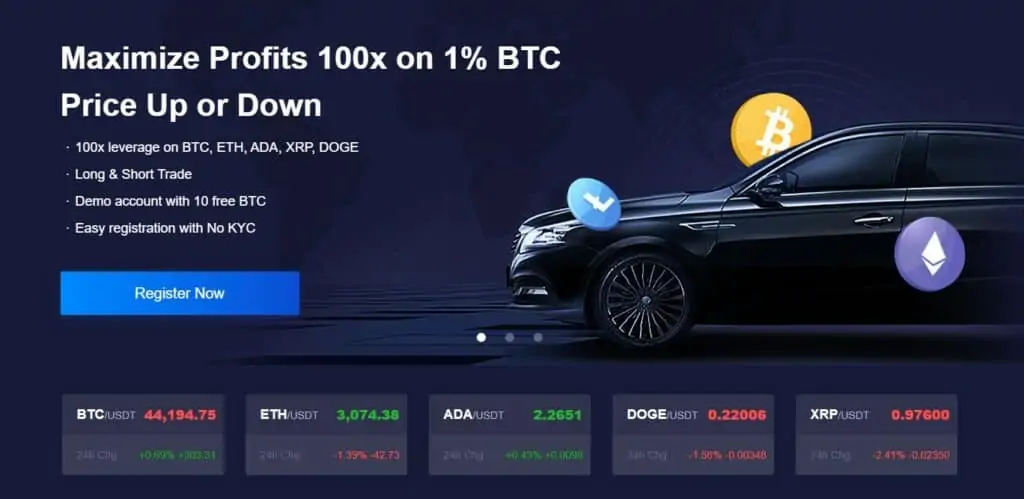 The company behind the Bexplus platform is headquartered in Hong Kong but it operates as Saint Vincent and the Grenadines-registered entity with offices in Japan, Singapore, Brazil, and the USA.
Over the years, It's gained sizable popularity among the international crypto community and institutional investors. The exchange platform is available in 21 languages and is alleged to have raised 10 million worth of USD support by reputable venture capital associates from the USA and Hong Kong.
How to Get Started on Bexplus?
Registration on Bexplus is a one-click process — there's no KYC or any other form of identity verification that includes self-revealing document uploads. All you have to do is enter a valid email and enter the verification code you received on the provided email address.
You should know that, according to the global regulatory trends, the non-KYC policy can be implemented only in exchanges that don't list fiat payment options. In this context, Bexplus supports Bitcoin deposits only and if you don't have any in your possession, you'll have to buy some from an entry-level crypto exchange that provides instant Bitcoin purchases. Here you can find all the options you have to purchase Bitcoin in Australia.
Bexplus Trading Features
Trading Platform
The Bexplus trading platform offers a full package of advanced features and trading indicators on an intuitive layout. The platform also delivers a set of trading strategies to prevent critical financial losses.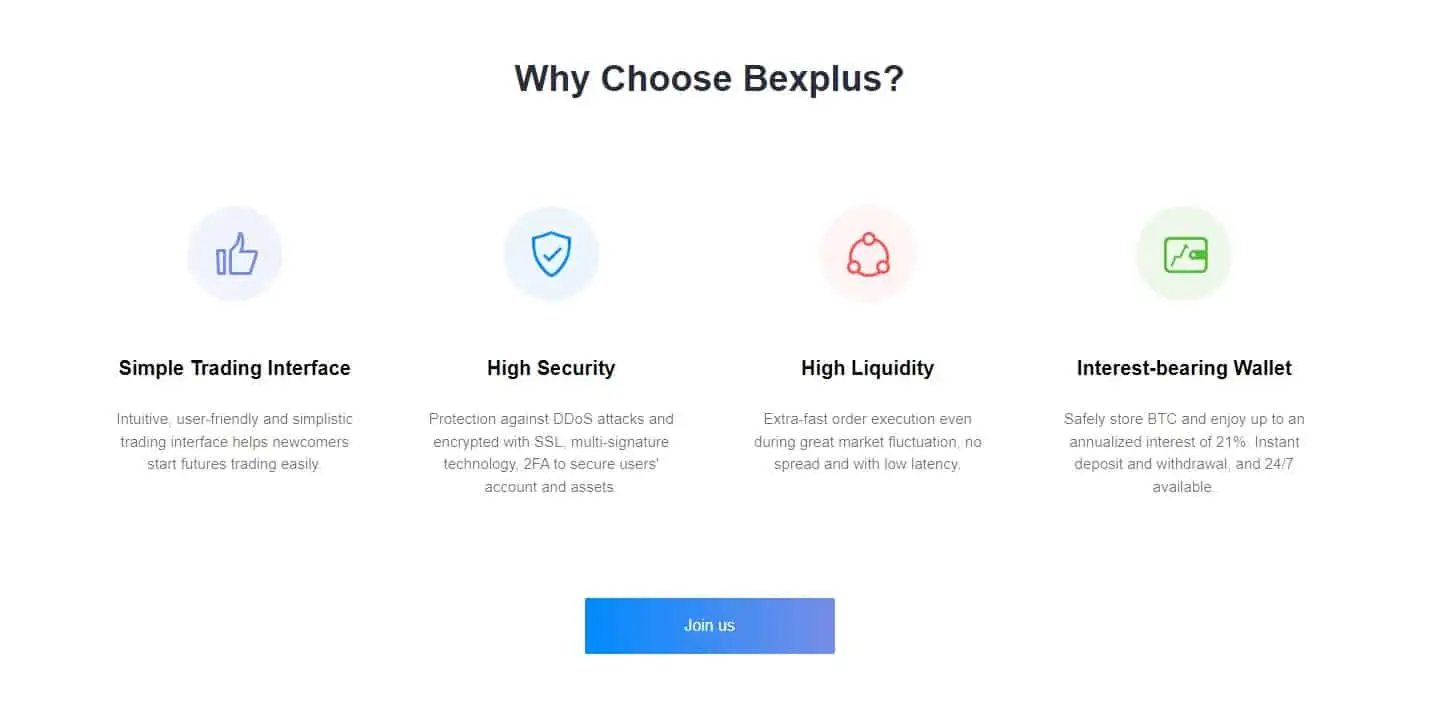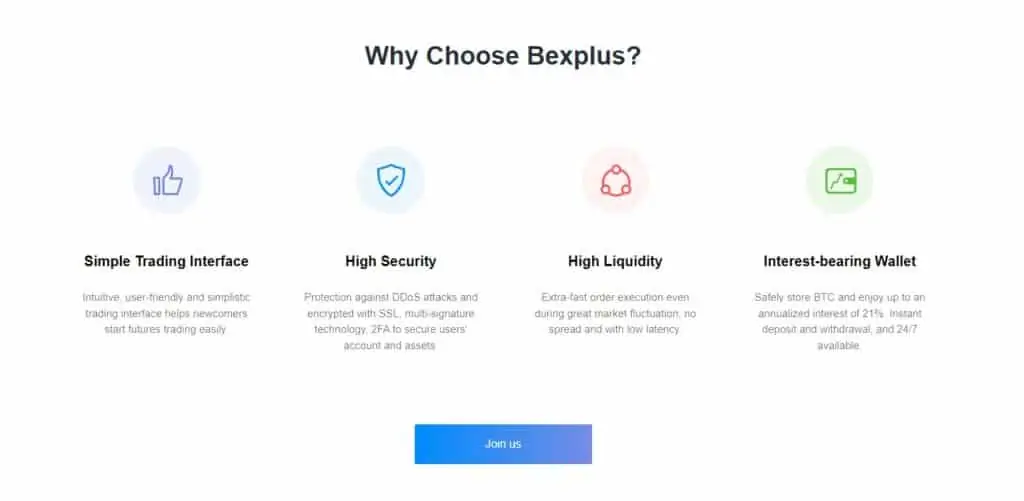 Thanks to the platform's partnership with TradingView, Bexplus users have full insight into the cryptocurrency market. There is a separate Trading tab on your dashboard under which you can find in-depth data for the last 24 hours (or another personally customized time interval) and a plethora of trading tools that indicate real-time figures. Less experienced traders can find a link to a trading simulator at the top of the page to gain more confidence in their trading endeavours.
Margin Trading
The key feature of this platform is leverage or margin trading that can go up to 100x your initial margin. In futures trading, leveraged positions mean that you can get high exposure towards the price decrease or increase of the selected coin. This is the way you enhance your trade and the concept is pretty clear — you borrow funds from the exchange in order to earn higher profit.
For example, when you open a long position with 100x leverage and BTC price goes up by 2%, it's simple math — you realize 200%. The reverse scenario is also possible so we strongly recommend you don't go big at the beginning.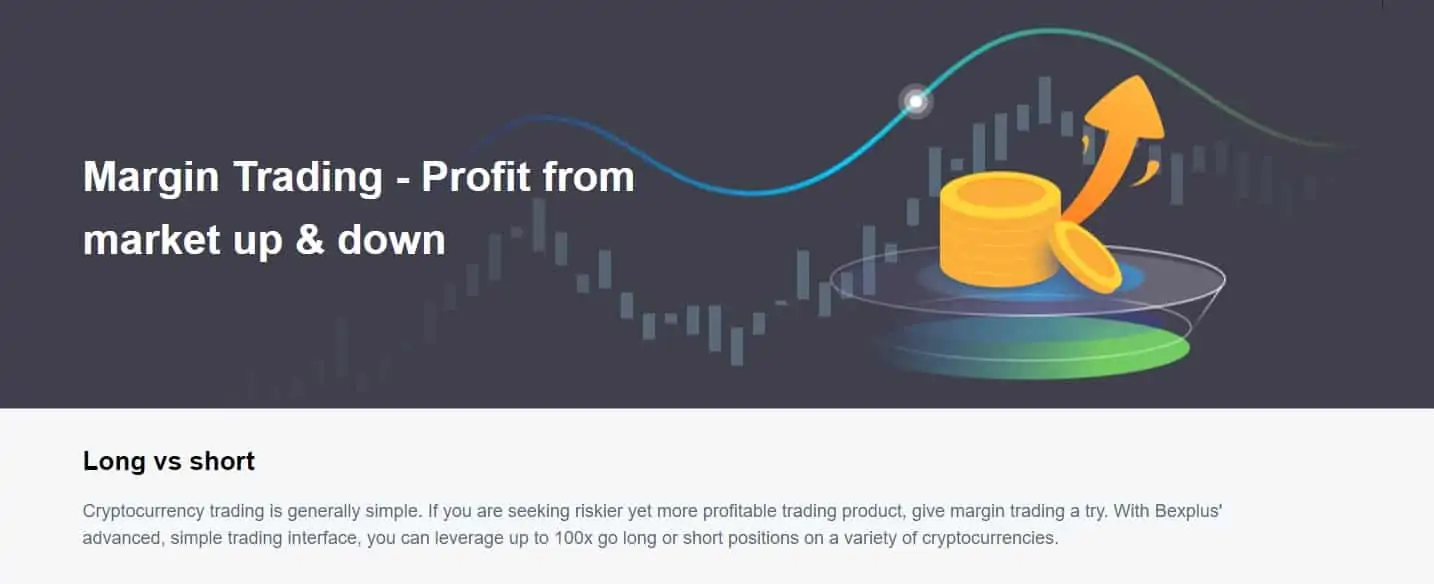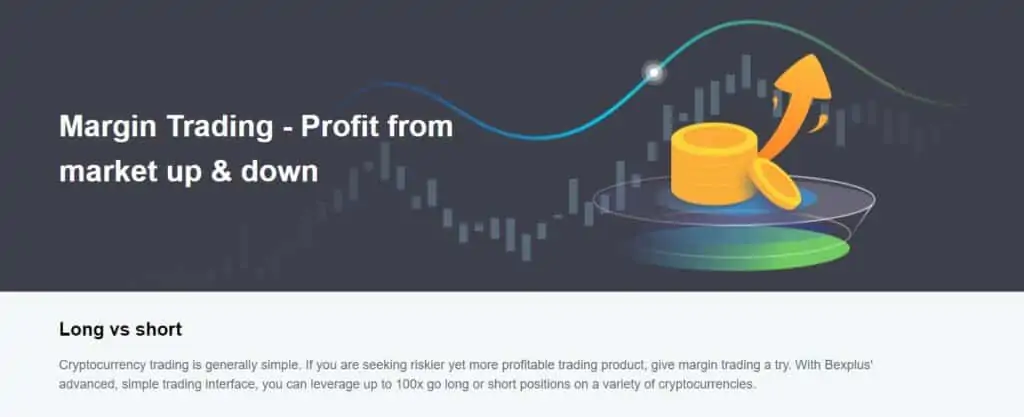 It's important to point out the minimum deposit limit of your initial margin: 0.1 BTC, 1 ETH, 1,000 ADA and XRP, and 10,000 DOGE. Despite the frequent ups and downs, there is an upward rise in cryptocurrency prices on a general level, which means that the minimum threshold is too high for an average trader, especially for BTC.
Finally, if your position hits a margin rate under 30%, it'll be automatically liquidated. The forced liquidation won't "touch" the funds available on your balance — and that's how the exchange protects you against a total financial loss.
At the same time, if your potential profit hits 85% of your account value, your position will also be closed (with your earnings calculated directly) — and that's how the exchange protects itself.
Perpetual Contracts
Bexplus is a cryptocurrency exchange that allows you to trade the supported coins on a perpetual and futures contract basis — without actually owning them.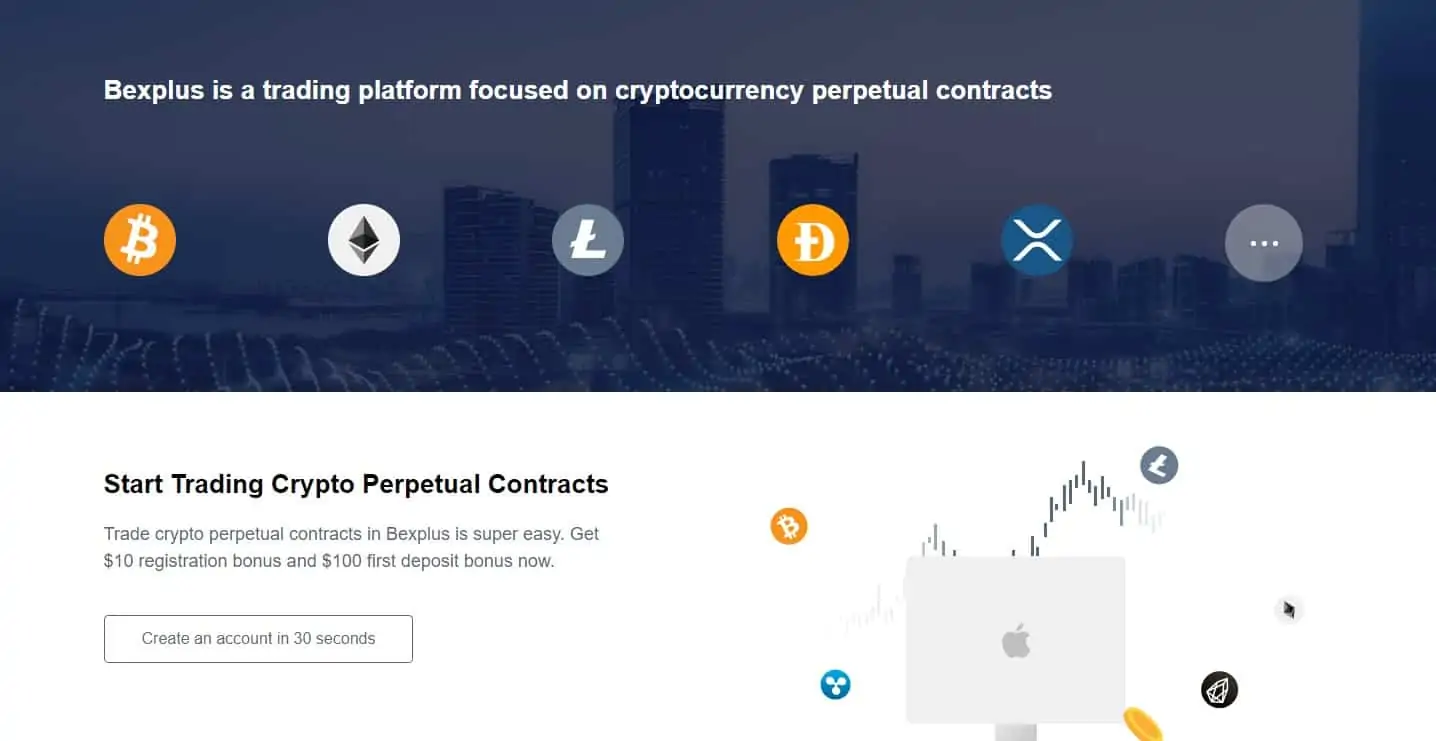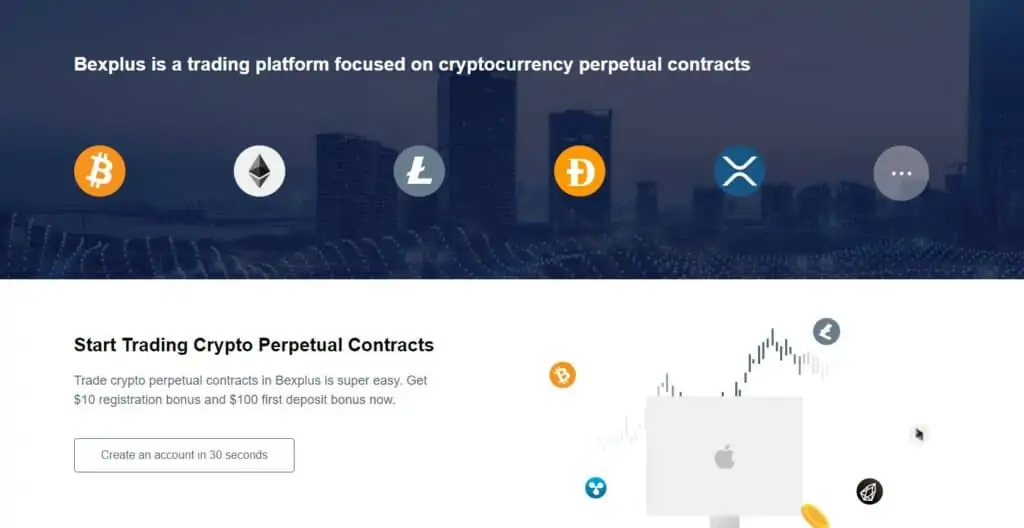 Unlike regular futures contracts, perpetual ones don't expire on a predetermined date. You can hold your position as long as you want but remember that there's a 0.1% fee per day for keeping an open position.
Types of Orders
Bexplus allows you to place the basic order types — market and limit orders. The exchange's algorithms determine Bexplus market quotes based on the quotes of five top-rated crypto exchanges Binance, Poloniex, Bitfinex, and ZB. 
Limit orders, on the other hand, allow you to "lock" either the minimum or the maximum price you've agreed on when trading with a certain amount of a trading pair. Your order will be executed only if the market reaches the threshold price you've quoted at the beginning.
100% Deposit Bonus
Bexplus gives a 100% deposit bonus to acknowledge loyal users and welcome new ones. You can't withdraw the given amount but you can use it as leverage to increase your position. In order to activate the bonus, you'll need to contact the support team or follow their Twitter account.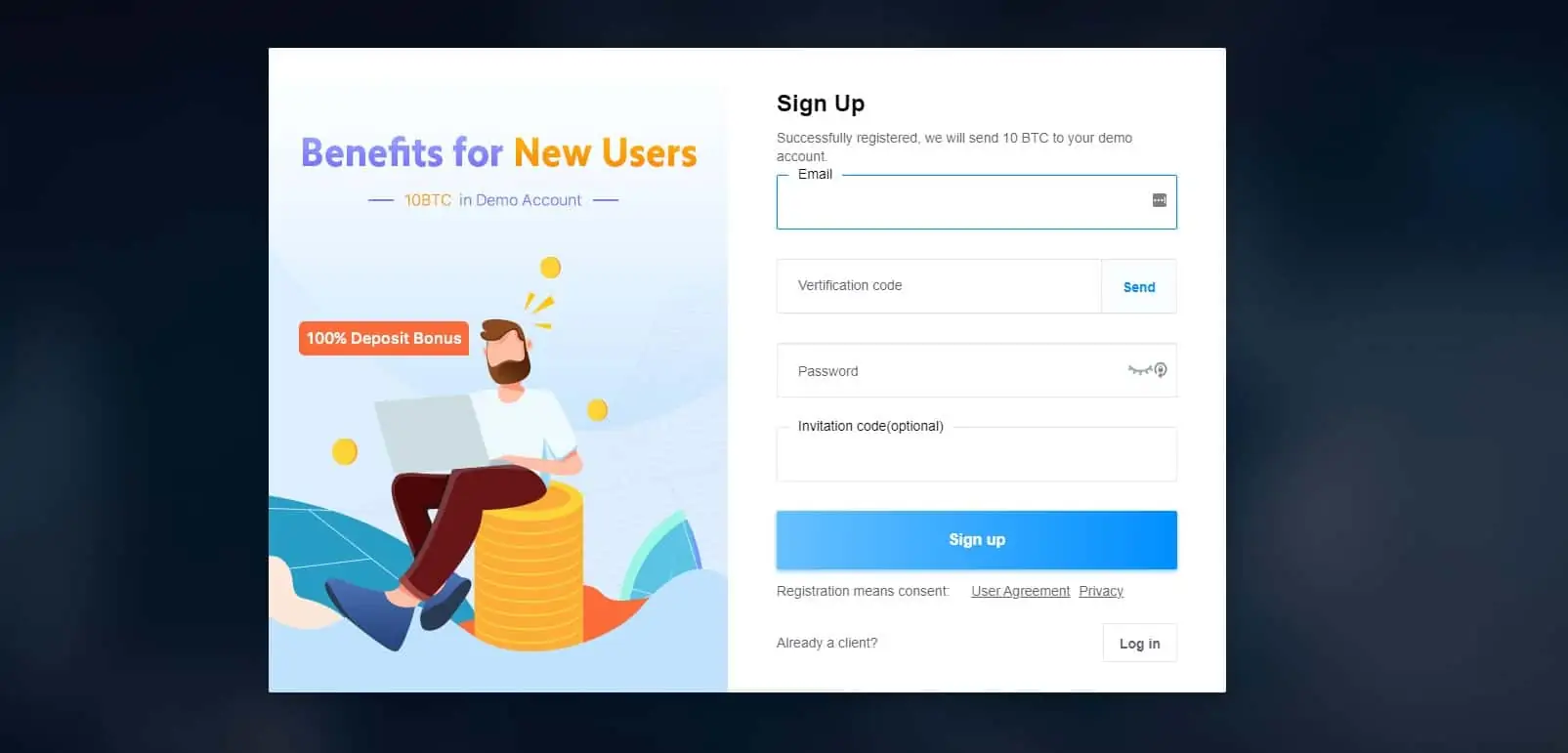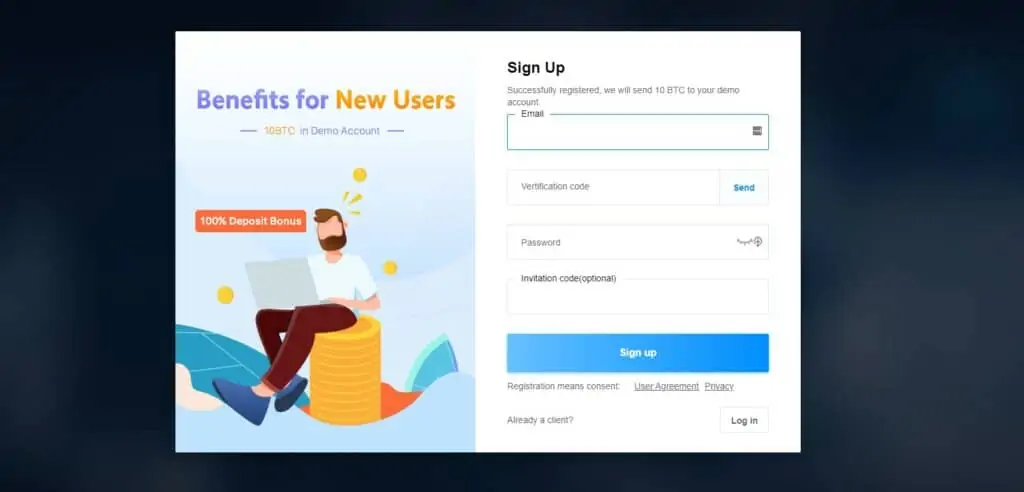 Demo Trading Account
Bexplus offers a super-useful solution for inexperienced traders to build up their trading strategies and get used to the fast-paced trading environment before getting involved in margin trading with real funds. The Bexplus demo account comes with a demo allowance of 10 BTC and the same tools as the Bexplus live platform.
Bitcoin and other Supported Cryptocurrencies
Bexplus is oriented exclusively toward crypto-to-crypto trading and it supports five digital assets: Bitcoin (BTC), Ethereum (ETH), Cardano (ADA), Dogecoin (DOGE), and Ripple (XRP). Until recently, the platform also offered Litecoin (LTC), NEO, and EOS but they're no longer listed on Bexplus.
Most importantly, all supported coins can be paired only with Tether (USDT) and not with each other (ADA/ETH, for example). The narrow selection of available altcoins is one of the main downsides of Bexplus as its target audience is willing to experiment with less popular coins.
Bexplus Fees
Bexplus fees are in line with the average standard on the crypto derivatives market. In general, crypto derivatives services have turned out to deliver more transparent fee systems than traditional CFD platforms.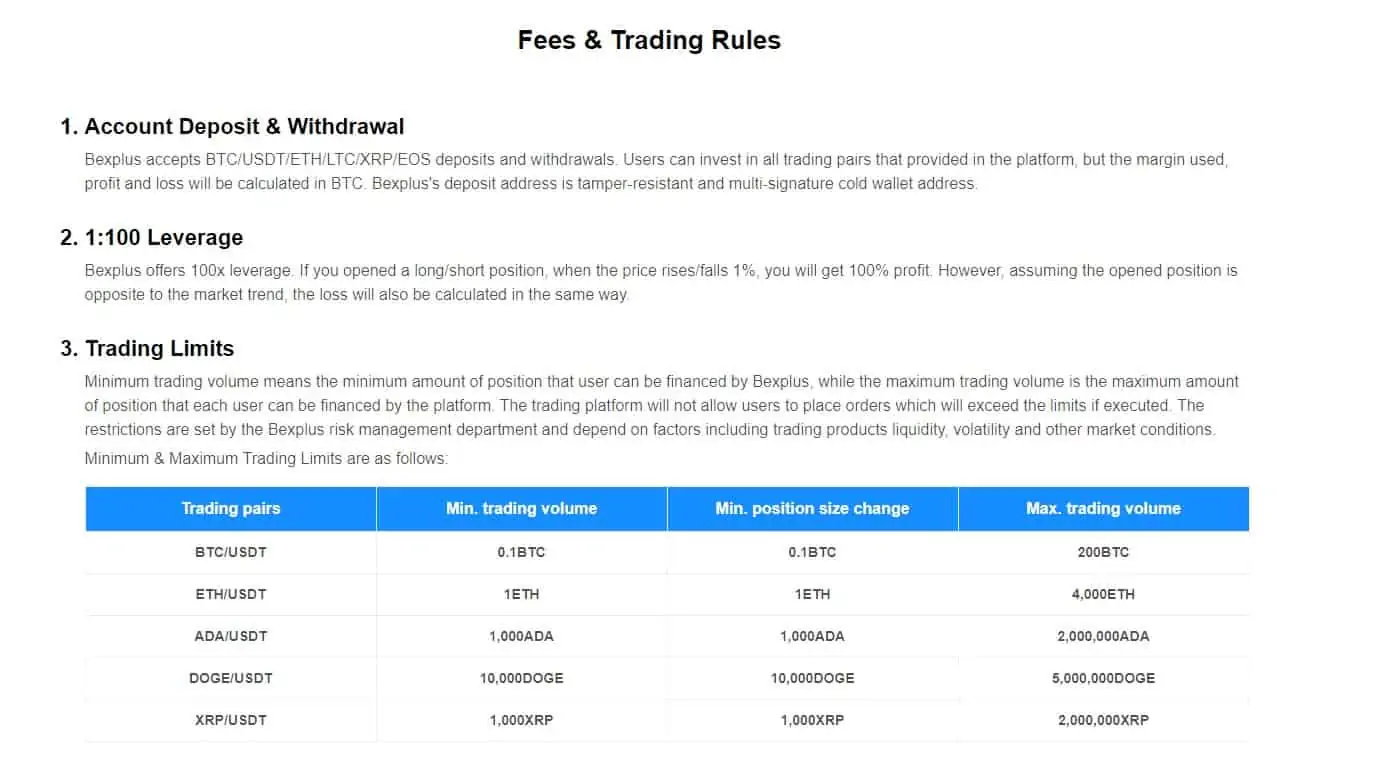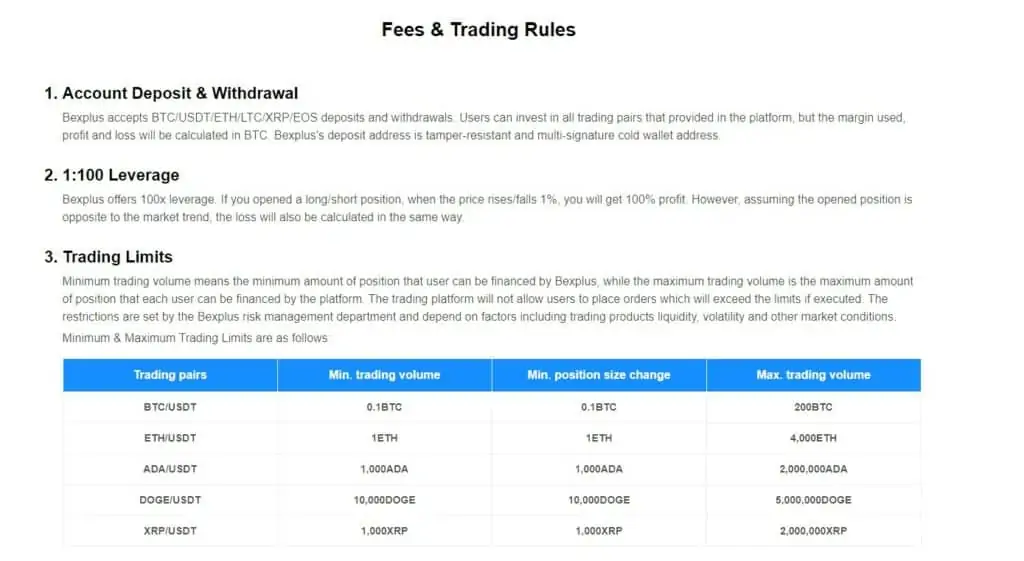 Trading Fees
Bexplus incurs a fee for every transaction depending on the USDT pair: BTC (0.075%), ETH and ADA (0.151%), XRP, and DOGE (0.195%). The exchange doesn't determine the fee amount based on your position as a taker or maker. You'll be also charged a loan interest of 0.1% only if your position isn't closed after midnight (GMT).
Deposit and Withdrawal Fees
Bexplus doesn't charge for deposits but there is a minimum withdrawal fee of 0.0005 BTC, which includes the transaction fee and it's slightly below the industry average of 0.000812 BTC. Note that the exchange calculates and settles all profits and losses exclusively in BTC.
Is Bexplus Legit or a Scam?
To put it simply, it's not so easy to weigh in Bexplus legitimacy. On one hand, the company has been operating since 2017 without any records of successful hack attacks or any kind of market manipulation. Furthermore, Bexplus implements robust security measures such as 2FA (two-factor authentication), SSL encryption, and keeps all users funds offline, in highly secure multi-signature cold wallets
On the other hand, we can't deny the fact that Bexplus is an offshore company, with an SVGFSA license (issued by the Financial Services Authority of St. Vincent and the Grenadines), which, from a regulatory perspective, isn't sufficient to define a highly regulated marketplace.
The unregulated status isn't unusual in the forex and derivatives ecosystem. On the contrary, many digital-currency transmitters choose legislation with no economic or political capacity to monitor transaction activities and tax liabilities. Such exchange platforms have been successfully performing worldwide since the early ages of Bitcoin. The problem with unregulated exchanges is that in case of bankruptcy or theft, you won't be able to claim compensation for your lost funds.
On the bright side, Bexplus has obtained an MSB (Money Services Business) license, which means that it's allowed to operate in the USA, which isn't the case with the majority of derivatives platforms around the globe.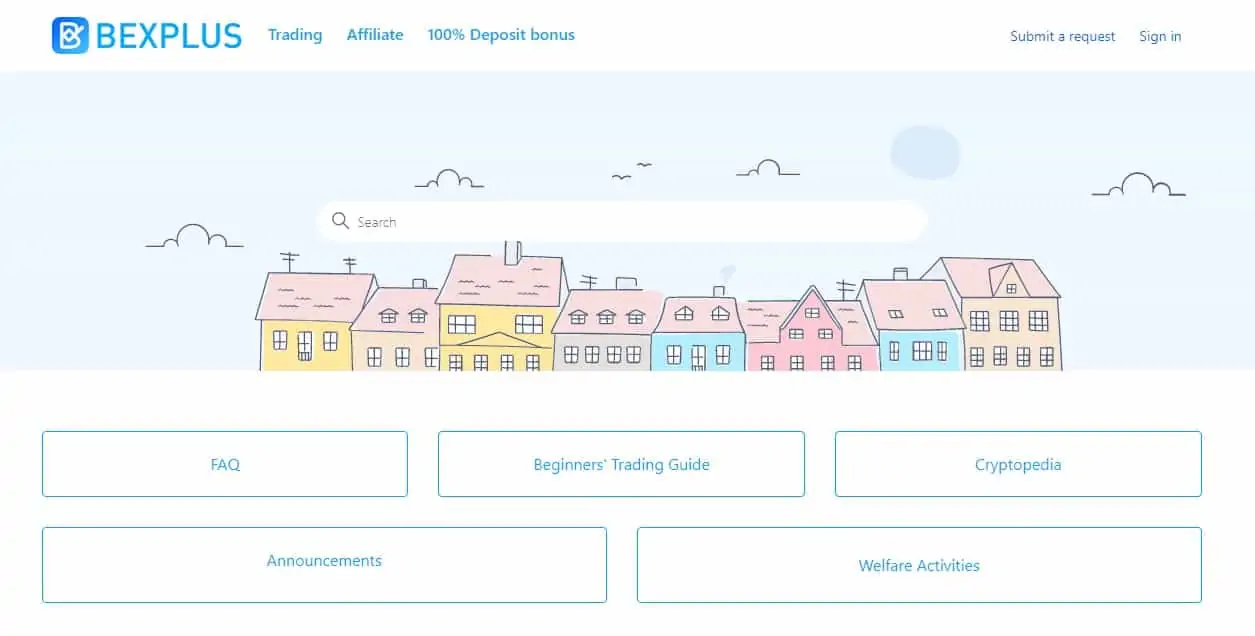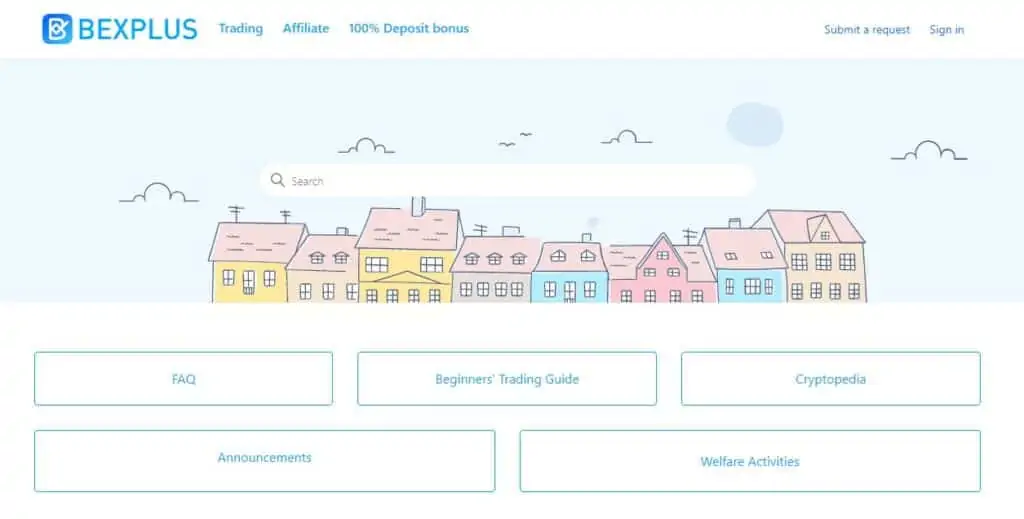 Customer Support
Bexplus provides 24/7 customer support that can be reached either through live chat — you'll find it at the right bottom corner as a pop-up window — or you can directly send an email to their support team (support@bexplus.com). According to users' reviews, the team responds to your inquiry within the same day.
The platform is also open for feedback and questions regarding any potential concerns. Finally, Bexplus provides an extensive help centre, where you can find comprehensive answers to the most common issues and a variety of trading guidelines.
Frequently Asked Questions
Does Bexplus offer a wallet?
Unlike the majority of crypto derivatives platforms, Bexplus provides a built-in Bitcoin wallet, and what's more, you can earn profit by storing your BTC there. That said, the exchange will reward you with a 30% annualized interest rate calculated on a daily basis. You can withdraw the earnings to your independent wallet at any time.
However, you should be aware that an exchange wallet isn't the best storage alternative for your virtual capital even though Bexplus claims to keep 100% of users' funds in cold storage.
What countries does Bexplus support?
You can log in to the Bexplus platform from anywhere across the world and trade without any cross-border restrictions. The only exceptions are Cuba, North Korea, and China.
Does Bexplus have a mobile app?
Professional trading is more practical on a widescreen due to the extensive trading toolset. However, a mobile app can be a very handy tool for price alerts and on-the-go monitoring of your open positions. Fortunately, Bexplus can offer you a free, intuitive, and highly functional mobile app available for Android and iOS users.
A Few Words Before You Go…
Bexplus is a decent marketplace for futures contracts with competitive fees and a variety of extra products to keep you busy while speculating on crypto prices with 100x leverage. It's maybe the best solution for newcomers who want to master the rules of margin trading as well as veteran BTC holders who want to boost their income in a simple manner and 100% privacy.
The exchange focuses on the very basic order types and deals with a very narrow coin selection so its feature set won't be enough for crypto-savvy professionals. Fortunately, the Australian crypto landscape can respond to the needs of all types of users who opt for leverage trading.
Bexplus Compared
| Exchange | Cryptocurrencies | Fiat Currencies | Trading Fees | Deposit Methods | Sign Up |
| --- | --- | --- | --- | --- | --- |
| Swyftx | More than 320 | Australian Dollars, New Zealand Dollars | 0.6% | Osko, PayID, Credit Card, Debit Card, Bank Transfer, Cryptocurrency | Visit Swyftx |
| CoinSpot | More than 370 | Australian Dollars | OTC: 0.1% Market Order: 0.1%* (applies to LTC, BTC, ETH, XRP, POWR, DOGE, TRX, NEO, XLM, GAS, RChain, RFOX, EOS) Instant Buy/Sell: 1% | POLi, PayID, Cash, Cryptocurrency, Bank Transfer, BPAY | Visit CoinSpot |
| Binance | More than 600 | US Dollars, Australian Dollars, and 8 more | 0% to 0.1% | Osko, PayID, Credit Card, Debit Card, Crypto | Visit Binance |
| Bybit | More than 160 | 50+ | 0.1% to 0.6% | Crypto, EFT, wire transfer, bank transfer, debit card or credit card | Visit Bybit |
| Independent Reserve | 27 | Australian Dollars, US Dollars, New Zealand Dollars | 0.05% to 0.5% | EFT, SWIFT, Osko, PayID, Crypto | Visit Independent Reserve |
| Coinbase | More than 210 | Australian Dollars, US Dollars, New Zealand Dollars | Fees Vary | EFT, SWIFT, Osko, PayID, Crypto | Visit Coinbase |
| CoinJar | More than 50+ | Australian Dollars, Pound Sterling | Taker: 0.04 to 0.1% Maker: 0.04 to 0.1% | Apple Pay, Google Pay, Credit Card, Debit Card, Bank Transfer, Fiat, Crypto | Visit CoinJar |
| Kraken | More than 140 | Australian Dollars, US Dollars, and 5 more | Taker: 0.10% to 0.26% Maker: 0.00% to 0.16% | Apple Pay, Google Pay, SWIFT, Osko, SEPA, Crypto, Wire Transfer, Bank Transfer | Visit Kraken |
| BTC Markets | More than 15 | Australian Dollars | Taker Fee (for Bitcoin pairs): 0.20% Maker Fee (for Bitcoin pairs): -0.05% Australian Dollars Market Pairs: 0.10% to 0.85% | Crypto, BPAY, EFT, PayID, Osko | Visit BTC Markets |
| Easy Crypto | More than 40 | Australian Dollars, New Zealand Dollars, South African Rand | 1% | P2P, POLi, and Bank Transfers | Visit Easy Crypto |
| Coinstash | More than 140 | AUD | Taker fees: 0.85% Maker fees: 0.85% | Cryptocurrency, Bank Transfer, PayID | Visit Coinstash |
| eToro | More than 70 | Australian Dollars, US Dollars, Euro, and 12 more | Vary | Online Banking, Skrill, Neteller, PayPal, Bank Transfer, Debit Card | Visit eToro |
| KuCoin | More than 645 | US Dollars, Euro, Australian Dollars, and 6 more | 0.1% | Credit Card, Debit Card, SEPA, PayPal, Wire Transfer, Crypto | Visit KuCoin |