Binance Review 2023
On a jam-packed crypto market with more than 500 exchange platforms claiming to offer the best services on the market, even someone who is an experienced crypto veteran like myself can get confused. However, with Binance, there's no room for confusion and after using the platform, I can confirm that it really is the undisputed global leader among crypto exchanges, with an unprecedented offer of supported coins, low fees, reliable services, and fiat payment methods.
Binance is firmly established as the number one crypto exchange in the world and it's grown to be a full-fledged crypto trading ecosystem. I was fascinated with the possibility of trading more than 600 coins and tokens, including all of the leading cryptos on the market, along with hundreds of altcoins with high development potential. Also, the platform is known to provide services in most parts of the world, including Australia.
Millions of users worldwide use Binance on a daily basis to invest fiat currency in crypto, trade cryptocurrencies or cash out coins into fiat. In my opinion, one of the key reasons for Binance's market dominance is the broad range of trading features suitable for users of all experience levels, from total beginners and experienced users all the way to pro-level crypto brokers with multi-million USD monthly trading volumes.
Let me show you all the details about Binance so you can get a better understanding of why it is the most popular exchange in the world.
| | |
| --- | --- |
| Website | Binance.com |
| Country | Most parts of the world, including Australia, the European Union, the UK, and India. US customers are redirected to Binance US. |
| Mobile app | Yes |
| Deposit Methods | PayID, OSKO, bank account transfer, credit card, debit card, SEPA, wire transfer. |
| Trading Fees | 0.5% reduced to 0.015% |
| Fiat Currencies | AUD, EUR, USD, GBP and 30+ fiat currencies. |
| Cryptocurrencies | Binance Coin (BNB), Binance USD (BUSD), Bitcoin (BTC), Ethereum (ETH), Cardano (ADA), Bitcoin Cash (BCH) and 600+ coins and tokens. |
Pros
More than 600 available cryptos.
The largest cryptocurrency exchange in the world.
More than 30 fiat currencies.
Some of the lowest fees among crypto exchanges.
Numerous payment methods.
Beginner-friendly, advanced, and pro-level trading features.
Cons
US users need to use the Binance US platform, which has far fewer trading features and cryptos compared to the main Binance platform.
The customer service is often unresponsive, and there's no live chat feature.
What Is Binance Australia?
Binance Australia is the official subsidiary of Binance for the Australian market. Unlike Binance.us, a separate platform for users in the US, Binance Australia is integrated with the international Binance platform, and Aussie traders such as myself can automatically use it when they visit the official Binance website.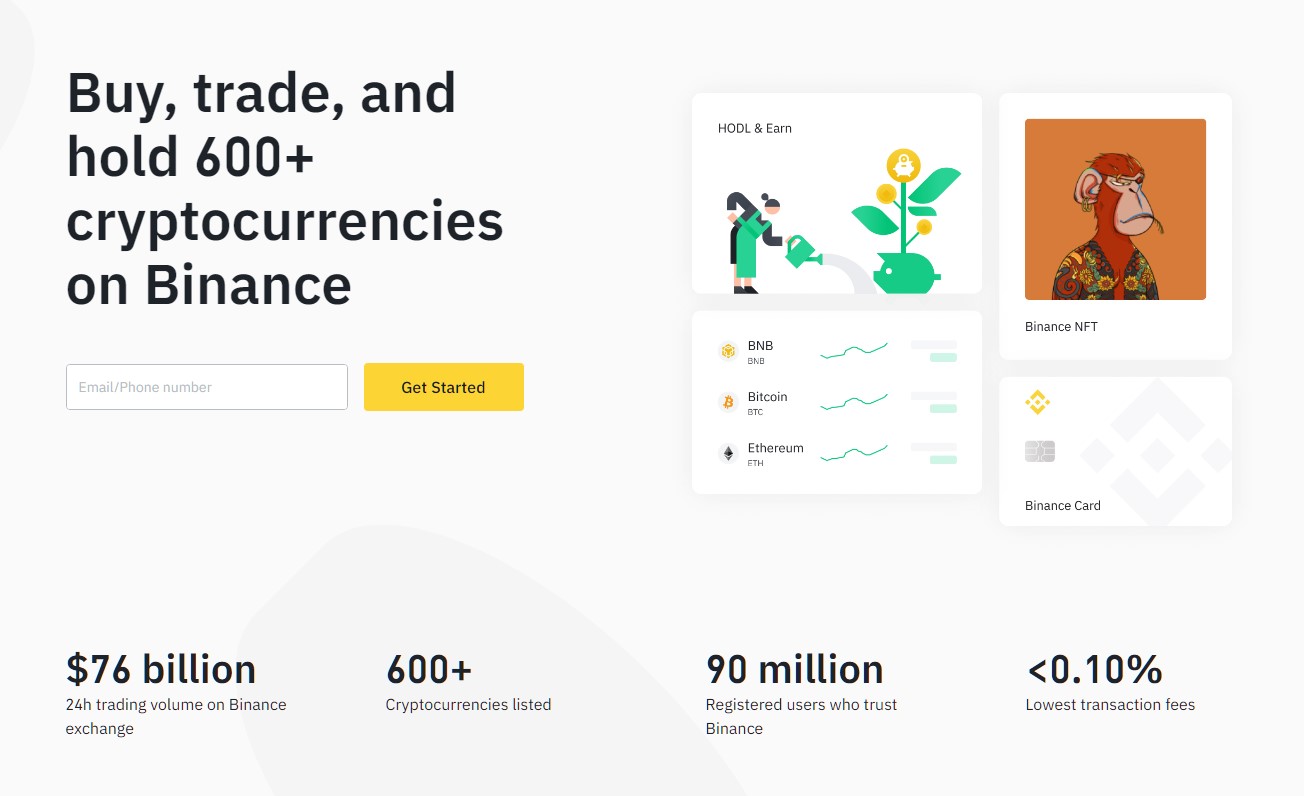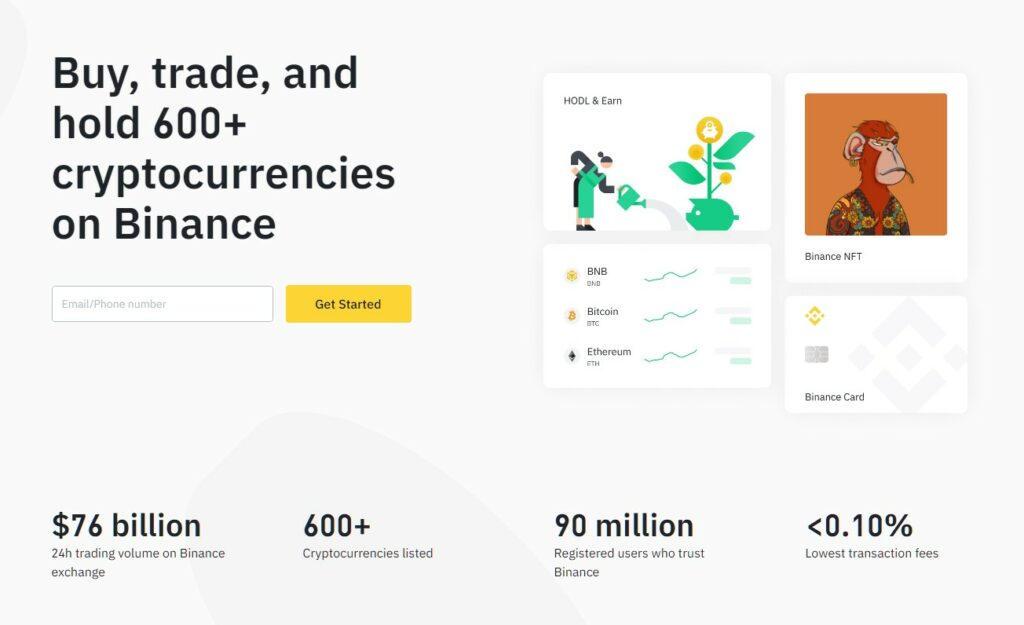 Binance Australia is registered with AUSTRAC, which means that I have a considerable level of legal protection in case I get scammed or Binance goes bankrupt. Aussie users are privileged when it comes to using Binance because the platform is unregulated in numerous regions where it offers its services.
Binance was launched back in 2017 in Hong Kong, and it quickly managed to take over the whole crypto market thanks to an active policy of constantly including new coins and providing users with some of the lowest fees on the market and exceptional services. Binance Australia was launched a couple of years later, in 2020, and it managed to become the second largest exchange in Australia by trading volume in less than a year.
The Binance platform was created to satisfy all your crypto needs. When I created an account on Binance, I was overwhelmed with the sheer variety of services and options provided by the platform. There are several types of trading interfaces for beginners, intermediate, and pro traders, a bunch of staking options, loads of payment methods, a great mobile app, an NFT marketplace, peer-to-peer (P2P) trading features, and more.
Who Is Binance Designed for?
Binance is literally designed for everyone. I'm always a bit sceptical regarding exchange platforms that aim to satisfy multiple user target groups, but with Binance, this really works flawlessly.
The basic trading interface allows crypto beginners to easily buy crypto through a conversion feature that simply lets you exchange one crypto for another. I tried exchanging some BTC for Litecoin (LTC), and the whole process was over in two clicks, with just a couple of minutes for the funds to get processed through the blockchain. If you want to buy crypto with fiat directly, you can also conduct a purchase with either your bank cards or your fiat balance in your Binance account.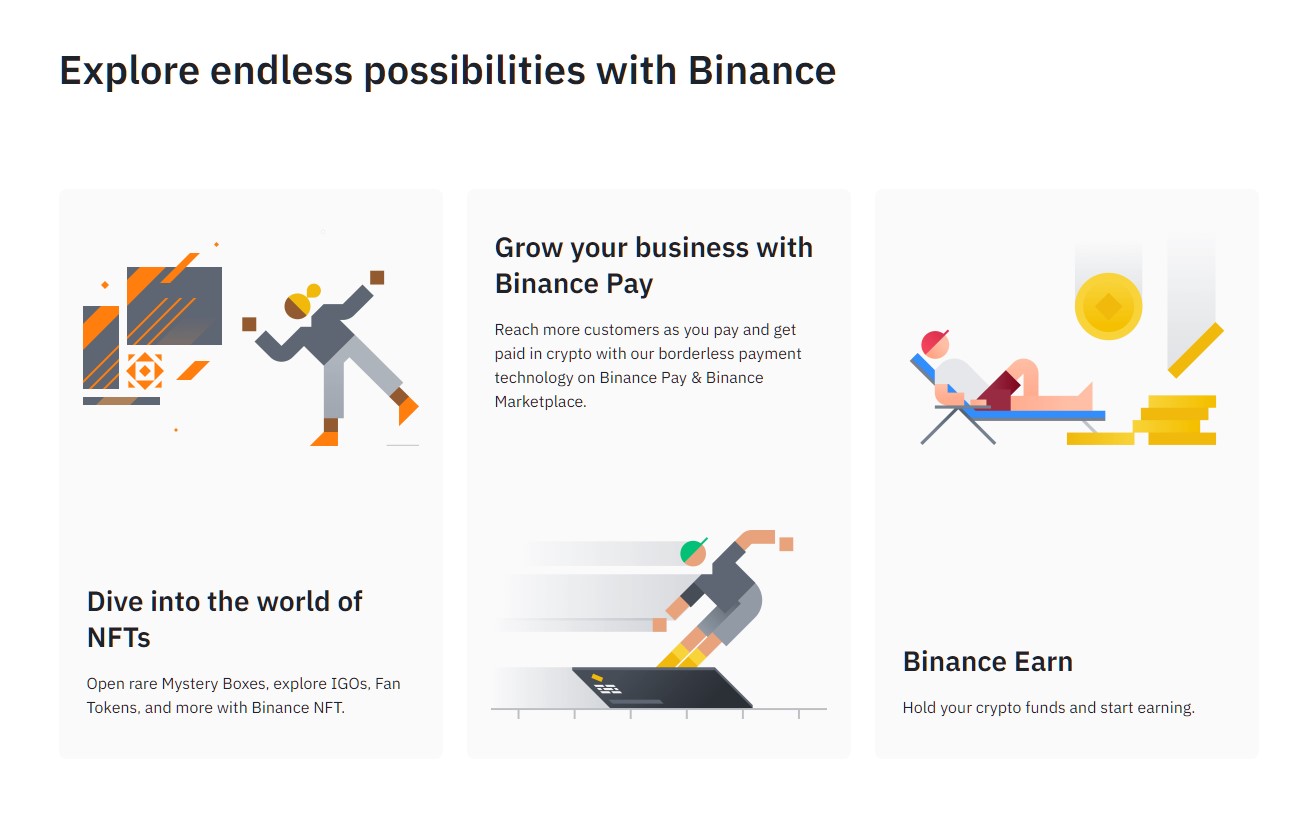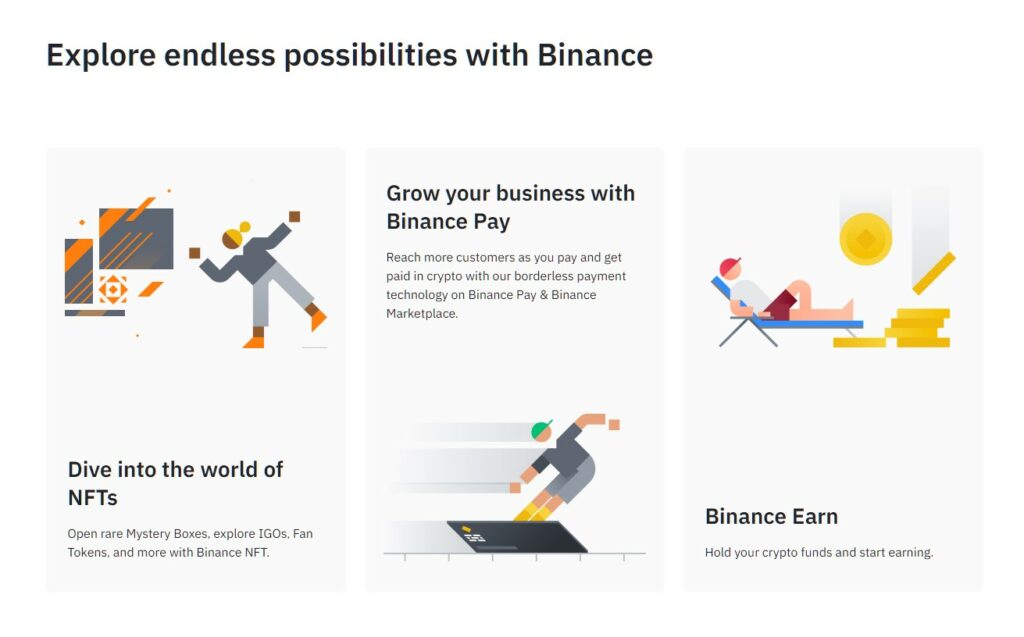 Experienced users can shift to the classic trading interface through the Markets section and enter a standard crypto exchange markets interface with order books, price charts, technical analysis tools, and numerous order types, while the advanced trading interface is reserved for the most experienced, pro-level users.
Binance very successfully combines services catered towards all three experienced levels, which is one of the things that won me over.
Supported Cryptocurrencies: Buy Bitcoin and More Than 600 Cryptos
It doesn't matter if you're a beginner, an experienced trader, or an institutional investor. You'll really find all the cryptos you need on Binance. The platform supports more than 600 coins and tokens, and the list keeps getting longer regularly because Binance is constantly adding all cryptos with some real growth potential.
You'll definitely find anything from the top 100 coins down to low and micro-market cap altcoin projects with interesting roadmaps and utilities.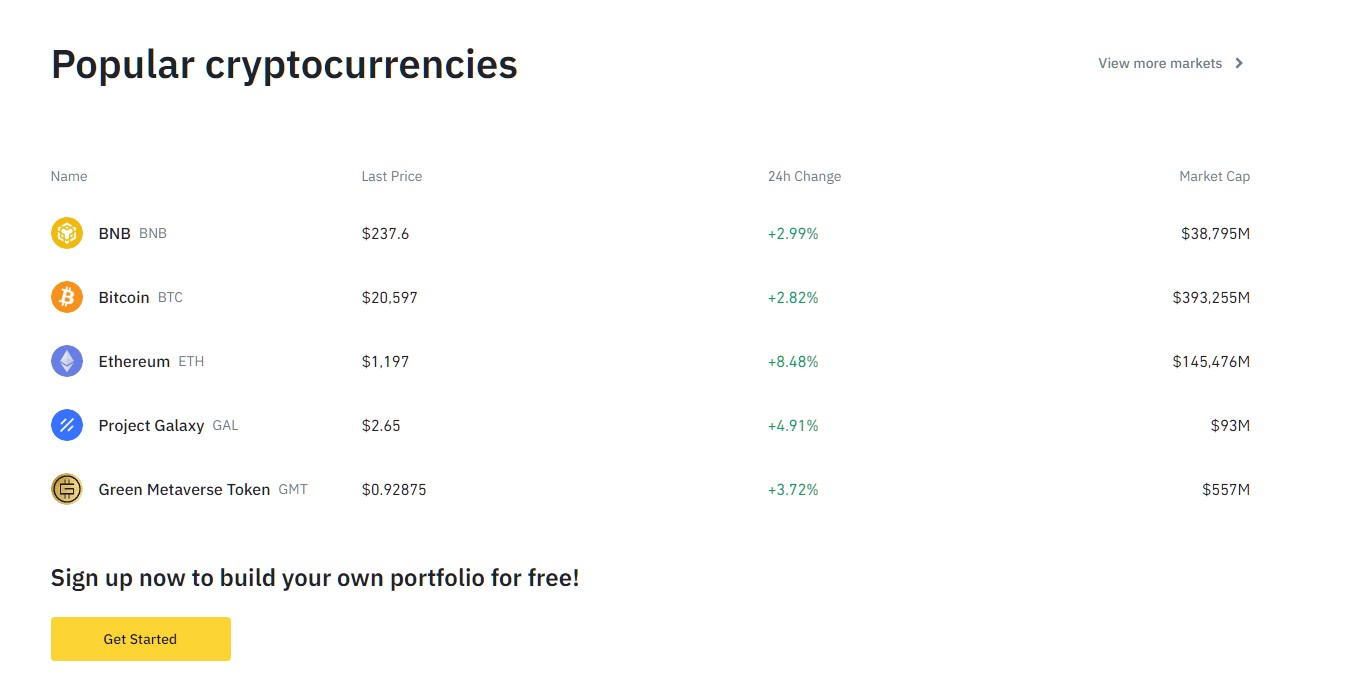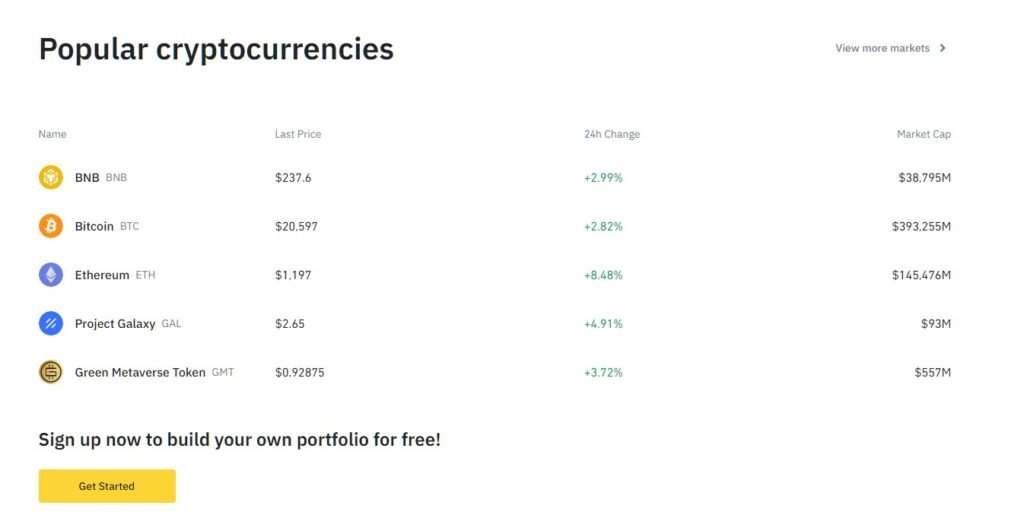 The crypto selection includes BTC, ETH, LTC, BUSD, BNB, Tether (USDT) ADA, LTC, Dogecoin (DOGE), Shiba Inu (SHIB), BCH, Avalanche (AVAX), The Sandbox (SAND), Tezos (XTZ), Fantom (FTM), Basic Attention Token (BAT), Ripple (XRP), Gala Games (GALA), Polygon (MATIC), Chainlink (LINK), Apecoin (APE), and the list goes on.
The choice of available cryptos on Binance can satisfy even the pickiest traders. I tried typing some less popular coins in the Binance search bar, and every single coin was available on the platform. However, keep in mind that less popular coins have low liquidity levels, which in turn results in higher market spreads, but even so, the prices are much lower compared to competitors', thanks to the very low Binance trading fees.
Key Features & Advantages of Binance
Let's have a look at Binance's key selling points.
Low Fees
A lot of crypto exchanges have unreasonably high fees, especially when compared to the quality of the services they provide. Binance works the opposite way since its fees are ridiculously low compared to the wide range of platform features and the highly reliable trading services offered by the exchange.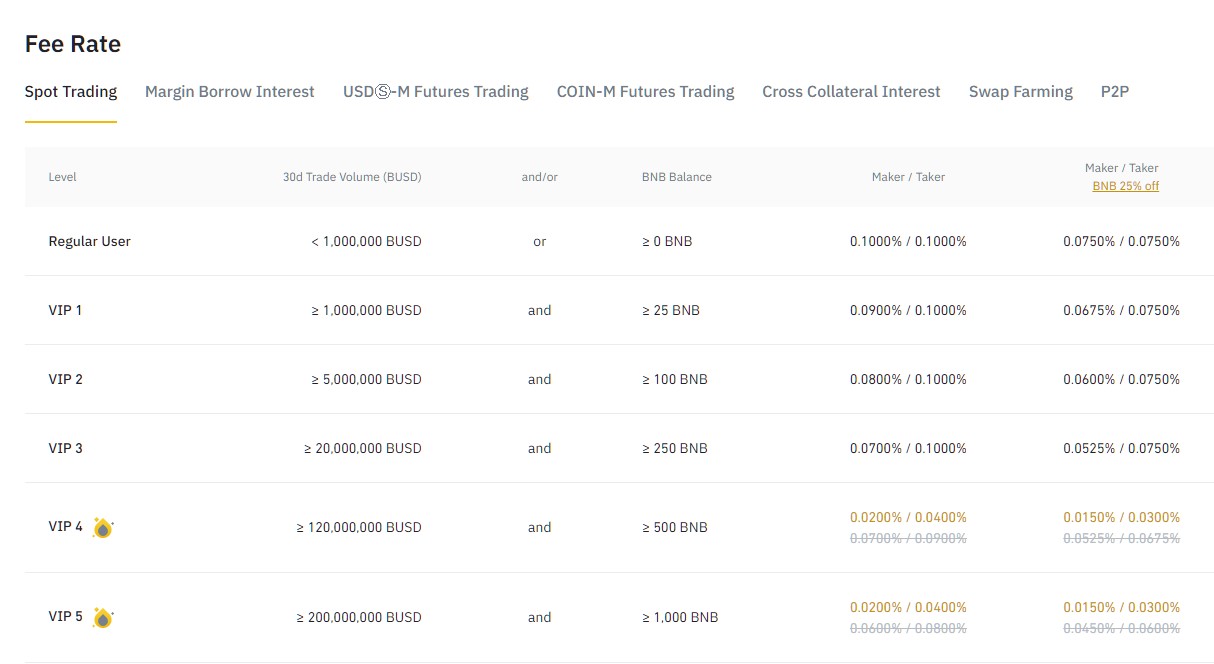 The highest trading fees are just 0.1%, which is much lower compared to instant trading fees of 0.5% to 1% on many competitor platforms. Additionally, Binance trading fees can drop down to as low as 0.015%.
Binance App
Binance has an awesome mobile app designed to bring all of the platform's features to mobile devices with Android or iOS operating systems. Honestly, I didn't expect to find all the features from the browser version of the platform because there are simply too many options and features. That's why I was pleasantly surprised to see that the app literally allows users to conduct all of their crypto operations just like they would on the browser version.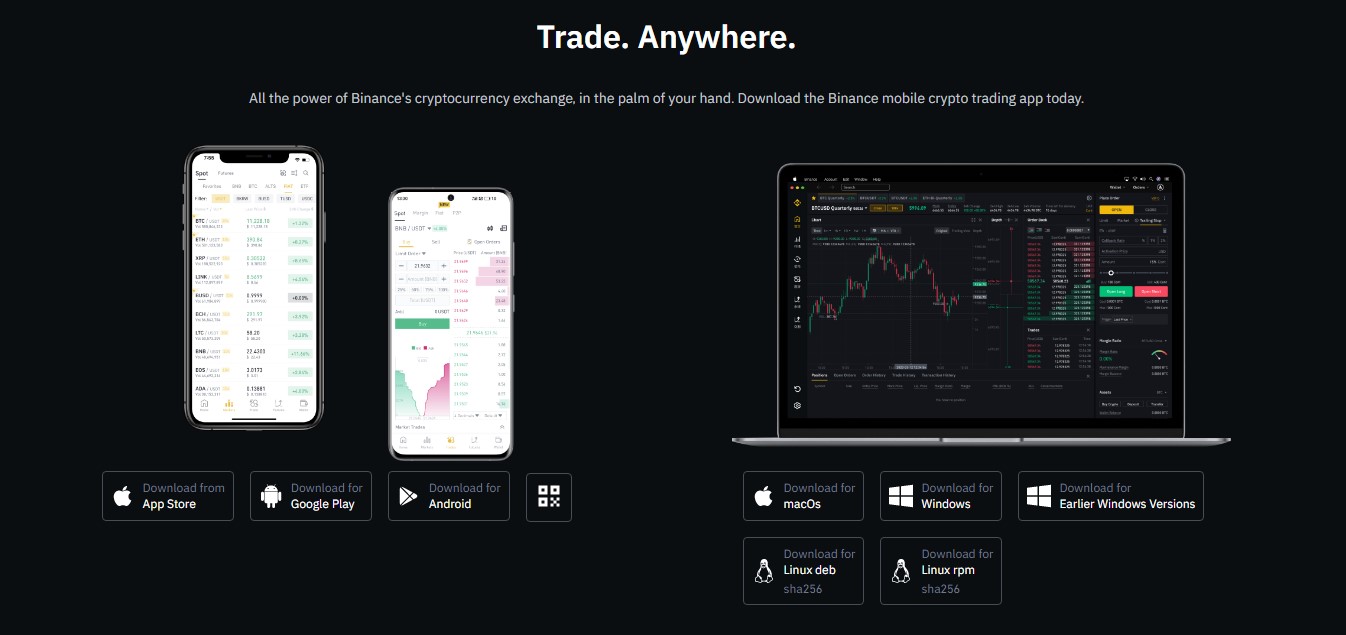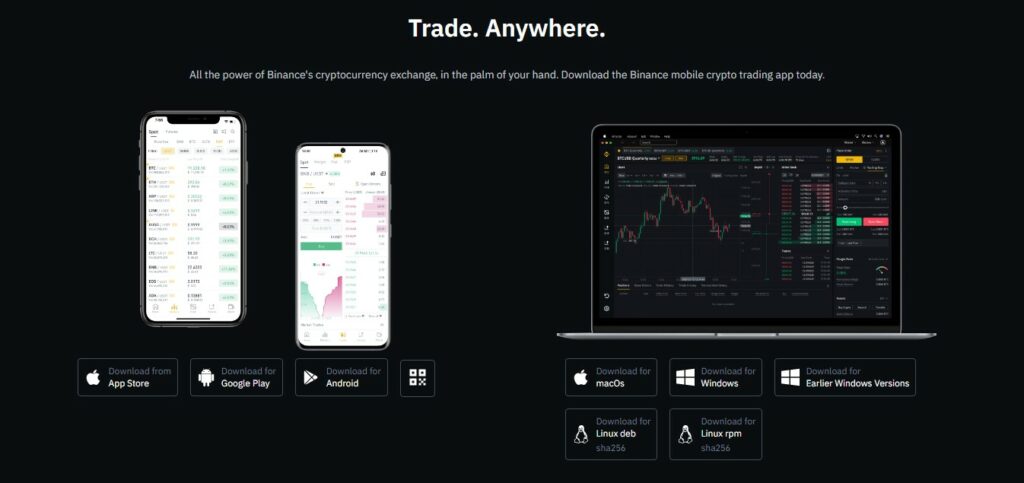 Despite the great design of the mobile app, I would recommend using the advanced trading interface on a desktop or laptop computer because you'll have a better overview of the order book, price chart, and other aspects of the interface on a large screen.
Binance Wallet
Binance provides all users with an integrated crypto wallet feature for all the coins and tokens supported by the platform. The Binance wallet is located within your platform account, and you can easily send, receive, or trade coins from there.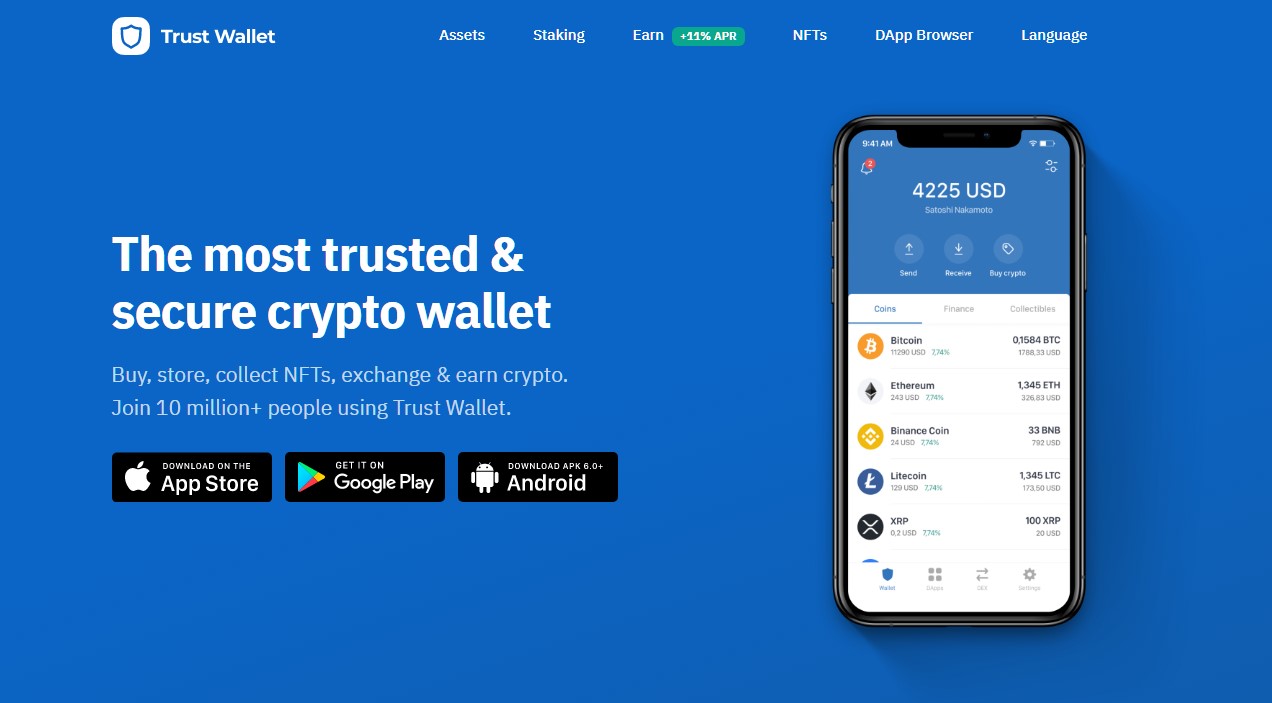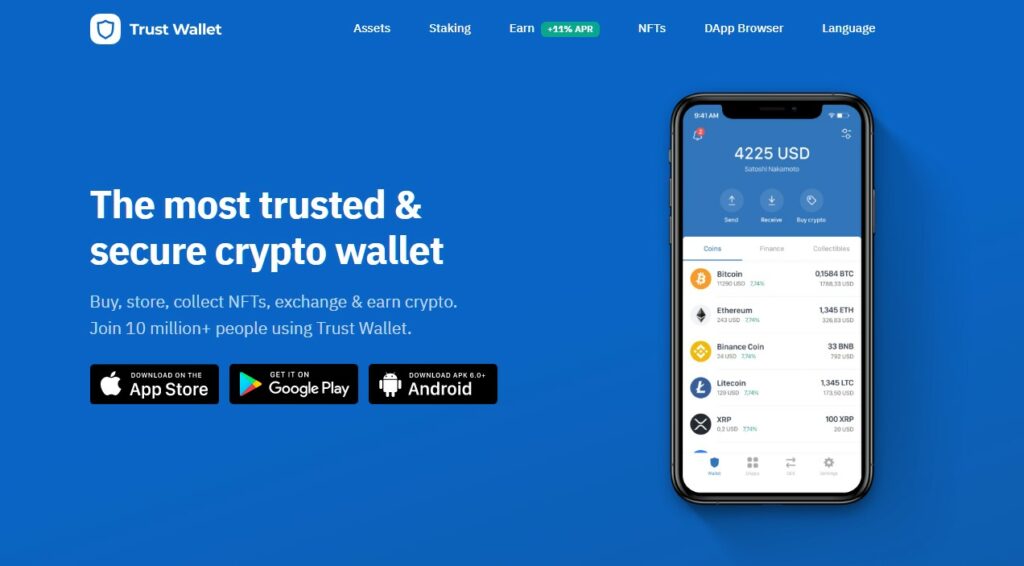 Instead of a separate crypto wallet app, Binance has partnered with Trust Wallet, the go-to non-custodial wallet app for the Binance exchange ecosystem.
Your coins are pretty secure when stored in your Binance wallet within your user account, but they are even safer if you transfer them to your Trust Wallet after you're done trading because this app keeps all your private keys stored on your mobile device.
Switch to Basic Interface for Beginners
Binance is extremely user-friendly, and despite having so many advanced trading options, it's a great platform for beginners, thanks to the basic interface that allows users to buy or sell crypto within minutes.
You just need to navigate to the Buy Crypto tab and choose how you wish to fund your account in order to buy crypto with fiat. Alternatively, you can go to the Trade tab and access the basic interface Binance Convert feature that lets beginners instantly trade crypto for other coins and tokens without using the complex trading interface.
Advanced Trading Tools
Binance is a paradise for advanced crypto traders because you can find all the advanced order types, technical analysis tools, and trading options needed to implement complex trading strategies. If you're an experienced crypto trader, you'll definitely appreciate the technical analysis features of the price charts on the market interface. You can see the price change trends in real-time and estimate future price actions.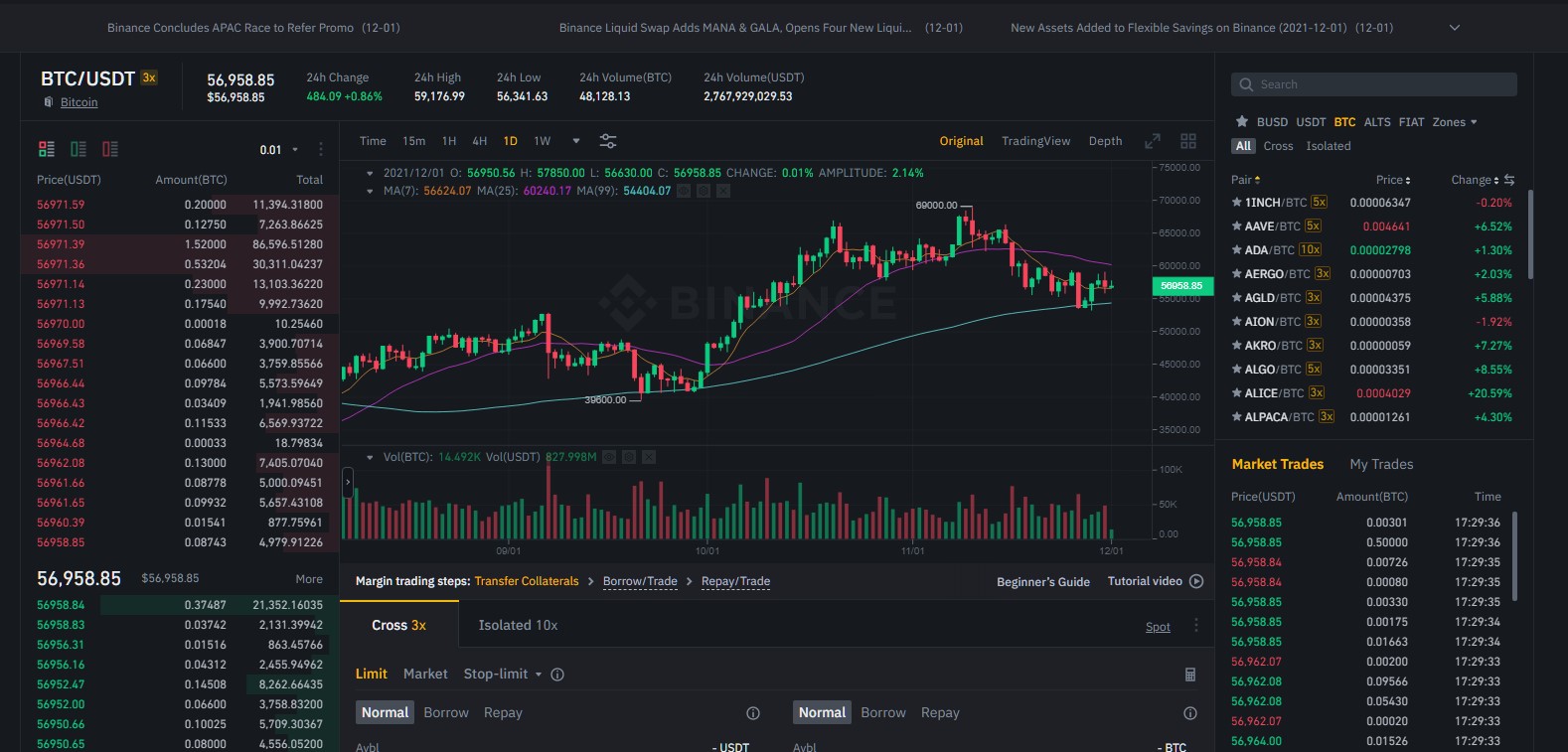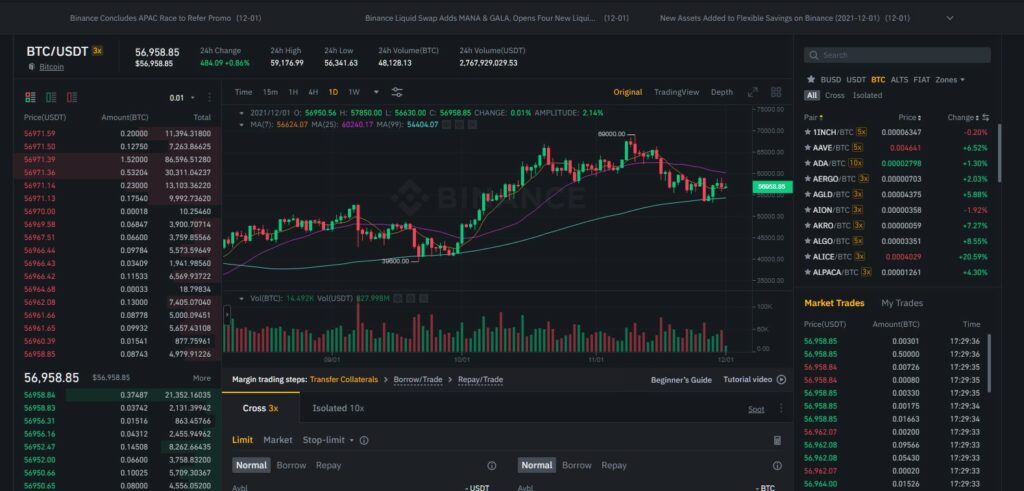 As far as advanced trading tools, you can easily switch between spot trading, margin trading, leveraged crypto contracts, derivatives, and futures trading. However, if you aren't very experienced and don't know much about technical analysis, it isn't advised to use margin trading because you're literally borrowing crypto to enter leveraged positions that might multiply your gains, but the same goes for losses.
Earn Passive Crypto Income
Binance Earn offers various crypto passive income features which you can use to grow your portfolio without trading digital assets. The platform has one of the largest crypto staking choices on the market. Users can stake more than 100 coins and tokens for an annual percentage yield (APY) during a locked staking period or a flexible staking period that lets users withdraw their coins at any point. The lockup periods go from 15, 30, and 60 days, all the way to 90 and 120-day periods.
You can stake coins such as BNB, Kusama (KSM), Eos (EOS), ADA, Cosmos (ATOM), Algorand (ALGO), Sandbox (SAND), Neo (NEO), AVAX, and dozens of other altcoins.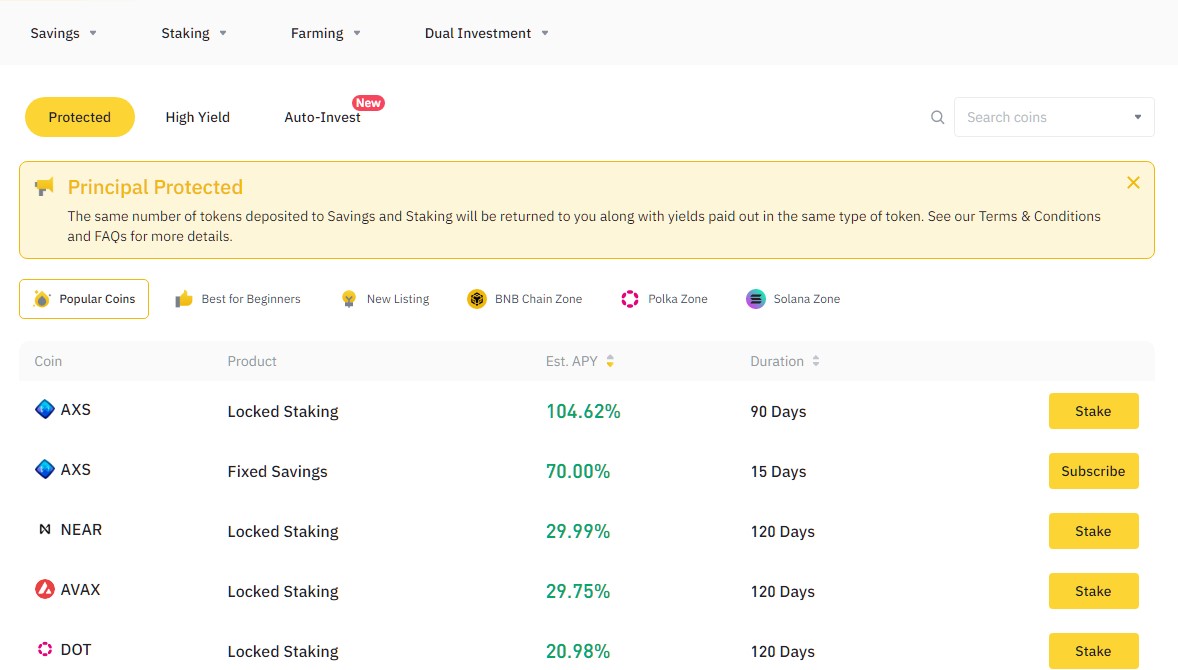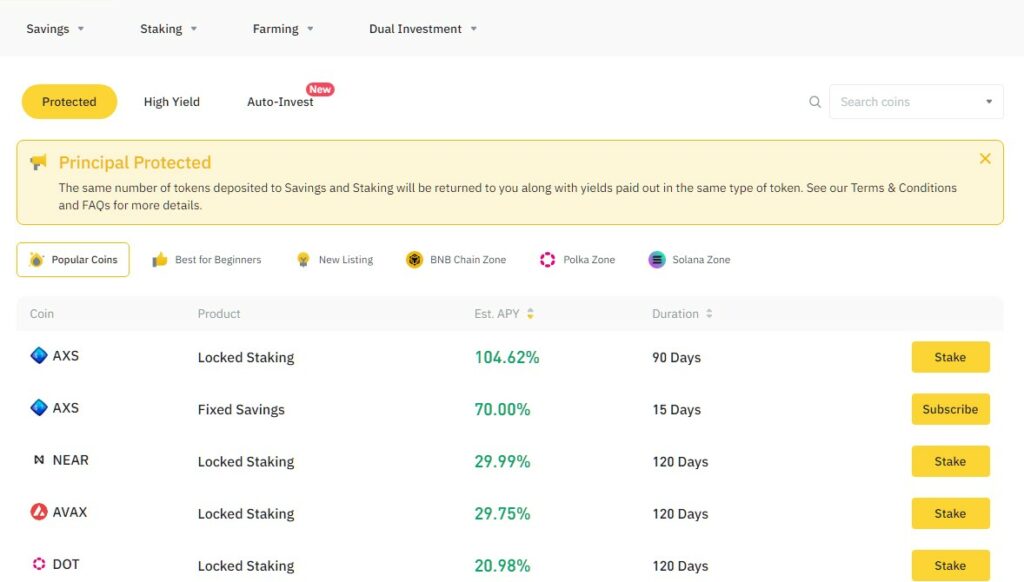 Users can also earn interest on coins that aren't based on a Proof-of-Stake (PoS) mechanism through the Savings option within the Binance Earn section. There are 13 locked savings options and more than 200 flexible savings accounts, including BTC, ETH, BUSD, SAND, Apecoin (APE), and other trending coins.
Besides staking and savings accounts, Binance even has liquidity farming features that enable users to participate as liquidity providers in numerous Binance-owned liquidity pools (LP) and generate LP rewards in return. The available liquidity pools include asset pairs such as BTC/AXS, GALA/BTC, SAND/BNB, SAND/BTC, and a bunch of additional pairs.
NFT Marketplace
To answer to the fact that NFTs are becoming an increasingly popular class of unique crypto assets, Binance has recently joined the NFT scene by launching its own NFT market that has become quite popular among NFT collectors.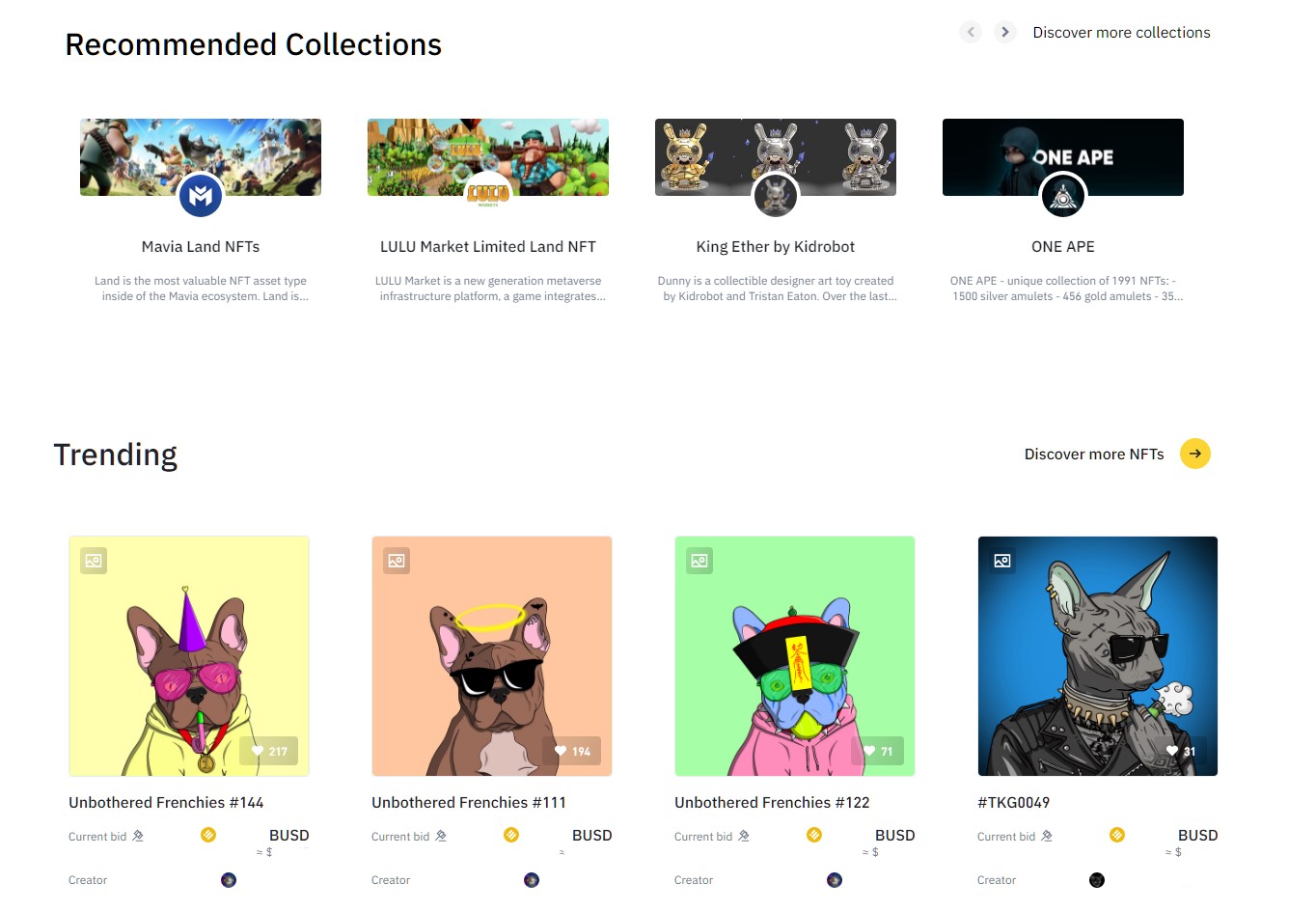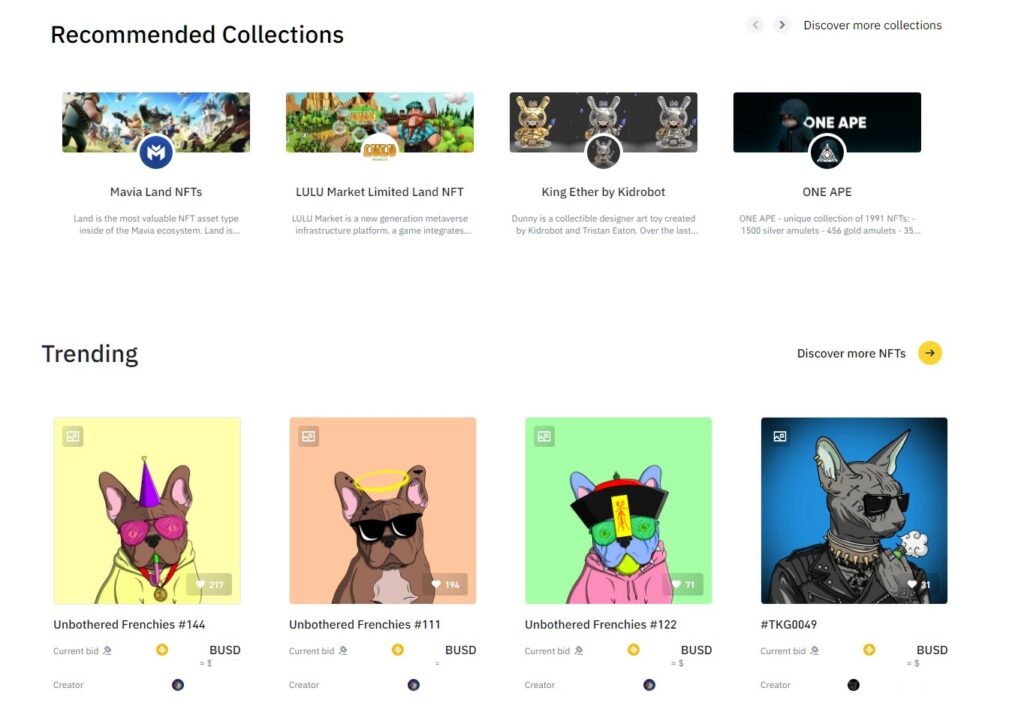 The platform is easily accessible through the NFT tab on the Binance main interface.
The Gaming/IGO page lets users explore trending play-to-earn crypto games that utilise NFTs and crypto tokens. You can find projects like Star Sharks, CyBall, Elfin Kingdom, and Sin City on the Gaming page.
The other section of Binance NFT is the Marketplace, where you can browse numerous projects, buy, and sell NFTs similarly to how OpenSea works.
P2P Trading
Traders looking for a direct trading experience with other brokers can use the Binance peer-to-peer (P2P) trading features and directly trade with other users. Binance acts as a secure middleman that guarantees every trading deal goes through.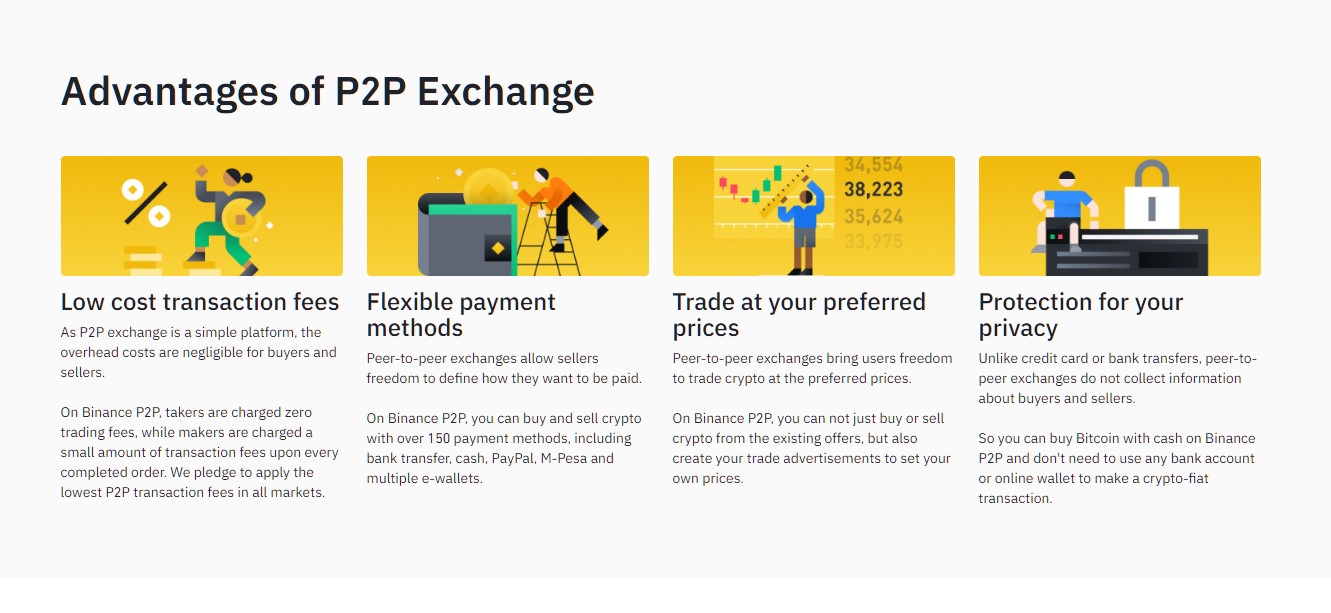 You just need to place a buy or sell order, have Binance escrow the assets, and once the other side fulfills their end of the deal, Binance releases the assets in question, and you receive your fiat cash or crypto, depending on the trading deal you're doing.
Binance Trading Platform
Notable Trading Tools
These are some of the notable trading tools on Binance.
Binance Futures Battle
Apart from classic futures contracts where users bet on the price change direction of a certain asset or asset pair during a set period of time, Binance also offers a futures battle feature which is a mix of gaming and high-risk crypto trading.
Basically users go against each other on a one-on-one basis where they place futures bets on the price change of trading pairs such as BNB/USDT, ETH/USDT, and other options. Users fund their battle positions with crypto by collateralising their contracts with a certain amount of digital currencies. The battles last either one or five minutes, depending on the assets in question, which means there's a lot of excitement involved, but it's also very risky, and you can lose a lot of money real fast.
Binance Asset Conversion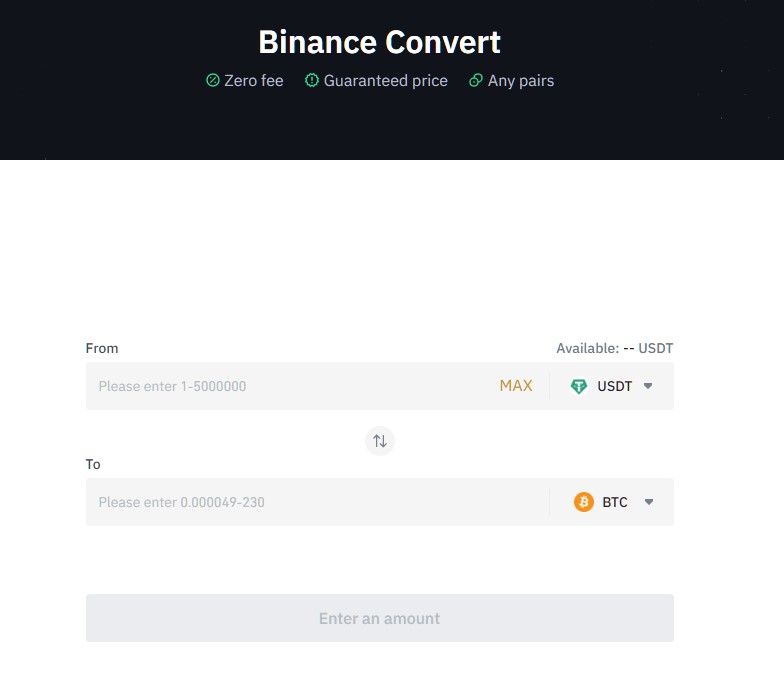 Binance allows users to quickly convert numerous cryptos to other currencies through their Binance Convert feature. You can quickly place a conversion order and sell one crypto for another without the need to use the complex markets interface. This is the best way for beginners to exchange crypto on Binance without getting caught up in the complexity of the advanced trading interface.
Cross-Collateral
Cross-collateral trading is an innovative feature available in the Binance Futures platform segment. This option allows traders to collateralise crypto loans with crypto in their Binance account and borrow increased amounts of coins for spending on futures contracts. This is a great way for traders to maximise their potential profits from futures contracts, but keep in mind that it's extremely risky. If you misjudge a futures contract and lose your loaned coins, you'll also lose all the collateral.
Binance Fees
Binance is known for super-low platform fees. Let's have a look at all of the fees for conducting various operations on the exchange.
Binance Deposit Fees
Binance doesn't charge any deposit fees for Australian bank account transfers, OSKO, or PayID. Bank cards such as credit cards and debit cards incur a 1% fee for payments, which is much lower compared to the industry average of around 3% on other crypto exchanges.
Cryptocurrency deposits are totally free of charge.
Binance Withdrawal Fees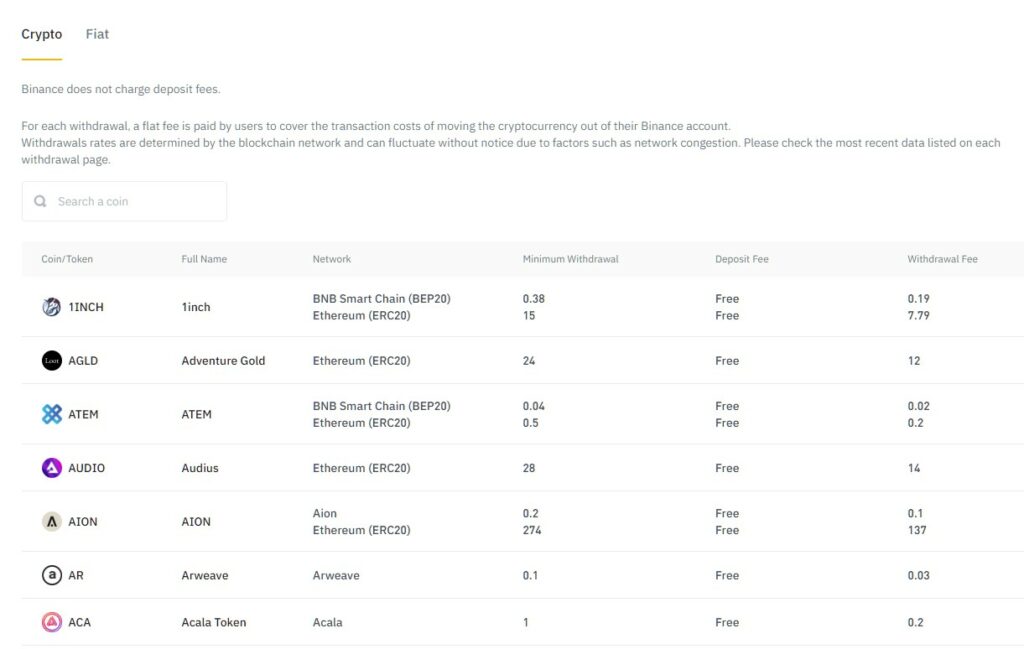 Australian traders can withdraw fiat currency directly to their verified Aussie bank accounts, with zero fees on behalf of Binance. However, your bank might charge you a fee. As far as crypto withdrawals, you'll just need to pay the blockchain transaction fee, which can fluctuate depending on the actual network traffic at the time of your withdrawal.
Binance Trading Fees
The famously low Binance trading fees start at 0.1%, which is the highest fee incurred by traders with a monthly volume below 50 BTC. As your monthly trading volume increases, your fees get lower. For example, market makers with a 30-day trading volume of over 1,500 BTC incur a 0.07% fee, while market takers with the same volume incur a 0.09% trading fee.
The lowest, 0.015% fee, is reserved for large-scale market makers with a monthly trading volume of over 150,000 BTC.
It's also worth noting that if you choose to pay trading fees with Binance's native coin, BNB, you'll have a 25% discount on your trading fees, which is a great way to motivate users to use BNB, one of the leading global cryptos right behind BTC and ETH.
Variety of Payment Methods
Binance supports a wide variety of payment methods for depositing fiat currency.
Credit/Debit Card
Credit cards and debit cards are very popular methods for buying crypto and depositing funds on Binance. Bank cards incur a standard 1% transaction fee, which is much lower compared to other popular exchanges, which charge around 3% for bank card payments.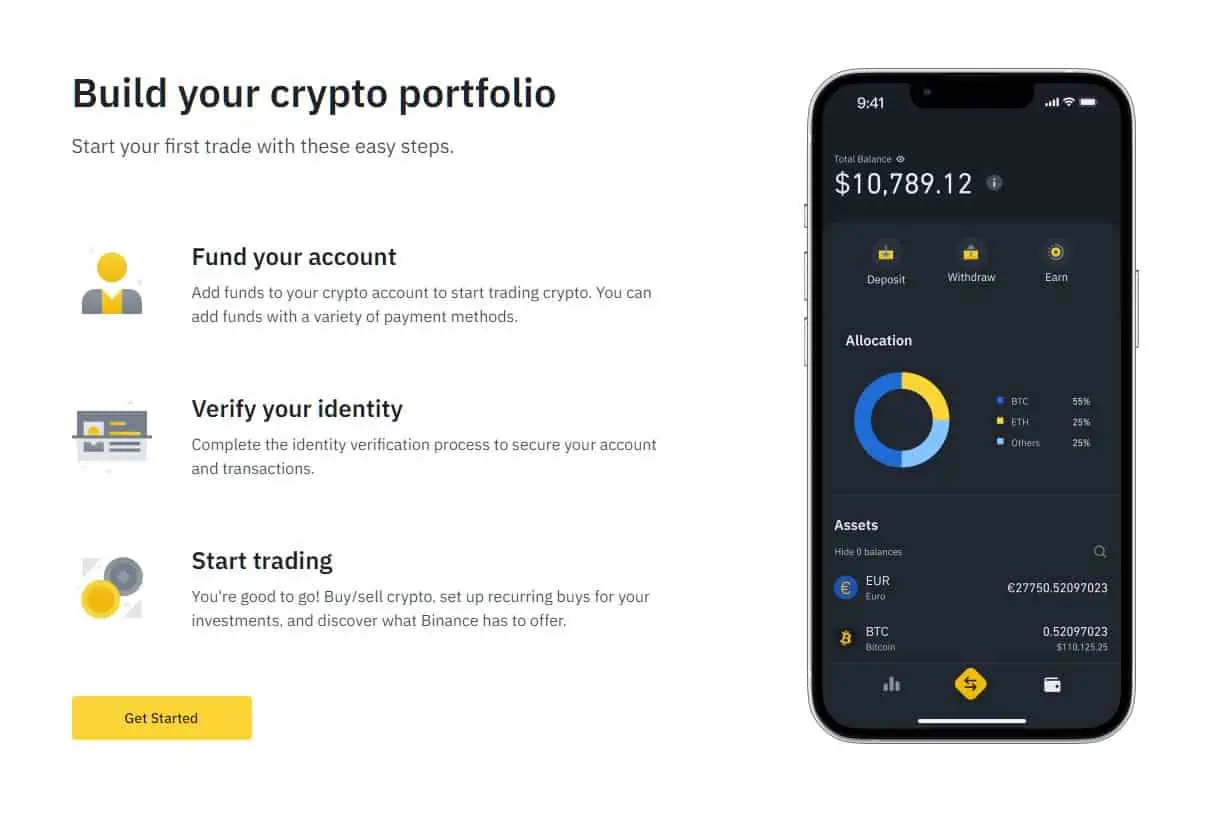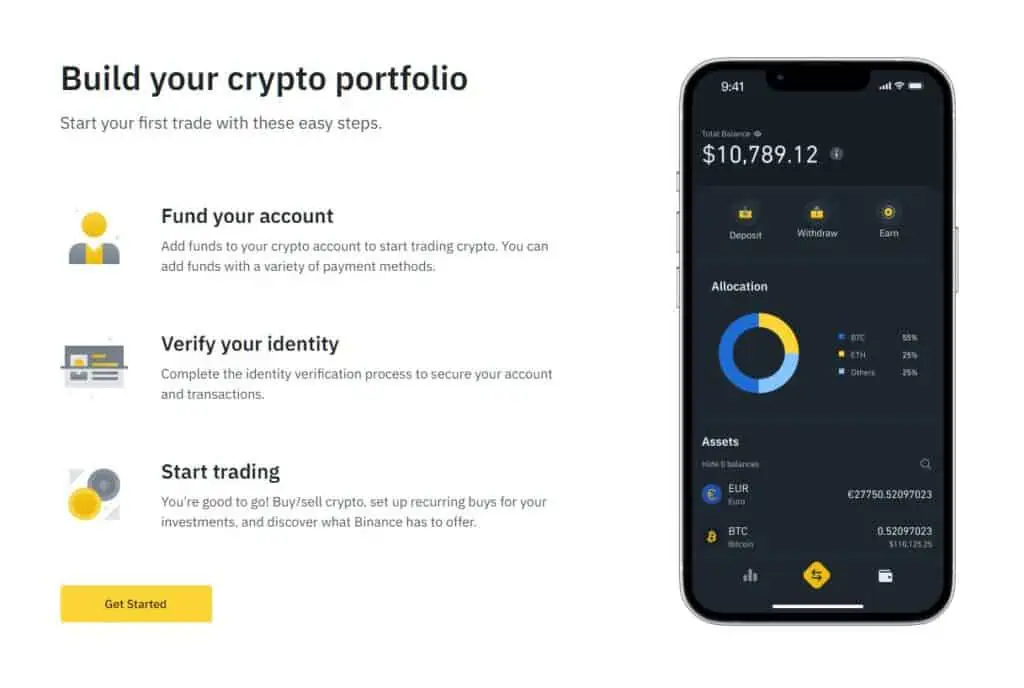 SEPA/Wire Transfers
Users can also conduct a variety of bank account transfers and wire transfers, such as SEPA for European customers, SWIFT for global customers, and local Australian payment services such as OSKO and PayID, which enable users to nearly instantly transfer money to their Binance account.
Is Binance Safe to Use?
Binance is known to have extensive security measures designed to keep platform assets safe, and user accounts out of reach of cyber attackers. However, the platform was subject to a major hack back in 2019, when cyber attackers managed to steal 40 million USD worth of Bitcoin from the funds kept online by Binance.
The platform responded very professionally, admitted the attack, and compensated all affected users fully from their Secure Asset Fund for Users (SAFU). The vast majority of funds (98%) are always kept in secure cold storage devices out of reach of hackers. The stolen funds were part of the 2% kept online to keep the platform liquidity afloat.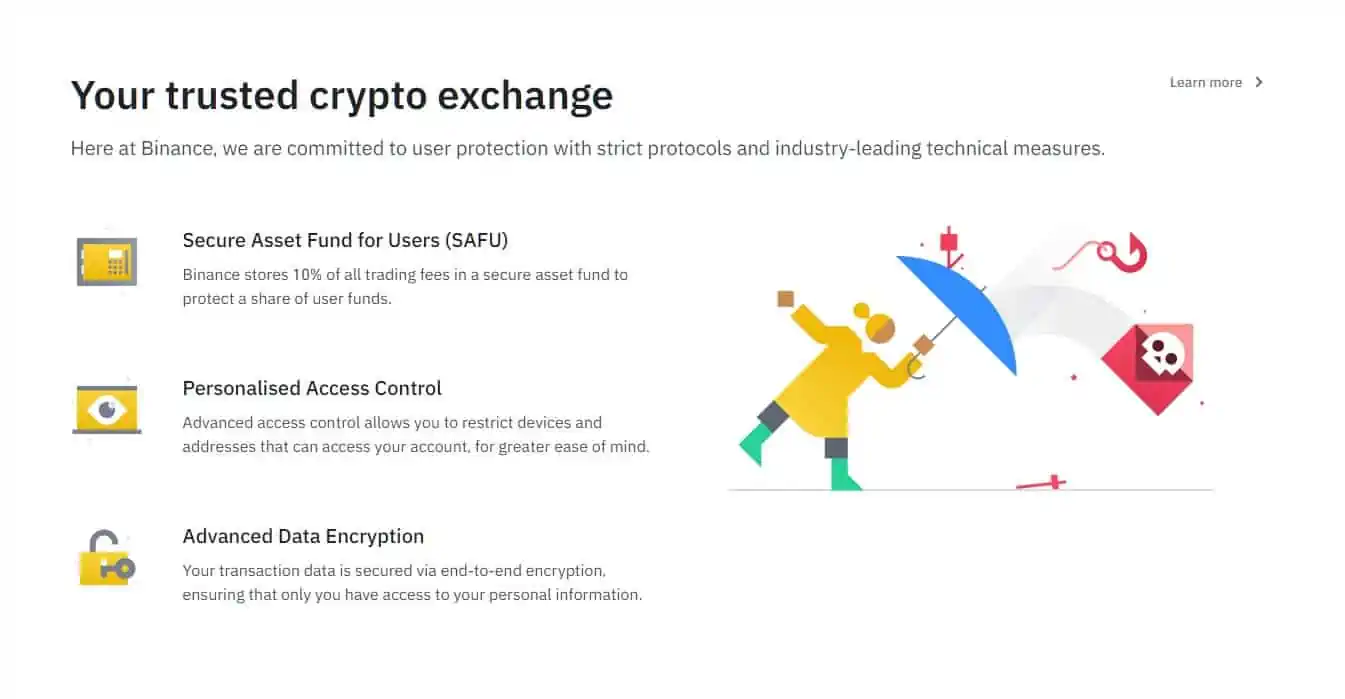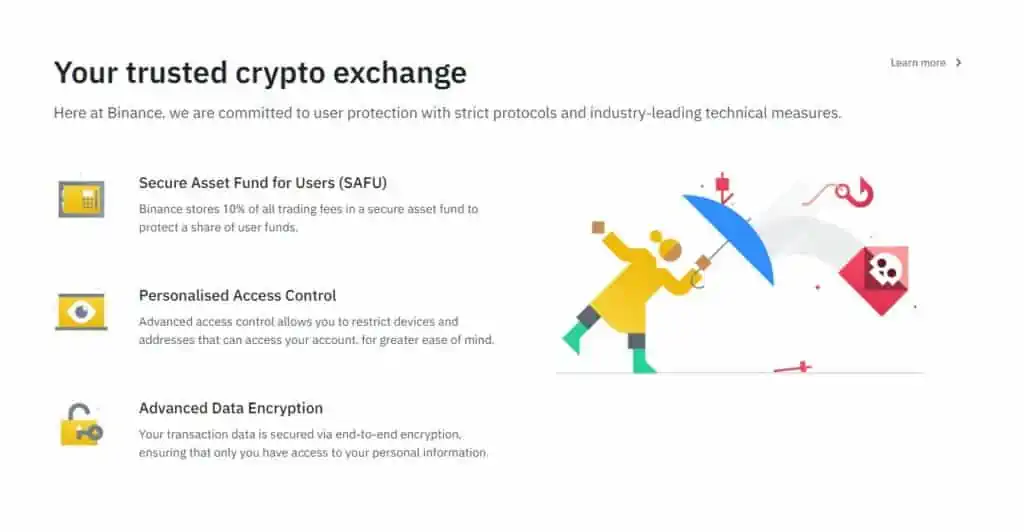 After the hack, Binance considerably stepped up its platform security by introducing improved security measures (two-factor authentication) and going through regular third-party security audits.
The exchange hasn't had any additional security issues, so it's pretty safe to use it. However, just like in the case of any other exchange, there's no 100% guarantee that your assets are safe.
How to Create a Binance Account?
The Binance account creation process is really simple:
Go to the Binance website and choose the Register option.
Provide your personal email address and create a strong password with different character types, letters, and numbers.
Confirm your email address, and you're all set to start using the platform.
If you want to gain access to all of the Binance platform features, you'll also need to go through the Know Your Customer (KYC) identity verification procedure and confirm your ID by providing your personal details and a photo of a government-issued document, such as your passport or ID card.
How to Fund My Binance Account?
Funding your Binance account is easy, just follow these steps:
Just open your Binance account and go to the Deposit tab.
Choose AUD in the dropdown menu.
For Australian users, PayID and OSKO are the supported deposit methods, while bank cards are available for instant trading features.
Specify how much AUD you wish to deposit, continue with the PayID/OSKO option and follow the instructions for facilitating a bank transfer through these payment providers.
Binance Alternatives
Let's take a quick look at some of the alternatives Australian crypto traders can use and whether they're a better choice than Binance.
Is Binance Better Than Coinbase?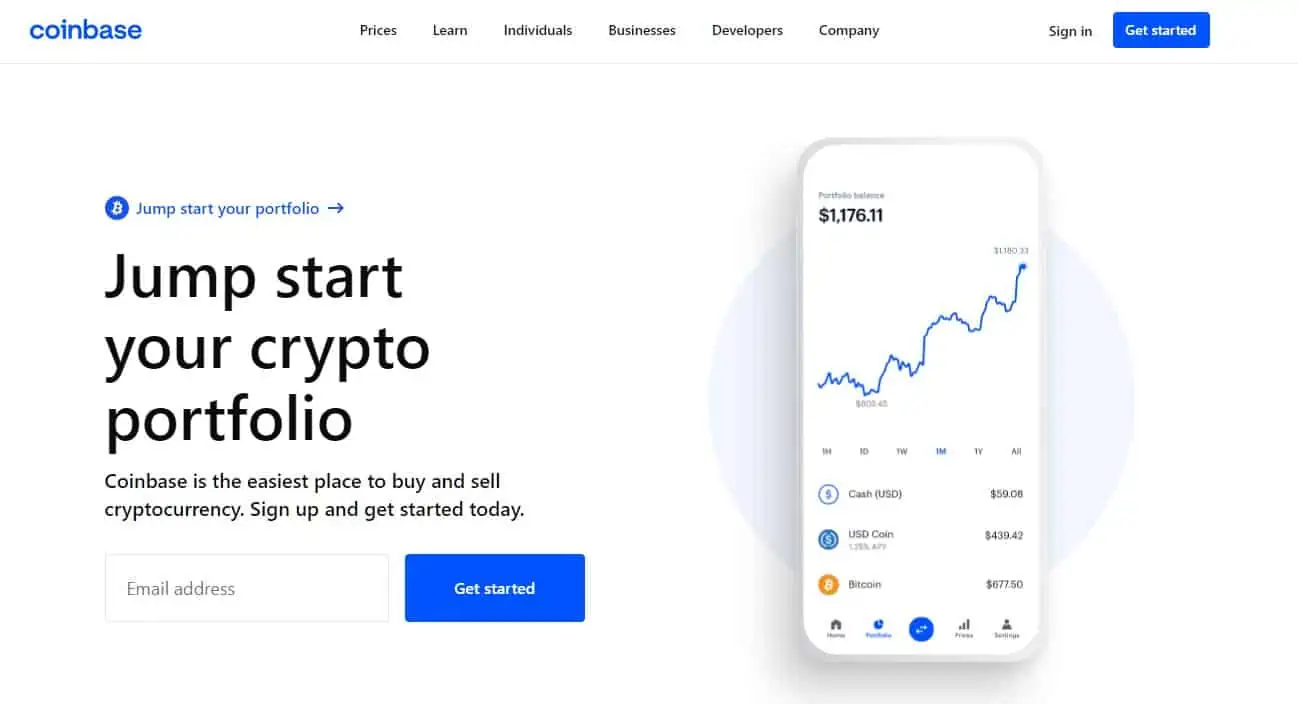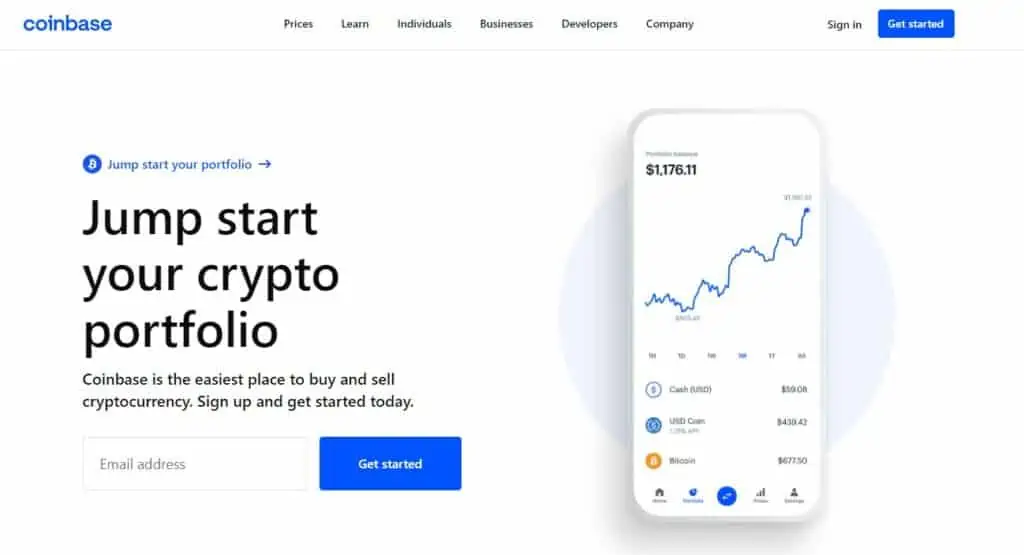 Coinbase is one of the leading global crypto exchanges, right behind Binance. However, it has several key drawbacks. Coinbase doesn't support AUD. In fact, it only supports USD, GBP, and EUR. Additionally, the platform offers a mere 100+ coins and tokens, which is far from Binance's 600+ cryptos. Finally, Coinbase is notorious for its high trading fees, while Binance offers some of the lowest fees on the market.
Is Binance Better Than Swyftx?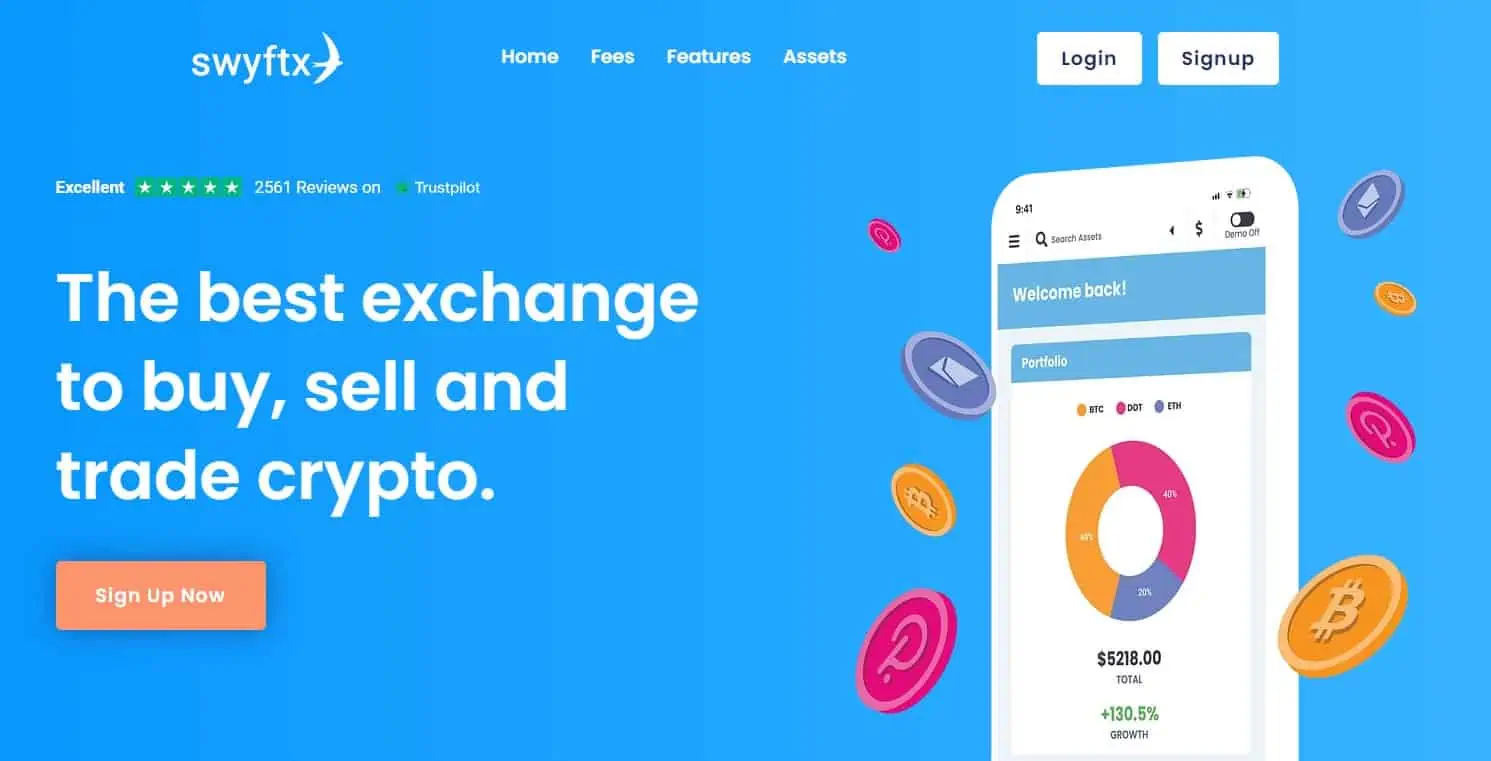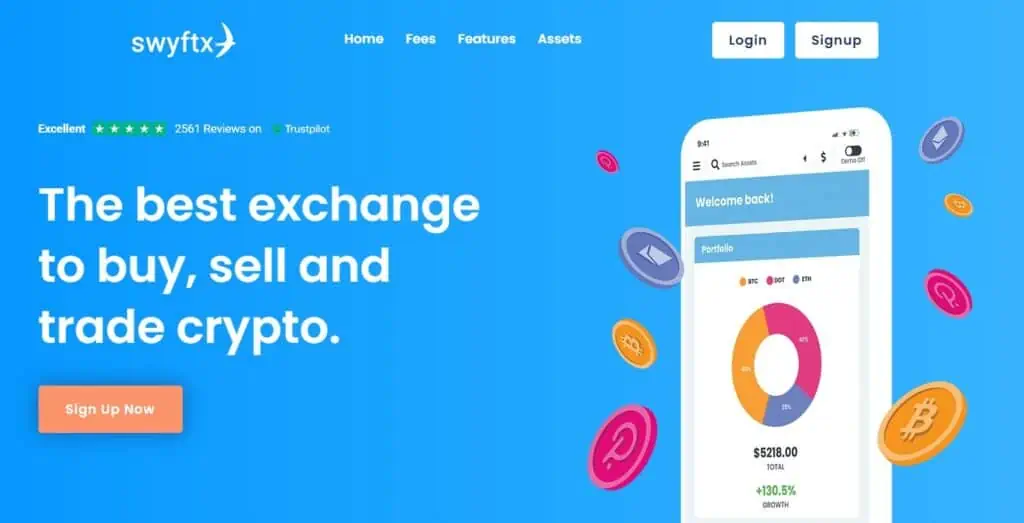 Swyftx is the perfect choice for Australian crypto beginners who just want to be able to quickly buy or sell crypto for fiat without any unnecessary hassle. However, seasoned traders have little use of Swyftx since the platform doesn't have any advanced trading tools or features.
Is Binance Better Than CoinSpot?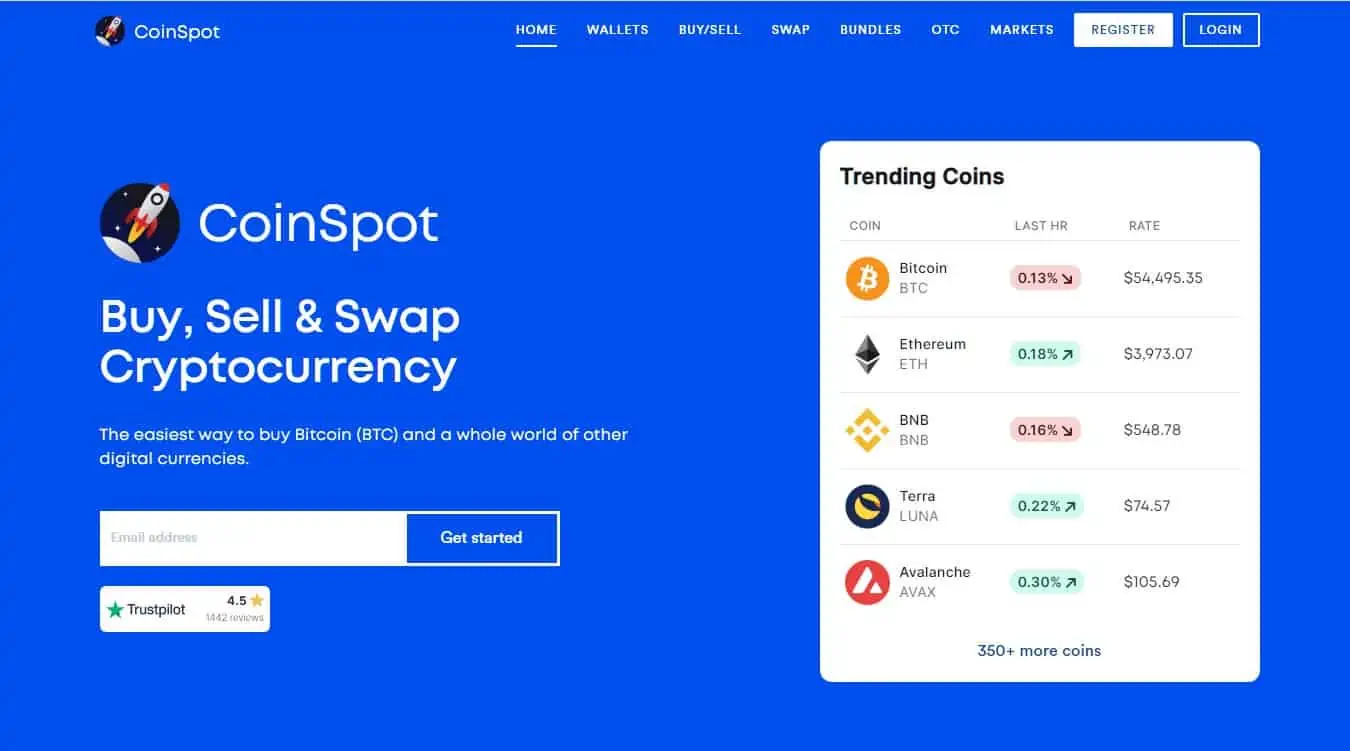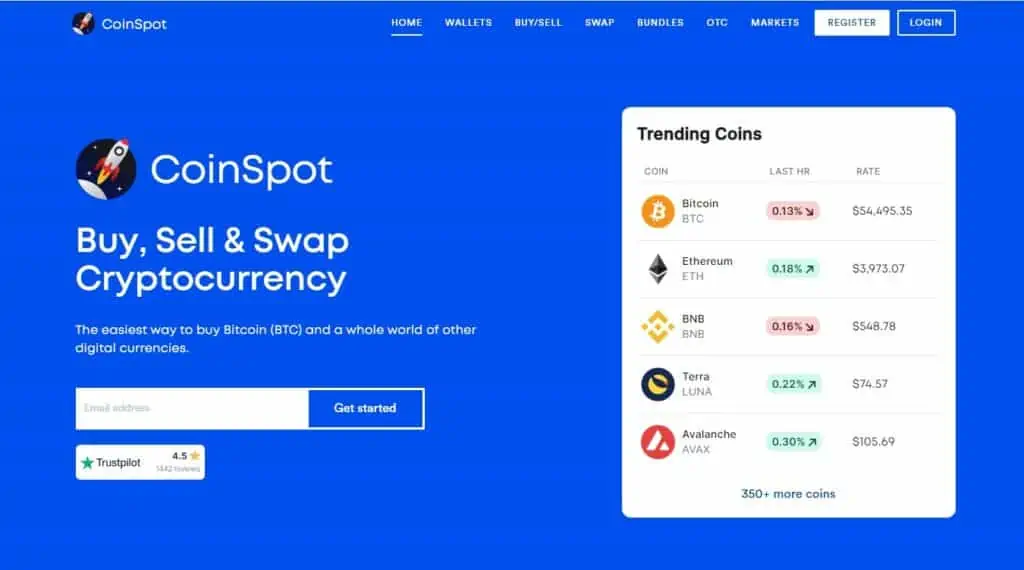 CoinSpot is another great exchange for crypto beginners, it offers more than 300 coins for trading, but it only offers market trading orders and advanced order types for 15 cryptos. Binance, on the other hand, offers both instant trading and advanced market trading features for more than 600 coins and tokens.
Is Binance Better Than CoinJar?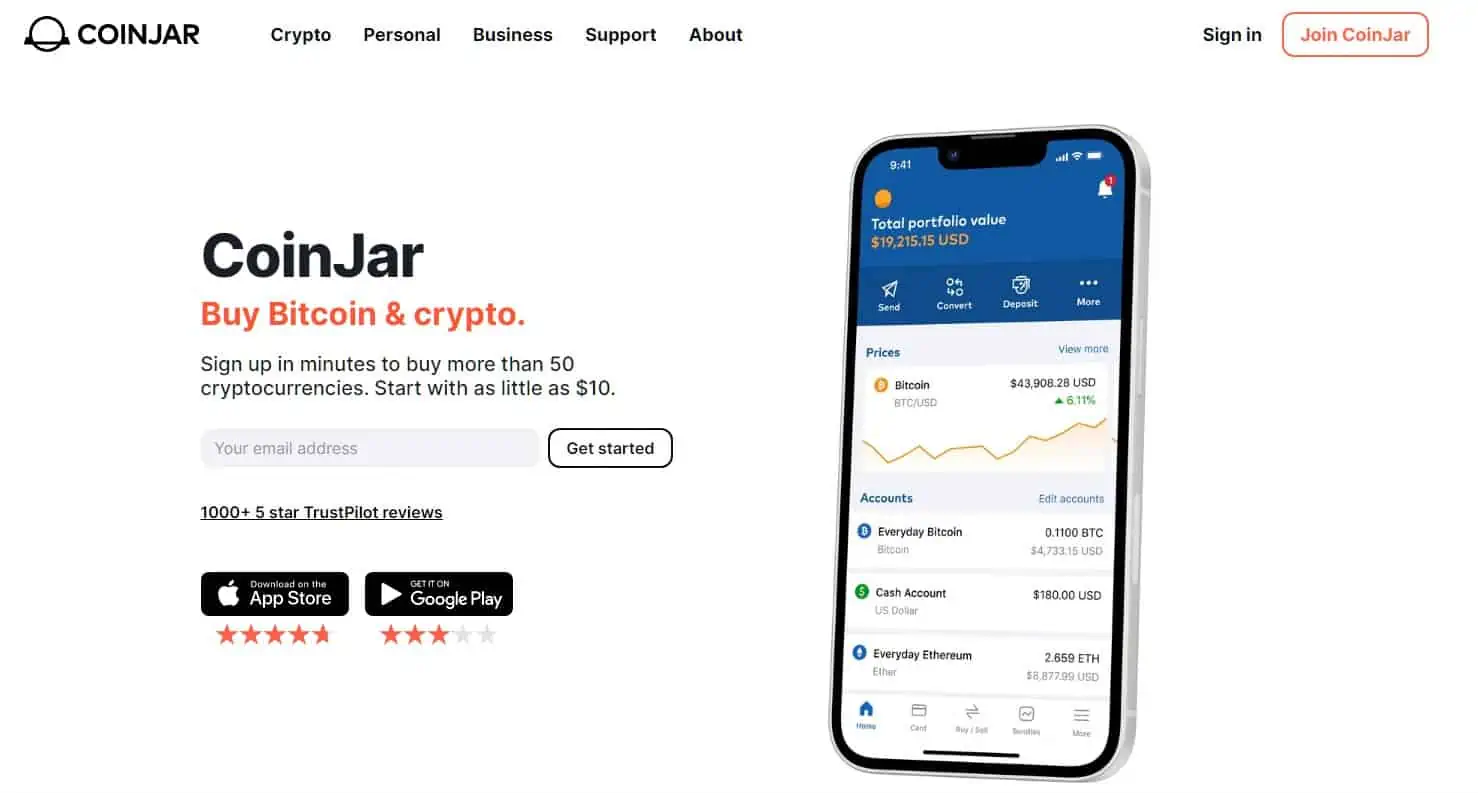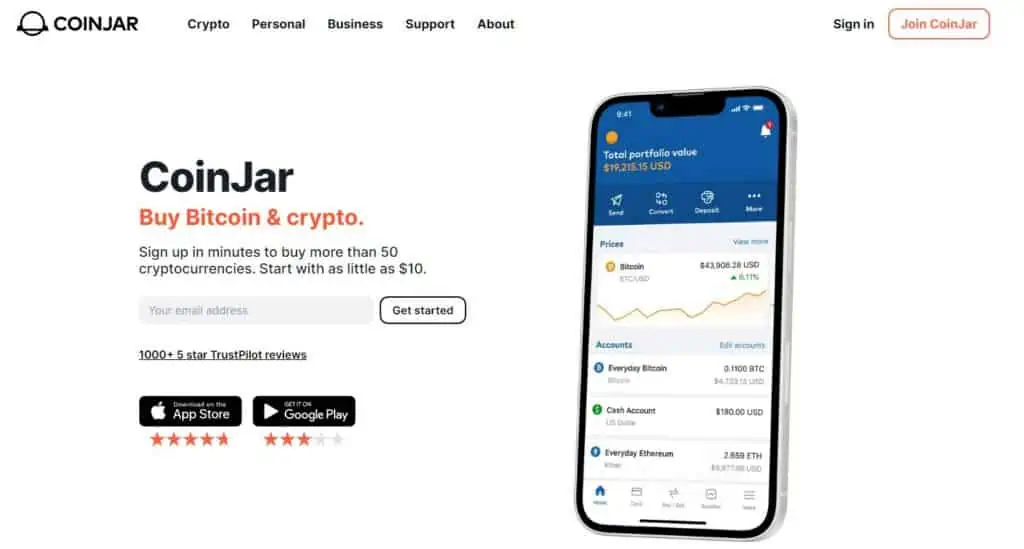 CoinJar has a very limited selection of some 50+ cryptos and has much lower liquidity compared to Binance. The platform is only available in the UK and Australia, plus it supports very few trading tools. Compared to Binance, CoinJar has a rather poor selection of features.
Frequently Asked Questions
Can I make money on Binance?
Binance is a great crypto platform for making money because it offers users numerous possibilities, from spot trading, margin trading, leveraged futures contracts, and P2P trading, all the way to numerous staking options, liquidity mining, crypto savings accounts, and a booming NFT marketplace.
Can you lose money on Binance?
Sure you can. Crypto trading is a very risky activity because cryptocurrencies are highly volatile assets with dramatic price fluctuations within small periods of time. That's why trading cryptocurrencies is a high-risk endeavour, and you should never invest more than you're prepared to lose.
How do I get my money out of Binance?
You can easily cash out your crypto into fiat currency by connecting and verifying a bank account on Binance. Once you connect a bank account, you're ready to facilitate fiat currency transactions from the platform to your bank account.
Is it safe to link a bank account to Binance?
Linking your bank account to Binance is perfectly safe because the exchange platform keeps all user data protected by advanced encryption methods and doesn't share any of that information with third parties.
How does Binance make money?
Binance makes money mainly from platform trading fees. Although the Binance fees are among the lowest in the industry, the platform manages to achieve high profits thanks to the fact that it's the most popular exchange in the world, with the highest number of active users.
Conclusion
After trying out Binance as my main crypto exchange platform for some time, I can definitely conclude that the platform isn't overrated at all. Binance definitely deserves the number one market spot among crypto exchanges, with its exceptional services, huge range of trading features, a broad selection of 600+ cryptos, super low fees, staking options, and beginner-friendly basic features.
The only thing that could really use some improvement is the Binance customer support service which is often unresponsive and not very helpful. Besides that, I really don't have any negative comments for the exchange because it's a clear 10-out-of-10 platform.
Related: