Binance vs CoinSpot 2022
Local crypto exchanges are typically the norm for making entry-level crypto transactions. Their native setup guarantees that the new user won't get exposed to additional conversion fees and excessive waiting times when purchasing crypto for the first time. 
When it comes to Australia, Binance is an exception to this unwritten rule because it has adapted its services to the local payment system. The global market-cap and liquidity leader Binance has been integrated into the Australian crypto business much more than many native-based brands.
If you wonder why, the answer is pretty simple: Binance has so much to offer under a single roof. The Binance package includes spot trading, futures and margin trading, an OTC desk, a P2P market, and a few lucrative staking deals. 
CoinSpot, on the other hand, focuses on instant AUD-to-crypto purchases by providing a larger set of AUD payment opportunities. It's a trustworthy and user-friendly virtual destination to help beginners pave their way into a blockchain mode of investing.
Since Binance and CoinSpot target different customer bases, it won't be easy to draw a sharp line between their advantages and disadvantages. However, we'll carefully go through their traits to help you decide which one is a better choice if you're about to set off into the crypto world from Australia.
Comparison Table
Our exchange battle ultimately comes down to a choice between an international vs local brand, so let's start with facts and numbers. They always speak the same language:
| | | |
| --- | --- | --- |
| Features | Binance | CoinSpot |
| Amount of Cryptocurrencies | 500+ | 360+ |
| Trading Fees | 0.1% | Instant market: 1%, spot market: 0.1% |
| Deposit Fees | free | Wire Transfer: free, BPAY: 0.9%, Cash: 2.5%, |
| Withdrawal Fees | variable | Free |
| Average Spread | 2.5% | 1%-2% |
| Payment Methods | PayID/Osko | POLi, BPay, Pay ID |
| Fiat Currency | 60+ (AUD included) | AUD |
| Regulatory Framework | AUSTRAC | AUSTRAC |
| Customer Support | email, live chat | email, ticket system, live-chat |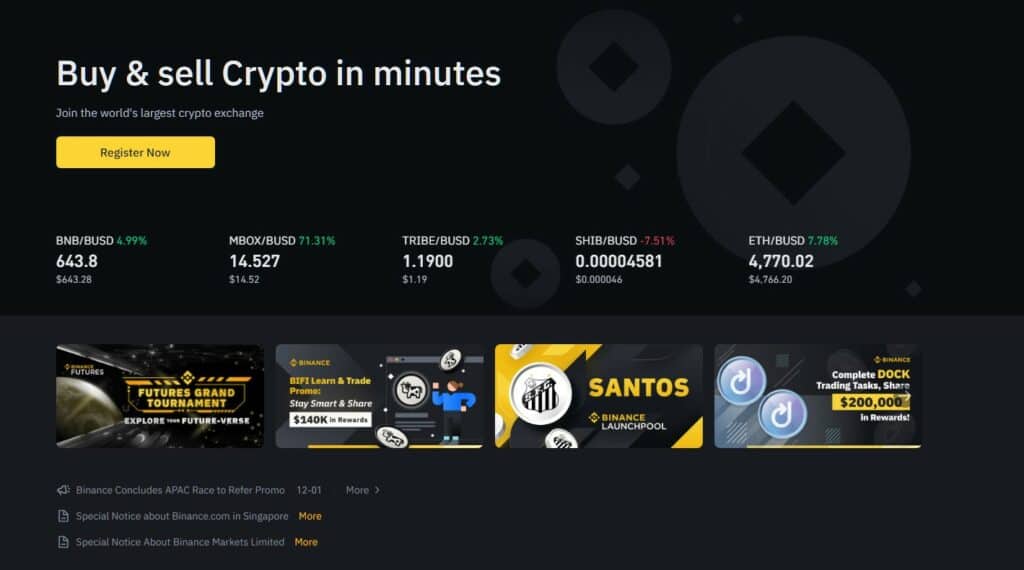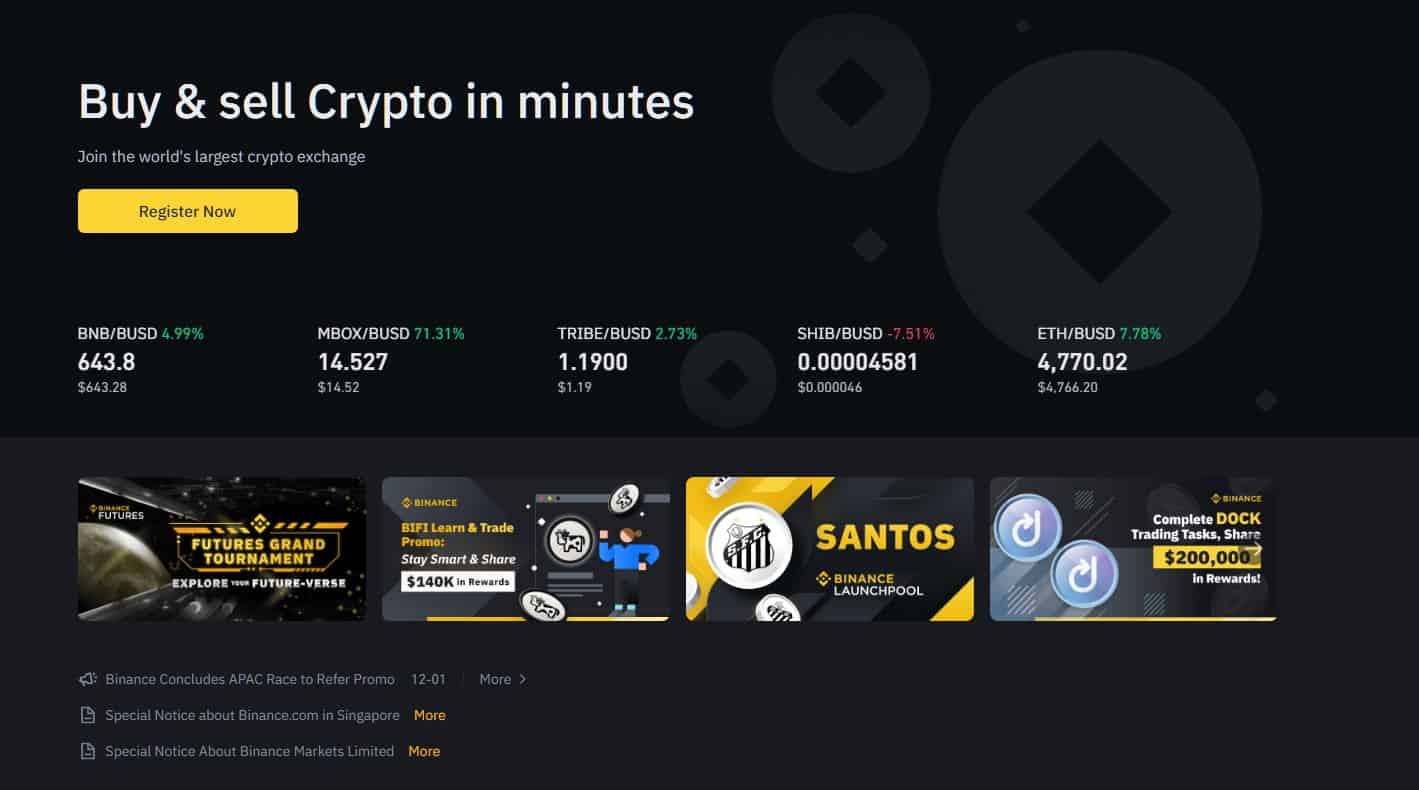 Pros:
A wide range of trading options and digital assets;
Exceptionally low fees;
Possibilities for passive income;
Crypto-spending options through the Binance Visa Card.
Cons:
Limited options for Australian Dollar payments;
Banned from a few countries due to regulatory issues;
Its multi-functional platform can be a bit challenging for novices.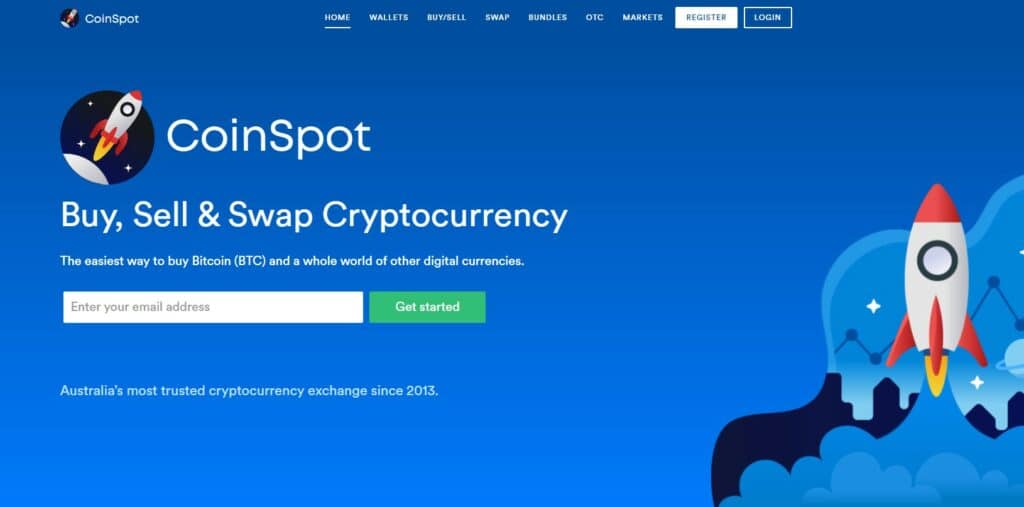 Pros:
Beginner-friendly user interface and intuitive navigation;
Multiple options for fast deposits and withdrawals;
Human-to-human live chat.
Cons:
Credit cards and debit cards aren't supported on the platform;
High fees for instant purchases;
Accepts no other fiat currencies than AUD.
Amount of Cryptocurrencies
Binance has an exhaustive selection of over 600 supported crypto assets and it's continuously expanding the list on all existing markets. However, at the early stage of your crypto career, you should stick to the Binance basic mode, which will enable you to navigate the spot market with ease. Or, you can try the Instant Buy option and make a direct AUD-to-crypto purchase using your AUD exchange account.
Whatever path you decide to take, you'll still have quite a choice. Apart from Bitcoin and other top-selling altcoins, Binance offers a solid selection of stablecoins, including Binance USD (BUSD), TerraUSD (UST), and Tether (USDT), and a wide array of DeFi tokens like Aave (AAVE), Avalanche (AVAX), Uniswap (UNI), Chainlink (LINK), and Sushi (SUSHI). Moreover, following the latest trends in the blockchain domain, Binance has opened a market where you can buy valuable NFT collectables directly through the platform.
CoinSpot, on the other hand, strongly favours the instant market over the regular trading platform and allows you to buy over 300 different cryptocurrencies against AUD. Its crypto-list includes all market-dominant coins like Bitcoin (BTC), Ethereum (ETH), Bitcoin Cash (BCH), XRP, Dogecoin (DOGE), Cardano (ADA), Litecoin (LTC), Dogecoin (DOGE), and the majority of the above-mentioned stablecoins and smart DeFi tokens.
CoinSpot also offers a separate spot market where you can trade with around 15 trading pairs with AUD as a base currency.
Amount of Cryptocurrencies Winner: Binance
It's difficult to compete against Binance in terms of coin diversity. Even though the list of supported cryptocurrencies is more than decent on CoinSpot, Binance is definitely a winner in this category. 
Fees
The way in which the transaction gets processed — either as an instant purchase or an order-book transaction — dictates the fee rate in most respects. That said, instant crypto markets operate on a brokerage level and, understandably, incur significantly higher trading fees compared to standard crypto trading platforms. However, the exchange itself determines how cost-effective the trade will be.
In addition, the different types of fees can mislead you when trying to calculate the total transaction costs. Apart from trading fees, you may also be asked to pay a deposit fee when sending fiat to your exchange account or making a direct fiat-to-crypto transaction. Withdrawal fees apply when you cash out your crypto savings or send your crypto funds to an external crypto wallet for better protection.
Now, let's see what types of fee-collecting systems Binance and CoinSpot have built.
Binance
Binance is widely known as one of the most fee-advantageous crypto marketplaces on a global level. It charges 0.1% on its spot market and gives an additional 0.25% discount on all transactions that involve its native Binance coin (BNB). Instant purchases incur a flat fee of 0.5%, while AUD deposits are free. Crypto withdrawals depend on the current transaction costs of transferring the crypto out from your Binance account, and AUD withdrawals are also free of charge. 
CoinSpot
The exchange charges a 1% fee for instant buy-and-sell transactions while the costs on the spot market are the same as Binance — 0.1%, which is slightly below the industry standard. However, advanced and recurring orders on the Coinspot spot market come with an extra 1% fee.
Almost all deposit methods on CoinSpot are free except for Blueshyft cash deposits (2.5% fee) and direct BPAY payments (0.9%). If we exclude the blockchain transaction fees, CoinSpot changes nothing on AUD withdrawals.
Fee Winner: Binance
Binance is definitely a more cost-effective solution than CoinSpot, especially on their respective instant markets. 
Spread
Calculating trading and deposit fees distract our attention from the biggest issue in the crypto payroll system — the spread. This is a percentage added to the buy price that denotes the difference between the current market price of the asset (the sell price) and the price at which you buy that asset (the buy price).
Some Australian exchanges like Swyftx and Digital Surge offer a very smooth price transition, but both Binance and CoinSpot follow what we call an industry-standard, which is around 2 and 2.5%. Overall, CoinSpot features slightly lower spreads that start from 1% and don't usually exceed the average threshold of 2.5%.
Spread Winner: Coinspot
We can't single out a clear winner in this category, as spread rates are rather dynamic by their very nature. Nonetheless, CoinSpot seems to be stealing this win from the global champion on thin ice. 
Customer Support
Binance is heavy machinery that serves over 28 million users around the globe, so based on the everyday traffic load, it's been doing an impressive job in providing customer support in a timely manner. The exchange utilises an email ticket system and live chat support, which are considered the gold standard in the overall e-commerce sector.
In addition, Binance customer support is available in multiple different languages and pretty responsive given the wide scope of geographical coverage. 
Finally, Binance has an outstanding library called Binance Academy, which is widely used in "crypto academic" circles, regardless of whether you're a registered Binance member or not.
CoinSpot customer support feels more "homey" because of the native-based environment. Very similar to Binance, it offers support through email and live chat. The only difference is that its live chat doesn't function as a bot providing automated responses to most frequently asked questions.
Customer Support Winner
Let's call it a tie — Binance earns a point for the multilingual support and the extensive knowledge base, while CoinSpot scores a goal plus for the excellent response rate and the "humanised nature" of its tech team. 
Mobile App
It's practically impossible to relocate all advanced trading features of Binance to a small screen, which doesn't mean that we can't make good use of the Binance mobile app. It enables all "basic" buy-and-sell activities, plus it gives an option for spending BNB to over 50 million retailers globally through the Binance Card section.
However, the general impression is that the Binance mobile app is a bit difficult to navigate on the go because of the multitude of dashboard entries. Luckily, both iOS and Android versions can be used either in a lite or pro-mode, which makes the app workable for broader audiences.
Contrarily, the CoinSpot mobile app is an accurate copy of the browser platform, giving you full access to the entire platform's menu. It features a neat design and sleek navigation from one section to another.
Mobile App Winner
There is no clear winner in this category, as well, since the app ratings depend on your personal preferences and trading experience. CoinSpot powers convenient and portable completion of transactions, but the Binance app sends you to a more sophisticated level of cryptocurrency trading. 
Deposit Methods
Binance has ensured its proper place on the Australian market by enabling local residents to make free deposits in Australian Dollars through PayID/Osko.
On the other hand, CoinSpot's main goal is to provide as many deposit options for Australian traders as possible. Thus, you can use direct bank transfers, BPAY and PayID/Osko fast payments, and what's more, you can top up your CoinSpot account through Blueshyft terminals with cash.
Deposit Methods Winner: Coinspot
If we put aside the additional deposit fees that come with BPAY and Blueshyft payments, then CoinSpot is a convincing winner in this aspect. 
Security
The account and fund security always come first when trading valuable assets, especially when the entire "show" takes place in a virtual area. Fortunately, modern cryptocurrency exchanges treat security as a shared responsibility and undertake all necessary steps to combat cybercrime and promote a safe environment for transmitting crypto and fiat assets.
Before anything else, all providers of crypto services that operate in Australia must be AUSTRAC registered companies and comply with all applicable AML/CFT regulations.  
Binance is fully regulated in Australia and keeps the majority of its funds in cold storage. The exchange utilises a set of protection measures, such as tier-based KYC verification, two-factor authentication (2FA), anti-phishing phrases, session timeout, and other custom withdrawal restrictions.
Apart from the AUSTRAC license and the implementation of the above mentioned "security package", CoinSpot has earned an ISO 27001 certificate and membership in the Australian Digital Commerce Association. All in all, CoinSpot is one of the most frequently audited exchanges DownUnder and hence, the most trustworthy marketplace in the country.
Security Winner: Coinspot
Given the high standards of user protection and the size of both local and global user bases, Binance is definitely a "safe house" for your digital currencies. However, we'll give this vote to CoinSpot due to its long-lasting existence on the Australian crypto scene without any security flaws.
Final Verdict
The comparison between Binance and CoinSpot isn't a battle for elimination. Both exchanges deliver top-notch services for a full crypto experience and are always ranked highly on our list of best crypto exchanges in Australia.
However, CoinSpot looks more like a one-way destination as it limits you only to the basic crypto operations. And this is quite a legit choice if you don't want to expand your crypto endeavour further than a single crypto investment. 
Binance, on the other hand, is the best you can get on the current crypto market if you want to grow as a crypto trader. It is a bit challenging to become a true Binancian, but it's worth the effort. In return, the exchange will keep you updated with the latest industry trends and most sophisticated blockchain products.