Binance vs Swyftx 2022
In order to start trading crypto, you first need to choose a reliable cryptocurrency exchange platform with high-quality services. Beginners don't usually know which main characteristics they should pay special attention to. 
The key factors you should always take into account before choosing an exchange and creating a user account are platform fees, available digital currencies, payment options, market spreads, customer support services, and, of course, platform security.
These are exactly the metrics we will use when comparing two high-quality crypto exchanges in today's review – Binance and Swyftx. We've made a comparative, side-by-side review of both platforms to help users decide which one to choose, based on each platform's performance in all the key categories.
Be sure to stay until the end of the review and find out which platform is our overall winner.
Comparison Table
| | | |
| --- | --- | --- |
| Features | Binance | Swyftx |
| Supported Cryptos | More than 600 coins | More than 270 cryptos |
| Trading Fees | 0.1% market fee, 0.5% instant buy fee | 0.6% |
| Deposit Fees | Free | Free |
| Withdrawal Fees | Free | Free |
| Average Market Spread | From 0.5% to 1.5% | 0.4% |
| Regulatory Status | Isn't regulated by AUSTRAC | Complies with AUSTRAC regulations |
| Customer Support | Email, help desk support ticket, chatbot | Email, support ticket, and live chat. |
| Fiat Deposit Methods | Debit cards, credit cards, bank transfers, PayID, OSKO | Credit cards, bank account transfers, OSKO, debit cards, POLi, and PayID. |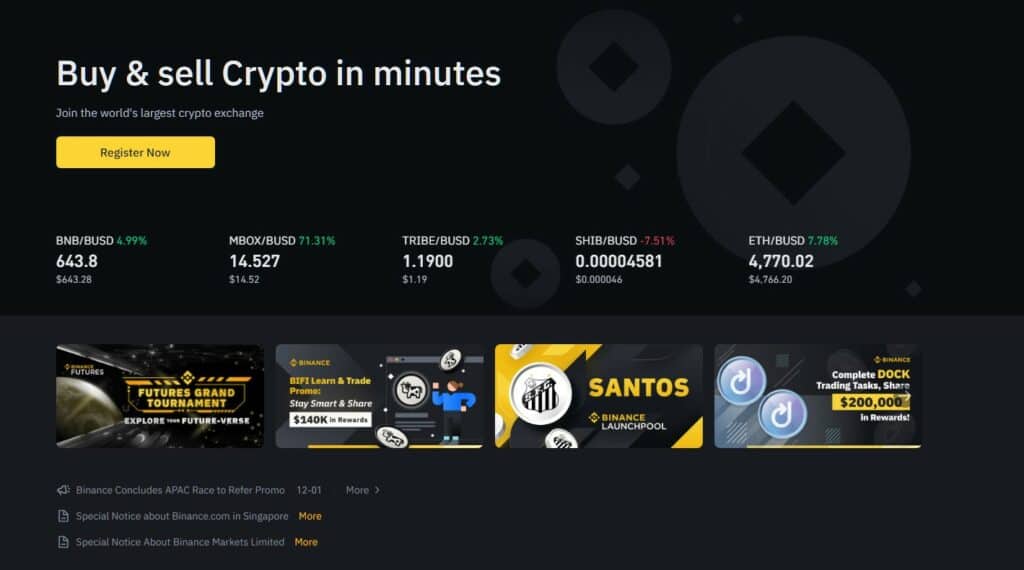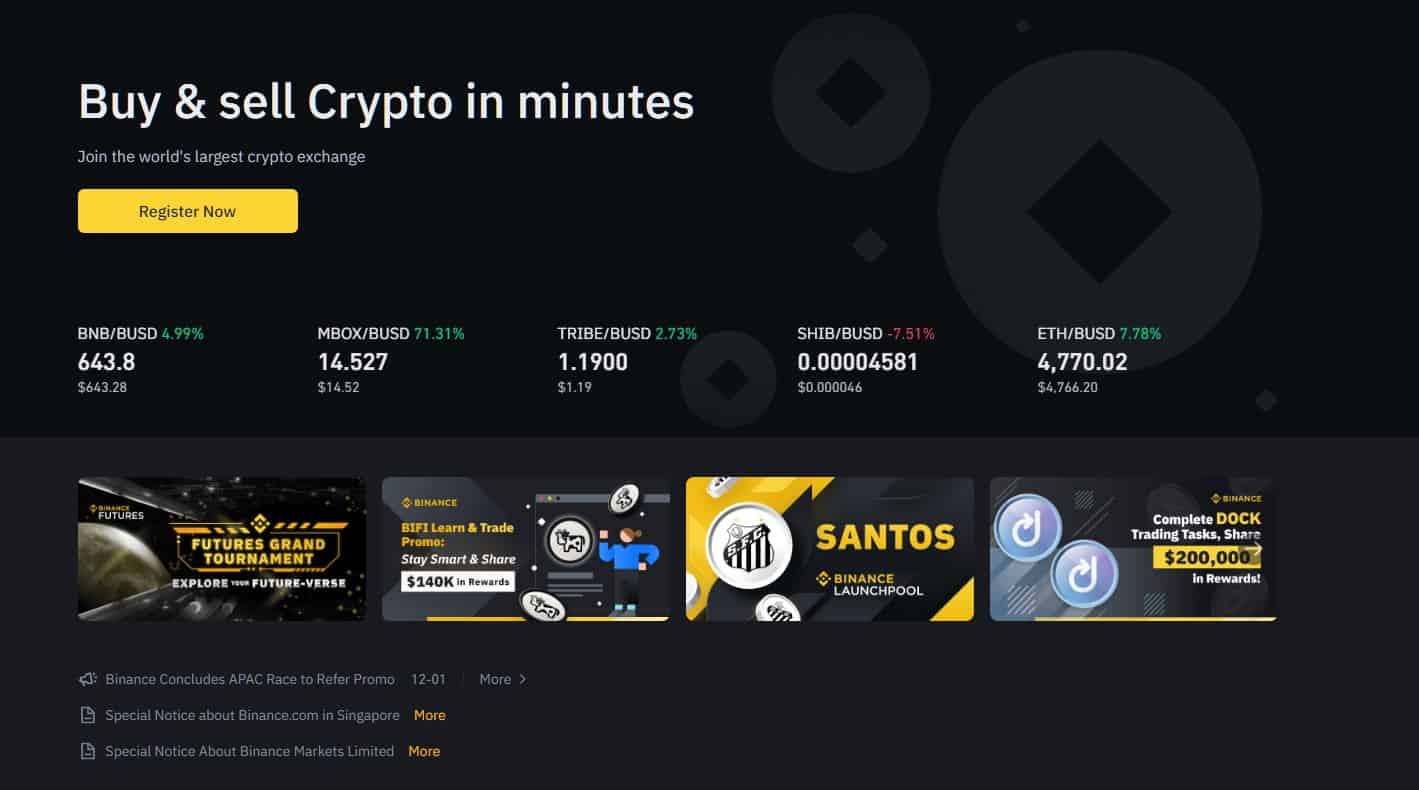 Pros:
More than 600 available coins.
Low trading fees.
A wide range of advanced trading tools.
Supports margin trading.
Supports a lot of fiat currencies including AUD, USD, GBP, EUR, and others.
Cons:
Low liquidity and high spreads for many low cap altcoins.
A bit complex for beginners.
Has been subject to a major hack in 2019 when hackers stole 40 million USD worth of crypto.
Pros:
Nearly 300 available crypto assets.
Very stable liquidity levels.
Low spreads.
Great customer support team.
Option for filing crypto taxes.
Demo mode option ideal for practising crypto trading when opening a Swyftx account.
The platform is very beginner-friendly.
Supports crypto staking.
Cons:
Doesn't support any advanced order types.
Doesn't support futures trading or margin trading.
Users don't have advanced trading tools and technical analysis at their disposal.
Selection of Cryptocurrencies
Beginners usually engage in crypto trading with only a few of the top trending coins, so the crypto selection of an exchange platform isn't so important for them right away, but crypto trading experience levels develop really fast. That's why it's better to choose an exchange with a broad range of digital currencies when you're a beginner instead of opening new accounts on other exchanges and spending cash on transferring your portfolio from one platform to another.
Binance has one of the largest crypto selections among exchange platforms, with over 600 available cryptos. Nearly every crypto that shows any sign of increased market demand is listed on Binance right away. That's because Binance isn't regulated by government institutions and it doesn't need to go through complex legal procedures before listing a specific crypto.
As a result, you can find all the leading cryptos like Bitcoin (BTC), Binance Coin (BNB), Kadena (KDA), Harmony (ONE), Avalanche (AVAX), Fantom (FTM), Solana (SOL), Cardano (ADA), Ethereum (ETH), Ripple (XRP), Litecoin (LTC), and hundreds of other altcoins on Binance. However, you can also find a bunch of really shady crypto projects without any proven credibility. Additionally, many of the low cap coins available on Binance have very low liquidity and high market spreads, which makes them a rather poor investment option.
Swyftx, on the other hand, has a bit less than 300 coins available, but the platform guarantees stable liquidity levels for all available assets, which means the spreads are also reasonable, and the listed projects are all legit because Swyftx is regulated by AUSTRAC.
Cryptocurrency Winner: Swyftx
Swyftx is our winner, despite Binance having twice as many cryptos available because when you're trading on Swyftx, you know that all available coins are legitimate projects and you won't have any issues with platform liquidity when purchasing low cap tokens.
Platform Fees
Platform fees are an important factor in trading profitability because if you spend too much on fees, your crypto gains are definitely dropping.
Binance is known for some of the lowest trading fees on the crypto market. They use a market maker/taker fee model, where trading fees start at 0.1%, and they can drop down even further based on your 30-day trading volume. You can also purchase crypto through the instant buy/sell feature, which charges a flat fee of 0.5%.
However, although this is a solid instant buy fee, if you combine this fee with the high spread on some mid-cap and low-cap coins, you might end up paying more compared to other platforms with more stable spreads.
In comparison, Swyftx has a unique flat fee policy that charges a 0.6% fee for all trades. Since there aren't any advanced order types on Swyftx, you're basically trading through an instant buy/sell feature.
Platform Fees Winner: Swyftx
Our vote goes to Swyftx despite the lower Binance fees because when you're using the instant buy/sell feature on Binance, you might end up paying quite a lot for some less popular coins because of the spread. Swyftx, on the other hand, has stable liquidity for most of its assets, resulting in lower spreads that save investors' money when combined with the 0.6% flat fee.
Crypto Spread
The difference between the bid and ask prices for a crypto or trading pair is the market spread. The higher the spread, the more money you'll be paying for a given crypto, and the lower you will be able to sell it. That's why low spreads, combined with reasonable fees, are the key to profitable crypto trading.
Binance has high spread fluctuations that can go anywhere from a solid 0.5% for the most popular coins to a staggering 1.5% or even more for less liquid assets. If you're focused on trading with top cryptos like BTC and ETH, you'll probably incur very low spreads, but you'll be paying quite a lot if you're more geared towards low cap coins.
Swyftx is known for its very stable spread levels with an average of 0.4%, which is quite low combined with their 0.6% flat fee.
Crypto Spread Winner: Swyftx
The spread winner is Swyftx because they guarantee a stable crypto spread of 0.4% for most of their available tokens.
Customer Support
Customer support is often overlooked when choosing a crypto exchange, even though the support team is of crucial importance for solving user issues.
Binance has a generally well-working customer support team with many positive reviews, but their response time has been reported to be rather slow, with some users waiting several days before getting an answer to their emails or help desk support tickets. One of the reasons for the slow response time is the fact that Binance is one of the largest crypto exchanges in the world and is getting thousands of inquiries on a daily basis.
Besides email and support tickets, you can also contact support through the on-site chatbot, which can answer your basic questions, but it's very limited when it comes to complex user issues.
Swyftx has some of the most helpful customer support services in the industry. Users can reach the support team through email, help desk support tickets, and the live chat support option. However, the Swyftx live chat feature doesn't use chatbots. Instead, you can communicate with a live person from the Swyftx support team and get your issues solved quite fast because the average support team response time is just a few minutes.
Support Winner: Swyftx
Swyftx is definitely the winner when it comes to customer support. Not only is their support team response time much faster than Binance, but users also get to communicate with real people and not with chatbots that offer limited responses.
Mobile App
All popular crypto exchanges have mobile app versions of their platforms. These apps are usually compatible with both iOS and Android power mobile phones, in order to be available to all platform users.
Binance has a great mobile app that allows users to access all platform features, including placing advanced market orders, analysing the market through complex technical analysis tools, and conducting instant buy/sell trades. The mobile app has all the options necessary for experienced traders to stay in the loop with market changes and react in an instant.
The Swyftx app has a simpler design and user interface compared to Binance, but it lacks advanced trading features and technical aspects. However, when it comes to user-friendliness, Swyftx is much more suitable for crypto newcomers, with its intuitive, straightforward design that lets users conduct all essential trading operations with just a few clicks.
Mobile App Winner: Swyftx
Even though the Binance app has a bunch of highly advanced trading features and tools available, our vote goes to Swyftx because their app is much more user-friendly, and it's especially geared towards new users.
Platform Deposit Methods
One of the most important conveniences crypto traders look for when choosing an exchange platform is the ability to deposit fiat currency directly into their platform accounts and then choose how to spend that cash later.
Binance enables users to buy crypto directly either with credit/debit cards, make bank account transfers, or deposit cash into their account and then spend it later. Aussie users can also use PayID and OSKO to fund their accounts. Fiat deposits and withdrawals are free of charge.
Swyftx also enables users to deposit fiat into their account or buy crypto directly without depositing cash. Swyftx users have all the same deposit methods at their disposal, with the addition of the popular POLi payment service. What's more, all of the Swyftx deposit and withdrawal methods are free of charge.
Platform Deposit Methods Winner: Swyftx
Since both platforms offer the same deposit methods free of charge, the winner is Swyftx because the platform also supports POLi, on top of the payment methods listed by Binance.
Security
Crypto exchanges are constantly targeted by cybercriminals looking for ways to penetrate their security measures and take off with massive amounts of crypto. That's why you should always look for extremely tight security measures when choosing an exchange.
Binance has unfortunately been subject to a major crypto hack back in 2019 when about 40 million USD worth of digital assets were stolen from the platform. Luckily, the company showed high professionalism by reimbursing all affected users from their own platform assets, and they claimed to have considerably upgraded their platform security. This is probably true as there haven't been any successful Binance hacks since then.
Swyftx has a clear hacking record, with no hacks recorded in its operational history. In Australia, Swyftx is considered one of the most secure crypto exchange choices. The platform keeps most of its assets in offline storage, and it goes through regular security audits by reputable cybersecurity firms.
As far as user accounts, they are protected by passwords and two-factor authentication (2FA). Each time a Swyftx user initiates a trading deal or transaction, they need to confirm their identity by entering a special authentication code sent to their email address or mobile phone in the form of a text message.
Security Winner: Swyftx
The security winner is definitely Swyftx because, unlike Binance, the platform has never been hacked, which is a huge plus for their security measures.
Final Verdict
Despite being one of the largest crypto exchanges on the market, Binance apparently has many shortcomings compared to a much smaller, local crypto exchange like Swyftx. The Binance hack, their higher spreads, the more complex mobile app, and the less responsive customer support team are some of the factors that made us hand the winning title to Swyftx.