Binance vs Swyftx 2023
In order to start trading crypto, you first need to choose a reliable cryptocurrency exchange platform with high-quality services. Beginners don't usually know which main characteristics they should pay special attention to.
The key factors you should always take into account before choosing an exchange and creating a user account are platform fees, available digital currencies, payment options, market spreads, customer support services, and, of course, platform security.
These are exactly the metrics we will use when comparing two high-quality crypto exchanges in today's review – Binance and Swyftx. We've made a comparative, side-by-side review of both platforms to help users decide which one to choose, based on each platform's performance in all the key categories.
Be sure to stay until the end of the review and find out which platform is our overall winner.
Comparison Table
| | | |
| --- | --- | --- |
| Features | Binance | Swyftx |
| Supported Cryptos | More than 600 coins | More than 270 cryptos |
| Trading Fees | 0.1% market fee, 0.5% instant buy fee | 0.6% |
| Deposit Fees | Free | Free |
| Withdrawal Fees | Free | Free |
| Average Market Spread | From 0.5% to 1.5% | 0.4% |
| Regulatory Status | Isn't regulated by AUSTRAC | Complies with AUSTRAC regulations |
| Customer Support | Email, help desk support ticket, chatbot | Email, support ticket, and live chat. |
| Fiat Deposit Methods | Debit cards, credit cards, bank transfers, PayID, OSKO | Credit cards, bank account transfers, OSKO, debit cards, POLi, and PayID. |
Binance Pros and Cons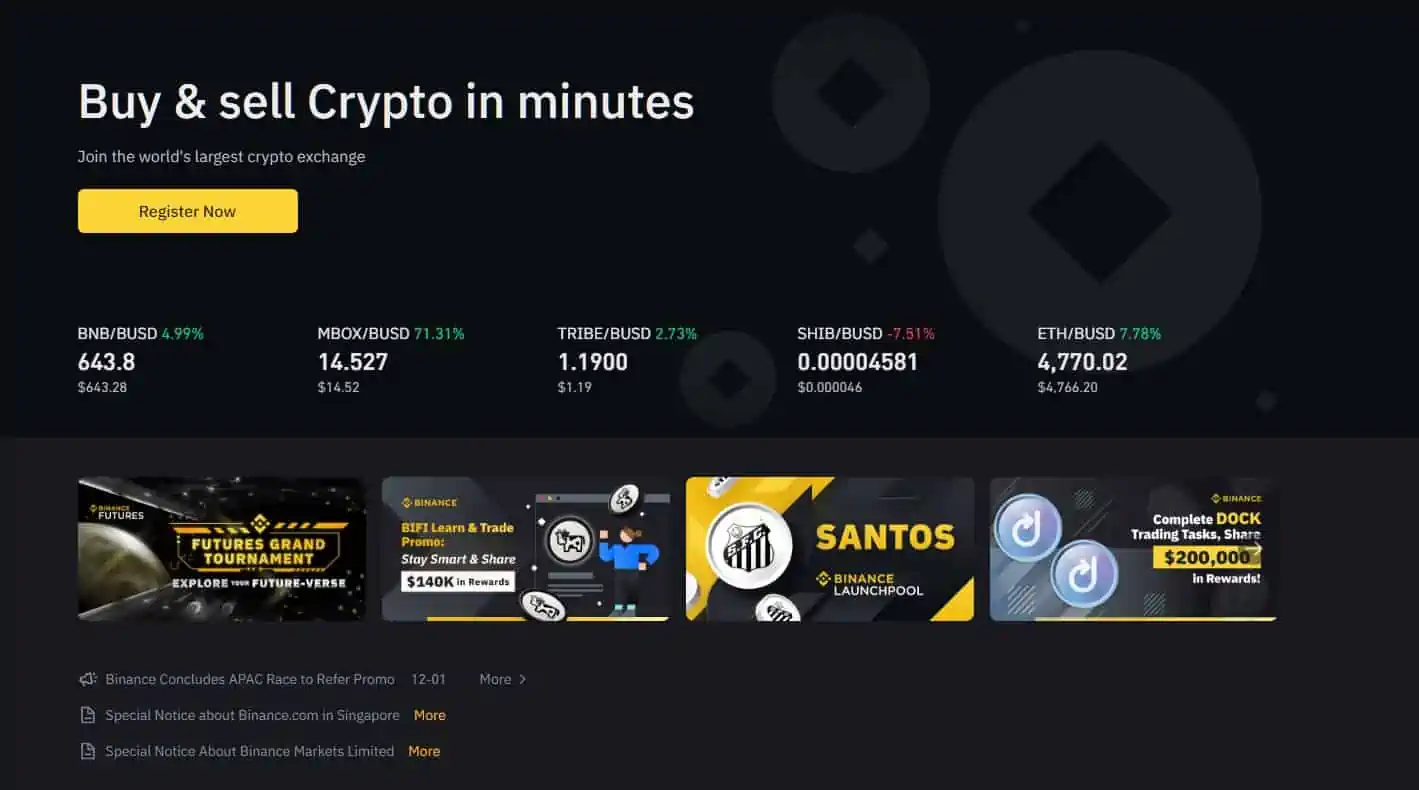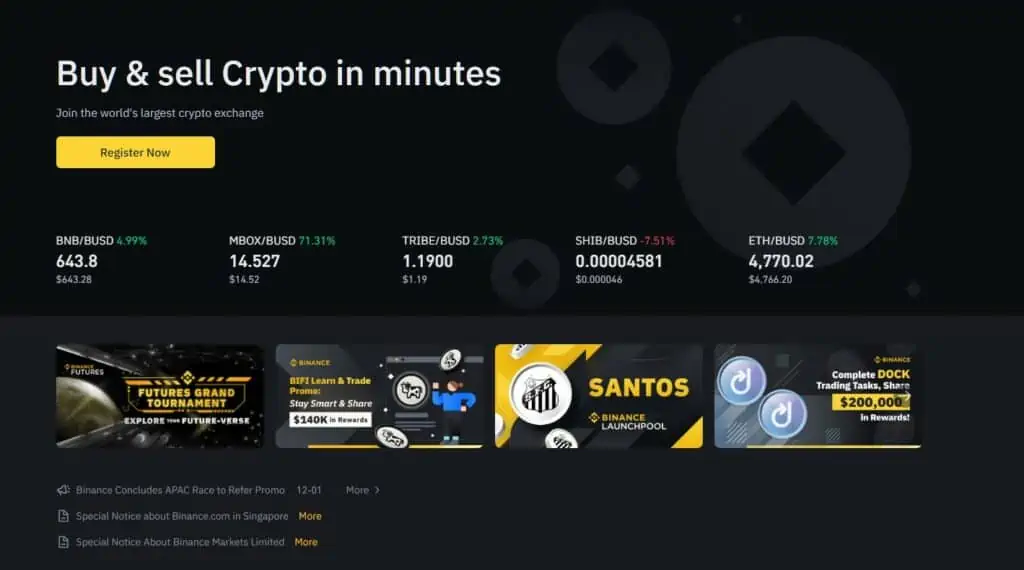 Pros
More than 600 available cryptos.
The largest cryptocurrency exchange in the world.
More than 30 fiat currencies.
Some of the lowest fees among crypto exchanges.
Numerous payment methods.
Beginner-friendly, advanced, and pro-level trading features.
Cons
US users need to use the Binance US platform, which has far fewer trading features and cryptos compared to the main Binance platform.
The customer service is often unresponsive, and there's no live chat feature.
Swyftx Pros and Cons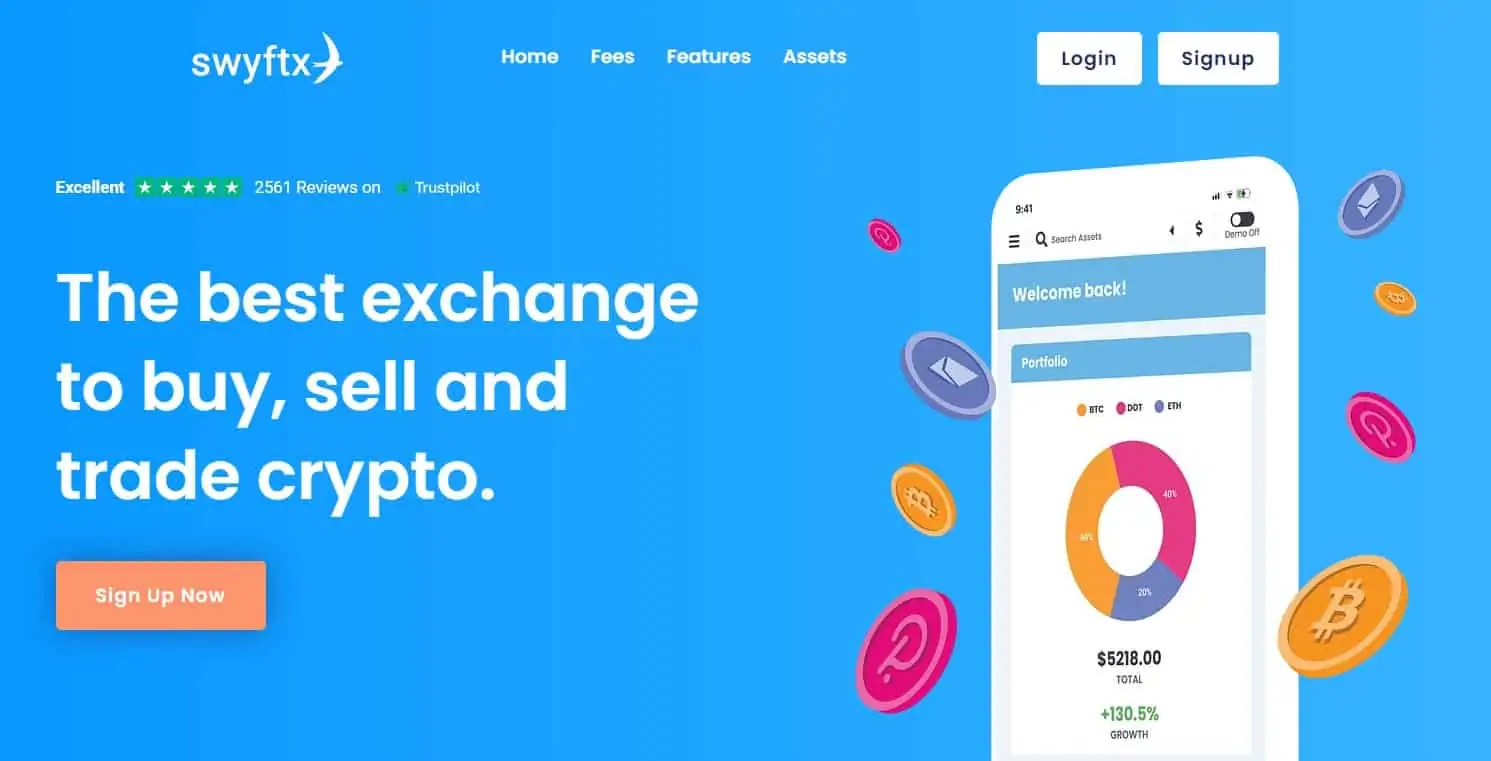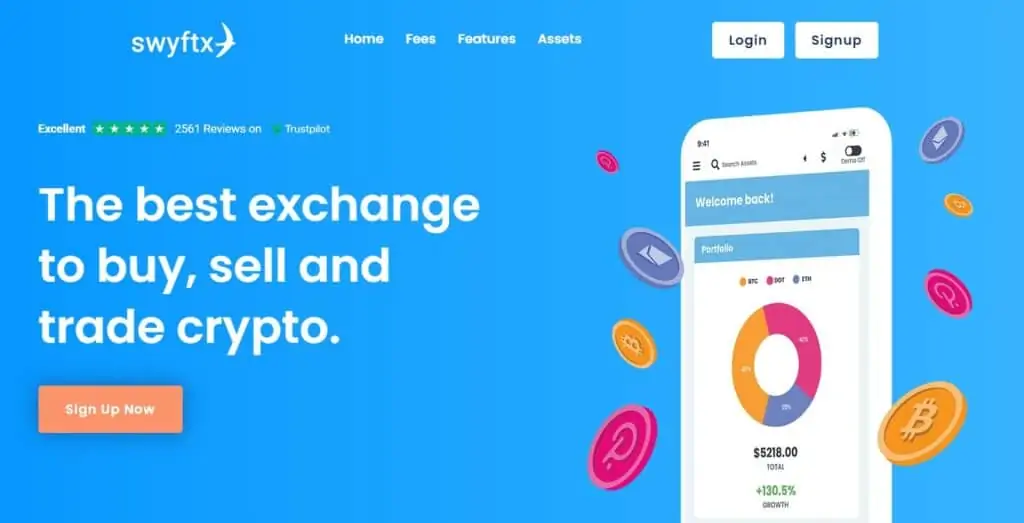 Pros
320+ available cryptocurrencies.
Support for all the popular deposit methods in Australia, including POLi, OSKO, and PayID.
A flat fee policy of 0.6%.
A regulated exchange, registered with AUSTRAC, which complies with anti-money laundering measures.
The option to earn interest on 20 leading coins and tokens through the Swyftx Earn feature.
Cons
The platform lacks a classic trading interface for advanced traders.
User funds aren't insured.
Swyftx only operates locally in Australia and New Zealand.
Features
Swyftx is ideal for crypto newbies because you can buy and sell crypto in real-time on your PC or phone. This Aussie exchange also comes with live chat support, plus you can even try your trading strategies as Swyftx offers a demo mode where you can use a free virtual money. Moreover, if you don't want to do any high-risk trading, you can still earn via staking on any of the 20 coins available for staking.
Meanwhile, Binance is one of the crypto exchanges with the most crypto features, which makes it perfect for advanced traders. Some of the popular features that Binance offers include advanced charting tools, a P2P marketplace, futures trading, and margin trading. Furthermore, Binance also lets their users get involved with NFTs as they have an NFT marketplace where you can purchase, sell, or make NFTs. Binance also allows you to earn passive income with their Binance Earn feature. This feature allows you to earn interest on more than 70+ different crypto assets.
Overall, Binance wins the feature comparison as it comes with more compared to Swyftx.
Features category winner: Binance
Supported cryptocurrencies
Swyftx supports more than 320+ crypto assets.
As for Binance, it supports more than 600+ different cryptocurrencies.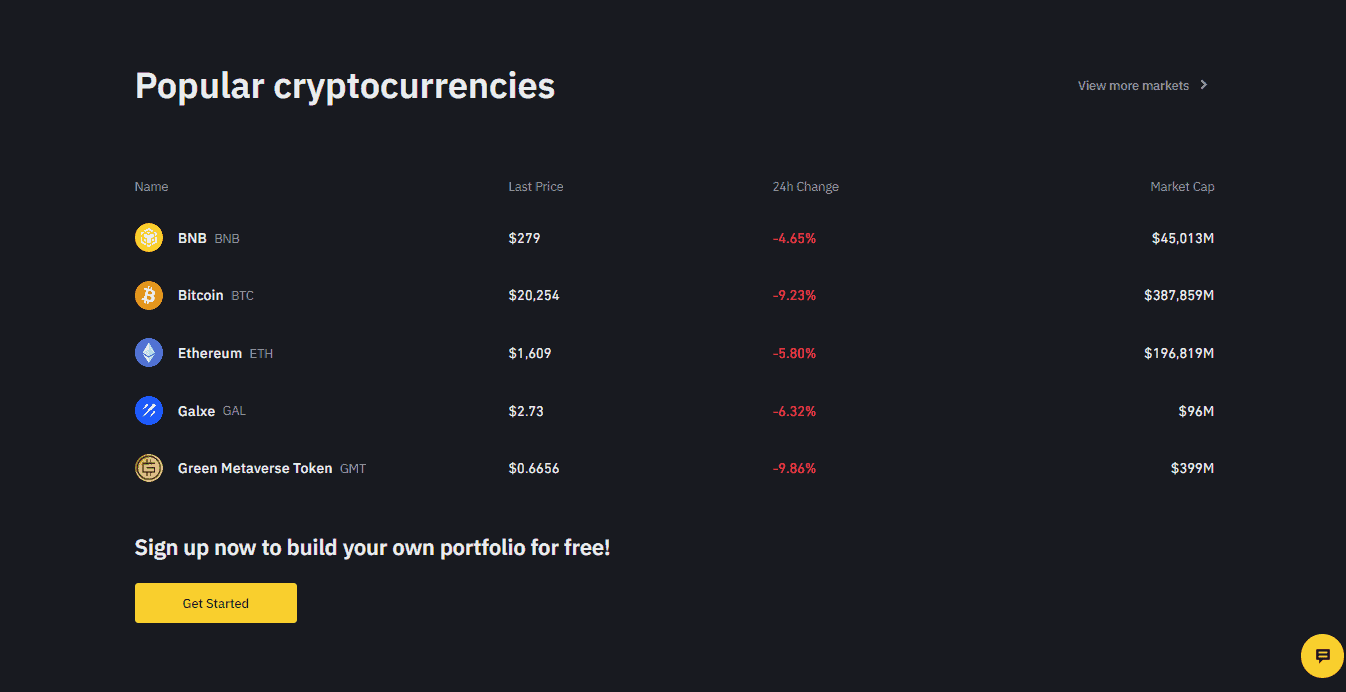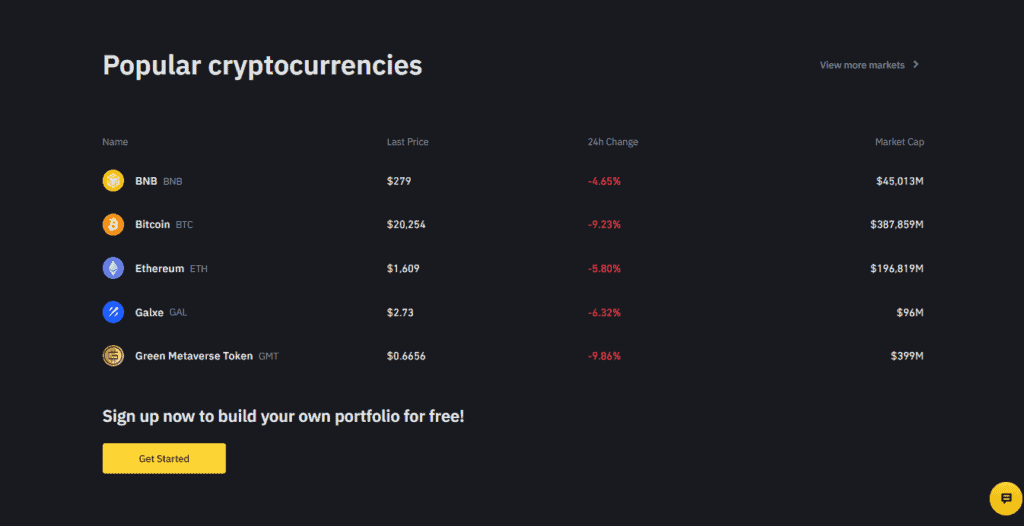 Both of these exchanges offer a wide collection of cryptocurrencies. However, Binance offers more.
Supported cryptocurrencies category winner: Binance
Fees
Swyftx doesn't have any withdrawal or deposit fees. And its trading fees are 0.6%.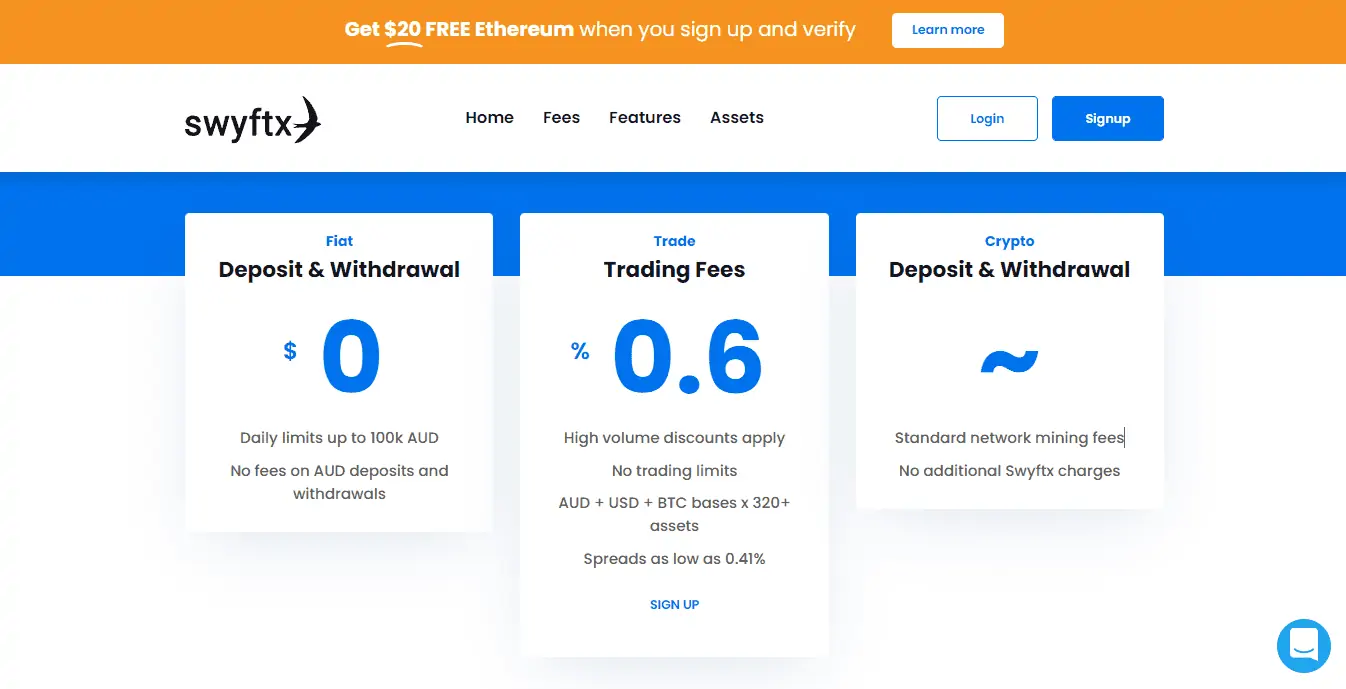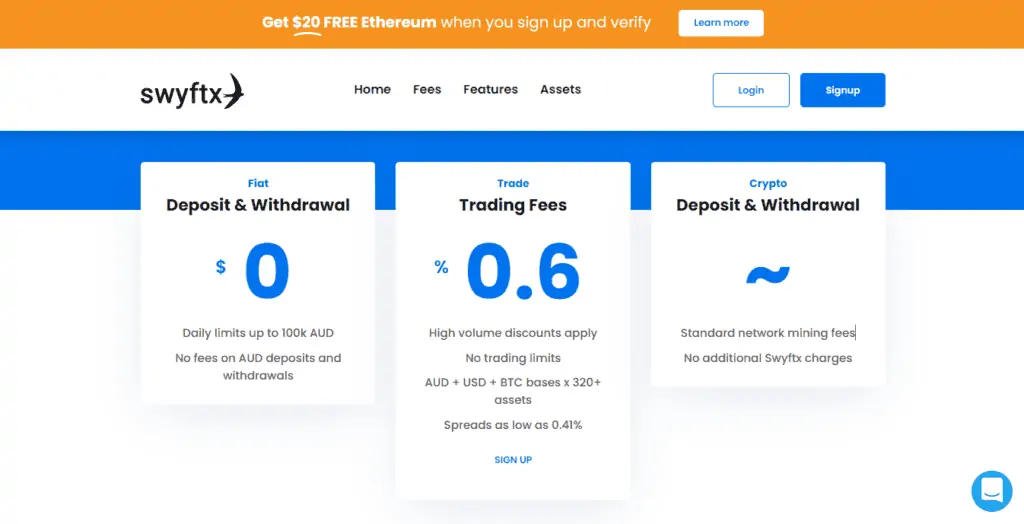 On the other hand, Binance, it also doesn't have any withdrawal and deposit fees. As for trading fees, Binance only charges 0.1% every trade. The very low fees of Binance can even be discounted by 25% if you use BNB coin to pay. From 0.1%, you'll only pay 0.075% per trade. If you trade a lot in big amounts, you can also receive further discounts based on volume of your trades in the past 30 days.
To sum it up, Binance easily wins this, with free withdrawal and deposit fees. And trading fees of only 0.1%
Fees category winner: Binance
Customer Support
Swyftx mainly uses robots instead of real humans when it comes to customer support, which can be difficult if you have a very specific question. Swyftx has live chat support, but again, you'll mostly receive replies from bots. They have email support, which you'll surely receive a reply from a human. Obviously, the downside is you'll wait for a few hours (sometimes days!).
Meanwhile, Binance customer support options include contacting them through Twitter, chatting with a representative, or sending a ticket. But based on the customer support reviews on Trustpilot, Binance doesn't do well. Their customer service is almost automated, and users are directed to web pages due to this, which is not good for customers having complex questions.
Customer support category winner: Tie
Deposit Methods
Swyftx offers various deposit methods that are free of charge, which include cryptocurrency, credit cards, debit cards, PayID, POLi, and direct deposit.
As for Binance, it only offers OSKO and PayID as fiat deposit methods for Aussie users. But aside from that, you can also deposit crypto onto your Binance account.
To sum it up, both Swyftx and Binance offer cryptocurrency, PayID, and direct deposit as payment methods. However, Swyftx also accepts credit cards, debit cards, and POLi for its Aussie users.
Deposit methods category winner: Swyftx
Security
Swyftx is a secured and safe cryptocurrency exchange platform as they utilize a number of security measures including KYC verification, two-factor authentication, biometric authentication, conducting external penetration testing, and consultation with third party security auditors,
On the other hand, though Binance has a history of hacking, it is also now very safe as it is AUSTRAC-registered and comes with offline storage for most of their crypto. Four months after the hacking, Binance was in fact awarded the ISO 027001 certification when they passed stringent audits on their information security management.
Overall, Swyftx and Binance are ver secure platforms as they use multi-layered security. The difference is that Swyftx has never been hacked.
Security category winner: Swyftx
Conclusion
It's quite hard to give a clear winner between Swyftx and Binance because these two are just among the best crypto exchanges for Australian crypto traders out there. But personally, if you're an Aussie crypto beginner, I'll go with Swyftx. And if you're an advanced trader that needs more crypto features, then Binance is definitely for you! If you can't still decide which one to pick, have a look at our full Swyftx review and Binance review!
Frequently Asked Questions
Is Swyftx a secure exchange?
Yes, Swyftx is a super-secure crypto exchange with a clean track record regarding platform hacks. The platform has never been hacked, it stores the majority of funds in offline hardware wallets, while user accounts are protected by passwords and two-factor authentication (2FA).
Does Swyftx have Australian-based customer support?
Yes, the platform has a native, Australian-based support team and they are highly professional when it comes to answering user inquiries.
Is Swyftx good for beginners?
Swyftx is a great crypto exchange for beginners because it's very easy to use. The mobile app is ever easier to use, and comes with a smooth user-interface. Every feature is just a few clicks away.
Is Swyftx an Australian company?
Yes, Swyftx is an Australian company with headquarters in Brisbane.
Who is Swyftx owned by?
Swyftx is a private company owned by crypto enthusiasts Angus Goldman and Alex Harper, the founders of the platform.
Does Swyftx have a withdrawal limit?
Swyftx has a daily fiat withdrawal limit of 100,000 AUD.
Can I make money on Binance?
Binance is a great crypto platform for making money because it offers users numerous possibilities, from spot trading, margin trading, leveraged futures contracts, and P2P trading, all the way to numerous staking options, liquidity mining, crypto savings accounts, and a booming NFT marketplace.
Can you lose money on Binance?
Sure you can. Crypto trading is a very risky activity because cryptocurrencies are highly volatile assets with dramatic price fluctuations within small periods of time. That's why trading cryptocurrencies is a high-risk endeavour, and you should never invest more than you're prepared to lose.
How do I get my money out of Binance?
You can easily cash out your crypto into fiat currency by connecting and verifying a bank account on Binance. Once you connect a bank account, you're ready to facilitate fiat currency transactions from the platform to your bank account.
Is it safe to link a bank account to Binance?
Linking your bank account to Binance is perfectly safe because the exchange platform keeps all user data protected by advanced encryption methods and doesn't share any of that information with third parties.
How does Binance make money?
Binance makes money mainly from platform trading fees. Although the Binance fees are among the lowest in the industry, the platform manages to achieve high profits thanks to the fact that it's the most popular exchange in the world, with the highest number of active users.