Bisq Review
Unlike centralized exchanges, decentralized exchanges allow users to make peer-to-peer transactions without identity verification or holding their funds. Decentralized exchanges are a much-need solution in a volatile crypto market where a wasted minute can mean monetary loss.

Bisq is a popular decentralized exchange backed by solid technology. Bisq started with a different product name, Bitsquare, but the goal has been the same — allowing customers to send digital currency in a second without third-party interference.

In this Bisq review, we'll explore the features and upsides of this decentralized exchange. Here's all you need to know!

About Bisq
The idea behind Bitcoin's creation was to enable financial exchange without any verification or identification. But due to security challenges, most crypto exchange platforms now require verification and identification before users can make transactions — most platforms, but not Bisq.
Bisq is a Decentralized Anonymous Organization. It's an open-source platform with encoded rules that work optimally without any intermediaries. Bisq doesn't have a headquarter in any particular country, but it has servers in different locations across the globe.
The decentralized cryptocurrency has been in existence since 2014, and its founder, Manfred Karrer is a big name in the Australian cryptocurrency space. Since then, the platform has built a sustainable peer-to-peer network by discovering and connecting traders to make smooth transactions with no trust needed across the globe.

Bisq's functionality serves a diverse user base. It's helpful for the trader who wants to be in charge of their cryptocurrency holdings at all times.
It's also functional for traders who want their trading data and information private from banks and other government organizations. And because it accepts fiat currency, Bisq is great for newbie traders looking to exchange fiat for Bitcoin.
Bisq doesn't hold its user's digital assets. The trading process relies on multi-signature addresses with double authorities coming from the peers involved in the transaction. All your trading data on the Bisq network is secure on respective peer-to-peer databases. The database relies on the Tor network and has no central servers.
Supported Cryptocurrencies
Presently, the platform doesn't exactly support a whole lot of cryptocurrencies. But, it does allow transactions with the following crypto tokens:
Ethereum
Dogecoin
ZEN
DASH
Bitcoin cash
Bitcoin
Beam coin
Grincoin
Monero coin
Pivx coin
Siacoin
Reddcoin
Features
Bisq has an official website where you can make trades. Users can also download the notification application — available on Apple and Android stores.
All trades on Bisq come with fees that the platform charges in either Bitcoin or BSQ ( its native Bitcoin-based coin). Although Bisq has a simple interface for trading, you may need some time to get familiar with it.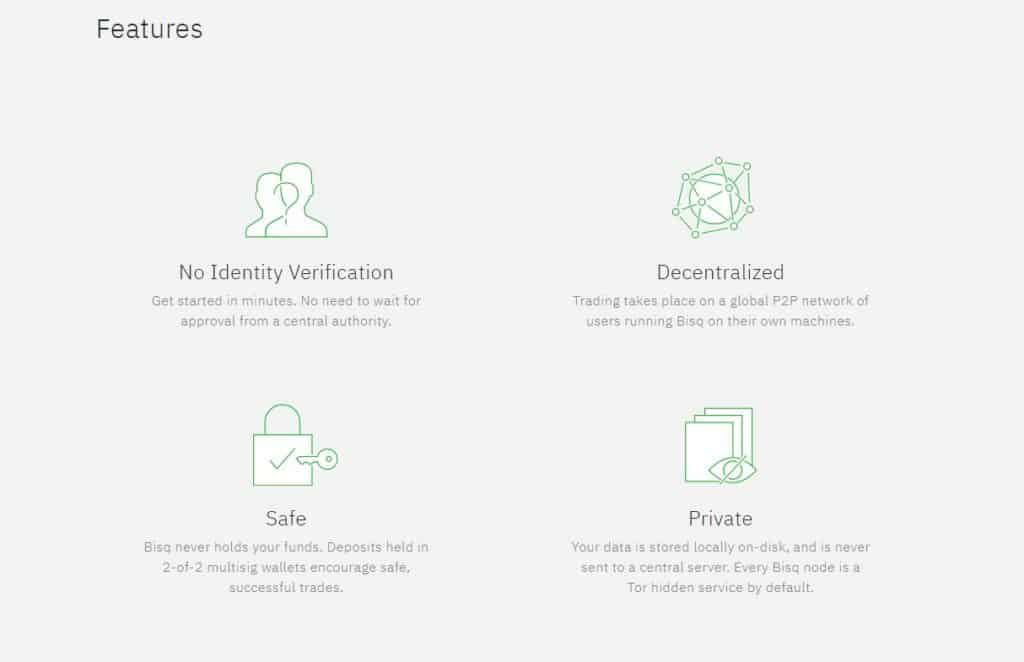 Experienced crypto traders should have no problem using Bisq and can expect to enjoy the following advantages:
It's a decentralized platform with no third-party involvement in any transaction.
The platform uses open-source technology available on platforms like GITHUB.
Safe and secure transactions
Free from regulations because of anonymity.
Bisq's open-source technology is worthy of emulation. You can either download the Bisq application for your trades or use the open-source code to build a custom app.
This decentralized exchange is one of the few platforms without an embargo against investors from America. Instead, Bisq encourages the average American investor to analyze the legal implications of all trades and ensure they follow US regulations.
Customer Support
Bisq is a reliable decentralized platform that cares about its customers. You can reach out to Bisq customer support through emails in any case of a complaint or an issue.
Another alternative is to ask your questions in the FAQs section of the Bisq platform. On either one of both platforms, you can rest assured that an efficient customer agent will respond to you as soon as possible.
Payment Methods
Bisq stands out in that it allows its users to deposit fiat currency through wire transfers. Unfortunately, while the exchange accepts varied payment methods, Cashapp, Venmo, PayPal, and credit cards don't work due to the possibility of chargebacks.
The supported payment methods on Bisq include:
WeChat Pay: For Chinese residents, with a trade limit of one Bitcoin.
Zelle: For USA users, with a trade limit of 0.25 BTC
Western Union: For any user with a trade limit of 0.5 BTC
Swish: For users from Sweden, with a trade limit of 1 BTC.
Interac e-transfer: For Canadians, with a trade limit of 0.25 BTC.
Trading Fees
On Bisq, trading fees are 0.0001 BTC for both parties involved in the transaction. In addition, each party will also have to pay a mining fee of 0.0003 BTC. Bisq charges the mining fee three times — while depositing from an external wallet, during the trade, and while users make the final withdrawal.
Security and Safety
As a decentralized exchange, Bisq does not store its user's digital assets. Furthermore, the exchange doesn't store confidential information, thereby reducing user risk in the event of a cyber hack.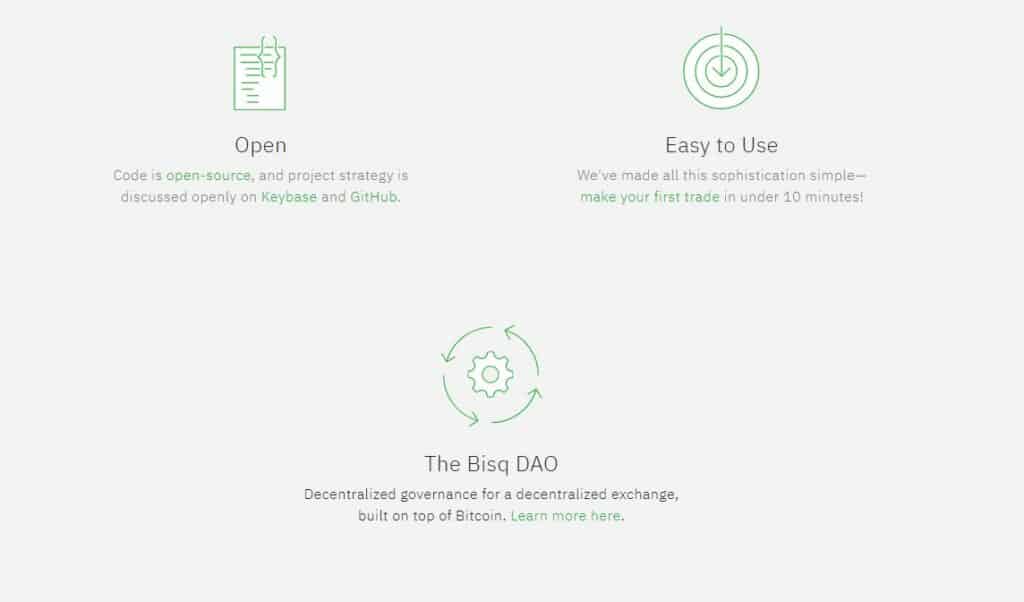 Bisq's servers are spread across the globe to reduce the possibility of network downtime. The strategic positioning of these servers makes them immune to hacks.
Bisq uses three different protocols to ensure safe transactions. The three methods include:
The use of peer multi-signature accounts
Each party involved in a trade has to pay a security fee of 0.1 BTC, refunded after completing the transaction.
In the case of a trade dispute, Bisq uses a three-tier mechanism to settle the dispute.
It's important to express that Bisq was the victim of a hacking attempt in early 2021. The hackers took advantage of a vulnerability in the code, a security gap that the exchange fixed.
Frequently Asked Questions
Below are answers to common questions;
What is the Trading Limit on Bisq?
The payment method you choose on the Bisq platform determines the limit of your trades on the platform.
What is the Trading Limit on Bisq?
Yes, Bisq is available globally.
Final Take
Bisq is a crypto platform that can assure you of peer-to-peer trading while allowing fiat deposits. Another plus for Bisq is its competitive withdrawal prices. While the industry average for withdrawal fees sits at 0.0008 BTC, Bisq only charges 0.0003 BTC.
With this level of functionality, it's hard not to recommend Bisq!