Bisq Review for 2023
Today we're reviewing Bisq — a well-established virtual marketplace that delivers anonymous, secure, and censorship-resistant crypto trades. Since 2014, this name has been standing for a traditional decentralized exchange whose functional scope remained very close to what Satoshi Nakamoto envisioned in 2009 with the introduction of Bitcoin.
As you take in the features Bisq offers that we'll discuss below, you'll notice that this exchange is tailored specifically for those who understand and appreciate the idea of financial decentralization. On the other hand, Bisq's advantages are precisely what those looking for a security backup on an institutional level will consider a con to using this platform.
Now, let's go through the fundamental traits of Bisq together and learn something more about the core principles of decentralization.
Bisq — a Decentralized Crypto Exchange
Bisq — formerly known as Bitsquare — was developed under the leadership of the Austrian crypto specialist Manfred Karrer, who had a clear vision of how to eliminate interference from a third party in transactions taking place on the platform. Bisq works on the peer-to-peer (P2P) model to facilitate all trades by directly connecting buyers and sellers. It's a fully transparent, open-source exchange where users can buy and sell Bitcoin (BTC) and other supported coins in exchange for fiat currencies and other crypto coins as long as they both accept user-specified conditions.
Unlike centralized cryptocurrency exchanges (CEXs), which make the largest marketplace in the industry, Bisq doesn't rely on the traditional financial structure that requires KYC verification or any other personal and bank information in order to be able to allow users to start trading.


Bisq doesn't exactly operate as a company — it's a software package that keeps no record of your credentials and money. All you have to do is download their desktop app and use your independent crypto wallet for all trades you conduct on the platform.
The organizational structure of Bisq is classified as a DAO (decentralized anonymous organization) rather than a regulated company. DAOs are community-run virtual systems with a digitally controllable set of rules that are run without an intermediary. As such, they can't be tracked by any legislation and listed as money transmitters nor are they subject to AML/CFT regulations.
How to Trade on Bisq
Installing the software and navigating and executing trades on Bisq is considerably more complex than what you can expect on mainstream crypto exchanges like Coinbase or Binance. On the other hand, Bisq features a relatively beginner-friendly and comfortable interface compared to other old generation DEXs, which are notorious for their obscure UX behaviour.
Here is a compact guide on how to get started with Bisq.
Download the Bisq App
The Bisq app is compatible with the Windows, Mac, and Linux operating systems and it can be downloaded directly from the platform's official website (bisq.network) or through Github. Once installed, the desktop app will set up a peer-to-peer network enabling users to exchange digital assets straight away.
Set Up the Security
Since Bisq is an ultimately user-reliant app, you'll need to spend some time setting up security measures manually. Thus, once you have successfully downloaded the app, you'll be required to back up your profile information (you'll find more info in the Bisq Security section below)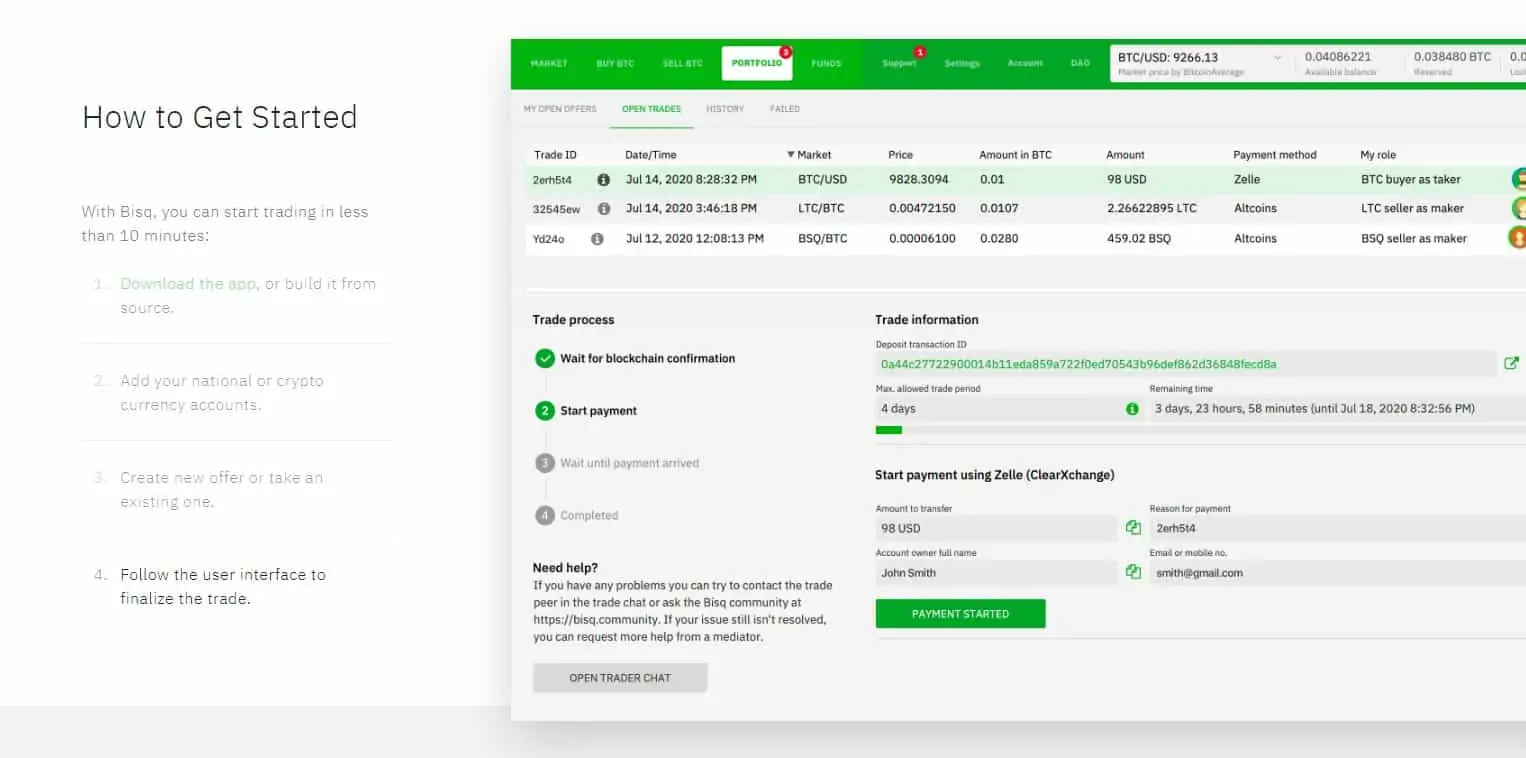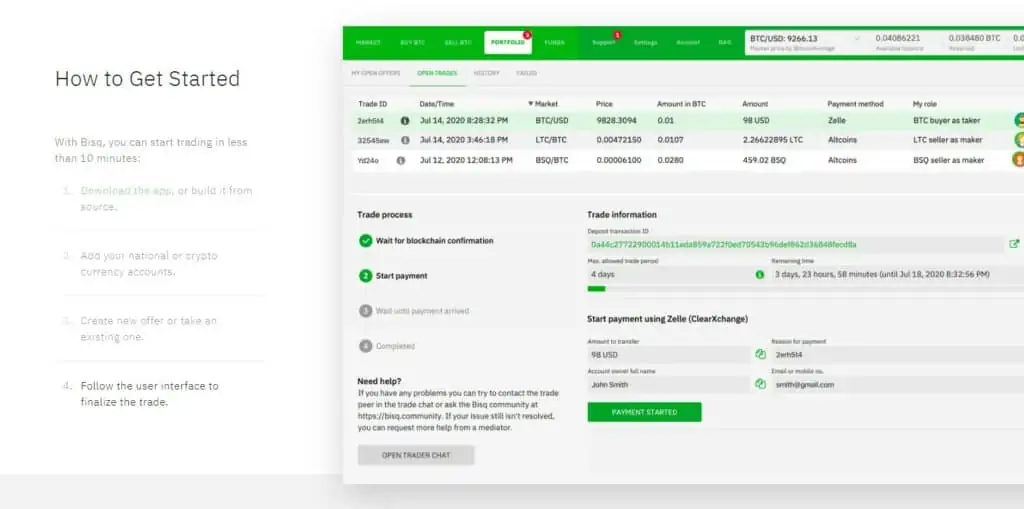 Select a Payment Method
Now it's time to fund your account. You can choose a payment method through an external entity for fiat or use your existing crypto pools on Bisq. There are a plethora of options for fiat deposits: Advanced Cash, Face-to-Face (F2F), SEPA, National Bank Transfer, Perfect Money, Zelle, and Western Union. Note that Bisq doesn't support debit and credit card payments.
Another important thing is that you'll have to make a security deposit to be locked in an escrow wallet until the trade is finished. This serves as a user-protection measure to prevent any potential fraud on the behalf of both participants. The exchange requires the escrow deposit to be made in BTC (the minimum amount is 0.01 BTC) and you'll find several ways in which you can do this on the website help page.
How to Make a Trade on Bisq?
The P2P trading model will allow you to make an offer and wait for someone to respond or search for an existing one based on the selected parameters. You should be aware that Bisq doesn't enable automated order matching, which means that it may take a while until you find a suitable trading counterparty.
Afterwards, the Bisq exchange will track all stages — once the seller admits the payment, the transfer will be registered, and the buyer will get their security deposit back.
Bitcoin and Other Supported Currencies
There is no predefined list of accepted cryptocurrencies on Bisq. Everything depends on the coins people offer on the trading platform. However, you'll certainly find great offers with the most frequently traded altcoins (apart from BTC) such as Ethereum (ETH), Dogecoin (DOGE), Litecoin (LTC), Monero (XMR), Dash (DASH), Cardano (ADA), as well as their native token BSQ (BSQ).
The same goes with fiat currency — technically, you can use any type of fiat money from USD, AUD, and EUR to YEN and TRY.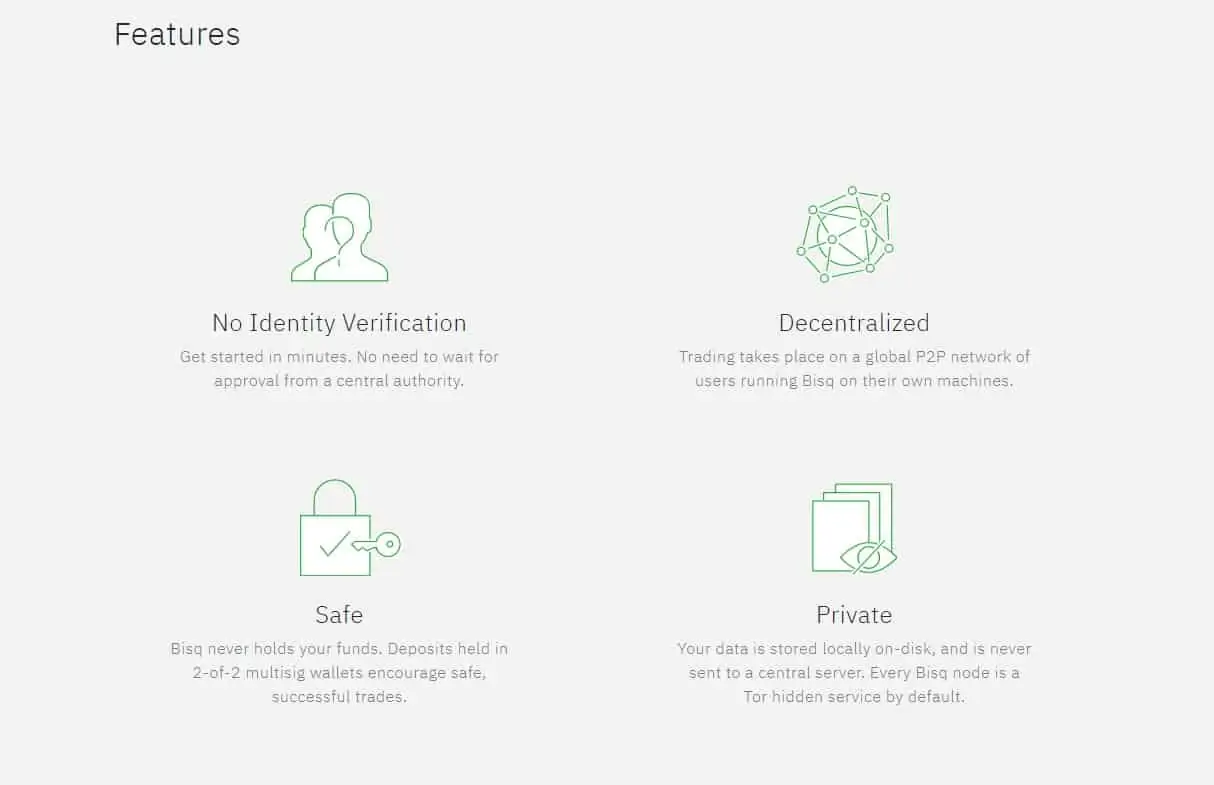 Bisq Fees
Bisq has a rather specific fee structure, which some users find a bit overwhelming and pricey. However, dedicated fans of decentralized crypto trading don't seem to be bothered by the inconvenient fee schedule as long as they have a legit way to trade without the disruption of a central authority. Note that the fees can be paid either in BTC or BSQ. The latter comes with a favourable discount of 50%.
Trading Fees
Per one BTC, market makers are charged 0.001 BTC, while takers are charged 0.007 BTC. Converted in BSQ, these amounts are 8.74 BSQ and 61.21 BSQ, respectively. Both makers and takers will have to pay mining fees even though their rate fluctuates and it's impossible to provide you with accurate numbers.
If we take the average of 0.0003 BTC as an example, you should know that this fee is applied three times: when you deposit funds from an external wallet, during the trade itself, and on the exit to an external wallet. The total amount of Bisq trading fees (0.0009 BTC) does appear quite high given the immense rise of BTC despite all its frequent and sharp fluctuations.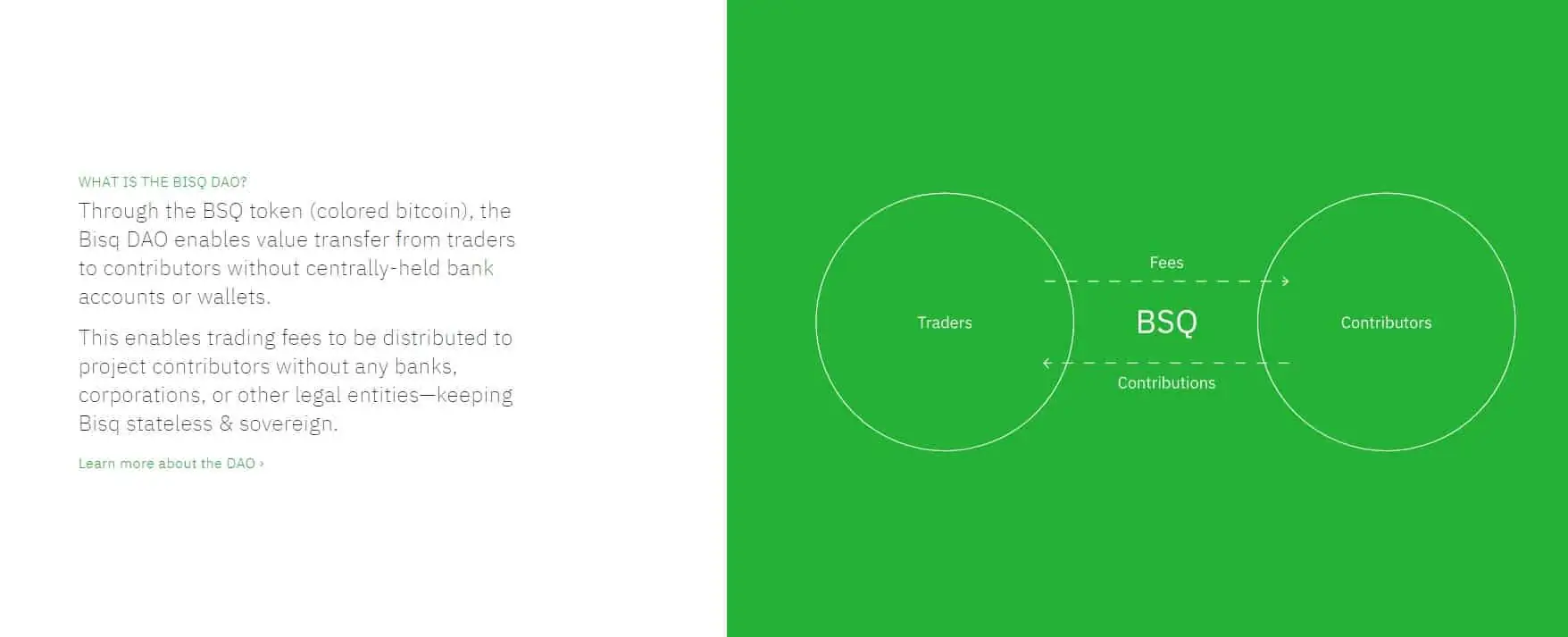 Deposit and Withdrawal Fees
Bisq doesn't charge for deposits while withdrawals are one-third of the total mining fees (0.0003 BTC). Given the fact that the industry average is somewhere between 0.0005 and 0.0008 per trade, we can say that the withdrawal fees on Bisq are fairly competitive.
Bisq Security
Decentralized exchanges like Bisq are highly secure by their very nature since none of your personal or wallet information is kept on a central server. Hence, any hypothetical hacker attack on the exchange software can affect neither your funds nor your identity.
However, anonymity does come with a certain risk especially in direct trades between two participants without an identity. Bisq has developed a mechanism against potential frauds that the P2P exchange model is susceptible to. As we mentioned above, all trading assets and security deposits related to open positions are temporarily closed in a multi-signature escrow wallet. Moreover, in case of an internal dispute between the buyer and the seller, Bisq offers decentralized human-run mediation and arbitration to settle any further issue.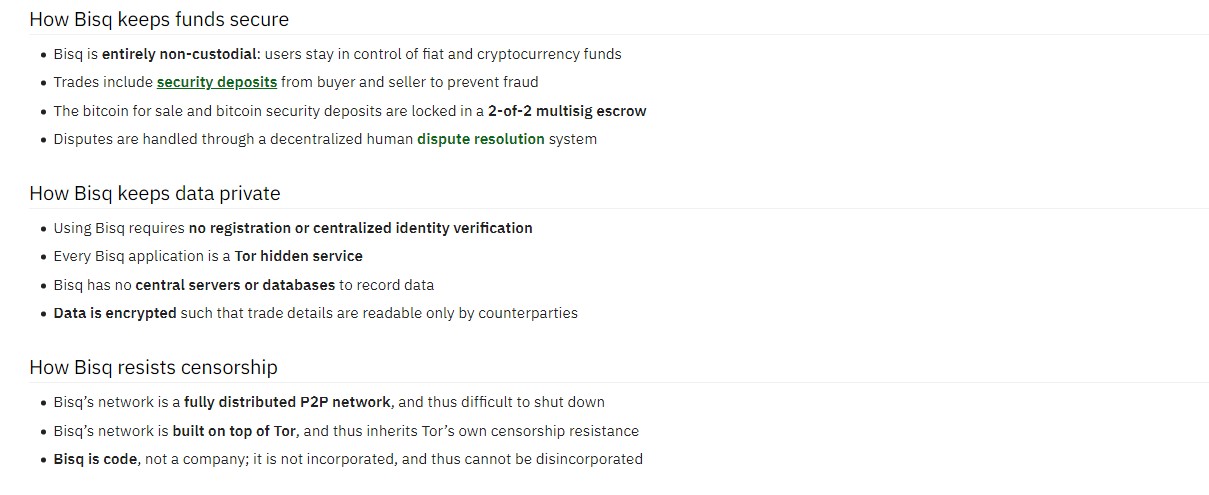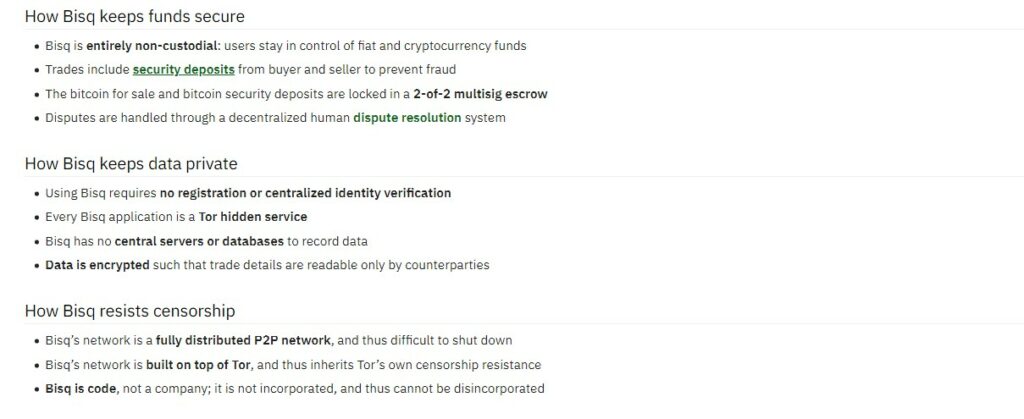 The escrow-arbitrator mechanisms have turned out to be successful so far. However, there are isolated flaws — recently a hacker managed to steal $250,000 in BTC and XMR from seven users during a regular system update. Eventually, Bisq settled the issue and agreed to reimburse the damage.
Customer Support
As it's a typical DEX representative, on Bisq, you can't expect customer support in the form of live chat or written correspondence with a tech representative. However, there is a large Bisq community that can address any of your potential issues through the Bisq forum, Keybase, or subReddit. Sure, you can always rely on Bisq's active channels on YouTube and Twitter for further advice, updates, and news.
Frequently Asked Questions
Does Bisq have a mobile app?
Yes. Both Android and iOS users can download a free mobile app but its functionality is restricted only to notifications and price alerts. You must use the desktop application to execute a trade. Remember that your offer will be visible only if your computer is connected to the internet.
Is there a minimum deposit on Bisq?
Apart from the security deposit of 0.01 BTC to place a trade on the exchange, Bisq doesn't require any minimum deposit limit to start trading.
What is Bisq wallet?
Even though it's a traditional DEX, Bisq does provide an embedded wallet. However, it's one of the few crypto exchanges out there to offer a non-custodial wallet, which means that the exchange won't take control over your private keys. You won't be obliged to use their native wallet while trading on the exchange platform but the Bisq wallet will simplify the trading process in many aspects.
A Few Words Before You Go…
Bisq is trading heaven for those interested in blockchain ideology mainly for the promise of a decentralized financial system — it delivers a fully anonymous trading environment and self-reliant security settings. It also gives you access to an avid community with sharing beliefs about crypto trading.
However, since the exchange doesn't follow the mainstream pattern, its target audience is restricted to a narrow group of crypto-savvy individuals. Moreover, the realm of decentralized crypto exchanges of today is heading towards another form of marketplace known as AMM (automated market makers) protocols, which offer a more intuitive user experience and a broader scope of trading options than traditional DEXs. You can find more about the best decentralized crypto exchanges in a separate article on our site.
Finally, if you're here to make a single Bitcoin investment, turn to How to buy Bitcoin in Australia. 
Bisq Compared
| Exchange | Cryptocurrencies | Fiat Currencies | Trading Fees | Deposit Methods | Sign Up |
| --- | --- | --- | --- | --- | --- |
| Swyftx | More than 320 | Australian Dollars, New Zealand Dollars | 0.6% | Osko, PayID, Credit Card, Debit Card, Bank Transfer, Cryptocurrency | Visit Swyftx |
| CoinSpot | More than 370 | Australian Dollars | OTC: 0.1% Market Order: 0.1%* (applies to LTC, BTC, ETH, XRP, POWR, DOGE, TRX, NEO, XLM, GAS, RChain, RFOX, EOS) Instant Buy/Sell: 1% | POLi, PayID, Cash, Cryptocurrency, Bank Transfer, BPAY | Visit CoinSpot |
| Binance | More than 600 | US Dollars, Australian Dollars, and 8 more | 0% to 0.1% | Osko, PayID, Credit Card, Debit Card, Crypto | Visit Binance |
| Bybit | More than 160 | 50+ | 0.1% to 0.6% | Crypto, EFT, wire transfer, bank transfer, debit card or credit card | Visit Bybit |
| Independent Reserve | 27 | Australian Dollars, US Dollars, New Zealand Dollars | 0.05% to 0.5% | EFT, SWIFT, Osko, PayID, Crypto | Visit Independent Reserve |
| Coinbase | More than 210 | Australian Dollars, US Dollars, New Zealand Dollars | Fees Vary | EFT, SWIFT, Osko, PayID, Crypto | Visit Coinbase |
| CoinJar | More than 50+ | Australian Dollars, Pound Sterling | Taker: 0.04 to 0.1% Maker: 0.04 to 0.1% | Apple Pay, Google Pay, Credit Card, Debit Card, Bank Transfer, Fiat, Crypto | Visit CoinJar |
| Kraken | More than 140 | Australian Dollars, US Dollars, and 5 more | Taker: 0.10% to 0.26% Maker: 0.00% to 0.16% | Apple Pay, Google Pay, SWIFT, Osko, SEPA, Crypto, Wire Transfer, Bank Transfer | Visit Kraken |
| BTC Markets | More than 15 | Australian Dollars | Taker Fee (for Bitcoin pairs): 0.20% Maker Fee (for Bitcoin pairs): -0.05% Australian Dollars Market Pairs: 0.10% to 0.85% | Crypto, BPAY, EFT, PayID, Osko | Visit BTC Markets |
| Easy Crypto | More than 40 | Australian Dollars, New Zealand Dollars, South African Rand | 1% | P2P, POLi, and Bank Transfers | Visit Easy Crypto |
| Coinstash | More than 140 | AUD | Taker fees: 0.85% Maker fees: 0.85% | Cryptocurrency, Bank Transfer, PayID | Visit Coinstash |
| eToro | More than 70 | Australian Dollars, US Dollars, Euro, and 12 more | Vary | Online Banking, Skrill, Neteller, PayPal, Bank Transfer, Debit Card | Visit eToro |
| KuCoin | More than 645 | US Dollars, Euro, Australian Dollars, and 6 more | 0.1% | Credit Card, Debit Card, SEPA, PayPal, Wire Transfer, Crypto | Visit KuCoin |