Bitfinex Review for 2023
In terms of popularity, dependability, and trading volume, Bitfinex is considered to be one of the greatest and most popular crypto exchanges in the market. This trading platform was established by iFinex Inc in 2012 when it was headquartered in the British Virgin Islands.
This crypto-to-crypto and fiat-to-crypto trading platform also gets a stellar rating on TrustPilot, largely because of its professional and speedy customer care.
Intrigued by the positive experiences of many Bitfinex customers, we decided to explore this crypto exchange a little further to see what it's all about, especially regarding its trading offer, security features, and – of course – the fantastic customer care everyone seems to be raving about. Here's our 'verdict'.
About the Bitfinex Exchange
Currently headquartered in Hong Kong, Bitfinex is a digital asset trading platform that offers a wide range of financial services highly suitable for professional traders. With an incredibly intuitive, engaging, and informative user interface that welcomes you with highly informative charts, Bitfinex can also be also used by beginners in crypto trading. Moreover, with its large array of trading tools and superior security techniques, Bitfinex enables individual traders, enterprises, and organizations to implement professionally prepared and comprehensive investing strategies.

For Bitfinex's designers, the ultimate objective was to provide their clients with a cutting-edge trading platform based on trail-blazing technological solutions, as well as an unrivaled quality standard for customer support.
In order to meet the demands of seasoned traders, Bitfinex offers professional and institutional trading thanks to their partnership with Market Synergy, corporate accounts, advanced charting tools for the ultimate graphical trading experience, expedited verification, Bitfinex REST, Websocket APIs designed to provide full integration with traders' own products and platforms, and more.
Bitfinex Trading
All Bitfinex users can customize their trading area by picking the most fitting layout of the exchange's desktop, choosing from multiple backgrounds, or setting notifications. Traders who opt for Bitfinex as their trading hub can choose among a number of sophisticated and advanced trading tools such as margin trading, derivatives markets, crypto swapping, paper trading, over-the-counter trading (OTC), lending, staking, securities trading, advanced order types, scaled orders, etc.
Alongside the margin trading and margin funding features, investors can also make use of a variety of order types such as limit order, trailing stop order, market stop order, OCO order, fill or kill order, hidden order, Iceberg order, or post-only limit order.
But, let us focus on leveraged trading a bit more and see how it's funded on Bitfinex.
Bitfinex Margin Funding (P2P Financing)
Bitfinex's margin funding is a P2P liquidity feature, i.e. a type of digital market where users may generate a return by lending assets to other clients of the exchange who would like to utilize the trading tools with leverage. This margin funding system allows qualified users to trade with up to 10x leverage.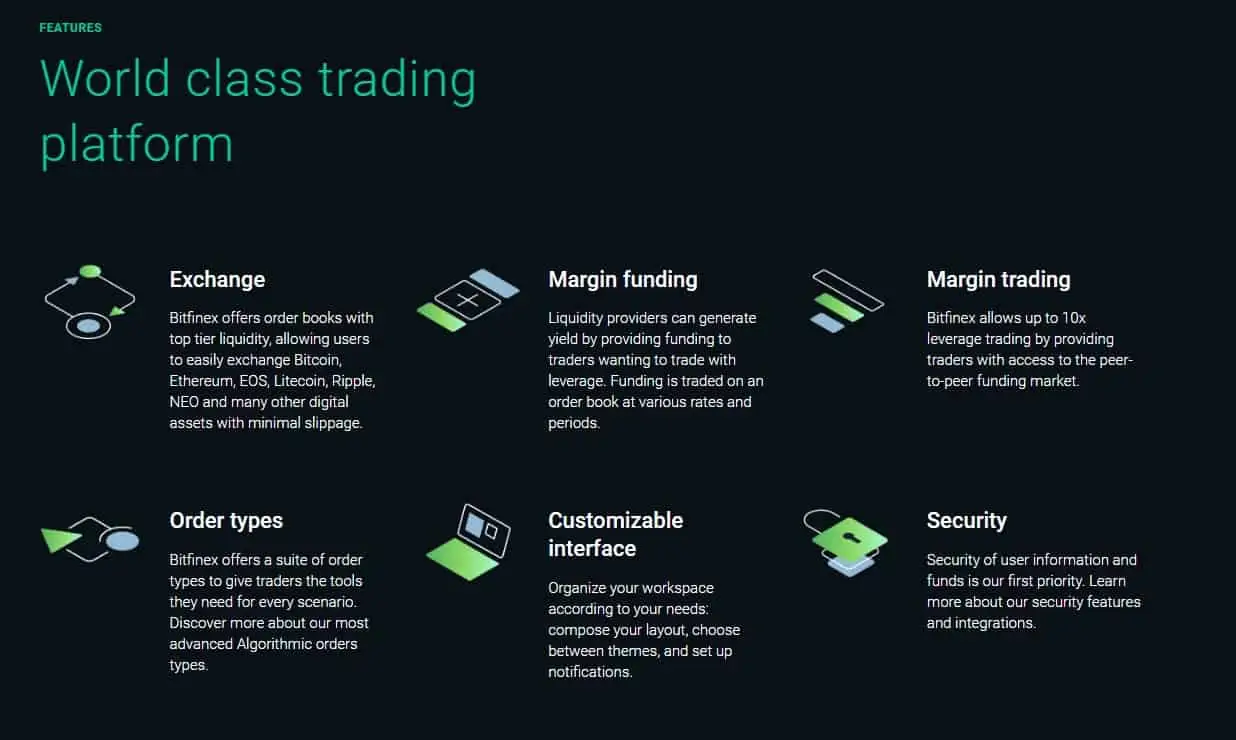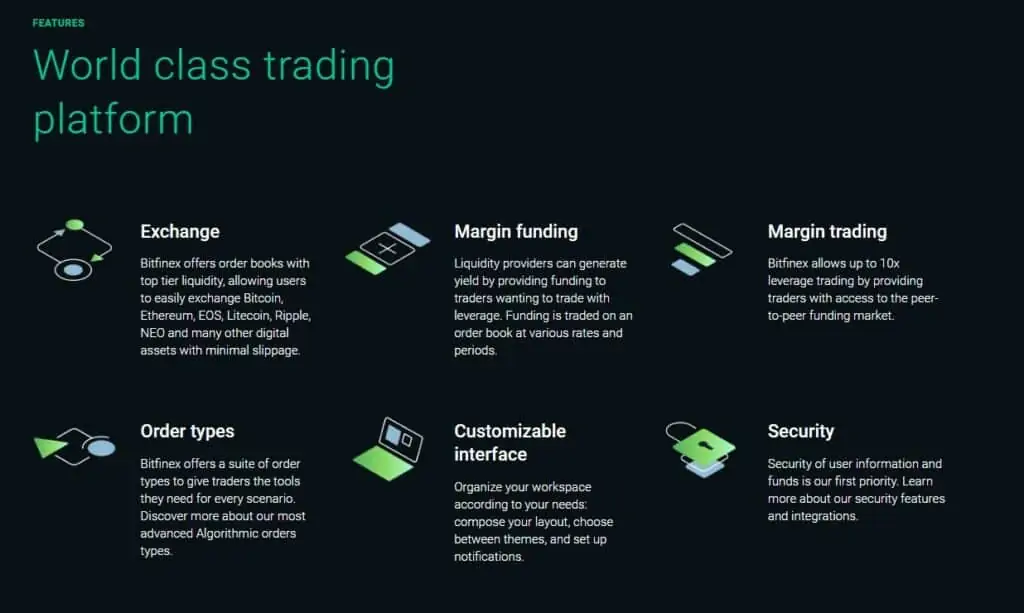 How Does Margin Funding Work?
Bitfinex enables you to fund your account with any of the numerous funding currencies available for margin trading. Once you have the assets in your funding wallet, you may use them to make a funding offer, which will be processed like any other transaction in the order book after it has been paired with an offer.
You may also adjust the financing fee, duration, and amount of your fundraising offer. You will be compensated at the rate you choose for as long as the funding taker has a hold of your resources.
Bitfinex Margin Trading
Margin trading, also known as leveraged trading, is a technique of trading digital currencies that includes borrowing capital from the liquidity makers by traders with smaller investing power. This allows lower volume traders to boost their positions with more funds than they hold in their possession.
Bitfinex's margin funding software helps clients trade cryptos with a margin of up to 10x by taking loans from the peer-to-peer (P2P) margin funding sector and reinvesting them in their trades.
Paper Trading
In paper trading, you trade in a simulated market setting in which you might test and refine your trading techniques. On Bitfinex, newly established sub-accounts could be configured to paper trading by agreeing to the Paper Trading Terms of Service, as well as the Derivative Terms of Service. Paper trading allows you to learn about and strategize with swapping crypto on Bitfinex, margin and derivatives trading, margin funding, as well as how to use the other financial instruments.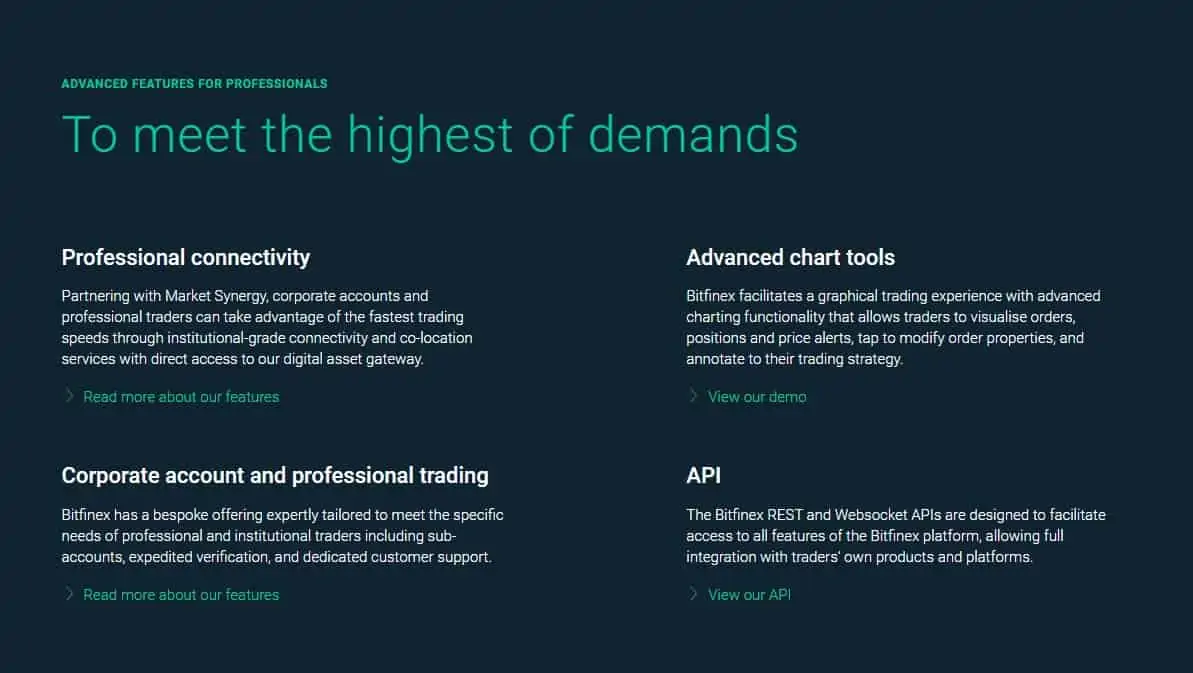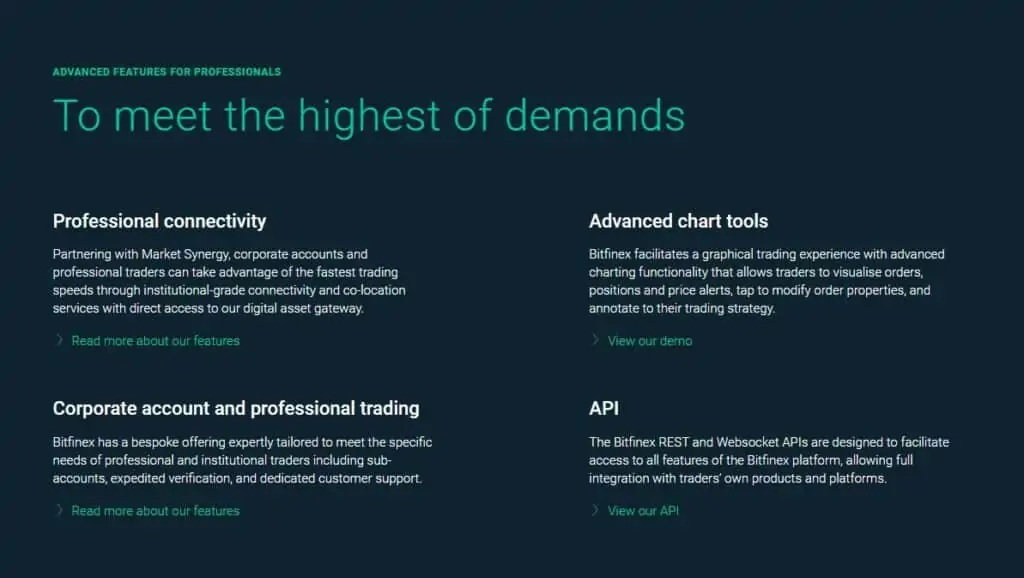 Types of Bitfinex Accounts
In order to start trading, Bitfinex users can opt to sign up for one of the several types of accounts on this crypto trading platform, choosing among the following:
An individual Bitfinex account – It comes with an advanced set of security settings, such as 2FA and KYC authentication (requiring some personal info and documents as evidence, such as your address of residence, a scan of a valid ID, etc.), user password protection.
Paper trading accounts – These are the demo accounts that you can use to develop your trading methods before making a move with your investments on the stock market.
Corporate accounts – Corporate master accounts allow for the creation of sub-accounts, which have the added benefit of aggregating trading volume for classification into certain Bitfinex fee tiers.
Supported Cryptocurrencies
This cryptocurrency exchange offers order books with top tier liquidity, allowing users to easily exchange a wide selection of cryptocurrencies with minimal slippage, including Bitcoin (BTC), Ethereum (ETH), Iota (IOTA), Dash (DASH), Litecoin (LTC), Tether (USDT), Eos (EOS), Neo (NEO), Monero (XMR), Ripple (XRP), Tron (TRX), as well as many other altcoins.
Moreover, you can also use your favorite Bitfinex financial tools on over 100 trading pairs.
Payment Methods
If you authenticate your Bitfinex account, you will be able to make fiat deposits and withdrawals through your local bank. The same goes for USDT (Tether) deposits and withdrawals. Bitfinex supports most of the popular payment methods, such as bank wire transfer, credit card, debit card, etc.


In addition, you can use your credit card or debit card on Bitfinex to acquire cryptocurrencies through third-party service providers on the Bitfinex exchange, such as OWNR and Mercuryo.
Trading Fees and Limits
In order to start buying, selling, or swapping digital assets on this cryptocurrency trading platform, first, you need to fund your account. You can make a deposit on your Bitfinex account in fiat currencies (USD, EUR, GBP, JPY, CNH), or in any of the cryptocurrencies and stablecoins on the long list of crypto projects offered for trade on this platform.
If you choose to conduct the transaction via express bank transfer, you will be charged a Bitfinex deposit fee amounting to 1% of the sum sent within 24 hours. When it comes to withdrawing cryptocurrencies, there are different fees that the user needs to pay.
Please keep in mind that if you wish to finance your account with fiat currencies, your account must first be completely validated and authenticated.
Bitfinex Fee Structure
This digital assets exchange supports the taker fees/maker fees structure. According to this fee structure, traders who supply liquidity (makers) are charged with lower costs (around 0.1%) than the traders who acquire liquidity (takers) – these traders are charged with a slightly higher fee (0.2%).

Bitfinex Withdrawal Fees
Bitfinex allows you to withdraw funds to your digital wallet or bank account in the following fiat currencies: USD, EUR, JPY, GBP, and CNH. If you choose to make your withdrawal using a bank transfer or wire transfer in Euros or US dollars, you will be charged a fee of 0.1% of the transferred amount.
The processing time for a cryptocurrency withdrawal is around 12 hours. The pace at which the transaction is completed is also dependent on the security precautions that you have enabled. Basically, the more protected your account is, the faster Bitfinex will execute your order, and vice versa.
Standard withdrawals in fiat currencies take from 5 to 10 business days to process. On the other hand, the expedited fiat withdrawals are processed within 24 hours of being requested.
Is Bitfinex Safe to Use?
As a result of a couple of hacking incidents over the years, Bitfinex has taken numerous additional security steps to guarantee the integrity and safety of its platform.
To begin with, Bitfinex is the first trading platform from the A-league to provide institutional clients a secure, encrypted, and specialized low-latency connection option that is both reliable and cost-effective. They have a professional collaboration with Market Synergy that delivers the best possible approach to both high-frequency market makers and corporate clients, backed by the following services:
The Co-location service provides Bitfinex users with the best transaction speeds in the industry.
The VPS (virtual private server) service provides a customized configuration of RAM, CPUs, and disc space. In this way, Bitfinex users can connect to a VPS within the co-location center.
The Cross connectivity service allows for a safe connection to the Bitfinex digital asset gateway from a number of protected locations around the world, including NY4, LD4, and ZH4, among others.


Apart from that, Bitfinex holds 99.5% of user funds in multi-signature cold storage (offline) wallets as an additional layer of protection, adheres to the Anti-Money Laundering (AML) and Counter-Terrorism Financing (CTF) laws and regulations, strictly follows the Know Your Customer (KYC) guidelines in the account verification process, implements the session hijacking prevention protocol and the two-factor authentication protocol for even more valid user authentication, and – last but not least – conducts suspicious activity analysis to identify fraudulent activity.
Finally, it's good to know that despite the fact this exchange does not insure the assets of its clients, it has assumed the obligation of repaying any Bitfinex users who have suffered financial losses as a result of the platform's cyber security incidents.
Bitfinex Security Breach
Bitfinex made a shocking announcement in August 2016. In the greatest theft of its sort in the crypto world, hackers managed to penetrate this renowned Hong Kong-based exchange and move 119,756 bitcoins to unknown digital wallets. The lot from this hacking attack was estimated to be a staggering $72 million US dollars.
Prior to this, in 2015, a smaller-scale security breach of the exchange happened when around 1500 bitcoins were transferred off the Bitfinex platform. From today's viewpoint, it appears to be a premeditated cyber-attack on the platform, and the FBI appears to have a finger pointed at a person of interest who may be responsible for these hacking episodes.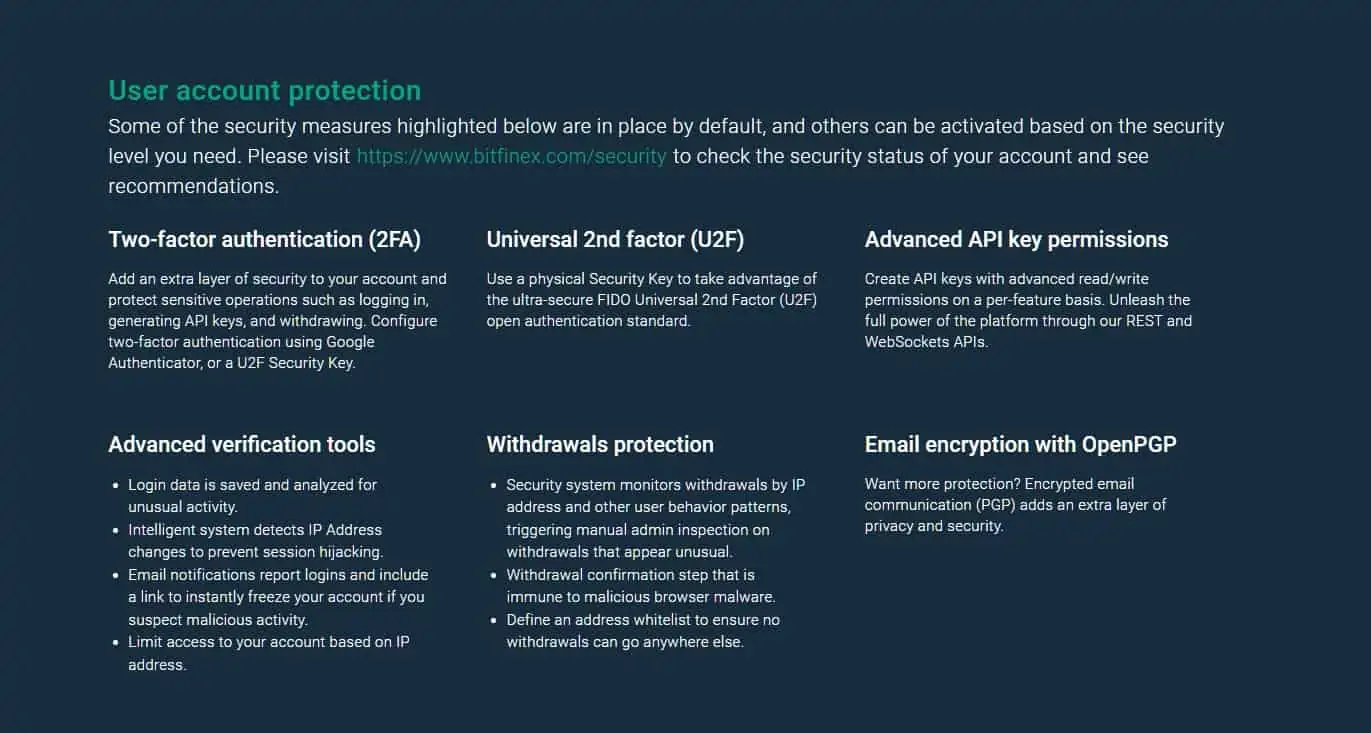 Customer Support
To begin with, there is a wealth of well-rounded information on Bitfinex's user interface, which allows users to quickly understand the principles of the trading tools or strategies that had initially grabbed their attention on this platform
And even if this massive repository of knowledge doesn't help you with your issue, you can always turn to Bitfinex's well-regarded customer service team for assistance available 24/7. They are available via email and respond to requests within 12 hours of receiving them.
Frequently Asked Questions
Does Bitfinex have a mobile app?
Yes. You can download their mobile app on your Android or iOS supported device from GooglePlay or AppStore, respectively. Alternatively, you can scan the QR code provided on the web version of this exchange to download the app.
For enhanced safety of both your sensitive data and transaction details on mobile, you can modify your mobile app permissions.
For this, rather than authenticating your credentials by using your username and password, you'll need to generate an API key, scan the QR code to import it onto your mobile app trading account, and log onto the app with it.
In order to generate the key, navigate to www.bitfinex.com/api. Once you've logged in using the API key, you can continue accessing the trading platform via the mobile app by signing in with your password or biometric authentication.
What countries are supported by Bitfinex?
As a worldwide trading platform, Bitfinex is present almost worldwide – in Europe, Asia, Africa, and Oceania. The United Kingdom, Australia, Germany, China, South Africa, and Thailand are among the bigger countries that can utilize Bitfinex's financial tools.
Bangladesh, Bolivia, Ecuador, and Kyrgyzstan are the only states that are unable to engage with this trading platform due to regulatory restrictions. In addition, Bitfinex ceased serving clients from the United States at the beginning of November 2017, citing the difficult regulatory environment in the United States as the reason.
Does Bitfinex provide a cryptocurrency wallet?
Yes. In fact, there are several of them. The three primary wallets that come with your Bitfinex account by default support each one of the main functionalities of this exchange.
You can send and receive coins accepted by Bitfinex by using the exchange wallet. Next, the margin wallet is used for negotiating leveraged short and long positions, while the funding wallet is used to supply margin funding to investors who need a boost of their liquidity.
Additionally, the derivatives wallet allows you to transfer tokens for the purpose of derivatives trading, whereas the capital raise wallet supports trading with tokenized securities through the Bitfinex Securities trading site.
The Bottom Line
Bitfinex has clearly achieved its goal of becoming a world-class trading platform. Namely, keeps pace with the fast-changing landscape of digital finance by providing cutting-edge crypto trading solutions to its users and global liquidity providers. Similarly, the Bitfinex team has been able to surpass its competition in many facets of trading because of their original ideas and adaptable techniques.
To us, every click on this site demonstrates the creators' desire to make it not only the home of digital asset trading but also a location where anybody trading or swapping currencies feels at home, too. Even the fact that Bitfinex has been hacked twice (which is truly astonishing given the security procedures in place) does not sway us. Rather, these occurrences and how the platform evolved in response to them reaffirm our opinion that Bitfinex is dedicated to enhancing and updating the exchange for the greatest trading experience possible.
Bitfinex Compared
| Exchange | Cryptocurrencies | Fiat Currencies | Trading Fees | Deposit Methods | Sign Up |
| --- | --- | --- | --- | --- | --- |
| Swyftx | More than 320 | Australian Dollars, New Zealand Dollars | 0.6% | Osko, PayID, Credit Card, Debit Card, Bank Transfer, Cryptocurrency | Visit Swyftx |
| CoinSpot | More than 370 | Australian Dollars | OTC: 0.1% Market Order: 0.1%* (applies to LTC, BTC, ETH, XRP, POWR, DOGE, TRX, NEO, XLM, GAS, RChain, RFOX, EOS) Instant Buy/Sell: 1% | POLi, PayID, Cash, Cryptocurrency, Bank Transfer, BPAY | Visit CoinSpot |
| Binance | More than 600 | US Dollars, Australian Dollars, and 8 more | 0% to 0.1% | Osko, PayID, Credit Card, Debit Card, Crypto | Visit Binance |
| Bybit | More than 160 | 50+ | 0.1% to 0.6% | Crypto, EFT, wire transfer, bank transfer, debit card or credit card | Visit Bybit |
| Independent Reserve | 27 | Australian Dollars, US Dollars, New Zealand Dollars | 0.05% to 0.5% | EFT, SWIFT, Osko, PayID, Crypto | Visit Independent Reserve |
| Coinbase | More than 210 | Australian Dollars, US Dollars, New Zealand Dollars | Fees Vary | EFT, SWIFT, Osko, PayID, Crypto | Visit Coinbase |
| CoinJar | More than 50+ | Australian Dollars, Pound Sterling | Taker: 0.04 to 0.1% Maker: 0.04 to 0.1% | Apple Pay, Google Pay, Credit Card, Debit Card, Bank Transfer, Fiat, Crypto | Visit CoinJar |
| Kraken | More than 140 | Australian Dollars, US Dollars, and 5 more | Taker: 0.10% to 0.26% Maker: 0.00% to 0.16% | Apple Pay, Google Pay, SWIFT, Osko, SEPA, Crypto, Wire Transfer, Bank Transfer | Visit Kraken |
| BTC Markets | More than 15 | Australian Dollars | Taker Fee (for Bitcoin pairs): 0.20% Maker Fee (for Bitcoin pairs): -0.05% Australian Dollars Market Pairs: 0.10% to 0.85% | Crypto, BPAY, EFT, PayID, Osko | Visit BTC Markets |
| Easy Crypto | More than 40 | Australian Dollars, New Zealand Dollars, South African Rand | 1% | P2P, POLi, and Bank Transfers | Visit Easy Crypto |
| Coinstash | More than 140 | AUD | Taker fees: 0.85% Maker fees: 0.85% | Cryptocurrency, Bank Transfer, PayID | Visit Coinstash |
| eToro | More than 70 | Australian Dollars, US Dollars, Euro, and 12 more | Vary | Online Banking, Skrill, Neteller, PayPal, Bank Transfer, Debit Card | Visit eToro |
| KuCoin | More than 645 | US Dollars, Euro, Australian Dollars, and 6 more | 0.1% | Credit Card, Debit Card, SEPA, PayPal, Wire Transfer, Crypto | Visit KuCoin |