bitFlyer Review for 2022
bitFlyer, established in 2014, is one of the largest and most popular Bitcoin and cryptocurrency exchanges. Aside from Japan, this licenced cryptocurrency and fiat-gateway exchange also provides its financial instruments and trading services in the United States and the European Union.
Knowing that bitFlyer is an industry veteran and continues to be one of the most trustworthy and popular exchanges, we were curious to learn how its developers manage to keep up with the current competition and the demands of the cryptocurrency market. Moreover, we wondered how the platform secures both its users' online data and funds, what kinds of transaction fees it imposes, and other aspects of its operational processes.
So let's dig in!
About the bitFlyer Exchange
bitFlyer is a user-friendly crypto trading platform for both beginners and experienced digital asset investors. That's why bitFlyer offers two distinct trading platforms tailored to the specific requirements of traders from both groups.

The bitFlyer Easy Exchange is designed for novice users who prefer to swap Bitcoin for fiat currencies featuring only the basic and most convenient methods for obtaining bitcoins. On the other hand, the bitFlyer Lightning Exchange is a trading platform designed to meet the needs of more experienced traders who want to trade cryptocurrencies by placing limit orders and stop orders, conduct margin trading with up to 4x leverage, and dabble in crypto derivatives, futures, spot trading, and more. Additionally, users can take advantage of the API to see their trading history as well as the order book.
Types of bitFlyer Accounts
It's possible to open two different types of bitFlyer accounts: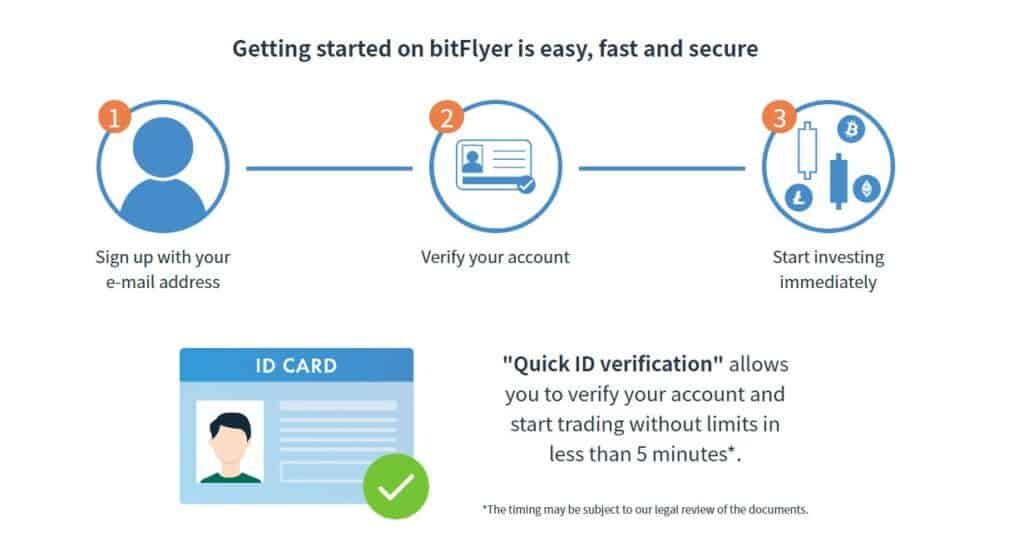 a Trade account – a personal trading account that does not require you to submit any documents as part of the verification process;
a Trade Pro account – a corporate trading account that comes with a few additional features and benefits, but requires submitting personal documents to validate your profile.
Trade Pro account holders on bitFlyer may benefit from the absence of trading limits for both deposits and withdrawals. Namely, one of the advantages of the Trade Pro account is that it allows you to purchase, receive, and transfer USD and crypto with no daily restrictions.
Supported Cryptocurrencies
BitFlyer offers only a small number of cryptocurrencies. However, the exchange more than compensates for the lack of a larger cryptocurrency selection with the popularity, high liquidity, and trading volume of these cryptocurrencies.
On bitFlyer, you can buy Bitcoin (BTC), Ethereum (ETH), Litecoin (LTC), Monacoin (MONA), Ethereum Classic (ETC), Bitcoin Cash (BCH), Lisk (LSK), and several other altcoins.
Payment Methods
bitFlyer allows you to buy/sell Bitcoin and other cryptocurrencies using your preferred fiat currency. The US dollar (USD), the Euro (EUR), and the Japanese Yen (JPY) are among the supported ones.
You can also pay with a credit card, a debit card, SEPA bank transfers, or make payments via your bank account when trading on bitFlyer.
bitFlyer Fees and Limits
bitFlyer doesn't impose any deposit fees, penalize its members for inactivity, or charge for account maintenance. If you choose to withdraw some coins, in general, you will be charged a very low fee. That said, the fee does depend on the particular coins you're withdrawing.
In this regard, you'll be pleased to know that there are no withdrawal fees associated with the transaction of MONA coins. Generally, withdrawals on the bitFly exchange can be processed through an Automated Clearing House (ACH), wire transfer, or through the use of digital currencies.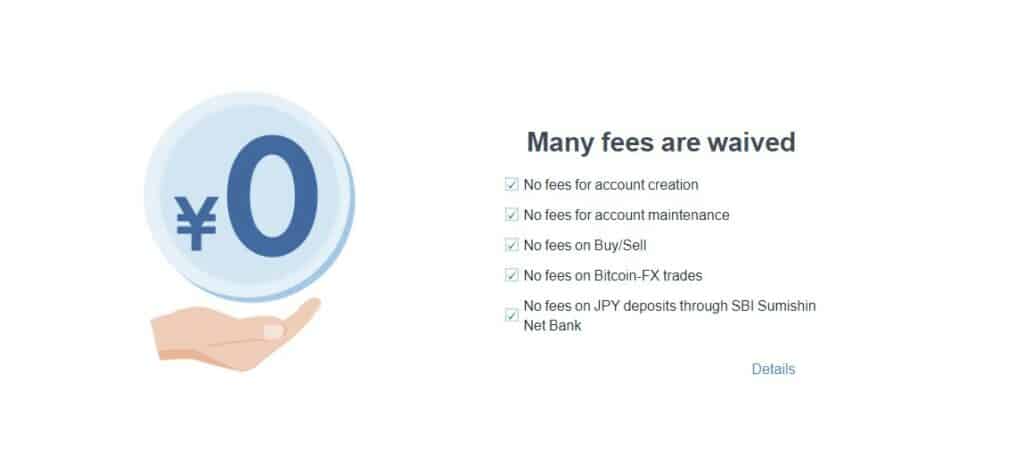 The bitFlyer exchange charges a modest trading fee beginning at 0.15% of the transaction volume, which is calculated based on the total amount of transactions processed by the exchange. The amount varies depending on the trader's 30-day trading history.
As previously stated, there are no fees associated with the Trade Pro fully verified accounts while making deposits or withdrawals. On the other hand, trade accounts are subject to both deposits and withdrawal limitations, which are determined at a total of €249.99 or a maximum cumulative amount of €2,499.99 within a year. In addition, every coin traded via bitFlyer has a configurable minimum trade value that varies from coin to coin.
Finally, please keep in mind that bitFlyer Japan, bitFlyer USA, and bitFlyer Europe all have distinct fee schemes.
Is bitFlyer Safe to Use?
bitFlyer.com takes the security of its platform as well as its users' crypto assets and online data extremely seriously. Consequently, the exchange adheres to stringent safety requirements and has gained various financial services licenses. Some of these approvals come from Japan's Financial Services Agency (JFSA), the European Union's financial authorities, as well as from the regulatory bodies of Europe, Japan, and the United States.
Regarding the regulations issued by Japan's financial authorities, bitFlyer is a platinum member of the Japan Blockchain Association (JBA), which signifies that the exchange complies with trade-related prohibitions mandated by this association.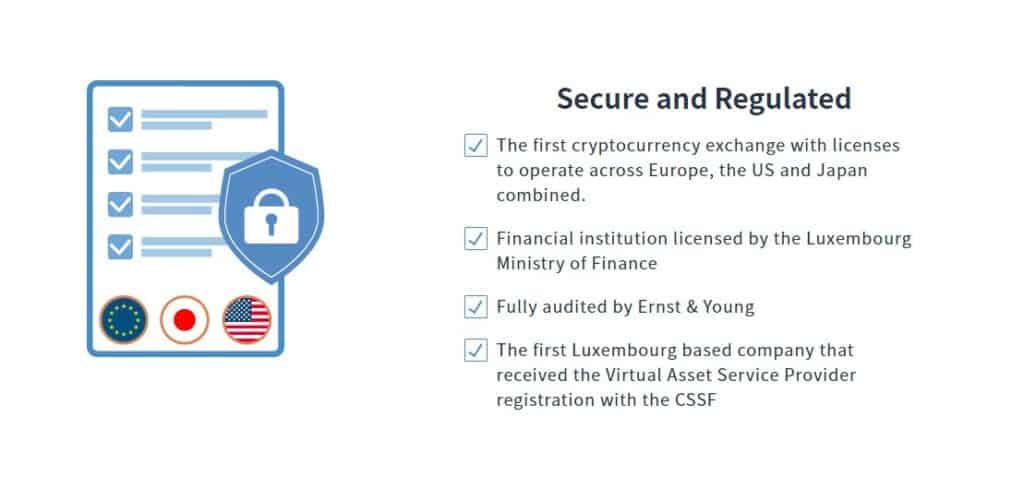 In addition, BitFlyer has multi-signature security features on its trading platform, which are supported by SSL-encrypted communication, the SHA-256 algorithm, and a two-factor authentication (2FA) protocol. Also, automatic session timeouts and an account lock function are activated after a few failed login attempts. This crypto exchange also strictly adheres to the AML (Anti-Money Laundering) and KYC (Know Your Customer) authorization standards for the increased safety of its users and their funds.
Since this is the first regulated exchange in all of Japan, Europe, and the USA, all clients must be authenticated before accessing any of the exchange's features, thus decreasing the likelihood of hackers or online fraudsters manipulating the system.
As an added security feature, around 80% of the digital tokens exchanged on this platform are housed in cold storage systems.
Customer Support
bitFlyer provides its users with round-the-clock customer service. Users may contact the support staff of this exchange by e-mail or by submitting a support ticket form on the website. The usual response time is 24 hours. The FAQ section of the exchange may also assist you in finding a solution to your problem.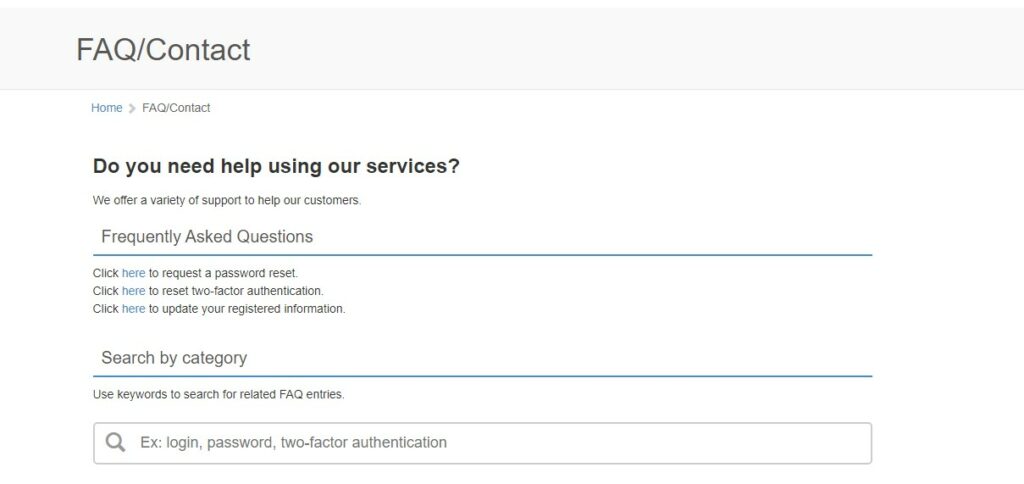 Frequently Asked Questions
Does bitFlyer have a mobile app?
Yes. bitFlyer has a mobile application, making trading easier for everyone. The bitFlyer mobile app is compatible with both iOS and Android, and it can be downloaded for free from the Apple Store and the Google Play Store, respectively.
What countries are supported by bitFlyer?
Based in Tokyo, Japan, bitFlyer is an international cryptocurrency exchange that delivers its financial services to customers all over the world.
The full list of supported countries includes Arizona, Iceland, Slovenia, Jersey, Delaware, Liechtenstein, Arkansas, Italy, Spain, Japan, California, Alabama, Norway, Alaska, Colorado, Poland, Connecticut, Switzerland, Portugal, District of Columbia, Sweden, Luxembourg, Greece, France, Guernsey, Monaco, Hungary, San Marino, Isle of Man, Latvia, Lithuania, Malta, Romania, Netherlands, and the United Kingdom.
If your country is not on this list, you won't be able to register an account on Bitflyer.
Does bitFlyer provide a cryptocurrency wallet?
Yes. When you register for a bitFlyer account, you'll also get access to a built-in crypto wallet to safely store any of the supported virtual currencies (Bitcoin, Ethereum, Litecoin, and other listed altcoins). Furthermore, you can easily place orders or withdraw cash through the BitFly wallet.
However, the account-integrated digital wallet provided by bitFlyer doesn't allow its clients to access the private key to the wallet. Therefore, it is suggested that you move your stored coins to a cold wallet of your choice for added security.
The Bottom Line
Cryptocurrency investors who want to trade digital money in a safe cryptocurrency trading environment will find bitFlyer to be an ideal solution. Not only does it offer a regulated and secure platform, but it can be a useful resource for new cryptocurrency users as well as more experienced traders who want to deepen their knowledge of crypto even more.
Additionally, bitFlyer has some of the lowest fees in the industry, making it an excellent choice for anybody looking for a fast, reliable, and cost-effective fiat gateway service.