BitMart Review for 2022
While we were looking for what exchange to review next, we came across eye-opening information claiming that the BitMart exchange serves more than 5.5 million users globally! Having in mind that security and readiness to help their clients are two of the essential criteria of choosing a competent and trustworthy exchange, we quickly became interested to learn how they handle this incredible number of users, whether they are proficient, and just how many crypto projects does this crypto trading platform support. All these answers and more – next on.
About the BitMart Exchange
Launched in March 2018, BitMart is the brainchild of an international group of specialists in the field, who managed to surpass everyone's expectations with the prompt and efficient development of this exchange platform. The BitMart crypto exchange supports more than 130 cryptocurrency projects and boasts impressive liquidity. Support-wise, this exchange also takes pride in the multilingual interface for its international users which only hints at the professional trading orientation of BitMart.
By looking at the trading instruments this platform offers, it becomes clear that these sophisticated financial operations are more geared towards catering to advanced investors, but are intuitive enough so that beginners can easily learn the ropes, too.

Conveniently organized in a user-friendly interface enlivened by the TradingView charting, the tabs on BitMart's dashboard reveal plenty of trading services: spot trading and futures contract trading instruments with detailed live charts reflecting the current market dynamics of the supported cryptocurrencies, in addition to features such as network trading, OTC trading, staking (Dash, ALGO, QTUM, and ATOM), BitMart lending, futures trading, etc.
There's also an instant buy and sell cryptocurrencies option that gets your preferred currency in your digital wallet with only a click. Last, but not least, you may utilize the BitMart Earn tool and earn up to 50 percent APY on your stashed coins.
BMX Token
The BitMart digital asset exchange supports its own native token. It's the ERC-20-based BMX token built on the runs of Ethereum blockchain technology and issued in a volume of 1,000,000,000 coins in total.

The holders of the BitMart token can utilize it for a 25% deduction of the BitMart platform transaction fees. They also get the right to vote for the new coins that will be listed on the BitMart exchange.
Supported Cryptocurrencies
Although it's relatively new to the crypto market, the BitMart cryptocurrency exchange boasts an astounding number of over 130 cryptocurrencies and more than 230 trading pairs.
The non-exhaustive list of supported coins on BitMart includes Bitcoin (BTC) and a variety of altcoins:

Bitcoin Cash (BCH),
Dash (DASH)
0x (ZRX),
Ripple (XRP),
Bitcoin SV (BSV),
Qtum (QTUM),
Litecoin (LTC),
Tether (USDT),
Chainlink (CHAIN),
Neo (NEO),
Eos (EOS),
Tron (TRX),
Zcash (ZEC).
The cryptocurrency trading pairings are divided into 5 major segments of the trading market: BTC, USDT, ETH, ALTS, and BMX, as these coins make the largest number of trading pairs on the exchange.
Payment Methods
The BitMart exchange provides a wide range of payment methods. On this exchange, you can easily buy your favorite coin with fiat currencies by simply using your MasterCard/Visa credit card, debit card, or bank account. Various wallet services, like Apple Pay, Alipay, or WeChat are also available.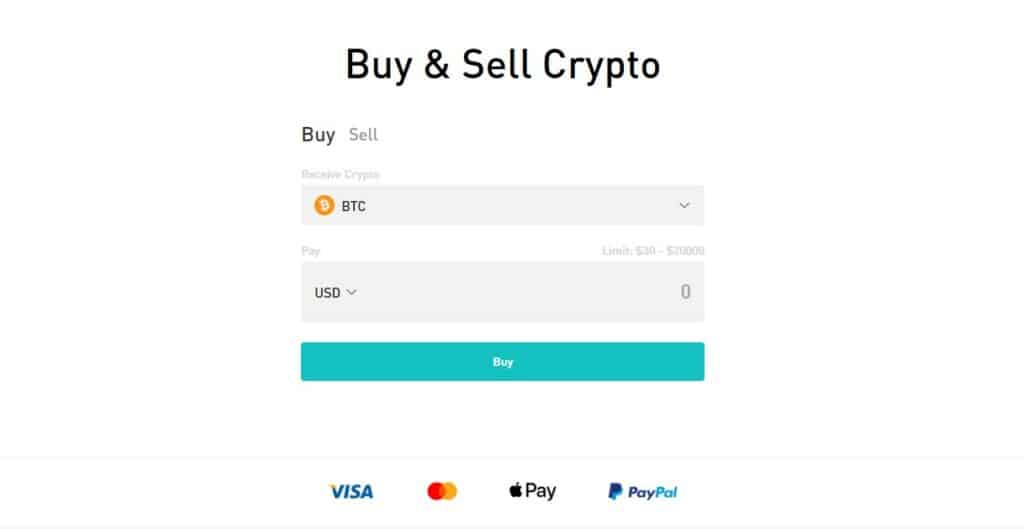 On BitMart, you can conveniently purchase up to 42 cryptocurrencies with fiat currencies like USD, EUR, AUD, CAD, and HKD. Moreover, the transactions made through BitMart are supported by highly trusted payment services, such as Simplex and PayPal. You can even buy bitcoins through PayPal, which is not always the case with other crypto exchanges.
Trading Fees and Limits
The usual fee for the maker on BitMart is 0.100 percent, while the taker fee is 0.200 percent. If a user uses BMX coins to compensate for the transactions, they become eligible for a 25% discount.
The transaction fees are also determined on the basis of their 30-day trading volume or the BMX account balance (provided you have turned on the 'Pay Fee with BMX' option). More specifically, if a user trades in BitMart and has a sufficient BMX balance on their account to pay the fee, BMX will subtract the transaction fee. Consequently, the user will receive a 25% discount on the charge. It's worth noting that this fee discount is valid for only 24 hours before it expires.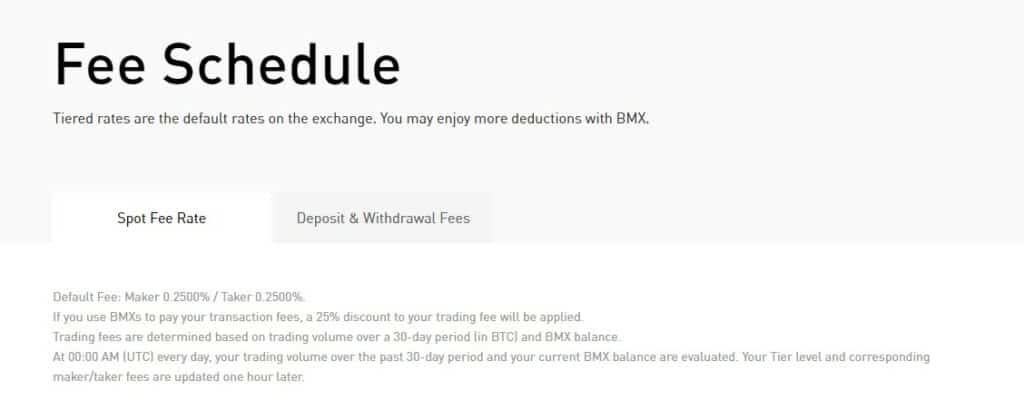 Withdrawal Fees
While deposits made into your BitMart account are entirely free, the withdrawal fees fluctuate from cryptocurrency to cryptocurrency. These fees are modified depending on the blockchain status of the coin you wish to move from the BitMart platform, i.e. how long the transaction will take to be confirmed on the respective blockchain
Is BitMart Safe to Use?
The team behind BitMart is particularly concerned about the security of their platform, as well as the assets stored on it. They've established a wide range of security practices to safeguard the system and the accounts in this respect, including:
Two-factor authentication (2FA) protocol;
Know Your Customer policy (KYC) against suspicious or illegal financial conducts;
Personal information such as identification number, usernames, and identification certificate images are all encrypted, while the IP address of each login is tracked and monitored for increased account security. Even the passwords of the users are retained in a hashed form on the BitMart platform.
The safeguarding process of users' digital assets against distributed denial of service (DDOS) assaults is automated;
The platform web service is secured with an SSL certificate (https);
Last but not least, over 99% of the assets kept on the trading platform are stored in cold wallets (offline storage).

And if it's the human component that has you concerned, rest assured that all BitMart employees have undergone a background check, completed technical security training, and agreed to abide by the corporate security standards.
Finally, the BitMart crypto trading platform is registered with the top-tier financial authorities of the United States as a Money Service Business (MSB). It's also monitored by the Financial Crimes Enforcement Network (FinCEN).
Customer Support
BitMart's web platform offers a vast knowledge base for its users. It includes almost everything a crypto trader should be informed on – from the basic concepts in trading to the latest crypto news.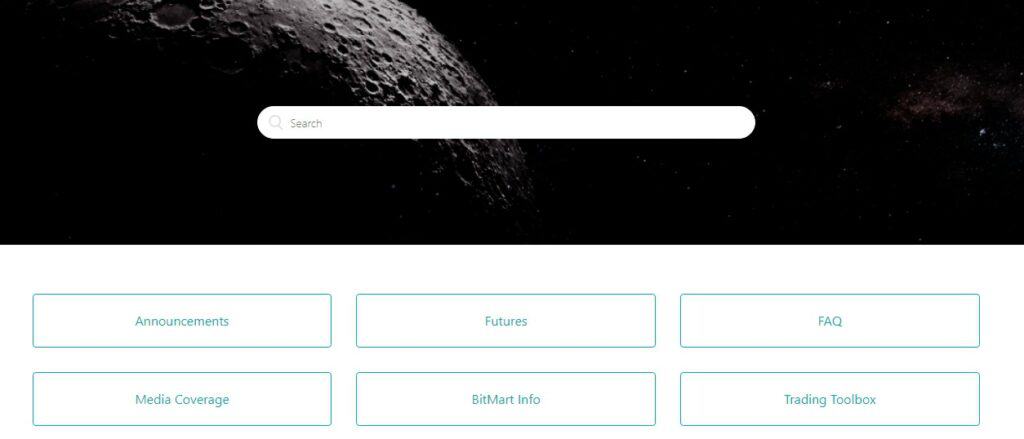 If you have any inquiries, there's a support team dedicated to making sure you have the best trading experience that you may reach out via email. So far, email is the only route of communication between the users and the platform's support team. And while the customer support center could be more efficient in terms of the time it takes to respond to users' concerns, every other means of support supplied to traders by this exchange excels.
Frequently Asked Questions
Does BitMart have a mobile app?
Yes, BitMart has a mobile app that allows you to trade on the go. Available for download to all Android and iOS mobile platforms, the BitMart app allows you to effectively execute most of the trading operations that are available through the web platform.
With BitMart's mobile app, users' assets are protected by its blockchain nodes, which employ hot/cold wallet infrastructure and optimise the operation modes of both the secret keys and addresses in conformity with the blockchain capabilities.
What countries are supported by BitMart?
More than 180 countries have access to the BitMart trading platform, which has its headquarters in the Cayman Islands. This includes much of Europe as well as the United Kingdom and the United States, with the exception of New York (NY).
For the time being, BitMart is unable to offer its services to the residents of the following countries:
Afghanistan
China
Congo (Brazzaville)
Congo (Kinshasa)
Cuba
North Korea
Eritrea
Iran
Iraq
Ivory Coast
Japan
Kyrgyzstan
Lebanon
Libya
South Sudan
Sudan
Is BitMart legit or a scam?
Given the fact that BitMart is a registered platform with top-tier financial institutions, top-of-the-line security protocols, and a record-breaking number of users, we can only say that the management team has a firm commitment to establishing BitMart as one of the most trustworthy online exchanges in the world.
The Bottom Line
In conclusion, the BitMart exchange appears to offer its customers great all-around support. This includes technical and linguistic assistance along with the support of a large number of crypto and fiat currencies as well as a diversity of payment methods. Moreover, the platform offers a vast assortment of sophisticated trading instruments that are likely to meet the needs of even the most experienced traders on the crypto market.
The bottom line? Considering BitMart's rapid growth since its establishment and the sheer value it offers to its users, we can easily predict even more successful days ahead for the exchange.