BitMEX Review 2023
Today we're talking about BitMEX — a P2P (peer-to-peer) crypto derivatives trading platform that supports futures and perpetual contracts with up to 100x leverage. No hassle, though. All these labels may sound a bit confusing at first glance, so let's define BitMEX in more plain language.

As a P2P service, BitMEX supports direct communication between the buyer and the seller without any involvement in the payment transaction. Derivatives stand for the type of tradable contracts that don't require direct ownership over the coin and, finally, leveraged trades are nothing but trades with borrowed funds, with the potential to enhance your position and earnings.

Now that you have a broader picture of the BitMEX operational scope, it's not hard to conclude that we've reached an ultimately progressive zone in the crypto realm.

But when a crypto exchange describes itself as "Bitcoin's most advanced trading platform", there must be something more about it. Therewith, we've done some research to find out to what extent BitMEX performance fits the slogan.

About the BitMEX Trading Platform
BitMEX (Bitcoin Mercantile Exchange) has been present on the crypto scene since 2014 under the umbrella of HDR Global Trading Limited. The company has a registered office in Seychelles, where it operates under the legislation of the International Business Companies Act of 1994 of the Republic of Seychelles, with affiliated branches in the USA and Hong Kong. It was co-founded by Ben Delo, Arthur Hayes, and Samuel Reed, who have proven experience in the respective fields of finance and software engineering.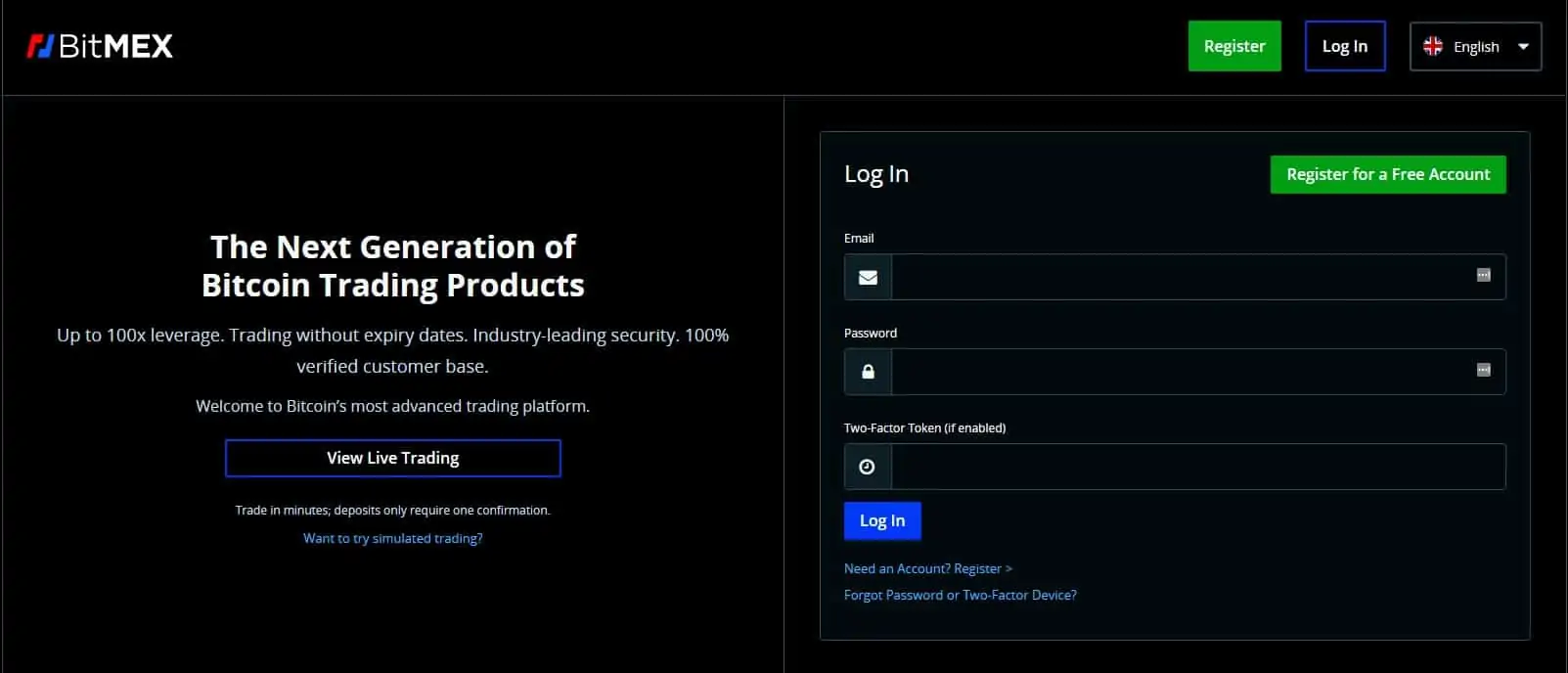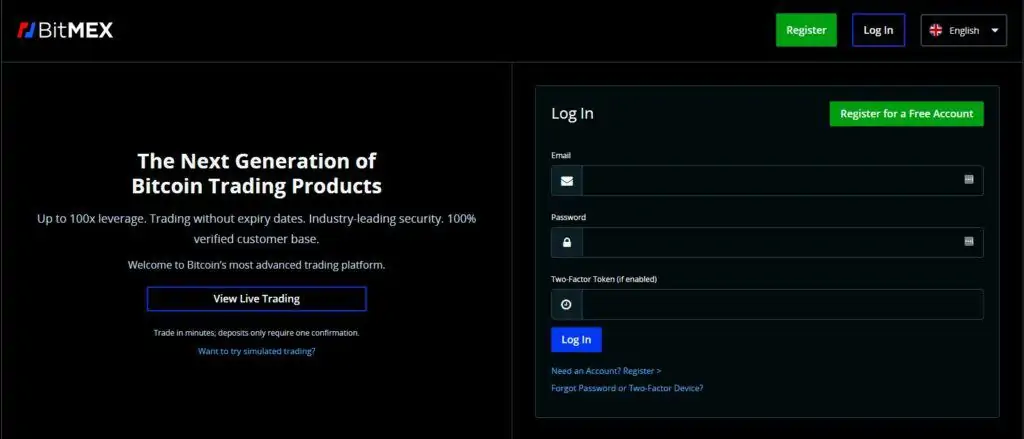 Unlike everything you've already seen, BitMEX supports only crypto derivatives trading, with the main focus on futures contracts with high leverage. The exchange shows outstanding numbers on trading volume charts, even though it targets a narrow group of traders — professionals.
How to Trade on BitMEX?
Setting Up a BitMEX Account
The sign-up process on BitMEX is rather straightforward but let's make it clearer from the very beginning. Until recently, users were able to land on the BitMEX without KYC (Know Your Customer) verification and hence, avoid uploading a bunch of documents like selfies and utility bills.
However, since December 2020, BitMEX users have been obliged to verify their accounts in order to deposit, withdraw, and trade on the exchange. Prior to ID verification, all you had to submit was a valid email address and confirm the link on the received email.
Once a person gets the status of a verified BitMAX user, they can activate 2FA (two-factor authentication) and start trading immediately.
Trading Platform
In the first place, you may find the BitMEX platform a bit cluttered, complex, and incomprehensive. Just give it some time, it won't be long until you get to see the perks of having all options you need under one roof. Eventually, you'll see that the dashboard page is pretty intuitive to navigate, given that you're familiar with the concepts of margin and derivatives trading.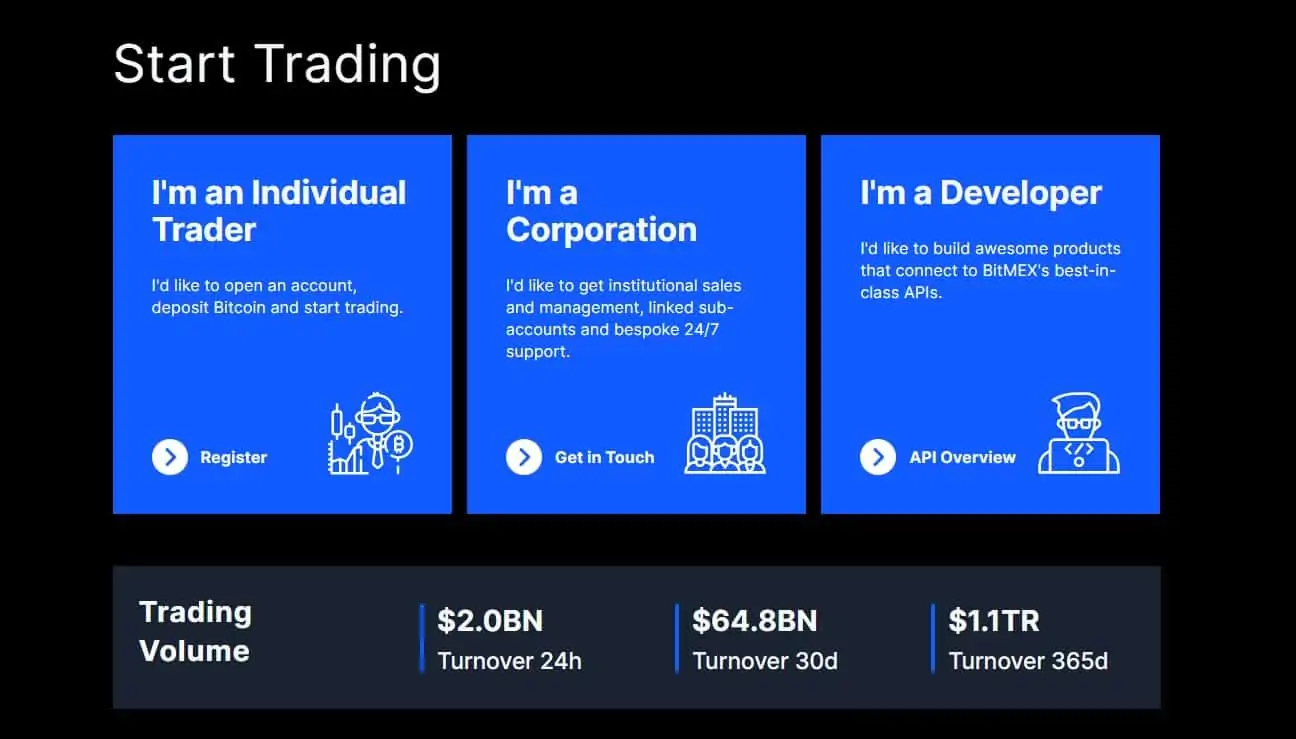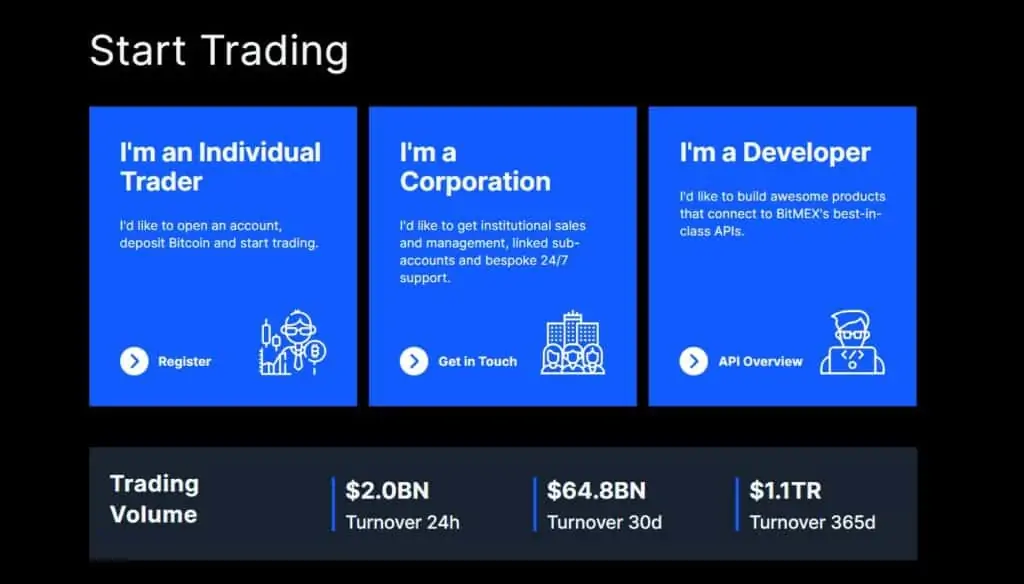 On the bottom bar of your BitMEX homepage, you'll have a clear insight into all active positions, with real-time information on the trade size, entry price, margin, and pending orders.
BitMEX uses TradingView to provide a highly advanced trading environment delivering responsive chart systems, in-depth analyzes, and other relevant market indicators.
Types of Contracts on BitMEX
As an entirely derivative market, BitMEX doesn't facilitate any form of spot trading where you can buy or sell any of the exchange-supported assets with immediate delivery. Instead, you can trade contracts with payment and distribution that are delayed to a predetermined date in the future known as derivative contracts. Based on the time of execution and your position, derivatives fall into several categories and BitMEX supports the following:
Note that all types of contracts, except the traditional futures, support BTC exclusively.
Bitcoin and Other Supported Cryptocurrencies
You'll see plenty of trading pairs on BitMEX containing fiat currency as the quote currency. However, you should remember that deposits (and withdrawals) can be made exclusively in Bitcoin (XBT)—fiat funding isn't available on BitMEX.
Nevertheless, the exchange features a decent selection of supported coins available for futures trading. The list includes Ethereum (ETH), Litecoin (LTC), Cardano (ADA), Dogecoin (DOGE), Bitcoin Cash (BCH), Ripple (XRP), Tron (TRX), Binance Coin (BNB), as well as some high-ranked DeFi tokens such as Aave (AAVE), SushiCoin (SUSHI), and Uniswap (UNI).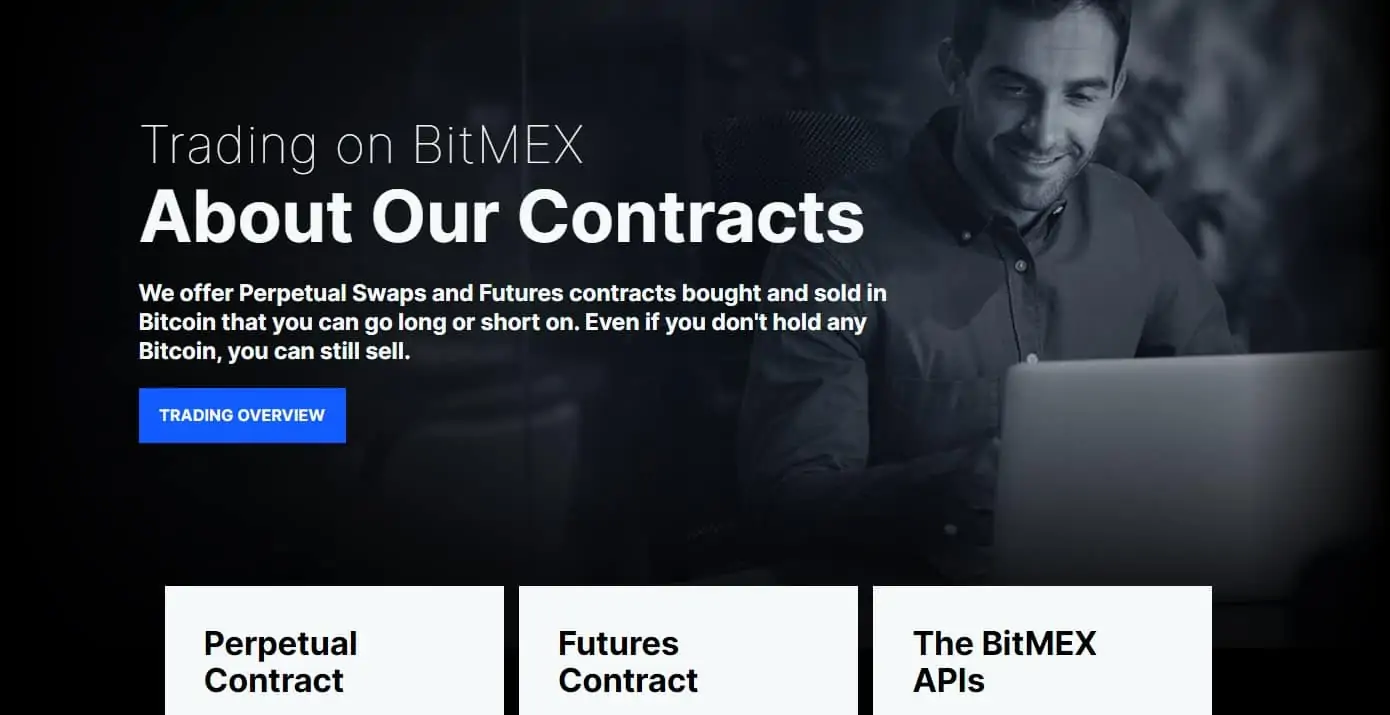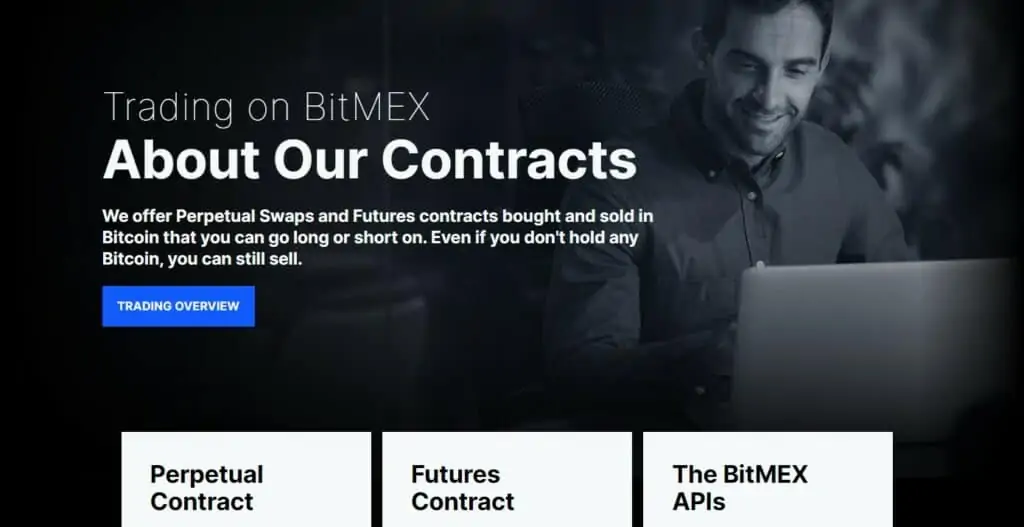 Did you notice that BitMEX uses the XBT ticker symbol instead of BTC? No worries, we can't say which one is correct for a currency that doesn't make a legal tender under any legislation across the globe.
Trading Features and Services
BitMEX is designed to respond to the most specific needs of seasoned traders. The exchange regularly polishes its image of a highly professional marketplace with an expanded set of innovative crypto products and services.
Margin Trading
Trading with leverage is the strongest component of BiMEX's success. The exchange provides perhaps the highest possible leverage—of up to 100x—available on the overall market. It's easily adjustable at the stage right before placing the trade.
The leverage level on BitMEX depends mainly on the type of selected cryptocurrency. EOS, BCH, and ADA are eligible for up to 20x leverage, ETH and LTC trades can go up to 50x and 33x respectively while Bitcoin can be traded with a maximum of 100x. In any case, only cryptocurrencies can be used as collateral for margin trading.
BitMEX Calculator
BitMEX offers a handy tool to all Bitcoin traders — a loss and profit calculator that accurately estimates the risks involved in your leveraged BTC trade. With the BitMEX calculator, you can easily check whether the exit price is higher or lower than the entry price.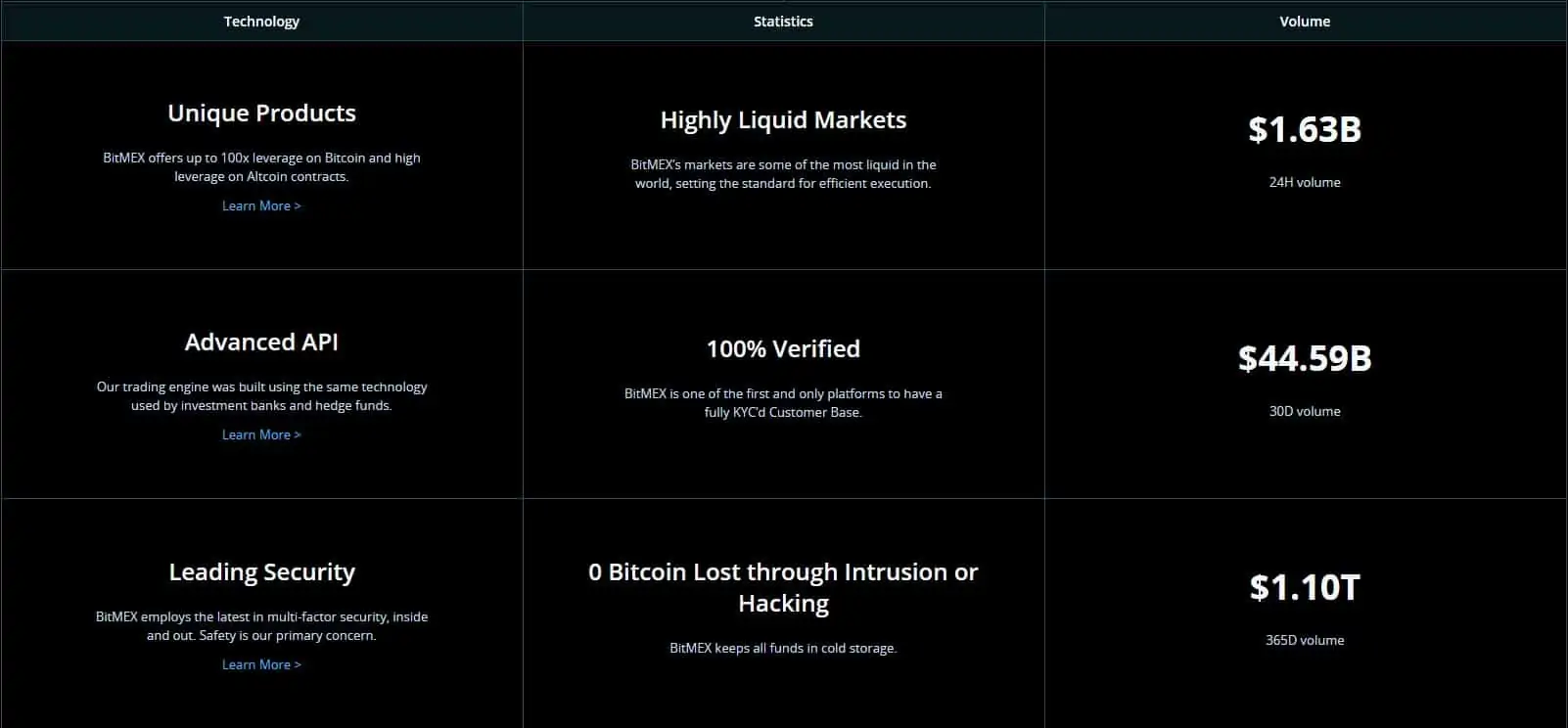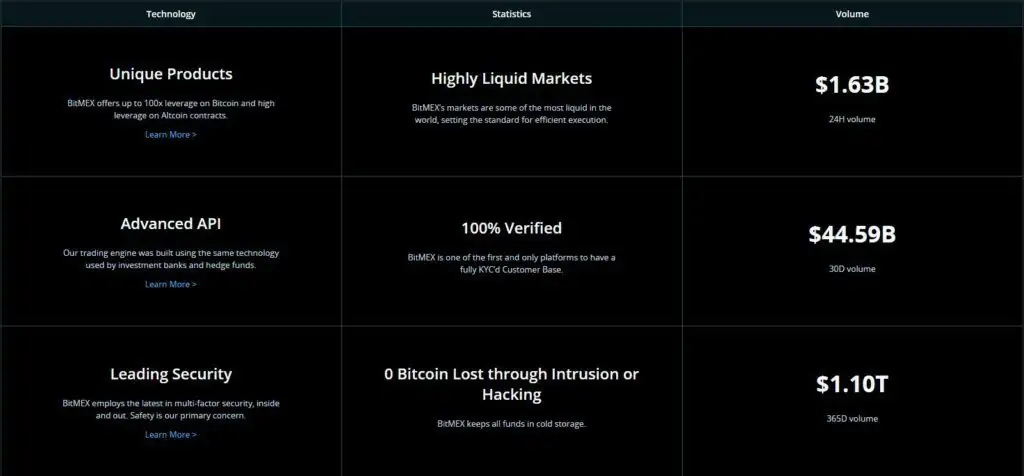 BitMEX Insurance Fund
BitMEX employs an Insurance Fund to protect traders against Auto-Deleveraging in their positions. The fund "fights back" unfilled liquidation orders before the auto-deleveraging system takes them over. BitMEX insurance fund is fed by liquidations that managed to get executed at a price higher than the bankruptcy price of that position.
BitMEX Testnet
BitMEX allows its potential users to stimulate a trading environment and practice their trading strategies by mirroring trades that show real-like outcomes. This is an excellent opportunity for new or less experienced traders to get familiar with the platform before they start investing actual funds.
However, the BitMEX Testnet comes as an external product that requires a separate registration. That said, users need to create a new account on the Testnet and deposit so-called Testnet Bitcoins. Such simulated versions of BTC coins are available and distributed free of charge through various online faucets. It goes without saying, the "capital" deposited on your test net account won't impact your actual balance and position.
BitMEX Fees
With BTC as a base currency, BitMEX doesn't incur any deposit or withdrawal fees except for the miner or network fees imposed by the Bitcoin blockchain that charges a certain amount depending on the current blockchain traffic, irrespective of the withdrawal policy of a particular exchange.
When it comes to trading fees, the BitMEX fee schedule is highly variable depending on the type of contract and cryptocurrency involved. However, the general impression is that BitMEX features a transparent and low fee system despite the immense scalability of trading fees.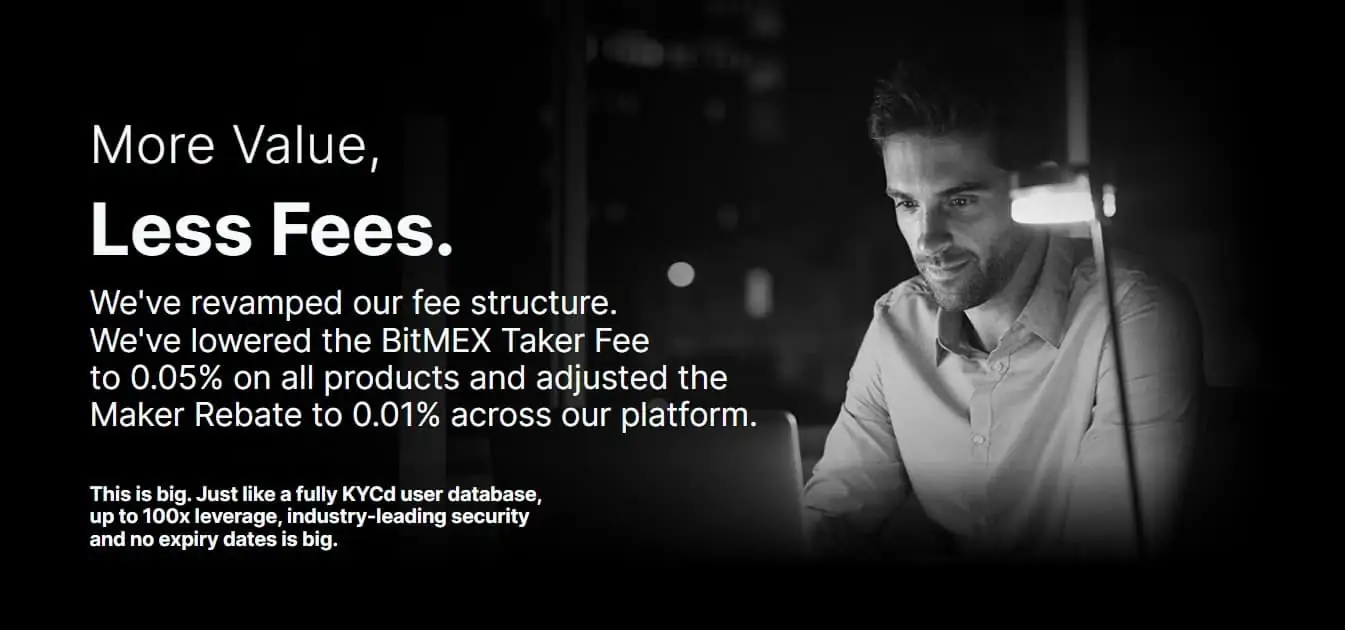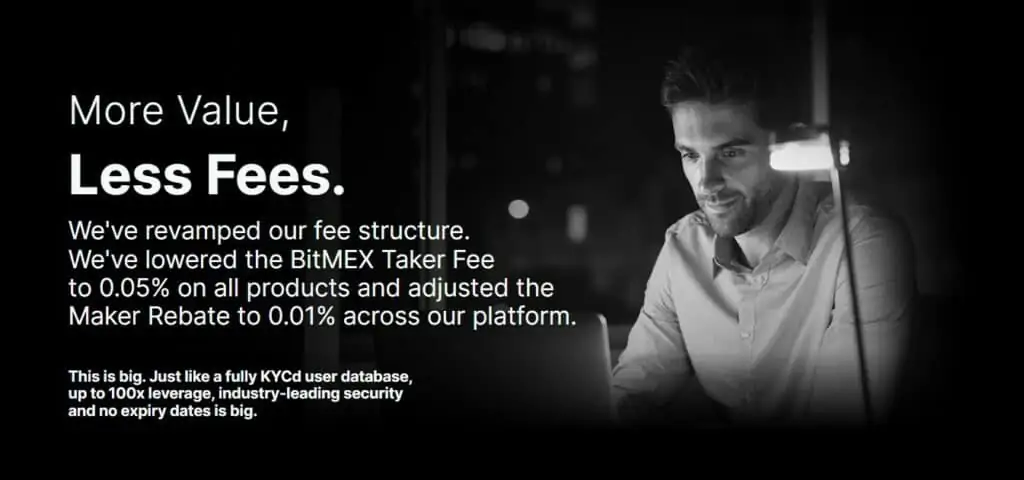 Namely, the exchange differentiates between a taker fee and a maker fee. It will calculate the fee for each trade based on your position either as a taker or maker and add up a separate settlement fee. For example, on the traditional futures market, the exchange rewards the maker with -0.01% (the negative index indicates the rebate amount given to the maker for creating market liquidity) and charges 0.05% to the taker.
As for margin trading, you may have guessed that borrowed funds come at a certain cost and you can't be more right. BitMEX incurs margin fees on the entire leverage, not only the borrowed i.e margin funds.
You can take a deeper look at the BitMEX fee schedule on their official website.
Is the BitMEX Exchange Safe to Use?
BitMEX is, for the most part, a trustworthy marketplace for crypto trading. It protects users' accounts by enabling 2FA, which makes it impossible for virtual intruders to access their BitMEX accounts. Optionally, users can activate IP pinning and get an alert for any login attempt made from an unknown device. Users can also apply PGP encryption in order to avoid spam emails.
In terms of platform and funds security, BitMEX implements institutional-grade standards including the use of Amazon Web Services for system storage. Furthermore, BitMEX keeps all user funds into a cold storage multi-signature wallet for maximum protection. Each withdrawal request is manually confirmed by at least two BitMEX employees for approval. The exchange never stores users' private keys on its cloud-based servers.
Last but not least, the BitMEX trading engine is written in the kdb+ database, used by central banks and other reputable financial providers.


Customer Support
BitMEX customer support is claimed to be more responsive and approachable than plenty of beginner-suited cryptocurrency exchanges out there. You can reach out to their tech team at any time through these medium channels: Support Ticketing System, Wechat (id: bitmex), Weibo, and Telegram. Moreover, the exchange provides multilingual customer support in English, Russian, Chinese, Korean, and Japanese.
Finally, BitMEX is well-equipped with an extensive knowledge base library that can be a real lifesaver for the most frequent issues and uncertainties arising from the sign-up, wallet transfers, or the trade process itself.
Frequently Asked Questions
Does BitMEX have a mobile app?
BitMEX features a top-notch mobile app available for both Android and iOS users. Apart from the intuitive design that gives users absolute control over their accounts on the go, the app is fully responsive to the needs of the growing target audience that prefers mobile-first trading. That said, the functionality of the BitMEX mobile version is nearly identical to the web-based platform as it allows access to almost all services and products powered by the exchange.
Does BitMEX provide a built-in wallet?
Yes, an exceptionally secure one. Even though exchange wallets aren't the best recommended alternatives for safe Bitcoin storage, the BitMEX wallet is a great solution as it requires multi-layer signatures in order to activate a withdrawal. Even in the case of an account hack, the cybercriminal will not be able to trace the funds as they're stored offline, in hardware wallets.
Which countries are supported by BitMEX?
As one of the main BitMEX goals is to provide a borderless environment for all avid crypto traders, you can literally use the app from anywhere on the globe. However, due to the strict regulations of the US Commodity Future Trading Commission, the exchange has been banned in the USA.
A Few Words Before You Go…
Undoubtedly, BitMEX is trading heaven for passionate Bitcoin crypto players. Based on its core features and professional approach, we can conclude that the exchange deserves to be singled out as the most advanced trading platform in the crypto ecosystem. The only drawback is that it still accepts Bitcoin as the only possible base currency now that the crypto market has to offer a range of other reliable altcoins.
Novices, on the other hand, couldn't fit in the BitMEX cutting-edge environment. Fortunately, the Australian market does support a wide selection of reputable beginner-friendly crypto exchanges where you can make your first Bitcoin purchase on a retailer level using your native fiat currency.
Before you give it a go, don't forget to go through all possible ways to buy crypto in Australia.
BitMEX Compared
| Exchange | Cryptocurrencies | Fiat Currencies | Trading Fees | Deposit Methods | Sign Up |
| --- | --- | --- | --- | --- | --- |
| Swyftx | More than 320 | Australian Dollars, New Zealand Dollars | 0.6% | Osko, PayID, Credit Card, Debit Card, Bank Transfer, Cryptocurrency | Visit Swyftx |
| CoinSpot | More than 370 | Australian Dollars | OTC: 0.1% Market Order: 0.1%* (applies to LTC, BTC, ETH, XRP, POWR, DOGE, TRX, NEO, XLM, GAS, RChain, RFOX, EOS) Instant Buy/Sell: 1% | POLi, PayID, Cash, Cryptocurrency, Bank Transfer, BPAY | Visit CoinSpot |
| Binance | More than 600 | US Dollars, Australian Dollars, and 8 more | 0% to 0.1% | Osko, PayID, Credit Card, Debit Card, Crypto | Visit Binance |
| Bybit | More than 160 | 50+ | 0.1% to 0.6% | Crypto, EFT, wire transfer, bank transfer, debit card or credit card | Visit Bybit |
| Independent Reserve | 27 | Australian Dollars, US Dollars, New Zealand Dollars | 0.05% to 0.5% | EFT, SWIFT, Osko, PayID, Crypto | Visit Independent Reserve |
| Coinbase | More than 210 | Australian Dollars, US Dollars, New Zealand Dollars | Fees Vary | EFT, SWIFT, Osko, PayID, Crypto | Visit Coinbase |
| CoinJar | More than 50+ | Australian Dollars, Pound Sterling | Taker: 0.04 to 0.1% Maker: 0.04 to 0.1% | Apple Pay, Google Pay, Credit Card, Debit Card, Bank Transfer, Fiat, Crypto | Visit CoinJar |
| Kraken | More than 140 | Australian Dollars, US Dollars, and 5 more | Taker: 0.10% to 0.26% Maker: 0.00% to 0.16% | Apple Pay, Google Pay, SWIFT, Osko, SEPA, Crypto, Wire Transfer, Bank Transfer | Visit Kraken |
| BTC Markets | More than 15 | Australian Dollars | Taker Fee (for Bitcoin pairs): 0.20% Maker Fee (for Bitcoin pairs): -0.05% Australian Dollars Market Pairs: 0.10% to 0.85% | Crypto, BPAY, EFT, PayID, Osko | Visit BTC Markets |
| Easy Crypto | More than 40 | Australian Dollars, New Zealand Dollars, South African Rand | 1% | P2P, POLi, and Bank Transfers | Visit Easy Crypto |
| Coinstash | More than 140 | AUD | Taker fees: 0.85% Maker fees: 0.85% | Cryptocurrency, Bank Transfer, PayID | Visit Coinstash |
| eToro | More than 70 | Australian Dollars, US Dollars, Euro, and 12 more | Vary | Online Banking, Skrill, Neteller, PayPal, Bank Transfer, Debit Card | Visit eToro |
| KuCoin | More than 645 | US Dollars, Euro, Australian Dollars, and 6 more | 0.1% | Credit Card, Debit Card, SEPA, PayPal, Wire Transfer, Crypto | Visit KuCoin |