Bitpanda Review for 2022
What would you invest in if you had the opportunity to 'invest in what you believe in'? Precious metals, digital assets, stocks, ETFs, or maybe cryptocurrency indexes? Every one of these investment options discussed above can be quite advantageous and profitable for anyone interested in accumulating income by investing in the stock market.
Wouldn't it be wonderful if you could have access to all of these trading instruments in one place, where you could be certain that your digital assets are protected and that transactions were fast and inexpensive? Do you think this is a difficult combination to find? After reading this review, maybe you'll want to give it another thought.
By the look of things, we have stumbled upon one of those platforms that makes all of the above possible – in one place. Based on the amazing 5/5 star rating that BitPanda has received on Trustpilot, we're quite confident that you've already heard of the exchange, too.
However, we were curious as to what it is about this all-in-one trading platform that draws so many people to it, so we decided to dig a little deeper into BitPanda and see if we could uncover any relevant evidence to back up all of the hype surrounding it as one of the best European Bitcoin and other cryptocurrency exchanges. Please continue reading.
About the BitPanda Crypto Exchange
Headquartered in Vienna, Austria, BitPanda's mother company Coinimal GmbH was founded in 2014 with the ultimate purpose of delivering swift, straightforward, and highly secured Bitcoin transactions to its users from the European Union. With this purpose in mind, the trading platform's creators established the BitPanda trading concept of automated financial operations that are carried out via the platform.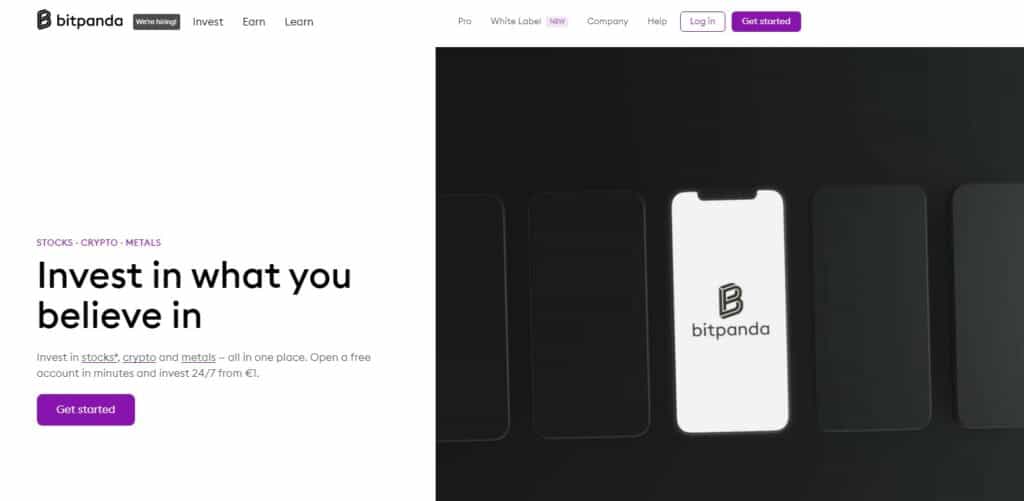 Namely, BitPanda is a cryptocurrency exchange where you can not only trade cryptocurrencies and invest in precious metals, NFTs, and stocks, but also earn and learn at the same time, and you'll have an amazing experience, as the platform is also completely automated. The moment this trading platform receives proof of payment, the exchanged cryptocurrency is promptly sent to the buyer's account, effectively closing the transaction.
Invest
In terms of investment instruments, there are several choices that you may experiment with depending on your skill level as an investor:
Cryptocurrencies – Bitcoin (BTC), Ethereum (ETH), Polkadot (DOT), Cardano (ADA), Chainlink – (CHAIN), Avalanche (AVAX), Litecoin (LTC), Iota (IOTA), Bitcoin Cash (BCH), Ripple (XRP), USD Coin (USDC), Uniswap (UNI), Tezos (XTZ), etc.;
Crypto indices – BCI5, BCI10, BCI25;
Stocks – Apple, Microsoft, Tesla, Adidas, Amazon, Mastercard, Netflix, Adobe, Paypal, Nike, Coca-Cola, Pfizer, McDonald's, Moderna, AstraZeneca, BionTach, Spotify, Volkswagen, Bayer, Burberry, GoPro, etc.
ETFs – NASDAQ100, MSCI-EM, EUROSTOXX50, S&P500, FTSE100, DAX, etc.
Precious metals – Gold (XAU), Silver (XAG), Palladium (XPD), Platinum (XPT).
Earn
Apart from investing, you can earn by trading via BitPanda by utilizing the following earning mechanisms: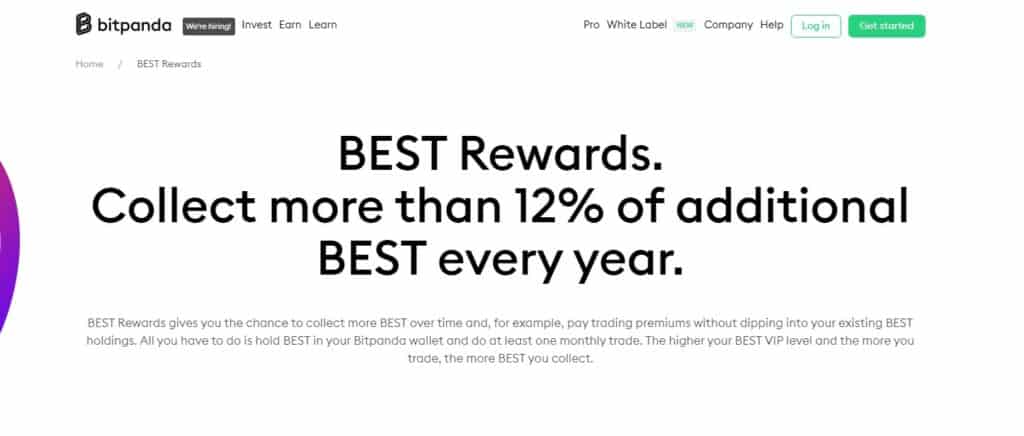 BEST Rewards – The BEST Rewards programme gives you the option to earn more BEST over time as a member. To meet the requirements, you must have BEST in your BitPanda wallet and make at least one transaction every month. Increasing your BEST VIP level and trade volume will earn you additional BEST. As a BitPanda verified customer, you must agree to the BEST Rewards terms and conditions, collect your BEST Rewards at least once a month, hold BEST in your BitPanda wallet, and trade any virtual currency on BitPanda once a month to be eligible for BEST Rewards.
BitPanda's Affiliation Programme – The revenue sharing programme is a system for bringing more traffic to the exchange's website, thus increasing the number of potential traders on the platform, as well as the liquidity. Namely, the affiliation programme allows you to earn up to 20% of the income generated by each customer you recommend. The percentage you earn is based on the total amount of net income generated by all of your referrals in a given month. Moreover, if you own an affiliate website, you may submit traffic statistics for clients interested in purchasing and selling digital assets to BitPanda. All you should do is refer people to their website through a direct source, i.e. affiliate link, so if they place an order, you'll receive up to a 20% reward.
BitPanda's Tell-a-Friend Programme – You can also earn rewards on BitPanda by referring this trading platform to a friend. If you invite your friends by sharing your referral link with them, it's a €10 reward for you and a €10 reward for them. But, don't forget that your friend first needs to open an account on BitPanda, verify it, make a minimum deposit of €25, and complete a transaction of at least €25 to be eligible for the reward.
Learn
BitPanda's knowledge base consists of the BitPanda Academy, a super-convenient article captioned "6 questions about Bitcoin you might be too scared to ask" (the title of the article tells everything you need to know about it), as well as the Help Desk, that reveals an entirely new eLearning platform where you can even earn €5 for completing quizzes.
This learning platform offers tutorials for beginners, intermediates, and experts on all things crypto, as well as lessons on personal finance and money management. Because of the way this Help Desk is set up, we can confidently recommend that you give BitPanda's eLearning platform a go, even if you aren't a fan of the company's products. It's awesome!
Types of BitPanda Accounts
BitPanda provides their authorized customers with three distinct categories of accounts, each with its own set of limitations and a different scale of verification requirements: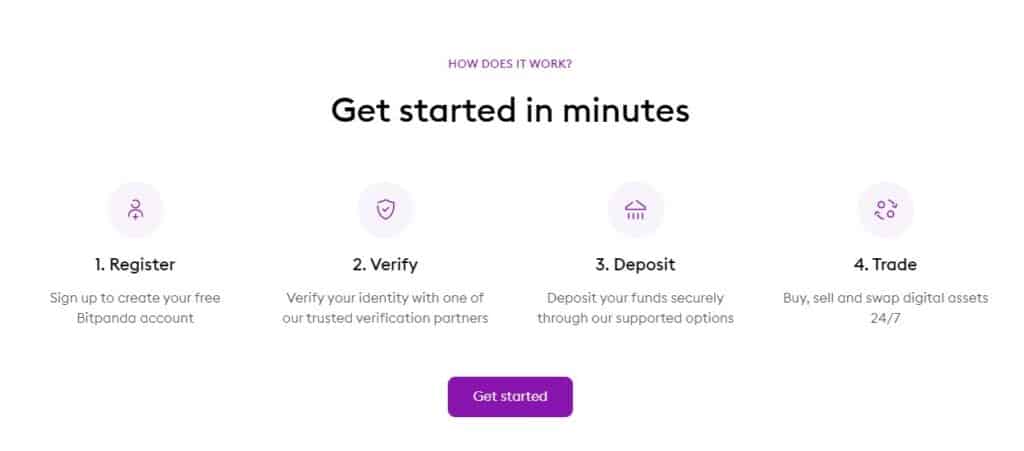 Starter level – There is no need for the physical verification process for this sort of account, it requires only email verification. The starter level account has a daily buy and sell limits of 1,000 EUR, monthly, buy and sell limits of 7,500 EUR, and total buy and sell limitations of up to 30,000 EUR.
Bronze level – Users of the Bronze level account are required to validate their cell phone number in addition to their email address. Furthermore, it provides daily buy and sell limits of 1,500 EUR, monthly buy and sell limits of 10,000 EUR, and a total buy and sell limit of up to 50,000 EUR.
Gold level – For Gold-level account holders, IDNow or a video using the Verify-U application must be used to verify the account owner's identity, in addition to the submission of a passport or driver's license. Also, this type of account has daily buy or sell limits of 15,000 EUR, monthly buy or sell restrictions of 300,000 EUR, and total buy and sell limitations of up to 1.500,000 EUR.
BitPanda Pro
Bitpanda Pro is focused on seasoned traders who are acquainted with the fundamentals of trading and experts and corporations who would like to take their trading to the next level. It provides price matching features as well as entirely automated financial operations.
BitPanda's BEST Token
The native token of BitPanda's ecosystem is labeled as the BEST token. The holders of this token get a variety of perks including:
A 20% discount on BitPanda trading premiums and BitPanda Pro trading fees when paying with BEST,
The opportunity to vote for the next BitPanda cryptocurrency project to be listed as a BEST VIP user,
20% lower deposit fees made with credit cards, and 25% off debit card deposits when using BEST tokens.
Supported Cryptocurrencies
The Bitpanda exchange successfully bridges the gap between the old and new worlds of finance. There are now 25 cryptocurrencies listed for trading by Bitpanda's platform, including BTC, ETH, DASH, XRP, KMD, LTC, MIOTA, BCH, EOS.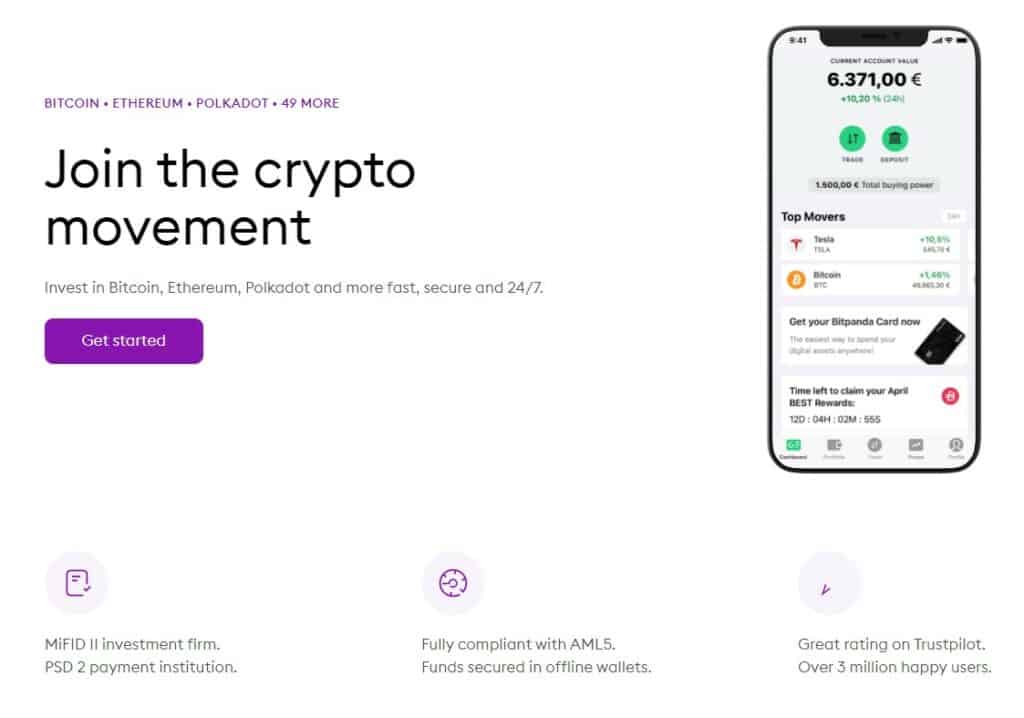 Fiat Wallets
This function allows you to send funds to your BitPanda account so it can be ready for use when you decide on purchasing cryptocurrencies. You might even use the Fiat Wallet to sell coins and withdraw your deposited funds at your convenience.
Moreover, Euro (EUR), US Dollar (USD), British Pound Sterling (GBP), Swiss Franc (CHF), and the Turkish Lira (TRY) are the fiat currencies supported on this trading platform.
Payment Methods
Deposits and withdrawals can be made through several different payment options. They are essentially characterized by the currency you intend to trade with, as well as whether or not you have a confirmed or unverified account with the exchange company.
In this regard, BitPanda is one of the most cost-efficient trading platforms through which EU residents can obtain various cryptocurrencies with credit cards, debit cards, Skrill, EPS, bank transfer, Neteller, Sofort, Cash (Bitpanda on the go), GiroPay, Visa, Zimpler, or SEPA transfer.

Trading Fees and Limits
Bitpanda charges 1.49% in transaction fees when you buy or sell cryptocurrencies. Because the costs are already factored into the pricing in real-time, they are largely indistinguishable from the user's perspective. For a more detailed presentation of BitPanda transaction limits, please refer to the Types of BitPanda Accounts part of this article.
Is BitPanda Safe to Use?
The regulatory KYC (Know-Your-Customer) and AML (Anti-Money Laundering) standards used by BitPanda are similar to those followed by the majority of large cryptocurrency exchanges and brokers. The two-factor authentication protocol, which is also implemented on this platform, further increases the security of your crypto assets, transaction data, and other sensitive information submitted by users on this platform.

BitPanda Support
In addition to the extensive Help Desk and the eLearning platform, BitPanda also offers 24/7 support to its users. You may send a support ticket or an email with your query to the customer support staff at any time of day or night, and you can be certain that your issue will be answered within 24 hours of submission.
Frequently Asked Questions
Does BitPanda have a mobile app?
Yes. Users may buy and sell Bitcoin and other major digital currencies easily on their iOS or Android smartphones using the Bitpanda To Go app. Please note that you cannot utilize this app for buying precious metals.
What countries are supported by BitPanda?
While the BitPanda platform is accessible from anywhere in the world, most of its features are exclusively available to residents of most European Union countries, including Switzerland, Monaco, Iceland, Norway, and Liechtenstein.
The Bottom Line
Since its launch in 2014, this Austrian fintech company has built a solid reputation as one of Europe's largest exchanges for Bitcoin and other cryptocurrencies and investment places. As a crypto exchange, BitPanda certainly has it all – a multitude of trading tools and assets (cryptos, precious metals, stocks, etc.), an extremely user-friendly interface, a rich knowledge base, a mobile app, and even a dedicated platform for professional traders.
Because there is no such thing as a flawless startup company, we may as well consider the relatively high fees charged by this platform to be a drawback. Even this, however, does not diminish the incredible job that the BitPanda developers have accomplished in establishing a brilliant all-around technical trading platform that provides a vast variety of opportunities for both novice and experienced traders.