Bitpanda Review
Despite the volatility of cryptocurrencies, more people are willing to take the plunge. Their decentralized nature and ability to purchase small portions of currencies and trade 24/7 in real-time make this market exciting.

The growing popularity has caused many cryptocurrency exchange platforms to be established to help traders buy and sell coins.

One such platform is Bitpanda, a European-based cryptocurrency exchange platform that pays a fixed broker commission to buyers. Here's more about this cryptocurrency exchange platform.

About the Exchange/App
Bitpanda is a cryptocurrency exchange platform that helps investors trade bitcoins, Steller, Zcash, and other cryptocurrencies. It has a user-friendly interface, allowing even new users to trade.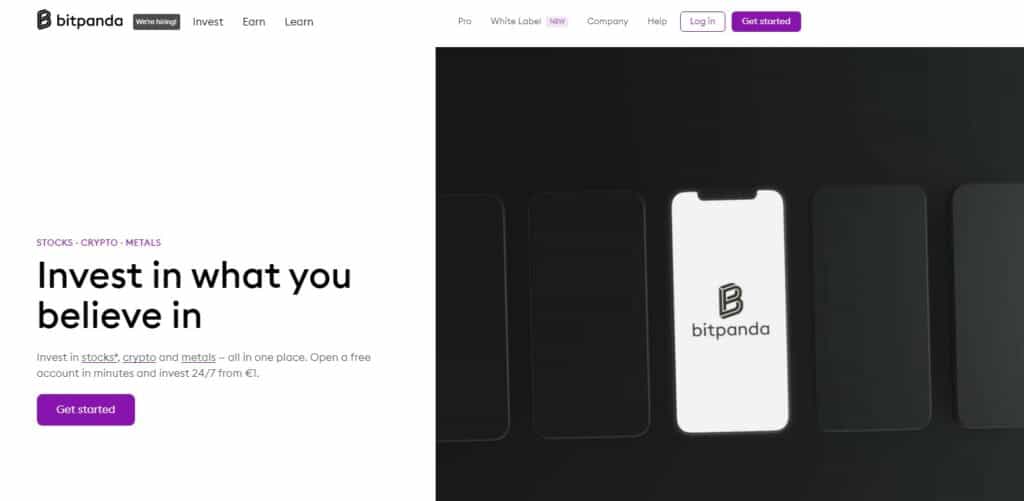 Verified users enjoy high trade limits of up to $10,000 (when buying) daily and withdraw over $500,000 via SEPA. Previously, the company capped daily withdrawals at $10,000, which was pretty restrictive for traders transacting large amounts.
As if that's not enough, Bitpanda allows investors to buy cryptocurrencies using a credit card, making it stand out from its competitors.
History and General Info
Initially referred to as Coinimal, Bitpanda was established in 2014 to provide crypto brokerage services. The founders, Eric Demuth, Christian Trummer, and Paul Klanschek, wanted to exploit the innovative power of blockchain by creating a platform that helps retail investors to buy and sell cryptocurrencies.
The company has since grown primarily serving customers based in European countries. Today Bitpanda has more than 1.2 million users and was recently valued at $1.2 billion.
Supported Cryptocurrencies
Bitpanda's high credibility has earned it an opportunity to support up to 25 cryptocurrencies. Not so long ago, it listed Ripple for trading only. Previously, the crypto was available on two platforms only, thus adding it to its portfolio diversified investors' options.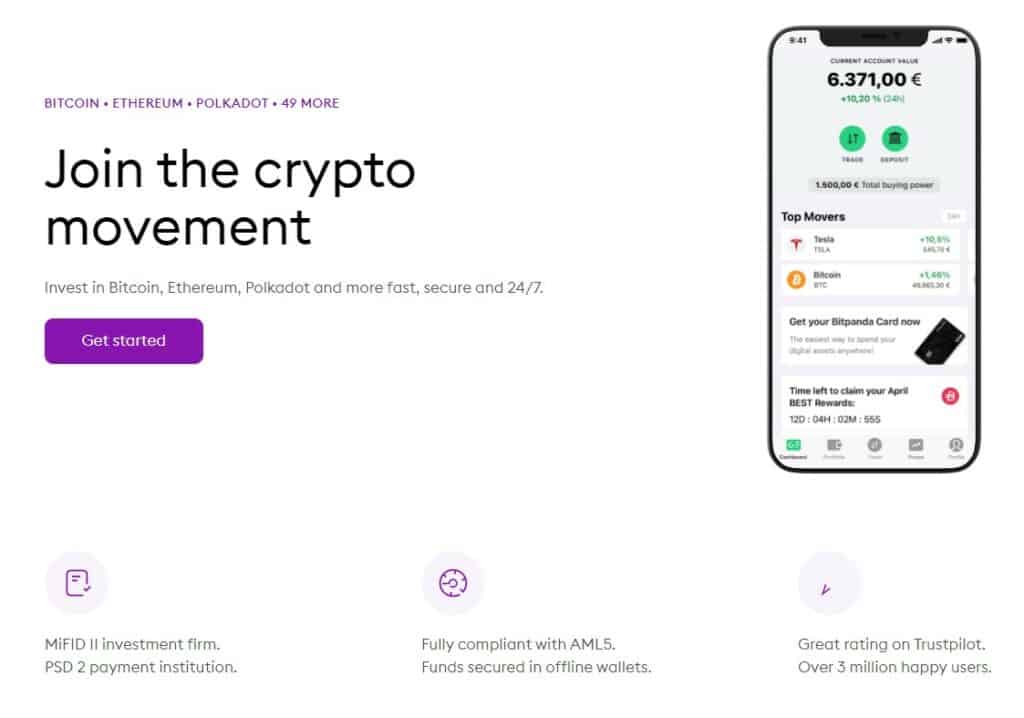 What's more, Bitpanda accepts four fiat currencies (the Euro, U.S. dollar, Swiss Franc, and British Pound). We'll mention a few cryptocurrencies supported on Bitpanda:
Bitcoin (BTC)
Ripple (XRP)
Ethereum (ETH)
Stellar (XLM)
Bitcoin Cash (BCH)
IOTA (MIOTA)
Litecoin (LTC)
Pantos (PAN)
Ethereum Classic (ETC)
OmiseGo (OMG)
Komodo (KMD)
Features
Bitpanda primarily offers brokerage services to investors who want to buy and sell cryptocurrencies by supplying them with coins for trading. However, you'll also find lots of handy features:
Bitpanda Swap: With this feature, customers can easily swap digital assets, and there are no restrictions as to the size of the transaction
Bitpanda Savings: Customers can create a savings plan and commit to remit a certain amount each month by buying supported cryptocurrencies
Bitpanda to Go: This is a feature that enables customers to purchase cryptocurrencies using cash. Coupon codes are issued through post offices, and customers can redeem them to buy crypto. In Austria, there are 400 post offices and more than 1,000 Bitpanda retail partners offering Bitpanda coupon codes
Bitpanda Card: Verified customers get Bitpanda VISA-powered cards for using cryptocurrencies and other digital assets as cash. What's more, you can spend any asset immediately without topping up
Bitpanda Plus: It's a feature that enables verified users to purchase large amounts of cryptos at better terms than on a regular platform. However, only high net worth investors can use this feature and they must fill out a form to access this feature
Bitpanda Metals: It allows investors to diversify their portfolios using precious metals. As such, they can invest in gold, silver, palladium, and platinum as long as it's physically verifiable and 100% insured
Bitpanda Token: Bitpanda has its digital currency called BEST that offers better rates to customers. Customers who have it in their Bitpanda wallet and trade at least once a month earn interest of 12% p.a.
Customer Support
Bitpanda has a dedicated email support to help you address specific problems and a Telegram account where issues are resolved through Bitpanda's community. Otherwise, its insightful knowledge base should help you resolve most of your problems.
Payment Methods
The platform's primary goal is to make crypto trading as easy as possible. As such, it supports a range of support methods, namely:

Neteller
SEPA
Skrill
Giropay
SOFORT transfer
Bitpanda to go
Credit Card (both Visa and Mastercard)
Trading Fees
Bitpanda's trading fees are a little bit on the higher side, whether you are buying or selling cryptocurrencies. Buyers pay a standard rate of 1.49% while sellers pay 1.29%.
In addition, a different rate applies for each crypto coin when depositing and withdrawing. And if an investor deposits money in a currency not supported on the platform, a conversion fee applies and it varies depending on the currency.
Security and Safety
As crypto exchange platforms grow more popular, they have become potential targets for hackers. While some exchanges reimburse customers whose coins have been stolen, it's best to verify a platform's security features before subscribing.

Bitpanda is one bitcoin exchange platform that prioritizes its customers' safety. It has set up a strict verification process for new users and allows them to activate a two-factor identification via the Settings and Security feature.
The verification process is called 'Know your customer' verification, and it requires them to provide personal details and perform a video call with one of Bitpanda's partners with a passport at hand.
Frequently Asked Questions
The following are questions other people have asked about Bitpanda:
Is Bitpanda Available Worldwide?
Yes, Bitpanda's services are available worldwide, but only residents living within the EU region can buy cryptocurrencies using the platform. Traders living outside this region can only send and store crypto on Bitpanda.
What Happens if Deposits Exceed the Limit?
Bitpanda requires customers to show proof of funding source if they exceed the deposit limit. However, there are no restrictions on the deposit or withdrawal amounts in high-volume traders as they can trade up one million. This service is available to specific customers.
Is Bitpanda Licensed?
According to European law, Bitpanda is a professional trading platform licensed by the Austrian financial market authority. It also uses the industry's best practices regarding SSL encryption, security, and storage of cryptocurrencies.
Can You Use PayPal to Purchase Cryptocurrencies on Bitpanda?
No, you can't make payments on Bitpanda via Paypal. The company removed this payment option in 2017, leaving Neteller and Skrill as the only e-wallet payment options.