Bitstamp Review
The introduction of Bitcoin (BTC) into the world of finances unquestionably threw the previous trading market pattern for a loop. Because of Bitcoin's astoundingly rapid rise in both popularity and value, traders have been compelled to quickly adapt to the decentralized method of banking and seek new technological solutions to support trading with digital money while eliminating the need for a third party in the transaction process.

Bitstamp was one of the crypto trading exchanges that quickly managed to adjust to the needs of the newly emerging crypto ecosystem. Considering the fact that Bitstamp was established only two years after the launch of the first crypto coin in the world, does the saying "the early bird gets the worm" apply to this exchange? If so, how did Bitstamp creators manage to enhance the likelihood of success and earn both the trust of the numerous users of their trading platform and the popularity this exchange now enjoys? Let's find out.

About the Bitstamp Exchange
Bitstamp is the world's oldest virtual currency exchange. It's also the largest in terms of volume in the EU, with a daily turnover of over $100 million. With offices in more than 100 countries (including the United Kingdom (London), Luxembourg, the United States (New York), Singapore, and Slovenia), this exchange offers its clients a simple, yet highly attractive platform for global trading with crypto and fiat currencies, as well as custodial services.


The Bitstamp crypto trading exchange was co-founded in 2011 by Nejc Kodric and Damijan Merlak. These two cryptocurrency enthusiasts were intrigued by the concept of decentralized money, so they decided to start a new business endeavour when the concept of cryptocurrency was only known only to a narrow group of individuals.
According to Kodric, they founded the Bitstamp trading platform only to follow their passion for technology and make their idea a reality. The ultimate objective of these two young developers was to create a bridge between traditional banking services and the emerging cryptocurrency ecosystem.
Bitstamp UI
One of Bitstamp's key advantages is that it caters to traders of all skill levels. This trading platform also distinguishes individual and corporate accounts in order to meet the needs of all types of crypto investors.
To begin trading on the Bitstamp platform, you must first select the appropriate Bitstamp account type (individual or institutional), authenticate your identity, fund it with a debit or credit card, or use one of the exchange's many traditional depositing options, and – start trading!


On the flip side, the account verification process can take 1-2 business days, even longer in some cases. For this, you'll also need to submit your ID document and a proof of residency certificate.
The minimalist, yet intuitive layout of the Bitstamp exchange user interface is capable of relieving first-time users of their beginner's worry and making them feel as if they already have some trading expertise.
As for professional traders, there are numerous trading tools and possibilities they can use to promote their financial independence by utilizing the advanced trading interface labeled as Tradeview, fast and stable FIX, HTTP, and WebSocket API connectivity, as well as advanced crypto storage for their digital assets.
Crypto-as-a-Service (CaaS)
The Crypto-As-A-Service tool, which provides institutions and businesses with the means of expanding the crypto exchange services they offer on their current applications and platforms, is one of the most distinctive services offered on the Bitstamp trading platform. This gives these particular types of users easy access to the digital currency market and gives them the support they need to develop novel business models in the crypto ecosystem.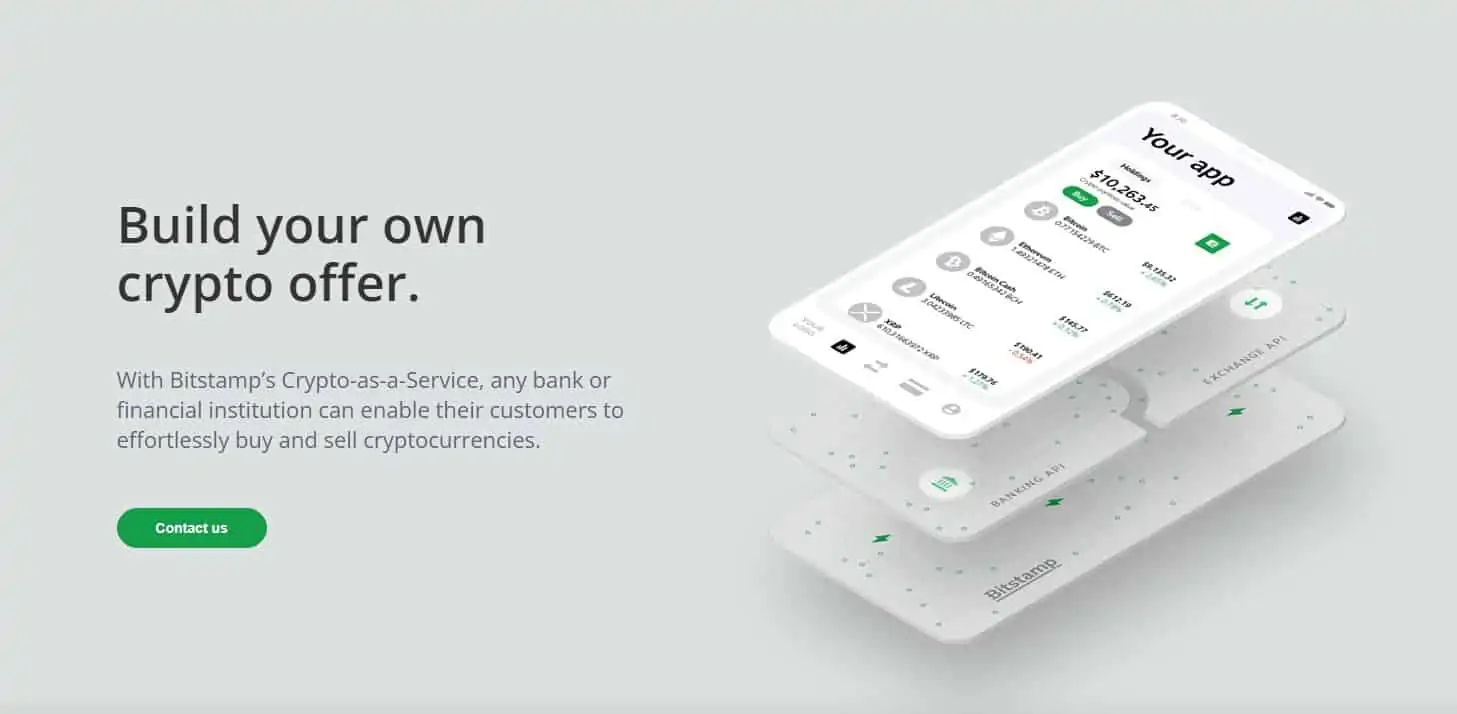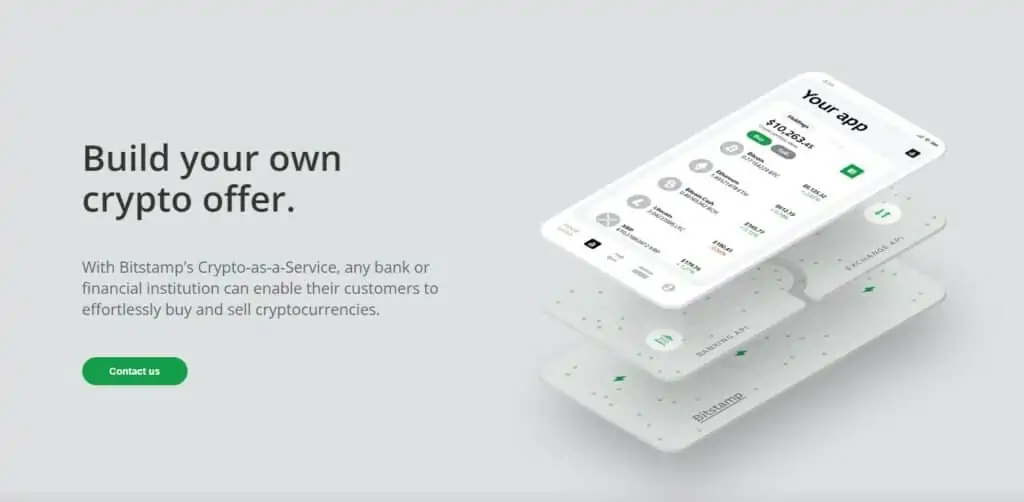 In brief, CaaS provides companies with instant access to all trading features of the Bitstamp exchange. This includes accurate order matching and processing backed by Nasdaq tech, leading financial and banking solutions, innovative digital asset custody and insurance, compliance management, robust online security measures, and also technical support and account management.
Supported Cryptocurrencies
Trading Bitcoin since 2011, Bitstamp is a high liquidity exchange that supports the trading of only five cryptocurrencies. In addition to Bitcoin (BTC), crypto investors are able to trade Bitcoin Cash (BCH), Litecoin (LTC), Ethereum (ETH), and Ripple (XRP) via this platform.
Payment Methods
Bitstamp makes it possible for investors to buy and sell their supported coins for fiat currency through a single trading platform, which is not always the case with the majority of crypto exchanges. The exchange is sometimes referred to as a "fiat gateway" rather than a big exchange in the context of purchasing a variety of smaller altcoins.
For all of the cryptocurrencies this exchange accepts, Bitstamp provides EUR and USD pairings, but also the option of purchasing Bitcoin via bank transfer, credit card, or a direct withdrawal to your bank account. Clients may also use their debit cards and Alchemy Pay (ACH) for instant card purchases.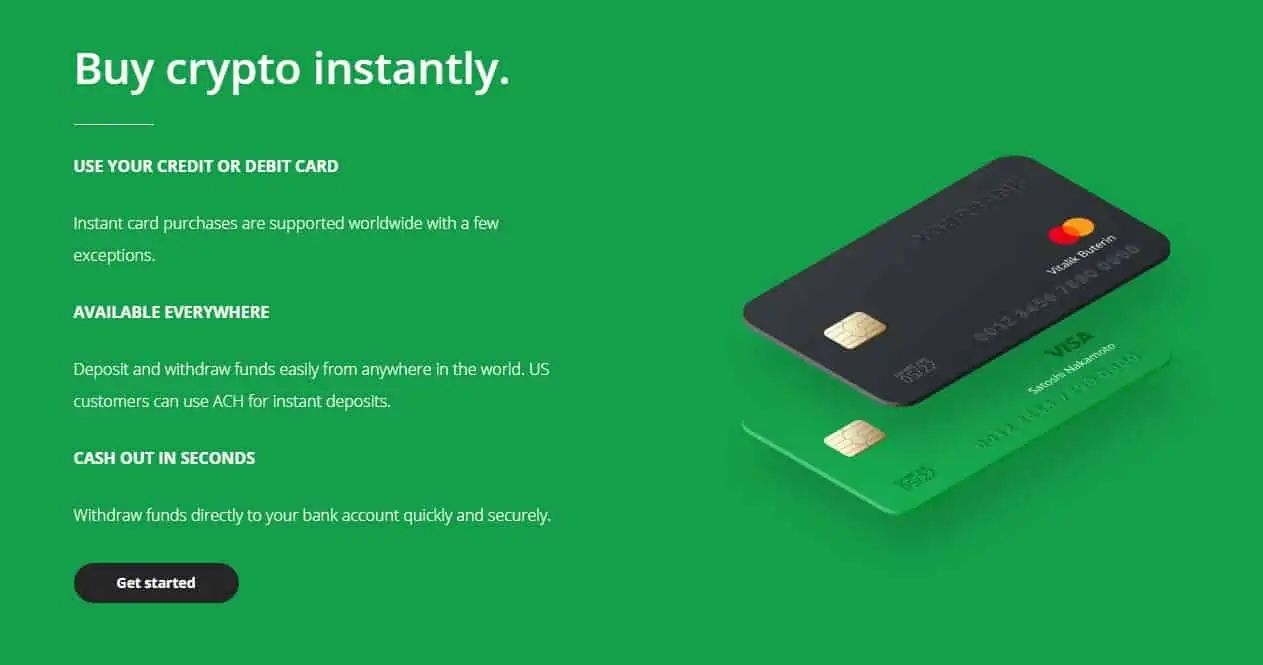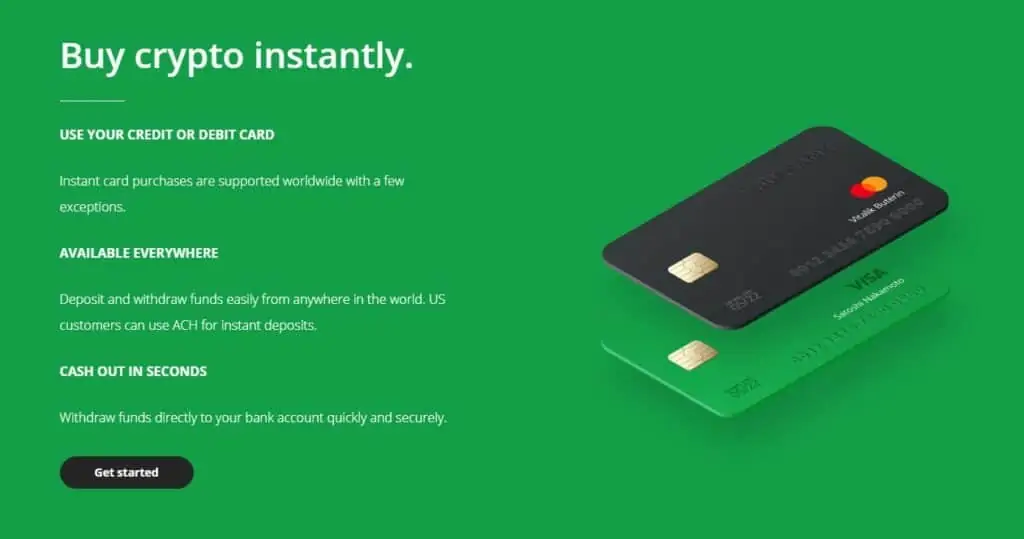 Furthermore, you can quickly and securely withdraw your cash from this trading platform and deposit it directly into your bank account. In this regard, Bitstamp users can withdraw and deposit fiat currencies including the US dollar (USD) and the Euro (EUR) with a minimum deposit of 50 USD/EUR.
Bitstamp also supports Swiss Francs (CHF) and British Pounds (GBP), but you will not be able to trade them unless they are first converted to USD or EUR on the platform.
Trading Fees and Limits
Bitstamp offers relatively low fees in comparison with the other exchanges in the crypto ecosystem, with charges as low as 0.50 percent per transaction provided your total volume of trading amounts to less than $10,000 per month. Trading costs drop in direct proportion to the amount of trading volume you generate.
The minimum trade value for bitcoin-denominated trading pairs is 0.001BTC, while the minimum trade value for fiat-denominated trading pairs is 25 USD/EUR/GBP/PAX.
For verified clients, the Bitstamp trading platform does not impose any maximum withdrawal limitations on their funds. Still, managers at Bitstamp caution that the notably large withdrawals may require a longer verification process.
Bitstamp Fees
While crypto trading is free of charge on Bitstamp, you will be charged a different fee for each transaction when you make a deposit, a withdrawal, or an exchange using Bitstamp's platform.
The Bitstamp fee calculation is also dependent on the manner of payment, as seen below:
Credit card purchases – Every purchase made with a credit card is subject to a 5% transaction fee.
Debit card withdrawal – When withdrawing funds by using a debit card, a withdrawal fee of at least 10 USD is levied.
International wire transfer – International wire transfer deposits are subject to a 0.05 percent deposit fee, with the lowest amount being 7.5 USD and the highest amount being 300 USD, depending on the amount being transferred. When funds are withdrawn by an international wire transfer, a fee of 0.1 percent is applied to the account. In this instance, you will be required to pay a minimum of 25 USD as well as any additional banking fees that may be incurred.
Trading fees – Fees for SEPA (Single Euro Payment Area) transactions will be levied if you live in the European Union and use the Euro as your currency. Deposits into SEPA are completely free, while withdrawals are subjected to a cost of 3 EUR.
SEPA Fees – All deals with a value of less than 10,000 USD are subject to a 0.5% fee. Charges are reduced for larger transactions. For instance, trades with a value of more than 20,000,000 USD are only subject to a 0.1 percent commision.
Is Bitstamp Safe to Use?
Bitstamp, which has its main headquarters in London, UK, has been registered as a crypto asset entity under the Know Your Customer (KYC), Money Laundering, Terrorist Financing, and Transfer of Funds (Information on the Payer) regulations. The exchange was also awarded a payments license by the U.K.'s Financial Conduct Authority (FCA). In addition, Bitstamp has been audited by Ernst & Young, one of the Big Four accounting firms.


Bitstamp places a significant emphasis on the security of its platform, as well as the protection of its users' assets, in order to achieve and maintain its top position among other crypto exchanges. To do this, virtually all of the exchange's assets are kept in cold storage, which means they are kept offline, where hackers cannot access anything.
In addition, Bitstamp funds are completely insured and protected by the PGP (Pretty Good Privacy) and two-factor authentication (2FA) protocols. There are also text message alerts sent to the user's registered phone number whenever a security breach of the platform or their account is detected.
Customer Support
The Bitstamp crypto trading platform offers an extensive knowledge base to its users that covers almost all areas of interest for any digital currency trader:
Information on the Bitstamp exchange;
Digital currency basics;
Deposit options;
Withdrawal options;
Account management;
Trading options;
Security;
Keeping your account safe;
Bitstamp mobile app;
Staking.
If you cannot find an answer to your question in any of the resources they offer, Bitstamp boasts a highly professional support team that's at your service 24/7 for the ultimate user experience.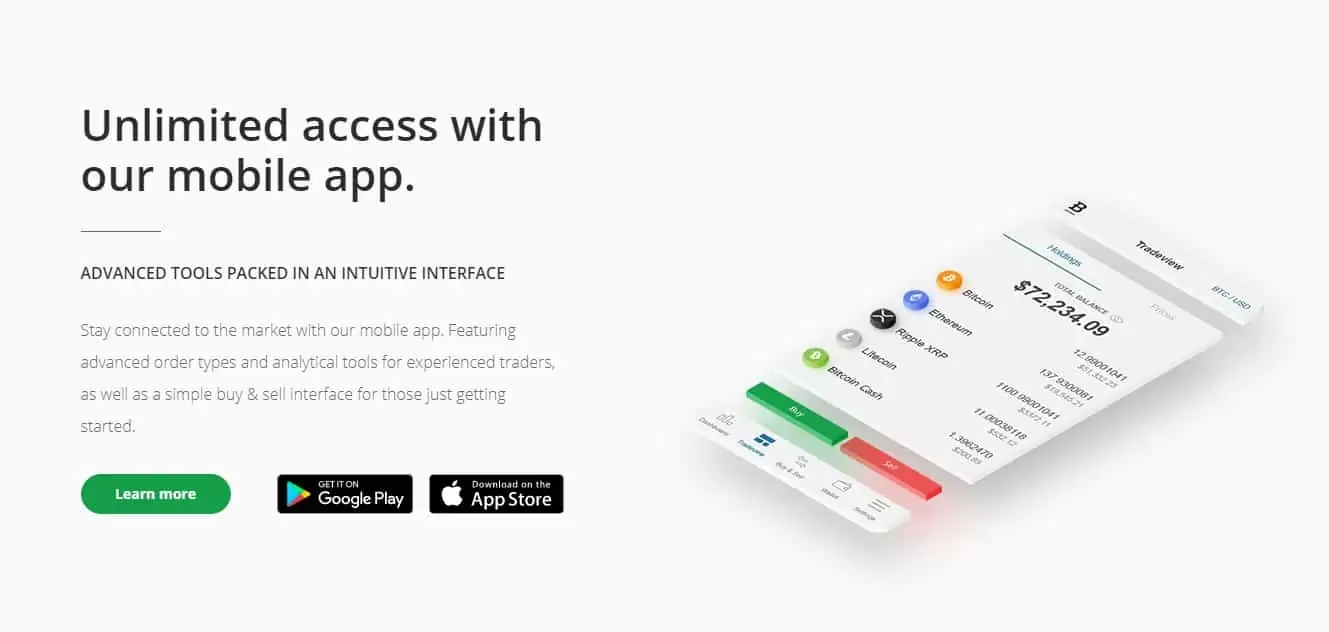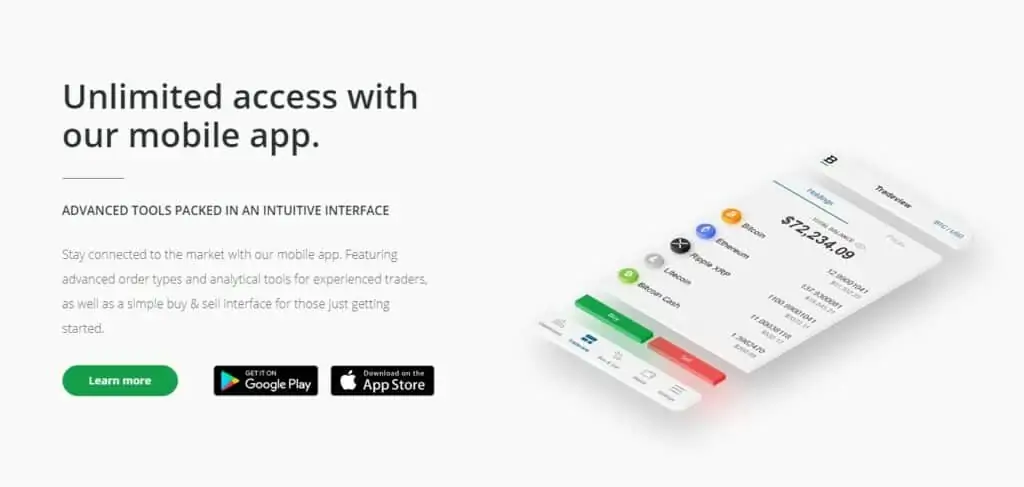 The Bitstamp support team is available through phone or email to all international clients with individual accounts. Moreover, the exchange also provides specialized account managers for their partners.
Frequently Asked Questions
Does Bitstamp have a mobile app?
Yes. Bitsamp offers unlimited access to all of its trading tools on the go. In addition to offering complex order types and analytical tools for professional traders and experienced investors, the mobile app also offers a simplified buy and sell layout for those who are just beginning to explore crypto trading. The mobile software is available for smartphones and tablets that operate on both Android and iOS platforms.
What countries are supported by Bitstamp?
Bitstamp's initial focus as a cryptocurrency exchange was on European clientele. However, as their services became more popular among their clients, the company expanded and today provides trading tools to clients from all over the world.
The United Kingdom, Australia, Argentina, Switzerland, Hong Kong, Norway, Greenland, Singapore, Taiwan, South Korea, and Iceland are just a few of the countries that have access to Bitstamp's financial services.
Does Bitstamp provide a cryptocurrency wallet?
Bitstamp provides both hot and cold crypto wallets that are protected by the most advanced and cutting-edge security methods available, including multi-signature transaction processes.
The Bottom Line
With over a decade of experience, Bitstamp is one of the most established Bitcoin exchanges in Europe. It not only provides you with the tools you need to execute your trading strategy effectively, but it also provides you with innovative mechanisms to expand your business in the cryptocurrency market.
Bitstamp is one of the most trustworthy and secure veteran exchanges, thanks to the security measures the platform has implemented. The reputation it enjoys is also a result of the exchange's licenses and authorization granted by the biggest regulatory agencies in finance.
In contrast to many other exchanges, Bitstamp allows its users to purchase cryptocurrencies with fiat money, not only with cryptocurrency. Maybe this exchange does not list a large number of coins to trade with, but it's nonetheless frequented by a significant number of crypto investors.
Finally, Bitstamp's extensive expertise in the cryptocurrency trading industry is reflected in its provision of more traditional trading tools. The lack of margin trading, for example, might be considered a flaw by more advanced traders. However, the excellent reputation that Bitstamp has built over the years and continues to enjoy today will undoubtedly encourage newbies to take advantage of Bitstamp's expert services firsthand.
Bitstamp Compared
| Exchange | Cryptocurrencies | Fiat Currencies | Trading Fees | Deposit Methods | Sign Up |
| --- | --- | --- | --- | --- | --- |
| Swyftx | More than 320 | Australian Dollars, New Zealand Dollars | 0.6% | Osko, PayID, Credit Card, Debit Card, Bank Transfer, Cryptocurrency | Visit Swyftx |
| CoinSpot | More than 370 | Australian Dollars | OTC: 0.1% Market Order: 0.1%* (applies to LTC, BTC, ETH, XRP, POWR, DOGE, TRX, NEO, XLM, GAS, RChain, RFOX, EOS) Instant Buy/Sell: 1% | POLi, PayID, Cash, Cryptocurrency, Bank Transfer, BPAY | Visit CoinSpot |
| Binance | More than 600 | US Dollars, Australian Dollars, and 8 more | 0% to 0.1% | Osko, PayID, Credit Card, Debit Card, Crypto | Visit Binance |
| Bybit | More than 160 | 50+ | 0.1% to 0.6% | Crypto, EFT, wire transfer, bank transfer, debit card or credit card | Visit Bybit |
| Independent Reserve | 27 | Australian Dollars, US Dollars, New Zealand Dollars | 0.05% to 0.5% | EFT, SWIFT, Osko, PayID, Crypto | Visit Independent Reserve |
| Coinbase | More than 210 | Australian Dollars, US Dollars, New Zealand Dollars | Fees Vary | EFT, SWIFT, Osko, PayID, Crypto | Visit Coinbase |
| CoinJar | More than 50+ | Australian Dollars, Pound Sterling | Taker: 0.04 to 0.1% Maker: 0.04 to 0.1% | Apple Pay, Google Pay, Credit Card, Debit Card, Bank Transfer, Fiat, Crypto | Visit CoinJar |
| Kraken | More than 140 | Australian Dollars, US Dollars, and 5 more | Taker: 0.10% to 0.26% Maker: 0.00% to 0.16% | Apple Pay, Google Pay, SWIFT, Osko, SEPA, Crypto, Wire Transfer, Bank Transfer | Visit Kraken |
| BTC Markets | More than 15 | Australian Dollars | Taker Fee (for Bitcoin pairs): 0.20% Maker Fee (for Bitcoin pairs): -0.05% Australian Dollars Market Pairs: 0.10% to 0.85% | Crypto, BPAY, EFT, PayID, Osko | Visit BTC Markets |
| Easy Crypto | More than 40 | Australian Dollars, New Zealand Dollars, South African Rand | 1% | P2P, POLi, and Bank Transfers | Visit Easy Crypto |
| Coinstash | More than 140 | AUD | Taker fees: 0.85% Maker fees: 0.85% | Cryptocurrency, Bank Transfer, PayID | Visit Coinstash |
| eToro | More than 70 | Australian Dollars, US Dollars, Euro, and 12 more | Vary | Online Banking, Skrill, Neteller, PayPal, Bank Transfer, Debit Card | Visit eToro |
| KuCoin | More than 645 | US Dollars, Euro, Australian Dollars, and 6 more | 0.1% | Credit Card, Debit Card, SEPA, PayPal, Wire Transfer, Crypto | Visit KuCoin |