Bittrex Review 2023
Founded in 2014 in Seattle, Bittrex's security and stability as a platform spearheaded it to the very top of the cryptocurrency industry. The crypto exchange relies on some of the most advanced technology and best security experts, including employees that have previously been a part of companies such as Amazon, Qualys, Microsoft, and Blackberry.
Let's do a quick overarch before taking a look under the hood. The platform has exceeded $300 million in daily trading volumes and is part of the Virtual Commodity Association Working Group along with Bitstamp, bitFlyer USA, and Gemini. Bittrex provides a multistage wallet that keeps 80% to 90% of assets in cold storage at all times. In 2019, they introduced their international expansion Bittrex Global.
Bittrex adheres to the Blockchain Act, which requires the platform to employ a self-regulating feature such as two-factor authentication for its users, and asks them to go through procedures such as Anti-Money Laundering (AML) and Know Your Customer (KYC), should they want to withdraw funds and deal without trading limits.
After all, this is a platform that has never experienced a security breach in the whole of its existence.
Let's take a look at it in more detail.
Bittrex Exchange Services
Bittrex provides a plethora of crypto trading features and cryptocurrencies. Its API speed and pristine trading experience are due to the implementation of elastic computing through which resources are scaled up or down in order to match the platform's traffic at certain moments. Features such as stop-loss, instant buy, automated trading volumes, and good 'til canceled (GTC), allow for transactions to be processed immediately upon request.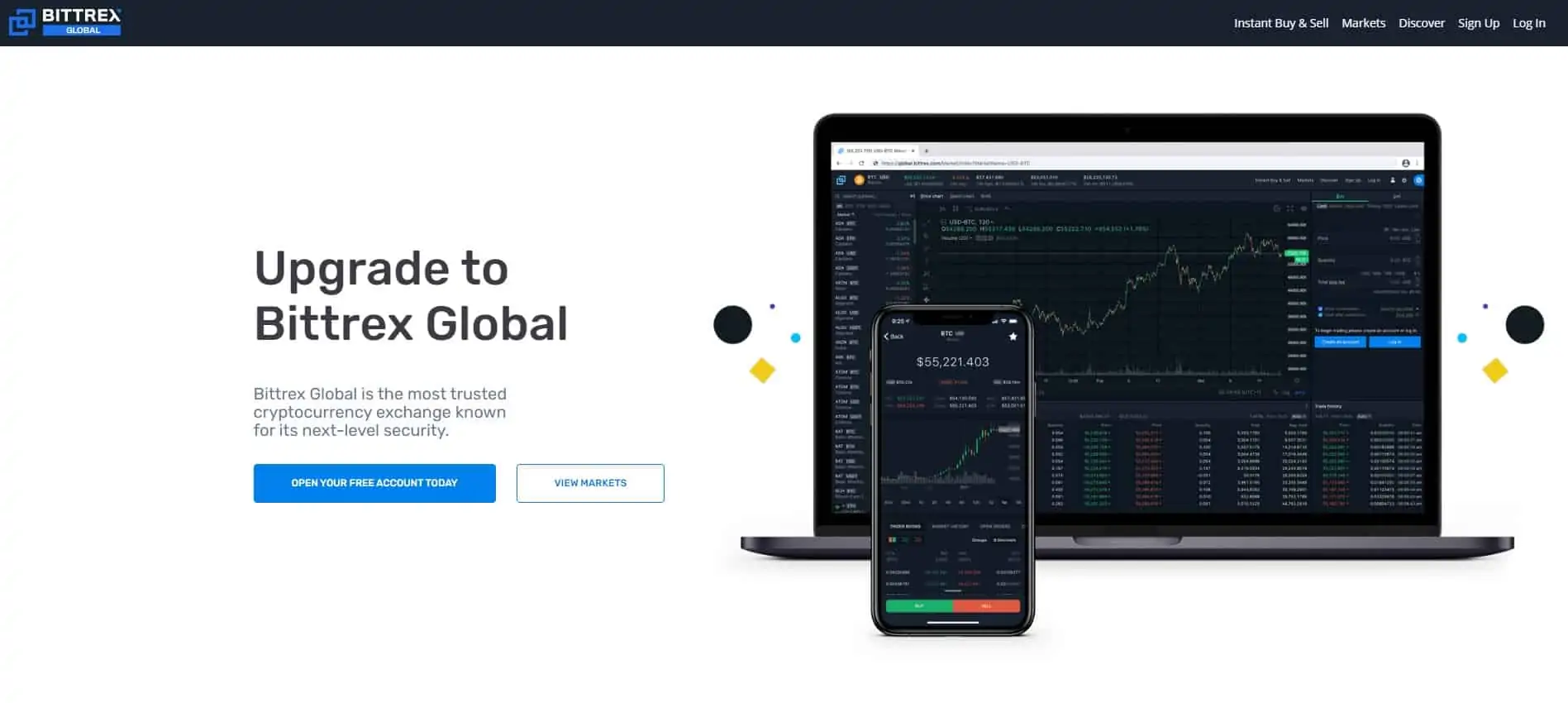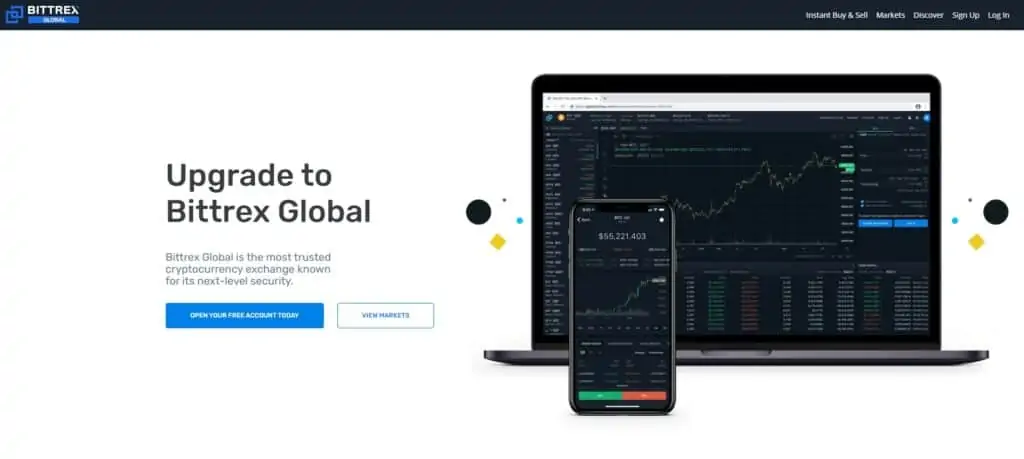 Supported Cryptocurrencies
By supplying over 450 trading pairs and a wide array of different digital currencies, Bittrex cares for both quality and quantity as inactive altcoins are swiftly removed.

Once users link their bank account, they are able to make bank transfers or deposits via debit card, SEPA, and wire transfers. The trading platform supports crypto to fiat conversions in exchange for four fiat currencies: USD, EUR, GBP, and JPY.
For its international and verified customers, Bittrex offers fiat trading in US Dollars for most states across the USA.
Bittrex supports 260 digital currencies, such as Cardano (ADA), Bitcoin (BTC), Ethereum (ETH), XRP, and Tether (USDT), among others. The platform stores most of its assets safely in cold storage, but the large scale of cold storage translates into low liquidity, making it difficult to execute large sum trades without a stir.
Bittrex Trading Fees and Limits
Bittrex Fees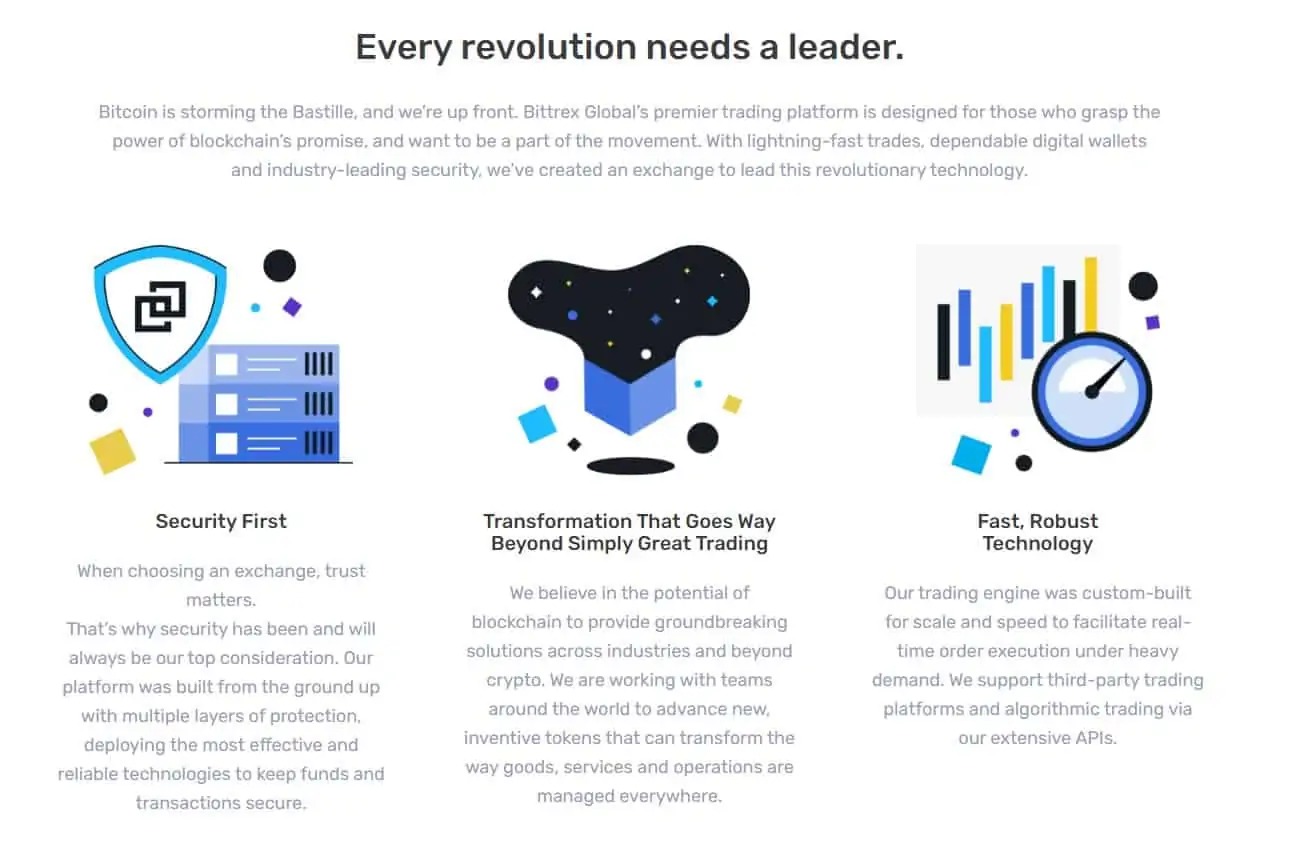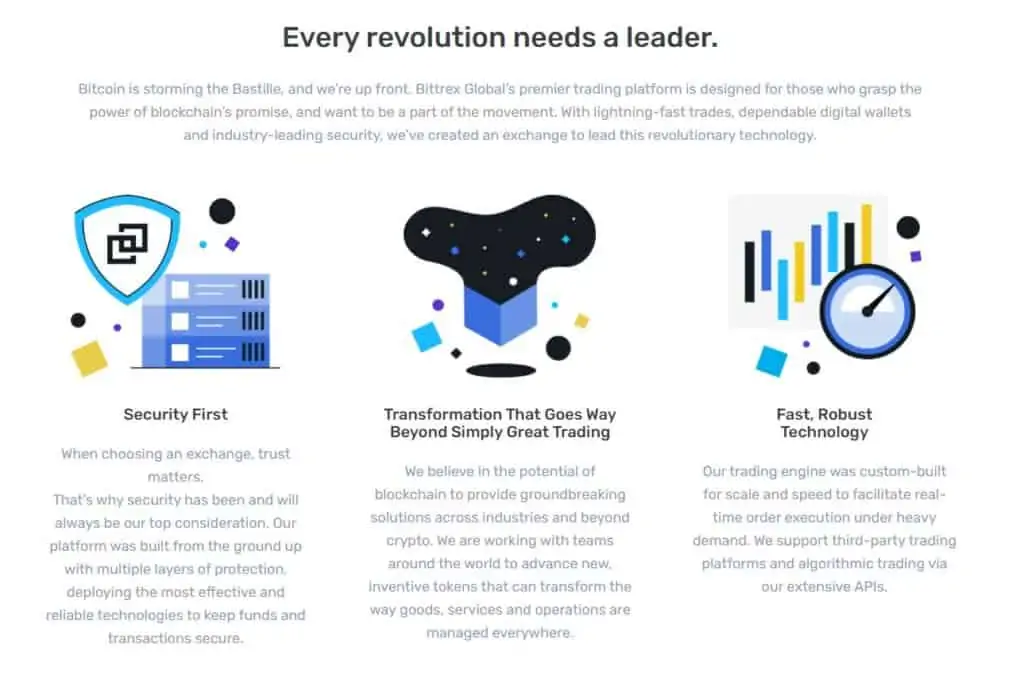 Bittrex employs a flat 0.2% commission fee that is administered on all trades, which is on par with other trading platforms, the likes of Binance, Kraken, and Bitfinex. Deposits on verified Bittrex accounts can be made via wire transfer, SEPA transfer, credit card (VISA), or cryptocurrency.
VISA deposits have a 3% fee, while SEPA and wire transfer costs are solely dependent on the bank that you are using. Cryptocurrency deposits aren't subject to fees, and this includes fiat deposits as well. Withdrawal fees vary from one cryptocurrency to the other. The platform also provides discounts for large-volume traders.
Bittrex Limits
As mentioned above, before they start trading, all users have to go through Anti-Money Laundering (AML) and Know Your Customer (KYC) procedures. There are three main categories under which a Bittrex account can exist on the platform: unverified accounts, basic accounts, and enhanced accounts.
An unverified account won't do you much good since verification is required in order to withdraw funds. Owning a basic Bittrex account means that the user has provided verification for their name, date of birth, and address, and has enabled two-factor authentication. Basic accounts can withdraw up to 3 BTC on a daily basis.
In order to ascend to an enhanced account, users are required to provide further verification in the form of photo identification. Bittrex conducts the verification process in partnership with Jumio, a digital identity verification provider supported in over 200 countries worldwide that is able to identify if a photograph is legitimate and real through AI. Yes, we've been expecting you, Mr. Bond.
Once the process is finished and the enhanced account is activated, users can withdraw up to 100 BTC on a daily basis.
Customer Support
Bittrex's customer support seems to be their Achilles' heel, as they do not provide the option for either live chat or telephone. The Bittrex team can be contacted through email or social media, mainly Facebook, Slack, and Twitter.


Their support response times haven't been stellar, either. With over a thousand filed complaints during the past three years and no rating from the Better Business Bureau (BBB), there have been reports of replies taking up to a couple of weeks. This has left many customers angry, as they have been stuck in limbo upon account suspension. The main confusion comes from not knowing why your account has been frozen or suspended by the platform and the support team not providing an immediate answer. Bittrex hasn't really addressed this problem and has only provided a statement that a mere 0.1% of accounts have been temporarily suspended or are pending review.

You might find it more effective to try and help yourself through their extensive FAQ library.
They do provide a support page through Zendesk, where users can come across, file, and take a look at support tickets, file forms, and requests or gain access to information, available altcoins, mobile app guides, news, announcements, etc.
Is Bittrex Safe to Use?
Other than the $1 billion withdrawal from Iraq's central bank by Saddam Hussein's son back in 2003, the infamous breach at Mt. Gox is regarded as the biggest heist in recorded history. At the time when Mt. Gox was in charge of most Bitcoin trades, over 850,000 BTC, or the then-equivalent of $473 million, mysteriously disappeared from the trading platform's ledger. This incident led all crypto exchange platforms, including Bittrex, to take a long and hard look at all of their security systems, reevaluate it, and step up their game.


Being one of the safest exchanges on the market has created its fair share of inconveniences for some users. The platform administers AML and KYC protocols and is in bed with the U.S. government, constantly providing them with data and reports of suspicious activities, leading customers to weigh between security and anonymity.
Bittrex-Side Security
Bittrex is at the helm of providing the latest and greatest security protocols available. The platform is constantly updated with new coding and features to prevent attacks and breaches of any kind. As most of the funds are kept in cold storage, even if a breach were to occur, barring 10%, all the other funds would be inaccessible. IP addresses are constantly being monitored so you'll immediately receive a notification if your account has been accessed from a different device or IP address.
The "elastic, multi-stage wallet strategy," provides a continuous stream of coin movement between cold and hot wallets and the SSL domain encryption protects all data from being read from third parties.

For deposits north of $5,000 USD, the platform employs cross-chain recovery, recovering all funds within seven days with a 0.1 BTC fee per recovery.
Customer-Side Security
Bittrex runs a very tight ship when it comes to customer security, urging users to activate two-factor authentication immediately upon registering their account. Once activated, even if someone, somehow, does get your credentials, they will still be unable to log into your account without entering the security code that the platform sends via SMS to your cell phone.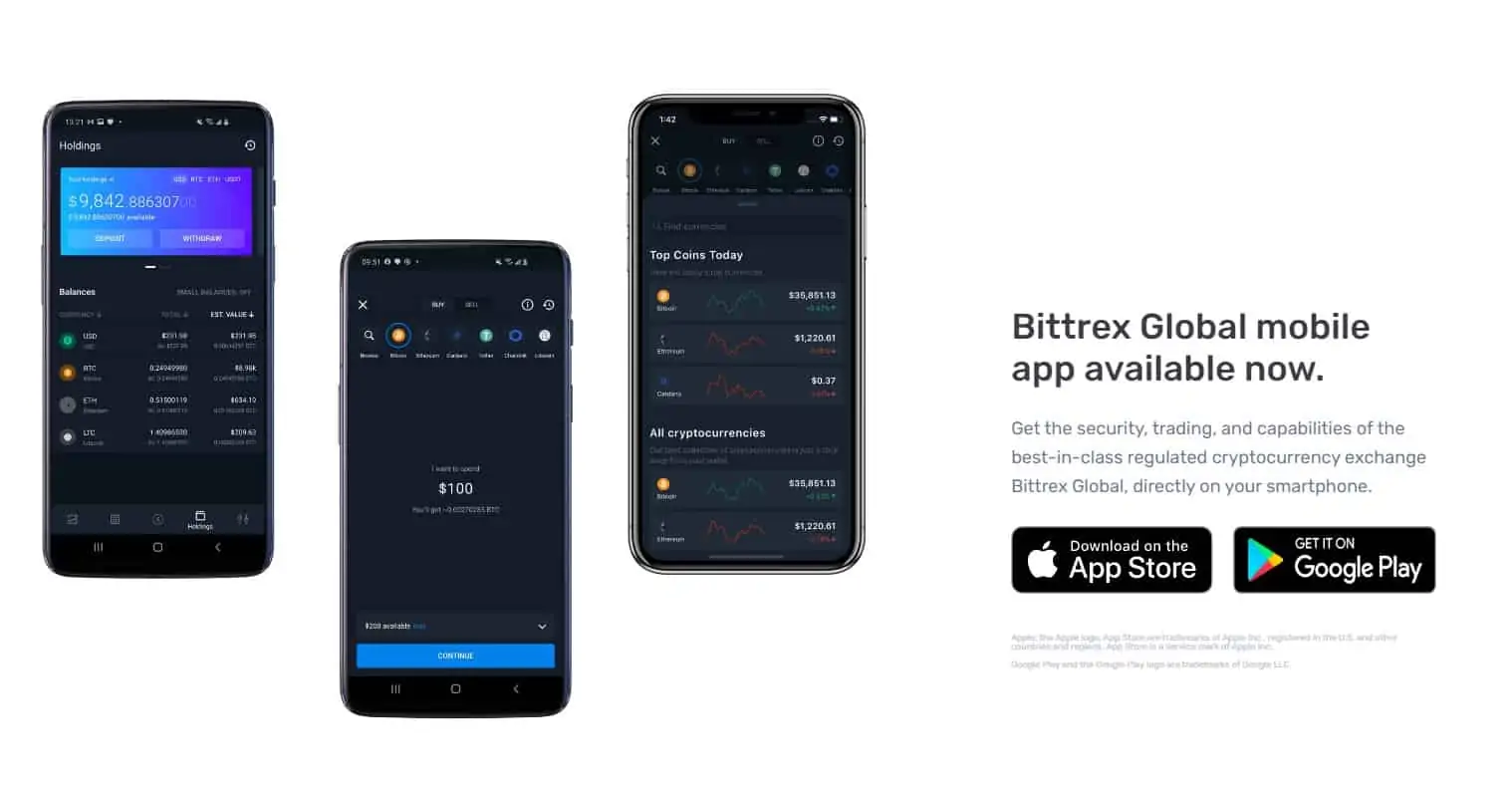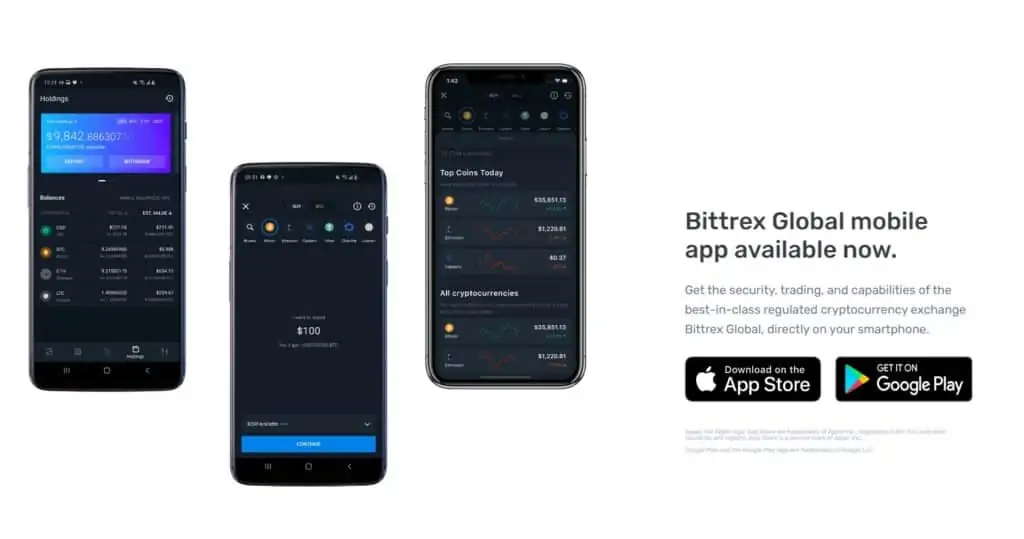 Frequently Asked Questions
Does Bittrex have an app?
Yes, Bittrex provides an app for both Android or iOS users.
What countries are supported by Bittrex?
Bittrex is a global platform and can be accessed from all around the world, except for the Crimean region, Iran, Syria, North Korea, and Cuba.
Does Bittrex provide a cryptocurrency wallet?
Yes. It also provides a feature known as wallet whitelisting through which users can enable withdrawals to specified crypto wallets. The Bittrex wallet stores over 260 cryptocurrencies and it also has an easy-to-use option for storing multiple digital currencies at once.
A Few Words Before You Go…
Bittrex is a trustworthy platform that provides an intuitive interface and a safe space for exchanging cryptocurrency. The long verification processes might prove tedious for some users, but the platform more than compensates for it with its 450 trading pairs and 260 digital currencies. Its lack of margin trading doesn't come as a big blow, as users are allowed to convert altcoins to USD or EUR and directly withdraw them to a bank account.
The main deal-breakers for us, or rather, things that need improvement, are the account suspensions and the ineffective customer support.
Bittrex Compared
| Exchange | Cryptocurrencies | Fiat Currencies | Trading Fees | Deposit Methods | Sign Up |
| --- | --- | --- | --- | --- | --- |
| Swyftx | More than 320 | Australian Dollars, New Zealand Dollars | 0.6% | Osko, PayID, Credit Card, Debit Card, Bank Transfer, Cryptocurrency | Visit Swyftx |
| CoinSpot | More than 370 | Australian Dollars | OTC: 0.1% Market Order: 0.1%* (applies to LTC, BTC, ETH, XRP, POWR, DOGE, TRX, NEO, XLM, GAS, RChain, RFOX, EOS) Instant Buy/Sell: 1% | POLi, PayID, Cash, Cryptocurrency, Bank Transfer, BPAY | Visit CoinSpot |
| Binance | More than 600 | US Dollars, Australian Dollars, and 8 more | 0% to 0.1% | Osko, PayID, Credit Card, Debit Card, Crypto | Visit Binance |
| Bybit | More than 160 | 50+ | 0.1% to 0.6% | Crypto, EFT, wire transfer, bank transfer, debit card or credit card | Visit Bybit |
| Independent Reserve | 27 | Australian Dollars, US Dollars, New Zealand Dollars | 0.05% to 0.5% | EFT, SWIFT, Osko, PayID, Crypto | Visit Independent Reserve |
| Coinbase | More than 210 | Australian Dollars, US Dollars, New Zealand Dollars | Fees Vary | EFT, SWIFT, Osko, PayID, Crypto | Visit Coinbase |
| CoinJar | More than 50+ | Australian Dollars, Pound Sterling | Taker: 0.04 to 0.1% Maker: 0.04 to 0.1% | Apple Pay, Google Pay, Credit Card, Debit Card, Bank Transfer, Fiat, Crypto | Visit CoinJar |
| Kraken | More than 140 | Australian Dollars, US Dollars, and 5 more | Taker: 0.10% to 0.26% Maker: 0.00% to 0.16% | Apple Pay, Google Pay, SWIFT, Osko, SEPA, Crypto, Wire Transfer, Bank Transfer | Visit Kraken |
| BTC Markets | More than 15 | Australian Dollars | Taker Fee (for Bitcoin pairs): 0.20% Maker Fee (for Bitcoin pairs): -0.05% Australian Dollars Market Pairs: 0.10% to 0.85% | Crypto, BPAY, EFT, PayID, Osko | Visit BTC Markets |
| Easy Crypto | More than 40 | Australian Dollars, New Zealand Dollars, South African Rand | 1% | P2P, POLi, and Bank Transfers | Visit Easy Crypto |
| Coinstash | More than 140 | AUD | Taker fees: 0.85% Maker fees: 0.85% | Cryptocurrency, Bank Transfer, PayID | Visit Coinstash |
| eToro | More than 70 | Australian Dollars, US Dollars, Euro, and 12 more | Vary | Online Banking, Skrill, Neteller, PayPal, Bank Transfer, Debit Card | Visit eToro |
| KuCoin | More than 645 | US Dollars, Euro, Australian Dollars, and 6 more | 0.1% | Credit Card, Debit Card, SEPA, PayPal, Wire Transfer, Crypto | Visit KuCoin |