BlockFi Review for 2022
As cryptocurrencies are becoming ever more prevalent across the globe, their operational scope is much broader than basic investing activities. However, due to their disruptive volatility, we haven't reached a point yet where we'd use cryptos as a regular medium of exchange on the same level as traditional fiat currencies. Experts are optimistic that this status will soon change, but in the meantime, traders must find alternate ways to gain exposure to a more vibrant market.
At this point, they can rely on crypto borrowing and lending services either to enhance their positions or earn passive income. Today, we're reviewing BlockFi, one of the few mass-market platforms in this new borrow-lend realm. With a 4.5% annual percentage yield (APY) on Bitcoin and up to 9.5% on supported stablecoins, BlockFi features one of the most attractive interest accounts on the crypto market.
Let's go through all the services that BlockFi offers, explore its credibility, and find out whether it's worth your attention.
About BlockFi
BlockFi is a New Jersey-based lending platform established in 2017. The primary objective of BlockFi is to build professional grounds for trading cryptocurrencies and managing your holdings under a single umbrella. With the BlockFi interest account (BIA), you take out loans and swap coins at the same time.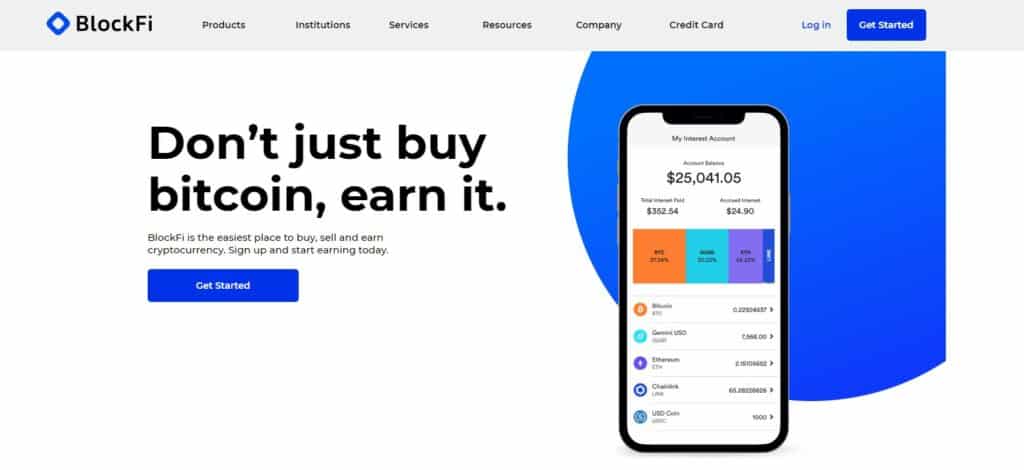 The company is privately run by a team of renowned professionals and backed by corporate brands like Fidelity and SoFi. Its CEO and founder, Zac Prince, has remarkable leadership experience in tech businesses such as Orchard Platform. Flori Marquez, a co-founder and VP of Operations at BlockFi, gained extensive expertise in managing alternative lending products as the Head of Portfolio Management for Bond Street.
In a very short time, the platform has hit over $1.5B in in-platform assets and has a loss rate of 0% across its lending market.
BlockFi Features
BlockFi is a web-based crypto platform that features a simple and intuitive design suitable for both novices and experienced traders. It does offer standard trading tools for trading crypto coins, but its primary use is lending services. Here's what you can expect from the platform once you register on BlockFi.
Cryptocurrency Trading
BlockFi allows you to trade crypto with very competitive fee rates (only a small spread) without a minimum balance to initiate a trade. The platform supports a handful of cryptocurrencies: Bitcoin (BTC), Ethereum (ETH), Litecoin (LTC), Pax Gold (PAXG), Tether (USDT), Gemini Dollar (GUSD), Paxos Standard (PAX), and the US dollar stablecoin (USDC).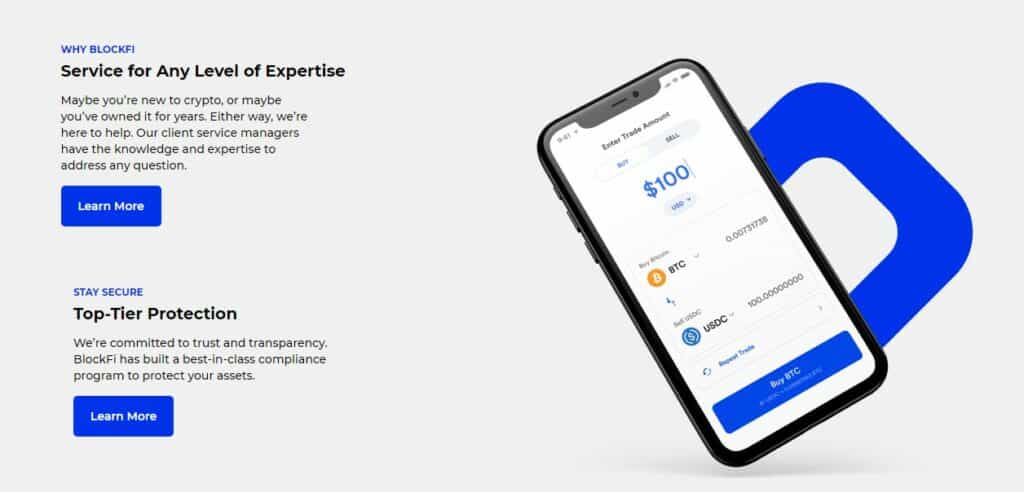 BlockFi's standard trading services are best-suited for self-reliant traders, but there are a few options for those who prefer automated trades with self-adjusted schedules.
The platform will soon present you with a Bitcoin rewards credit card (VISA) that allows you to earn cashback of 1.5% on BTC purchases.
BlockFi Interest Accounts
As unbelievable as it may sound in the virtual banking ecosystem, you can earn up to 7.5% interest on BlockFi only to keep particular cryptocurrencies on BlockFi. The platform will pay you a compounding interest on a monthly basis.
The APY you earn is determined by the particular cryptocurrency and your account size in that asset. BlockFi features a scalable fee schedule. Let's take BTC, for example.
For instance, if you hold 0-0.25 BTC, you'll receive 4% APY. Tier 2 ranges between 0.25 and 5 BTC with 1.5% APY, while Tier 3 users can earn 0.25% if their BTC balance exceeds the amount of 5 BTC.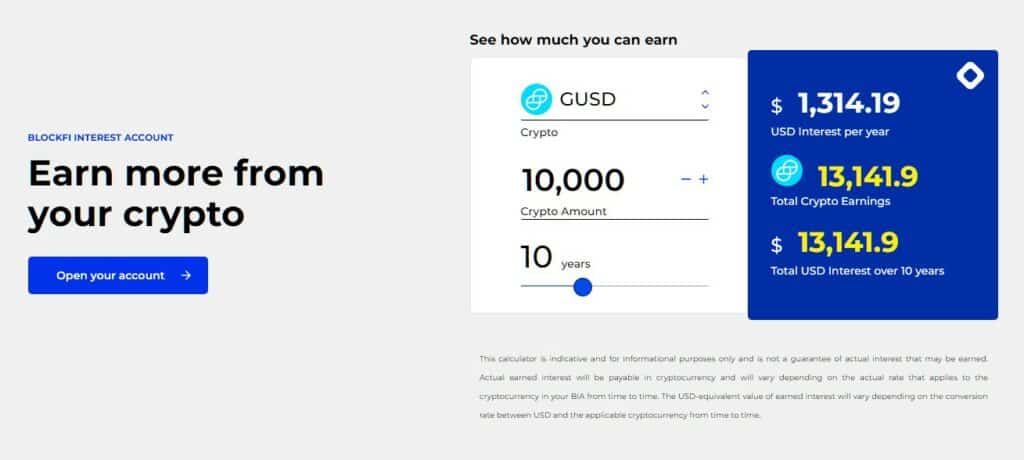 On the other hand, Ethereum holders can earn 5% with up to 1.5 ETH, 1.5% for capital between 1.5 and 50 ETH, and 0.25% for everything above that.
The interest rate for GUSD and USDC stablecoins is 9% up to 40,000 and 8% over 40,000. The same rate applies to PAX and PAXG, while USDT can reach up to a 9.5% interest rate, which makes it one of the highest stablecoin APYs on the market.
Crypto-Backed Loans
If you have an immediate need for cash, you don't have to sell your crypto savings. Instead, you can turn to BlockFi crypto-backed credits that will let you use your cryptocurrencies as collateral for your loan. Borrowers will be charged a fixed rate of 4.5%. BlockFi loans come with different advantages such as:
Same-day funding, which will enable you to get your borrowed assets the very same day after signing up.
Flexibility. You don't have to borrow funds against all the cryptocurrencies you possess. On the contrary, you'll be allowed to take out a loan that is up to 50% of the total value of your balance, also called a loan-to-value (LTV) ratio.
Penalty-free prepayment, which means you won't be charged any additional penalties if you manage to pay off the loan earlier than planned.

The exchange will allow you to use BTC, ETH, and LTC as collateral and take either fiat loans in USD or in GUSD and USDC.
Institutional Trading
For corporate clients who have been increasingly active in the crypto market over the past few years, BlockFi supports a separate institutional account for investment funds, financial businesses, or market makers. These cover loans in altcoins, stablecoins, and US dollars, an OTC (over-the-counter) desk with full support, trust investments in BTC, ETH, and LTC, as well as corporate treasury solutions.
Affiliate Partner Program
You can earn lucrative passive income by joining the BlockFi Affiliate Partner Program. For starters, you'll have to present the BlockFi Financial Tools to your audience. Afterwards, the platform will give you the necessary training and link you with the Partner Manager for further guidance. There are multiple ways to promote the platform:
Website ads
Social media tags
Article links
Creating new content
You will receive a 30-day cookie window with all the marketing resources in the dashboard, where you can have a clear view of all your performance and earnings.

As an affiliate partner, you can earn up to 0.5% of the deposits made by your target network and up to $1000 in commissions for each direct referral. BlockFi will reimburse you through your bank account or PayPal.
Trading Fees
BlockFi doesn't incur trading fees for transactions on the platform, but it applies a spread of around 1% to all crypto-assets, depending on the current market conditions. This fee schedule is considered quite transparent — without any hidden fees.
BlockFi allows one free crypto withdrawal and one free stablecoin withdrawal per month. Once you use the free withdrawal, your fee will be determined by the type of crypto coin. For example, BTC withdrawal fees are 0​​.00075 BTC.
Is BlockFi Trustworthy?
The jaw-dropping interest rates that BlockFi offers may lead you to the conclusion that the platform is a scam or simply too good to be true. However, based on all the relevant factors such as history records, team members, customer support, and business model evaluation, we can say that BlockFi is legit.
Admittedly, there are a few negative reviews online, but the reason lies in the lack of transparency, or rather, in misunderstanding the withdrawal terms and supported settlement currencies.
Generally, you should accept that there is a static risk factor of your funds leaving the hardware wallet (cold storage). In case of a critical hacker attack or any other form of a security breach, all your savings will be in serious danger.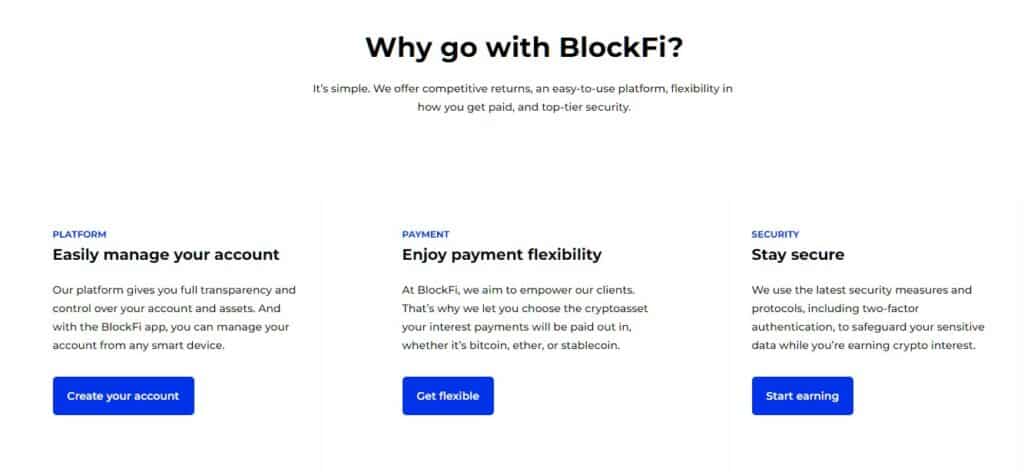 BlockFi employs 2FA (two-factor authentication) for added security of your account. To activate this option, you'll need to manually adjust it in the security section under the profile setting.
The platform also supports a wallet address book that will enable you to memorise all the frequently-used crypto addresses. Moreover, BlockFi offers Allowlisting as another security layer, allowing funds from your BlockFi savings account to be sent only to a selection of familiar withdrawal addresses. Remember that if your allowlist is empty, you won't be able to make withdrawals, so you must enter active addresses. It takes the BlockFi platform around 7 business days to confirm the addresses, which is way too long. These adjustments can be set only from the web-based platform — their mobile app allows read-only access to these settings.
On top of this, on BlockFi, you can make use of PII Verification, which is fed by multiple indicators such as amount, transaction velocity, and physical location. Finally, BlockFi enables a system for automated risk management available 24/7.
Customer Support
You can reach the BlockFi support team through a direct phone line (+1 646 779 9688) or contact them in a written form on their support email (support@blockfi.com).
Their user-centred approach is supported by an active YouTube channel where you can find useful interviews with BlockFi employees as well as educational videos about the platform itself. The BlockFi support team is also available on other social media channels like are also Twitter.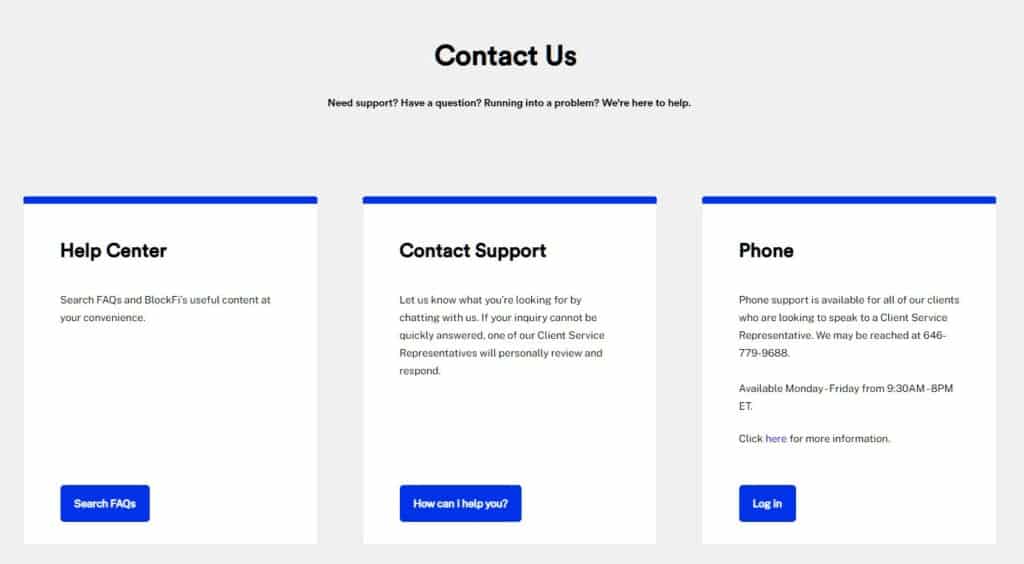 Moreover, BlockFi features BotFi — an AI-powered intelligent assistant — which is claimed to provide you with the necessary assistance instantaneously. If the bot fails to help you, you can turn to other means of communication with the BlockFi tech team.
Finally, if you get on board with a suspicious account, the platform will automatically suspend it for a week. The support team will appoint you for a video call to verify and re-confirm your identity. After successfully completing the KYC verification, you can reset your username and passwords and start over immediately.
Frequently Asked Questions
How does BlockFi earn profit?
The main BlockFi revenues come from lending its funds to well-established corporations and institutional investors, as well as investments in ETFs and securities.
How safe is BlockFi?
Before engaging in crypto trading of any kind, you should be aware that your BlockFi account isn't run in the same manner as your traditional bank account, and your holdings residing there aren't backed by a SIPC, FDIC, or any other insurance mechanism.
The size of interest rates, fees, and limits depend mainly on the current market conditions, which makes the lending business quite risky. However, BlockFi is registered with NYDFS (New York Department of Financial Services) in compliance with all applicable state and federal crypto regulations.
What is GUSD?
GUSD stands for Gemini Dollars, and it is a very product— a native stablecoin — of one of the most trustworthy exchanges on the modern crypto market, Gemini.
Does BlockFi have a mobile app?
In addition to the official BlockFi website, the company has launched a mobile app for iOS and Android that combines all trading services on a small screen and enables loyal users to manage their interest-earning accounts on the go. The app also supports regular crypto-retail services and the option to take out crypto-backed loans.
Is BlockFi a good choice for beginners?
Even though BlockFi features rather an intuitive user interface, it isn't the best-recommended solution for beginners. If you don't have any crypto in your possession, it's better to turn to an entry-level cryptocurrency exchange that operates as a brokerage service (Coinbase) or has a built-in option for instant crypto purchases (Binance). Such crypto exchanges combine a user-friendly interface and high liquidity and allow you to buy crypto in exchange for your local currency.
Once you get "equipped" with a solid amount of crypto holdings, you can start earning passive income as a lender and receive steady interest payments on a regular basis.
A Few Words Before You Go…
In terms of performance, BlockFi is a great choice regardless of whether you've just started investing in cryptocurrency or have been dealing with virtual assets for quite a long time.
There are several ways to use this crypto platform to your benefit, thanks to the nearly charge-free transactions and the well-designed system for interest and loans. And even though BlockFi withdrawals are restricted to a certain extent, you'll still be able to take out funds once a month for free.
Thus, once you come to terms with the risk of putting your crypto holdings in an interest-earning account without any insurance coverage, BlockFi can become a super-useful source for earning passive income.