BTC Markets Review for 2022
BTC Markets is an Australian crypto exchange that provides financial services to its customers, allowing them to trade with one another in a safe environment. Established in 2013 at the start of the Bitcoin renaissance, this cryptocurrency exchange is still one of Australia's most popular crypto trading platforms.
About the BTC Markets Exchange
On this cryptocurrency trading platform, you can trade cryptocurrencies in exchange for Australian dollars or bitcoins. In order to accomplish this, you will be presented with a variety of order types to pick from, such as market orders, limit orders, stop orders, stop-limit orders, take profit orders, advanced limit orders (Time-in-Force and Post-Only orders), and so on.

Aside from merely exchanging cryptocurrency, BTC Markets also provides financial instruments to help more experienced traders reach their trading objectives, such as OTC trading and staking. Moreover, this trading platform shares its APIs publicly for future blockchain developers in the DeFi space, which is an excellent addition to the exchange's offer.
This service allows traders to execute large transactions, lock in prices, and reduce market volatility risks while taking advantage of BTC Markets' competitive OTC rates.
SMSF Investment in Digital Assets
One of the most prominent features of BTC Markets is the self-managed super funds (SMSF) offering. In light of the fact that digital assets like Bitcoin are lawful in Australia, they can be deemed real property. Also, all digital assets can be utilised as a security by the New South Wales legislation, in which they are considered a "form of investment".
Regarding such investments, BTC Markets makes it easier for its users to prepare for annual audits by providing a tax reporting feature. Moreover, the exchange offers access to a global network of liquidity providers, dedicated customer service, as well as personalised service to customers who make large trades.
Supported Cryptocurrencies
Apart from trading Bitcoin, BTC Markets offers a variety of alternative cryptocurrencies presented through real-time charting. It's possible to trade them in certain crypto-to-crypto trading pairs but also crypto-to-fiat pairs with the single supported fiat currency—the Australian dollar (AUD). The available cryptocurrencies include Bitcoin (BTC), Ethereum (ETH), Ethereum Classic (ETC), Ripple (XRP), Bitcoin Cash (BCH), Tether (USDT), Power Ledger (POWR), Litecoin (LTC), Algorand (ALGO), OmiseGO (OMG), Uniswap (UNI), etc.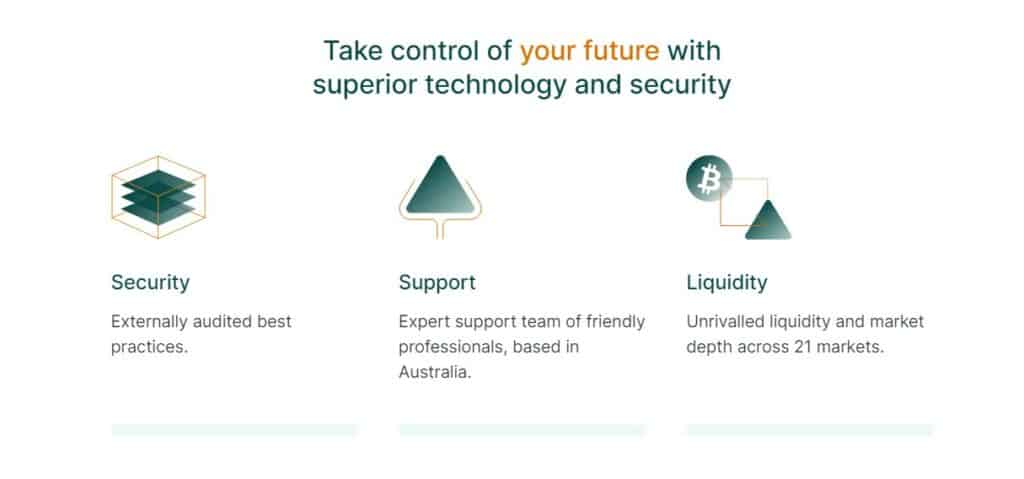 Payment Methods
This Australian exchange provides straightforward and flexible deposit methods, allowing you to quickly deposit funds into your cryptocurrency trading account by choosing the way that best meets your requirements or trading preferences. Same-day bank transfer deposits made via PayID and BPAY and instant financing through the Osko payment provider are also available at BTC Markets.
Trading Fees and Limits
BTC Markets features a transparent fee structure that includes no hidden fees or margin requirements. While the makers of liquidity are paid a fixed cost of -0.05%, the takers of liquidity are required to pay a taker fee of 0.2% to the makers.
Trading costs are determined upon the basis of a recurring 30-day cumulative trading volume in AUD, which includes all AUD trades during that period. The trading platform updates the trading volume every hour. When a transaction is completed, the applicable trading fee is deducted from the total.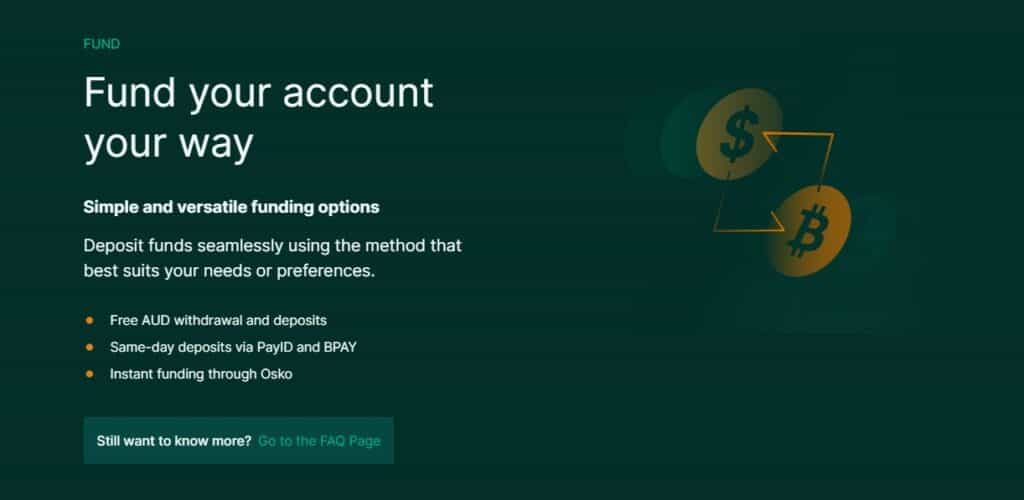 BTC Markets gives its registered customers the ability to withdraw and make deposits in Australian dollars at no cost. Namely, there's no deposit fee when you fund your account or if you want to withdraw funds to your Australian bank account. When it comes to withdrawing funds from other networks, the fees often vary depending on the blockchain used to make the transaction.
Is BTC Markets Safe to Use?
BTC Markets takes many of the best security measures such as SSL data encryption, two-factor authentication protocol (2FA), internal control limitations, KYC verification, etc. Regarding storage, the exchange has off-site cold wallets for 98% of user funds.
Furthermore, as a reporting body, BTC Markets complies with all its responsibilities imposed by the Australian Anti-Money Laundering (AML) and Counter-Terrorism Financing Act (CTF). The exchange also does frequent reconciliations of funds (twice a day for cryptocurrencies and every hour for AUD) to guarantee that the exchange has a sufficient balance.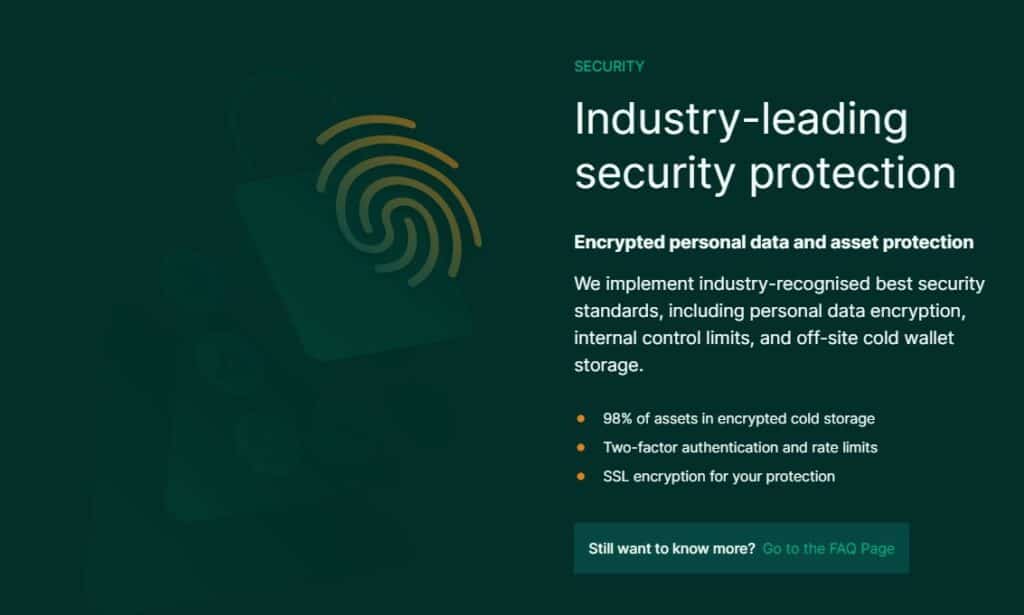 In addition, the exchange has been awarded the ADCA Gold Certification. In Australia, the Australian Digital Currency Market Code of Conduct represents a voluntary scheme that establishes best practice guidelines for enterprises participating in the Australian Digital Currency industry that may be audited by an external party.
The Australian Digital Currency and Commerce Association administers this Code of Conduct, which applies to companies that provide financial services in Australia. These services include buying or selling digital currencies, buying or selling fiat currencies in correlation with digital currencies, as well as storing digital currencies.
The BTC Markets Security Breach Incident
Since the exchange's inception in 2013, there have been no reported security breaches or thefts of customer funds on the platform's servers. However, there was one malicious email issued by BTC Markets in December 2020 that was not detected.
Namely, this email had exposed both the identities and emails of all BTC Markets account holders at the time. While all online companies, regardless of their security precautions, are more or less susceptible to such attacks, the fact that this happened to the platform after so many years may indicate that certain steps were taken incorrectly in its upkeep and administration.
Customer Support
BTC Markets is committed to both discovering and quickly resolving potential security issues. In this regard, the exchange has launched a Bug Bounty reward system that rewards anyone who successfully discovers any system or process error that causes BTC Markets or its clients to lose data or money (sensitive data leaks, platform hacks, authentication or authorisation flaws, remote code execution, etc).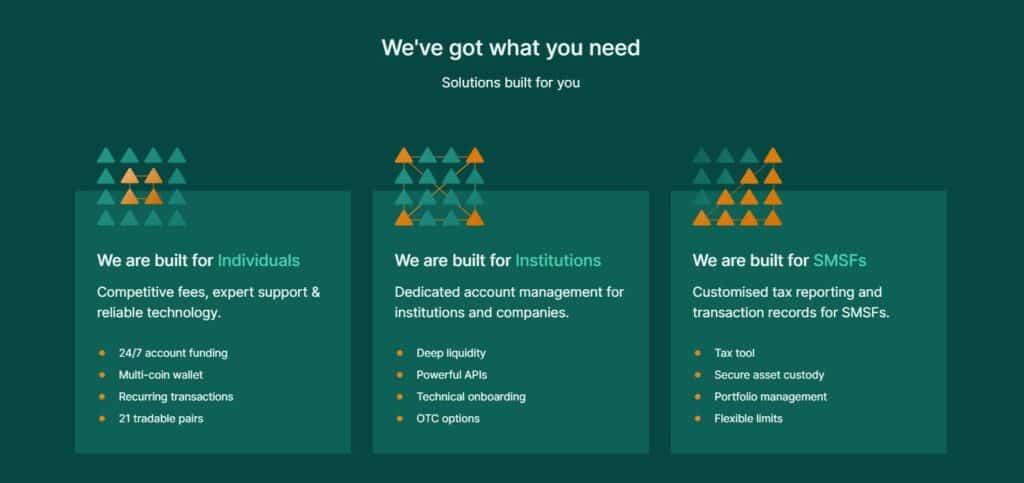 As a user, you can file reports for any issues through the exchange's support centre. Each bug that is reported will earn you one bounty. However, individuals who disclose weakness in the platform's security must first go through an ID verification check before the prize may be awarded.
Frequently Asked Questions
Does BTC Markets have a mobile app?
There is no mobile app for this cryptocurrency exchange. Its web platform, on the other hand, is extremely user-friendly and can be accessed from any smart device equipped with an Internet connection.
What countries does BTC Markets support?
Residents of Australia are the only ones who use BTC Markets. Customers from other jurisdictions are unable to register an account on this platform due to various restrictions imposed by the respective financial authorities.
Does BTC Markets provide a cryptocurrency wallet?
BTC Markets provides managed wallet services to safely store your digital funds. After you have purchased virtual currencies, you may use this cryptocurrency exchange platform to exchange, obtain, and store your coins. However, the developers of BTC Markets encourage users to transfer their assets to an individual wallet after making a transaction for stronger protection.
As a tip, there are several third-party wallets to pick from, including the famed Bitcoin blockchain wallet, Electrum. If you want to handle your own digital wallet, you may also obtain Bitcoin Core or Litecoin Core – both free to download and use.
Does Bitcoin Markets support margin trading?
BTC Markets doesn't support margin trading due to the volatile character of digital currencies as well as the modest volume of AUD trading on the exchange. To be more precise, margin trading is considered to be one of the riskiest financial services that a cryptocurrency exchange can provide. Since BTC Markets is not a fully regulated crypto exchange, the financial risk of margin trading could be understandably multifold for the platform's users.
What are the withdrawal fees on BTC Markets?
When you withdraw your bitcoins from BTC Markets, you will be charged a withdrawal fee of merely 0.0003 BTC. This fee is significantly lower than the withdrawal fee charged by other leading crypto exchanges.
A Few Words Before You Go…
This Melbourne-based cryptocurrency exchange, which was designed with experienced traders in mind, provides a decent number of financial services carefully picked to facilitate their trading strategies. However, BTC Markets' advanced toolkit for Bitcoin exchange and other trading options may be a little intimidating for absolute beginners.
The bottom line? BTC Markets is a nice place for Australians to trade bitcoins in exchange for Australian dollars. The platform employs all current security standards and charges low fees (compared to the fees of Australian platforms like Independent Reserve and CoinSpot, or even Binance), which serve as a good incentive for novice traders.
Perhaps the ability to purchase Bitcoin with fiat currencies or a mobile app would be welcome additions for future clients. However, given the long history of BTC Markets, it appears that its team is sticking to a tried and tested formula, which is not necessarily a bad thing in this case. Not bad at all, in fact.