Bybit Review Australia 2023
It's hard for a crypto exchange to successfully target several types of users and provide both average, advanced, and pro traders with all the tools they need while maintaining a high level of service quality. That's exactly what ByBit is successful at. This international crypto exchange platform managed to include every essential crypto-related service in its portfolio.
If you're looking for spot trading, ByBit supports more than 100 cryptos and more than 200 trading pairs. The platform has a great express trading service, which allows beginners to quickly purchase or sell crypto for fiat currency, but the real focus of the platform is advanced trading features. ByBit is famous for providing users with highly advanced trading features such as leveraged margin trading and futures contracts with up to 100x leveraged positions. 
Crypto derivatives are something ByBit is known for, thanks to the platform's broad range of financial products and trading options that rely on assets that derive their price from cryptocurrencies. Users have USD Coin (USDC) and Tether (USDT) perpetual contracts, inverse contracts and other crypto derivatives at their disposal.
Let me show you all the key aspects of ByBit and why I think that it's a great platform for experienced crypto traders.
| | |
| --- | --- |
| Website | ByBit.com |
| Country | Most global regions except for the US. |
| Mobile app | Yes |
| Deposit Methods | Credit card, debit card, Google Pay, bank transfer, wire transfer, PayID, POLi. |
| Trading Fees | 0.1% spot fee for makers and takers, 0.01% maker/0.06% taker fee for futures contracts. |
| Fiat Currencies | USD, AUD, CAD, EUR, GBP, ARS, BRL, and numerous other fiat currencies. |
| Cryptocurrencies | Bitcoin (BTC), Polkadot (DOT), Ripple (XRP), Ethereum (ETH), Cardano (ADA), Litecoin (LTC), Eos (EOS), Avalanche (AVAX), Decentraland (MANA), Polygon (MATIC), Aave (AAVE), Algorand (ALGO), and more than 100 additional altcoins. |
Pros
Huge selection of 100+ trending coins and tokens.
Advanced trading options and technical analysis tools.
Up to 100x leveraged margin trading and futures contracts.
A broad range of crypto derivatives and advanced perpetual contracts.
A wide variety of fiat currencies.
Testnet account available for beginners.
Cons
Isn't available in the US.
Margin trading, futures, and crypto derivatives are very risky.
ByBit: A Great Crypto Exchange for Users in Australia
ByBit is a highly advanced trading platform geared towards experienced crypto traders. ByBit was launched back in 2018 in Singapore, as an international cryptocurrency exchange platform focused on margin trading and crypto derivatives. Soon after, the platform added spot trading options to compete with other popular exchanges.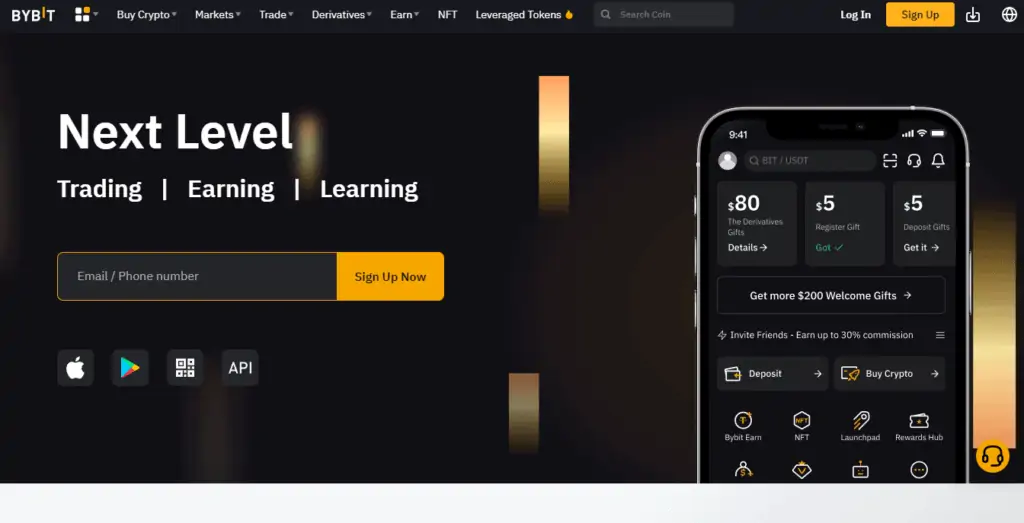 The platform has features suitable for beginners, such as the express trading option, as well as spot trading, but it's really geared towards experienced traders looking for a platform that supports advanced order types and margin trading. I was quite surprised to learn that ByBit supports up to 100x leveraged margin trading and futures contracts through the perpetual contracts feature which is focused on USDC and USDT-based futures. The 100x leverage is something you don't see often among trading platforms, but honestly, be extra careful when using this feature because you can end up losing a lot of money really fast.
Besides classic crypto trading and crypto derivatives, ByBit also has its own NFT marketplace with a solid selection of trending projects, along with a ByBit Earn section that allows users to engage in liquidity mining, DeFi mining features, as well as creating ByBit crypto savings accounts.
The platform grew fast since its launch in 2018 and quickly became famous for its crypto derivatives and margin trading features, along with a selection of more than 100 leading digital currencies.
How ByBit Works
ByBit has several operational layers that really showcase the professionalism behind the platform. I tried all of the trading features of the platform and I really can't say that I've encountered any issues. One of the key reasons for ByBit's smooth trading experience is the advanced hardware and software solutions that allow the platforms to process up to 100,000 transactions per second. This means that you'll never encounter any type of system overload error, which is common on competitor exchanges.


Once you create a ByBit account, you have a broad range of trading possibilities for investing in crypto. You can either buy crypto directly with fiat through the express trading feature, facilitate a peer-to-peer (P2P) trade in order to acquire some crypto, or you can buy some USDC/USDT and start trading crypto on the ByBit spot/margin trading interface. You can also directly deposit fiat with your bank card, Google Pay, PayID, POLi, wire transfer or bank account and spend it later on the platform. Crypto deposits are also an option since ByBit supports crypto storage for all the assets available on the platform.
The spot trading interface allows users to directly invest USDT, USDC, and in some cases, BTC in more than 100 popular crypto assets. Margin trading enables you to invest borrowed funds in trading positions and enter leveraged contracts that might give you multiplied profits (or losses). If you're an experienced crypto trader with an appetite for high risk, you should try investing in crypto derivatives through perpetual contracts that use USDT or USDC as collateral for investments.
Supported Cryptocurrencies
For me, the selection of available crypto assets is one of the most important things I look at when I'm deciding whether to try out a new crypto exchange platform. ByBit is really great in this aspect because the platform supports more than 100 digital currencies and a total of over 200 crypto-to-crypto trading pairs, mostly with USDT, USDC, and BTC as the second asset in the trading pair.

You can find everything from BTC, MATIC, ETH, Bitcoin Cash (BCH), Cardano (ADA), Algorand (ALGO), Aave (AAVE), MANA, EOS, AVAX, Binance Coin (BNB), and Basic Attention Token (BAT) all the way to Ape Coin (APE), Chilliz (CHZ), PancakeSwap (CAKE), Compound (CMP), Curve Finance (CRV), and dozens of additional altcoins.
Supported Fiat Currencies
ByBit supports a wide range of fiat currencies but not every type of trading is available for all fiat currencies. For example, direct fiat deposits into ByBit accounts are only available for Brasilian Reals (BRL), Argentinian Pesos (ARS), and Russian Rubles (RUB), which was a bit disappointing since I couldn't deposit AUD into my ByBit account.
On the other hand, the express trading feature supports a much larger selection of fiat currencies, and I managed to easily buy USDT with fiat Australian Dollars. Apart from AUD, express trading also supports EUR, USD, GBP, RUB, BRL, ARS, AZN, BDT, CHF, HKD, CAD, and more than 60 additional fiat currencies. With such a broad range of fiat currencies, ByBit is actually one of the market leaders when it comes to fiat support.
You can also purchase crypto through the ByBit peer-to-peer (P2P) trading service which supports USD, HKD, GBP, EUR, and around 20 additional fiat currencies.
Supported Countries
ByBit is available in most parts of the world thanks to the fact that it isn't regulated, so it doesn't need a specific licence to operate in different regions, similar to the market leader Binance.
However, some countries such as the US have strict regulatory policies, which explicitly ban unregulated exchange platforms from providing services, especially if they are dealing with crypto derivatives, which are banned in the US. Additionally, ByBit isn't available in Quebec, Cuba, Iran, China, and a few other regions.
ByBit Key Features
Let's have a look at the key features that make ByBit stand out from the competition.
Derivatives Trading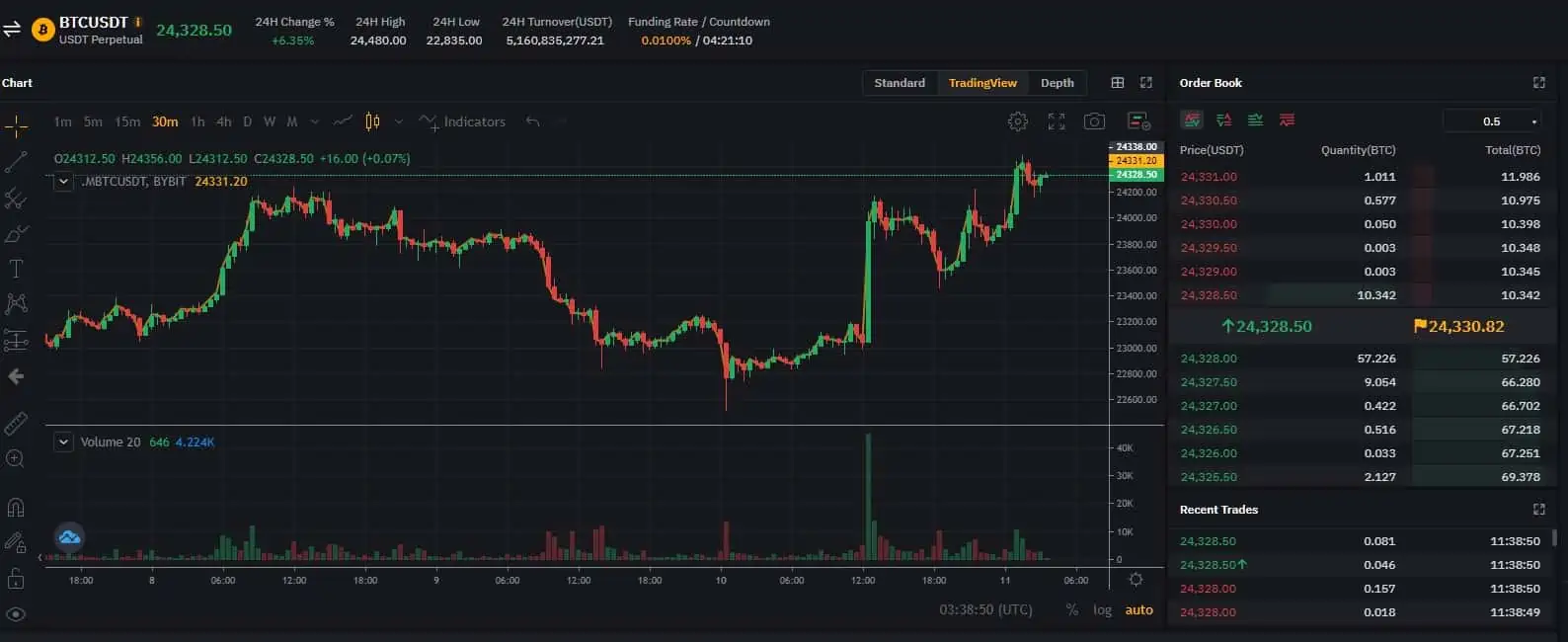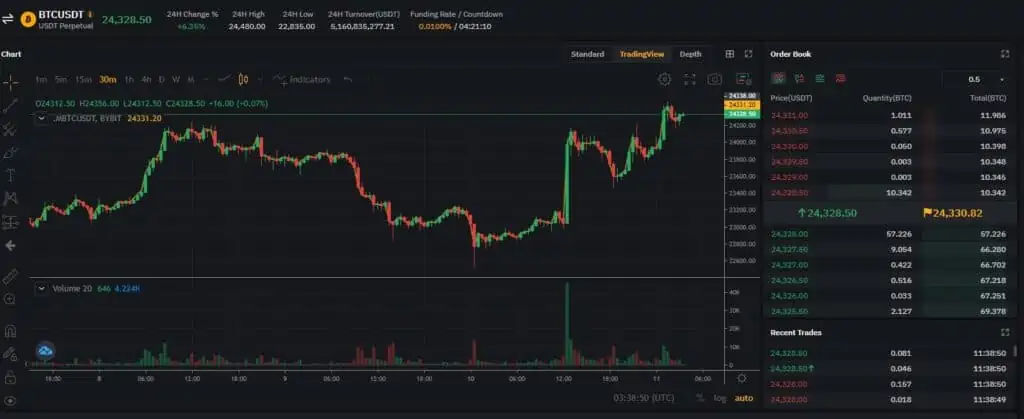 ByBit is best known as a crypto derivatives exchange and a go-to platform for experienced traders looking to conduct perpetual derivatives contracts and inverse futures contracts. ByBit has a separate web portal for all of its derivatives-related services. You can either engage in derivatives trading through the main website or derivatives portal.
The key advantage of derivatives trading on ByBit is that you can enter perpetual contracts on most of the 100+ available cryptos with USDT as collateral. There are also options for entering contracts with USDC as collateral, but they are rather limited compared to the USDT selection.
ByBit also supports inverse derivatives contracts that use the contract's coins as collateral. For example, ALGO inverse contracts use your ALGO as collateral instead of using USDT or USDC. The inverse contracts can either be perpetual (100+ options), or you can enter a classic futures contract and bet on the price change direction of BTC or ETH within a specific period of time.
Margin Trading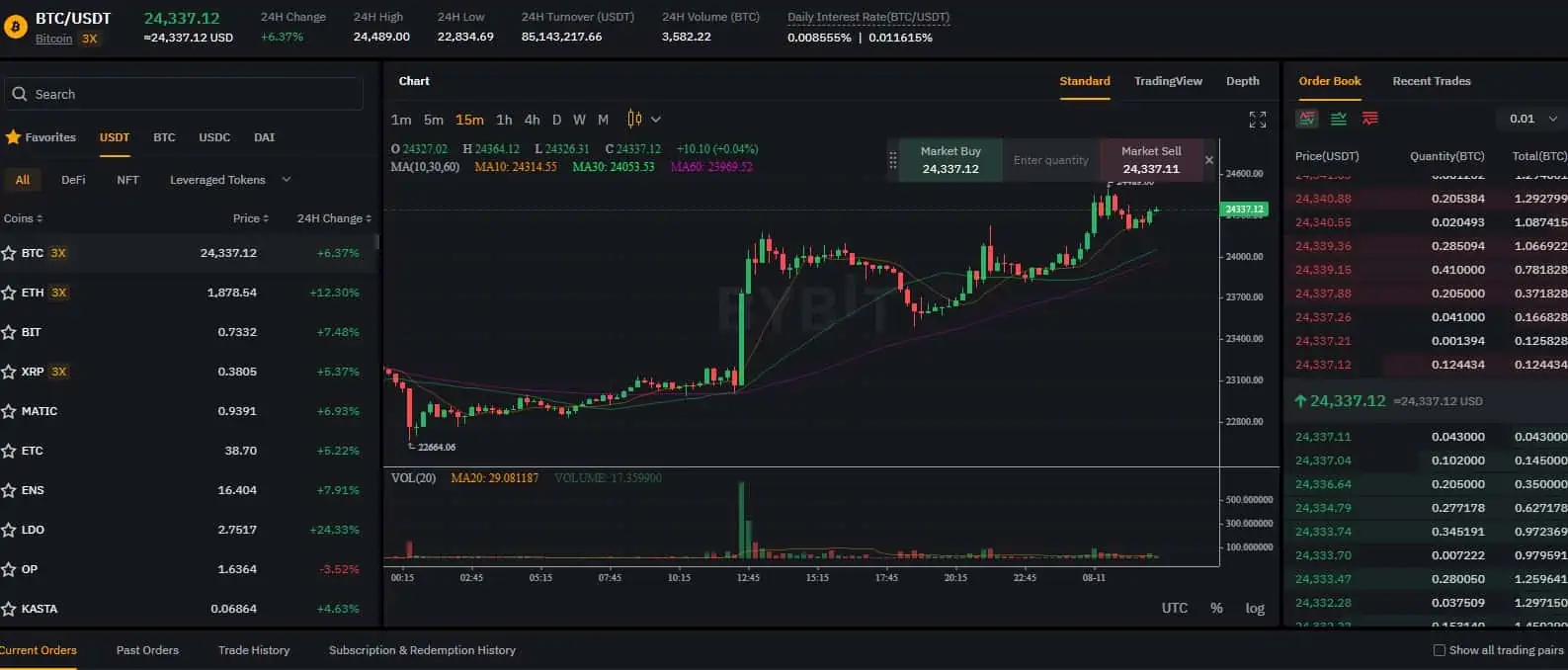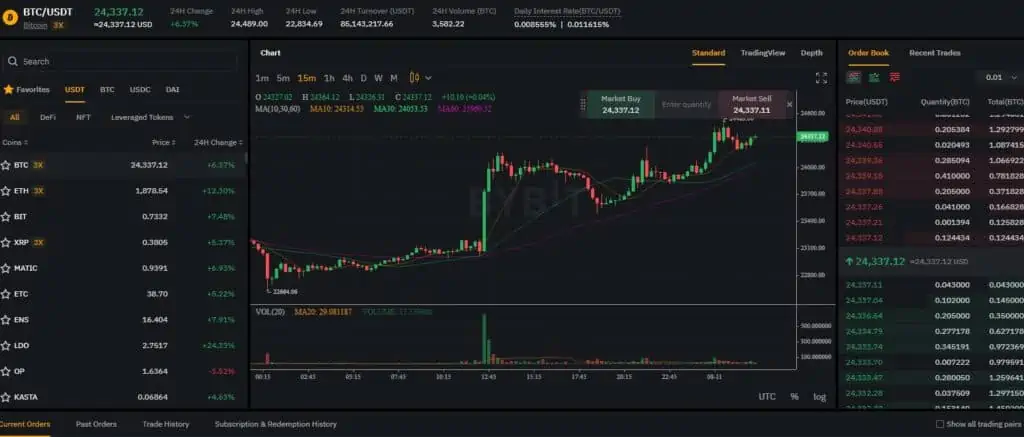 Margin trading is another key feature of ByBit. The margin trading interface is similar to the classic spot trading interface, except that users have fewer assets available for margin trading. You can enter margin trading positions with up to 3x leverage on BTC, ETH, XRP, EOS, Chainlink (LINK), LTC, Stellar Lumens (XLM), Solana (SOL), and USDC. The second asset for margin trading pairs is always USDT.
Risk-Free Testnet Environment
ByBit has a super cool feature specially designed for beginners who want to exercise using the advanced platform features, such as margin trading, futures, derivatives contracts, and leveraged trading. The ByBit Testnet environment is just like a demo account on other exchanges, except that you have all the key trading features of the platform available for use without depositing real money or crypto. I was really delighted to try out the ByBit Testnet and find out that the developers literally gave millions of people access to the official testnet environment which was used for developing the ByBit platform.
Technology and Tools Set It Apart
ByBit is an extremely fast crypto exchange that can process an astonishing number of 100,000 transactions per second. This means that there's no service lagging ever, and the platform has a 99.99% online availability record.
The ByBit developers have implemented some of the most sophisticated trading tools to provide ByBit users with everything they need to implement, even the most advanced trading strategies. The trading interface is packed with technical analysis tools and a clear overview of all the essential information.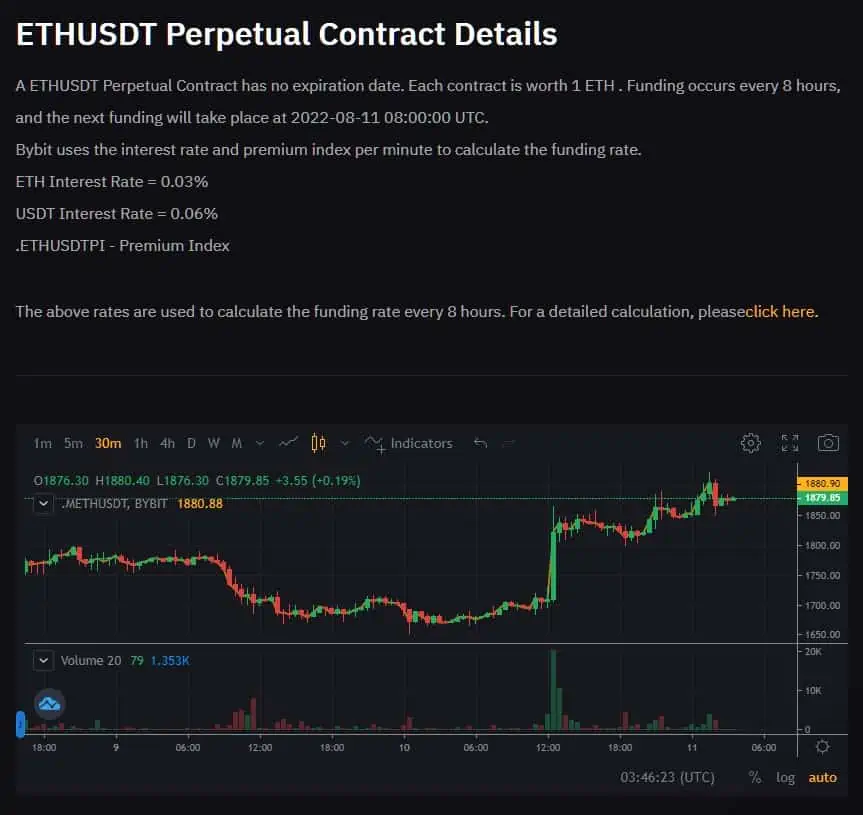 The left half of the trading interface is where you'll see the price chart for the selected asset pair. You can choose exactly how many details you wish to see on the price chart by choosing whether to display the price change for the last 1, 5, 15 minutes, one hour, 4 fours, 24 hours, week, or month.
The price chart also has different technical analysis features such as hollow candles, price change area marking, classic candles, and bars. It's also possible to change the appearance of the chart, and you can always toggle whether you want to look at the standard chart, trading view, or depth chart. The price chart for crypto derivatives trading has even more useful tools.
To the right of the price chart is the order book for the selected assets. You can also toggle the recent trades button and only see the last few trades. The far right of the screen is where you'll find your order dashboard. That's where you'll be initiating your trading orders from.
Beneath the price chart and the order book is where you'll see all of your active or filled orders, along with your order history and other parameters related to your trading orders.
Up to 100X Leverage on Crypto
ByBit is one of the rare crypto exchanges that support up to 100x leverage on crypto trading. Leverage enables you to multiply your potential gains based on borrowed assets and collateral. However, leveraged trading is extremely risky because you never know whether your trading deals are going to go through or if you're going to end up losing money. With leveraged trading, your losses are also multiplied, so imagine losing 100x the amount you initially deposited. That's why leveraged trading is only recommended to the most experienced crypto traders.
Educational Resources


The ByBit trading platform has a Learn section specifically built for educating both beginners and experienced users. Many other exchanges have educational sections, but they are usually packed with a few dozen articles and that's it. Well, ByBit is totally different. I was overwhelmed with the amount and variety of educational resources in the Learn section. For example, the section called Discover Altcoins has more than 120 articles describing all the key characteristics of assets available on the platform.
The educational section covers everything, from coins, DeFi, NFTs, and trading basics all the way to advanced trading tips and strategies.
Perpetual Futures and The Dual Price Mechanism
ByBit supports advanced perpetual futures contracts for crypto derivatives trading with USDT or USDC as collateral. These contracts are different from classic futures contracts because they don't have expiration dates, meaning they can be held or traded indefinitely according to pre-set contract terms.
Unlike competitor platforms, which often allow the user's perpetual futures contract to get liquidated based on the last trade price, ByBit uses a dual price mechanism for determining when a contract should be liquidated. ByBit uses the mark price as the liquidation trigger, making it much more difficult for price manipulators to trigger liquidations based on the last traded price of an asset.
The Contract Loss Mechanism
ByBit's contract loss mechanism is designed to liquidate contracts on fair market terms. For this purpose, the platform uses fair price marking to avoid any liquidations that are initiated by malicious individuals trying to manipulate the market.
Additionally, in case ByBit is unable to close a liquidated contract above the bankruptcy level, which can sometimes happen, the user gets reimbursed from the platform's insurance fund. This is how ByBit ensures all contracts are closed in a fair manner.
Type of Orders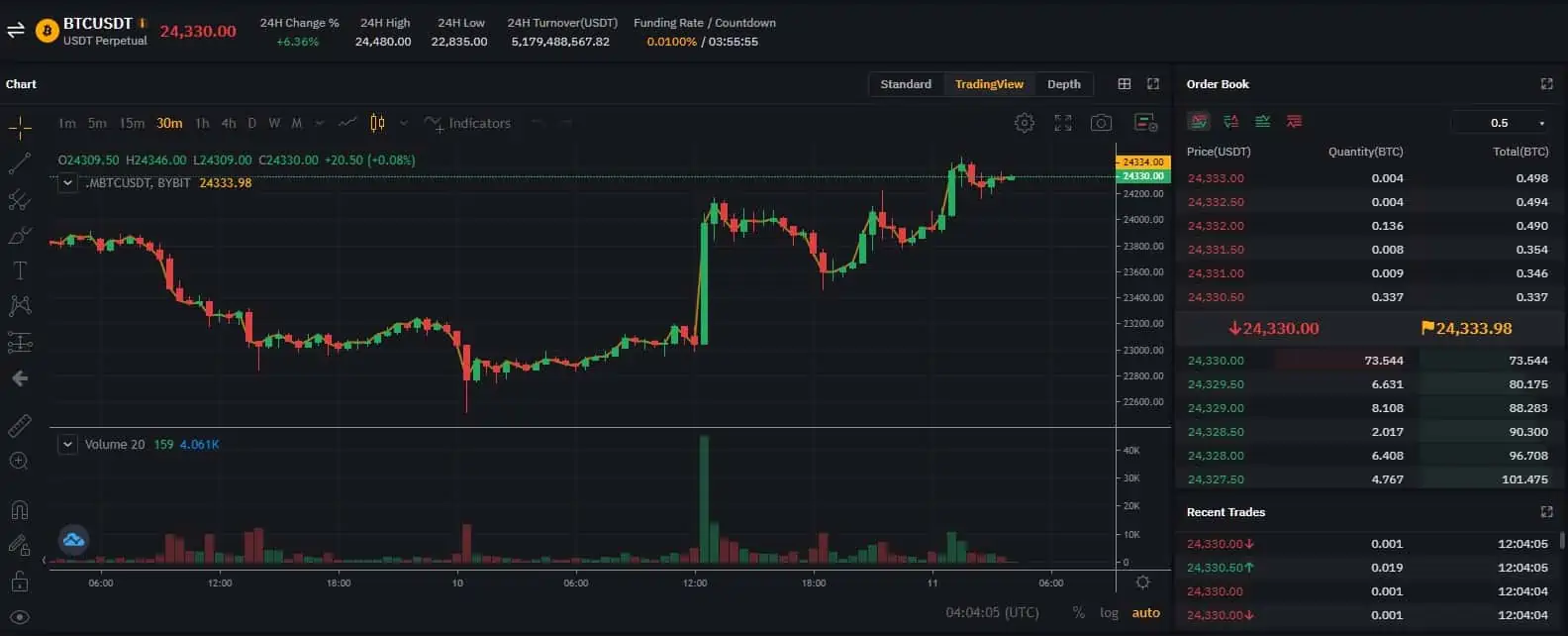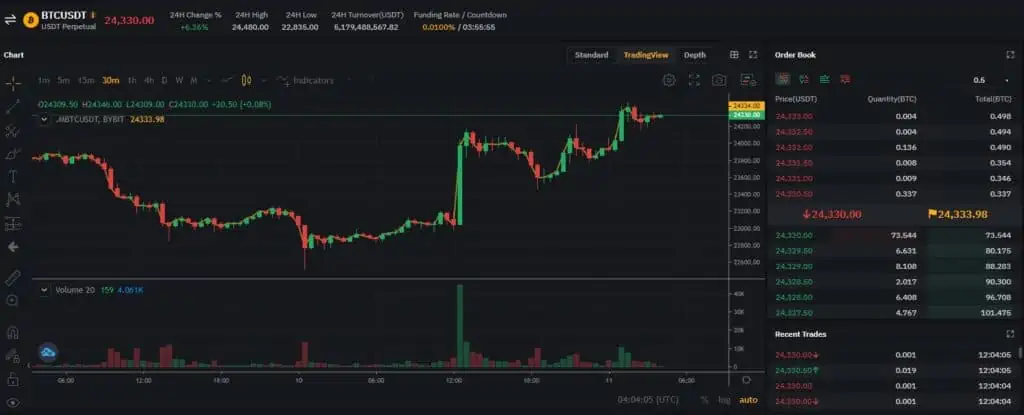 I managed to find all the advanced order types I needed for implementing my trading strategies on ByBit, which was quite refreshing compared to competitor platforms with a poor choice of trading order types.
The orders are divided into three subcategories: market, limit, and conditional orders. All three order types have various subtypes based on whether you want to issue a stop-loss order, stop-limit, take-profit, and other order types.
Market orders are usually used by beginners and average crypto traders to facilitate quick trading deals. A market order is immediately filled based on current market prices without any unnecessary delays, and you basically take advantage of the best available price in the platform's order book.
Limit orders are more advanced because they depend on the pre-set price limits and are only executed once the selected assets reach that price.
Conditional orders can either be market or limit orders with specific conditions that need to be met before the orders are executed. For example, a conditional market order is executed only once the last traded price reaches the trigger price threshold. Conditional limit orders, on the other hand, are also executed once the trigger price is reached, except that they first need to go through the order book, which can take some time until the order's limit price is reached.
ByBit Contracts
One of the reasons why I really liked ByBit is because of the different crypto derivatives and futures contracts available on the platform, such as the classic ones with fixed expiration dates for Ethereum and Bitcoin.
As far as advanced perpetual contracts go, ByBit offers two stablecoin collateralisation possibilities: USDC or USDT. Personally, I prefer the USDT option because it covers more than 100 crypto-to-USDT pairs, while the USDC selection is far more limited.
Additionally, ByBit also supports inverse contracts, which are basically perpetual or futures contracts that use the underlying asset as collateral. A Bitcoin inverse contract uses BTC as collateral and not USDT or USDC.
ByBit Trading Bot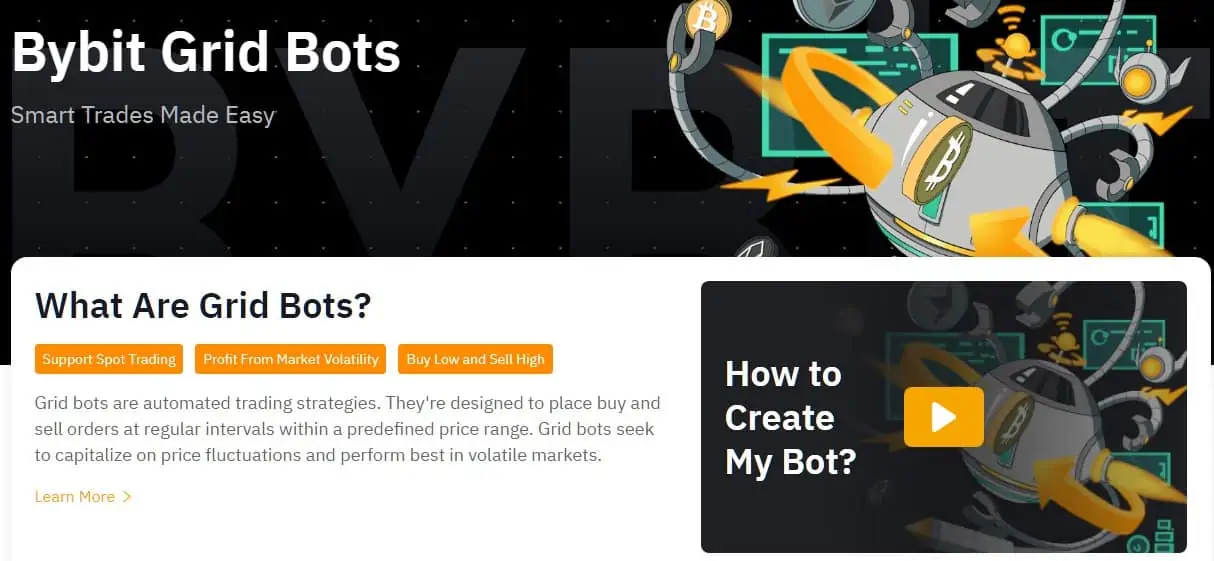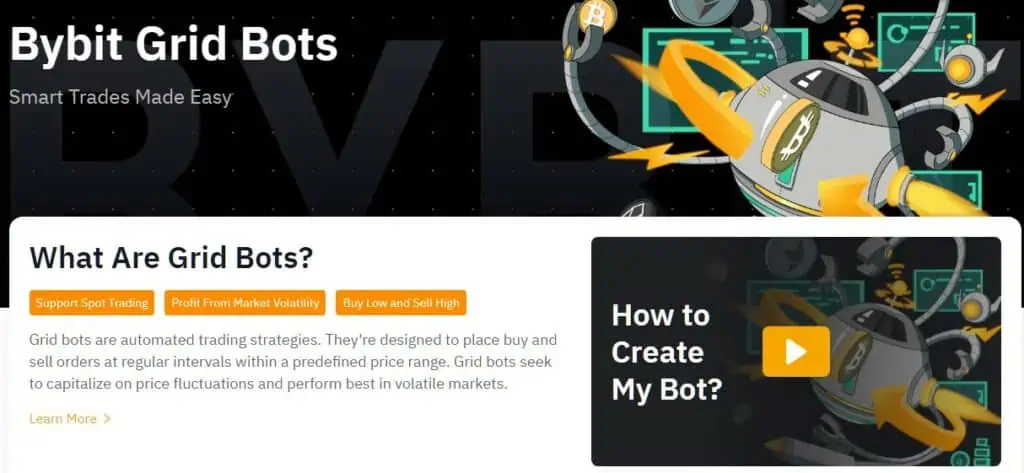 I was a bit sceptical at first when I saw the ByBit trading bot feature, but once I tried it out, I realised that it works quite well and that it could be a very useful tool for crypto beginners and less experienced users who wish to implement various trading strategies but lack the knowledge to do it.
The trading bot feature allows users to create their own grid bot, which is basically an automated trading strategy that regularly conducts buy and sell orders based on a predefined set of rules within the pre-set price range.
ByBit's Referral Program
When I see that a crypto exchange has a good referral program I know that the platform appreciates its users and wants to give them some extra bonus for their loyalty. With ByBit you can easily get your own referral code and share it with friends.

The ByBit referral program gives you a stunning 30% of all trading fees incurred by the users that signed up on ByBit with your referral code. The fee rewards don't have a time limit. You'll receive the percentage from all fees of the referee for a lifetime.
ByBit Fees
Let's have a look at the platform's fee policy.
ByBit Trading Fees
When I saw the number of useful features on ByBit, I thought the platform probably charges high fees for all those services, but actually, the fees are quite low, which is another reason why more than 3 million users conduct their everyday trading operations on ByBit.
Classic spot trading incurs a standard 0.1% fee no matter if you're a market maker or market taker, while crypto derivatives contracts incur a 0.01% fee for makers and a 0.06% fee for takers.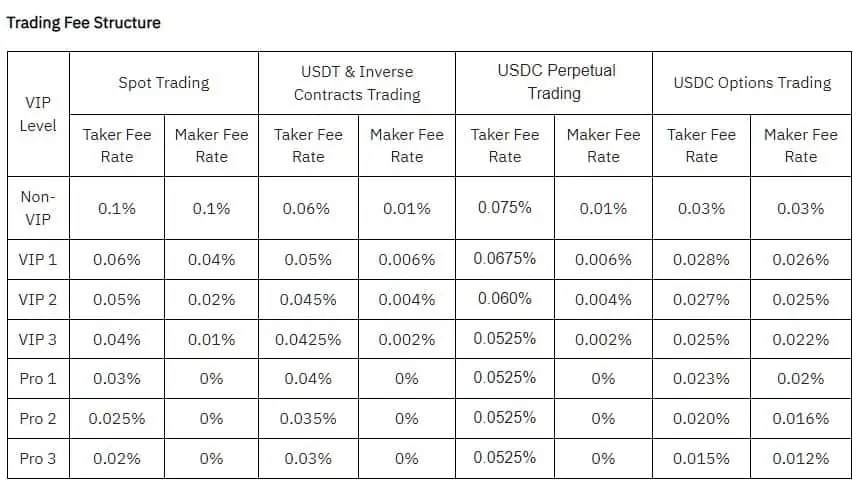 These fees can drop even lower if you're a ByBit VIP user. There are three tiers of VIP users. You need to apply for each tier. Tier 1 VIP crypto derivatives users need to have a monthly trading volume between 10 and 25 million, while the highest tier 3 VIP users need to trade between 50 and 500 million USD worth of crypto within a 30-day period. VIP users are eligible for fees as low as 0.002% for market makers, and 0.0425% for market takers.
As far as spot trading, tier 1 VIPs need to have a 30-day trading volume 1 and 3 million USD, while the highest tier 3 users need to have a monthly trading volume of at least 6 million USD. The lowest spot trading fees for tier 3 VIPs are 0.01% for makers and 0.04% for takers.
ByBit Withdrawal Fees
ByBit doesn't charge platform fees for withdrawals, however, all cryptocurrencies are subject to blockchain transaction fees. Since ByBit is an unregulated crypto exchange, it doesn't offer fiat withdrawal options. You'll need to facilitate a crypto transaction from your ByBit account to your third-party crypto wallet first.
ByBit Deposit Fees
ByBit doesn't charge any fees for fiat or crypto deposits, but fiat ones may be subject to third-party payment service fees, depending on the payment method you choose
Payment Methods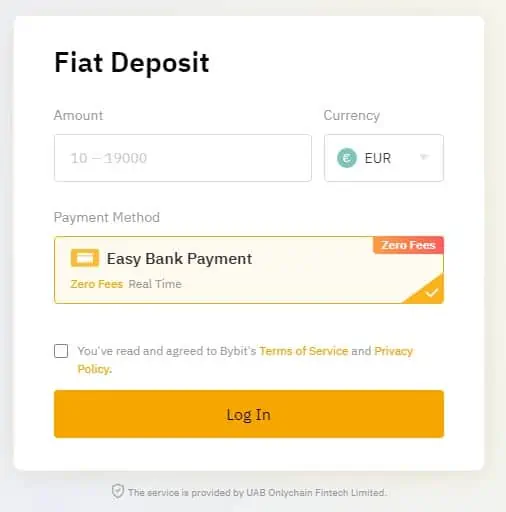 Crypto exchanges often lack a wide variety of payment methods. Well, ByBit is an exemption. I was thrilled to learn that the platform supports numerous payment methods, such as bank account transfers, wire transfers, credit cards, debit cards, Google Pay, and even popular Australian payment methods, such as POLi and PayID.
ByBit Mobile App
Personally, I do most of my crypto trading while on the move, and a lot of my friends prefer to trade on their mobile devices too, which is why I definitely expect a crypto exchange to have a well-designed, easy-to-use mobile app.
ByBit didn't disappoint me here as it has a great mobile app for Android and iOS operating systems. It must have been quite difficult for the ByBit developers to successfully integrate all of the numerous platform features into a single mobile app, but they managed to do it elegantly. Just like the browser version of the platform, the mobile app works smoothly, there's no lagging, and you have access to all of the platform's features, from spot trading, margin trading, and derivatives all the way to the ByBit NFT marketplace.
ByBit Customer Support
ByBit has great customer support features, which I found very useful when learning more about the crypto derivatives segment of the platform. You can always use the ByBit Learn section with hundreds of blog articles regarding different platform issues. You can also contact the support team through email or send them a message through the ByBit social media channels. The team is very responsive, and you'll definitely get a quick answer.
Live Chat Support 24/7
The best aspect of ByBit customer support is their live chat support option, which is available 24/7. The live chat feature is the most efficient way to contact the platform support team.
How Secure Is ByBit?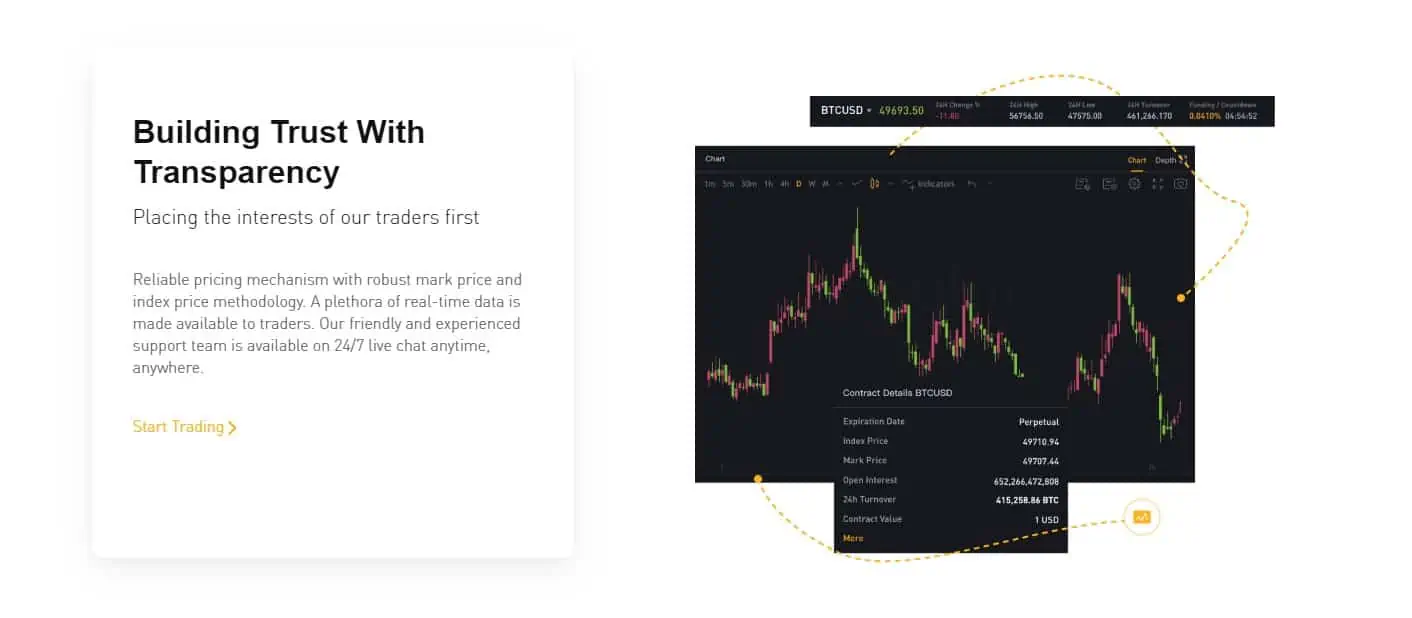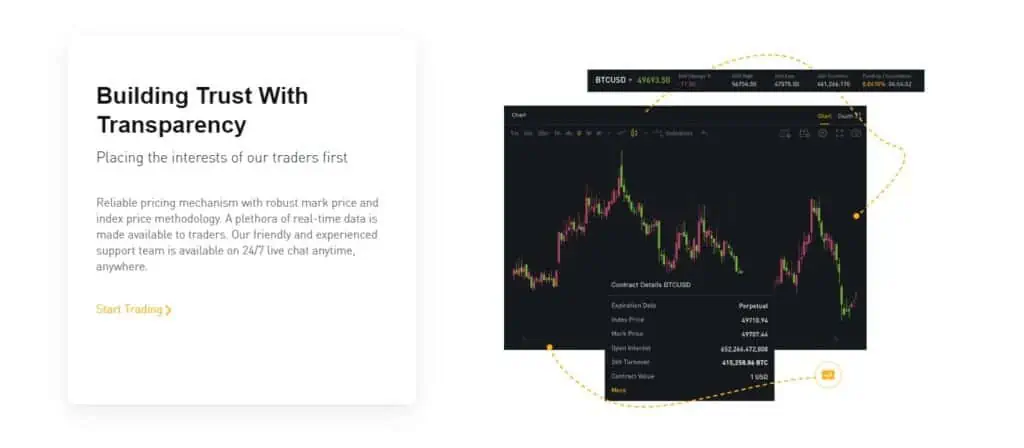 ByBit is a highly secure crypto exchange. I was pleased to find out that the platform has a clean track record when it comes to hacks. There hasn't been a single successful hack of the ByBit exchange since its launch.
ByBit Security Features
ByBit utilises cold storage solutions for keeping all platform assets safe. The user accounts and platform crypto wallets associated with each account are actually hardware wallet accounts, so all of your private keys are safely stored offline in cold wallets. The private keys are never kept in any form of online storage, which means that even in the event of a successful hack, the cyber attackers wouldn't be able to steal your crypto.
Each user account is protected by passwords, data encryption, and two-factor authentication (2FA), which requires users to approve every transaction through their email or verified phone number just to make sure no one has unauthorised access to their account.
Alternatives
Let's take a look at some popular alternatives to ByBit and find out if they are a better choice.
Is ByBit Better Than Binance?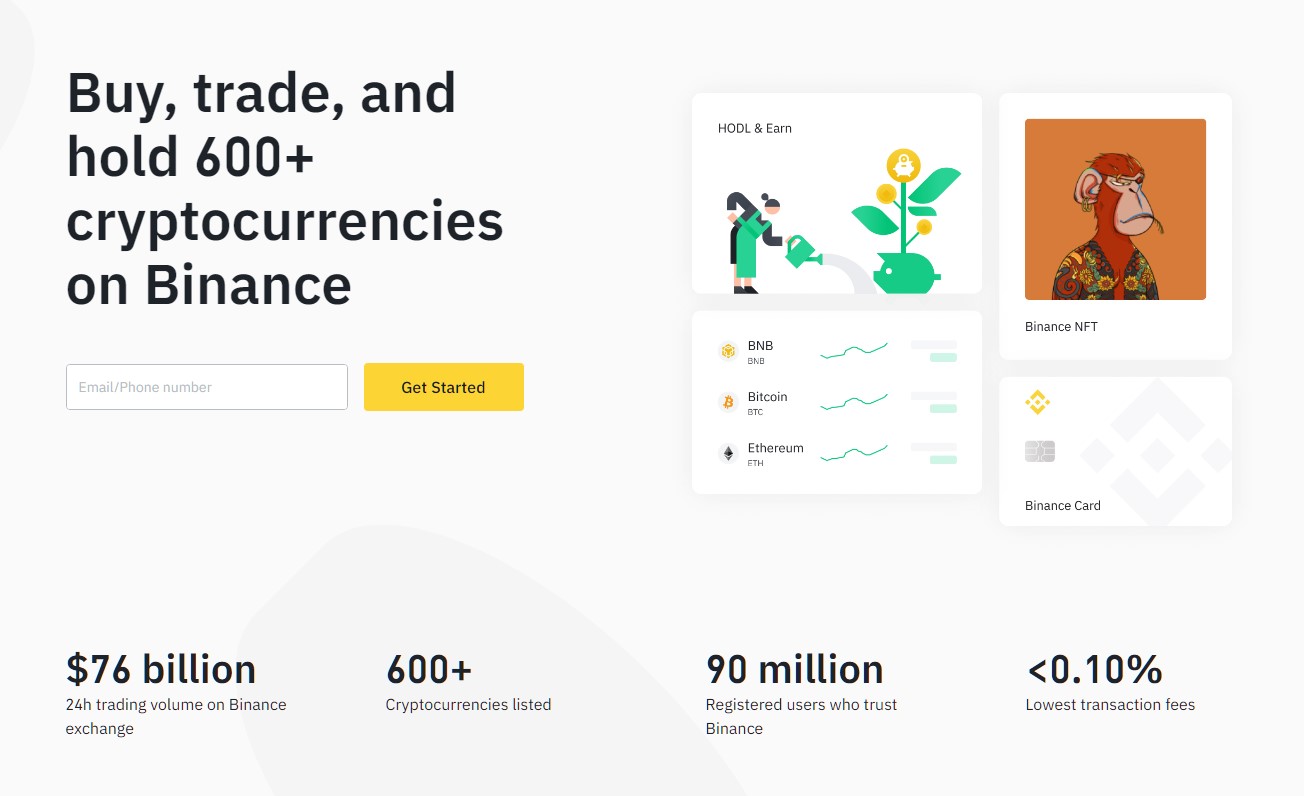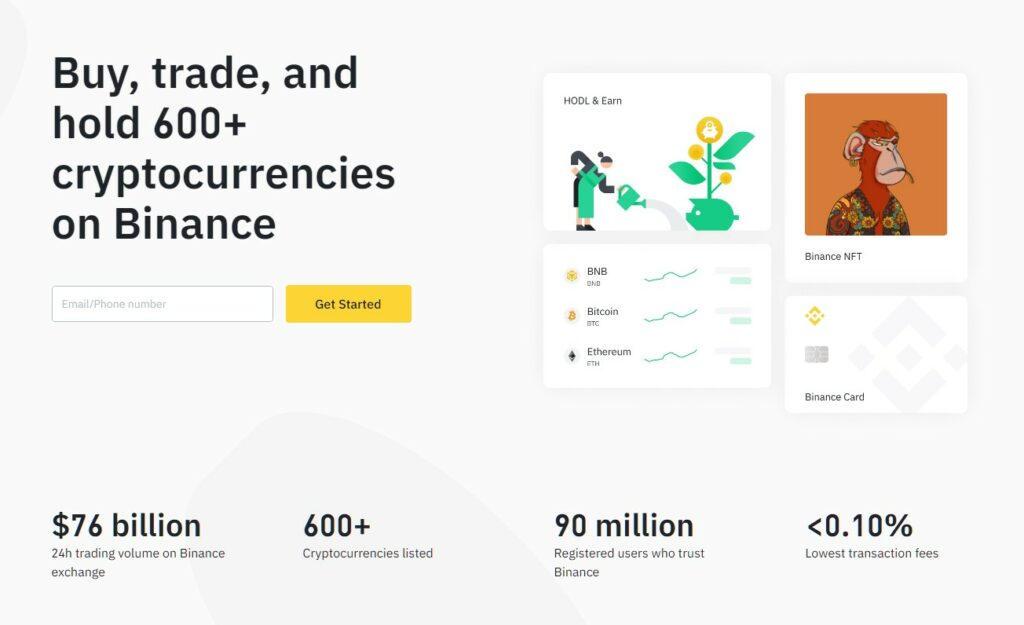 Binance is the supreme market leader when it comes to crypto exchange platforms. The platform supports more than 600 coins, and users can conduct all sorts of trading operations, such as spot, margin, and derivatives trading. However, Binance lacks a huge variety of USDT/USDC collateralised perpetual contracts, which is why ByBit is a better choice for users who are focused on derivatives trading.
Is ByBit Better Than Coinbase?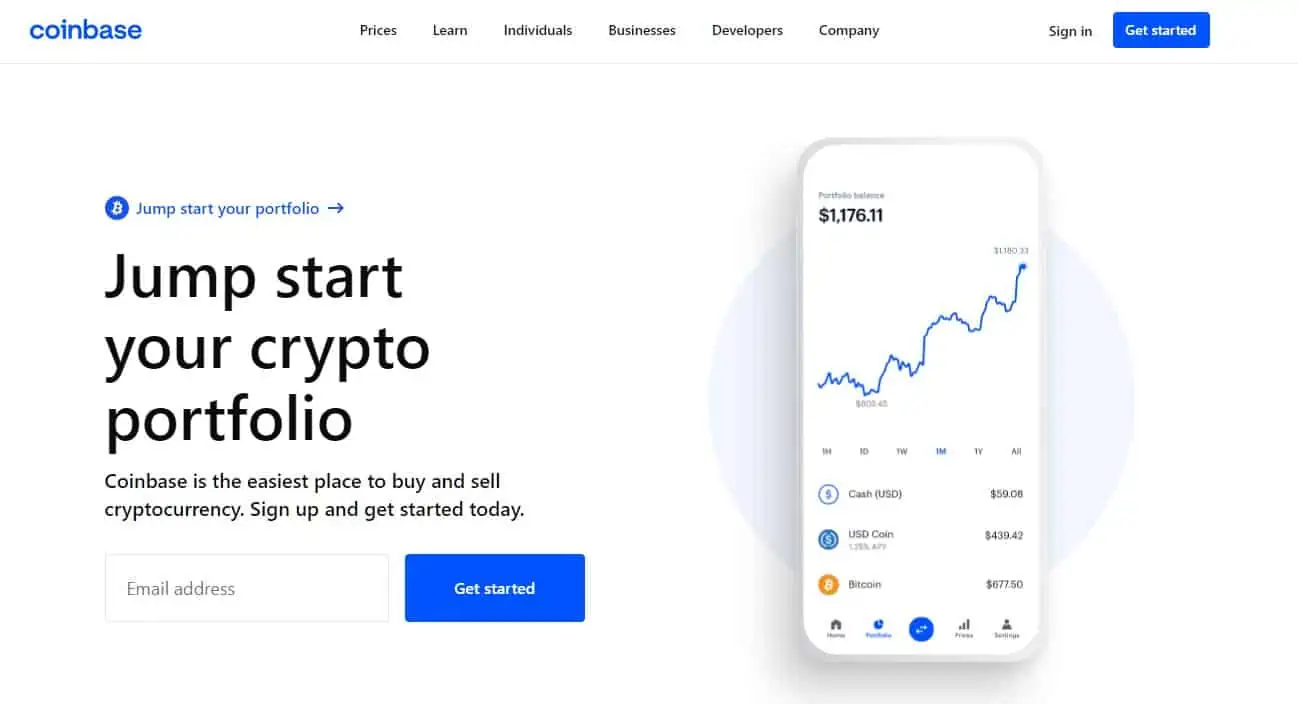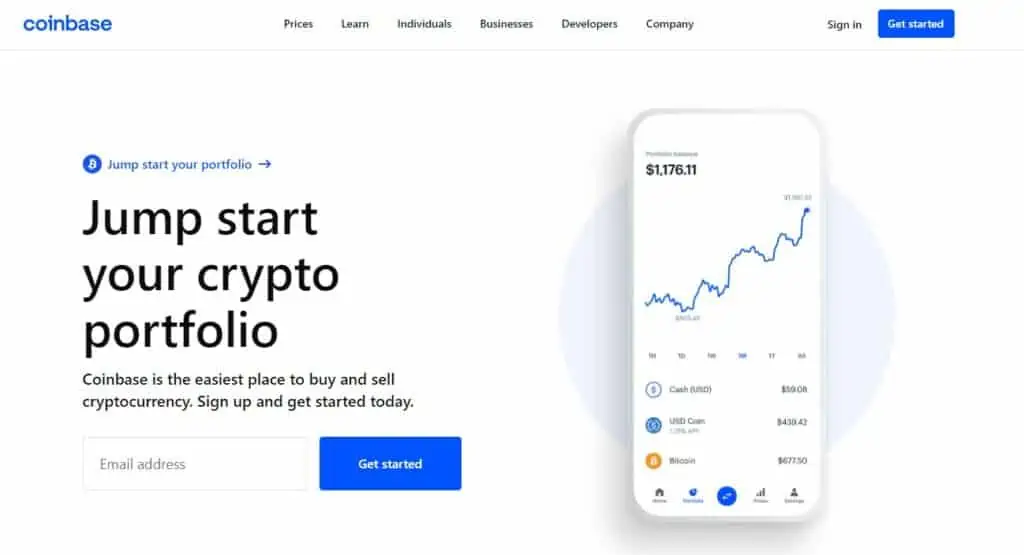 Coinbase is another leading crypto exchange that supports a lot of coins and tokens (130+), but it doesn't feature much more than basic trading options. Coinbase is geared heavily towards crypto beginners who prefer instant trading deals. It's a platform built to onboard millions of new users into the crypto market. ByBit is a much better choice for advanced users looking for margin trading and derivatives trading features.
Is ByBit Better Than KuCoin?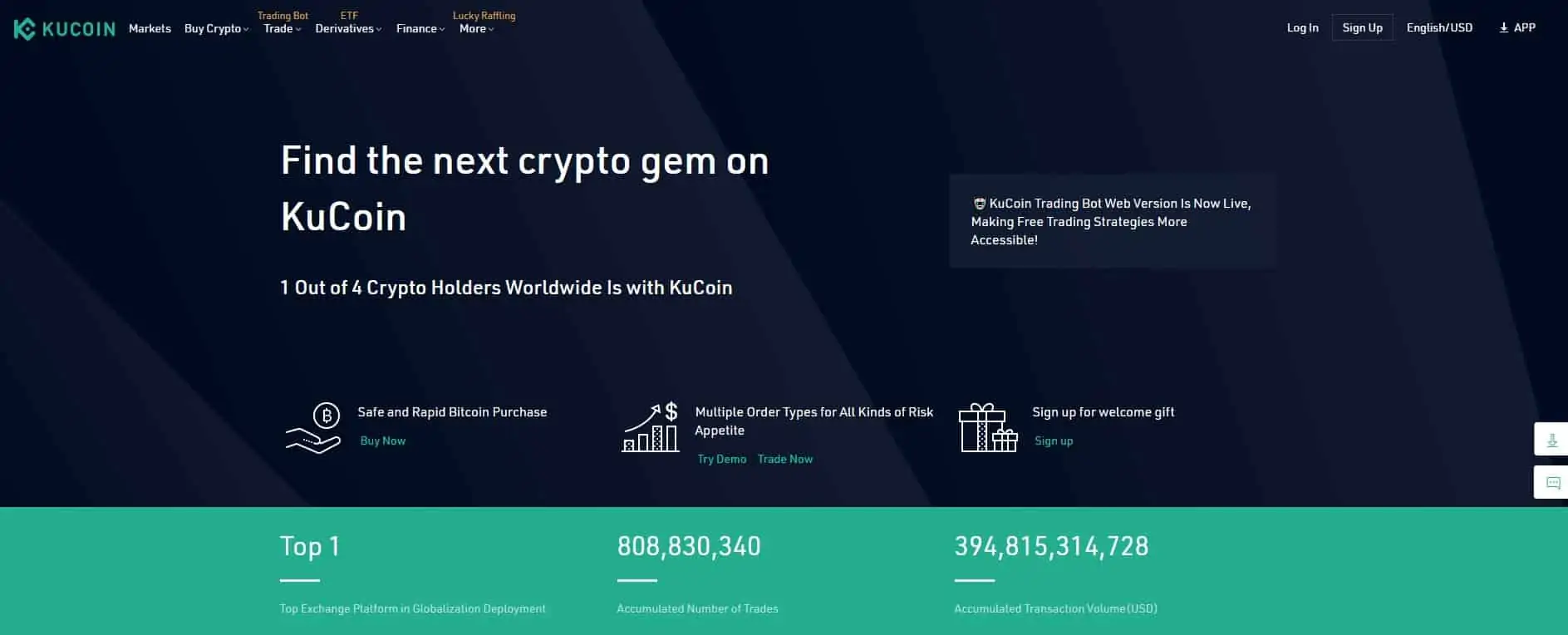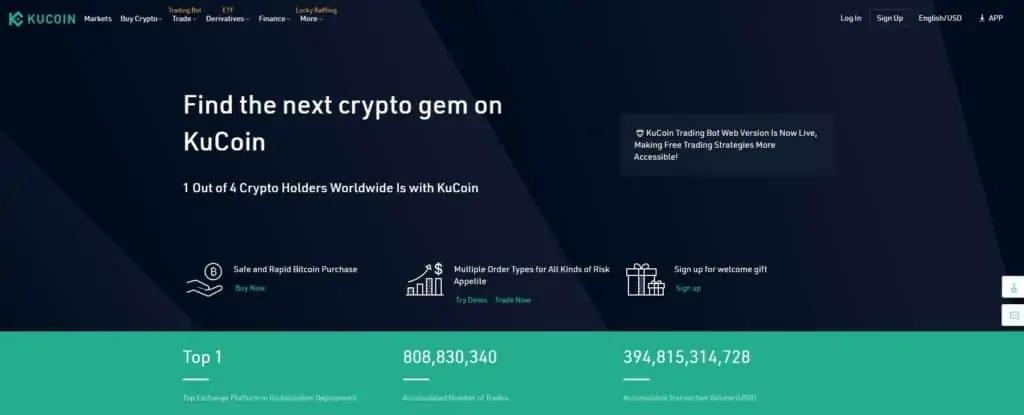 KuCoin is another popular international crypto exchange that supports hundreds of coins, spot trading, margin trading, and futures contracts. KuCoin is also known for some of the lowest fees on the market. However, when it comes to derivatives, the platform only offers standard futures contracts and leveraged tokens. That's why ByBit is surely a better choice for derivatives traders.
Is ByBit Better Than Phemex?


Phemex is a great exchange platform for both beginners and advanced crypto traders. The platforms support a huge variety of trending coins. You can either purchase crypto directly with fiat or invest in margin trading and use the advanced Phemex trading interface. Phemex also has up to 100x on leveraged trading, similar to ByBit, but the selection of contracts is rather limited, so for derivatives trading, ByBit is a better option.
Frequently Asked Questions
It's time for the FAQs.
Is ByBit legit?
ByBit is definitely a legit crypto exchange despite the fact that it isn't regulated. While regulated exchanges need to have special licences to provide users with crypto services, they usually have a rather limited choice of services and supported cryptos. ByBit isn't regulated, but it supports hundreds of coins and has millions of satisfied users, which means you can rest assured that you'll really get what you paid for.
Why is ByBit not allowed in the US?
ByBit isn't allowed in the US because it's an unregulated exchange platform that provides derivatives trading services, which are banned in the US.
How do I cash out on ByBit?
You need to withdraw your crypto to a fiat-friendly crypto exchange that allows users to sell their crypto for fiat and cash out to their bank accounts.
Is ByBit good for day trading?
Yes, ByBit is a good choice for day traders because it has all the advanced trading options needed for efficient day trading.
How many users are on ByBit?
ByBit claims to have more than 3 million registered users.
How long does it take for a ByBit deposit?
Bank card deposits are nearly instant, while bank account deposits might take a whole business day to get processed.
Can US citizens use ByBit?
US citizens can use ByBit if they are located outside of the US. In the US, ByBit isn't allowed to operate. However, US citizens should beware that they don't have any legal protection when using ByBit.
The Bottom Line
My conclusion is that ByBit is one of the best available options for crypto derivatives trading. The variety of available contracts is astonishing, and honestly, I can't think of another reliable crypto exchange with so many derivatives trading options. However, ByBit definitely isn't a platform suitable for beginners. It's quite complex and tailored towards crypto enthusiasts used to spot trading or advanced and pro users geared towards margin trading and derivatives.
Related:
ByBit Compared
| Exchange | Cryptocurrencies | Fiat Currencies | Trading Fees | Deposit Methods | Sign Up |
| --- | --- | --- | --- | --- | --- |
| Swyftx | More than 320 | Australian Dollars, New Zealand Dollars | 0.6% | Osko, PayID, Credit Card, Debit Card, Bank Transfer, Cryptocurrency | Visit Swyftx |
| CoinSpot | More than 370 | Australian Dollars | OTC: 0.1% Market Order: 0.1%* (applies to LTC, BTC, ETH, XRP, POWR, DOGE, TRX, NEO, XLM, GAS, RChain, RFOX, EOS) Instant Buy/Sell: 1% | POLi, PayID, Cash, Cryptocurrency, Bank Transfer, BPAY | Visit CoinSpot |
| Binance | More than 600 | US Dollars, Australian Dollars, and 8 more | 0% to 0.1% | Osko, PayID, Credit Card, Debit Card, Crypto | Visit Binance |
| Bybit | More than 160 | 50+ | 0.1% to 0.6% | Crypto, EFT, wire transfer, bank transfer, debit card or credit card | Visit Bybit |
| Independent Reserve | 27 | Australian Dollars, US Dollars, New Zealand Dollars | 0.05% to 0.5% | EFT, SWIFT, Osko, PayID, Crypto | Visit Independent Reserve |
| Coinbase | More than 210 | Australian Dollars, US Dollars, New Zealand Dollars | Fees Vary | EFT, SWIFT, Osko, PayID, Crypto | Visit Coinbase |
| CoinJar | More than 50+ | Australian Dollars, Pound Sterling | Taker: 0.04 to 0.1% Maker: 0.04 to 0.1% | Apple Pay, Google Pay, Credit Card, Debit Card, Bank Transfer, Fiat, Crypto | Visit CoinJar |
| Kraken | More than 140 | Australian Dollars, US Dollars, and 5 more | Taker: 0.10% to 0.26% Maker: 0.00% to 0.16% | Apple Pay, Google Pay, SWIFT, Osko, SEPA, Crypto, Wire Transfer, Bank Transfer | Visit Kraken |
| BTC Markets | More than 15 | Australian Dollars | Taker Fee (for Bitcoin pairs): 0.20% Maker Fee (for Bitcoin pairs): -0.05% Australian Dollars Market Pairs: 0.10% to 0.85% | Crypto, BPAY, EFT, PayID, Osko | Visit BTC Markets |
| Easy Crypto | More than 40 | Australian Dollars, New Zealand Dollars, South African Rand | 1% | P2P, POLi, and Bank Transfers | Visit Easy Crypto |
| Coinstash | More than 140 | AUD | Taker fees: 0.85% Maker fees: 0.85% | Cryptocurrency, Bank Transfer, PayID | Visit Coinstash |
| eToro | More than 70 | Australian Dollars, US Dollars, Euro, and 12 more | Vary | Online Banking, Skrill, Neteller, PayPal, Bank Transfer, Debit Card | Visit eToro |
| KuCoin | More than 645 | US Dollars, Euro, Australian Dollars, and 6 more | 0.1% | Credit Card, Debit Card, SEPA, PayPal, Wire Transfer, Crypto | Visit KuCoin |