Bybit Review 2022
Bybit, a cryptocurrency and derivatives trading platform, is a relatively new addition to the cryptocurrency industry. Having amassed a registered user base of over 3 million in barely three years of operation on the cryptocurrency market, ByBit appears to be a success story worthy of further research.
Boasting a smart trading system with up to 100x leverage trading, significant market depth, HD cold wallet for storing assets, an ultra-fast matching platform engine, a state-of-the-art pricing system that protects you against unfair liquidations, and dedicated customer support, it sounds almost too good to be true. That's why we did some fact-checking research, and here's what we came up with.
About the ByBit Exchange
Registered in the British Virgin Islands, the Bybit trading platform is a prominent peer-to-peer (P2P) Bitcoin and cryptocurrency derivatives exchange that supports futures trading, spot trading, as well as derivatives trading. According to the traffic, trading volume, and liquidity for leveraged crypto transactions conducted via its platform, CoinmarketCap ranks Bybit as the world's sixth-largest derivatives exchange in terms of trading volume and liquidity.

Furthermore, ByBit supports flexible staking, dual asset mining, DeFi mining, launch pool mining, and cloud mining on a sophisticated TradeView charting platform to make trading more convenient for its customers as well. Traders may partake in leveraged trading of BTC, ETH, XRP, USDT, and EOS, with a margin trading of up to 100x leverage on ETH/USD or BTC/USD trading pairs.
Apart from offering a vast variety of financial tools, ByBit also has several systems for earning passive income. One of them is the Rewards Hub, where a user can earn up to $600. All you need to do is open a trading account on ByBit, complete some simple tasks on the platform, and – collect your rewards. It couldn't be more simple, really.
ByBit Trading Features
Spot Trading
There are several types of spot trading instruments on ByBit that are USDT-collateralized, including the following:
BTC, ETH, AXS, BCH, CHZ, BIT, AAVE, ADA, COMP, DYDX, ETC, ICP, KLAY, KSM, DOGE, DOT, EOS, LINK, UNI, SUSHI, XLM, XTZ, XRP, LTC, MANA, MKR, YFI, etc.
There are also BTC-collateralized ETH and XRP pairing offered for trading on the Bybit platform.
Derivatives Trading
When it comes to crypto derivatives trading, the Bybit platform offers a multitude of financial tools, including:
Coin-collateralized inverse perpetual contracts (ETHUSD, BTCUSD, XRPUSD, DOTUSD, EOSUSD);
USDT-collateralized linear perpetual contracts (AAVEUSDT, ADAUSDT, ETHUSDT, ALGOUSDT, AXSUSDT, ETCUSDT, FILUSDT, BNBUSDT, LTCUSDT, MATICUSDT, SUSHIUSDT, THETAUSDT, BCHUSDT, COMPUSDT, DOGEUSDT, DOTUSDT, EOSUSDT, FTMUSDT, LINKUSDT, SOLUSDT, TRXUSDT, XRPUSDT, XLMUSDT, XTZUSDT, UNIUSDT, XEMUSDT);
Coin-collateralized inverse futures contracts (ETHUSD quarterly, BTCUSD quarterly)
CRV/USDT liquidity pool DeFi mining,
ETH/USDT dual asset mining, etc.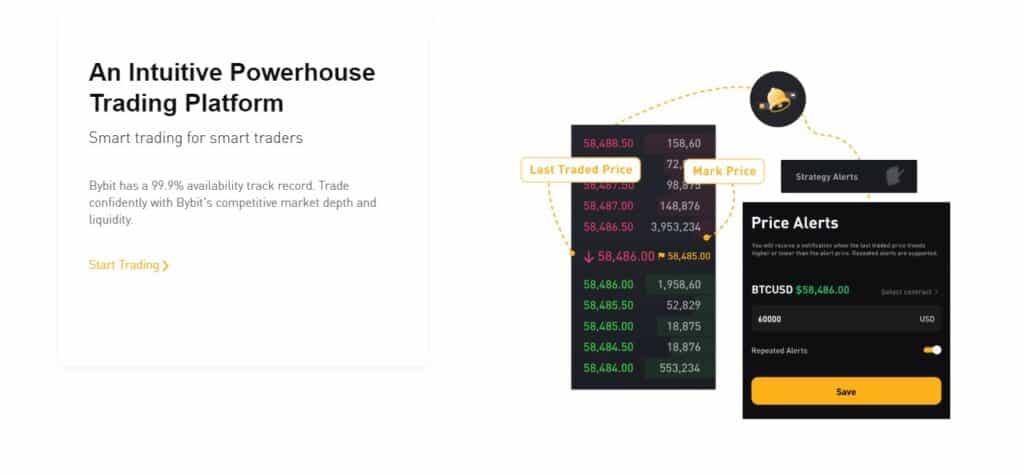 Bybit Order Types
There are numerous order types every trader may place through the Bybit trading platform. These include conditional order, limit order, market order, take profit/loss orders, stop-loss order, as well as more sophisticated ones with catchy names (Fill or Kill order, Good until Canceled, and Immediate or Cancel (IOC) order).
The Testnet Feature
If you're a new user and still undecided about whether or not to use this forex platform, the Testnet function enables you to open a demo account prior to delving more seriously into the crypto market through the Bybit platform.
It's good to know that this feature doesn't require you to place a deposit on your test-trading account, which is the case with almost all verified accounts. Through this account, you may try all trading alternatives, methods and financial instruments, without investing (and risking) real money.
The Bybit Insurance Fund
If the price of a leveraged long or short position falls below the price of insolvency due to volatility, the position may be liquidated and the money lost. For this, there's the Bybit Insurance Fund that provides assistance to liquidated traders in order to pay shortfalls generated by these financial damages.

The Bybit Referral Program
In order to distribute the monetary reward among the savvy investors who have recruited or recommended friends and relatives to Bybit, there's a referral programme. Investors may get an incentive of $10, which is equal to $0.01 in Bitcoin.
Supported Cryptocurrencies
On the Bybit forex, you can make both deposits and withdrawals with Bitcoin (BTC), Ethereum (ETH), XRP (XRP), and EOS (EOS) cryptocurrencies as they are some of the largest and most liquid coins. By design, every currency would have its own wallet, but Bybit will compute your net assets in BTC. If you also have any of the aforementioned currencies stored somewhere else, you may transfer them to the Bybit wallet.
Bybit forex also supports the following crypto projects for trading:
Aave (AAVE),
Bitcoin Cash (BCH),
Cardano (ADA),
Chainlink (LINK),
Dogecoin (DOGE),
Ethereum Classic (ETC),
Filecoin (FIL),
Litecoin (LTC),
NEM (XEM),
Polkadot (DOT),
Polygon (MATIC),
Ripple (XRP),
Solana (SOL),
SushiSwap (SUSHI),
Tether (USDT),
Tezos (XTZ),
Uniswap (UNI).
Payment Methods
Paying the funding fees via debit card, credit card, or simply depositing money onto the Bybit account is possible through Visa, Mastercard, electronic funds transfer (EFT), or wire transfer, as well as the Bill Payment system. Bybit also works in partnership with Xanpool, Banxa, or MoonPay payment service providers to facilitate the transfer of fiat currency payments.

ByBit Fees and Limits
It is important to note that making a deposit in digital currency on the Bybit trading platform does not incur any fees or additional charges.
Trading Fees
There's a transparent market maker-taker fee scheme, according to which the mining/liquidity charges are calculated by the respective platform of the traded coin, as well as by the level of KYC completion. Namely, as the size of your position rises, so does your initial margin.
Those who are takers must pay 0.075%, while those who are makers may get up to 0.025% back in a rebate. ByBit receives 0.05% of each contract's value.
Withdrawal Fees
While there are minimal restrictions and fees associated with withdrawals, there are no minimum limits or Bybit fees for making a deposit onto your trading account. Bybit verifies all withdrawal requests on a daily basis, in three designated intervals: at 08:00, 16:00, and 24:00 UTC, so you can wait up to 8 hours to see your digital wallet funded.
Is Bybit Safe to Use?
With a great emphasis on security, both of its customers' data and funds are protected on Bybit.com. Real-time monitoring of DeFi systems by Bybit ensures that sensitive data provided by their users is protected to the maximum extent when it comes to Internet security.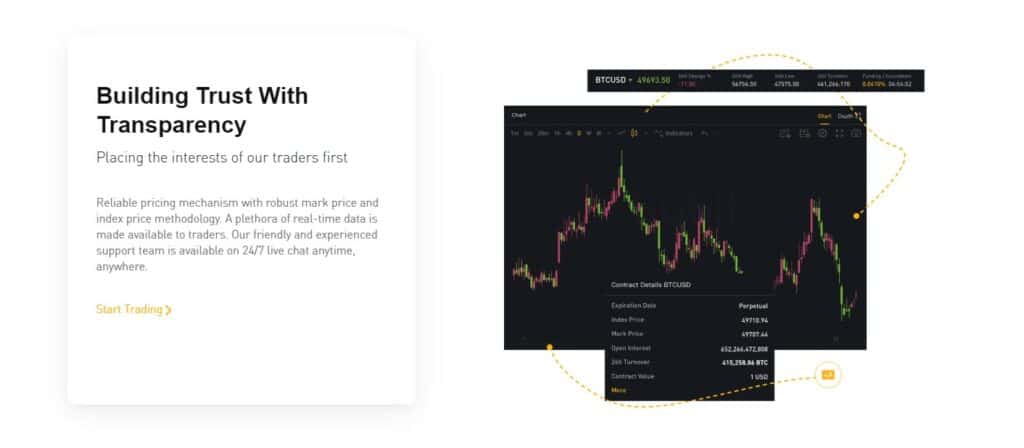 This cryptocurrency exchange also incorporates numerous authorisation layers (including the two-factor authentication (2FA) protocol), as well as multi-signature protection and an innovative cold wallet solution, which guarantees that the holdings of its clients are kept safe at all times.
On the other hand, Bybit is exempt from the requirement to perform Know Your Customer (KYC) inspections on any of its existing or potential clients, which is in accordance with its registration in the British Virgin Islands.
Customer Support
Bybit's user interface (UI) is straightforward and user-friendly and provides detailed charts and real-time price statistics. A number of languages are supported, including English, Russian, Japanese, and Korean. It is also available in Traditional Chinese.
Furthermore, there's a ByBit Learn section where you can learn or brush up on the crypto fundamentals prior to placing your first crypto order on the Bybit trading platform. Here you can discover the mechanisms of various altcoins, get familiar with the DeFi concept, understand better the blockchain architecture and the crypto lingo, or how to make your first steps on the crypto trading market.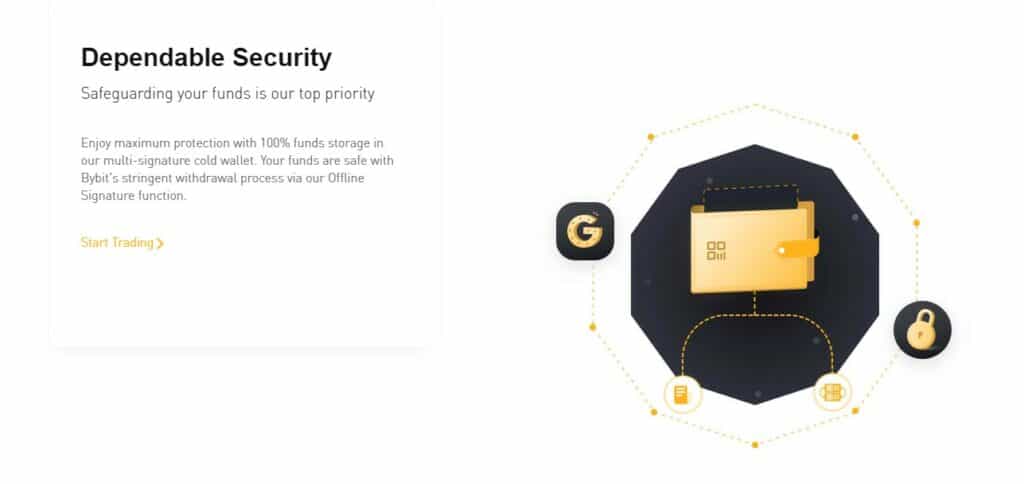 The Bybit Help Center also offers a vast vault of crypto knowledge, only this time, you'll bump onto pre-answered questions regarding the essentials, as well as the functioning mechanisms and operations of the Bybit exchange. If this is not enough and you're in need of direct professional guidance, Bybit provides 24/7 multilingual customer support for an ultimate trading experience. You may contact them via email or some of their social media profiles (like Twitter or Telegram).
Frequently Asked Questions
Does Bybit have a mobile app?
When it comes to mobile trading apps, Bybit has a great one that is very intuitive, simple to use, and snappy on both Android and iOS smartphones. The mobile app provides all of the Bybit operating features, indices, and trading tools that are available on the web-based variant of the platform.
A trader's task on the Bybit app is made easier by the ability to conduct trades in a fast and efficient manner, analyze positions and transaction history, view the order book, as well as check the balance of their account or wallet.
What countries are supported by Bybit?
Bybit is an international trading platform that offers its financial services to crypto traders all over the world, including Europe, North America, Russia, Japan, and many more countries.
However, some regions and countries are prohibited from utilizing its services due to regulatory restrictions. These include the USA, China (Hong Kong, Mainland, Taiwan, and Macau), Singapore, Québec, Cuba, Sevastopol, Crimea, Iran, North Korea, Syria, and Sudan.
The Bottom Line
In this guide, we've gone through all of the core aspects of ByBit and we're pleased to confirm the excellent performance of all of the eye-catching financial services and cutting-edge trading tools suitable for both experienced traders and beginners that we mentioned at the outset of our study.
While thinking of an item we might single out as a disadvantage of this trading platform in order to keep this evaluation as impartial as possible, we couldn't come up with anything that we felt was particularly noteworthy. Perhaps we could mention the fact that this trading exchange is not FCA approved, but we can clearly see this happening in the future.
We were delighted by the fact that although this crypto exchange has only been operating in the crypto ecosphere for a very short period of time, it has managed to acquire the trust of its users from the start. We have no doubt that this will be a success story that will survive all tests of time – as well as the trends in the cryptocurrency industry.