Celsius Network Review for 2022
Bitcoin and the other altcoins have already broken the trillion-barrier and turned into ultra-popular financial instruments. The "lending-as-a-service" business model comes as a natural fit in such a high-revenue environment. However, only a handful of services have made a notable impact on the cryptocurrency lending market so far.
Today we're discussing one of the industry leaders — Celsius Network — a blockchain platform that provides legit methods for passive income and profitable management of your existing crypto funds.
The platform aims to build a smooth intersection between users who're looking for favourable Bitcoin loans and lenders looking for rewarding interest. However, Celsius' scope of functions is much broader than a basic borrow-lend interaction. It guides borrowers through various DeFi opportunities where they can invest borrowed funds, delivers a spectrum of unique crypto products, and supports instant crypto purchases.
Stay tuned — we're going through each of them.
About Celsius
Celsius is a wealth management platform that operates in a highly centralized manner. It was created in 2018 by Alex Mashinsky, a renowned software developer, whose name also stands behind VoIP (Voice over Internet Protocol), one of the greatest technology discoveries in the modern era. Together with S. Daniel John and Nuke Goldstein, Mashinsky leads the company from their official offices in London, New Jersey, Tel Aviv, Limassol, and Belgrade.
Celsius turned out to be an instant success from the very beginning, when it raised over $50 million worth of cryptocurrency in 2018 through an Initial Coin Offering (ICO), selling the platform's native CEL tokens, which users can further utilize to earn interest.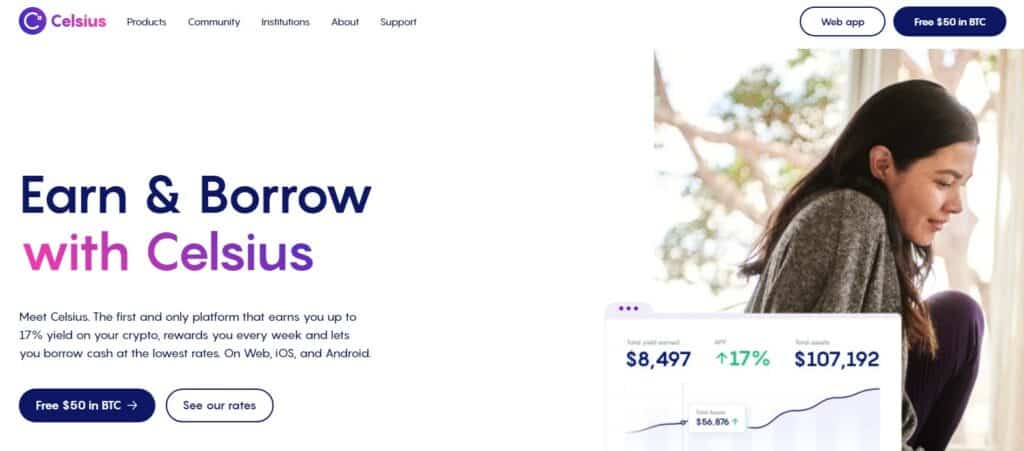 The platform is developing in a mobile-first direction but you can also use the newly-launched web-based version as a main point of access. The Celsius team puts a lot of effort into user-friendly settings that allow users to:
deposit crypto to earn incentives on their holdings,
take out a loan by using their deposited crypto as collateral with minimal interest and no requirement to sell their coin in case they want to "unleash" some cash.
make payments (or get paid) within the platform.
Among the other lucrative opportunities on Celcius, you can also earn up to 17% APY on selected coins and get an instant stablecoin loan with only 1% interest.
How to Get Started with Celsius
The onboarding process on Celsius is rather straightforward. After landing on their browser-based platform or downloading the mobile app, you'll have to provide a valid email address and confirm it.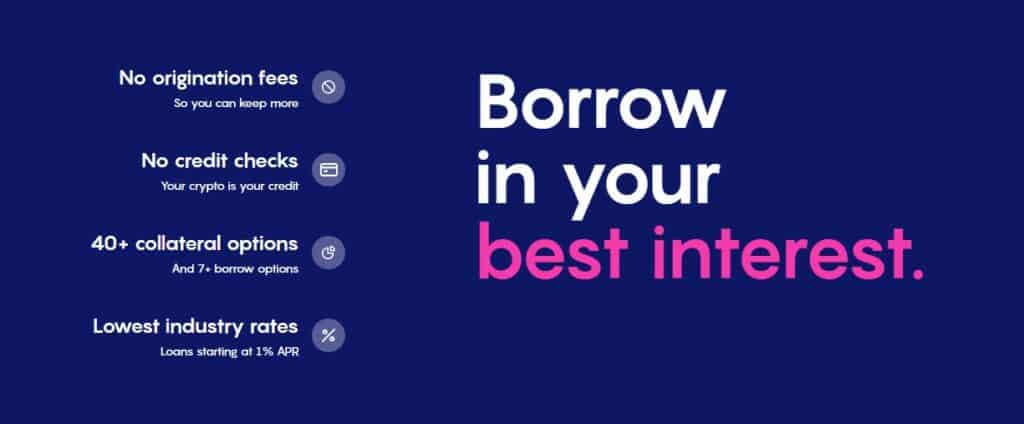 Afterward, you'll have to undergo a KYC (Know Your Customer) verification to get qualified for any further action. There aren't any additional signup requirements or credit check-ups. So, after submitting a government-issued document, which comes with the ID verification, you're all set to earn yields, borrow funds, make, and receive payments through Celsius.
Just remember that your ID confirmation can take up to several days depending on the traffic and your current location.
Celsius Features and Products
Borrow Cash or Coins on Celsius
On Celsius, you can borrow cash, Tether (USDT), or their native CEL token by depositing crypto as collateral. Instead of putting up the entire deposited amount, you can choose a pre-defined portion of your crypto collateral. The amount of the collateral will determine the interest rate you'll pay per annum. There are three options provided by the platform — if you keep 25% of your crypto aside, it'll bring an interest rate of 1%, for 33%, you'll pay up to 6.95% while locking 50% of your deposited funds equals 8.95% interest.
If you've opted for a USD loan, you'll have it delivered directly to your bank account while stablecoins will get to your Celsius account in less than 24 hours. The settlement term of the loan can vary between 6 and 36 months. After settling all parameters, you'll receive the estimated amount for a margin call and liquidation.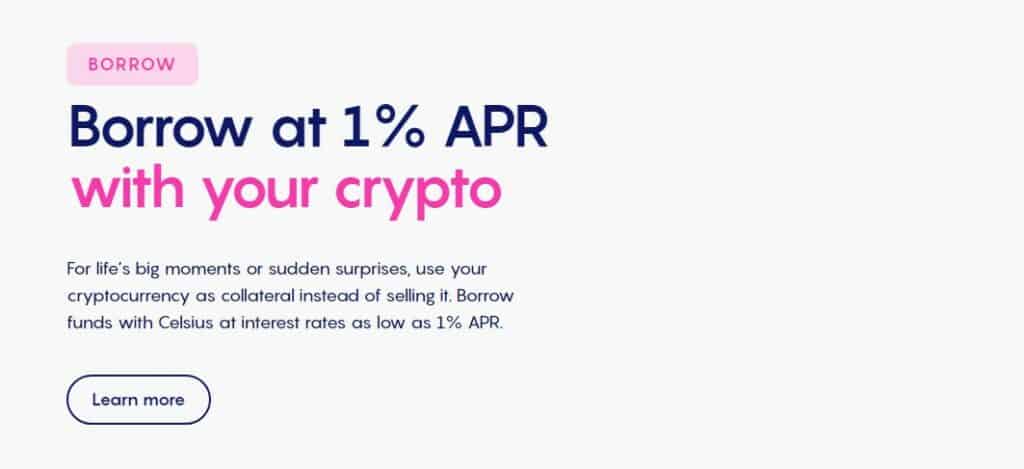 Interestingly enough, if you pay or stake CEL tokens, the interest rates above will be reduced to a considerable extent. However, keep in mind that the price of the CEL token may drastically vary from time to time but it'll still be a far more cost-effective way to calculate an interest rate.
Earn with Celsius
You can earn up to 17.78% interest for transferring your crypto capital on the Celsius platform. For stablecoins, this percentage is a bit lower and can reach up to 11.21%. Remember that these numbers aren't fixed but depend on the type of cryptocurrency, payment method, and loyalty level (read more in the Loyalty Level section below).
The interest you've earned is calculated on a weekly basis and settled every Monday. The platform doesn't impose any minimum deposit limits nor does it incur any additional depositing fees.
Pay and Get Paid with Crypto
Celsius offers an in-app mechanism, CelPay, that facilitates crypto payments between you and your Celsius peers. People who frequently make such transfers know that they don't come without a price. That said, even if the broker or cryptocurrency exchange doesn't charge deposit and withdrawal fees, there are mining fees incurred by the network itself. With Celsius, when you send 0.5 BTC to someone, they get the very same amount and what's more, the recipient doesn't have to own a Celsius wallet.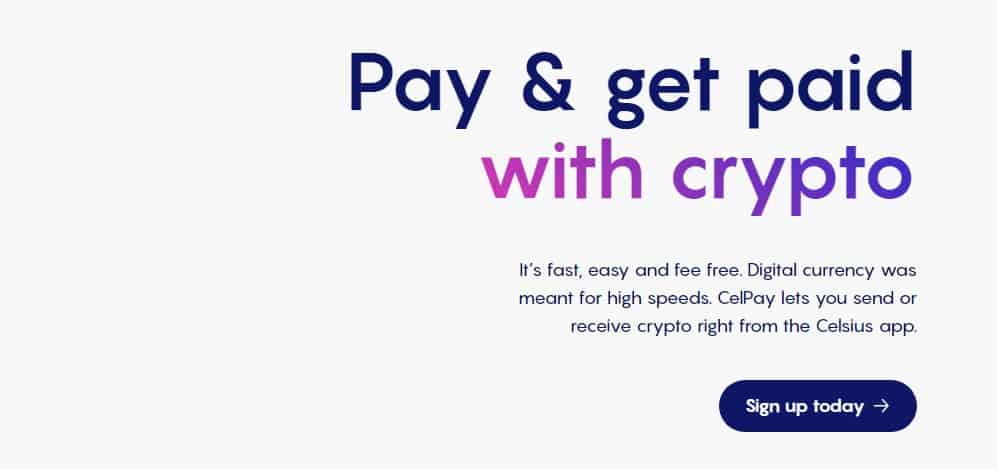 Instant Crypto Purchases
On Celsius, you can directly buy cryptocurrencies using your credit card, debit card, or ACH and SEPA bank transfers. The platform supports around 20 popular altcoins and some DeFi tokens including Bitcoin (BTC), Ethereum (ETH), DAI (DAI), USDC, Dash (DASH), DAI (DAI), Litecoin (LTC), USD Coin (USDC), Tether (USDT), Binance USD (BUSD), Ripple (XRP), PAX, Bitcoin Cash (BCH), Gemini Dollar (GUSD), Paxos Standard (USDP), Aave (AAVE), Stellar (XLM), and more.
Celsius Loyalty Program
Based on the percentage of CEL tokens in your portfolio, you can qualify for a certain tier of the Celsius Loyalty Program. The tier level will define your interest rates and other sets of rewards available on the platform. Celsius features four loyalty tiers:

Bronze Tier: below 5% of your portfolio consists of CEL tokens, bonuses: no certain bonuses or reduction of your interest rate
Silver Tier: between 5% and 10% of your portfolio consists of CEL tokens, bonuses: 10% discount on interest rates and 10% earning bonuses
Gold Tier: between 10% and 15% of your portfolio consists of CEL tokens, bonuses: 10% discount on interest rates and 20% earning bonus
Platinum Tier: over 15% of your portfolio consists of CEL tokens, bonuses: 30% discount on interest rates and 35% earning bonus
CEL token
The Celsius native token CEL — an ERC-20 token, built on top of the Ethereum blockchain — has a practical utility in unlocking certain rewards on the lending platform. 80% of the total revenue is given to CEL holders as shares. That said, the token can be used for:
Staking — you can earn up to 30% interest for depositing CEL
Discount for the initially calculated loan interest
Medium of exchange for receiving and sending payments
Celsius Fees and Limits
The main source of income on Celsius comes from interest rates — there aren't any transaction fees, deposit or withdrawal fees, early termination fees, or origination fees. In fact, the company doesn't charge anything for its services but it's very possible to be exposed to certain deposit costs arising from the third-party fiat provider.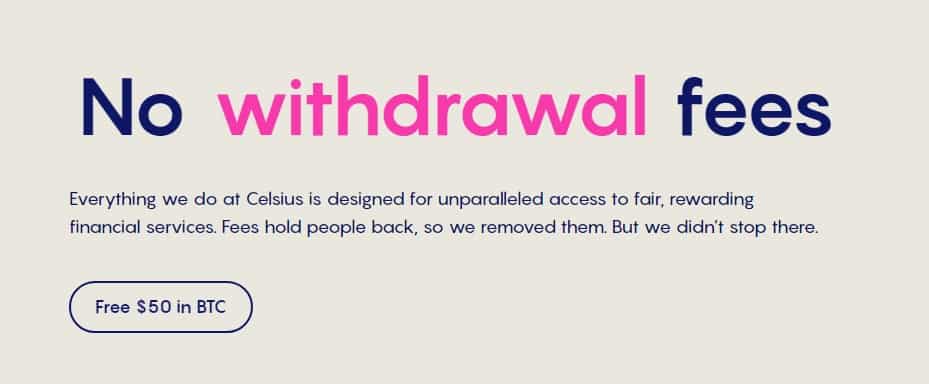 One of the reasons that make Celsius a user-friendly platform is its transparency in pricing — there are no hidden fees.
When it comes to purchasing limits, it all depends on the payment method. For example, you can buy crypto worth $20,000 per month through Wyre bank transfers.
Is Celsius Safe?
The Celcius team claims to give primary attention to high-security standards and superb user protection. It's a regulated entity that operates under GMO Internet Group, a US regulatory service, and it's a registered subsidiary of the Japanese Financial Service and internet Group. Moreover, Celsius strictly complies with the Money Laundering Terrorist Financing and Transfer of Funds Regulations 2017 to monitor any illegal transactions. Also, the company is licensed by the US Securities and Exchange Commission and the US Treasury Department's FinCEN.
You should know that Celsius doesn't provide an insurance policy and the fact that it delivers yields for borrowed funds makes it impossible for the platform to keep users' assets in cold storage. However, Celsius uses world-recognized custodians like PrimeTrust and Fire Blocks to provide insurance by the platform-held assets.
Finally, Celsius supports 2FA (two-factor authentication) and applies the latest tech practices for withdrawals.
Customer Support
There are direct UK and US telephone lines provided on Celsius' official site but you can also reach out to the Celsius crypto team in written form through the Contract us section.

According to some exchange reviews, the Celsius customer support is slowly responsive while others single it out as exceptionally reliable.
For sure, Celsius' social media channels on Twitter and Reddit are persistently active so you can always address all your concerns directly there.
Frequently Asked Questions
Can I access the platform only through the Celsius app?
Unlike the majority of crypto services, Celsius originally was exclusively available as a mobile application for iOS or Android. Mobile apps do perfectly find their application in crypto-trading activities but for most users, mobile-only access was very frustrating. Thus, Celsius has recently launched a sleek web platform that is accessible from all devices with an internet connection.
Is Celsius FDIC Insured?
Your funds on Celsius won't be FDIC or SIPC-insured. It's the UK government that regulates deposited assets on this platform rather than the US. The platform uses external providers to offer insurance on Celsius digital assets. More importantly, Celsius uses the deployed assets to create interest rewards, which means that the circulating funds are sometimes out of Celsius' control and hence, impossible to be insured.
What is Celsius Pro?
Celsius Pro delivers customized management and assistance for non-retail apps to corporations and high-net-worth individuals.
All Pro-users can take advantage of multiple crypto portfolios at the best price. It allows them to earn rewards without putting in any collateral but it also offers custom-made collateral programs such as CEL tokens as well as access to over 40 crypto assets via retail offerings.
A Few Words Before You Go…
By continuously expanding its scope of opportunities, Celsius maintains a competitive edge despite the increasing number of high-standard crypto-lending services like Nexo and BlockFi. It has a strictly defined operational purpose and it's tailored either for long-term crypto holders who want to take advantage (reap rewards) of their earned funds or use them as collateral for a cash loan.
If you don't belong to any of these categories, our site has a large base of crypto guides for all popular crypto trading practices such as day traders, beginners, margin trading, and many more.