CEX.io Review for 2022
In the years immediately after Bitcoin's introduction to the world of finance, many of the newly-conceptualized cryptocurrency exchanges sought to discover the optimal and most secure technical solution as a portal into the world of an open financial system.
With over 4 million customers, 0% loss of customer funds, and a coverage of 99% of the global cryptocurrency market, the CEX Bitcoin and cryptocurrency exchange boasts a stellar rating of 4.7/5 on Trustpilot. This was a sufficiently compelling reason for us to assume that this multi-functional cryptocurrency exchange had effectively crossed the gap between the old banking system and the concept of digital money trading.
In order to support our premise, we conducted in-depth research on this Bitcoin exchange, one of the oldest in the game. We'll be diving into its background, as well as its trading tools and safety features, to provide you with the knowledge you need to decide whether it's the right exchange for you.
About the CEX.IO Exchange
CEX.IO, which was founded in 2013, is a Bitcoin and cryptocurrency exchange that operates as a regulated multi-functional trading platform that serves more than 4 million users worldwide.
A staff of over 250 specialists ensures that the CEX.IO platform provides its services in the most professional manner possible. They are spread throughout numerous CEX headquarters across the world, including the UK, the US, Ukraine, Gibraltar, and Cyprus. CEX's potential to expand internationally is aided by the company's regulatory accomplishments, as well as the introduction of new financial instruments suited for targeted groups of investors.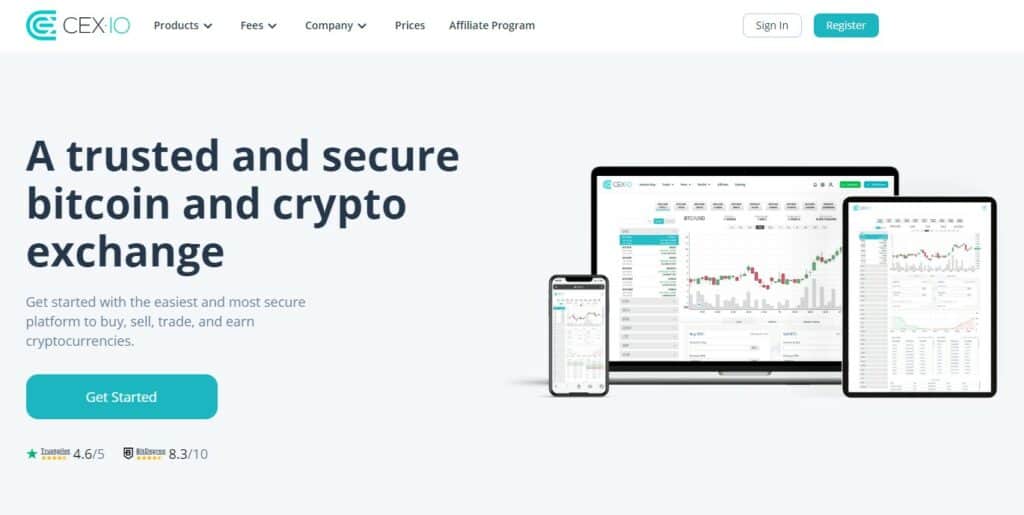 CEX places a high value on collaborating with regulatory authorities in a timely and transparent manner. In this context, the Gibraltar Financial Services Commission (GFSC) has granted CEX.IO Limited a Distributed Ledger Technology (DLT) license.
Furthermore, CEX.IO Corp. has secured Money Transmitter Licenses (MTLs) in 31 states in the US, while the company is continuously striving to expand its reach. In addition, CEX.IO LTD has submitted an application to the Monetary Authority of Singapore for a license to operate a Digital Payment Token Service.
Last but not least, CEX.IO is a co-founder of CryptoUK. This non-profit organization is dedicated to fostering collaboration among the United Kingdom's top crypto companies and regulatory agencies. CryptoUK's primary goal is to provide an optimal operational model for the crypto businesses as well as their ultimate functionality.
CEX Products
The CEX.IO exchange offers a multitude of trading tools – there's literally something for everyone. There are financial services catering to traders (spot trading, margin trading), to all crypto enthusiasts (instant buying, crypto loans, and reward systems for staking the coins of your choice), and trading mechanisms developed specifically for business (the CEX Prime liquidity service platform, and a payment gateway for crypto purchases).
CEX.IO's Prime Liquidity
CEX's corporate clients are offered the Prime Liquidity service that gives them access to the deepest liquidity and gives them the most options of available crypto markets compared to other crypto exchanges. With this service, clients are able to take advantage of the most favorable cost implementation concept, which is combined with a flexible API connection.

CEX.IO's Instant Buy
With CEX's Instant Buy service developed for faster payment, you are only a click away from purchasing the coin of your preference. All you have to do is choose your favorite coin from the drop-down menu and enter the quantity of cryptocurrency you wish to purchase in the box provided. Next, input the amount of fiat currency you wish to exchange for the crypto, select the fiat currency from the drop-down box, and – finally – click the dedicated 'Buy Now' button to complete the transaction.
Supported Cryptocurrencies
CEX.IO provides a diverse selection of financial mechanisms for the traders interested in buying Bitcoin (BTC), Ethereum (ETH), Stellar (XLM), Bitcoin Cash (BCH), Tron (TRX), Ripple (XRP), Litecoin (LTC), Dash (DASH), as well as a variety of other cryptocurrencies.
Just like on Coinbase, you can swap crypto for fiat currencies on CEX. The cryptocurrencies supported by this trading platform may be swapped for the following fiat currencies: EUR, USD, GBP, and RUB.
Payment Methods
The CEX.IO crypto exchange offers multiple payment methods to its customers, including cryptocurrencies, credit card or debit card (with a 3.5% transaction fee), cash, Neteller, Visa, MasterCard, Paypal, bank account transfer, and Skrill.

Trading Fees and Limits
The CEX pricing scheme employs a taker and maker structure based on the 30-day total trade for all pairings. This exchange takes a cut from trading, deposits, withdrawals, as well as any other transaction conducted on this trading platform. The transaction fees typically vary from 0.16% to 0.25%
Transactions done through the CEX trading platform are subject to a minimum and maximum amount that is determined based on the type of account or the account holder.
In this regard, accounts with confirmed credentials are only permitted to purchase Bitcoin with a maximum value of $1000 every day. Users in this category are only able to fund their transactions with credit cards.
Address validated accounts are able to purchase up to $10,000 worth of bitcoins on a daily basis and withdraw up to $50,000 a day through credit card or bank transfer, respectively.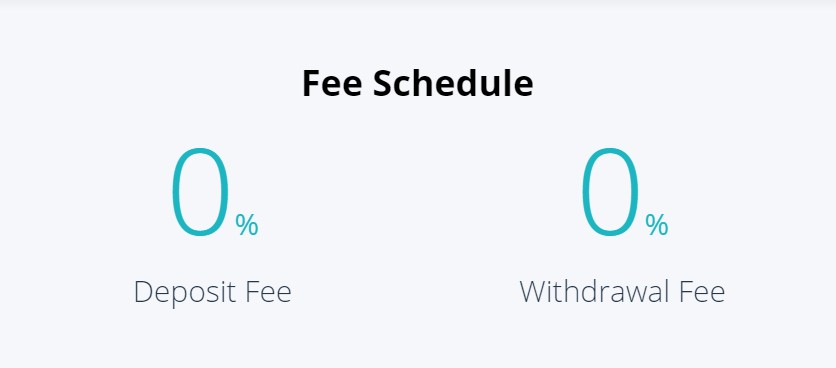 Finally, there are no restrictions on the number of Bitcoins that may be purchased using the corporate verified accounts.
Is CEX.IO Safe to Use?
In addition to the multiple licenses and regulations issued by the most stringent financial regulatory agencies in the countries in which it operates, this exchange adheres to AML/KYC requirements as well as anti-fraud measures rigidly.
Furthermore, it's fully committed to the security of its users' personal information. This is why the CEX trading platform incorporates two-factor authentication (2FA) as a second layer of the verification process for its users' accounts and sensitive data – in order to ensure their safety.
Protective measures against DDoS assaults, complete data encrypting, crypto cold storage, as well as conformity with PCI DSS criteria are also implemented in the platform's architecture to keep your funds secure.
Customer Support
Despite being rather hard to find on the website, there is a CEX Help Center (find it at the bottom of the UI). In the Help Center, you will discover basic tutorials that can assist you in resolving the most frequently occurring problems pertaining to the CEX.IO platform.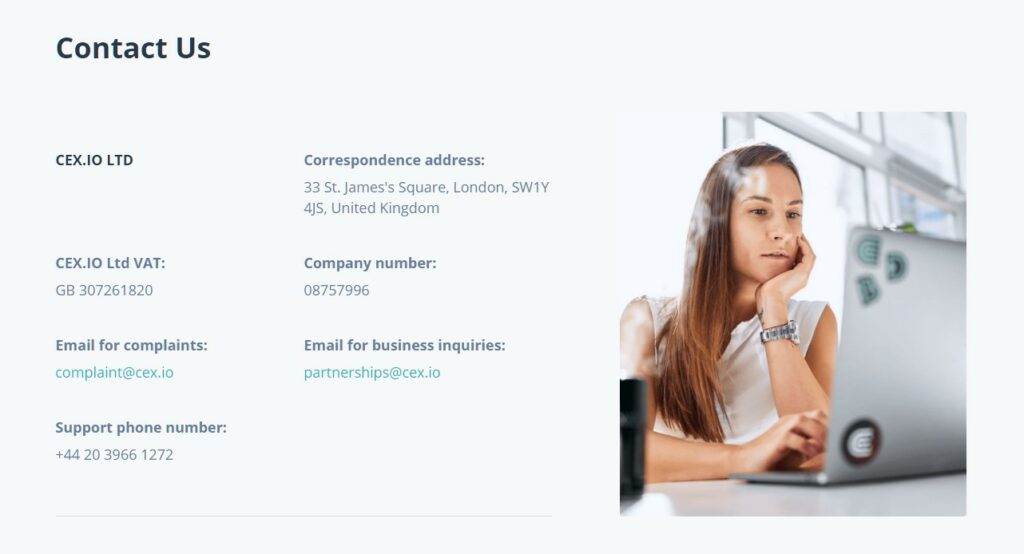 You can reach out to their customer support staff via the live chat feature or by sending them an email if you are unable to address your problem by yourself.
Frequently Asked Questions
Does CEX.IO have a mobile app?
Well aware of the importance of mobile trading, CEX developers have come up with a practical solution for mobile phone users in the form of a mobile app that is compatible with both iPhone and Android devices.
The CEX's mobile app can be downloaded for free from both GooglePlay and ApplePlay.
For on-the-go trading, apart from the mobile app, CEX supports trading via a third-party website, WebSockets, and via a REST API for those who prefer not to trade via a smartphone.
What countries are supported by CEX.IO?
CEX is a global cryptocurrency exchange that is available worldwide. The only exception are the following countries due to different reasons:
Countries restricted for making credit card purchases on the platform: Afghanistan, Algeria, Iceland, Vietnam, Bahrain, Iraq, Libya, Nigeria, Oman, Kuwait, Lebanon, Pakistan, Saudi Arabia, Palestine, and Qatar.
Countries restricted for bank transfer purchases on the platform: the Democratic Republic of the Congo, Côte d'Ivoire, Afghanistan, Eritrea, Haiti, Iran, Ethiopia, Guinea-Bissau, Kenya, Iraq, Liberia, São Tomé and Príncipe, Libya, Guinea, Somalia, Tanzania, Sudan, Syria, Tunisia, Yemen, Turkey, Vietnam, and Zimbabwe.
The US states not supported by the platform for any type of trading operation: Arizona, Arkansas, Alabama, Alaska, Colorado, Guam, Idaho, Florida, Georgia, Louisiana, Maryland, Iowa, Kansas, Michigan, New Hampshire, Mississippi, Nebraska, New Jersey, North Carolina, Ohio, North Dakota, Oregon, Virginia, Texas, U.S. Virgin Islands, Tennessee, Vermont, Washington.
Does CEX.IO provide a cryptocurrency wallet?
The CEX wallet is currently under development, and it is anticipated to be released sometime soon. The CEX wallet page states that the wallet will support multiple currencies, that 98% of digital funds will be stored in an offline cold wallet for increased security, that it will support the instant exchange of assets, as well as a wide range of payment instruments (wire transfer, credit cards/debit cards, SWIFT, SKRILL, QIWI, SEPA, and so on), and will provide 24/7 customer support.
Is CEX.IO legit or a scam?
We find that all of the authorizations, licenses, and regulations that the platform has acquired from the most stringent financial regulatory organizations, most notably from the Financial Crimes Enforcement Network (FinCEN) attest to this exchange's legitimacy.
The Bottom Line
CEX is a well-established cryptocurrency exchange that is continually striving to enhance its operations and provide better financial services to its consumers. In accordance with international standards, the team of developers responsible for this project has been able to incorporate a wide range of payment choices while also collaborating with reputable financial institutions.
Following our thorough examination of everything that makes this exchange tick, we can say with confidence that CEX.IO would be the ideal Bitcoin exchange for beginners and moderately experienced crypto traders. However, this does not exclude the more seasoned crypto investors. In order to meet their needs, CEX provides margin trading, which is not very common on platforms that support credit card payments.
The impressive number of licenses and regulations, as well as the security measures employed on this trading platform give us the impression that CEX is sincerely concerned about the safety of its customers' assets and the protection of their online data. This makes us confident in placing our ultimate trust in CEX as a principled, reliable, and user-friendly cryptocurrency exchange in our future trading endeavors.