Changelly Review for 2023
Regardless of the reason for investing in cryptocurrencies, the first hurdle that all crypto investors must face is locating a reputable and secure cryptocurrency exchange that offers fast trading rates and low fees.
It is essential that you choose a trading platform that not only meets these requirements, but also offers innovative trading tools, supreme security protocols, and a diverse selection of coins to trade with in order to guarantee that your digital assets are safe and secure as they move from you to anyone else on the planet.
Enter the Changelly exchange, a platform that enjoys a 4.4/5 stars rating on TrustPilot. Since its establishment in 2013, this trading platform has been continuously among the most popular and trustworthy crypto exchanges. Let's look into all the aspects that have made this trading platform so successful.
About the Changelly Exchange
Changelly is an instant exchange and crypto trading platform where you can exchange, buy, and sell cryptocurrency. It's one of the most reputable instant cryptocurrency exchanges that has gained the confidence of over two million crypto traders globally.
How Does Changelly Work?
The Changelly trading platform operates as a go-between for cryptocurrency exchanges and traders, providing access to more than 150 coins, tokens, utility tokens, and stablecoins. Users of this instant crypto exchange may swap different cryptocurrencies without holding any digital assets on the trading platform.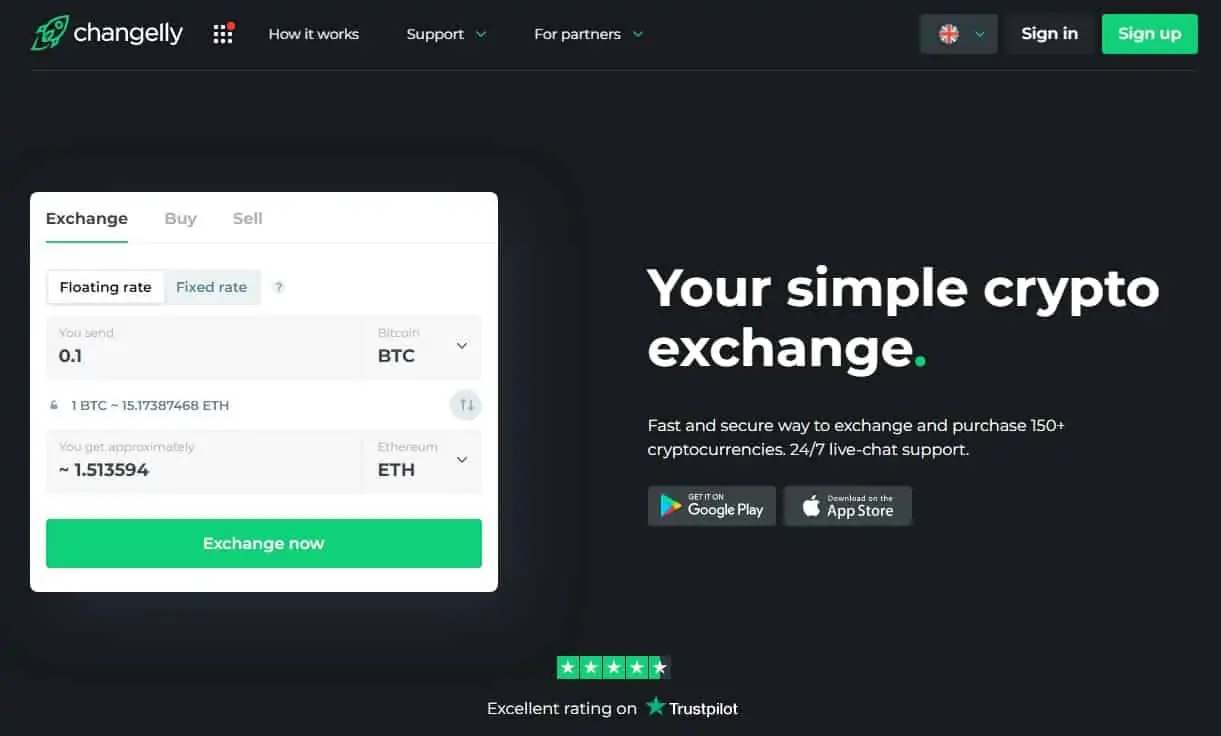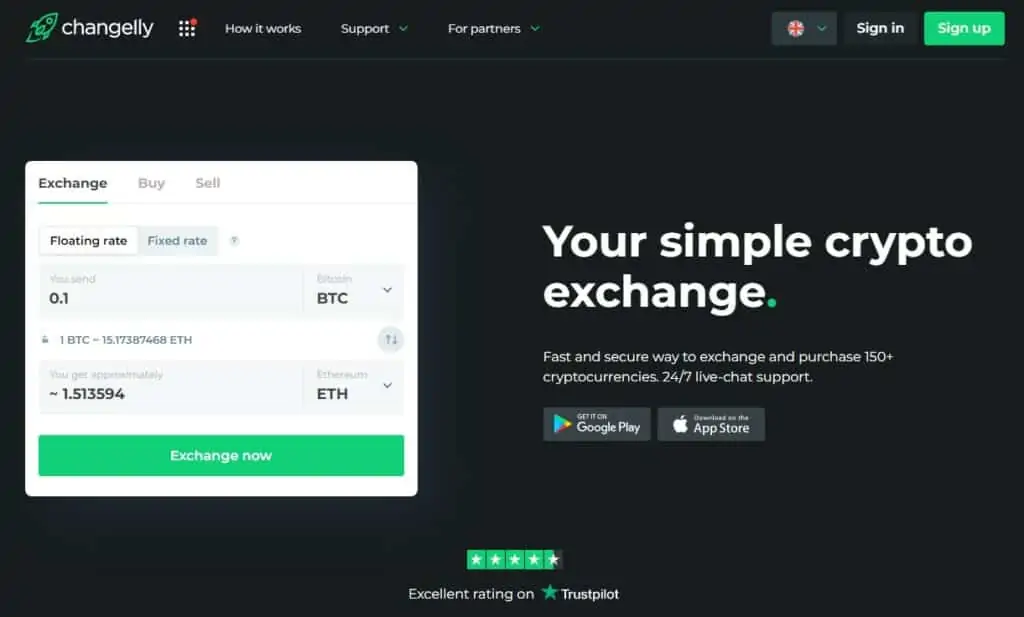 Unlike many other platforms of its type, this non-custodial exchange does not keep any liquidity and does not need any deposits from its investors. Moreover, when you pick a trading pair, the platform will explore its liquidity partners (like Binance, Coinbase, Poloniex, or Bittrex) to obtain the best possible exchange rates for the specified combination.
Changelly UI
When you first open Changelly's web interface, you'll be welcomed with a "Your simple crypto exchange" message from the developers. Indeed, the simplicity of the UI intuitively leads you to find all the trading tools or information you need on this exchange. The trading widget located left of the opening line is readily available for you to start buying, selling, or swapping cryptos. As simple as that, really.
You can learn more about crypto trading by clicking on the "How it works?" CTA in the top left corner of the screen. This will take you to a simple three-step tutorial that will show you both in words and pictures how to choose a trading pair, confirm your transaction, send a certain amount to a given address, and receive coins in your wallet.


To continue with, three mini charts depicting Bitcoin (BTC), Ethereum (ETH), and Ripple (XRP) 24-hour price fluctuations are available just beneath the trading widget, allowing you to make more detailed trading decisions on the go. While at it, it would be a good idea to sign up for a Changelly account by entering your email address in the dedicated email box right beneath the widget. Changelly then sends you a verification email to validate the legitimacy of your electronic address before you can proceed with trading on this platform.
The Changelly crypto trading platform comprises three main sections:
Changelly Earn – A Changelly vault where you can sign up to become an affiliate, choose from a wide range of trading tools, generate profits through several earning programs, and request one-click payments in Bitcoin or Ethereum at any time of day or night.
Changelly Pro – This is the sister site of www.changelly.com. It provides trading tools for those who are experienced in the cryptocurrency industry. By employing the user-friendly trading terminal, you can keep an eye on the swings and changes in the currency market while simultaneously putting your trade orders. Because of the two-factor authentication system, you can be confident that your multi-currency wallet, as well as the digital assets it contains, are safe and secure from unauthorised access.
Changelly Blog – The blog of this crypto exchange is a real treasury of crypto information. It provides the most recent news on crypto trading, a place conveniently labeled as 'Academy' where you can learn all about blockchain and crypto, a crypto dossier where you can get informed on the market analytics, price predictions, ratings, and reviews.
The GameFi Concept
And if you thought that Changelly was all about crypto education and serious business, then you should pay a visit to the Breakroom, where you can unwind and participate in one of the most popular crypto-trends right now – GameFi.
In the crypto realm, the GameFi idea merges decentralized finance (DeFi) with non-fungible tokens in play-to-earn (p2e) games to create a hybrid that marries the best of both worlds. It all comes down to attaining a specific outcome in the game for which you will be rewarded with a cryptocurrency prize.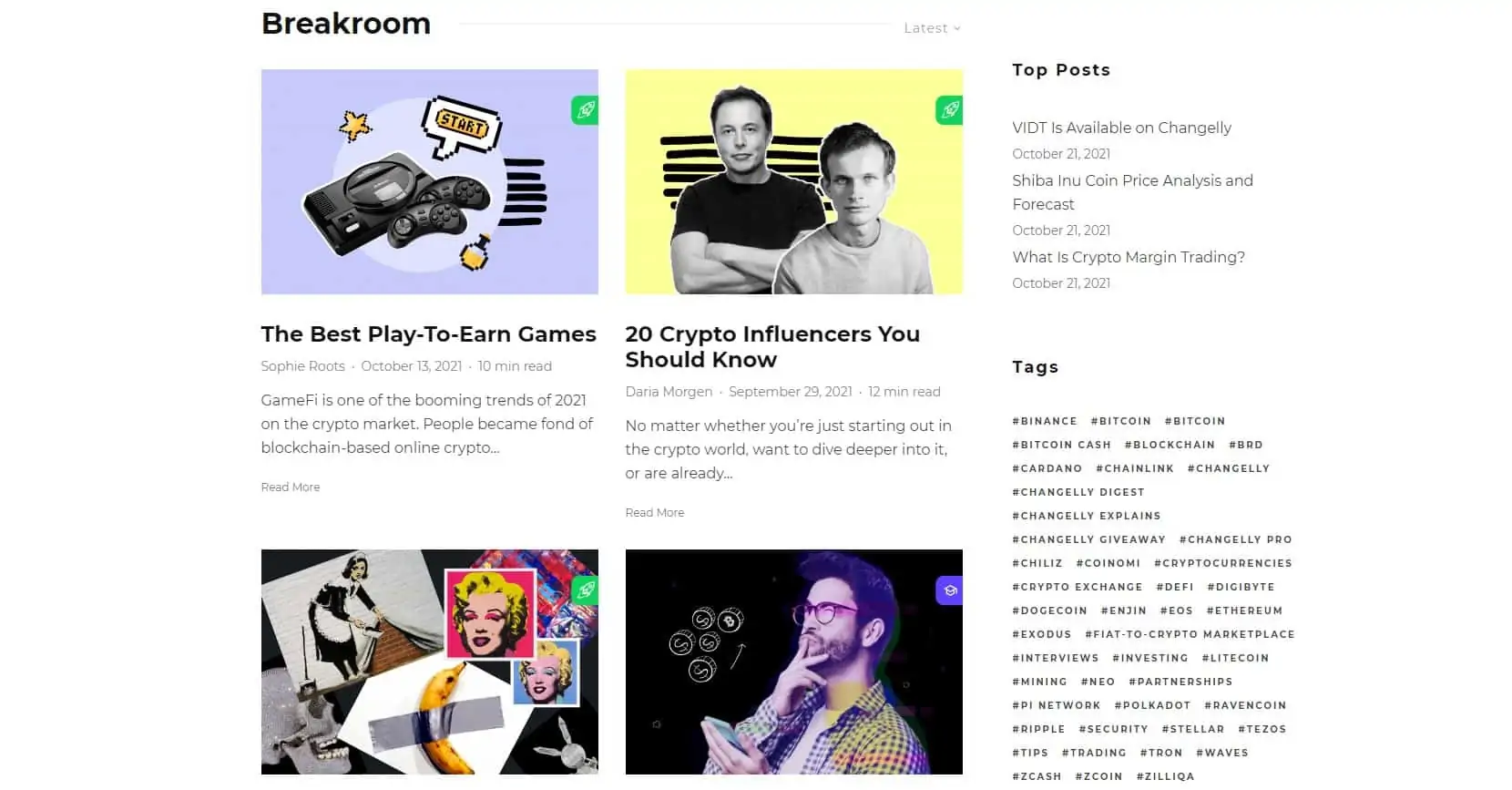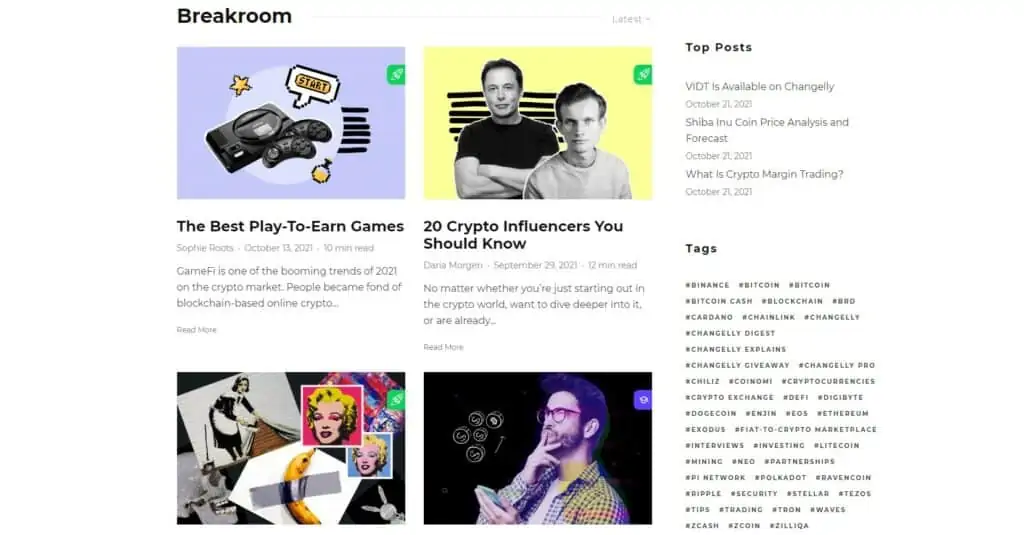 In addition, there's an open call for all crypto enthusiasts that have a flair for writing, and it's just a click away from the Breakroom. Who knows, maybe this could be just the opportunity you need to unleash your creativity!
Supported Cryptocurrencies
Changelly supports many different types of cryptocurrencies, including Bitcoin (BTC), Bitcoin Cash (BCH), Ethereum (ETH), Polkadot (DOT), Cardano (ADA), Ripple (XRP), Litecoin (LTC), Bitcoin SV (BSV), Monero (XMR), Chainlink (LINK), and EOS (EOS), etc.
One feature on this trading platform stands out in particular, demonstrating how committed its creators are to providing the best possible user experience. It's the fact that each trading pair on the Changelly exchange has its own page with an intricate price fluctuation chart that may help you analyse trends at any point in time, compare it to other digital currencies, and take a snapshot if you need to send it as a reference in a consultation.
The following is a list of the trading pairs supported by Changelly:
ETH to BTC
BTC to ETH
LTC to ETH
USDT to BTC
BTC to XRP
BTC to USDT
LTC to BTC
XRP to BTC
BCH to BTC
ETH to USDT
DOGE to BTC
BTC to DOGE
Payment Methods
You may buy Bitcoin and over 100 other altcoins on the Changelly exchange by using cryptocurrency deposits and withdrawals. You can also buy crypto in fiat currency with a bank card (debit card or credit card), Apple Pay, or a bank transfer in US Dollars (USD) and Euro (EUR) via Visa and Mastercard powered by Simplex, or British Pound (GBP).
Trading Fees and Limits
This trading platform boasts competitive rates, low Changelly fees, the strictest safety requirements, dedicated 24/7 support, and many other perks. Traders on this exchange platform have the option of trading their virtual currencies at either fixed (0.5% exchange fee) or floating rates.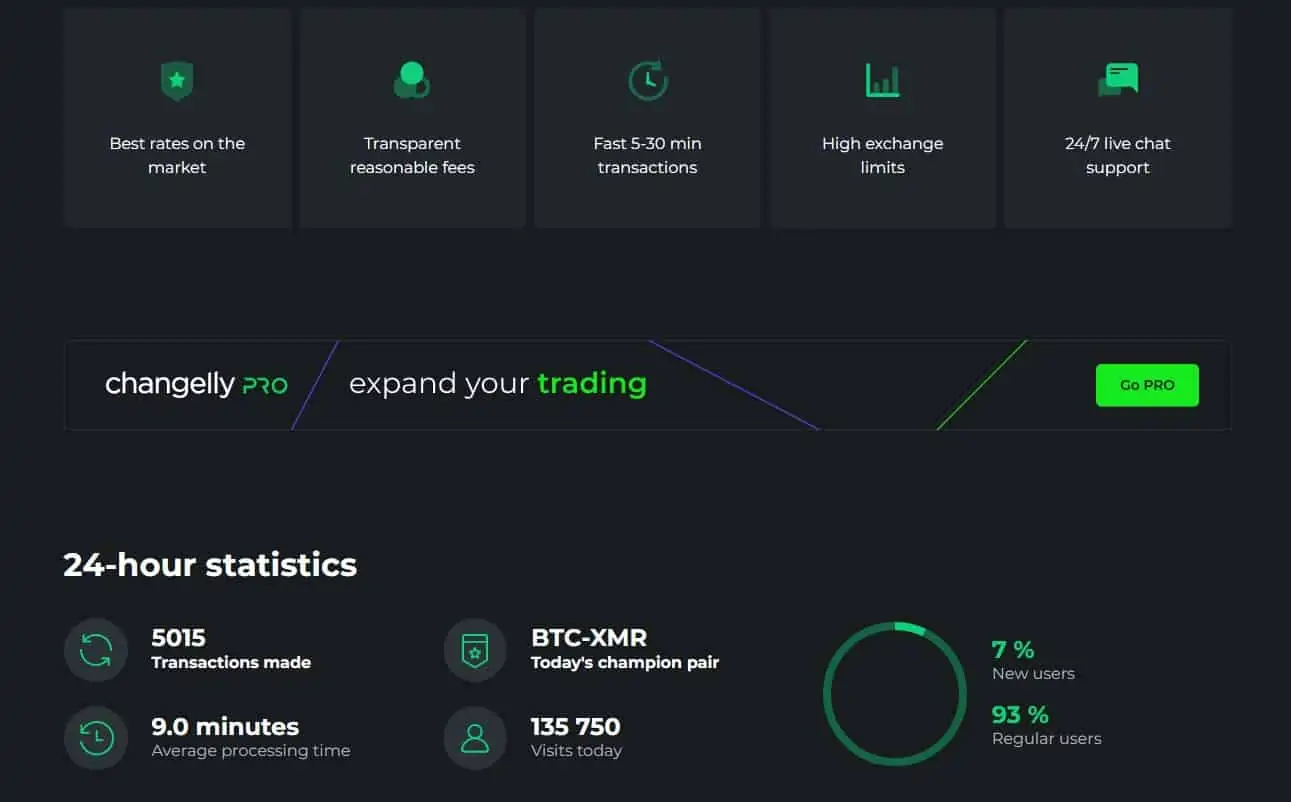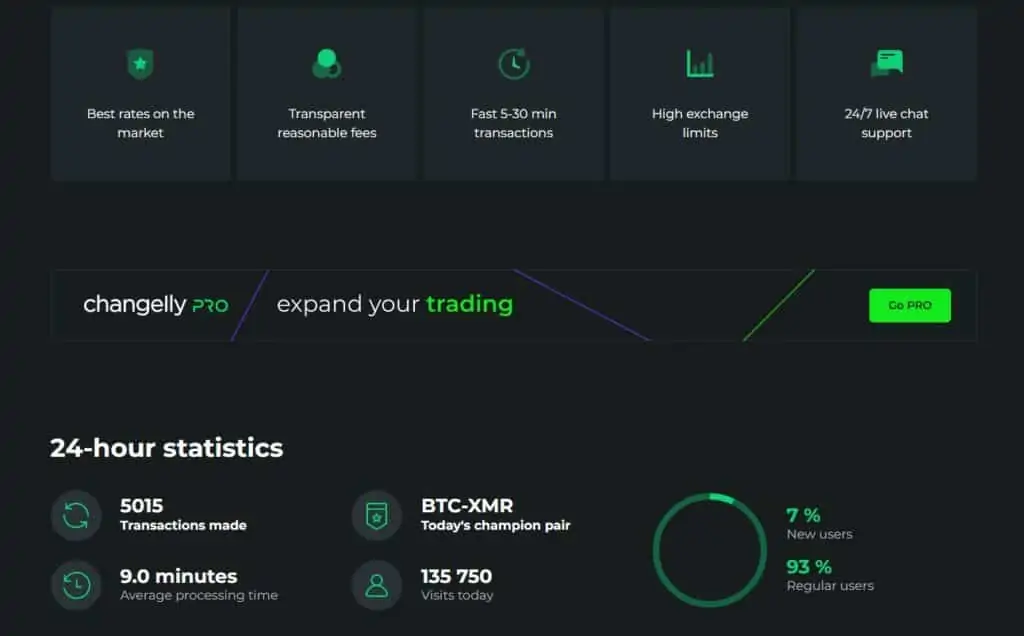 It's worth noting that Changelly does not charge any fees for Bitcoin deposits or withdrawal fees. The blockchain establishes a minimum network fee that fluctuates according to the network's load and the cryptocurrency in question.
Is Changelly Safe to Use?
The Changelly trading service allows customers to do trades in a secure and timely manner without disclosing their identities. All you need is a valid e-mail address in order to sign up for an account on this online trading platform.
Also, Changelly does not keep any of the digital assets deposited by its users on its site, which is an added advantage to the security of the platform. Additionally, each account is protected by two-factor authentication (2FA) as well as the HTTPS protocol (https://).
Customer Support
Changelly offers 24/7 live chat support to its customers. On top of that, the amazingly rich knowledge base of this trading platform even offers a brief crash course for an easier understanding of crypto and everything it encompasses:
Types of crypto assets,
Difference between hot and cold wallets,
Ways to purchase crypto,
Centralized and decentralized crypto exchanges,
Account verification and KYC processes,
Information and warnings about popular scam schemes,
Trading risks and mechanics,
trends in crypto investing.
The Changelly cryptocurrency crash course will help you step into the domain of cryptocurrencies on a secure and educated footing. To that end, the developers have created a thorough Changelly e-book for crypto newbies designed to demystify crypto fundamentals. This e-book will also assist you in evading the typical pitfalls whenever you purchase, hold, or trade crypto.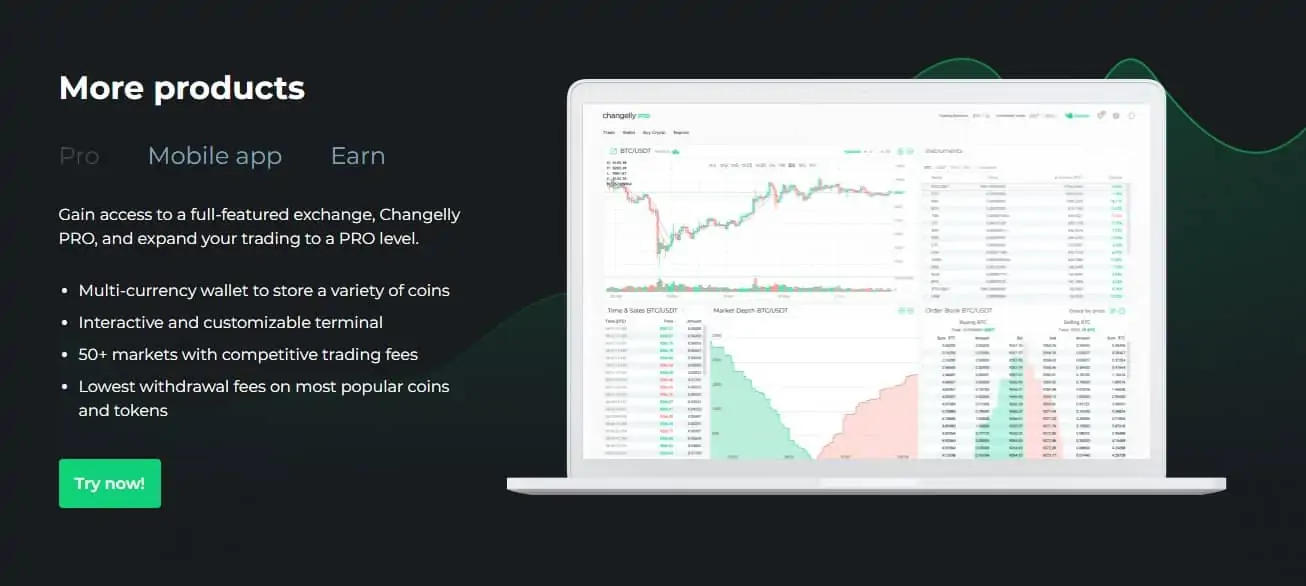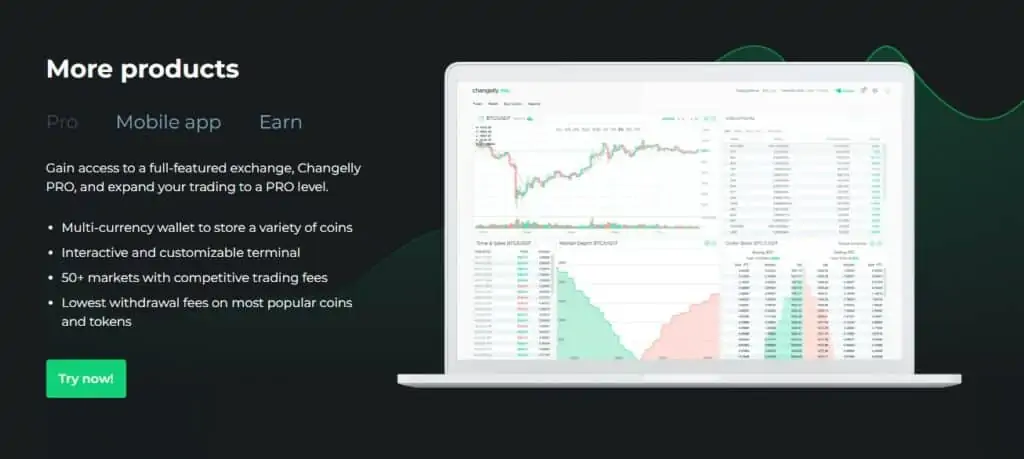 Furthermore, this crash course contains the greatest trading mechanics that may assist you in reducing the trading risks to an absolute minimum and starting to generate profit from your crypto ventures as soon as possible.
Finally, the developers of this exchange service have taken care of sharing their best practices and advice on how to pick among trending coins and conduct trades that will prove lucrative.
Frequently Asked Questions
Does Changelly have a mobile app?
Yes. Changelly, as a trading platform dedicated to giving its users the best trading experience possible, has created a mobile app for conducting transactions on the go. With the Changelly mobile app, not only do you get a fully functional crypto exchange on your smartphone with over 160 cryptocurrencies listed for trading, but the app also offers high limits.
The Changelly mobile app is free to download from the App Store (for iOS devices) and the Google Play Store (for Android-based smartphones and tablets).
What countries are supported by Changelly?
Changelly is a global cryptocurrency trading platform that operates in almost all countries in the world. The only exception to this are the countries and territories listed below:
Cuba,
North Korea,
Iran,
Syria,
Crimea,
Bangladesh,
Bolivia,
Sudan,
United States of America (including all USA territories: Puerto Rico, American Samoa, Guam, Northern Mariana Island),
The US Virgin Islands (St. John, St. Croix, and St. Thomas).
Does Changelly provide a cryptocurrency wallet?
No. Since Changelly operates as an intermediary between the crypto exchanges and the traders, it does not provide its own digital wallet. In fact, none of the users' digital assets are stored on this trading platform. However, Changelly offers wallet integration with a built-in exchange solution.
Which are the best Bitcoin wallets to use with Changelly?
Trezor, Ledger, Exodus, Jaxx, Coinomi, and Edge are among the most popular wallets that can be integrated with Changelly. This trading platform also provides an API and a payment widget for internet sites that may be customised. The widget allows visitors to conduct crypto exchanges without needing to access the Changelly website via an Internet browser.
Is Changelly legit or is it a scam?
Remember Changelly's Trustpilot rating of 4.5 stars we mentioned in the introduction? Well, by the look of things, this cryptocurrency exchange has lost half of a rating star to scam claims by some of its users. Allegedly, some traders on the Changelly platform have experienced the blocking of large sums of their deposits during the KYC verification process.
However, it frequently happens that many investors don't bother reading the fine print before venturing into trading on a new exchange, which leads to them making costly mistakes in either the verification or trading procedure. Of course, this is eventually identified as a fraud by the concerned traders, which is extremely unlikely in the case of this highly secured and trustworthy exchange.
Speaking from the standpoint of an objective reviewer, we believe that no firm or corporation with such a fantastic rating would jeopardize their laborious effort and reputation for a minor profit.
The Bottom Line
If you have ever thought that there is no such thing as a super-safe crypto trading platform with fast transaction rates, flat minimal fees, an extraordinary selection of cryptocurrencies that you can buy with a bank card in just a single click, not to mention a superb help center – please read this article again, from the top.
Namely, Changelly is a crypto exchange and instant trading platform where you can exchange, buy, and sell cryptocurrency under all of the aforementioned conditions, and more. After doing our research on the Changelly exchange, we found that this trading platform definitely deserves a place in our good books.
What impressed us the most is that we could see the developer's eagerness to create a product that would meet traders' needs in every single detail that makes up Changelly. On top of it all, they even thought about providing some fun and relaxation for their users with the potential to yield some earnings (GameFi).
The bottom line? Changelly is one of the most user-dedicated and reliable trading platforms in the crypto ecosystem. And if the Trustpilot users have ranked it with 4.4 out of 5 stars, we're ranking it with an entire crypto-coin embellished constellation!
Changelly Compared
| Exchange | Cryptocurrencies | Fiat Currencies | Trading Fees | Deposit Methods | Sign Up |
| --- | --- | --- | --- | --- | --- |
| Swyftx | More than 320 | Australian Dollars, New Zealand Dollars | 0.6% | Osko, PayID, Credit Card, Debit Card, Bank Transfer, Cryptocurrency | Visit Swyftx |
| CoinSpot | More than 370 | Australian Dollars | OTC: 0.1% Market Order: 0.1%* (applies to LTC, BTC, ETH, XRP, POWR, DOGE, TRX, NEO, XLM, GAS, RChain, RFOX, EOS) Instant Buy/Sell: 1% | POLi, PayID, Cash, Cryptocurrency, Bank Transfer, BPAY | Visit CoinSpot |
| Binance | More than 600 | US Dollars, Australian Dollars, and 8 more | 0% to 0.1% | Osko, PayID, Credit Card, Debit Card, Crypto | Visit Binance |
| Bybit | More than 160 | 50+ | 0.1% to 0.6% | Crypto, EFT, wire transfer, bank transfer, debit card or credit card | Visit Bybit |
| Independent Reserve | 27 | Australian Dollars, US Dollars, New Zealand Dollars | 0.05% to 0.5% | EFT, SWIFT, Osko, PayID, Crypto | Visit Independent Reserve |
| Coinbase | More than 210 | Australian Dollars, US Dollars, New Zealand Dollars | Fees Vary | EFT, SWIFT, Osko, PayID, Crypto | Visit Coinbase |
| CoinJar | More than 50+ | Australian Dollars, Pound Sterling | Taker: 0.04 to 0.1% Maker: 0.04 to 0.1% | Apple Pay, Google Pay, Credit Card, Debit Card, Bank Transfer, Fiat, Crypto | Visit CoinJar |
| Kraken | More than 140 | Australian Dollars, US Dollars, and 5 more | Taker: 0.10% to 0.26% Maker: 0.00% to 0.16% | Apple Pay, Google Pay, SWIFT, Osko, SEPA, Crypto, Wire Transfer, Bank Transfer | Visit Kraken |
| BTC Markets | More than 15 | Australian Dollars | Taker Fee (for Bitcoin pairs): 0.20% Maker Fee (for Bitcoin pairs): -0.05% Australian Dollars Market Pairs: 0.10% to 0.85% | Crypto, BPAY, EFT, PayID, Osko | Visit BTC Markets |
| Easy Crypto | More than 40 | Australian Dollars, New Zealand Dollars, South African Rand | 1% | P2P, POLi, and Bank Transfers | Visit Easy Crypto |
| Coinstash | More than 140 | AUD | Taker fees: 0.85% Maker fees: 0.85% | Cryptocurrency, Bank Transfer, PayID | Visit Coinstash |
| eToro | More than 70 | Australian Dollars, US Dollars, Euro, and 12 more | Vary | Online Banking, Skrill, Neteller, PayPal, Bank Transfer, Debit Card | Visit eToro |
| KuCoin | More than 645 | US Dollars, Euro, Australian Dollars, and 6 more | 0.1% | Credit Card, Debit Card, SEPA, PayPal, Wire Transfer, Crypto | Visit KuCoin |