Coinbase Review for 2023
Cryptocurrency investing has boomed in recent years, and hundreds of crypto exchanges have cropped up worldwide to manage the exploding demand. Crypto investors have so many trading options it can be challenging to find the right exchange. Whether you're a crypto novice or a seasoned investor, Coinbase is an excellent crypto trading platform.
Coinbase is the largest crypto exchange in the United States and among the largest in the world. The San Francisco-based company was founded in 2012, making it one of the oldest and most trusted crypto exchanges on the market. It offers a basic platform for novices and a more advanced service for experienced traders.
Although there are many good crypto exchanges available, Coinbase is a standout for its ease of use and commitment to security. Keep reading our Coinbase exchange review to see if Coinbase might be the right choice for your crypto investments.
US Crypto Exchange: Coinbase
Coinbase was founded by Brian Armstrong, a computer engineer, and Fred Ehrsam, a financial trader. They started buying and selling Bitcoins in 2012 and quickly raised millions in venture capital investments. By 2014, Coinbase already had 1 million users and grew to more than 35 million users by January 2021.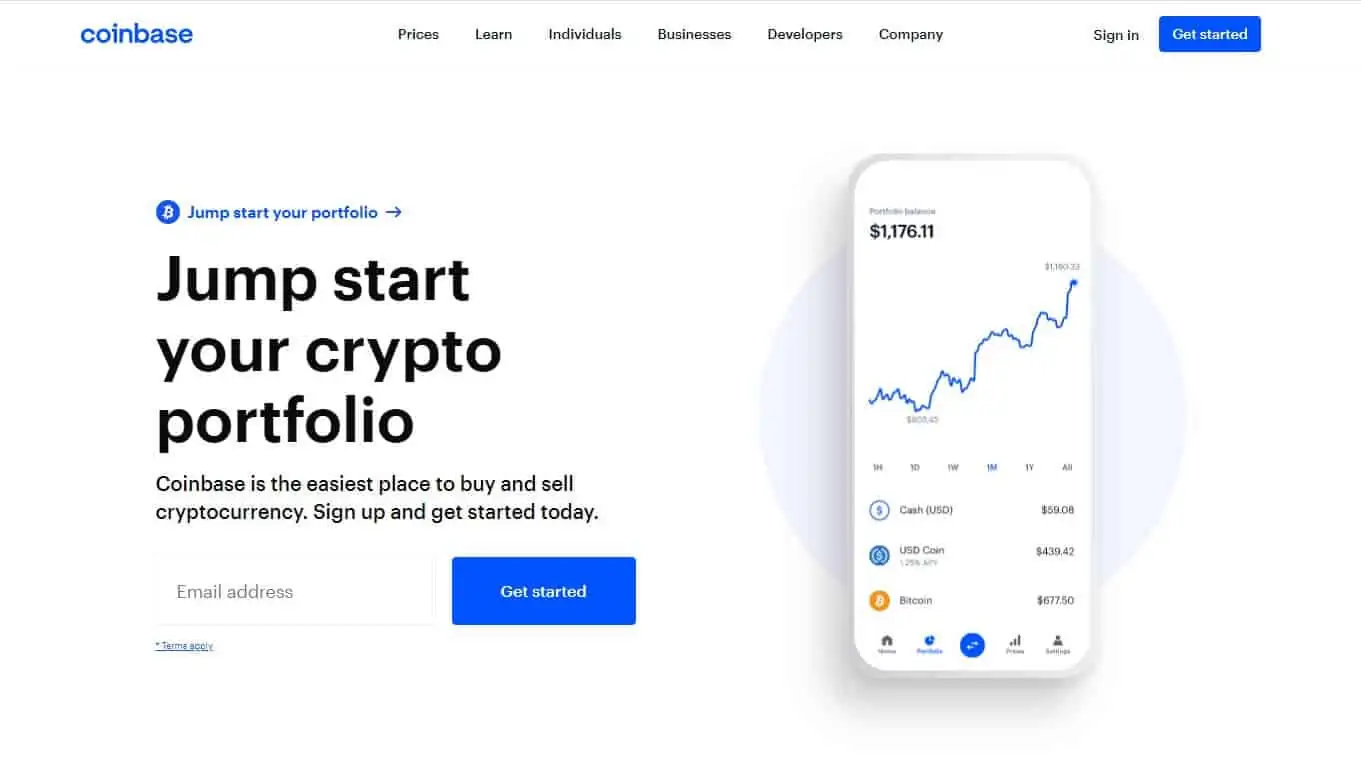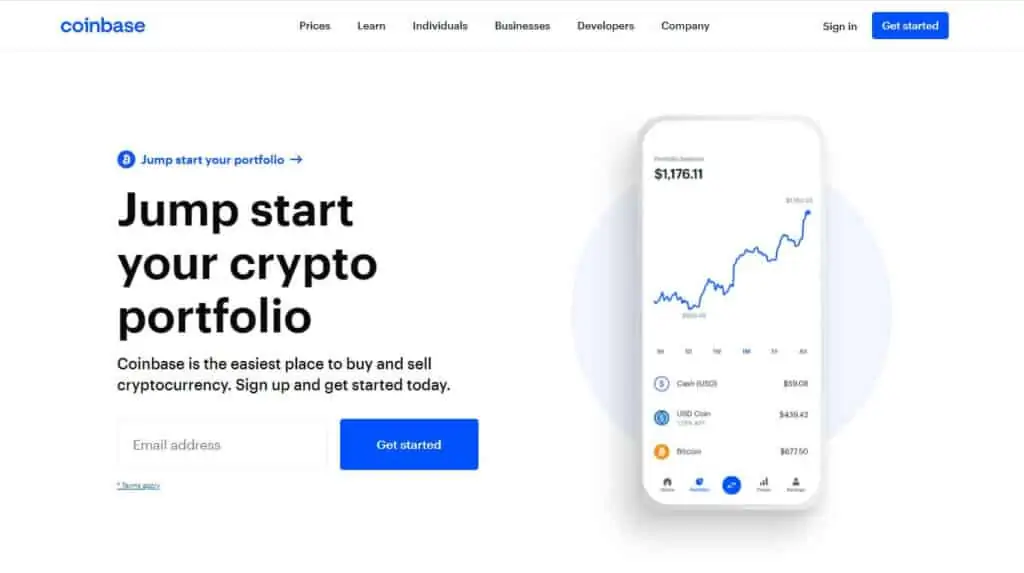 Coinbase has surged in popularity over the years by positioning itself as a secure port in a sea of less safe crypto exchanges. The company claims that—unlike many of its competitors—it's never been hacked. Coinbase also rigorously commits to laws and regulations, which is somewhat remarkable for a player in the mostly unregulated crypto industry.
Coinbase has made it easy for users to buy, sell, and trade crypto, which has made it a popular choice for people new to crypto trading. Its easy-to-use app is among the most popular free apps in the Apple and Google Play stores. And it has one of the lowest required account minimums in the industry, which has made Coinbase a favorite among young traders.
The company offers many services, but its primary service allows people to buy and sell cryptocurrency through a bank account or debit card. Although the company says its vision is to create an open digital currency system, it operates more like a traditional centralized brokerage. The company makes most of its revenue by charging fees for its exchange and brokerage services.
Coinbase is the most well-funded crypto exchange in the United States. The company's popularity has given it the power to rock the crypto market. Coinbase can drive market swings by merely introducing new cryptocurrencies to their massive user base.
Trading Platforms
Coinbase has two main trading platforms, Coinbase and Coinbase Pro.


Coinbase: allows people to buy or sell cryptocurrencies using regular money (also known as fiat) from your bank account or debit card. The platform also allows users to store their crypto in a password-protected vault. The platform is user-friendly and straightforward, making it a popular choice for beginning traders.
Coinbase Pro: has all the features of the basic service plus many more. It's designed for institutional and professional traders who play the crypto market at an advanced level. It offers greater functionality than the basic platform and charges lower fees. It also provides more cryptocurrencies than the basic platform.
Supported Cryptocurrencies
Coinbase supports 32 cryptocurrencies on its basic platform and 36 currencies on Coinbase Pro. Some of the most popular currencies supported by the basic platform include:
Bitcoin
Bitcoin Cash
Ethereum
Litecoin
Uniswap
Stellar Lumens
Ripple


Coinbase makes it easy to buy cryptocurrency through its platforms. After creating a free account, you link Coinbase to your bank account, debit card, or PayPal account. You can also use wire transfers.
Bank accounts and wire transfers give higher buying limits, but it takes a few days for the money to transfer into your Coinbase account. Debit card and PayPal buying limits are capped at lower levels but allow instant purchases.
You purchase crypto through the platform's trade function. It gives you the option to buy, sell, or convert crypto. To make a purchase, you select the cryptocurrency you're interested in and an amount in real (fiat) money. Coinbase will convert the fiat money into the crypto of your choice.
Trading Fees and Limits
Coinbase has a more complex fee structure than some of its competitors. Although the fees Coinbase charges are about industry average overall, the structure is not as straightforward as those of other exchanges. The basic Coinbase platform has a more complicated fee structure than Coinbase Pro.
Coinbase charges a fee every time you buy or sell. It also charges you fees for fiat money deposits and withdrawals. Fees are automatically collected with each transaction. It charges either flat fees or variable fees depending on the transaction.
Coinbase Basic Fees
Coinbase charges a variable fee on all sales and purchases. Although the fee fluctuates, it's typically around 0.5%. Also, Coinbase charges what they call a Coinbase fee for each transaction. The Coinbase fee is whatever is greater—the flat fee or a percentage fee that varies based on where you live. Flat fees for transactions are:


$10 or less: $0.99
$10.01 to $25: $1.49
$25.01 to $50: $1.99
$50.01 to $200: $2.99
If you make a trade of $200.01 or higher, Coinbase charges a variable percentage fee.
Coinbase Basic Limits
Coinbase basic also charges for deposits and withdrawals. In the United States, fees are:
US bank account: 1.49%
Coinbase wallet: 1.49%
Debit card: 3.99%
ACH transfer: Free
Wire transfer: $10 ($25 for outgoing transfers)
Coinbase Pro Fees
Coinbase Pro users pay less in fees. It's free to switch from the basic version to Pro, so it's an easy way to avoid the complicated basic platform fee structure. Coinbase Pro charges a lower fee with higher trades. Here is the fee structure for Coinbase Pro trades:
Trades up to $10K: 0.5% for maker; 0.5% for taker
Trades $10k to $50K: 0.35% for maker; 0.35% for taker
Trades $50k to $100K: 0.15% for maker; 0.25% for taker
Trades $100k to $1M: 0.10% for maker; 0.20% for taker
Trades $1M to $10M: 0.08% for maker; 0.18% for taker
Trades $10M to $50M: 0.05% for maker; 0.15% for taker
Trades $50M to $100M: 0.00% for maker; 0.10% for taker
Trades $100M to $300M: 0.00% for maker; 0.07% for taker
Trades $300M to $500M: 0.00% for maker; 0.06% for taker
Trades $500M to $1B: 0.00% for maker; 0.05% for taker
Trades $1B+: 0.00% for maker; 0.04% for taker
Coinbase Pro also charges much lower deposit and withdrawal fees. Crypto and ACH transfers are free. Wire transfers are $10 for deposits and $25 for withdrawals. Coinbase Pro users can make deposits and withdrawals through bank accounts, crypto wallets, and wire transfers only.
Coinbase Pro Limits
Deposits, withdrawals, and trading limits differ depending on the Coinbase platform and where you live. You can view your limits when you log into your account page. In general, Coinbase limits are as follow:
Deposit limits: Unlimited for cryptocurrency and wire transfers; vary for other methods
Withdrawal limits: Daily withdrawal limit of $25,000
Trading limits: No limits for Coinbase Pro; limits vary for Coinbase basic
Account and trade minimums: Coinbase requires an account minimum of only $2 and allows trades for as low as $2
Is Coinbase Safe To Use?
Coinbase is widely regarded as one of the safest crypto exchanges. Many of its competitors are based in countries with loose or non-existent crypto regulations. Coinbase must follow US laws and regulations as a US-based company, which are more stringent than most other countries.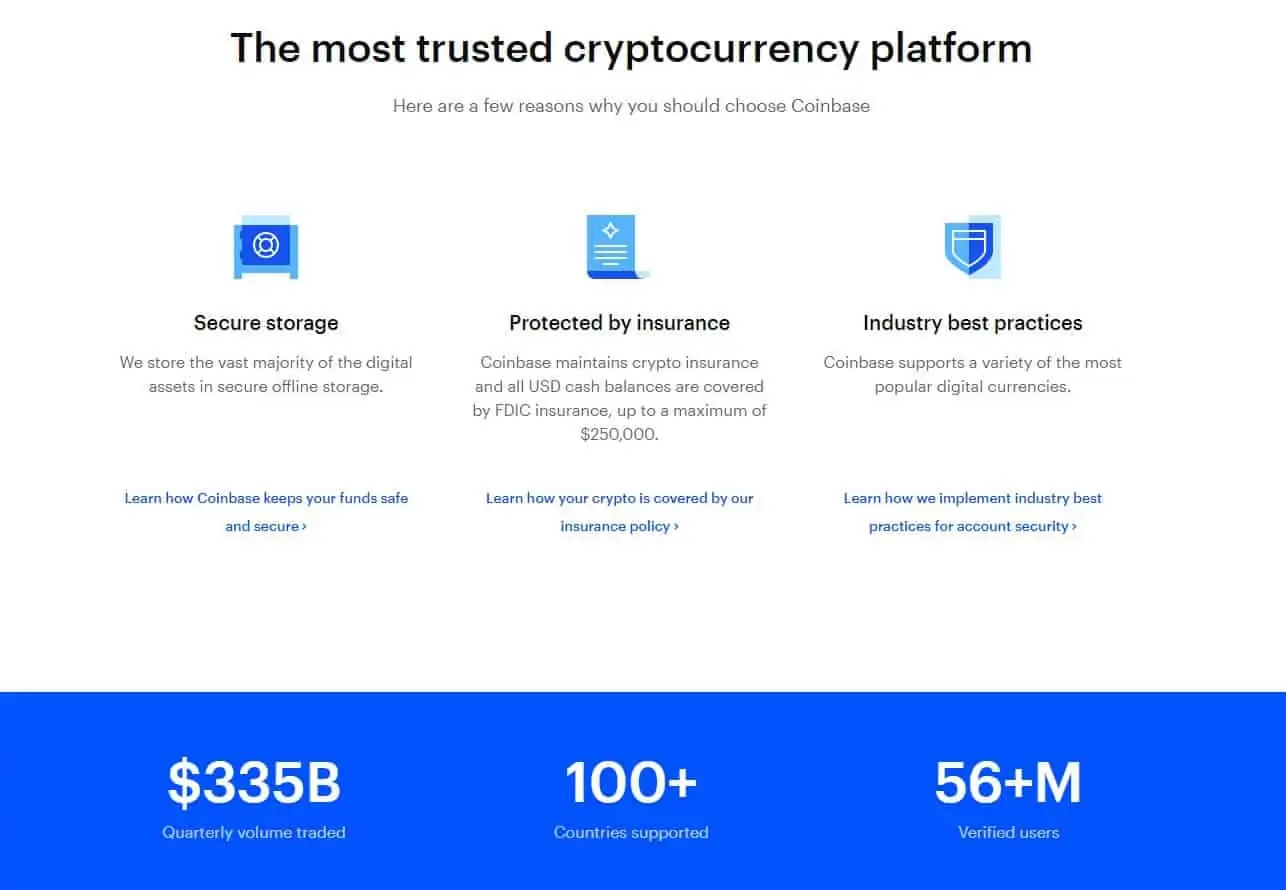 Coinbase also actively reaches out to regulatory agencies to ensure that the company complies with financial rules they aren't required to follow. Coinbase is registered with FinCEN, the US government's Financial Crimes Enforcement Network.
Coinbase stores 98% of users' assets offline, eliminating the risk of theft through hacking. The funds are secured in vaults worldwide. The company keeps its users' most sensitive information on offline platforms and uses the highest encryption level to protect the data.
The company ensures all assets it stores online. In the event of theft, the insurance would cover users' funds. Coinbase also uses FDIC insurance to cover up to $25,000 in fiat money stored in a Coinbase Wallet.
Coinbase Customer Support
Coinbase gets low marks for customer service and support. Several third-party review sites note the number of users who have complained about the lack of support. Most negative reviews focus on slow response time and the inability to connect with a live agent.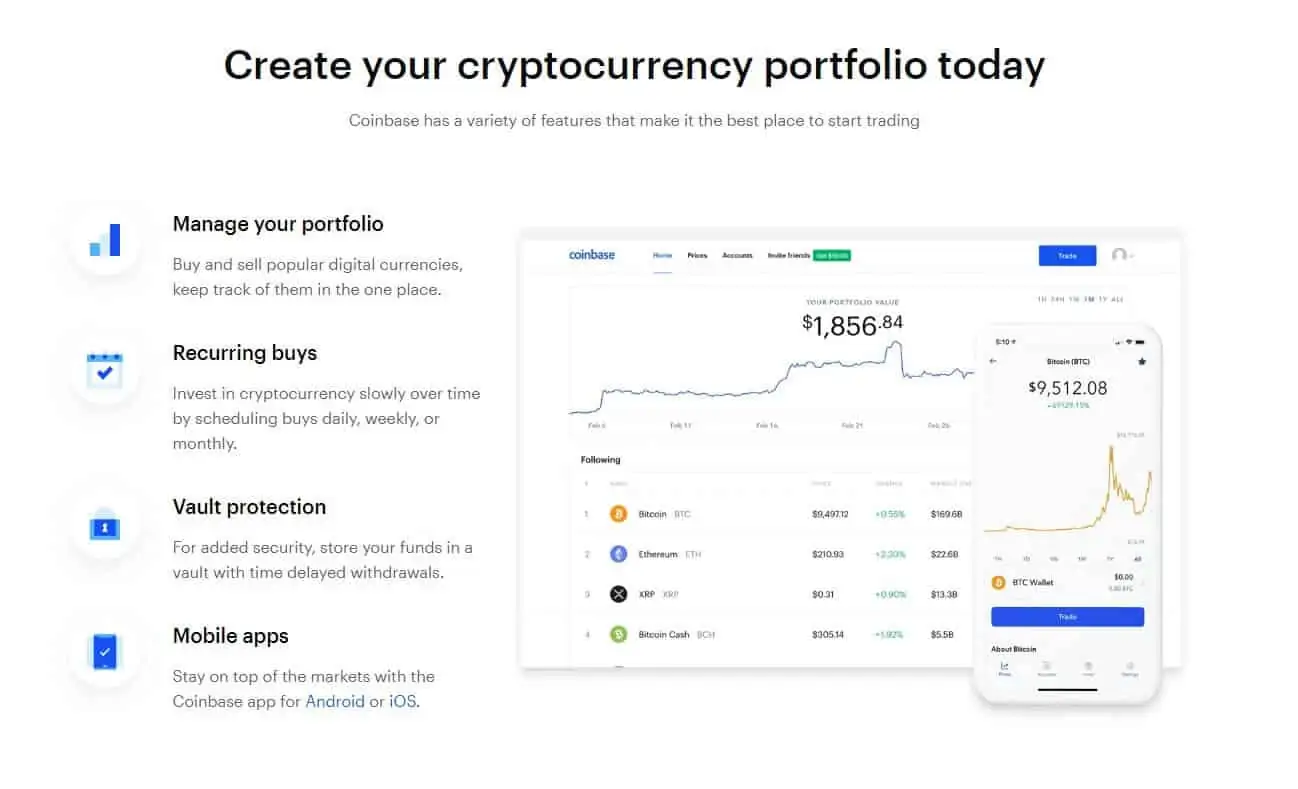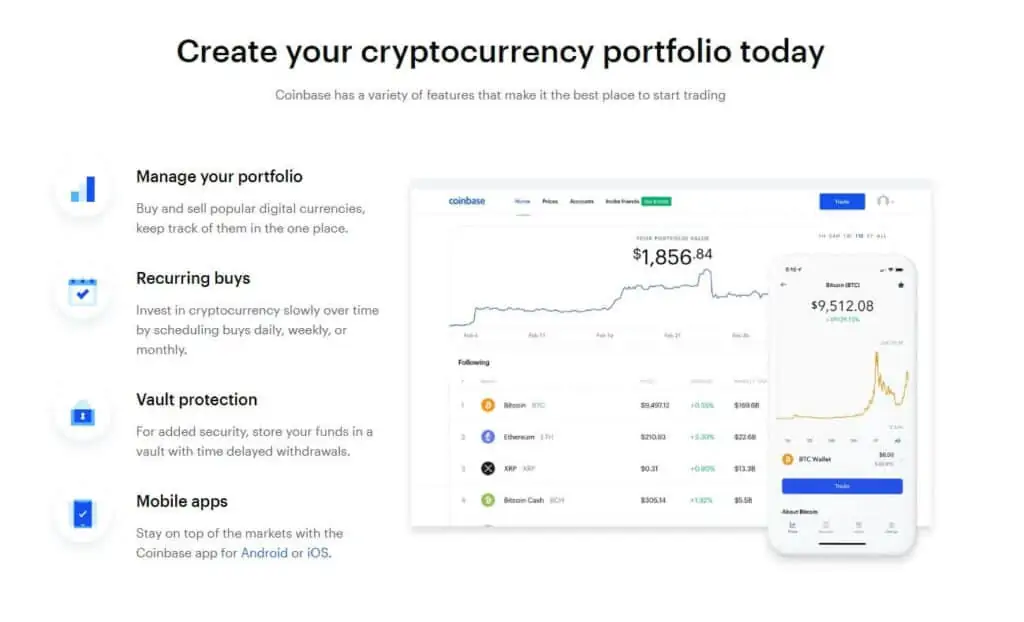 Coinbase provides email support and an extensive FAQ page. The company says that the typical response time to email queries is between 24 and 72 hours. Many users complain that it's often generic in tone when they receive a response and doesn't directly address their issues.
Frequently Asked Questions
Is cryptocurrency legal in the United States?
Cryptocurrency is legal in the United States. However, unlike the US dollar or credit cards, cryptocurrency is not controlled or issued by a bank or government. Instead, cryptocurrency uses encryption to verify and distribute transactions through a decentralized system.
Because a central authority does not govern crypto, the industry is mostly unregulated. Some crypto exchanges like Coinbase have established self-regulatory protocols and actively comply with many traditional financial regulations. However, other exchanges deliberately avoid regulations by basing operations in countries that don't enforce crypto controls.
What countries does Coinbase support?
Customers can use Coinbase in the United States, Canada, Australia, Singapore, and most of Europe. In the United States, Coinbase's USD wallet is only available in states with licenses to engage in money transmission, or where such licenses are not issued or required for Coinbase. As of this Coinbase exchange review, only the state of Hawai'i was awaiting Coinbase support.
Is Coinbase licensed throughout the United States?
Coinbase is licensed in 42 US states, as well as Washington DC and Puerto Rico. You can still access Coinbase in states where it's not licensed.
Does Coinbase have a mobile app?
Coinbase has a mobile app for iOS and Android users. The app is highly rated by users in the Apple and Google Play stores. It allows users to buy, sell, and store crypto securely with an intuitive design and user-friendly platform.
Does Coinbase provide a cryptocurrency wallet?
Coinbase Wallet is a mobile app that offers a secure place to store your cryptocurrencies. You can use Coinbase Wallet without having a Coinbase crypto exchange account, but you can easily link your Coinbase Wallet to your Coinbase exchange account for added crypto storage security. It's available on Android and iOS devices.
How does Coinbase compare with Binance?
Binance, founded in 2017, is the largest crypto exchange in the world, and Coinbase is the second largest. Binance supports more than 200 cryptocurrencies, while Coinbase Pro supports 36. Binance also offers lower fees. However, Binance was the target of one of the biggest crypto heists in 2019, and it does not match Coinbase's commitment to security and self-regulation. Recently, Binance relocated to Malta, where the company isn't subject to strict regulation.
Summing It Up
Based on our Coinbase exchange review, Coinbase is one of the safest and easiest to use crypto exchanges on the market. It's an excellent choice for users who are new to crypto trading or don't have a lot of money to invest. It allows trades at a low level and requires only a $2 account balance.
Although its basic platform has a complicated fee structure that can be more pricey and less transparent than its competitors, Coinbase Pro offers a more streamlined approach, with lower fees. And users can switch to the Pro version for no charge to avoid any fees.
Users have criticized Coinbase for poor customer service, but the company gets outstanding marks for a user-friendly interface and top-level security. Coinbase is a time-tested crypto exchange suitable for any level of trader.
Related:
Coinbase Compared
| Exchange | Cryptocurrencies | Fiat Currencies | Trading Fees | Deposit Methods | Sign Up |
| --- | --- | --- | --- | --- | --- |
| Swyftx | More than 320 | Australian Dollars, New Zealand Dollars | 0.6% | Osko, PayID, Credit Card, Debit Card, Bank Transfer, Cryptocurrency | Visit Swyftx |
| CoinSpot | More than 370 | Australian Dollars | OTC: 0.1% Market Order: 0.1%* (applies to LTC, BTC, ETH, XRP, POWR, DOGE, TRX, NEO, XLM, GAS, RChain, RFOX, EOS) Instant Buy/Sell: 1% | POLi, PayID, Cash, Cryptocurrency, Bank Transfer, BPAY | Visit CoinSpot |
| Binance | More than 600 | US Dollars, Australian Dollars, and 8 more | 0% to 0.1% | Osko, PayID, Credit Card, Debit Card, Crypto | Visit Binance |
| Bybit | More than 160 | 50+ | 0.1% to 0.6% | Crypto, EFT, wire transfer, bank transfer, debit card or credit card | Visit Bybit |
| Independent Reserve | 27 | Australian Dollars, US Dollars, New Zealand Dollars | 0.05% to 0.5% | EFT, SWIFT, Osko, PayID, Crypto | Visit Independent Reserve |
| Coinbase | More than 210 | Australian Dollars, US Dollars, New Zealand Dollars | Fees Vary | EFT, SWIFT, Osko, PayID, Crypto | Visit Coinbase |
| CoinJar | More than 50+ | Australian Dollars, Pound Sterling | Taker: 0.04 to 0.1% Maker: 0.04 to 0.1% | Apple Pay, Google Pay, Credit Card, Debit Card, Bank Transfer, Fiat, Crypto | Visit CoinJar |
| Kraken | More than 140 | Australian Dollars, US Dollars, and 5 more | Taker: 0.10% to 0.26% Maker: 0.00% to 0.16% | Apple Pay, Google Pay, SWIFT, Osko, SEPA, Crypto, Wire Transfer, Bank Transfer | Visit Kraken |
| BTC Markets | More than 15 | Australian Dollars | Taker Fee (for Bitcoin pairs): 0.20% Maker Fee (for Bitcoin pairs): -0.05% Australian Dollars Market Pairs: 0.10% to 0.85% | Crypto, BPAY, EFT, PayID, Osko | Visit BTC Markets |
| Easy Crypto | More than 40 | Australian Dollars, New Zealand Dollars, South African Rand | 1% | P2P, POLi, and Bank Transfers | Visit Easy Crypto |
| Coinstash | More than 140 | AUD | Taker fees: 0.85% Maker fees: 0.85% | Cryptocurrency, Bank Transfer, PayID | Visit Coinstash |
| eToro | More than 70 | Australian Dollars, US Dollars, Euro, and 12 more | Vary | Online Banking, Skrill, Neteller, PayPal, Bank Transfer, Debit Card | Visit eToro |
| KuCoin | More than 645 | US Dollars, Euro, Australian Dollars, and 6 more | 0.1% | Credit Card, Debit Card, SEPA, PayPal, Wire Transfer, Crypto | Visit KuCoin |