Coinbase vs CoinSpot 2023
CoinSpot and Coinbase are two major (and somewhat confusingly alike) brands in the world of crypto. CoinSpot is among the most popular Australian exchanges, while Coinbase is the biggest in the USA. Which one should you go with?
The quick answer is CoinSpot that has much less expensive fees as well as 24/7 Live Chat assistance, the ability to stake 21 coins, and the capability to buy crypto and withdraw the AUD you have earned from your bank. You can also get $20 in free Bitcoin if you sign up to CoinSpot here.
Coinbase isn't designed especially for Australian market. Because of that, they're in the middle, and they don't provide the fundamental feature of selling cryptocurrency or withdrawing Australian dollars.
Read on to discover how we compared both platforms and decide whether you are in agreement with our conclusion. Your individual needs might differ from other people, therefore you might prefer Coinbase more suitable for you.
Comparison Table
| | | |
| --- | --- | --- |
| | CoinSpot | Coinbase |
| Amount of Cryptocurrencies | 360+ | 160+ |
| Trading Fees | Market: 0.1%, Instant buy: 1% | 4.49% |
| Deposit Fees | POLi, Bank transfer, PayID, OSKO: Free; BPAY: 0.9%, Cash: 2.5% | Included in trading fee |
| Withdrawal Fees | Free | N/A |
| Payment Methods | Cash Deposit, Bank transfer, OSKO, BPAY, POLi, PayID | Debit card |
CoinSpot Pros and Cons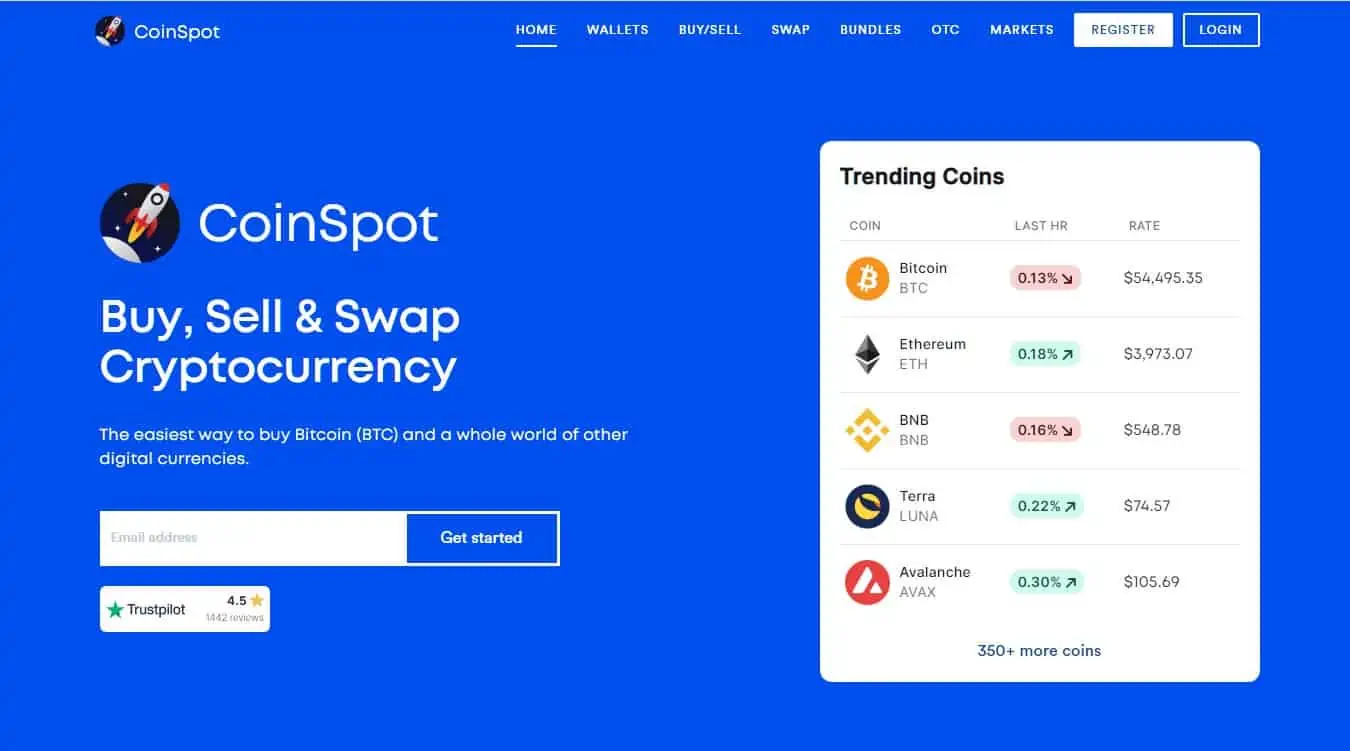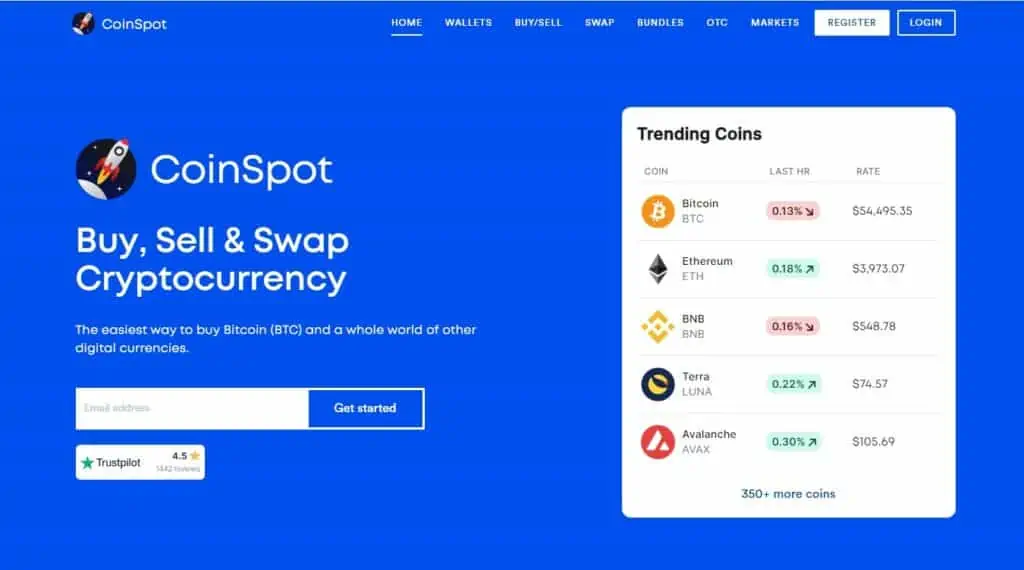 Pros
Great selection of 350+ cryptos, with high liquidity levels
Very low market order fees at 0.1%
Simple interface design and very easy to use, fit for beginners
Markets interface includes advanced technical analysis tools
Regulated by AUSTRAC
Cons
Doesn't have margin trading or futures contracts
The Instant buy/sell fee is a bit high at 1%, but the low spreads somewhat compensate for the fees
The market interface is only available for 15 asset pairs
Coinbase Pros and Cons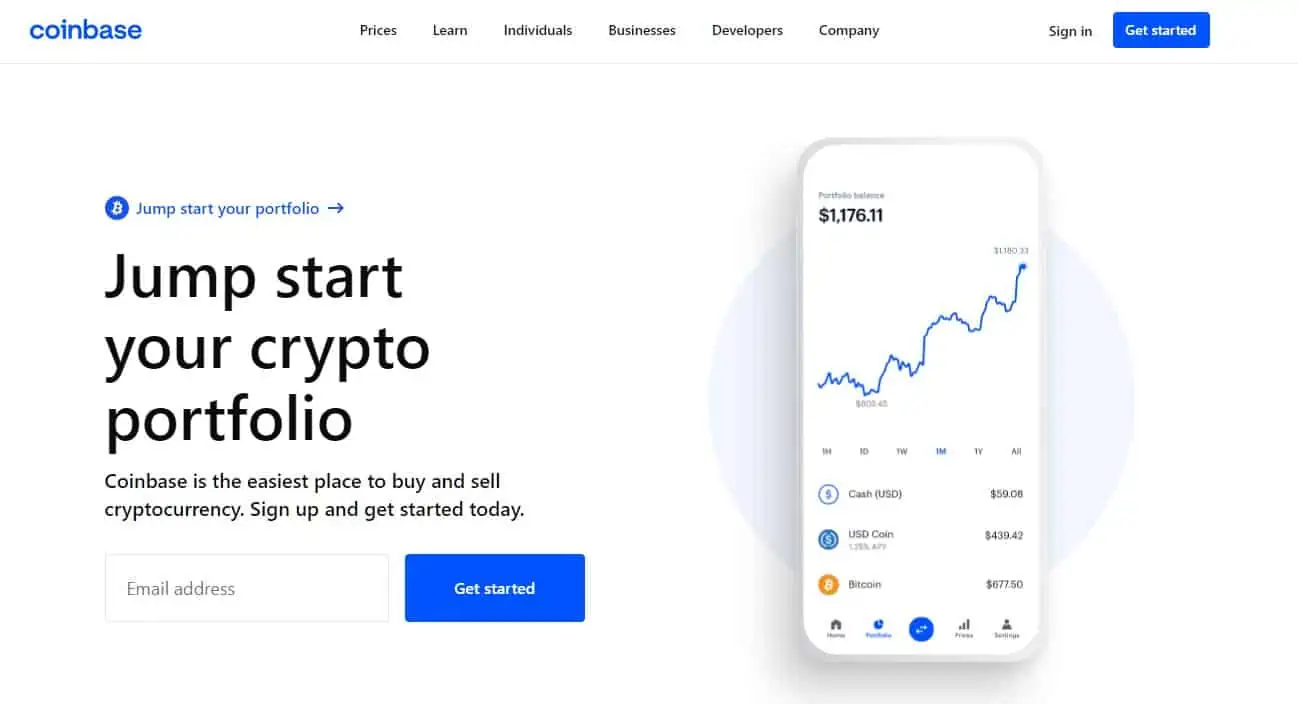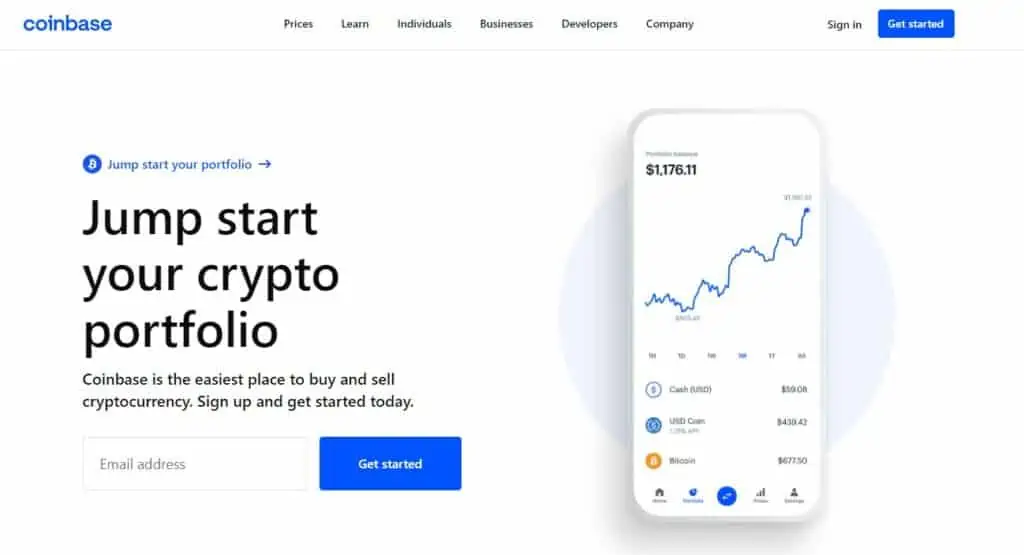 Pros
User-friendly and simple interface
Only takes a couple minutes to register and start trading
Coinbase are insured so their users' funds are safe 
More than 160+ cryptocurrencies available
Very secure and trusted platform
Cons
Complicated fee structure that is higher than competitors
Features
CoinSpot is a platform that is user-friendly designed for daily Australians. It comes with an easy-to-use, instant buy and instant sell function along with an exchange market where you can trade currencies with fellow users at a cost of 0.1 percent. If you are looking to exchange between different coins, it's easy to do and you are able to access CoinSpot effortlessly on your smartphone or desktop by using the app's intuitive interface.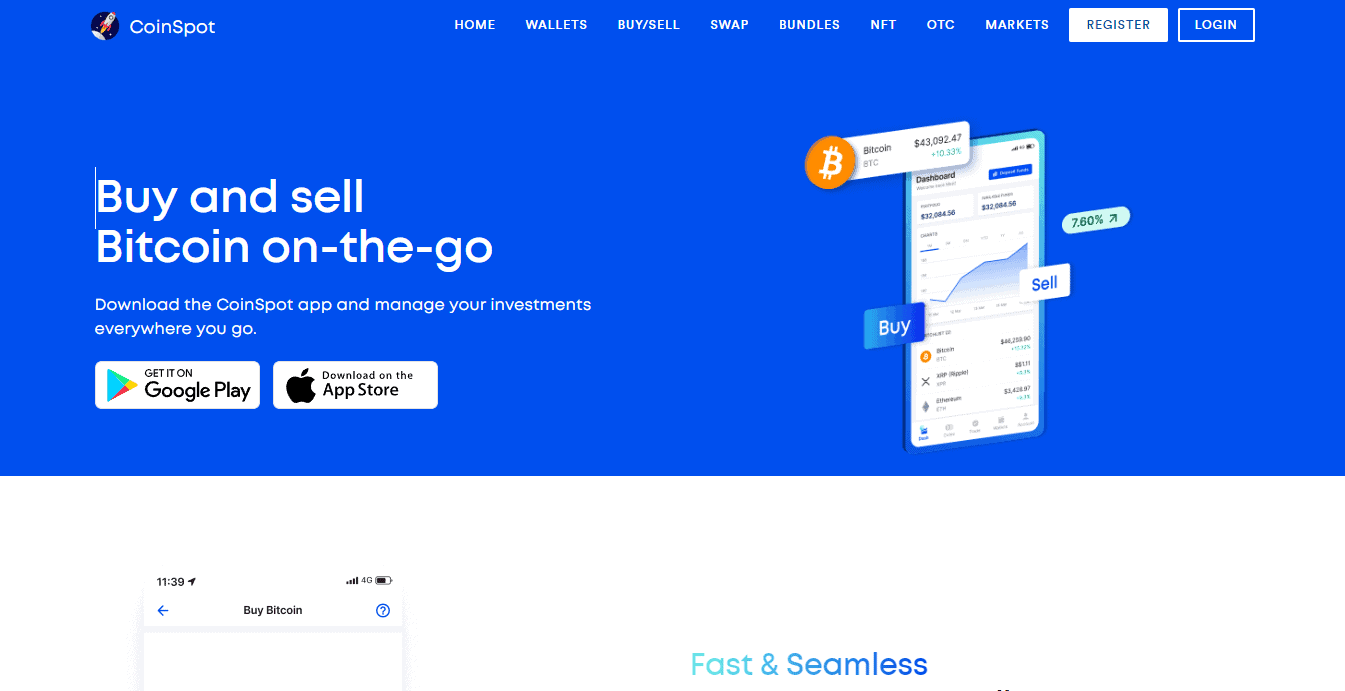 Coinbase is also simple to use, however it lacks certain basic features in Australia since it was developed specifically for its intended US market. Coinbase is a bit limited in its functionality. Coinbase it is impossible to sell your cryptocurrency or withdraw any fiat currency you want from the exchange this is a major disadvantage for the exchange. However, it does offer a unique feature known as Coinbase Earn, where you can earn cryptocurrency for free through short three minute videos that educate you about cryptocurrency.
CoinSpot is extremely easy to use, and supports the selling of crypto as well as withdrawal of fiat currencies, which is not offered by Coinbase.
Winner: CoinSpot
Supported cryptocurrencies
CoinSpot offers more than 360 different cryptocurrency options, and they constantly add fresh coins and coins onto their network.
Coinbase has more than 160 different coins which is considerably less than CoinSpot.
CoinSpot has more than four times the amount of coins offered by Coinbase and also has the broadest selection that coins of any Australian currency exchange.
Winner: CoinSpot
Fees
CoinSpot offers no charges to withdraw funds, and allows no cost deposits via Bank transfers, POLi, PayID and OSKO. Making deposits using BPAY costs 0.9 percent and the cash rate will cost 2.5 percent. The cost for immediate purchase and sale is one percent. If you purchase from the market there is a fee of 0.1 percent. However, there is only a certain amount of coins that you can purchase through the market.
Coinbase charges 4.49 percent for buying crypto with debit cards. This is the only way to purchase crypto in Australia. There's no option to buy cryptocurrency or withdraw AUD in AUD from Coinbase within Australia.
CoinSpot the clear winner when it comes to charges.
Winner: CoinSpot
Customer Support
CoinSpot's customer support is top-notch and they offer support 24/7 through Live Chat. I've used Live Chat Live Chat a few times and am always talking to a individual (no robots) within a couple of minutes. My experience has been that I've always encountered the support staff to be helpful and professional. They are also adept in resolving my problems. Coinbase however isn't able to provide Live Chat support, which is an area that they could work on improving in.
Winner: CoinSpot
Deposit Methods
CoinSpot provides Bank Transfer, POLi, PayID, OSKO, BPAY , and Cash deposits.
Coinbase is only accepting Debit cards.
Methods of payment: CoinSpot has several deposit options, whereas Coinbase only accepts payment via debit card.
Winner: CoinSpot
Security
CoinSpot is one of the largest, most safe and verified crypto exchange within Australia that has ISO 27001 certification, and affiliation of Blockchain Australia. CoinSpot is a multi-layered security platform that includes 2FA (Two-Factor authentication) and specific withdrawal restrictions, anti-phishing words geo-lock logins, setting the timeout of sessions and safe cold storage of most of the cryptocurrency assets.
Coinbase is additionally a secure exchange with biometric logins, 2FA, and 98% of their currency stored in cold storage, which is offline. Coinbase even offers insurance for crime which protects against damages resulting from theft, such as security breach.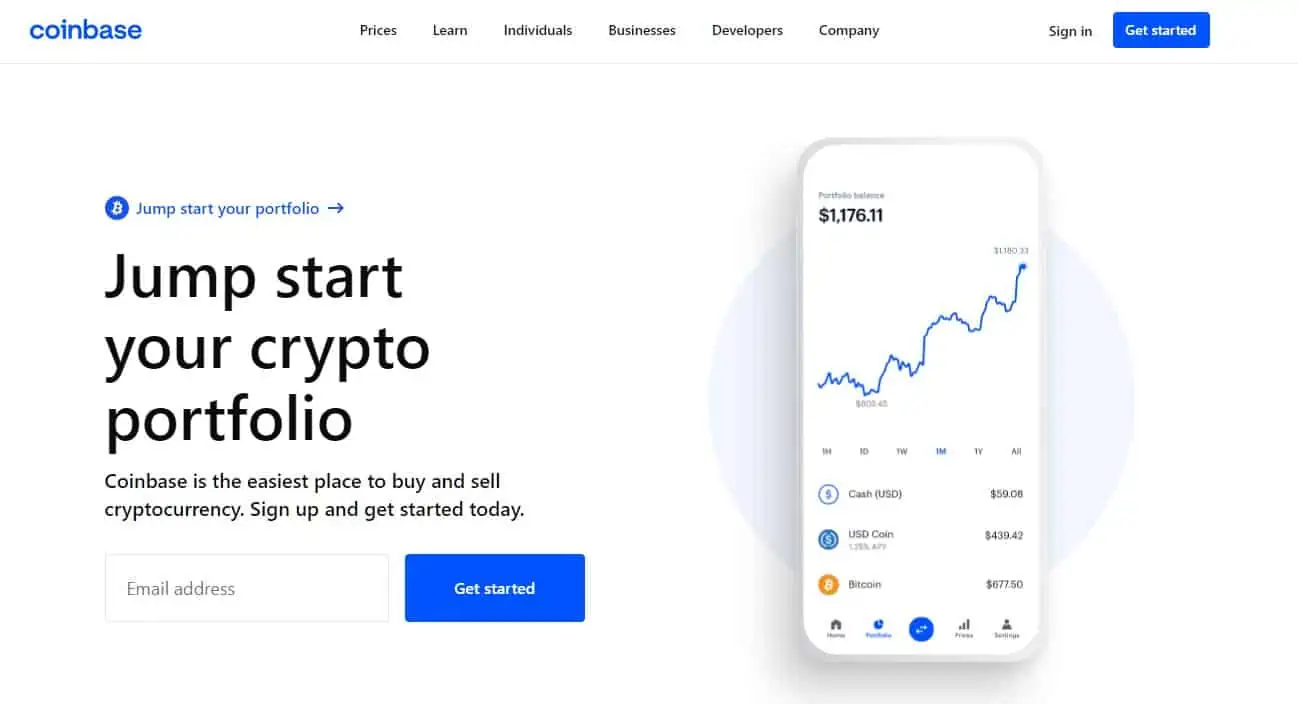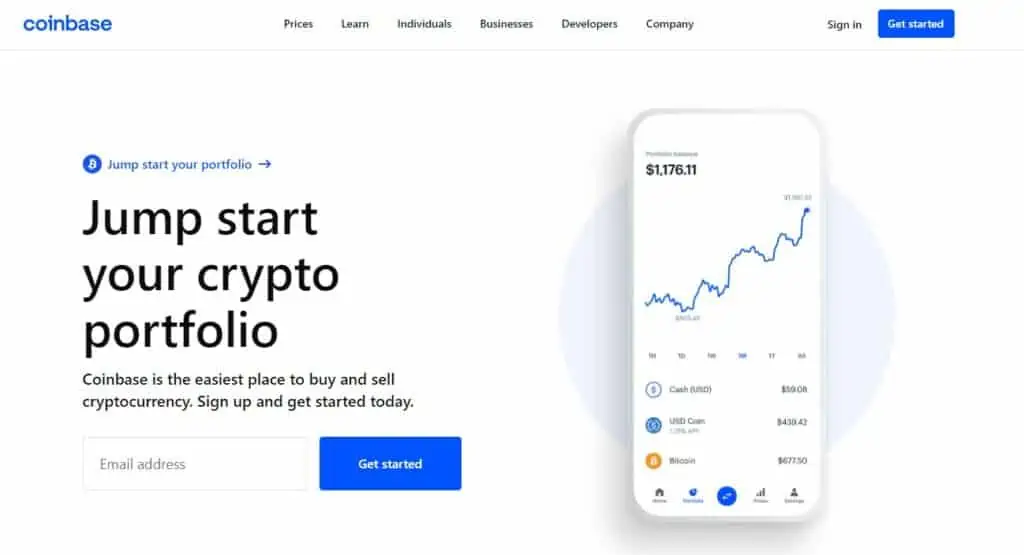 CoinSpot along with Coinbase are both extremely safe, but CoinSpot has the upper hand as it's the most secured and verified Australian cryptocurrency exchange and the only one that has been awarded ISO 27001 certification.
Winner: CoinSpot
Conclusion
CoinSpot is the winner in this competition, since it was the winner in every section. Coinbase isn't the right choice to the Australian cryptocurrency market due to the absence of withdrawals via fiat and sales of crypto.
If you'd like to take a an overview of alternatives, look at the table below that compares them. It will lists the best cryptocurrency exchanges that are available within Australia.
Frequently Asked Questions
What are the accepted payment methods on CoinSpot?
CoinSpot accepts a wide range of popular AUD deposit methods, including POLi, PayID, BPAY, cash deposits, and direct deposits from a bank account.
What types of NFTs are available on CoinSpot?
You can find loads of NFT gems on the CoinSpot NFT market, including market leaders such as Bored Ape Yacht Club, Azuki, Vee Friends, Cool Cats, Invisible Friends, and a wide range of other trending NFT projects.
Is CoinSpot regulated in Australia?
Yes, CoinSpot is regulated by AUSTRAC, which means that it complies with all financial rules and regulations in Australia. CoinSpot users are legally protected in case the platform gets hacked or goes bankrupt.
How do I cash out on CoinSpot?
Cashing out crypto on CoinSpot is very simple. The first thing you need to do is sell cryptocurrency for AUD, either through the instant trading feature or through the market section if you're selling one of the coins eligible for market orders.
Once you've sold your crypto for AUD, you just need to initiate a cash withdrawal to your bank account through the WITHDRAW AUD option in your account dashboard. Just follow the instructions and enter your bank account details before submitting the withdrawal request. It's that simple.
What countries does Coinbase support?
Customers can use Coinbase in the United States, Canada, Australia, Singapore, and most of Europe. In the United States, Coinbase's USD wallet is only available in states with licenses to engage in money transmission, or where such licenses are not issued or required for Coinbase. As of this Coinbase exchange review, only the state of Hawai'i was awaiting Coinbase support.
Is Coinbase licensed throughout the United States?
Coinbase is licensed in 42 US states, as well as Washington DC and Puerto Rico. You can still access Coinbase in states where it's not licensed.
Does Coinbase have a mobile app?
Coinbase has a mobile app for iOS and Android users. The app is highly rated by users in the Apple and Google Play stores. It allows users to buy, sell, and store crypto securely with an intuitive design and user-friendly platform.
Does Coinbase provide a cryptocurrency wallet?
Coinbase Wallet is a mobile app that offers a secure place to store your cryptocurrencies. You can use Coinbase Wallet without having a Coinbase crypto exchange account, but you can easily link your Coinbase Wallet to your Coinbase exchange account for added crypto storage security. It's available on Android and iOS devices.
How does Coinbase compare with Binance?
Binance, founded in 2017, is the largest crypto exchange in the world, and Coinbase is the second largest. Binance supports more than 200 cryptocurrencies, while Coinbase Pro supports 36. Binance also offers lower fees. However, Binance was the target of one of the biggest crypto heists in 2019, and it does not match Coinbase's commitment to security and self-regulation. Recently, Binance relocated to Malta, where the company isn't subject to strict regulation.
Related: