Coinfloor Review for 2022 – A UK Crypto Exchange
Coinfloor is a leading cryptocurrency exchange platform in the UK. In the crypto realm, it's heralded as London's best crypto exchange. But does it hold its reputation?
This Coinfloor review takes an in-depth look at its features, payment methods, supported currencies, trading fees, security, and more.
About Coinfloor
Launched in 2012, Coinfloor is the brainchild of James McCarthy, Mark Lamb, Obi Nwosu, and Amadeo Pellicce. It currently operates from its London headquarters.
This exchange platform is backed by Passion Capital, Taavet Hinrikus, and Adam Knight, a former managing director at Goldman Sachs.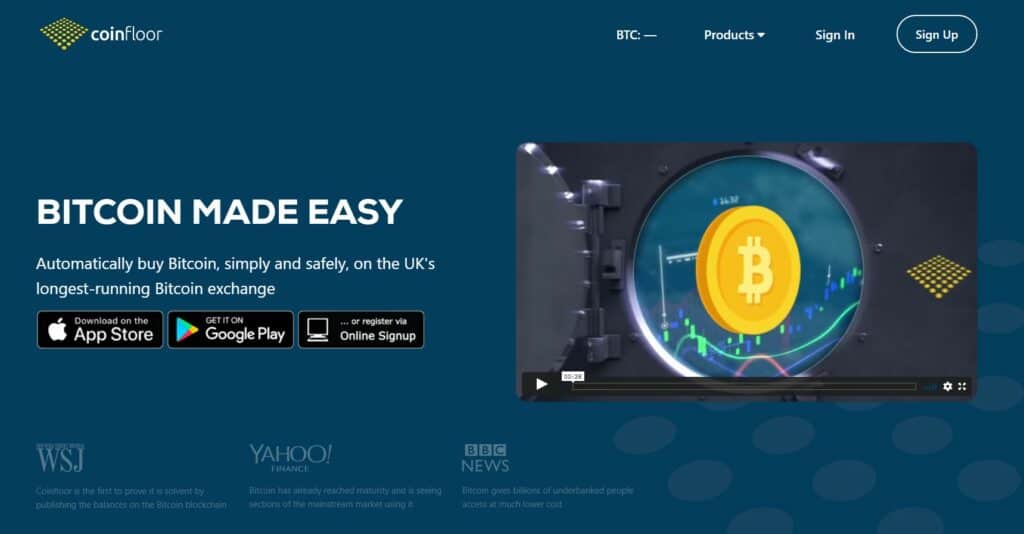 Coinfloor has grown to be the biggest Bitcoin to GBP exchange in the world. Despite this achievement, it remains unregulated by the UK's Financial Conduct Authority.
Supported Cryptocurrencies
Unfortunately, this crypto exchange platform only supports Bitcoin (XBT) and Bitcoin Cash (BCH).
In the past, Coinfloor used to support the following six virtual coins.
Bitcoin (XBT)
Ripple (XRP)
Bitcoin Cash (BCH)
Litecoin (LTC)
Ethereum (ETH)
Ethereum Classic (ETC)
This platform lists bitcoins as XBT and not BTC.
You can only engage in crypto-fiat trades and not crypto-crypto transactions. When it comes to supported fiat, Coinfloor only accepts USD, GBP, and EUR.
The available crypto/fiat pairings include:
XBT/GBP
XBT/USD
XBT/EUR
BCH/GBP
These pairings are incredibly rigid. You can only trade non-GBP fiat with XBT (Bitcoin).
Features
Coinfloor has essential features that don't provide many distractions. Below are the most outstanding.
Autobuy
The Autobuy feature allows you to purchase Bitcoins with a recurring standing order. To do so, you have to log in to your banking app and input the Autobuy deposit details. The GBP will be debited from your bank and an equivalent Bitcoin credited to your Coinfloor account.

That said, users can only purchase Bitcoins using this feature. It doesn't work with other cryptocurrencies. You can only use GBP from a UK bank to facilitate this transaction.
Another feature related to Autobuy is Singlebuy. Here, you directly make a bank deposit to Coinfloor. The deposit will be traded for bitcoin then deposited to your Coinfloor account.
Trade
Users can buy and sell cryptos for profit using Coinfloor's trade feature. This platform provides reliable API tools that can facilitate auto trading.
You can make all trades from the Exchange page, with the minimum BTC being 0.0001.
Over-the-Counter (OTC) Service
The OTC service caters to users who trade large volumes of cryptos. Before using this feature, you must first enquire whether it suits your needs.
The minimum amount you can trade via OTC is £100k.
Custody
Coinfloor holds the majority of digital currencies in offline, underground vaults. Insured custodians hold the remaining crypto assets.

Multi-signature addresses protect all cryptocurrencies that go through this trading platform.
Fiat Current Account
Coinfloor has partnered with Enumis to provide a current fiat account that suits crypto companies. Cryptocurrency firms can use this account to make fast payments across the UK. Stand out features include:
Debit cards
Standing orders
Direct debits
Online banking
Customer Support
Coinfloor slightly disappoints when it comes to customer support. You won't find help via phone or live chat.
Instead, this platform offers a comprehensive FAQ section. The FAQ page tackles most issues relating to trading, fees, deposits, withdrawals, and account opening.
Coinfloor users can also get help by emailing support@coinfloor.co.uk. Beware, email responses aren't prompt.
Another way of contacting customer support is by filling the "submit a request" form.
If you love social media, you can check out Coinfloor's Twitter handle, @Coinfloor, and Facebook page, Coinfloor.
Payment Methods
When it comes to payments, Coinfloor supports both fiat and cryptos. You can make deposits and withdrawals using:
British pounds
Euro
US dollar
Polish Zloty
Bitcoin
Bitcoin Cash

The inclusion of the Polish Zloty raises a few eyebrows. Even if you deposit using this currency, you cannot trade!
Coinfloor users can make deposits and withdrawals using wire transfer and cryptocurrency transfer. This trading platform doesn't support e-wallets, credit cards, debit cards, and PayPal.
Wire Transfer
Wire transfer enables users to top up or withdraw fiat currencies from their Coinfloor accounts. You must specify the currency and the reference code before carrying out any transaction.
Cryptocurrency Transfer
You can easily transfer cryptos to and from an external wallet to your Coinfloor account.
Transaction Limits and Time
The minimum fiat deposit is 2500 USD/2500 EUR/ 2500 GBP. The minimum XBT and BCH deposits are 0.0500 XBT and 0.0500 BCH, respectively.
Coinfloor imposes a minimum withdrawal of 20 USD/15 GBP/5 EUR. When it comes to cryptos, you can withdraw up to 0.0050 XBT and 0.0050 BCH.
International wire transfers take 1-5 days to be processed, while SEPA transfers may take 1-2 days.
Transactions involving Bitcoin and Bitcoin cash shouldn't take more than 24 hours to complete (one hour for Bitcoin and 10 hours for Bitcoin cash).
Trading Fees
The trading fees at Coinfloor depend on the volume of your trade. Trades below 500,000 GBP/USD/EUR per month attract a fee of 0.3%. This percentage drops down to 0.2% for users who trade 500,000-1,000,000 USD/GBP/EUR per month.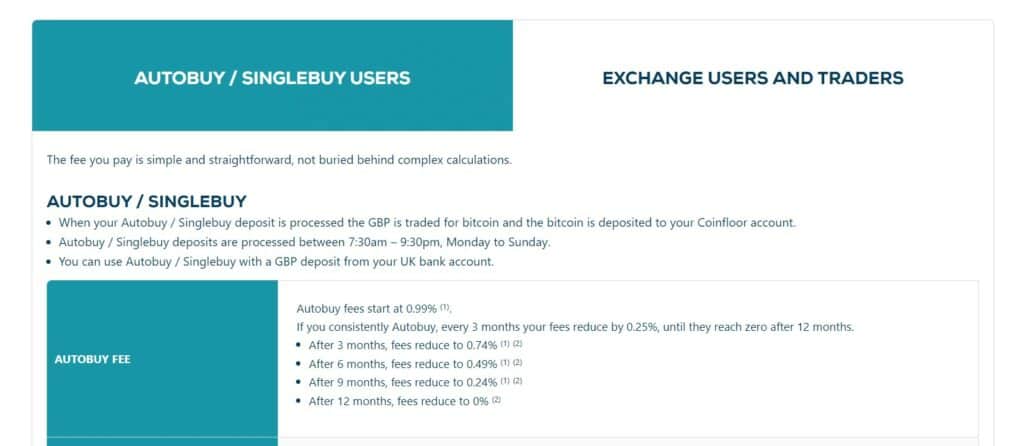 You will pay 0.10% if you make monthly trades that exceed 1,000,000 USD/GBP/EUR.
If you use the Autobuy feature, you'll pay a fee of 0.99%. This fee reduces by 0.25% if you frequently use this feature for three months.
Coinfloor's trading fees are undoubtedly higher than other exchanges.
Security and Safety
This exchange platform stores all cryptos in multiple underground vaults. The company further protects crypto assets using the Multi-Signature Pay 2 Script Hash (P2SH).
Coinfloor also provides multi-level protection on its website. Two-factor authentication protects users' logins while firewalls monitor incoming web traffic. All the data you provide passes through Transport Layer Security (TLS) protocol.
Frequently Asked Questions
Is Coinfloor regulated?
The Uk's Financial Conduct Authority (FCA) doesn't regulate Coinfloor. Currently, the company operates under a temporary license pending approval from the FCA.
Does Coinfloor have a Crypto wallet?
No, Coinfloor doesn't have a cryptocurrency wallet.
What cryptos are available for trading in Coinfloor?
You can trade using Bitcoin and Bitcoin Cash.
Does Coinfloor conduct profile verification?
Yes, you have to verify your ID to enjoy all Coinfloor's features.