CoinJar Review for 2023
Cryptocurrency exchange platforms are definitely the simplest way to invest fiat currency in crypto, but many exchange platforms aren't fiat-friendly and have various entry barriers, such as a limited selection of payment methods or a lack of support for payment cards. I was a bit skeptical before trying out the CoinJar platform since it's quite an old crypto exchange, and I feared I'll have to deal with an outdated trading interface. To my surprise, it actually turned out to be the opposite.
CoinJar is very easy to use, and you can pay for your deals with a wide variety of payment methods, such as PayID, Blueshyft direct deposits, cash deposits, debit cards, credit cards, Google Pay, OSKO, BPAY, and Apple Pay. The trading interface is very simplistic and easy to navigate, which makes CoinJar a great choice for absolute crypto beginners with no experience in crypto investing.
If you're looking for a highly-reliable, regulated crypto exchange with both basic, straightforward trading features, a solid advanced trading interface, and a long track record of satisfied customers, CoinJar might be a great exchange platform for your needs.
Let me show why I like this platform after using it for some time.
| | |
| --- | --- |
| Website | Coinjar.com |
| Country | Australia and UK |
| Mobile app | Yes |
| Deposit Methods | Google Pay, Apple Pay, OSKO, credit cards, debit cards, bank transfers, BPAY, PayID, Blueshyft cash deposits. |
| Trading Fees | 1% instant trading fee, 0.1% to 0.04% fee for market orders. |
| Fiat Currencies | AUD and GBP |
| Cryptocurrencies | Ethereum (ETH), Bitcoin (BTC), Chainlink (LINK), USD Coin (USDC), Dai (DAI), EOS (Eos), and 40+ top trending altcoin projects. |
Pros
A wide range of popular payment methods.
Low fees for market orders.
Regulated crypto exchange by AUSTRAC.
CoinJar crypto debit card for spending at retail spots and ATMs.
Very user-friendly.
Cons
Limited selection of digital currencies compared to various competitor platforms.
Lack of advanced order types.
No staking options.
What Is CoinJar?
CoinJar is an old-school crypto exchange platform that dates back to 2013. The platform was launched by a team of crypto brokers and financial experts with the aim of targeting both crypto beginners and more advanced users who need access to a classic trading interface and market orders. CoinJar started out as an Australian crypto exchange based in Melbourne, but it soon evolved into a crypto trading platform also available in the United Kingdom.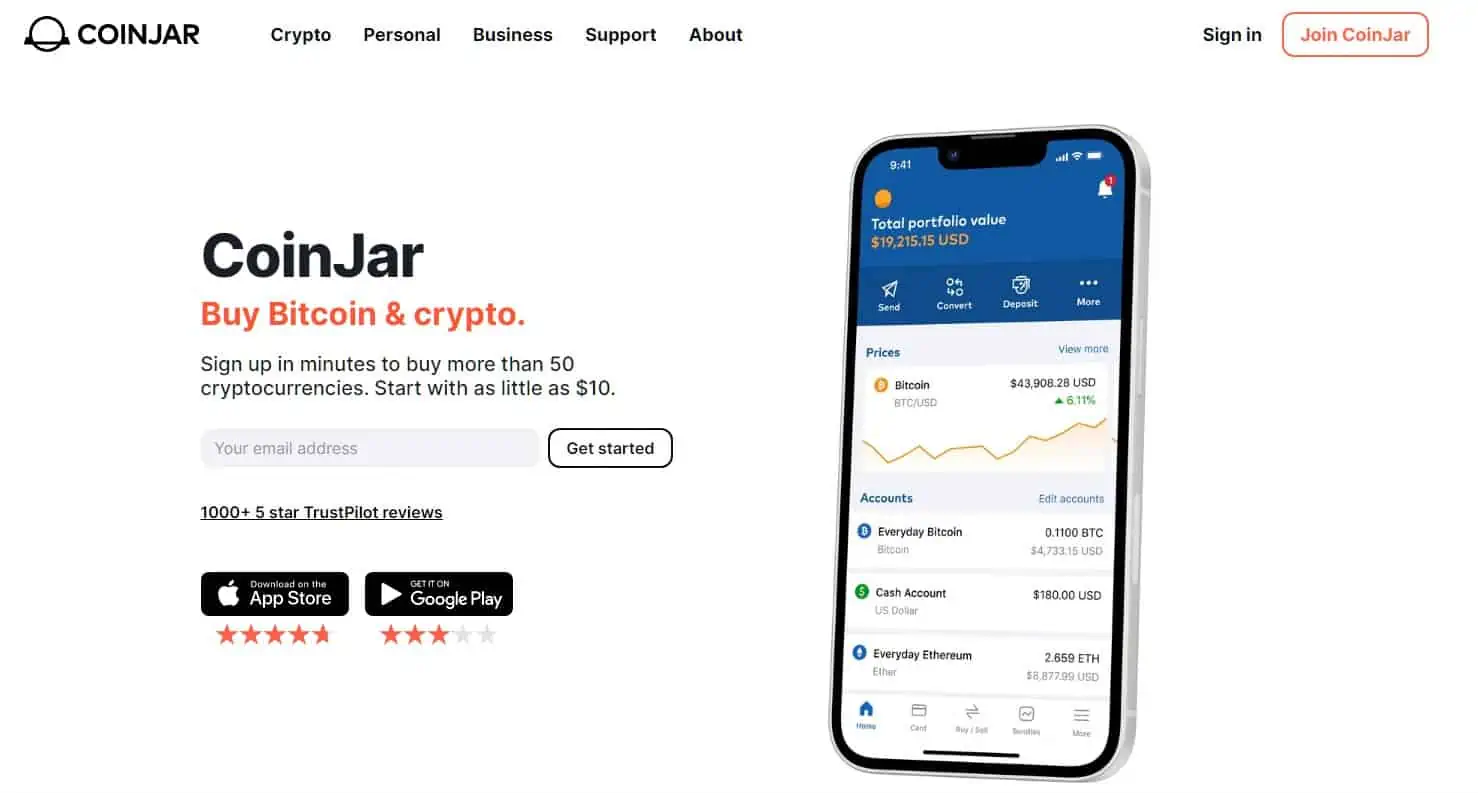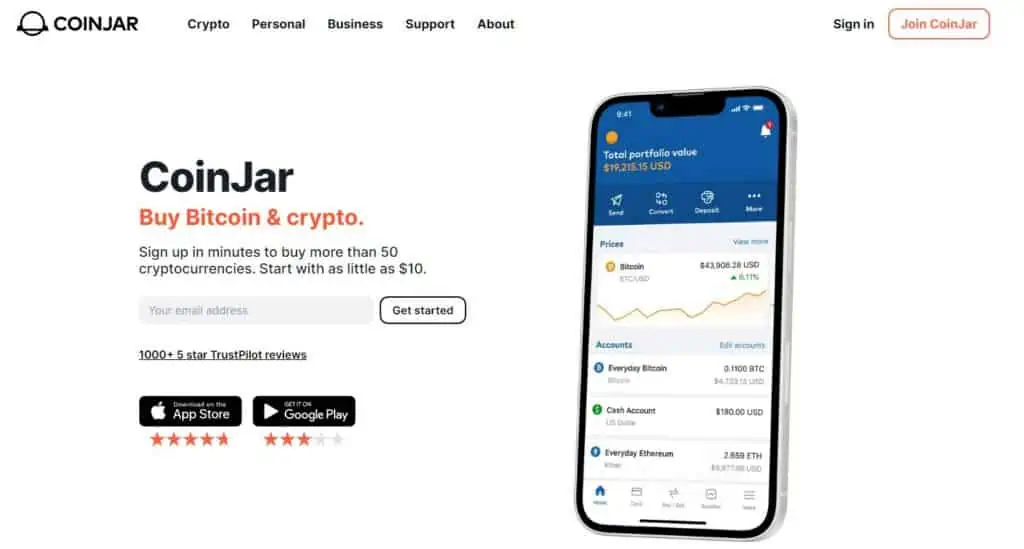 CoinJar is far from the immense popularity of market leaders like Coinbase and Binance, but that doesn't mean that the platform isn't worth trying out, especially since it has some very useful characteristics, such as low market order fees, a special crypto debit payment card, and reliable over-the-counter (OTC) broker services.
Who Is CoinJar Aimed at?
One of the key selling points of CoinJar is its simplicity. I'm really not a fan of complicated user interfaces that require me to thoroughly study the exchange before using it. With CoinJar, I was able to start depositing cash right after I created a user account, and I managed to conduct my first trade with just a few clicks.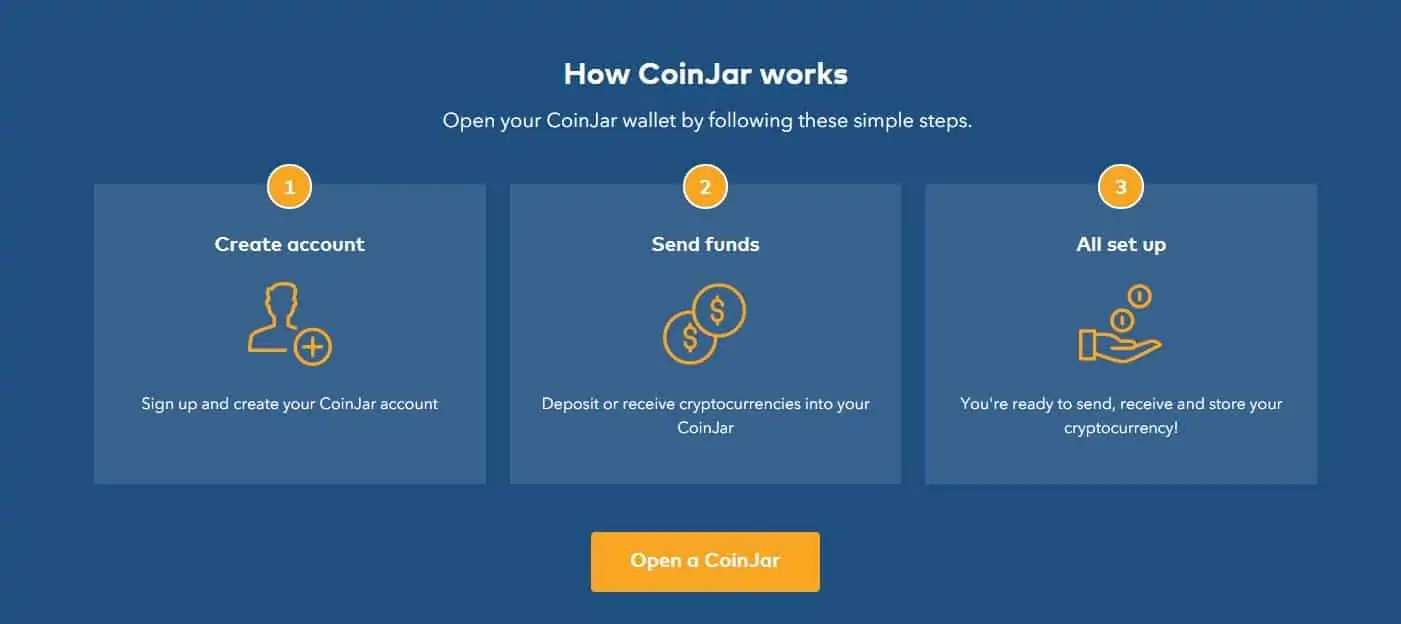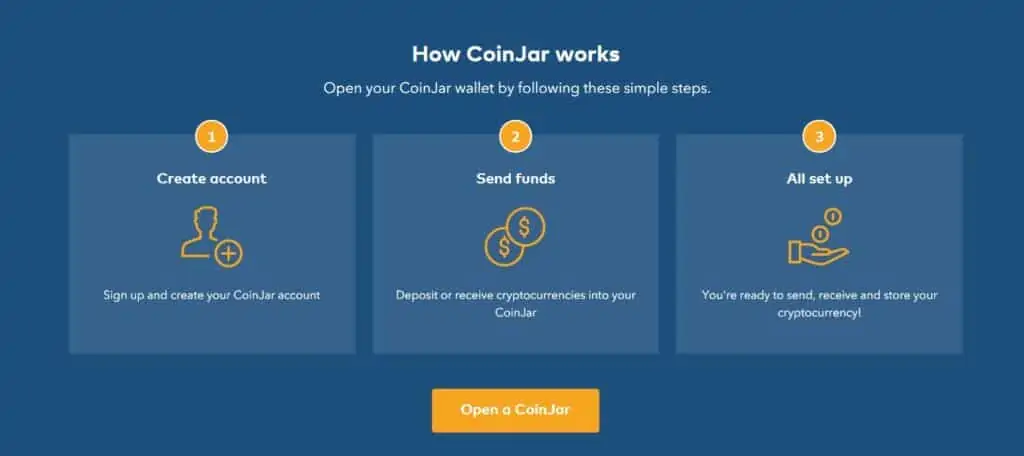 The platform design seems to have crypto beginners in mind because there's no need for any previous experience when you start using CoinJar. On the other hand, CoinJar also has a classic trading interface for users who wish to broker a better deal and place market orders at prices different from the instant buy/sell values.
This leaves me under the impression that CoinJar targets both beginners and intermediate crypto traders.
Which Fiat and Cryptocurrencies Are Supported?
CoinJar is a fiat-friendly exchange platform, which means you can directly purchase crypto with fiat or deposit fiat currency into your account and spend it on crypto later. The platform supports AUD and GBP, which is expected from an exchange that mainly targets Aussie and UK customers.
As far as cryptocurrencies, the platform has a strong selection of around 50 trending cryptocurrencies, including BTC, ETH, Stellar Lumens (XLM), Litecoin (LTC), Basic Attention Token (BAT), Ripple (XRP), Curve DAO (CRV), Cronos (CRO), Enjin Coin (ENJ), and various other market leading cryptos.
However, I was a little disappointed with the selection of digital currencies because the platform lacks some essential coins, such as Cardano (ADA), and Avalanche (AVAX), which is definitely something the platform could work on.
Key Features & Advantages of CoinJar
Let's have a thorough look at all of the key CoinJar features, one by one.
Ease of Use
If you're a crypto newbie and you simply want to buy some BTC or ETH to store it as an initial crypto investment, then CoinJar is definitely built for you. The platform is very easy to use, and you'll be able to conduct your first investment in just a few minutes after you register and verify your account.


A great thing about CoinJar is the fact that you also have an advanced market interface for placing market orders, and you can start experimenting with it as soon as you get comfortable with basic crypto trading features.
User Interface
The CoinJar user interface is very well designed. The basic instant trading features are clearly visible and only take a few clicks to initiate a trade, while the market interface has a classic exchange platform layout.
On the far left of the trading interface, you'll see your order menu, where you can issue a market order to sell or buy cryptocurrency based on the selected asset pair. The central part of the interface is where you'll see the price chart for the selected asset pair. You can use various technical analysis tools to study the price chart, and you can also toggle on the depth chart.
Underneath the price chart, you'll find a list of your active and filled market orders, while the order book for the selected trading pair is on the far right of the interface.
CoinJar Wallet
CoinJar offers users an integrated crypto wallet service when they use the platform. You can store any of the coins available on the exchange in your designated CoinJar account wallet. The wallet lets you easily manage your CoinJar portfolio and transfer your coins to or from the platform.


Buy or Sell Easily
The instant trading feature works really well on CoinJar. I've navigated to the list of available cryptos and selected the Buy Bitcoin option. The exchange immediately took me to the purchase screen, where I just specified how much Australian dollars I wanted to spend on Bitcoin, and the platform showed me how much BTC I'll get.
Once I confirmed my purchase, the trade was made within the usual 10 minutes BTC processing period, and I received my coins in my CoinJar Bitcoin wallet.


This feature is exactly what crypto beginners need to quickly make their crypto investments with fiat currency. The best thing about the CoinJar instant trading is that you can use your debit or credit card to facilitate a payment within minutes without waiting for a bank account deposit to go through for hours.
Send Funds the Easy Way
Sending funds from a CoinJar is very easy. To send crypto, you just need to choose the Send option from your account dashboard, choose the coin and the amount of crypto you wish to send, and enter the destination public address into the address bar.
When it comes to fiat currency withdrawals, you need to choose the Withdraw option in your dashboard. Select the amount of money you wish to withdraw and choose the destination bank account. In order to withdraw fiat currency to a bank account, you first need to verify your account and add an approved bank account.
If you've already verified your ID and your bank account, you can initiate a cash withdrawal right away. Once you've submitted a transaction to your bank account, you'll receive an electronic receipt from CoinJar, and your money should soon be registered in your bank account.
CoinJar Card
One of the best features of the CoinJar exchange platform is its prepaid MasterCard debit card. All Australian platform users are eligible for ordering a CoinJar debit card. The card enables users to make purchases with their cryptocurrency balance at thousands of retail sports across Australia, where Google Pay, Apple Pay, and MasterCard are accepted.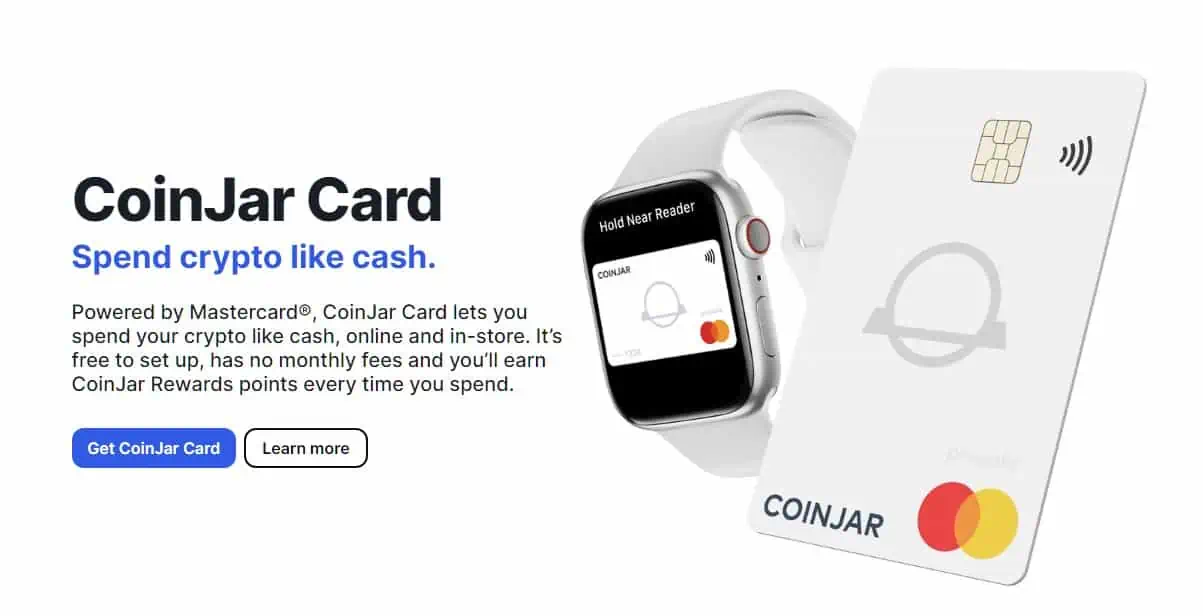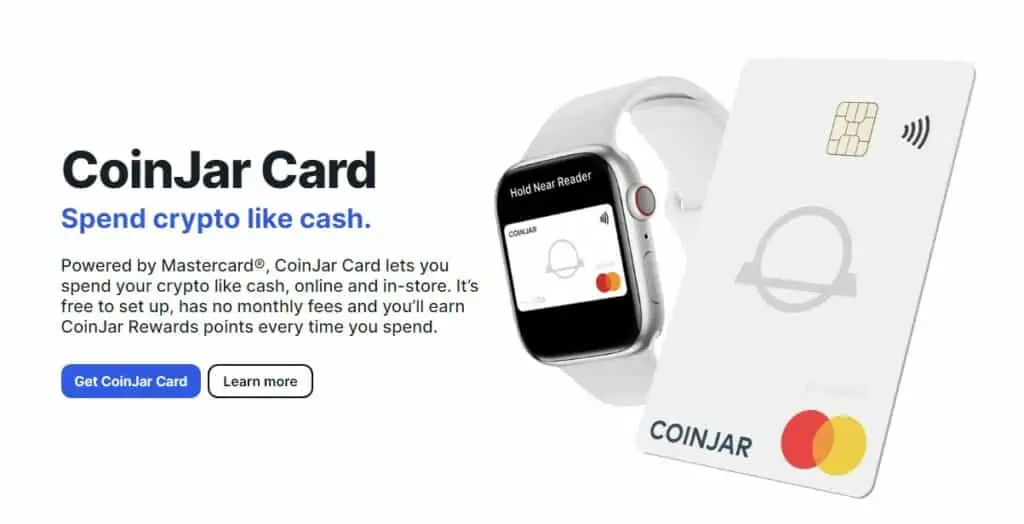 Ordering a CoinJar card is free, and once you connect the card to your Google Pay or Apple Pay account, you're able to start spending crypto right away. You can also use the card at ATMs that accept MasterCard.
OTC Trades
CoinJar has a highly efficient and trustworthy over-the-counter (OTC) brokerage service for trading deals over 50,000 USD. The platform has a team of dedicated OTC brokers who personally deal with user enquiries and help them negotiate the best possible deal for their trades.
All of the cryptos available on CoinJar are also eligible for OTC deals and the platform is responsible for finding interested buyers or sellers at the rates negotiated with the clients. You just need to specify how much of which crypto you wish to sell or buy and at what price.
CoinJar Bundles
CoinJar offers users the possibility to buy crypto bundles of popular digital currencies. When you choose a bundle, you just need to enter the amount of fiat currency you wish to spend on the bundle and the cash is divided equally among the cryptos in the bundle.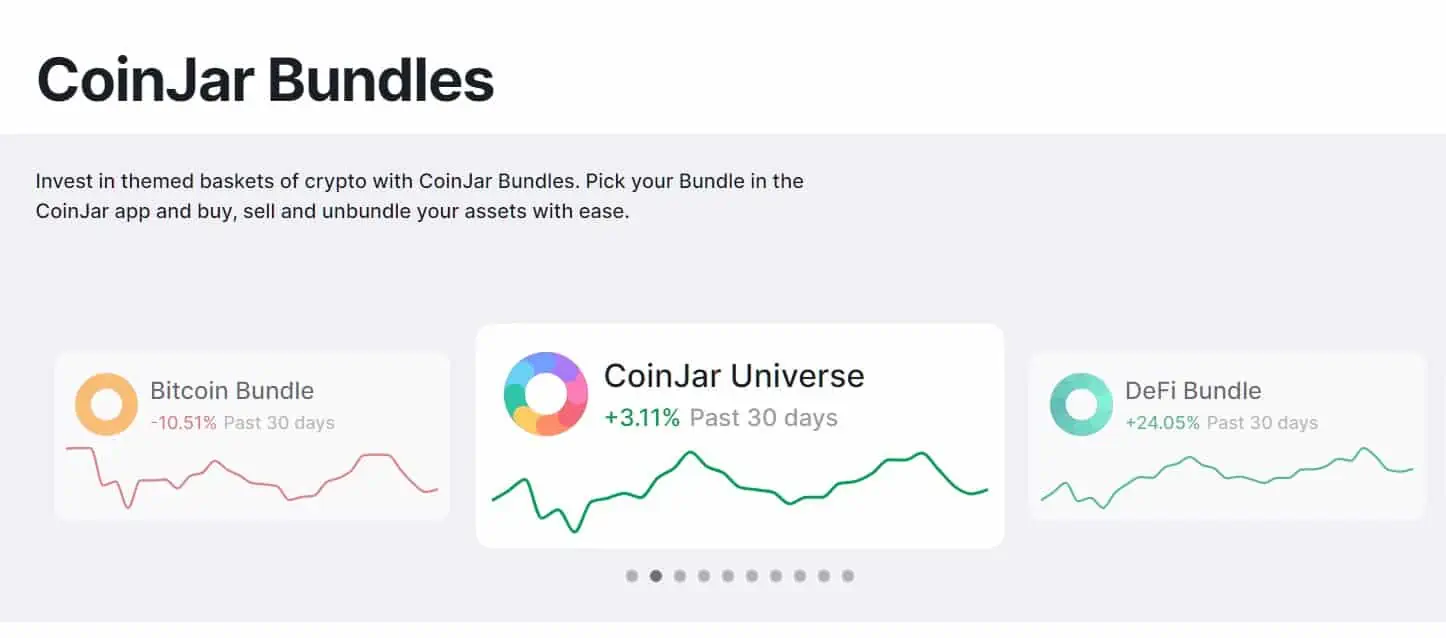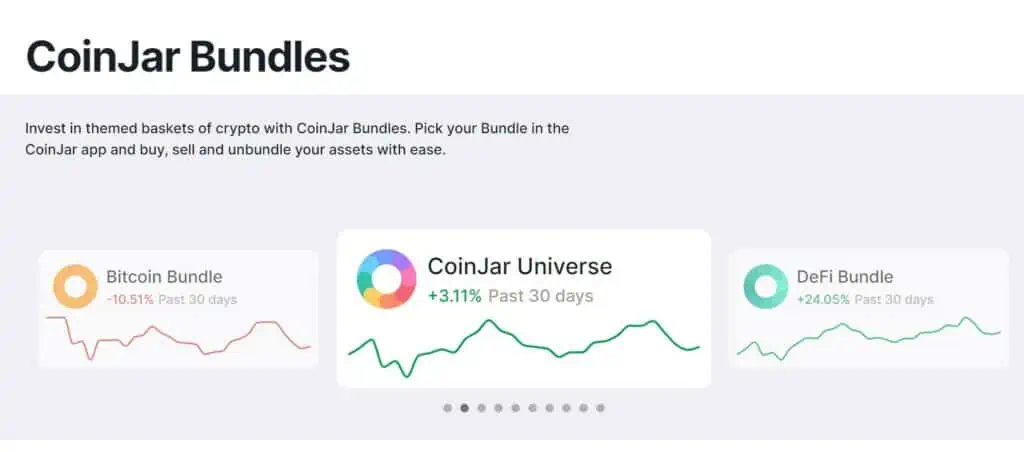 Available crypto bundles include the BTC bundle, ETH bundle, Popular duo bundle (ETH and BTC), CoinJar Universe (25 of the most traded cryptos on CoinJar), Stable bundle ( 4 different stablecoins), DeFi bundle (a selection of popular DeFi cryptos), and a few additional bundles of coins and tokens.
Bundles are mainly useful for crypto beginners who don't know much about specific cryptos but want to secure and hold crypto as a store of value that might increase in price over time.
CoinJar App
Just like all reputable crypto exchange platforms, CoinJar also has a trustworthy mobile app for iOS and Android phones. The app contains all of the features of the browser version of the platform and provides a similarly smooth user experience. The design is very straightforward and intuitive, enabling users to quickly learn where all the app features are located.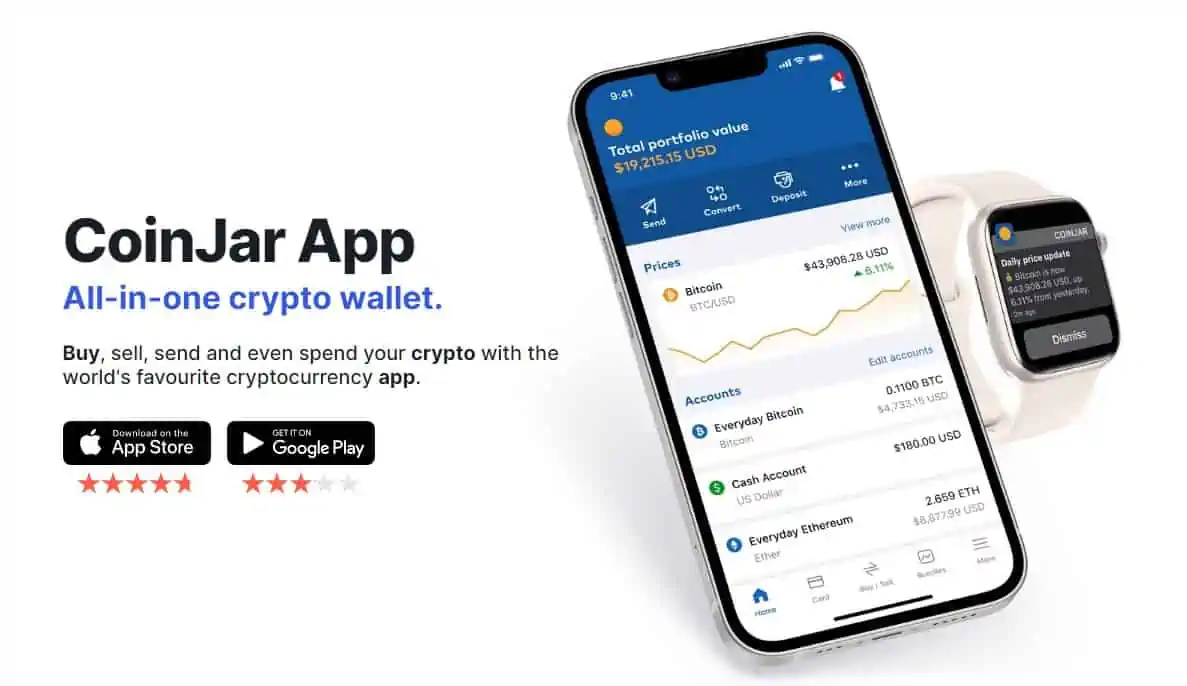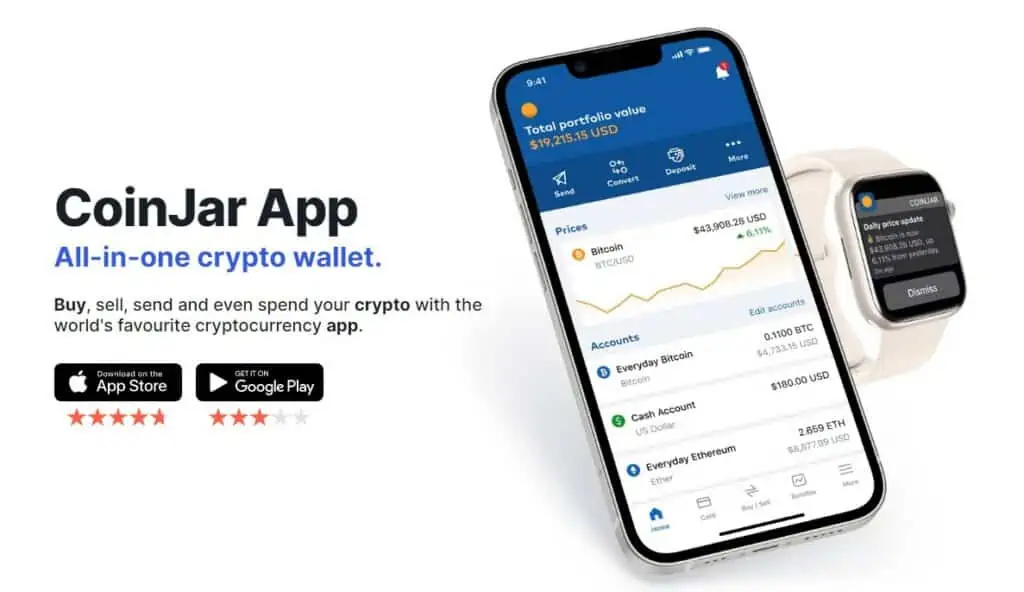 If you're like me and prefer to have quick access to your crypto trading platform while on the move, then the CoinJar mobile app is the platform version you'll be using the most.
Fees
Let's take a look at the various fees on CoinJar.
Trading Fees
The instant trading feature is really fast and reliable, but it comes at a somewhat higher price compared to various competitors. Every instant buy or sell deal incurs a 1% trading fee.


On the other hand, the market trading fees are much lower. In fact, the CoinJar market fees are so low that they compete with some of the best international platforms such as Binance. The fees start at 0.1% for traders with a monthly trading volume under 10,000 USD and gradually decrease down to the lowest 0.04% fee for large-scale traders with a monthly trading volume of over 10 million USD.
Deposit and Withdrawal Fees
CoinJar doesn't charge any withdrawal fees for transferring fiat currency to your bank account. Crypto withdrawals are also free of charge except for the blockchain transaction fees that depend on the blockchain networks you're using and aren't imposed by CoinJar.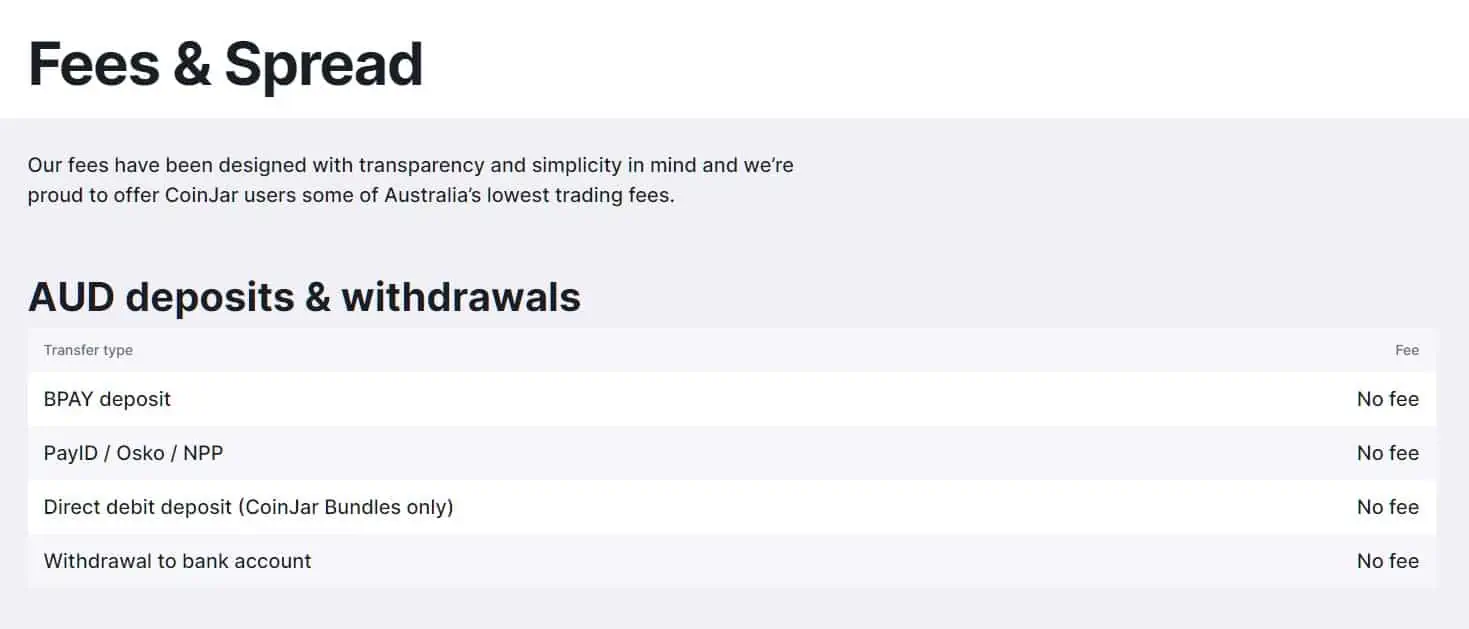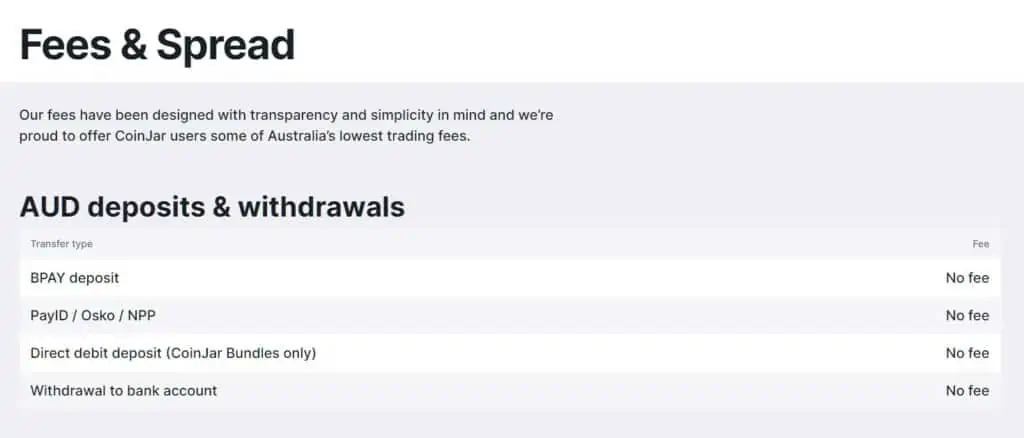 As far as deposits, bank card payments incur a 2% fee, which isn't low, but it also isn't that high when compared with competitors who charge over 3% fees for bank card payments. Blueshyft cash deposits incur a 1.5% fee, while other deposit methods such as bank transfers, BPAY, and PayID don't incur any fees.
Payment Methods
CoinJar has a great selection of supported payment methods, which is very refreshing when compared to exchanges that only support a couple of deposit methods. The platform is one of the rare Australian crypto exchanges that accept credit cards and payment cards as a viable payment method. Users can also deposit money with their Apple Pay and Google Pay accounts for nearly instant fiat transactions.
Classic bank account deposits are also available to CoinJar users, along with BPAY, OSKO, and PayID transfers.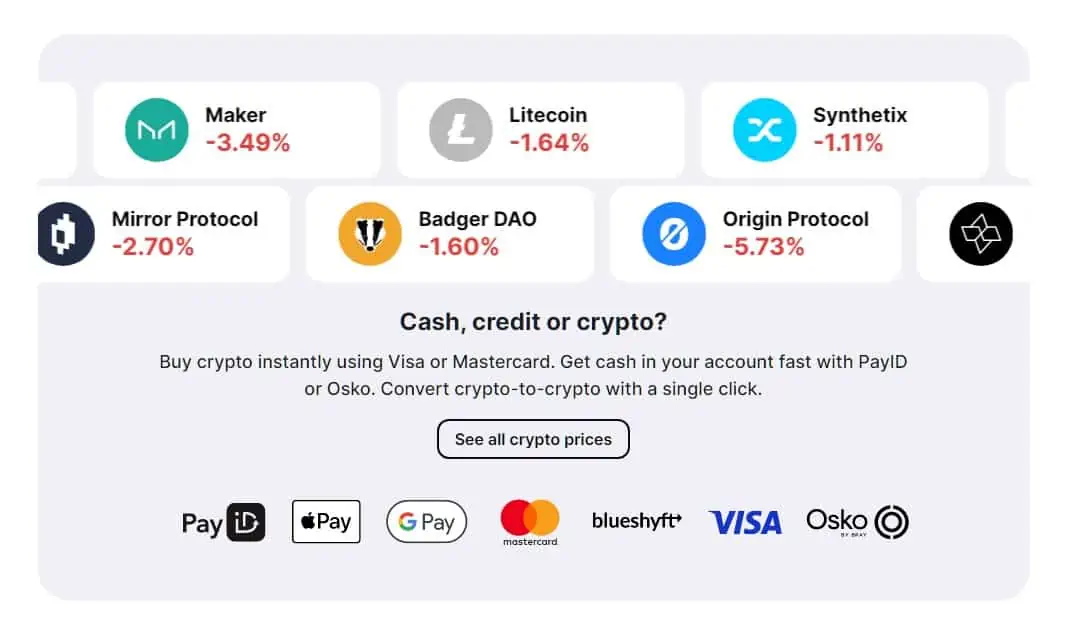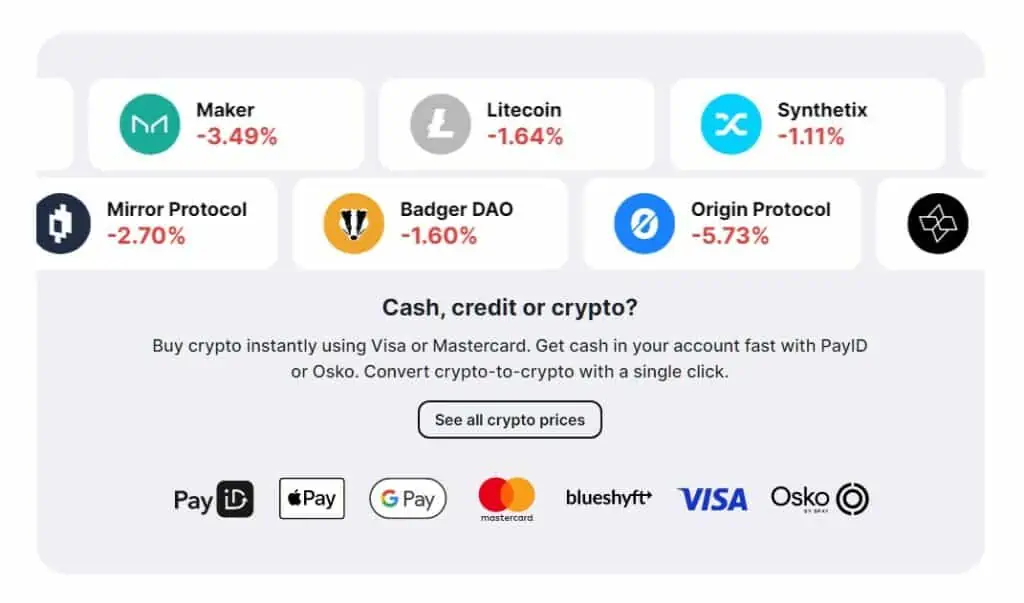 For users who wish to directly deposit cash to their CoinJar accounts, the Blueshyft cash deposit method is available at more than 1,200 retail payment spots across Australia.
The broad selection of supported payment methods really makes CoinJar a low entry barrier exchange platform because users can literally choose whether they want to pay by card, cash, or through their bank account.
Personally, I think the PayID, OSKO, and BPAY payment methods are the best because they don't incur any deposit fees, and the cash is processed in just a few minutes to your CoinJar account.
CoinJar Security
CoinJar is a high-security trading platform that uses various safety measures to ensure all funds on the platform are safe from hackers. Most of the crypto assets on CoinJar are kept offline in cold wallets that belong to the company. A tiny part of the digital assets is stored online to provide sufficient liquidity for the platform.


The platform itself goes through regular third-party security audits and uses transport layer security and on-site data encryption to keep user accounts and personal details safe from unauthorised access. Finally, every account is protected by a user-made password and two-factor authentication (2FA), which uses either a text message verification code or an authentication app such as Google Authenticator to approve every transaction.
Customer Support
Customer support works pretty well on CoinJar, but don't expect anything spectacular. You can contact the support team either through a support ticket or make an email enquiry, and you should get an answer within a day. A day may not seem like much, but compared to competitors with live chat support options, CoinJar's ticket system is a bit outdated.
CoinJar Sign Up Process
The CoinJar sign-up process is very simple and straightforward. I managed to finish the whole account creation procedure, including the ID verification process, in less than 10 minutes:
Go to the CoinJar website and navigate to the Join CoinJar section.
Fill in the details, provide your full name and email address, select your country of residence, create a long and complex password, and agree to the terms of service, privacy policy, and data collection statement.
Once you're finished, click the Sign Up button, and your account will be created.
Now, you just need to verify your identity by providing the necessary personal details, along with photos of your passport, driver's licence, or government-issued ID card.
When you've provided the necessary information and photos, you can expect an email confirmation of your ID verification within a few minutes.
Alternatives to CoinJar
Let's have a look at some of the CoinJar alternatives.
CoinJar vs Binance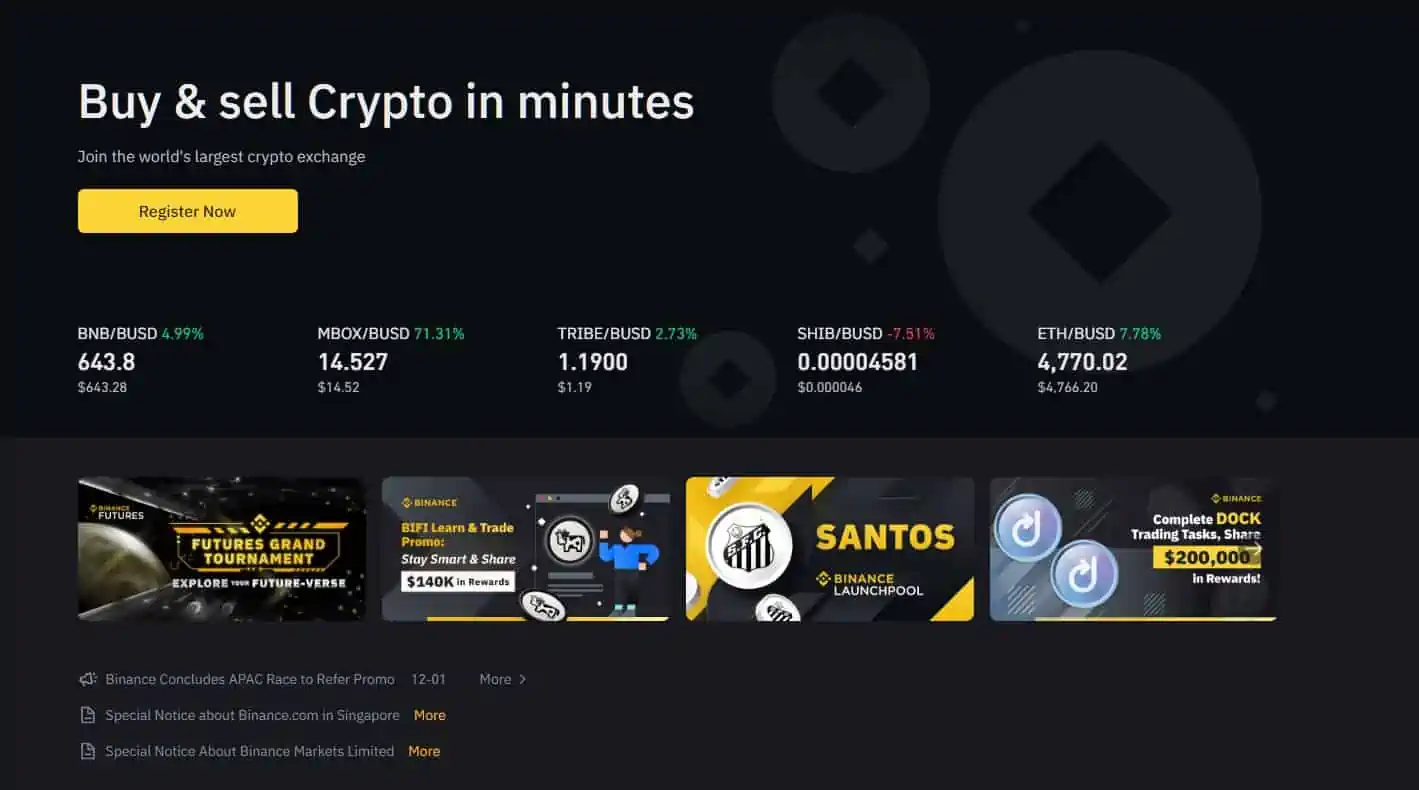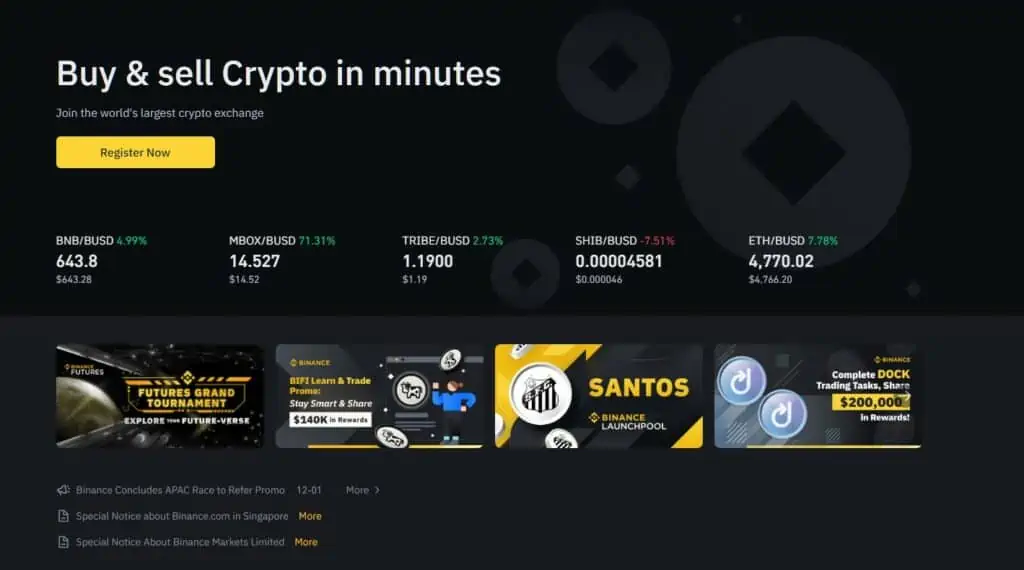 Binance has a way larger selection of supported cryptos, with more than 300 coins and tokens available for trading, but unlike CoinJar, it isn't regulated by AUSTRAC and users don't get the legal protection they require.
CoinJar vs CoinSpot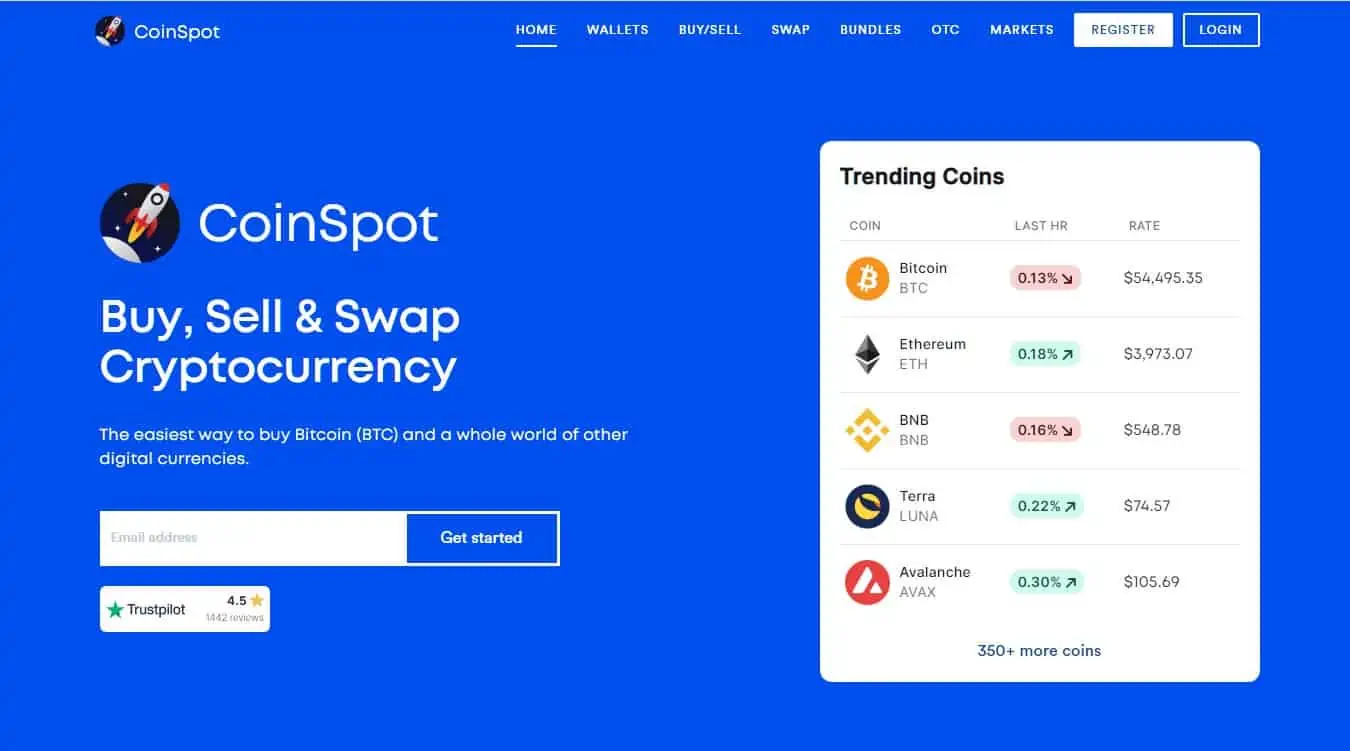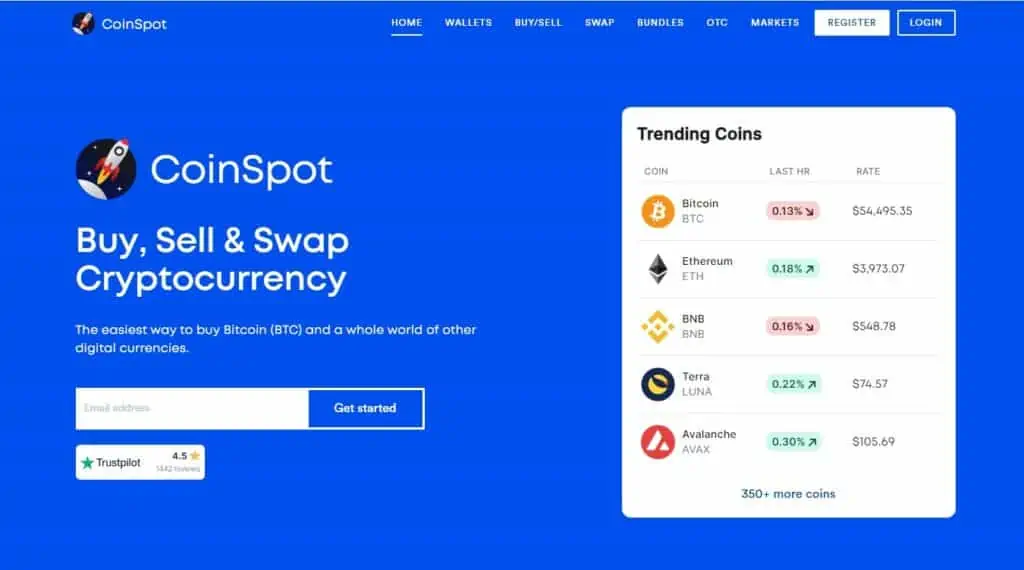 CoinSpot has a much larger selection of cryptocurrencies for instant trading, but when it comes to market orders, CoinJar supports much more cryptos. If your focus is on instant trading, then CoinSpot might be a better choice, but if market orders are your main trading tool, CoinJar offers far more options.
CoinJar vs Swyftx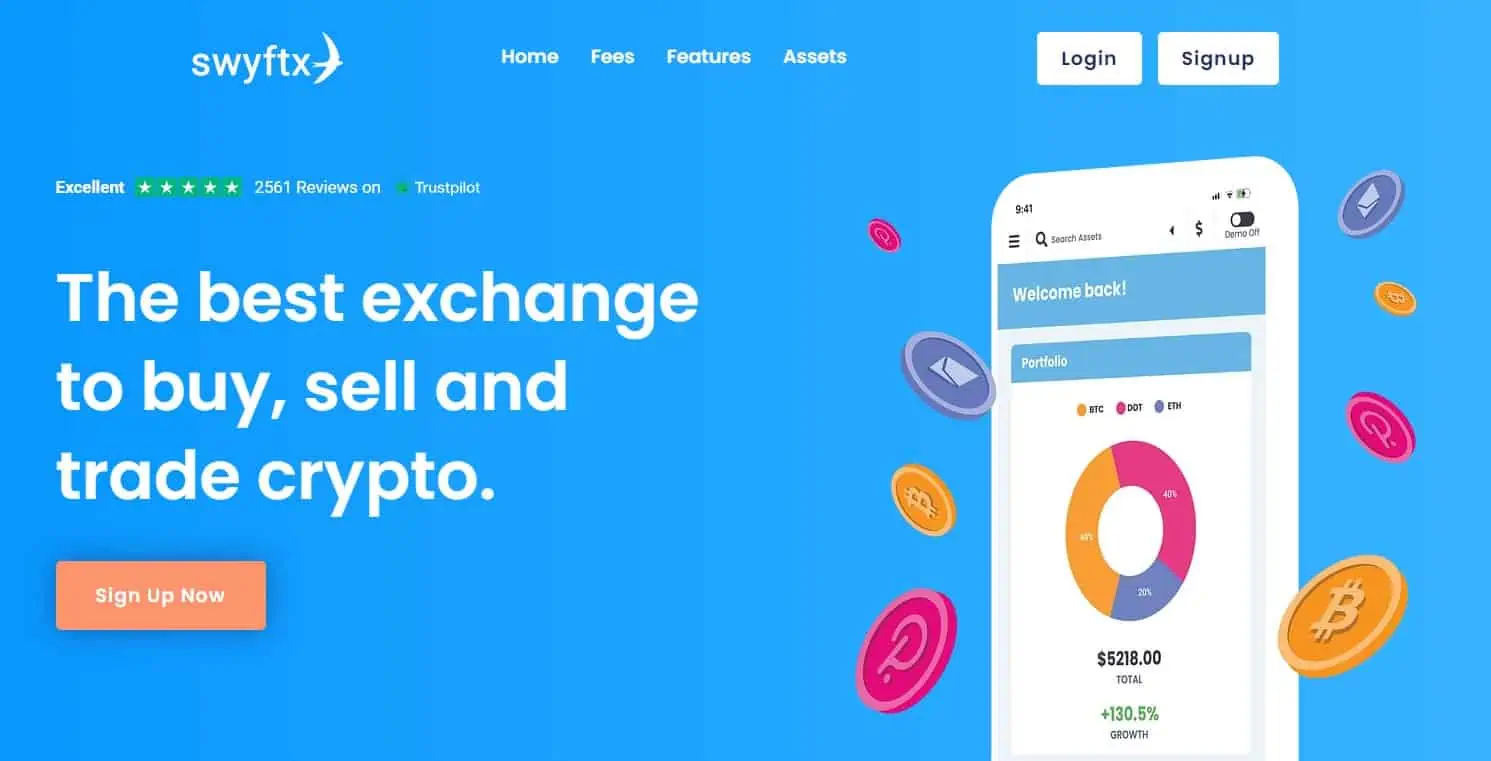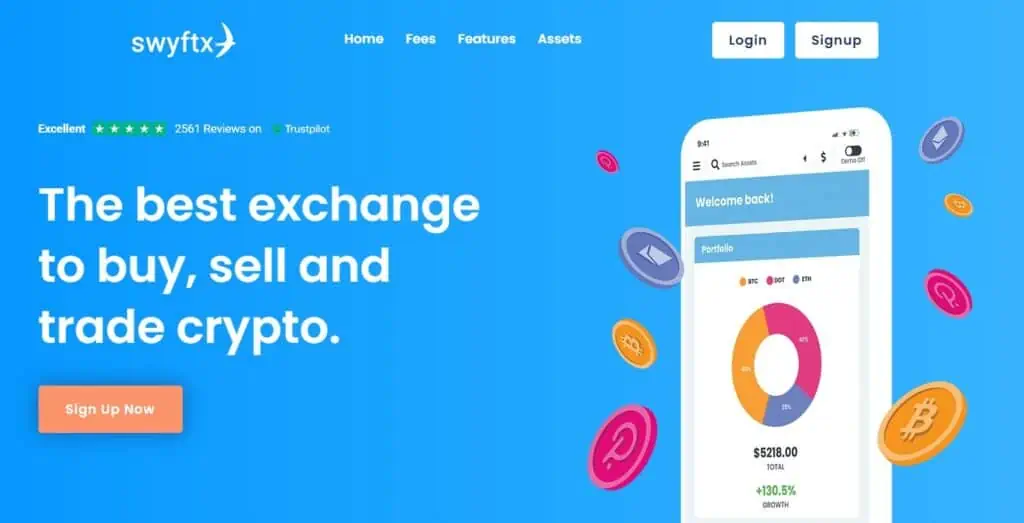 Swyftx might be a better choice for crypto beginners because the platform is totally focused on instant trading, while CoinJar is also geared towards more experienced users who wish to have access to market orders. However, Swyftx is a better fit for crypto beginners since the trading fees are as low as 0.6%, compared to the CoinJar instant trading fees of 1%.
Frequently Asked Questions
Is CoinJar FCA regulated?
Yes, CoinJar is registered with the Financial Conduct Authority (FCA) in the UK, which makes it a regulated exchange for British customers.
Can you make money on CoinJar?
It's possible to earn considerable profits by utilising market orders on the traditional trading interface on CoinJar. However, cryptocurrencies are extremely volatile assets, so you should always be prepared for sudden losses.
Is it easy to withdraw from CoinJar?
The fiat currency withdrawal process is very fast and easy, as described in this guide. You just need to add and verify a withdrawal Australian bank account in order to quickly send your fiat money to your bank account.
Is CoinJar a wallet?
No, CoinJar is a crypto exchange platform, but it also provides users with on-platform crypto wallets for all the assets they are storing in their accounts.
Which countries does Coinjar support?
CoinJar is mainly geared towards Australian and UK customers since these are the countries where the exchange is registered and regulated. However, you can access the platform from all around the world.
Conclusion
CoinJar is a splendid crypto exchange for Aussie and UK crypto enthusiasts no matter whether they are total beginners or more experienced traders.
The platform offers quick and easy trading tools for both categories of users. My user experience with CoinJar was very satisfying, except that the platform simply lacks a lot of leading crypto coins and tokens. Besides that, CoinJar works flawlessly, and the market trading fees are quite low. Possibly the best CoinJar features are the prepaid crypto debit card, along with the wide selection of payment methods, including bank cards, which make the platform easily accessible for all users.
Related:
Coinjar Compared
| Exchange | Cryptocurrencies | Fiat Currencies | Trading Fees | Deposit Methods | Sign Up |
| --- | --- | --- | --- | --- | --- |
| Swyftx | More than 320 | Australian Dollars, New Zealand Dollars | 0.6% | Osko, PayID, Credit Card, Debit Card, Bank Transfer, Cryptocurrency | Visit Swyftx |
| CoinSpot | More than 370 | Australian Dollars | OTC: 0.1% Market Order: 0.1%* (applies to LTC, BTC, ETH, XRP, POWR, DOGE, TRX, NEO, XLM, GAS, RChain, RFOX, EOS) Instant Buy/Sell: 1% | POLi, PayID, Cash, Cryptocurrency, Bank Transfer, BPAY | Visit CoinSpot |
| Binance | More than 600 | US Dollars, Australian Dollars, and 8 more | 0% to 0.1% | Osko, PayID, Credit Card, Debit Card, Crypto | Visit Binance |
| Bybit | More than 160 | 50+ | 0.1% to 0.6% | Crypto, EFT, wire transfer, bank transfer, debit card or credit card | Visit Bybit |
| Independent Reserve | 27 | Australian Dollars, US Dollars, New Zealand Dollars | 0.05% to 0.5% | EFT, SWIFT, Osko, PayID, Crypto | Visit Independent Reserve |
| Coinbase | More than 210 | Australian Dollars, US Dollars, New Zealand Dollars | Fees Vary | EFT, SWIFT, Osko, PayID, Crypto | Visit Coinbase |
| CoinJar | More than 50+ | Australian Dollars, Pound Sterling | Taker: 0.04 to 0.1% Maker: 0.04 to 0.1% | Apple Pay, Google Pay, Credit Card, Debit Card, Bank Transfer, Fiat, Crypto | Visit CoinJar |
| Kraken | More than 140 | Australian Dollars, US Dollars, and 5 more | Taker: 0.10% to 0.26% Maker: 0.00% to 0.16% | Apple Pay, Google Pay, SWIFT, Osko, SEPA, Crypto, Wire Transfer, Bank Transfer | Visit Kraken |
| BTC Markets | More than 15 | Australian Dollars | Taker Fee (for Bitcoin pairs): 0.20% Maker Fee (for Bitcoin pairs): -0.05% Australian Dollars Market Pairs: 0.10% to 0.85% | Crypto, BPAY, EFT, PayID, Osko | Visit BTC Markets |
| Easy Crypto | More than 40 | Australian Dollars, New Zealand Dollars, South African Rand | 1% | P2P, POLi, and Bank Transfers | Visit Easy Crypto |
| Coinstash | More than 140 | AUD | Taker fees: 0.85% Maker fees: 0.85% | Cryptocurrency, Bank Transfer, PayID | Visit Coinstash |
| eToro | More than 70 | Australian Dollars, US Dollars, Euro, and 12 more | Vary | Online Banking, Skrill, Neteller, PayPal, Bank Transfer, Debit Card | Visit eToro |
| KuCoin | More than 645 | US Dollars, Euro, Australian Dollars, and 6 more | 0.1% | Credit Card, Debit Card, SEPA, PayPal, Wire Transfer, Crypto | Visit KuCoin |