CoinJar Review for 2022 – Cryptocurrency Exchange in Australia
Founded in 2013 and led by Asher Tan (CEO) and Ryan Zhou (COO), the CoinJar platform is one of the most popular and prominent Australian crypto exchange services when it comes to buying and selling a wide array of cryptocurrencies.
The CoinJar team prides itself on pushing the digital currency industry forward by providing simple solutions and innovations utilizing their native CoinJar credit Card, digital currency debit cards, and mobile CoinJar apps for both iOS or Android. With over $1 billion in trades, $75 million in assets under custody, and over 400 thousand CoinJar users, the platform has grown into a force to be reckoned with.
You can choose to conduct your business by making fiat currency deposits and withdrawals alike, but keep in mind that these features can only be accessed by Australian residents, as the rest will have to settle for cryptocurrency deposits.
Supported Cryptocurrencies and Payment Methods
Dealing only in Bitcoin (BTC), Ethereum (ETH), Litecoin (LTC), and Ripple (XRP) for the time being, CoinJar supports deposits to and from your bank account. Limited as the altcoin offering might seem, they make up for it with their extensive crypto-to-crypto trading features and support for ERC-20 tokens such as 0x Token (ZRX), Basic Attention Token (BAT), yearn. finance governance token (YFI), Uniswap protocol token (UNI), Chainlink (LINK), Maker (MKR), OMG Network (OMG), Compound (COMP), USD Coin (USDC), and Dai (DAI).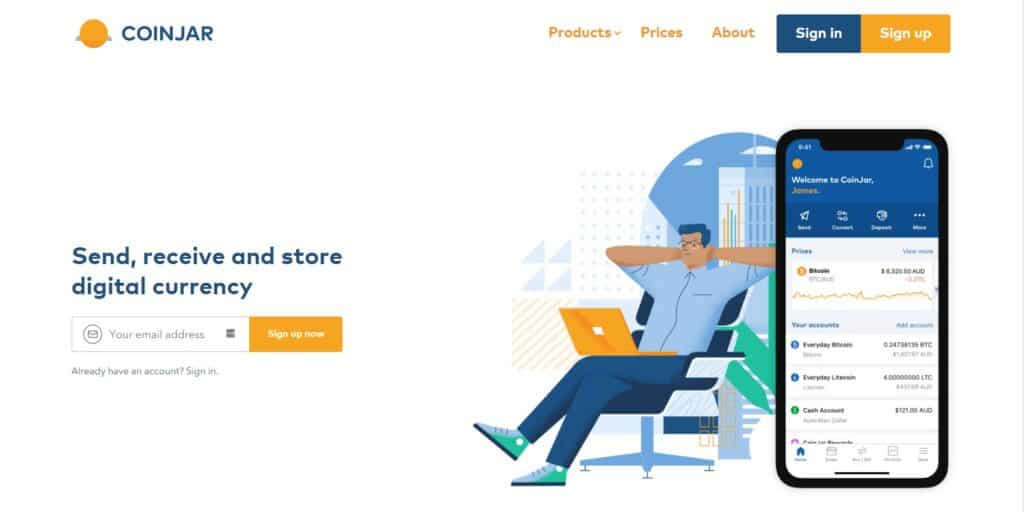 CoinJar is limited to Australian bank transfers, however, it does support fast payments via PayID, BPAY, and Blueshyft. Transfers via PayID and BPAY are made digitally from a bank account or on the CoinJar platform itself.
Built on the New Payments Platform (NPP) and powered by Osko, CoinJar's PayID's faster payments process transactions in a flash as users are able to buy Bitcoin in under five minutes both within and outside of business hours. PayID deposits are made only by using bank accounts in your name, featuring a unique reference number in the description. Therefore, the first PayID deposit funds may be delayed for up to 24 hours in order for the bank to perform the necessary security checks.

Much like bank transfers, BPAY sends funds to your CoinJar account through online banking. All verified CoinJar accounts are assigned a one-of-a-kind BPAY reference number which remains the same so that users can easily schedule future recurring transfers.
Blueshyft provides users with the option to deposit cash from physical locations across Australia. It employs a 1.5% payment processing fee and transfers must be between $50 and $5,000 in a span of 24 hours. Once you get a unique QR code via email address, you can proceed with your cash depositing that will be directly added to your CoinJar Cash Account.
Trading Fees
When it comes to buying and selling crypto instantly, CoinJar's 1% flat fee applies to all trading assets and payment methods, be it in another cryptocurrency or in cash. Deposit fees vary and are primarily based on the deposit method.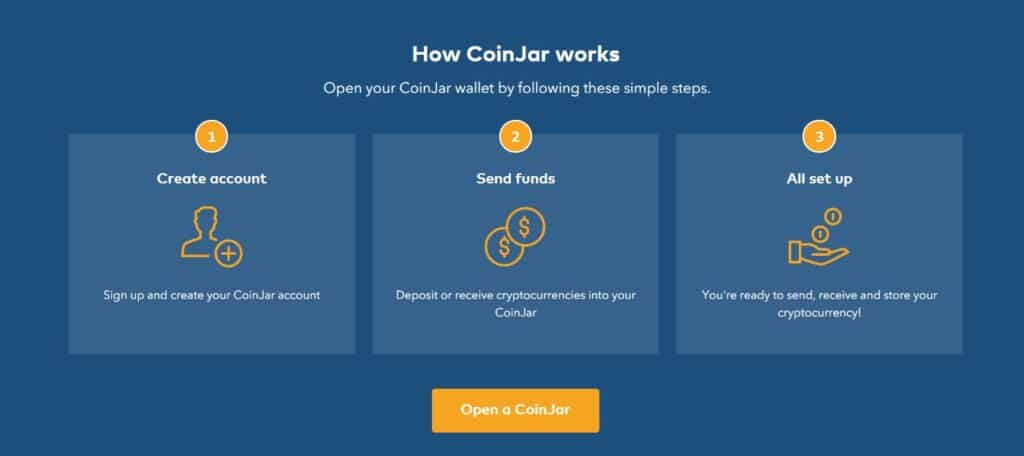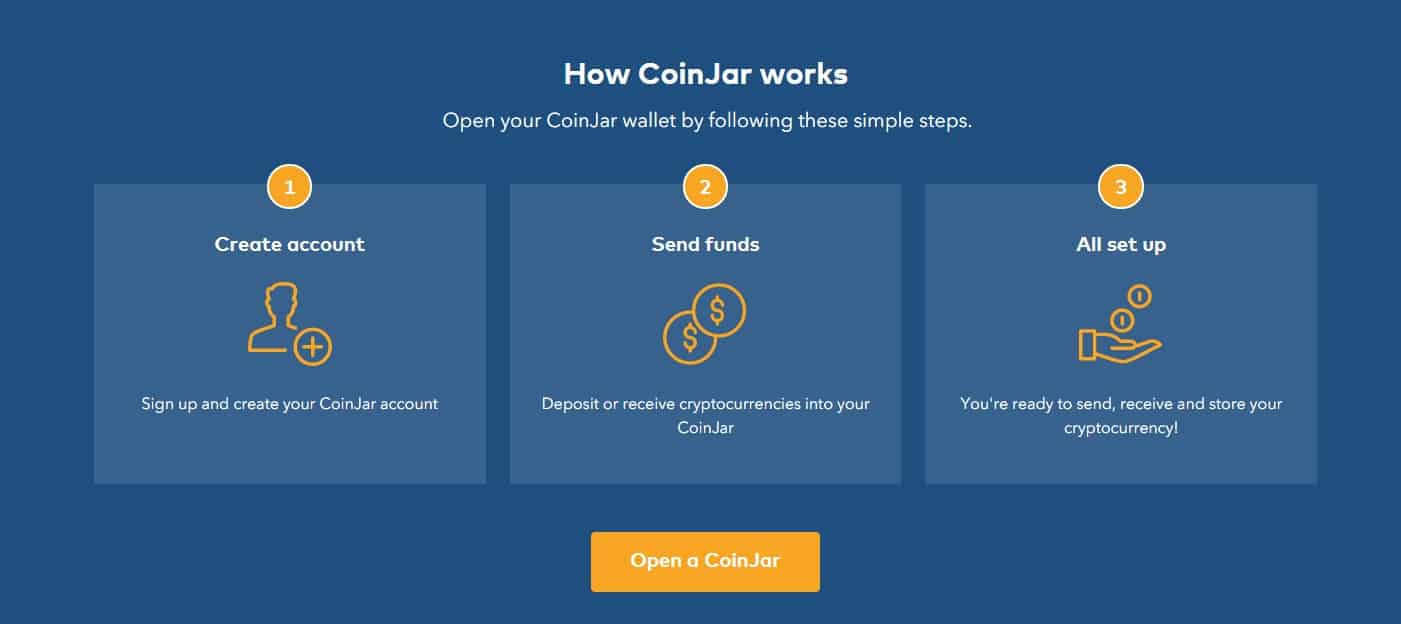 Most of the methods, such as BPAY, PayID, and NPP aren't subject to any additional exchange fees with the exception of cash deposits where a 1.5% fee is administered. Australian dollar withdrawal fees do not have a processing fee, as opposed to international and non-AUD ones which employ a fixed fee of $20.
CoinJar Exchange however is a completely different story as it employs different exchange fees for takers, makers, and AUD pairs, calculated on a per month basis. Fees start at 0.2% or 0.15% per trade respectively. Should you surpass the threshold of $10 million, the fees can drop as low as 0.1%.
CoinJar Exchange Features
Similar to Coinbase's cryptocurrency exchange Coinbase Pro, the CoinJar Exchange extension provides a lot more control, customization options, advanced features, insights on the liquidity of assets, as well as a general and detailed market overview. As such, it is more suited for high volume and veteran traders. There is no need for a separate account or registration as the same credentials apply.
When trading crypto to crypto, there is no fee for takers and a 0.5% maker fee. When it comes to fiat currency exchanges fees are separated into five different tiers;
The first one ranges from $0 to $10,000 and employs a 0.20% fee for takers and a 0.15% for makers;
Moving up in the $10,000 to $100,000 realm, the fees drop to 0.15% for takers and 0.12% for makers;
The third tier between $100,000 to $1 million is an even better offer at 0.12% and 0.10% for takers and makers, retrospectively;
The fourth encompasses the $1 million to $10 million category and charges takers 0.10% and makers 0.08% per transaction;

Finally, the last and most lucrative tier, for deals upward of $10 million, is subject to fees of 0.08% for takers and 0.05% for makers.
CoinJar Bundles and CoinJar Swipe Features
CoinJar has its own CoinJar Swipe crypto debit card and native EFTPOS currency, which allows users to make use of EFTPOS terminals or access their account at regular ATMs without being subjected to transaction or monthly fees.

The platform also offers bundle purchases such as the Popular Duo; a split of 50% BTC and 50% ETH, the Popular Trio (4 BTC/72 ETH/ 44622 XRP), 1 XRP and 1 XLM, and so on.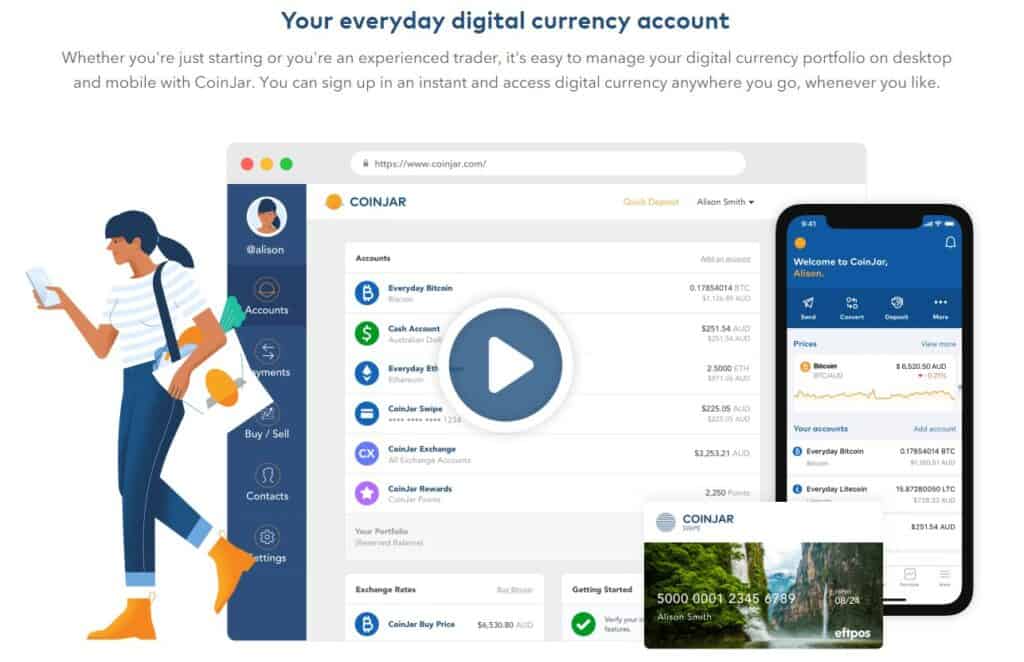 Their collection of bundles feature some of the most prominent stablecoins, ERC-20 tokens, and cryptocurrencies on the market. The 'Popular Trio Bundle' deals in BTC, ETH, and XRP, while the 'Universe Bundle' features the full scope of the platform's digital currency inventory.
CoinJar Bundles are available exclusively on the platform's mobile app, available for both iOS and Android.
Customer Support
When it comes to customer support, you'll either need to browse the platform's extensive knowledge base, where you will find answers to frequently asked questions and guides for topics including identity verification, digital currency payments, deposits, bank transfers, and more, or fill out a support ticket and send it to their listed email address. Provided there are no difficulties or increased traffic, you should be getting a reply within a 24-hour span. On top of all that, premium users have access to a support team via telephone during standard work hours.
Security Features
CoinJar provides and employs a stable and robust security system featuring data encryption, security audits, Transport Layer Security and practice organization security. Their platform has an advanced artificial intelligence learning algorithm designed to recognize suspicious logins, attempted frauds, and account hacks. Upon activation, their two-factor authentication will further secure your account.


They provide cold storage for at least 90% of all digital assets and the hardware wallets are being stored offline in secure locations. The multi-signature withdrawal employs multiple layers of staff processing before withdrawals can be made.
Another interesting feature is the Authentication mobile app. Authenticator apps work by generating new authentication codes twice per minute. When you link the app to a CoinJar account, you are able to use the provided code to log in to your account. The data remains fully encrypted, and invisible to third parties at all times.
Access by SMS authentication is also available. SMS messages are not encrypted and can be intercepted through port forwarding. Nevertheless, in certain situations, it might be a more convenient choice and it never hurts to have one more option on the menu.
Frequently Asked Questions
Is KYC required in order to start trading?
In short, yes, CoinJar will ask you to verify your identity in order to provide you and their crypto exchange platform with the security that they require. Users are required to provide personal identification documentation as proof against money laundering and terrorism financing.
Is SMSF investing allowed on CoinJar?
As of this moment, CoinJar has not listed the Self Managed Super Fund (SMSF) as an option on their website. However, this doesn't necessarily mean that it isn't allowed. The best course of action would be to contact the customer support team and fill them in on your exact circumstances.
Does CoinJar have a referral program?
CoinJar does have a referral program. Users are provided with a referral code with which they can promote the crypto exchange or invite new potential customers. New enlistees who sign up on CoinJar using a referral link are rewarded 500 CoinJar Rewards points, which can be exchanged at the CoinJar Rewards Store.
What countries does CoinJar support?
The platform is limited to Australia and the United Kingdom for purchases. CoinJar does feature a globally accessible digital currency CoinJar wallet but due to regulations, international customers are only able to receive and store crypto assets on their CoinJar accounts.
A Few Words Before You Go…
Even though CoinJar supports only five major cryptocurrencies (apart from the ERC-20 tokens) and is only available across Australia and the United Kingdom, unless you want to use it strictly for cryptocurrency deposits and withdrawals, it's not a platform that you should disregard off the bat because it does provide some interesting and innovative solutions. This applies to the CoinJar Exchange, but also to the bundle offerings, EFTPOS CoinJar Swipe crypto debit card, and the ability to make recurring payments.
Related: