Coinjar vs Swyftx 2023
Any Aussie who has made some research about crypto exchanges has surely come across Swyftx, which is one of the top Australian crypto exchanges. However, few people have heard of CoinJar the Australian exchange which has been in operation since 2013.
Swyftx is an outstanding platform that has more than 320+ cryptocurrency including a demo mode and live chat support and options for earning crypto interest with 20 coins. While Swyftx is our preferred cryptocurrency exchange, have a look through this article to compare the pros and cons to help you decide on your own.
Comparison Table
| | | |
| --- | --- | --- |
| Features | Swyftx | Coinjar |
| Amount of Cryptocurrencies | 350+ | 50+ |
| Trading Fees | 0.6% | 1% |
| Deposit Fees | free | Visa/Mastercard: 2%, NPP: Free, Blueshyft: 1.5% |
| Withdrawal Fees | free | Free |
| Payment Methods | PayID / Osko / POLi/ wire transfers | NPP, Visa/Mastercard, Blueshyft |
Swyftx Pros and Cons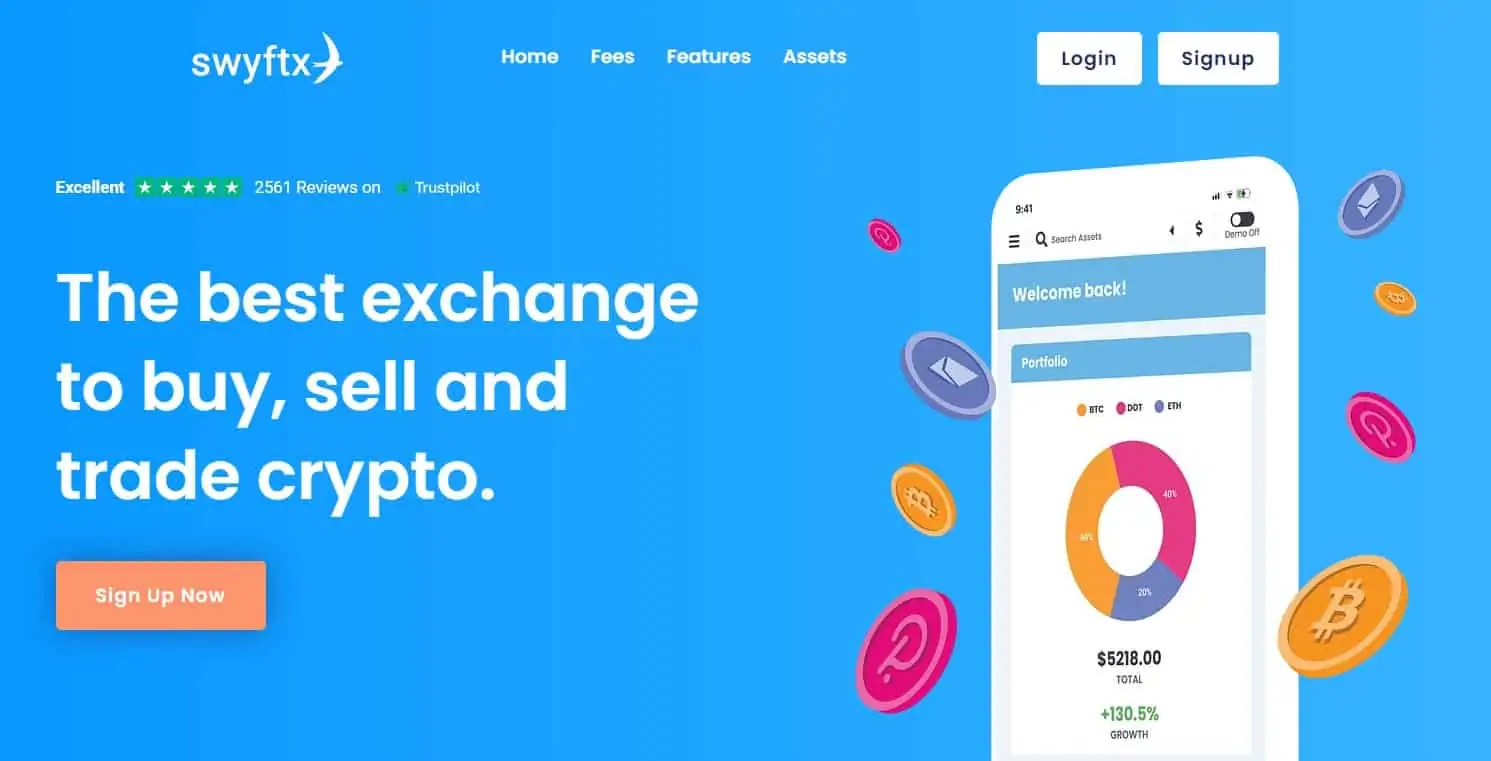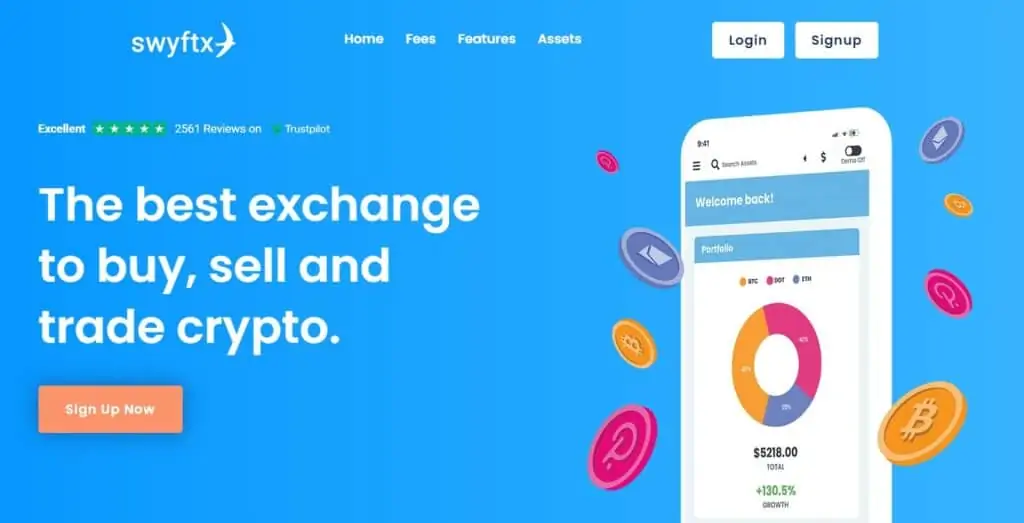 Pros
320+ available cryptocurrencies.
Support for all the popular deposit methods in Australia, including POLi, OSKO, and PayID.
A flat fee policy of 0.6%.
A regulated exchange, registered with AUSTRAC, which complies with anti-money laundering measures.
The option to earn interest on 20 leading coins and tokens through the Swyftx Earn feature.
Cons
The platform lacks a classic trading interface for advanced traders.
User funds aren't insured.
Swyftx only operates locally in Australia and New Zealand.
Coinjar Pros and Cons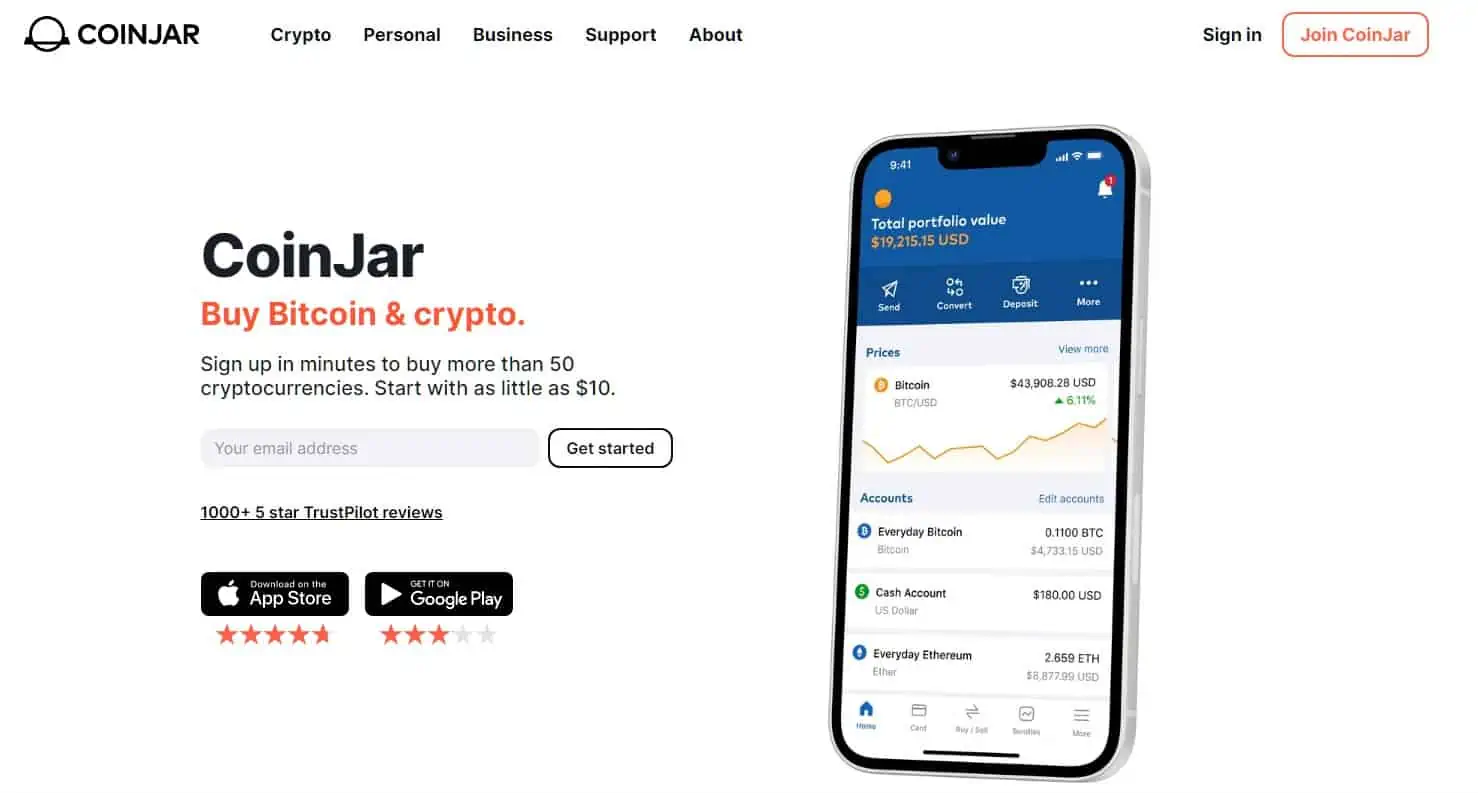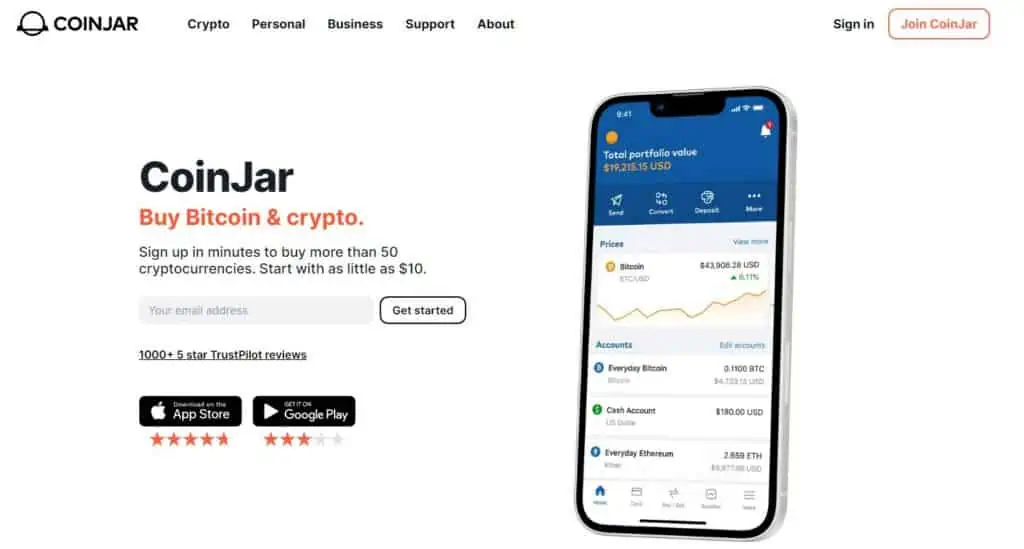 Pros
A wide range of popular payment methods.
Low fees for market orders.
Regulated crypto exchange by AUSTRAC.
CoinJar crypto debit card for spending at retail spots and ATMs.
Very user-friendly.
Cons
Limited selection of digital currencies compared to various competitor platforms.
Lack of advanced order types.
No staking options.
Features
Swyftx is a great choice for newbies because of its simplicity and easy access to purchase and sell crypto, mobile and desktop access and live Chat customer support, as well as an option to demo. Demo mode is an excellent feature for beginners as it allows them to trade with virtual money and experience how it does what before they get into the real deal.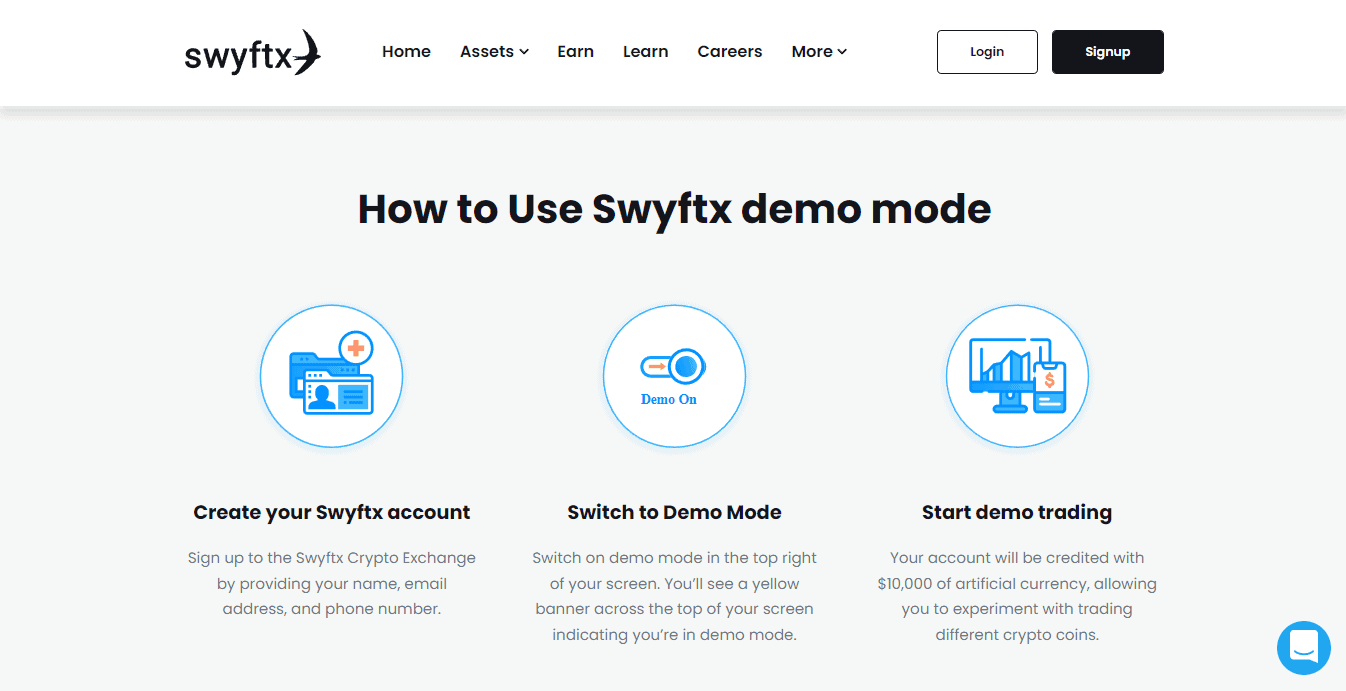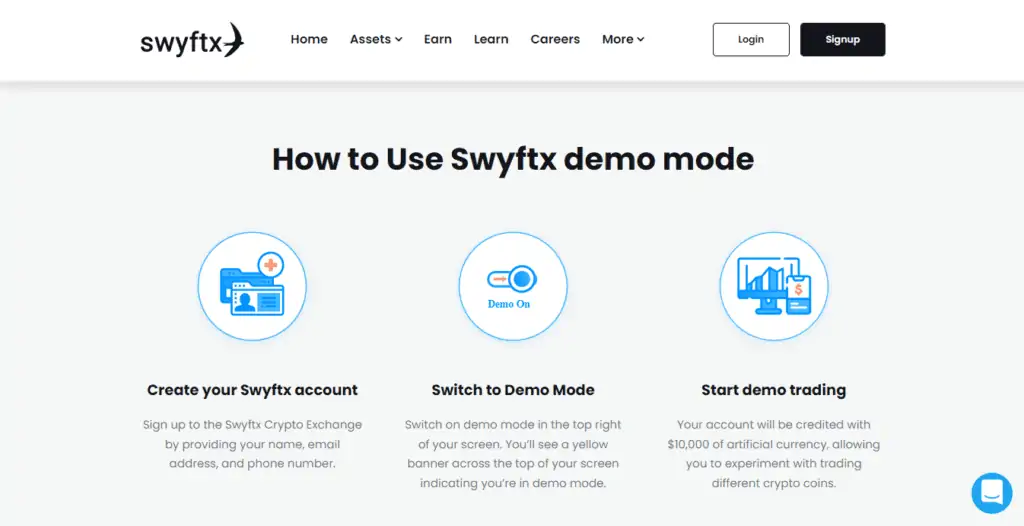 Swyftx allows users to earn passive income by making interest by putting bets on 20 coins. This is ideal for those planning to invest for the long-term.
The most notable feature of CoinJar is their CoinJar Mastercard. It's completely free, with no fee for setting up or monthly charges. All you have to do is fill up your account with the cryptocurrency that you would like to use with your CoinJar credit card and then use it as you would with a normal debit card. Earn cashback by using your crypto using the card. If you don't keep your wallet You could set it up using Apple Pay or Google Pay to allow you to spend your crypto on your smartphone or smartwatch, instead of the physical Mastercard.
While CoinJar offers their Mastercard that allows you to use your cryptocurrency, they provide very limited capabilities besides the fact that they don't have a demo mode. However, Swyftx has their useful demo mode, staking as well as live chat support for customers.
Winner: Swyftx
Supported Cryptocurrencies
Swyftx offers a wide selection of more than 320+ currencies.
CoinJar only provides more than 50+ different crypto currencies.
Swyftx is one of the largest libraries of cryptocurrency with more than 3000+, while CoinJar is rather restricted, with only more than 50 different coins.
Winner: Swyftx
Fees
Swyftx doesn't charge any fees for deposits or withdrawals. Their trading charges are 0.6 percent.
CoinJar offers one deposit that is fee-free method: NPP. When you deposit with Blueshyft is subject to the cost of 1.5 percent fee, and Visa or Mastercard costs 2percent. The withdrawal process out of the account is free. The fees for trading on CoinJar are one percent.
Swyftx gives free withdrawals and deposits, regardless of the payment method and also has low trading fees of 0.6 percent..
Winner: Swyftx
Customer Support
The two exchanges Coinjar along with Swyftx have highly skilled team of customer service. Let's examine the support services offered by both exchanges.
Coinjar offers support in the form of email. It is possible to raise an issue on the website or contact the customer support team. Coinjar also offers a complete knowledge base, including FAQs and how-to guides that will facilitate your trading experience.
When we wrote the Swyftx review, we discovered that Swyftx has an 11-member dedicated customer support team , which includes the telephone, email live chat, Telegram. The reviews that have been positive for the exchange is proof of the effectiveness of its customer service team.
Winner: Swyftx
Deposit Methods
Because they both Coinjar as well as Swyftx have spot exchanges they permit the deposit of funds with fiat currencies.
Coinjar offers three deposit options:
PayID/NPP: Instant deposit through the account of an Australian bank account
Credit/Debit
Deposits of cash using Blueshyft
In addition to deposits made with fiat currency, Coinjar allows its users to deposit directly into crypto. You can transfer cryptocurrency assets from any wallet to Coinjar's wallet address.
Swyftx allows users to deposit fiat currencies using four methods:
PayID: Instant deposits
POLi: Deposits could take up to one minute
Bank Transfers: Can take between 2 and 6 hours (or 1 minute with OSKO)
Credit Card up to 30 minutes
Swyftx also accepts crypto deposits and lets you to make deposits of cryptocurrency assets in any bank account into the Swyftx wallet.
Winner: Tie
Security
Swyftx is a reliable authentic and secure Australian cryptocurrency exchange that has several layers of security in order to ensure their customers money and personal data is protected. Biometric authentication is used, as well as 2FA (Two-Factor authentication), KYC verification, consulting with third party security auditors and conducting outside testing of penetration are all employed by Swyftx.
CoinJar utilizes various ways to ensure their trading is safe, including encryption of data, Transport Layer Security, regular security audits, and best practice security for organisations.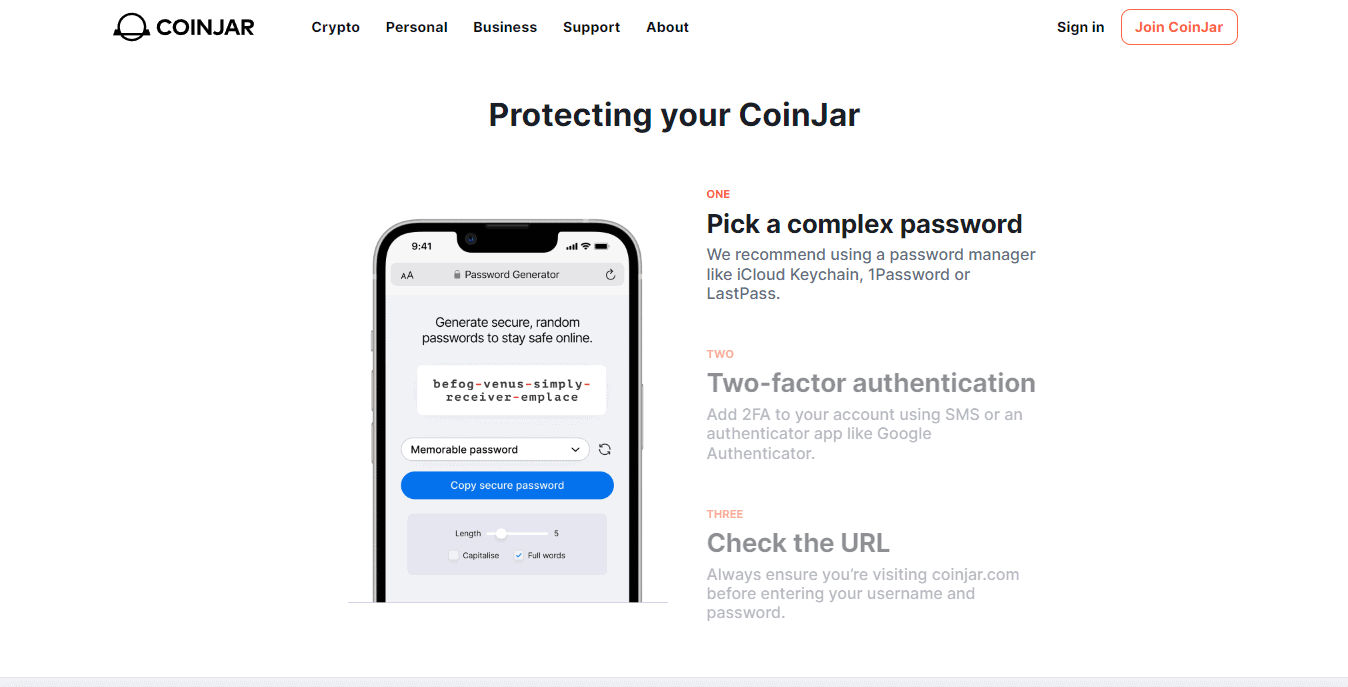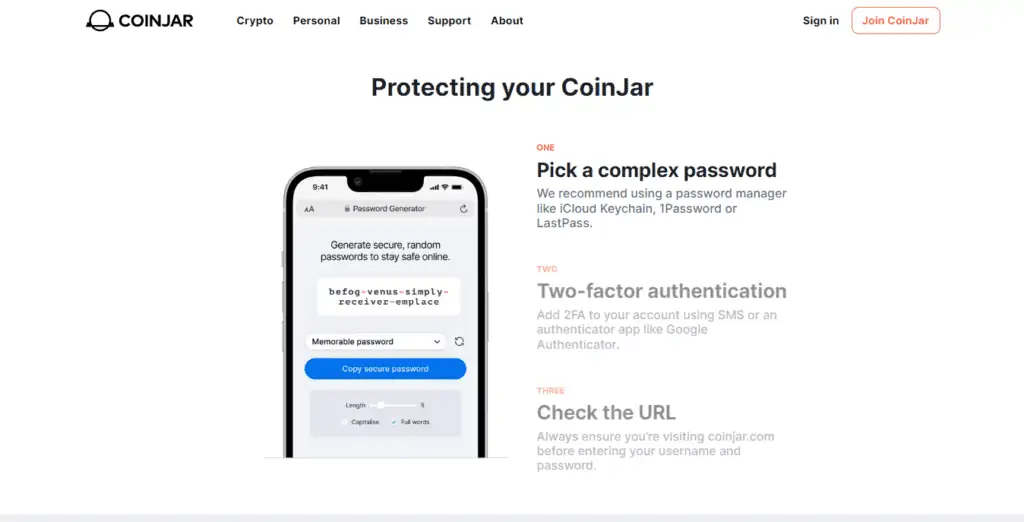 CoinJar also stores more than 90% of their digital assets in cold storage, to ensure the security of their assets.
It's hard to pick the winner among these two exchanges since they both come with multiple layers of security features and are extremely secure exchanges.
Winner: Tie
Conclusion
Although CoinJar has existed for quite a while but it doesn't appear to be growing as fast as Swyftx. While the fees of Swyftx are less than 0.6 percent. They also have an extensive selection of coins, provide the option of staking, live chat and even an account for demo. CoinJar is lagging in a variety of areas, not least their CoinJar Mastercard that allows you to use your crypto wherever you can use a Mastercard.
My top choice of the two exchanges listed is Swyftx, however if you're still searching for alternatives in Australia, you can check out our top list of cryptocurrency exchanges available in Australia. You can also find a quick table below with important information that can help you compare the top exchanges.
Frequently Asked Questions
Is Swyftx a secure exchange?
Yes, Swyftx is a super-secure crypto exchange with a clean track record regarding platform hacks. The platform has never been hacked, it stores the majority of funds in offline hardware wallets, while user accounts are protected by passwords and two-factor authentication (2FA).
Does Swyftx have Australian-based customer support?
Yes, the platform has a native, Australian-based support team and they are highly professional when it comes to answering user inquiries.
Is Swyftx good for beginners?
Swyftx is a great crypto exchange for beginners because it's very easy to use. The mobile app is ever easier to use, and comes with a smooth user-interface. Every feature is just a few clicks away.
Is Swyftx an Australian company?
Yes, Swyftx is an Australian company with headquarters in Brisbane.
Who is Swyftx owned by?
Swyftx is a private company owned by crypto enthusiasts Angus Goldman and Alex Harper, the founders of the platform.
Does Swyftx have a withdrawal limit?
Swyftx has a daily fiat withdrawal limit of 100,000 AUD.
Is CoinJar FCA regulated?
Yes, CoinJar is registered with the Financial Conduct Authority (FCA) in the UK, which makes it a regulated exchange for British customers.
Can you make money on CoinJar?
It's possible to earn considerable profits by utilising market orders on the traditional trading interface on CoinJar. However, cryptocurrencies are extremely volatile assets, so you should always be prepared for sudden losses.
Is it easy to withdraw from CoinJar?
The fiat currency withdrawal process is very fast and easy, as described in this guide. You just need to add and verify a withdrawal Australian bank account in order to quickly send your fiat money to your bank account.
Is CoinJar a wallet?
No, CoinJar is a crypto exchange platform, but it also provides users with on-platform crypto wallets for all the assets they are storing in their accounts.
Which countries does Coinjar support?
CoinJar is mainly geared towards Australian and UK customers since these are the countries where the exchange is registered and regulated. However, you can access the platform from all around the world.
Related:
Best Crypto Exchanges Compared
| Exchange | Deposit Methods | Fiat Currencies | Cryptocurrencies | Trading Fees | Deposit Fees | Withdrawal Fees | Sign Up |
| --- | --- | --- | --- | --- | --- | --- | --- |
| Swyftx | Osko, PayID, Credit Card, Debit Card, Bank Transfer, Cryptocurrency | Australian Dollars, New Zealand Dollars | More than 320 | 0.6% | Fiat Deposits: $0 Crypto: $0 | Fiat Withdrawals: $0 Crypto: $0 | Visit Swyftx |
| CoinSpot | POLi, PayID, Cash, Cryptocurrency, Bank Transfer, BPAY | Australian Dollars | More than 370 | OTC: 0.1% Market Order: 0.1%* (applies to LTC, BTC, ETH, XRP, POWR, DOGE, TRX, NEO, XLM, GAS, RChain, RFOX, EOS) Instant Buy/Sell: 1% | Direct Deposit: $0 Direct Bank Transfer: $0 BPAY: 0.9% Cash: 2.5% PayID, POLi, and direct deposits: $0 | Fiat Withdrawals: $0 | Visit CoinSpot |
| Binance | Osko, PayID, Credit Card, Debit Card, Crypto | US Dollars, Australian Dollars, and 8 more | More than 600 | 0% to 0.1% | $0 | Vary | Visit Binance |
| Bybit | Crypto, EFT, wire transfer, bank transfer, debit card or credit card | 50+ | More than 160 | 0.1% to 0.6% | Bank transfer: $0 | Network fees | Visit Bybit |
| Independent Reserve | EFT, SWIFT, Osko, PayID, Crypto | Australian Dollars, US Dollars, New Zealand Dollars | 27 | 0.05% to 0.5% | For SWIFT Deposits: $15 for deposits under AU$5,000 equivalent $0 for deposits over AU$5,000 equivalent For EFT Deposits: AU$0.99 for deposits under $100 $0 for deposits over AU$100 | Crypto: Vary Bank Transfer: $0 for AUD, $20 for non-AUD | Visit Independent Reserve |
| Crypto.com | SWIFT, Crypto, Fedwire, Wise, PayPal, SEPA, BPAY, Bank Transfer (ACH), Debit Card, Credit Card | USD, AUD, CAD, CHF and 15+ more | 250+ | 0.04% to 0.4% | 0% for cryptocurrency and fiat currencies | FREE via bank transfer. $25 for USDC withdrawal via SWIFT Network | Visit Crypto.com |
| Coinbase | EFT, SWIFT, Osko, PayID, Crypto | Australian Dollars, US Dollars, New Zealand Dollars | More than 210 | Fees Vary | Debit Card and Credit Card: 3.99% | Spending USDC with Coinbase Card: $0 ATM Withdrawals: 2.49% | Visit Coinbase |
| CoinJar | Apple Pay, Google Pay, Credit Card, Debit Card, Bank Transfer, Fiat, Crypto | Australian Dollars, Pound Sterling | More than 50+ | Taker: 0.04 to 0.1% Maker: 0.04 to 0.1% | CoinJar Users: $0 NPP: $0 Cash: 1.5% | $0 | Visit CoinJar |
| Kraken | Apple Pay, Google Pay, SWIFT, Osko, SEPA, Crypto, Wire Transfer, Bank Transfer | Australian Dollars, US Dollars, and 5 more | More than 140 | Taker: 0.10% to 0.26% Maker: 0.00% to 0.16% | Vary | Vary | Visit Kraken |
| BTC Markets | Crypto, BPAY, EFT, PayID, Osko | Australian Dollars | More than 15 | Taker Fee (for Bitcoin pairs): 0.20% Maker Fee (for Bitcoin pairs): -0.05% Australian Dollars Market Pairs: 0.10% to 0.85% | $0 | Australian Bank Accounts: $0 Cryptocurrencies: Vary | Visit BTC Markets |
| Easy Crypto | P2P, POLi, and Bank Transfers | Australian Dollars, New Zealand Dollars, South African Rand | More than 40 | 1% | $0 | $0 | Visit Easy Crypto |
| Coinstash | Cryptocurrency, Bank Transfer, PayID | AUD | More than 140 | Taker fees: 0.85% Maker fees: 0.85% | $0 | $0 | Visit Coinstash |
| eToro | Online Banking, Skrill, Neteller, PayPal, Bank Transfer, Debit Card | Australian Dollars, US Dollars, Euro, and 12 more | More than 70 | Vary | Vary | $5 (minimum withdrawal of $50) | Visit eToro |
| KuCoin | Credit Card, Debit Card, SEPA, PayPal, Wire Transfer, Crypto | US Dollars, Euro, Australian Dollars, and 6 more | More than 645 | 0.1% | $0 | Vary | Visit KuCoin |