Coinmama Review for 2023
Coinmama is an Israel-based cryptocurrency exchange that is primarily focused on the decentralization concept of cryptocurrency projects. Its mission is to provide more simplified, secure, and intermediary-free financial services to all crypto aficionados, regardless of their geographical location in the world.

In its dedicated efforts to offer a premium user experience, this exchange customizes all elements of crypto trading to meet every requirement of its clients in a user-friendly environment. The instant transfer of cryptocurrencies or the high spending limits are only a couple of the perks that Coinmama provides for its highly valued users. What else has this exchange to offer? Let's find out.
About the Coinmama Exchange
Founded in 2013 as a subsidiary of New Bit Ventures Ltd (an entity regulated by FINCEN), Coinmama is a customer-centric and result-oriented cryptocurrency exchange that places a premium on the integrity of its services through the implementation of innovative safety protocols.


Upon the very first glance, the Coinmama interface reassures you that even a beginner in crypto trading can successfully complete any cryptocurrency transaction with ease and enjoyment. This exchange is committed to quick and easy transactions, and you don't even need to register an alternative crypto wallet on the site to keep your crypto assets safe.
As for the advanced traders, they might find the Coinmama concept a little too simple for their preference, since there are no elaborated trading charts nor price fluctuation notifications. But, given the simple concept of this exchange, it's so well rounded up that even the lack of charts is not a reason to look someplace else when buying or selling bitcoins.
Bitcoin and Other Supported Cryptocurrencies
The Coinmama users can engage in trading activities via this platform by using several different cryptocurrencies. The ever-expanding list of coins supported by this exchange includes the following digital currencies: Bitcoin (BTC), Bitcoin Cash (BCH), Ethereum (ETH), Litecoin (LTC), Ripple (XRP), Cardano (ADA), Chainlink (LINK), Qtum (QTUM), Tezos (XTZ), EOS (EOS), Uniswap (UNI), as well as Ethereum Classic (ETC).
Coinmama's managing team encourages you to contact their support team if your preferred crypto means of trading is not listed by the exchange, as there's a possibility to add the coin you want to trade with to their cryptocurrency list.
Regarding the services it offers, Coinmama provides safe and instant BTC purchases that take around 10 minutes of processing and verification. Its users can also sell BTC via the Coinmama platform, despite the fact that they have obtained their bitcoins through another crypto exchange.
Payment Methods
All transactions on the Coinmama exchange platform may be completed by various payment options. These include using a SWIFT, FasterPayments, Fedwire, Sofort, or SEPA bank transfer, credit card or debit card issued by Visa or MasterCard, as well as Apple Pay. On the downside, Coinmama does not accept payments conducted via American Express, Discover, or Paypal.


By following the provided instructions on your bank account, you will be able to quickly initiate a wire transfer to buy Bitcoin or other altcoins via Coinmama. All transactions are promptly completed and the funds are deposited into your wallet immediately.
Furthermore, Coinmama accepts all fiat currencies for trading on its exchange platform, even though the rates are only shown in a handful of them, such as USD, EUR, GBP, CAD, JPY, AUD, and so on.
Trading Fees and Limits
Although Coinmama is famous among a vast group of cryptocurrency enthusiasts owing to its user-friendliness and transaction processing speed, Coinmama customers do have one main concern. It revolves around the high fees and other trading costs charged by the platform, some of which users are completely unaware of.
Coinmama Fees
To begin with, there are two types of transaction fees on crypto purchases through the Coinmama exchange platform: a 5.90% brokerage fee set by the platform and a 5% credit/debit card fee imposed by the processing company.
Coinmama also levies 2% upon the market rate calculated by TradeBlock's XBX Index for exchanging cryptocurrencies. Furthermore, there is a commission fee of approximately 3.9% on cryptocurrency acquisitions, and around 0.9% charges to sell Bitcoin via Coinmama.
While a 5% fee may appear to some traders overly excessive, we should consider the processing time vs fee ratio. Given that Coinmama is committed to instant transactions, the 5% charge may not be such a steep price to pay for having your coins instantly sent to your digital wallet.
In addition to the standard transaction fees, Coinmama customers should be aware of some hidden fees. The blockchain fee, for one, goes to miners who contribute to the blockchain's security by adding the verified transaction data blocks to it. Secondly, there are the exchange fee rates charged by the bank to convert your digital currency to fiat currencies (mainly in US dollars and Euros).
Coinmama Limits
Furthermore, this exchange provides a daily restriction of up to 5,000 USD/EUR, as well as a monthly limit of 20,000 USD/EUR. The minimum amount for making a buy order on the Coinmama platform, on the other hand, is set at 60 USD or EUR.
Loyalty Program for Reduced Fees
In contrast to the high transaction fees, Coinmama offers a loyalty program for regular users that lets them save on larger purchases. There are three levels of the loyalty program: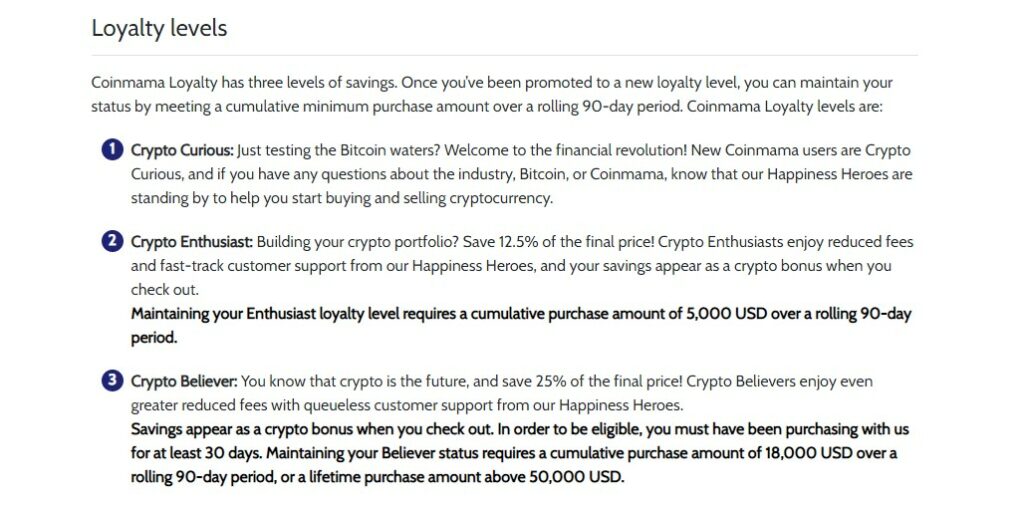 Crypto Curious, which offers dedicated help by the Happiness Heroes for the newbies in Bitcoin trading on the platform,
Crypto Enthusiast, a level that offers reduced fees and 12.5% of the final price in a form of a crypto bonus, and
Crypto Believer, which offers 25% of the final price and even more reduced fees for the customer that has been trading on the Coinmama platform for at least 30 days, and has a cumulative purchase of around 18,000 USD in a 90 days span or all-time purchase amounting to over 50,000 USD.
Is Coinmama Safe to Use?
Coinmama, as a company that offers financial services, is devoted to the highest data security guidelines. It uses a variety of encryption techniques to protect the input data on its exchange site. The two-factor authentication technique (2FA) is one of the most proven and tested ones and serves as a second layer of safety when it comes to user data verification and protection from third parties.
Whenever you buy or trade cryptocurrencies on Coinmama, you will be required to share your wallet address, i.e. the "public key" that consists of an encrypted series of digits akin to a bank account number.
Customer Support
The Coinmama team of managers and developers further asserts that it is in the company's DNA to preserve amicable relationships with its clients by offering consistent and highly professional assistance, backed up by the complete submission of ownership of digital assets in the hands of its clients.
In line with the idea of providing an easy and entertaining user experience while completing various financial operations via their exchange platform, Coinmama developers have even come up with a distinctive moniker for their support staff that doesn't require much elaboration. Let us introduce Coinmama's 'Happiness Heroes'.
The Happiness Heroes are a customer's support team available 24/7. They deliver a highly pleasurable user experience by providing a fast and professional answer through email or phone call (that is if you leave them your phone number in the electronic communication). By simply submitting an email to the customer support staff, the Happiness Heroes guarantee to relieve you of any anxieties regarding your transactions within a 24-hour timeframe.
Frequently Asked Questions
How to create a Coinmama account?
Coinmama is committed to the idea of the simplicity of use, and as such, it provides two very easy methods to create an account on its website. You may begin the verification process by selecting either the 'Sign Up' button in the top-right corner, or the 'Buy Coins' button in the centre of the screen.
Both of these dedicated links will direct you through the process of verifying your free Coinmama account registration. For this, you'll need to provide some personal information, such as your name, email address, a password that is unique to you, and your location of residence, among other things.
Following your account registration, you will get a confirmation email that will serve as a way of verifying your identity. After you have confirmed it, you will be able to begin utilizing the exchange platform.
What countries are supported by Coinmama?
Services provided by Coinmama's cryptocurrency exchange are available in 24 states in the United States, in addition to 188 countries across the world. Some of the countries that have made it onto this list are Argentina, Australia, Brazil, British Indian Ocean Territory, China, Christmas Island, Cyprus, France, Germany, Guinea-Bissau, Guyana, Haiti, Madagascar, Oman, Singapore, Pakistan, etc.
In order for Coinmama to provide functioning services in some regions, the company requires a partner in the business (i.e. third-party payment processor). Some of these countries include Brazil, Egypt, Florida, Washington, to name a few.
There is, also, a list of restricted countries where the Coimnana team has assessed that their services cannot be provided for a variety of reasons, including the fact that cryptocurrency trading is not legally authorized in many countries across the world, which includes some United States countries and territories (New York, Oregon, and Hawaii; Northern Mariana Islands, Virgin Islands, Puerto Rico), Crimea, North Korea, Lebanon, Syria, etc.
Curiously enough, Coinmama exchange does not provide its crypto trading services to the citizens of its native country, Israel, either.
Does Coinmama provide a mobile app?
No, the services provided by this cryptocurrency exchange can be accessed only via its website www.coinmama.com, which is functional on all operating systems. All you need is the device of your choice and a solid Internet connection to start trading on the Coinmama platform.
The Bottom Line
The Coinmama exchange platform stands out among other crypto exchanges as one of the most user-friendly, fast, entertaining, and secure crypto trading platforms in the cryptocurrency industry. It's also one of the world's first crypto exchanges to accept credit and debit cards for crypto purchases.
Moreover, the exchange adheres to the unique concept of financial decentralization by giving users complete control over their assets, with no middlemen involved. However, this financial freedom comes at a price, expressed in relatively high trading fees. For this, you must deposit some funds in your digital wallet before you can begin trading, so do keep that in mind.
Finally, after conducting considerable research on this exchange and perusing its enormous knowledge base and services, we felt fully at peace with the prospect of engaging in some cryptocurrency trading via the Coinmama platform, especially with its Happiness Heroes at hand if need be. It's undoubtedly entertaining, user-friendly, and, based on its safety procedures, secure, which makes it one of the most popular exchanges in the crypto universe. Happy (and safe) Coinmama trading!
Coinmama Compared
| Exchange | Cryptocurrencies | Fiat Currencies | Trading Fees | Deposit Methods | Sign Up |
| --- | --- | --- | --- | --- | --- |
| Swyftx | More than 320 | Australian Dollars, New Zealand Dollars | 0.6% | Osko, PayID, Credit Card, Debit Card, Bank Transfer, Cryptocurrency | Visit Swyftx |
| CoinSpot | More than 370 | Australian Dollars | OTC: 0.1% Market Order: 0.1%* (applies to LTC, BTC, ETH, XRP, POWR, DOGE, TRX, NEO, XLM, GAS, RChain, RFOX, EOS) Instant Buy/Sell: 1% | POLi, PayID, Cash, Cryptocurrency, Bank Transfer, BPAY | Visit CoinSpot |
| Binance | More than 600 | US Dollars, Australian Dollars, and 8 more | 0% to 0.1% | Osko, PayID, Credit Card, Debit Card, Crypto | Visit Binance |
| Bybit | More than 160 | 50+ | 0.1% to 0.6% | Crypto, EFT, wire transfer, bank transfer, debit card or credit card | Visit Bybit |
| Independent Reserve | 27 | Australian Dollars, US Dollars, New Zealand Dollars | 0.05% to 0.5% | EFT, SWIFT, Osko, PayID, Crypto | Visit Independent Reserve |
| Coinbase | More than 210 | Australian Dollars, US Dollars, New Zealand Dollars | Fees Vary | EFT, SWIFT, Osko, PayID, Crypto | Visit Coinbase |
| CoinJar | More than 50+ | Australian Dollars, Pound Sterling | Taker: 0.04 to 0.1% Maker: 0.04 to 0.1% | Apple Pay, Google Pay, Credit Card, Debit Card, Bank Transfer, Fiat, Crypto | Visit CoinJar |
| Kraken | More than 140 | Australian Dollars, US Dollars, and 5 more | Taker: 0.10% to 0.26% Maker: 0.00% to 0.16% | Apple Pay, Google Pay, SWIFT, Osko, SEPA, Crypto, Wire Transfer, Bank Transfer | Visit Kraken |
| BTC Markets | More than 15 | Australian Dollars | Taker Fee (for Bitcoin pairs): 0.20% Maker Fee (for Bitcoin pairs): -0.05% Australian Dollars Market Pairs: 0.10% to 0.85% | Crypto, BPAY, EFT, PayID, Osko | Visit BTC Markets |
| Easy Crypto | More than 40 | Australian Dollars, New Zealand Dollars, South African Rand | 1% | P2P, POLi, and Bank Transfers | Visit Easy Crypto |
| Coinstash | More than 140 | AUD | Taker fees: 0.85% Maker fees: 0.85% | Cryptocurrency, Bank Transfer, PayID | Visit Coinstash |
| eToro | More than 70 | Australian Dollars, US Dollars, Euro, and 12 more | Vary | Online Banking, Skrill, Neteller, PayPal, Bank Transfer, Debit Card | Visit eToro |
| KuCoin | More than 645 | US Dollars, Euro, Australian Dollars, and 6 more | 0.1% | Credit Card, Debit Card, SEPA, PayPal, Wire Transfer, Crypto | Visit KuCoin |