Coinspot Review for 2022
Although it's only been a decade since it became popular, blockchain technology has become greatly incorporated into the existing trading practices and massively accepted among average folks. Thereby, the need for a safe crypto marketplace has never been more emphasized. As a moving force for the entire crypto industry, cryptocurrency exchanges pull the trigger on the full transaction flow, regardless of whether it's buying, selling, or speculating cryptocurrency prices.
Interestingly enough, the easier it gets to buy crypto, the more difficult it is to choose a great exchange. The Australian crypto community isn't an exception to this rule. The digital space is crowded with an overwhelming range of opportunities aiming to adjust their terms of service to users' personal trading styles.
Our Coinspot review will perhaps help you make up your mind or at least narrow down your list by presenting one of the best Australian crypto exchanges. By checking out an objective overview of its features, you'll have the chance to see whether Coinspot's features do indeed suit your crypto trading plans.
Australian Crypto Exchange: Coinspot
Founded back in 2013, this Melbourne-based crypto exchange aims towards providing an easy way of buying and selling cryptocurrencies. The "brain" behind the company, Russell Wilson, openly discusses his opinions and plans on social media, making the Coinspot product more approachable for people, in contrast to the anonymous and faceless establishments behind many other crypto services.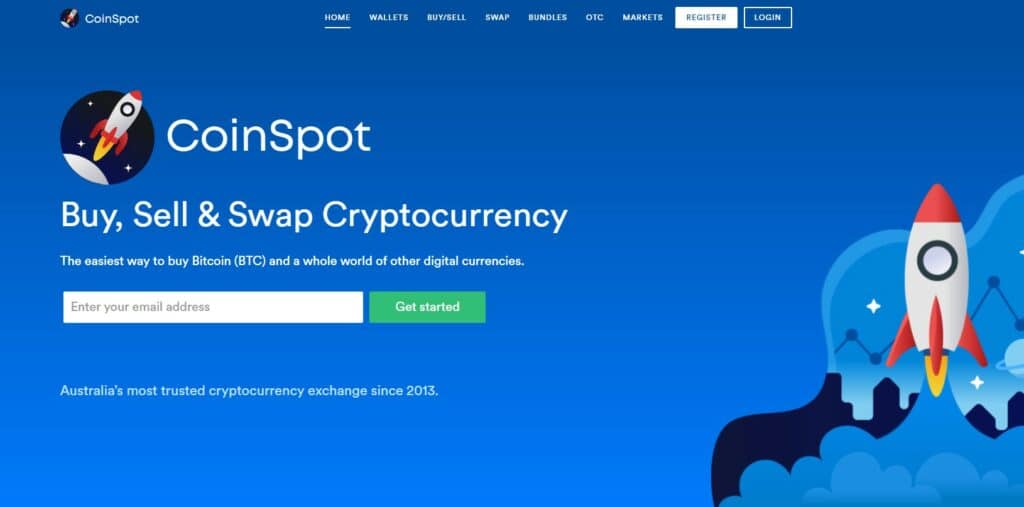 Coinspot may be characterized as a Bitcoin-orientated trading platform, but it supports a broad spectrum of various cryptocurrencies as well. Over the years, the platform has managed to keep up with all upcoming novelties on the crypto scene, evolving into an exchange with a full set of trading features and deposit methods. Coinspot is the whole package, offering versatile trading possibilities, low fees, excellent customer protection, and user support. Let's see what makes it unique.
Bitcoin and Other Supported Altcoins
Coinspot used to operate as a Bitcoin-exclusive exchange, but following the current trends, it's been expanding the list of supported cryptocurrencies and regularly updating it with new ones. This usually happens on-demand – users post their wishes on Coinspot's Facebook page. Certainly, accepting new cryptocurrency doesn't come without an elaborate assessment in order to avoid potential scam projects.

In general, Coinspot features one of the largest lists of cryptocurrencies on the Australian market for instant buy and sell including the prevalent ones such as Bitcoin (BTC), Ethereum (ETH), Litecoin (LTC), Bitcoin Cash (BCH), Ripple (XRP), Dogecoin (DOGE), TRON, and around 200 other popular and less known altcoins, tokens, and stablecoins. You can find the most accurate list under their buy/sell section.
When it comes to Coinspot market sections, let's make it clear that not all cryptocurrencies offered for instant buy and sell are available for market trading. In fact, there are only around 15 pairs for trading, including BTC/AUD, DOGE/AUD, LTC/AUD, ETH/AUD, POWR/AUD, NEO/AUD, XRP/AUD, EOS/AUD, GAS/AUD, XLM/AUD, and TRX/AUD.
Payment Methods
Coinspot has established a wide array of payment options for AUD deposits, which allows users to choose the most appropriate one against their purchasing preferences. Available payment methods include:
POLi Payments, a widely accepted bank transfer system among Australian residents owned by the Australia Post.
BPAY, an Australian native e-wallet system that processes transactions within a day.
PayID, an instant bank transfer depositing method popular all over Australia that uses the New Payments Platform (NPP).
Direct Deposit, a simple bank transfer method, which works through your selected online banking provider. The good thing is that if your bank supports Osko, such transfers are executed instantly.
Blueshyft Cash Deposit, a great alternative for those who rely exclusively on hard cash. Coinspot is one of the few Australian cryptocurrency exchanges that accept Bitcoin purchases through Blueshyft terminals, with a wide network of over 1,200 locations across Australia at selected retailer outlets. The process is pretty straightforward, all you have to do is generate a QR code on Coinspot, find the nearest branch, process the code at one of the terminals, and pay at the counter.
Trading Fees and Limits
In general, Coinspot features a transparent and cost-effective fee system even though fees can vary a great deal depending on the transaction typе.

Trading fees for instant buying are 1%, while market buying incurs drastically lower fees of 0.1%. Deposit fees are defined by the applied payment method, so you can expect fees of 0.9% for BPAY, 2.5% with Blueshyft, and no fees for POLi, PayID, and all crypto deposits. AUD withdrawals are also free.
Concerning limits, Coinspot has established a soft policy setting no limits on the number of cryptocurrencies you can buy or sell per day. However, the exchange has certain limits on the amount of crypto per single transaction, so the maximum amount you can spend for Bitcoin is 100,000 AUD. For other cryptocurrencies, you can check out their respective buy limits.
As for depositing limits, POLi allows you to go up to $20,000 per day, and BPAY's daily limit is $10,000 (with some additional restrictions for newly created accounts). Cash deposits through Blueshyft can't exceed the amount of 8,000 AUD per 24 hours.
How to Trade on Coinspot
Here are the steps you need to follow to create your Coinspot account and a compact overview of the exchange's trading opportunities.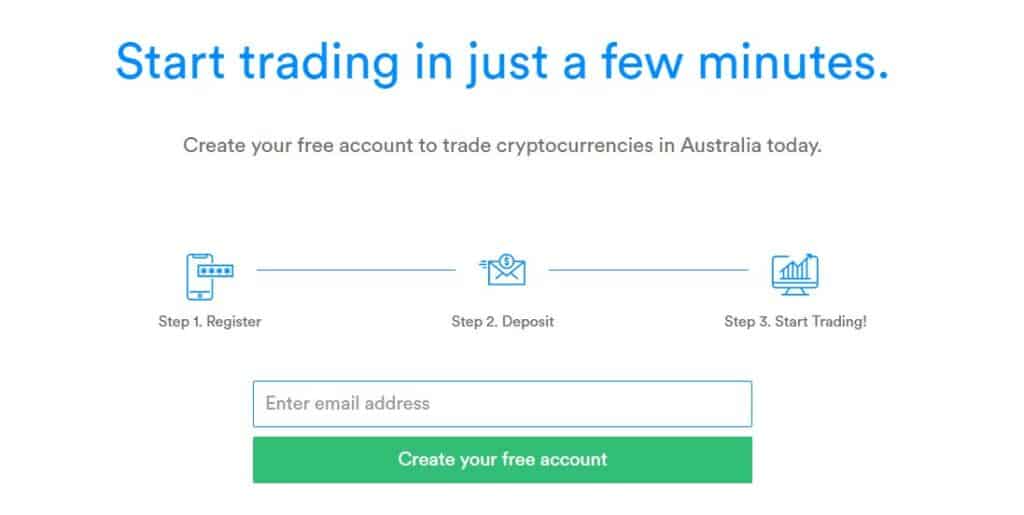 How to Register an Account
Undoubtedly, the easy registration process is one of the greatest advantages of Coinspot, as all the steps are simple and easy to find on their site in a user-friendly manner.
Identity verification is, however, an inevitable stage of the sign-up process. For this purpose, you'll need to provide a full name, an Australian address, a valid Australian phone number, a photo of a government-issued document such as an ID card or driving license, and a utility bill to validate your address. The process may seem rather exhausting and time-consuming since it can take up to 48 hours to verify a Coinspot account.

However, according to some users, the registration process was completed within several hours. You should be aware that all these steps are to be taken for your own protection against various types of cyber scams and frauds. Identity verification is obligatory within all well-established cryptocurrency exchanges in direct compliance with local regulatory anti-money laundering practices. Once you land on the Coinspot platform as a verified user, don't forget to enable 2FA (two-factor authentication) before you start trading.
Trading Services
Having completed the verification process, you are all set to use Coinspot to its fullest. It's perfectly reasonable to start with their instant buy and sell option, which is adjusted to the skills of less savvy crypto users. Seasoned traders can try take-profit, stop-loss, limit orders, and market orders on the market sections.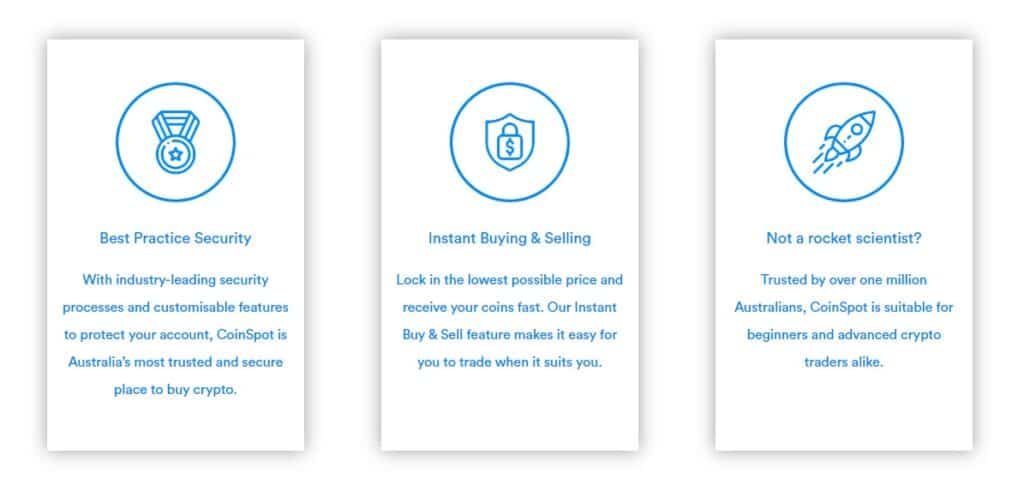 Coinspot also offers an OTC (over-the-counter) trading desk for high-net individuals and institutional investors supported by their SMSF team, which provides personalized assistance with account management.
Customer Support
User reviews describe Coinspot customer support as helpful. First, the exchange features a separate information centre that offers valuable tutorials for novices along with an extensive FAQ section that covers the most concerning aspects that beginners may face in their onboarding stage.

If your issue isn't covered in the previous two sections, you can always count on the Coinspot support team that you can reach via their aid widget and send a feedback form. It usually takes up to 24 hours to get a response. The support widget is provided by ZenDesk, the Australian industry leader in the field.
Is Coinspot Safe?
Security and the users' trust are the top priorities on Coinspot's long-term agenda. The fact that the exchange has been operating since 2013 and its public engagement on social media contribute substantially to Coinspot's high credibility.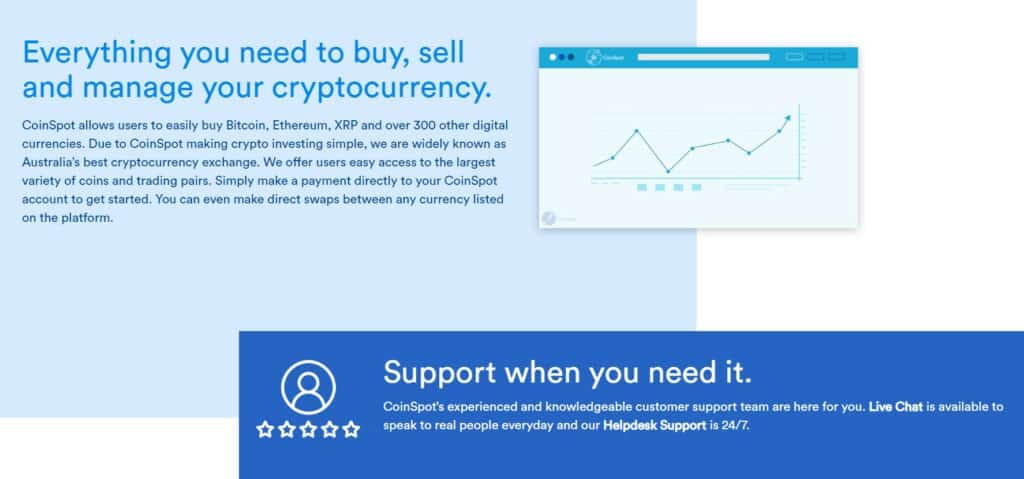 Coinspot is a member of the Australian Digital Commerce Association, fully complying with AUSTRAC, the official anti-money laundering and counter-terrorism finance regulator in Australia. Furthermore, Coinspot is the first Australian exchange whose security service is approved by the International Organization for Standardization, meaning that the majority of Coinspot funds are stored in highly protected hardware wallets. The exchange holds an ISO27001 Standards certificate for Information Security as well as a Blockchain Australia Code of Conduct certificate to ensure the best trading practices and customer support.
Finally, your account protection will be guaranteed by 2FA and a session expiry period.
Frequently Asked Questions
What countries does Coinspot support?
Coinspot is designed to support Australian residents exclusively.
Does Coinspot have a mobile app?
Not long ago Coinspot launched a mobile app that's available for free on both Android and iOS devices. The app allows users to take advantage of Coinspot's main functionalities on the go. With the Coinspot app, you can perform instant buy and sell, deposits/withdrawals, and get an insight into all the digital assets in your possession.
How long does a Coinspot withdrawal take?
Cash withdrawal transactions are usually completed within a single day if you initiate the process before noon. Otherwise, the money will be in your bank account the very next business day. Similarly, cryptocurrency withdrawals are processed immediately, but their arrival to your wallet address depends mainly on the network traffic. So, they can be delivered to you either within a minute or you'll have to wait several hours.
Does Coinspot come with a cryptocurrency wallet?
The Coinspot exchange doesn't offer a separate desktop or mobile wallet, but you can keep your crypto assets on the exchange's online wallet, to which you'll have direct access once you log in on the platform. Nevertheless, it isn't recommended to hold large amounts of digital currencies on cryptocurrency exchanges in general, despite their proven security records. The digital sphere is a common target of cybercriminals, so a hardware wallet will be the best solution in the long run.
A Few Words Before You Go…
We hope that you found the review we prepared on one of the most popular crypto services in Australia helpful and informative. The platform's services are restricted to Australian citizens and Australian dollars are the only fiat currency accepted. So if you're Australian, Coinspot offers everything you need in order to become a part of the borderless blockchain ecosystem. If you're looking for an international crypto exchange, Binance, as a global liquidity leader, is the best alternative in this category.
What makes Coinspot an excellent marketplace is the simplicity it offers for conducting crypto trading. Plus, the Coinspot platform is safe and great for beginners who feel reluctant to get started due to their inexperience in the crypto sphere. The platform is exceptionally easy to navigate and instructions are intuitively distributed over on the Coinspot website, which is rather encouraging for new traders. At the same time, more advanced users can check out their market sections and use Coinspot as a solid ground for day trading. Combining all of this with impeccable security features and low fees, we can comfortably give Coinspot the highest rating.
Related: