Coinspot Review for 2023
Simplicity, a broad selection of cryptocurrencies, reasonable fees, intuitive platform design, and tight security are some of the key parameters I'm looking for when browsing crypto exchanges. Unfortunately, many of the 500+ active exchanges on the market fail at more than one of these aspects, which makes me even more delighted when I run into a platform like CoinSpot, which really excels at all of the key aspects I've listed.
CoinSpot is one of the best crypto exchanges available for Aussie crypto enthusiasts and traders. Alongside the likes of Digital Surge, and Swyftx, CoinSpot is another great choice for facilitating all of your crypto-related operations, no matter if you're a total beginner or a more experienced trader who is used to conducting market orders instead of using the Instant Buy/Sell feature.
There are more than 350 coins and tokens available for trading on CoinSpot, and the platform has absolutely no problems when it comes to asset liquidity. The market fees are very reasonable. Although the instant buy fees are somewhat high, the low spreads compensate for these fees and make CoinSpot a platform that provides exceptional services worth the price.
Let's have a deeper look at CoinSpot, and I'll show you everything you need to know before deciding whether to use the platform for your crypto investment activities.
| | |
| --- | --- |
| Website | Coinspot.com.au |
| Country | Australia |
| Mobile app | Yes |
| Deposit Methods | PayID, POLi, BPAY, Bank transfers |
| Trading Fees | 1% Instant Buy/Sell fee, 0.1% fees for market orders. |
| Fiat Currencies | AUD |
| Cryptocurrencies | Bitcoin (BTC), Ethereum (ETH), Tron (TRX), Algorand (ALGO), Neo (NEO), Litecoin (LTC), and 350+ altcoins. |
Pros
Great selection of 350+ cryptos, with high liquidity levels.
Very low market order fees at 0.1%.
Simple interface design and very easy to use, fit for beginners.
Markets interface includes advanced technical analysis tools.
Regulated by AUSTRAC.
Cons
Doesn't have margin trading or futures contracts.
The Instant buy/sell fee is a bit high at 1%, but the low spreads somewhat compensate for the fees.
The market interface is only available for 15 asset pairs.
What Is CoinSpot?
CoinSpot is one of the oldest active Australian cryptocurrency exchange platforms. The exchange was launched back in 2013, during the early years of crypto adoption when there were barely a few popular altcoins on the market besides BTC. CoinSpot is a native, Aussie exchange with headquarters in Melbourne, and it's specially catered towards the Australian market, providing users with a bunch of locally popular payment methods.
Since its launch, CoinSpot has been dedicated towards onboarding crypto newcomers by allowing them to easily invest fiat currency into crypto, without any unnecessary hassle. That's why the platform managed to amass a huge user base of more than 2.5 million Aussie traders, which makes it the largest crypto exchange in Australia when it comes to the number of active users.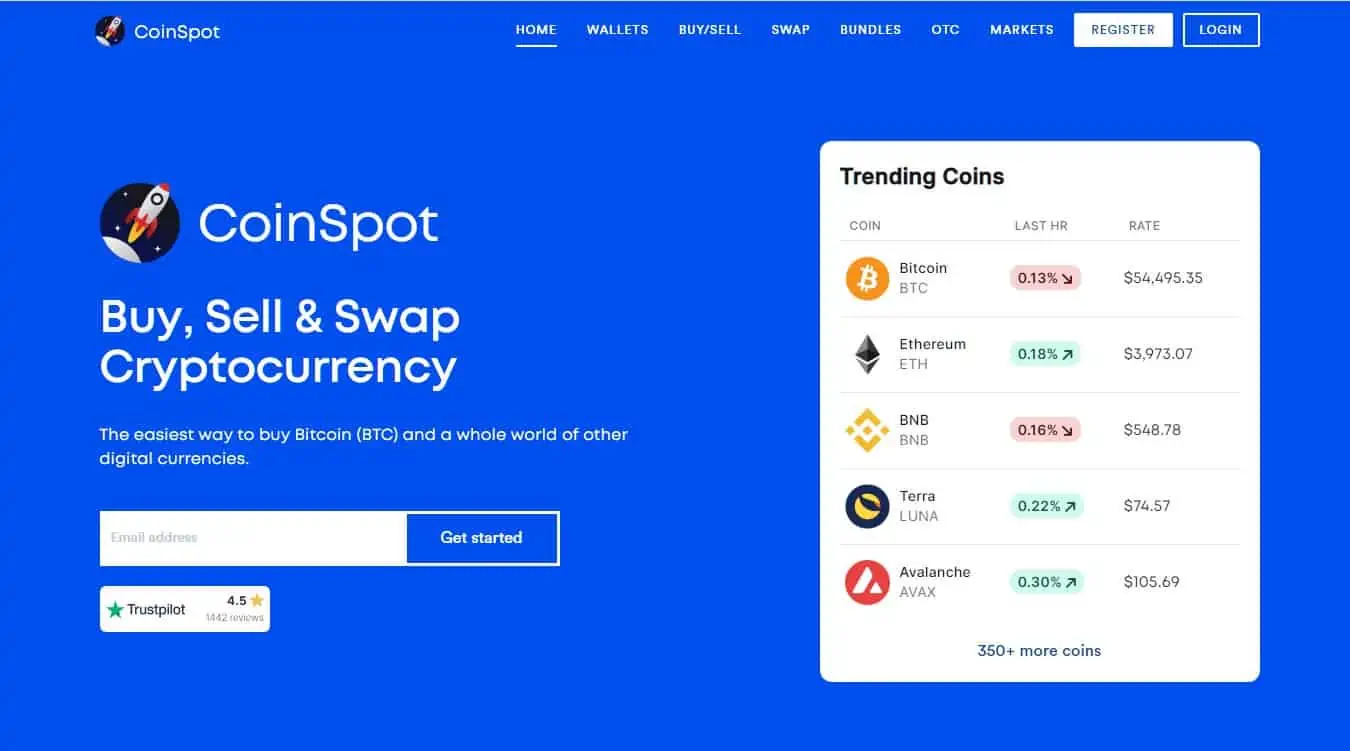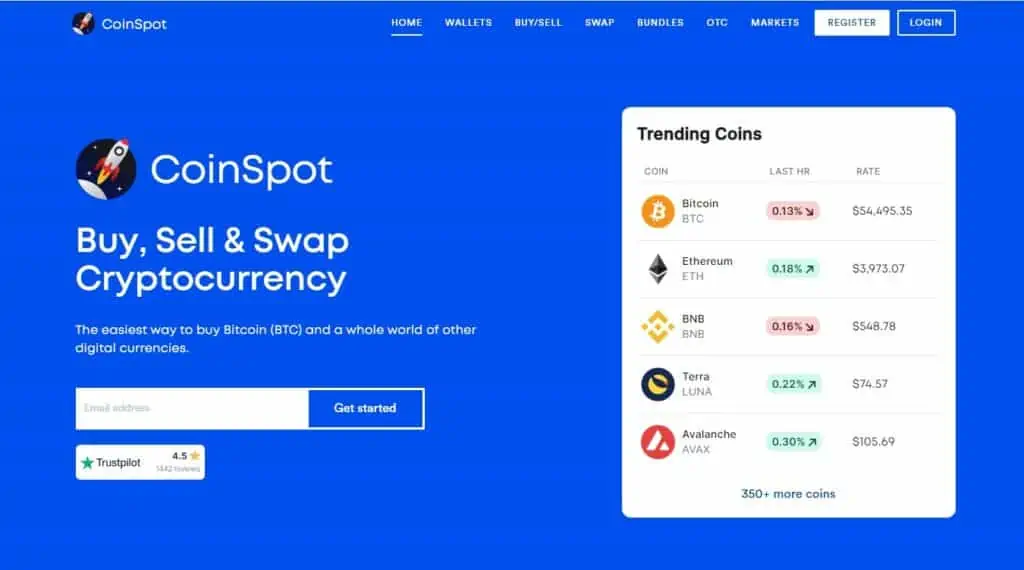 CoinSpot unites multiple essential crypto services that make it a one-stop-shop for beginners and average crypto traders. Users can trade more than 350 cryptos, conduct quick swaps, trade 15 of the leading asset pairs on the platform's markets interface, store crypto in the trustworthy CoinSpot wallet, stake different cryptocurrencies for interest, buy crypto bundles, conduct large scale deals through the OTC feature, and even invest in NFTs.
Thanks to the wide variety of services, the tight security, and high reliability of the platform, the largest number of Aussie crypto traders choose CoinSpot as their go-to exchange platform.
How Does CoinSpot Work?
CoinSpot operates in an incredibly simple and user-friendly manner. As soon as I created a platform account and transferred some fiat Australian dollars to my account, I wanted to try out some of the basic investment features of CoinSpot and to my delight, the trading works flawlessly. The Instant Buy/Sell feature is a key component of the platform, however the Markets interface is where most of the trading is done on CoinSpot. Users can conduct buy and sell orders for 15 top trending asset pairs of crypto to fiat AUD and vice versa, at their own set price rates.
Unlike some of the local Australian competitors such as Digital Surge and Swyftx, CoinSpot has a full fledged markets trading interface similar to veteran exchanges like Binance and Kraken. This interface comes with a classic trading layout with the selected trading pair's order book to the left, where you can view all the recent buy and sell orders for the chosen assets.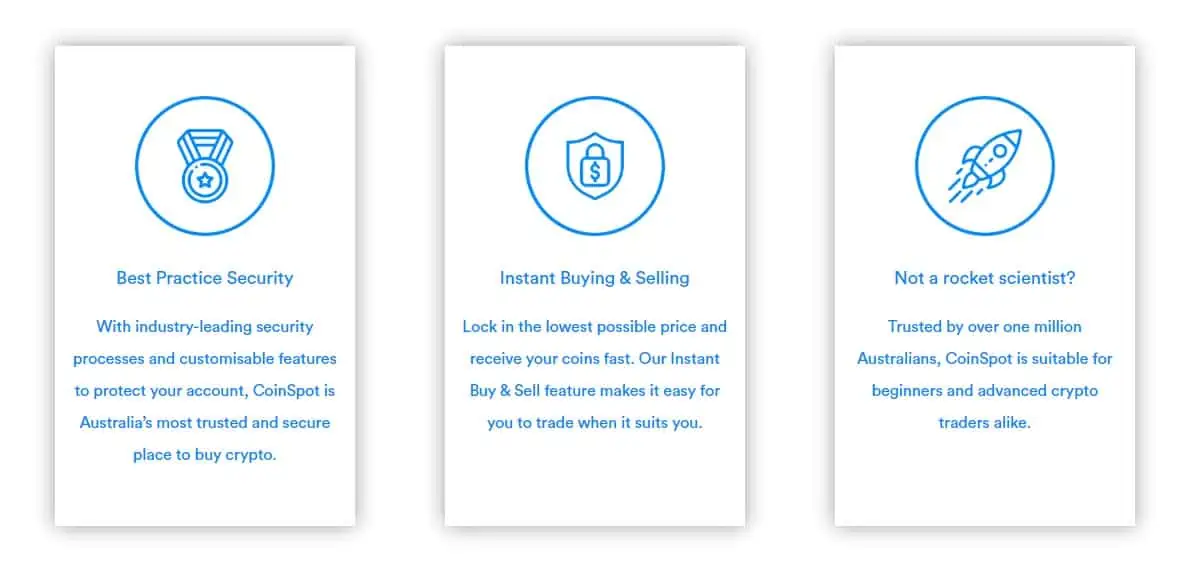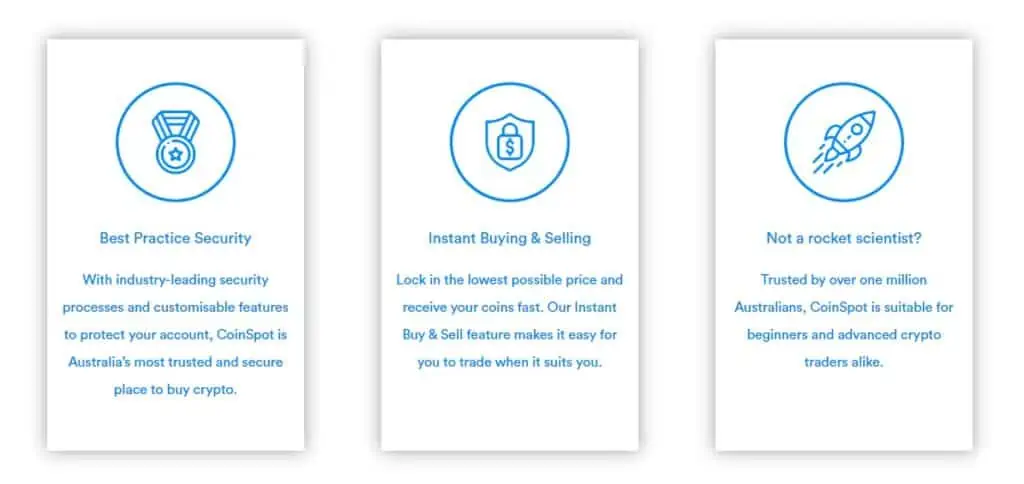 The central part of the screen is where you'll see the price chart for the selected asset pair, and to my delight, the charts have a bunch of advanced technical analysis tools available. Of course, this isn't of much use to crypto beginners, but more experienced users will definitely have much use of these tools. In the right section of the screen is your order interface, where you can set your own prices and execute market orders.
The combination of the market interface for more experienced users and the instant buy/sell option makes CoinSpot simultaneously a great exchange for both beginners and more experienced users.
Who Is CoinSpot Designed for?
At first look, I thought that CoinSpot was totally focused on crypto beginners since the platform has a very smooth user– interface and lacks advanced trading features. However, as soon as I found out that CoinSpot has a market interface, I realised that the platform aims at two key user groups.
The beginners are left with the handy instant buy/sell feature, while experienced users are provided with the market interface where they can try and broker a better trading deal by setting their own buy/sell prices and executing orders based on the data shown on the price charts.
This dual focus on both beginners and experienced users is obviously a winning combination for CoinSpot since the platform has the largest user base among Aussie crypto exchanges. Basically, if you're a beginner and spend some time analysing the market's interface, watching the order books and trying out the technical analysis tools for the price charts, you're probably going to try placing your own market orders and shift from instant trading to the markets interface.
Supported Cryptocurrencies
When you're choosing a crypto exchange, the selection of supported coins is among the most important aspects of every platform because if you choose an exchange with a poor selection of cryptos, you'll need to create additional accounts on other exchanges. Well, CoinSpot is definitely a platform that can satisfy the needs of most traders since there are more than 350 coins and tokens available on the platform.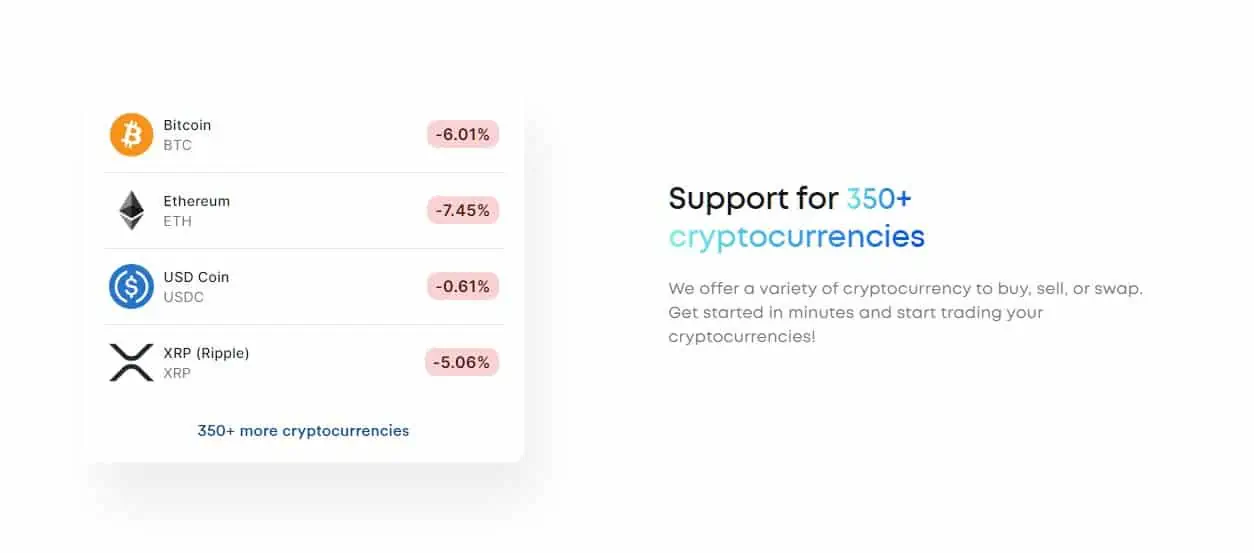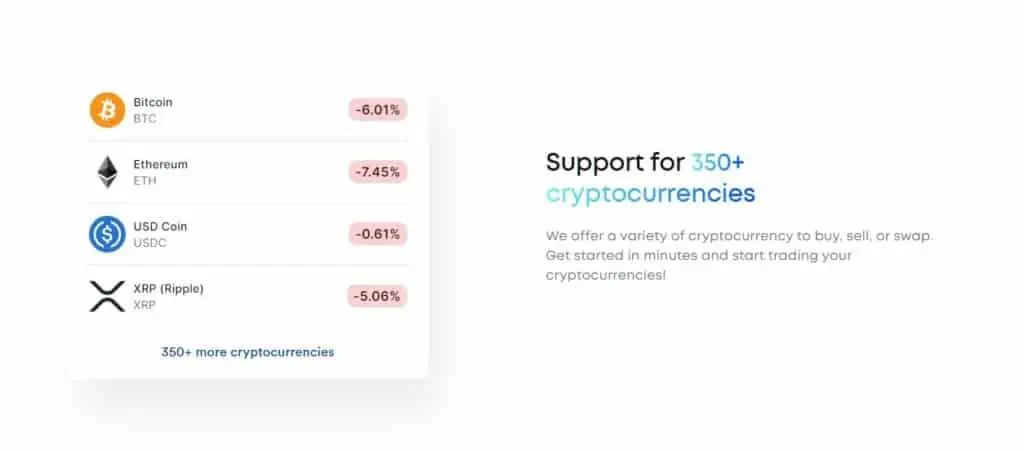 You can buy, sell, and swap anything from BTC, ETH, Cardano (ADA), Dogecoin (DOGE), Avalanche (AVAX), Fantom (FTM), Polygon (MATIC), Ripple (XRP), Bitcoin Cash (BCH), Chainlink (LINK), Polkadot (DOT), Dash (DASH), Kava (KAVA), all the way to low cap altcoins such as Hive (HIVE), Swap (SXP), Balancer (BAL), and numerous additional cryptos.
However, not all of these crypto assets are available on the market interface. Market orders are available for 15 leading cryptos to AUD trading pairs, including the following digital currencies: BTC, ETH, ADA, XRP, DOGE, LTC, TRX, Stellar Lumens (XLM), Eos (EOS), NEO, and a few additional coins. These coins have the highest liquidity on CoinSpot.
Features
Let's take a closer look at some of the platform's key features that I liked the most.
Instant Trading
The CoinSpot instant trading feature is what attracts crypto beginners and traders who want to quickly purchase or sell crypto to the platform. The instant buy/sell option lets users directly conduct trading deals with CoinSpot. The platform makes sure that there's enough liquidity for all available digital assets at all times, which is why it's possible to conduct a trading deal with just a few clicks and receive crypto or fiat within your account within minutes.
To use the option, you just need to navigate to the BUY/SELL section of the platform. You'll see a huge list of all the available coins and tokens.


I tried buying some Ether to see how the platform works. Once I chose ETH in the instant trading menu, I was taken to a screen where I could choose whether I wanted to buy, sell, or swap coins. The purchase took around 5 minutes, which is the average processing period for the ETH blockchain.
When the ETH was delivered to my account, I tried the swap feature and exchanged some ETH for BTC. The feature works really fast, and it's very simple to use. I later tried some other coin combinations with faster blockchains that proved to be much faster trading deals. All in all, the instant buy/sell feature is very reliable.
Ease of Use
CoinSpot is very easy to use, which is one of the key reasons why the platform is so popular. Many veteran crypto exchanges have an outdated user interface that's stuck in the early 2010s. CoinSpot, however, has a very modern, intuitive interface that lets users quickly make market orders, conduct instant trading deals, stake crypto, swap tokens, and manage the funds in their CoinSpot wallets.
Even if you've never used a crypto exchange in your life, you're bound to figure out how to buy and sell crypto on CoinSpot real fast since literally all the options are listed in bright letters that take you directly to the desired feature's execution page.
Purchase Crypto in Bundles
For crypto newcomers who aren't very familiar with the perks and characteristics of numerous cryptos, CoinSpot has the highly useful Bundles feature, which lets you purchase a carefully curated bundle of digital currencies according to your budget. You just need to select a bundle, specify how much AUD you're willing to spend, and proceed with your bundle purchase order.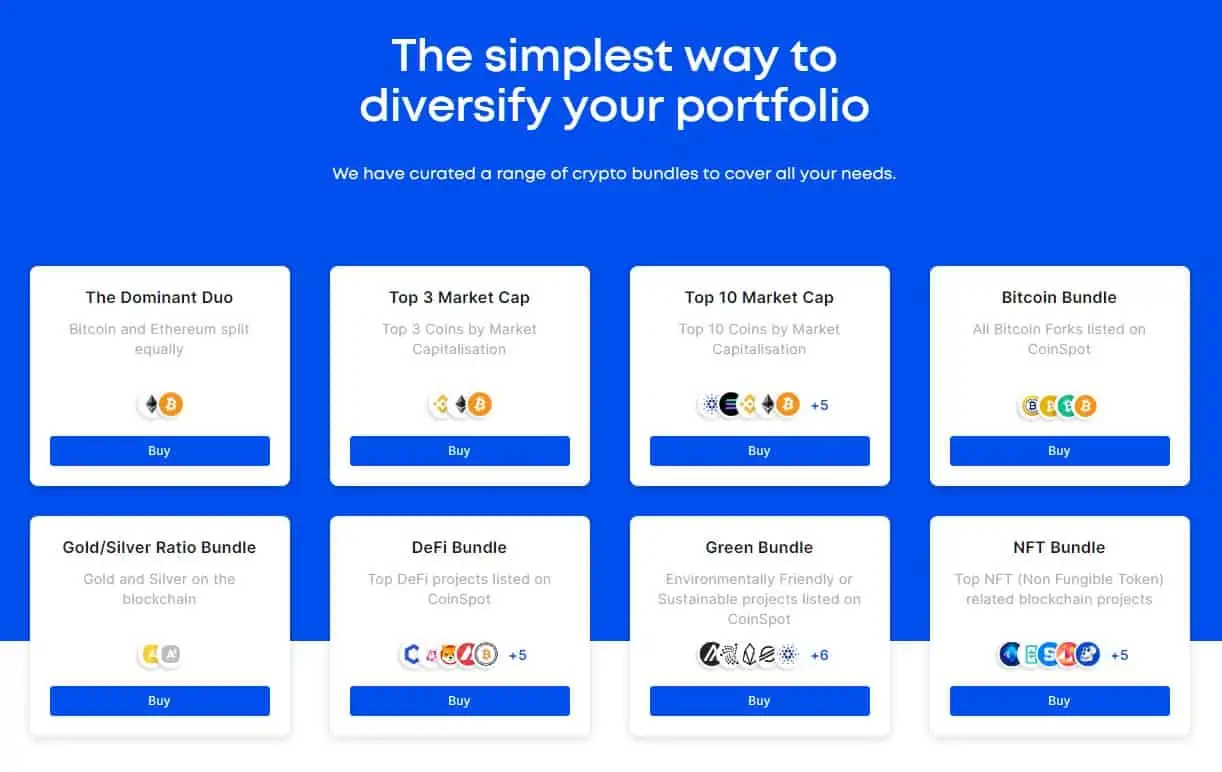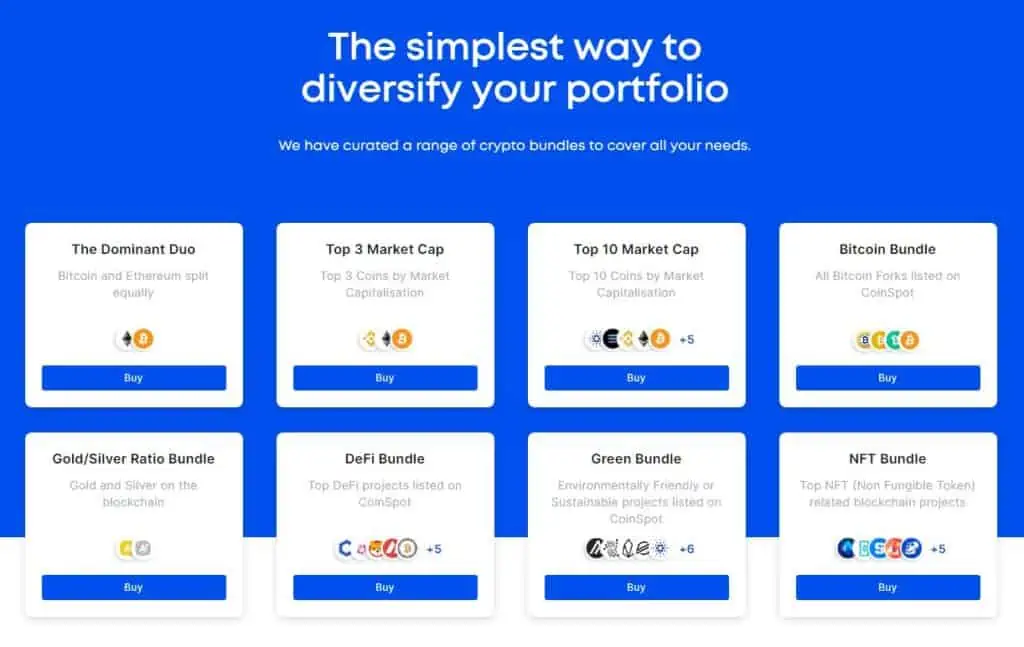 CoinSpot bundles include the dominant duo (BTC and ETH), top 3 by market cap, top 10 by market cap, Bitcoin bundle (BTC and all forked cryptos available on CoinSpot), DeFi bundle, metaverse bundle, Green bundle, NFT bundle, and a few additional bundles.
Cryptocurrency Staking
CoinSpot has a very useful staking feature called CoinSpot Earn. Users can stake a wide variety of popular cryptos and earn high annual percentage yields on their initial deposits. This feature is a great way to maximise your crypto profitability by making your stored coins grow over time.
The staking rewards vary depending on the crypto in question, and they can range from 4.2% for Tezos (XTZ) and Fantom (FTM), all the way to the sky-high 78% staking reward for Axie Infinity (AXS) tokens.
The rest of the cryptos available for staking include ADA, ALGO, Cosmos (ATOM), AVAX, Binance Coin (BNB), Harmony (ONE), Cronos (CRO), Polkadot (DOT), Solana (SOL), and several additional, trending coins.
CoinSpot Wallet
All CoinSpot users are automatically provided with a free, trustworthy CoinSpot multi-coin wallet that can store all the coins and tokens available on the platform. The wallet is integrated within the platform, and you can access it either by logging into your platform account through a web browser or through the CoinSpot mobile app.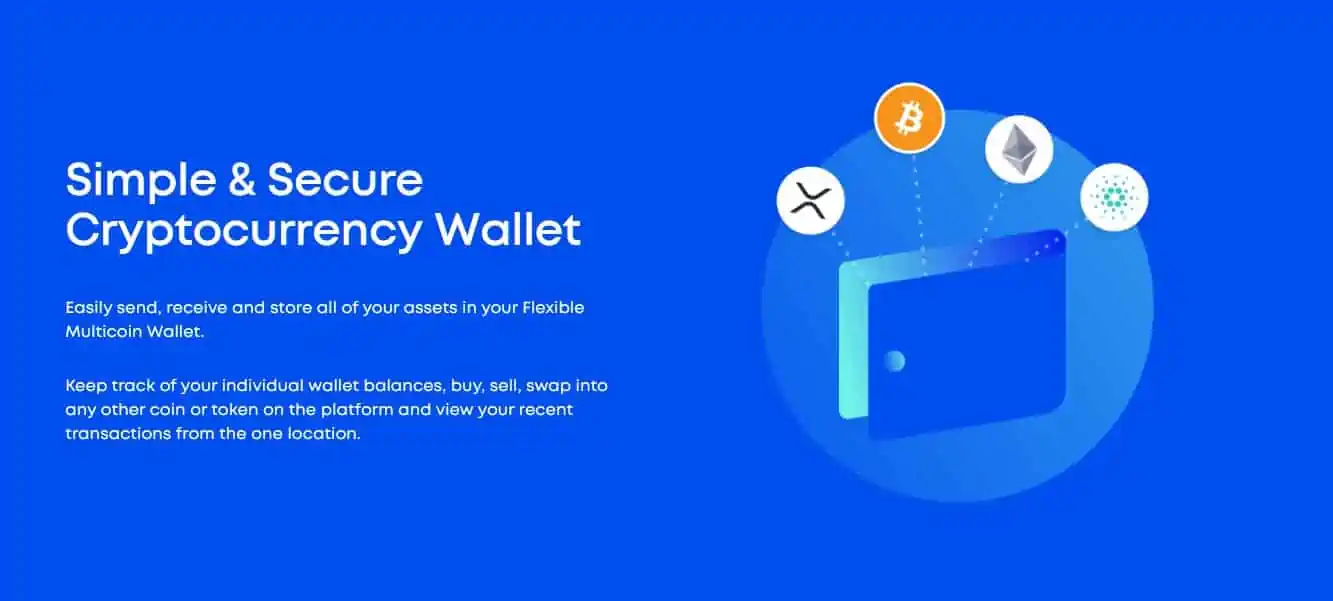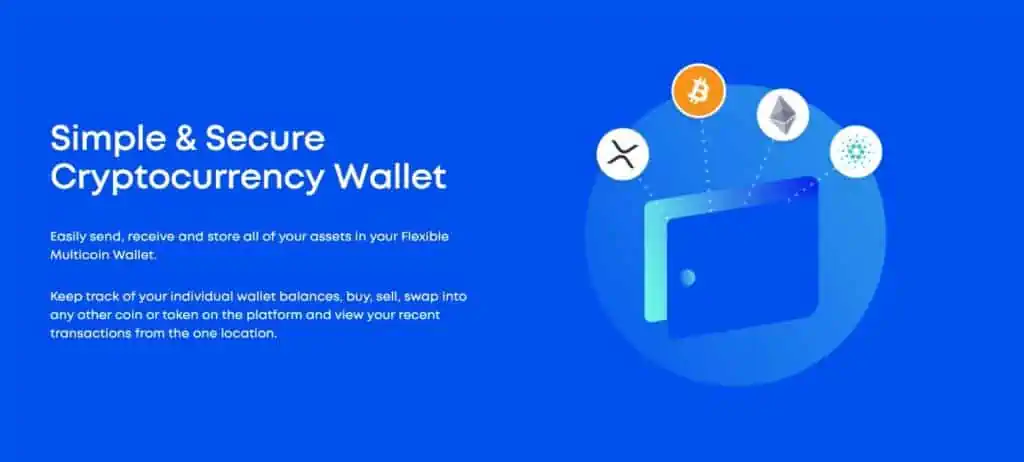 The wallet allows users to easily manage their whole portfolio of stored assets, and the transactions can be set to require two-factor authentication (2FA) as an additional security measure just to make sure no one besides you can initiate a transfer of assets from your wallet.
You can also directly deposit fiat currency into your CoinSpot wallet and hold Australian dollars in it, and later spend them on crypto. When you click on the Deposit Funds button, you can quickly facilitate a fiat AUD transaction to your wallet through BPAY, PayID, POLi, cash deposits, or direct deposits.
CoinSpot Mobile App
The CoinSpot app is available for both Android and iOS mobile devices, and it's the most convenient way to use the platform. The browser version of the platform is very simple to use, but the mobile app goes a step further, and I really didn't have any issues with the app because all the key features are clearly visible, and you can buy, sell, swap, or stake coins with a few clicks.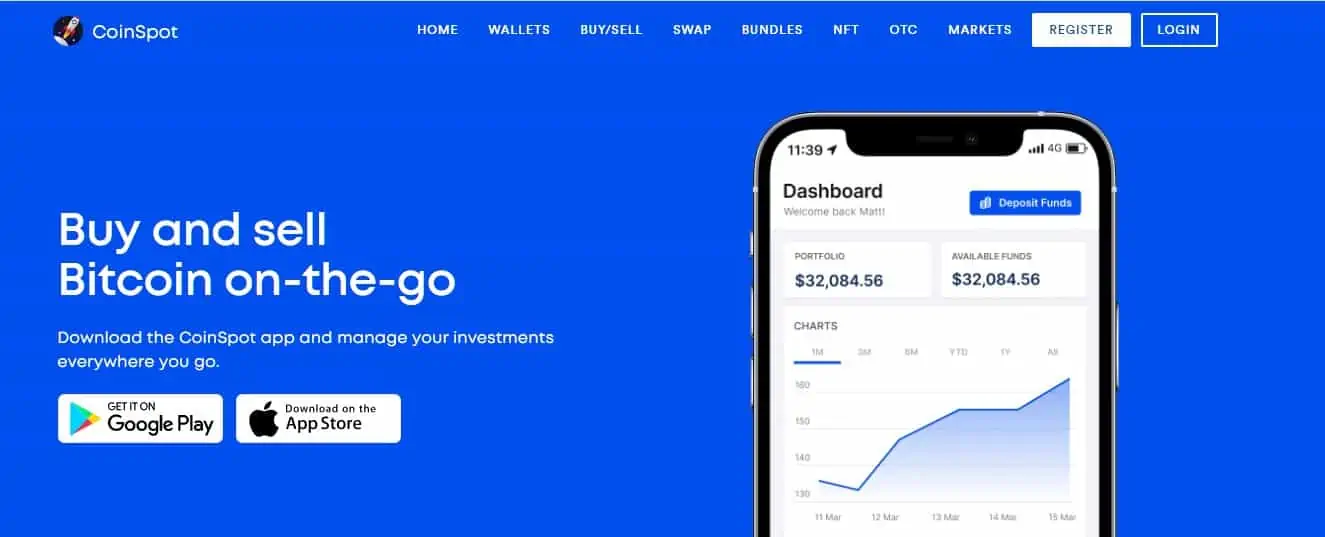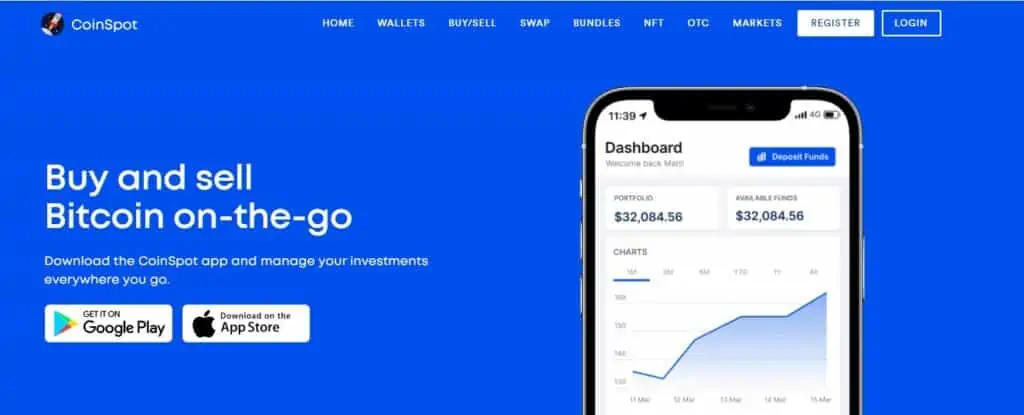 CoinSpot's mobile app really excels at providing users with a streamlined experience of crypto investing without unnecessary bureaucratic procedures. With the app, you probably won't even need to access the browser version of the platform at all.
Affiliate Program
CoinSpot incentivises users to bring new users to the platform through referral rewards and their affiliate program. For each user who signs up onto the platform with your referral code, you'll both get a 10 AUD reward in Bitcoin to your CoinSpot account.

The affiliate program is another way you can earn passive income from CoinSpot. For each new user who signs up through your affiliate link, you'll receive a staggering 30% of their trading commission fees for the next 12 months, 15% of the fees during the second year, and 5% of their fees during the third year of their active trading. This way, users have an incentive to act as affiliate marketers for CoinSpot because they'll get handsomely rewarded from the new user's commission fees.
CoinSpot Fees and Costs
The CoinSpot exchange has a fixed fee policy. Market orders and over-the-counter (OTC) orders always incur a 0.1% trading fee, while instant trading, recurring orders, stop, limit, and take profit orders incur a 1% fee.
This 1% fee is somewhat higher compared to many competitors, but the CoinSpot market spreads are quite low, which means that they compensate to some extent for the higher instant trading and advanced order fees.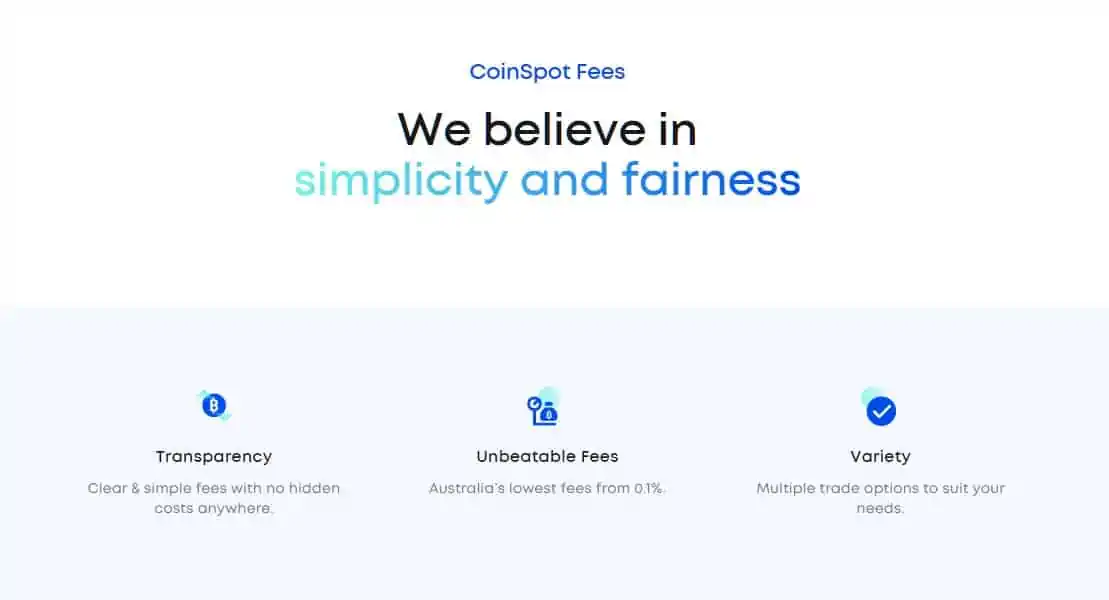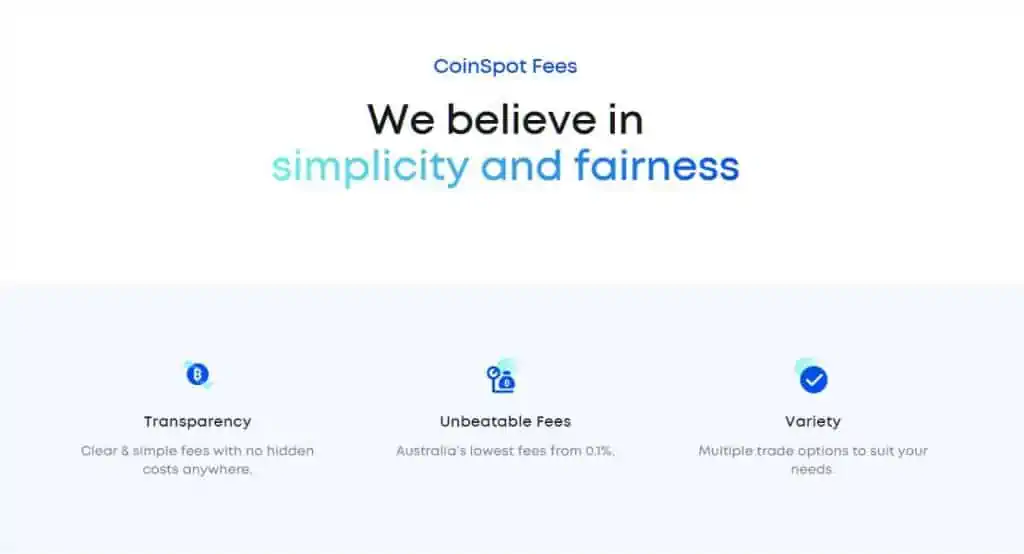 As far as fiat deposits through POLi, PayID, and direct deposits, the platform doesn't charge any deposit fees. Cash deposits incur a 2.5% fee, while BPAY deposits are charged 0.9%. There are no fiat withdrawal fees.
Security
CoinSpot prides itself with top rated security features. Most of the platform's assets are kept offline in cold storage devices, while only a tiny portion of crypto is kept online for platform liquidity purposes.
All user accounts and personal data are encrypted and protected with passwords. Additionally, users have 2FA at their disposal to increase the safety of their accounts. With two-factor authentication, you need to confirm each transaction either by entering a one-time code sent to your verified email address or to your phone number in a text message.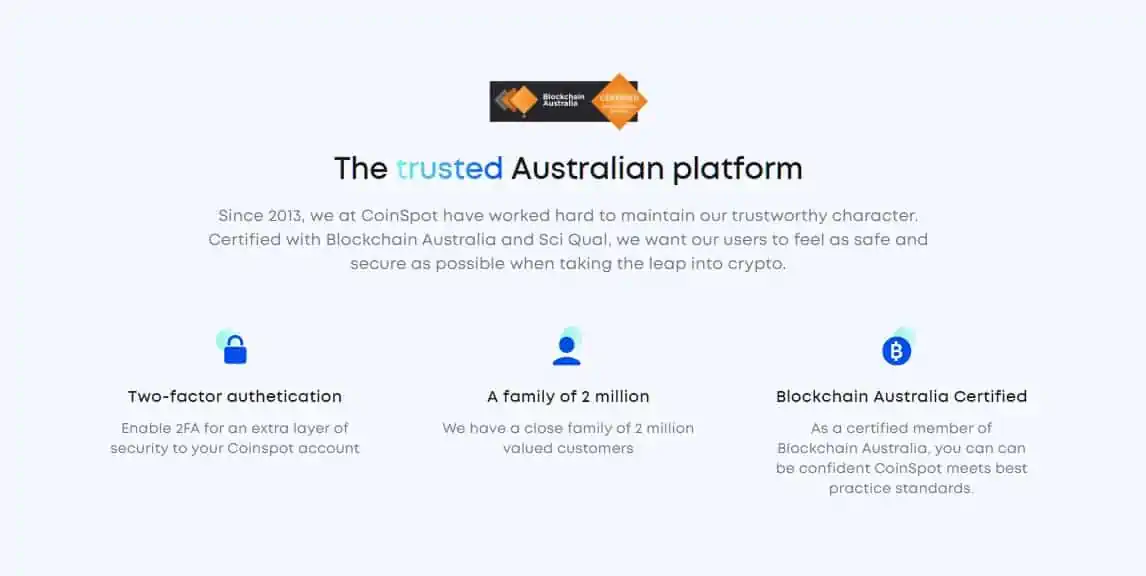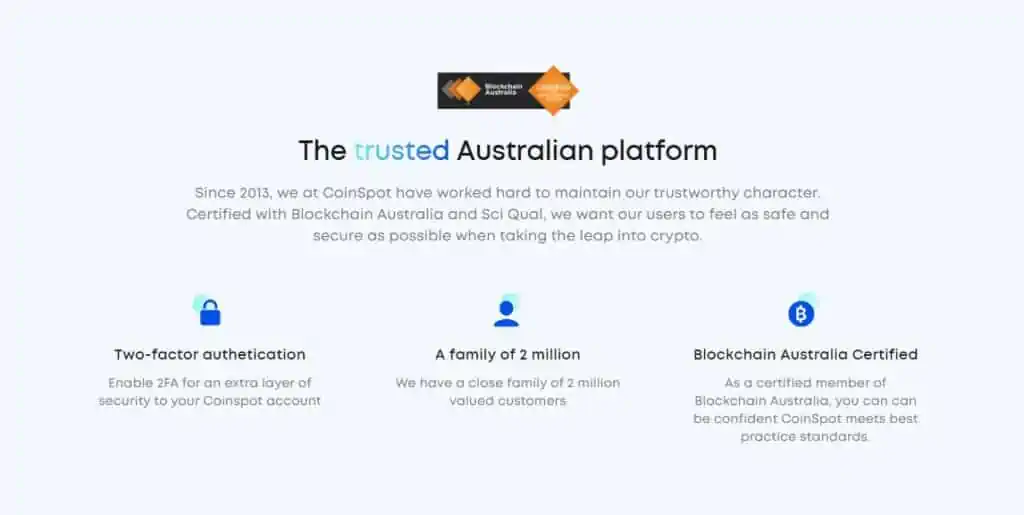 CoinSpot has never been hacked since its launch, which is quite impressive since the exchange platform has been active since the early days of crypto.
Customer Support
CoinSpot's customer support is excellent. The support team is available through email, support tickets, and the live chat option that lets you communicate with a real, Australian-based professional who will help you with any platform issues you encounter.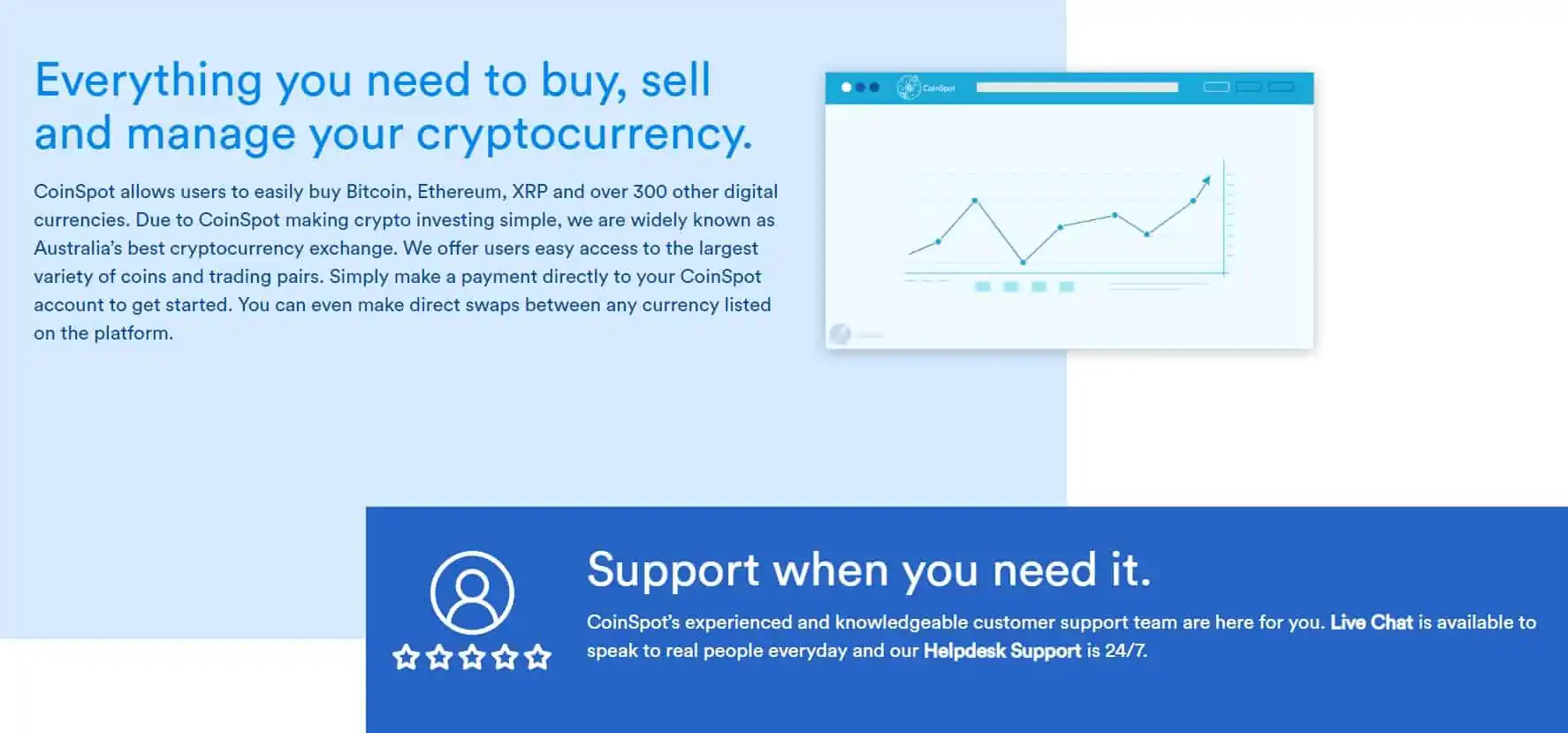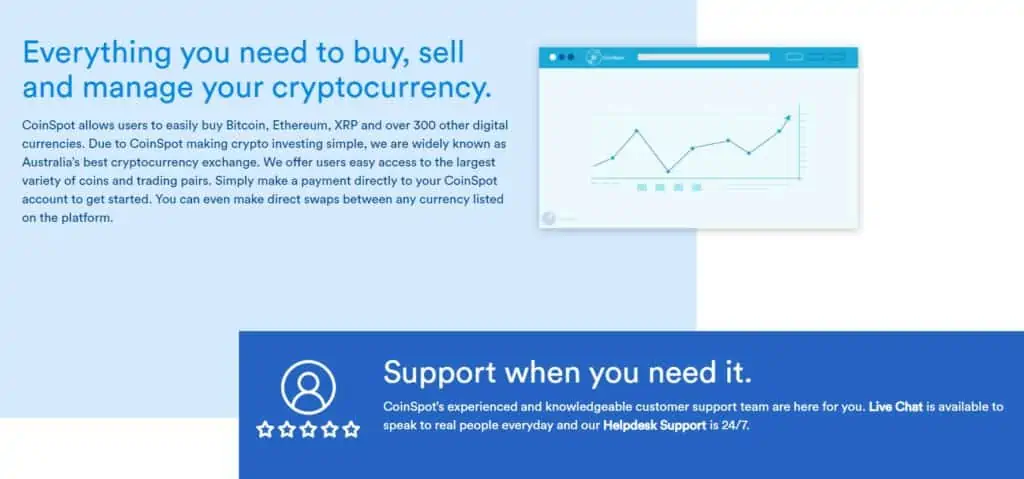 The support team's live chat response time is barely a few minutes, which is excellent, and they really do their best to help users and answer their questions.
Creating a CoinSpot Account
Here's how you can create an account on CoinSpot and start trading crypto in less than 10 minutes: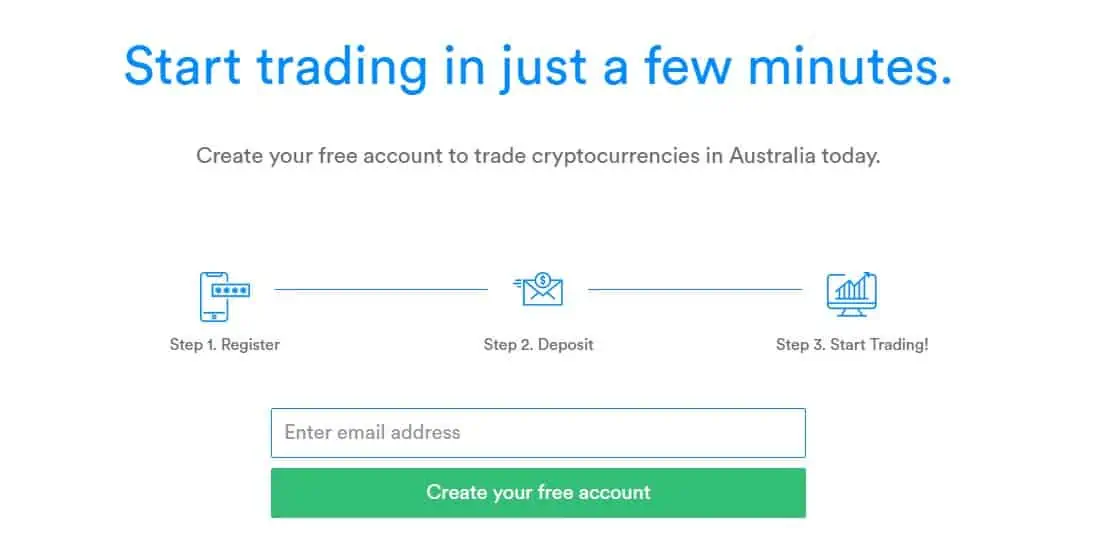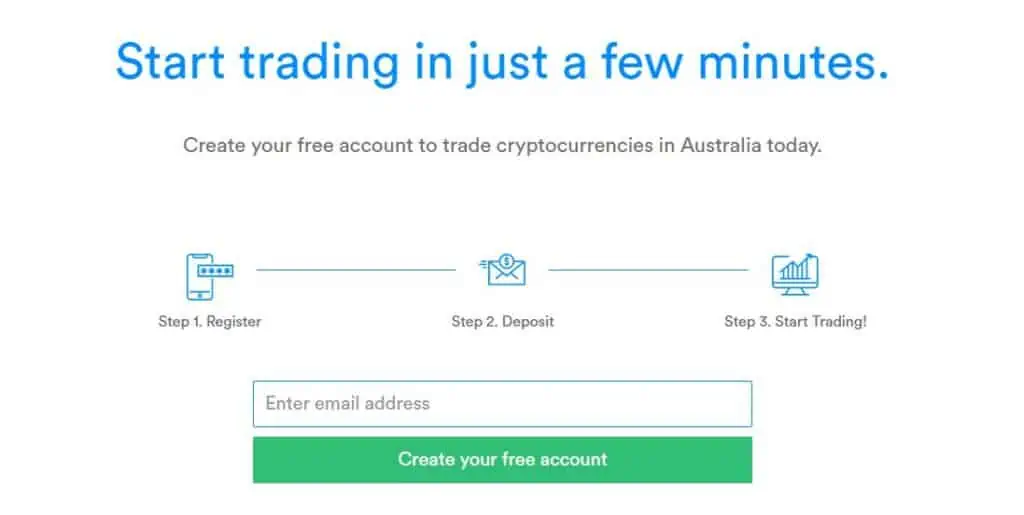 Go to the CoinSpot website and click REGISTER.
Enter your email address and create a strong password with a mix of letters and numbers.
Be sure to enter your referral or affiliate code if you have one, and confirm that you're a human by checking the box at the bottom of the screen.
Click on Create Account.
Now, you need to verify your account before you can start trading. Click the Complete Verification button to start the process.
You'll receive a confirmation email. Click on the link in the email to verify its validity.
Now select the Personal account option in the account type menu.
Fill out all the personal details requested by the trading platform.
You need to upload a photo of a government-issued identification document in the next step. It's best to upload a passport, Australian ID card, or driver's licence and make sure that the photo isn't blurry.
Submit the account to finish the verification process. The process shouldn't take more than 10 minutes, and once you're finished, you're ready to start trading on CoinSpot.
CoinSpot Alternatives
Is Coinbase or CoinSpot Better?
For Australian crypto traders, CoinSpot is definitely a better choice than Coinbase because Coinbase doesn't support Australian dollars, which considerably complicates things for Aussie traders who want to use the platform. Also, Coinbase has quite high fees and a rather limited choice of crypto compared to CoinSpot.
Is CoinSpot or Binance Better?
Binance has a broader choice of supported cryptos than CoinSpot, and the platform fees are lower when it comes to instant purchases. However, Binance isn't regulated in Australia, which means that Aussie users aren't legally protected in case the platform gets hacked or goes broke. That's why CoinSpot is a better choice for Australian users.
Frequently Asked Questions
What are the accepted payment methods on CoinSpot?
CoinSpot accepts a wide range of popular AUD deposit methods, including POLi, PayID, BPAY, cash deposits, and direct deposits from a bank account.
What types of NFTs are available on CoinSpot?
You can find loads of NFT gems on the CoinSpot NFT market, including market leaders such as Bored Ape Yacht Club, Azuki, Vee Friends, Cool Cats, Invisible Friends, and a wide range of other trending NFT projects.
Is CoinSpot regulated in Australia?
Yes, CoinSpot is regulated by AUSTRAC, which means that it complies with all financial rules and regulations in Australia. CoinSpot users are legally protected in case the platform gets hacked or goes bankrupt.
How do I cash out on CoinSpot?
Cashing out crypto on CoinSpot is very simple. The first thing you need to do is sell cryptocurrency for AUD, either through the instant trading feature or through the market section if you're selling one of the coins eligible for market orders.
Once you've sold your crypto for AUD, you just need to initiate a cash withdrawal to your bank account through the WITHDRAW AUD option in your account dashboard. Just follow the instructions and enter your bank account details before submitting the withdrawal request. It's that simple.
Conclusion
I was a bit skeptical about CoinSpot before I started using it because the fact that the platform was launched back in 2013 led me to think it might have an outdated, complicated user interface. I was totally wrong. The CoinSpot exchange platform has a smooth design, it's very easy to use, has a great selection of cryptos, along with various trading features fit for beginners and advanced users alike. It's no wonder that more than 2.5 million Australians have accounts on CoinSpot.
Related:
CoinSpot Compared
| Exchange | Cryptocurrencies | Fiat Currencies | Trading Fees | Deposit Methods | Sign Up |
| --- | --- | --- | --- | --- | --- |
| Swyftx | More than 320 | Australian Dollars, New Zealand Dollars | 0.6% | Osko, PayID, Credit Card, Debit Card, Bank Transfer, Cryptocurrency | Visit Swyftx |
| CoinSpot | More than 370 | Australian Dollars | OTC: 0.1% Market Order: 0.1%* (applies to LTC, BTC, ETH, XRP, POWR, DOGE, TRX, NEO, XLM, GAS, RChain, RFOX, EOS) Instant Buy/Sell: 1% | POLi, PayID, Cash, Cryptocurrency, Bank Transfer, BPAY | Visit CoinSpot |
| Binance | More than 600 | US Dollars, Australian Dollars, and 8 more | 0% to 0.1% | Osko, PayID, Credit Card, Debit Card, Crypto | Visit Binance |
| Bybit | More than 160 | 50+ | 0.1% to 0.6% | Crypto, EFT, wire transfer, bank transfer, debit card or credit card | Visit Bybit |
| Independent Reserve | 27 | Australian Dollars, US Dollars, New Zealand Dollars | 0.05% to 0.5% | EFT, SWIFT, Osko, PayID, Crypto | Visit Independent Reserve |
| Coinbase | More than 210 | Australian Dollars, US Dollars, New Zealand Dollars | Fees Vary | EFT, SWIFT, Osko, PayID, Crypto | Visit Coinbase |
| CoinJar | More than 50+ | Australian Dollars, Pound Sterling | Taker: 0.04 to 0.1% Maker: 0.04 to 0.1% | Apple Pay, Google Pay, Credit Card, Debit Card, Bank Transfer, Fiat, Crypto | Visit CoinJar |
| Kraken | More than 140 | Australian Dollars, US Dollars, and 5 more | Taker: 0.10% to 0.26% Maker: 0.00% to 0.16% | Apple Pay, Google Pay, SWIFT, Osko, SEPA, Crypto, Wire Transfer, Bank Transfer | Visit Kraken |
| BTC Markets | More than 15 | Australian Dollars | Taker Fee (for Bitcoin pairs): 0.20% Maker Fee (for Bitcoin pairs): -0.05% Australian Dollars Market Pairs: 0.10% to 0.85% | Crypto, BPAY, EFT, PayID, Osko | Visit BTC Markets |
| Easy Crypto | More than 40 | Australian Dollars, New Zealand Dollars, South African Rand | 1% | P2P, POLi, and Bank Transfers | Visit Easy Crypto |
| Coinstash | More than 140 | AUD | Taker fees: 0.85% Maker fees: 0.85% | Cryptocurrency, Bank Transfer, PayID | Visit Coinstash |
| eToro | More than 70 | Australian Dollars, US Dollars, Euro, and 12 more | Vary | Online Banking, Skrill, Neteller, PayPal, Bank Transfer, Debit Card | Visit eToro |
| KuCoin | More than 645 | US Dollars, Euro, Australian Dollars, and 6 more | 0.1% | Credit Card, Debit Card, SEPA, PayPal, Wire Transfer, Crypto | Visit KuCoin |