Coinspot vs CoinJar 2023
Australians can put their trading skills to the test on a number of excellent bitcoin exchanges in Australia, like Swyftx, CoinSpot, Digital Surge, CoinJar, or Independent Reserve, to name a few. For this comparative analysis, we picked CoinSpot and CoinJar.
Nevertheless, comparing two of the best Australian crypto exchanges is never a simple feat. How can you truly select the finest among the greatest? Let's start with the back-to-back figures.
Comparison Table
Features
CoinSpot
CoinJar
Supported Coins
350+
50+
Trading Fee
0.1% – 1%
maker/taker fee: 0.5%-0.20% / 1% instant buy fee
Market Spread
3%-4%
Variable
Deposit Fee
POLi, PayID, bank transfers, and direct AUD deposits incur zero fees.
Cash deposits – 2.5% fee, BPAY deposits – 0.9% fee
Credit/debit card and fiat currency deposits – 1.5%-2% fee
Withdrawal Fee
Free AUD withdrawals to Australian bank accounts
No withdrawal fee
Payment Methods
Cash, debit card, PayID, BPAY, POLi.
Bank transfers, Blueshyft cash deposits, Osko, PayID, credit / debit card
Regulatory Status
A member of Blockchain Australia and AUSTRAC licenced exchange
FCA and AUSTRAC registered exchange
Customer Support
24/7 help desk / live chat support.
Help desk support during business hours (Australian time), 24/7 email support
CoinSpot, Australia's largest cryptocurrency exchange, was established in 2013. This Melbourne-based exchange distinguishes itself with its ease of use, low fees, and one of the broadest selections of digital assets available in the cryptocurrency industry.
If you simply want to buy crypto without engaging in more complex trading activities, CoinSpot removes all of the perplexing trading lingoes and confusing market analytics. This way, the exchange allows users to concentrate on the fundamentals of trading.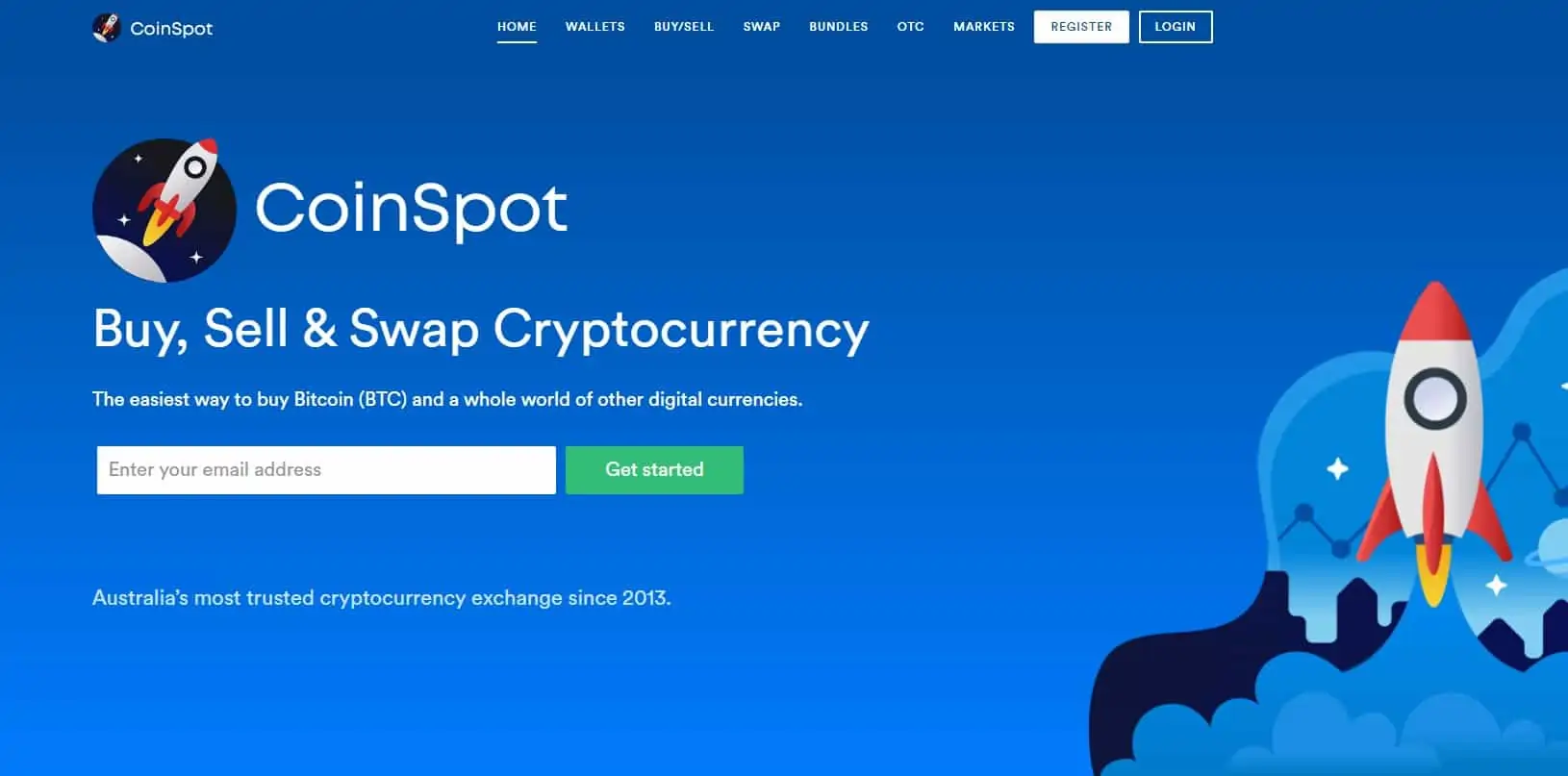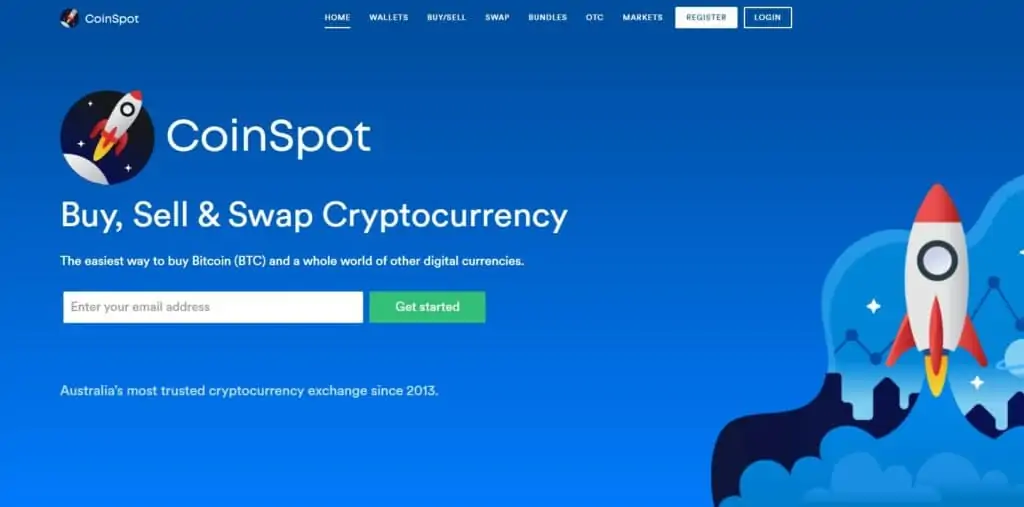 Pros:
Beginner-friendly platform;
Fast and effortless sign-up process;
Offline storage for user funds;
A vast selection of cryptocurrencies and trading pairs;
Live chat support and a 24/7 help desk;
Instant AUD purchases;
AUSTRAC-registered exchange;
Features an NFT marketplace;
Provides a rich FAQ section.
Cons:
Australian residents are unable to make credit card deposits;
Doesn't support PayPal as a payment option;
Supports only AUD fiat currency for deposits.
CoinJar exchange is a robust peer-to-peer (P2P) crypto trading platform that allows users to directly exchange many digital currencies against Australian dollars and Bitcoin among themselves.
The CoinJar cryptocurrency trading platform gives professional and high volume investors greater control of their buy and sell orders than any other trading platform. The actual cost and size of your deal, as well as the parameters under which it might be cancelled, are all customizable when you trade through CoinJar.
Moreover, the exchange gives a comprehensive insight into the marketplace, such as liquidity levels and the current market value of the traded asset.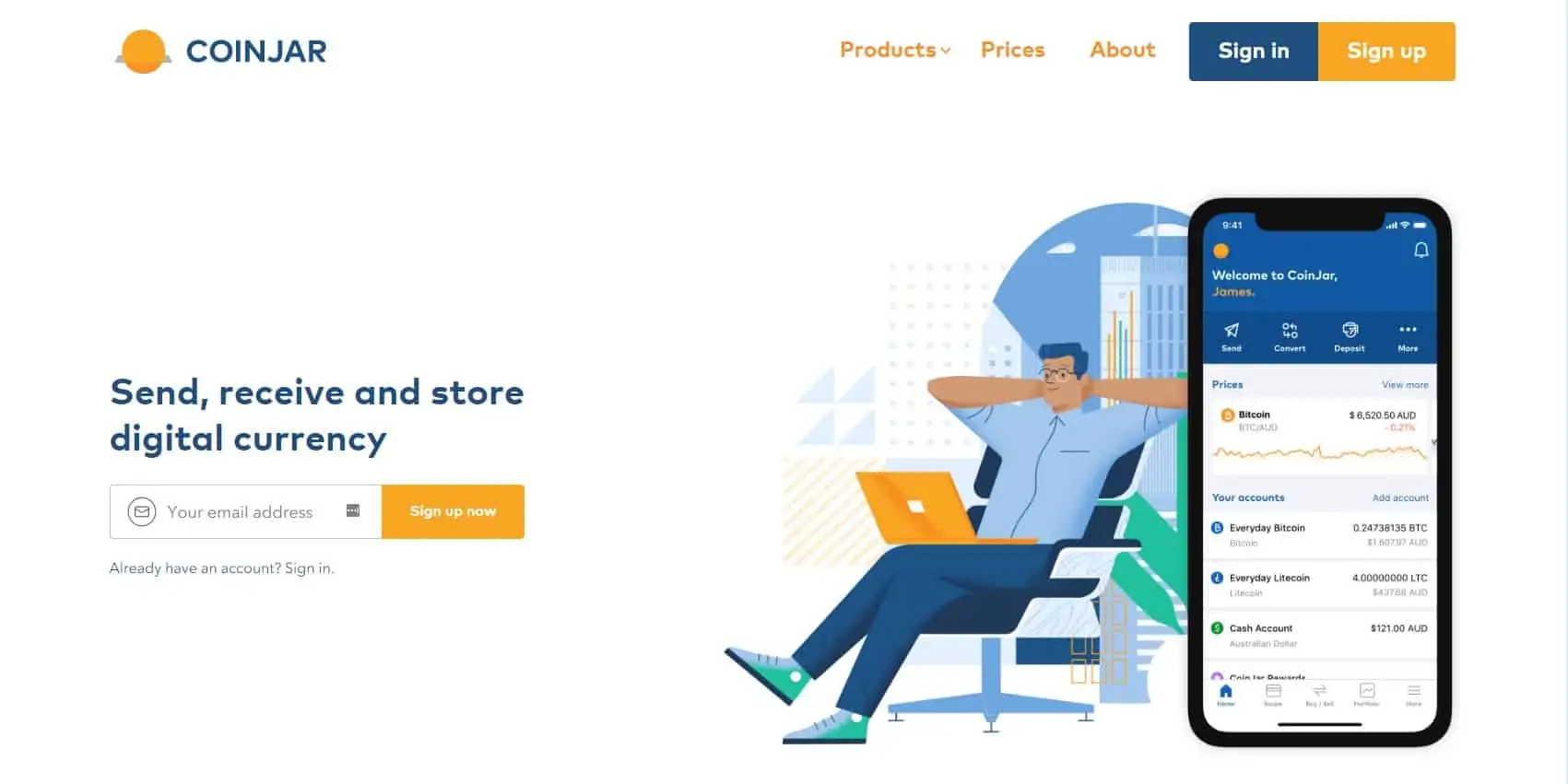 Pros:
Suitable for more experienced traders;
Enables peer-to-peer trading;
Provides OTC trading instruments;
Cold storage for 90% of the funds;
AUSTRAC-registered exchange.
Cons:
Provides only a handful of cryptocurrencies;
No margin trading;
Doesn't provide live chat or customer support during the weekends.
Supported Cryptocurrencies
CoinSpot offers a range of over 350 different cryptocurrencies available for trading. You can buy Bitcoin, Ethereum, Bitcoin Cash, Bitcoin Gold, DOGE, and many other altcoins. This exchange also has the widest range of fiat currencies, including AUD, EUR, GBP, USD, and a dozen more.
Our second exchange, CoinJar, supports the most prominent coins on the market, like Bitcoin (BTC), Ethereum (ETH), Ripple (XRP), Litecoin (LTC), Cardano (ADA), Binance Coin (BNB), and Algorand (ALGO) and a variety of ERC-20 tokens, such as SushiSwap (SUSHI), USD Coin (USDC), Chainlink (LINK), and Balancer (BAL).
Supported Cryptocurrencies Winner: CoinSpot
Among Australian exchanges, CoinSpot is the undisputed leader based on its coin offering. As the exchange's executives strive to enlarge the platform's portfolio even further, so we could expect an even wider coin selection in the future.
Fees
The CoinSpot fee model depends on the order type. More specifically, this exchange levies a flat 1% fee for instant buying, selling, and crypto-to-crypto swaps for placing a market order, recurrent order, or for processing an OTC trade.
Additionally, when moving cryptocurrency out of the CoinSpot platform. It is important to note that the mining fees differ for each coin and its respective blockchain. CoinSpot's Wallet tab automatically indicates the actual cost, which is really convenient.
On the other hand, CoinJar imposes a 1% fluctuating fee when you buy, sell, or exchange cryptocurrencies through an instant trading widget, which is different from buying or selling coins through any of the market orders or simply swapping trading pairs. For the market orders or exchange of crypto trading pairs, CoinJar follows the maker/taker fee structure based on the 30-day trading volume, which imposes trading charges from 0.08% to 0.20% of the trade.
Fees Winner: CoinSpot
Although both exchanges levy almost identical transaction fees, we'd go with the CoinSpot as a winner in this category simply because it's easier to calculate your total expenses with a flat fee.
Spread
Depending on the trading asset, the price disparities or spreads between various trading assets can reach up to 3% or even 4% on CoinSpot. With CoinSpot's spread, the crypto investors dealing in big amounts of coins will be at a disadvantage.
Generally, CoinJar's pricing is calculated upon a transaction worth 2,000 AUD. This will lead to larger deals getting a wider spread, whereas smaller deals will have a tighter spread. You can always evaluate the spread prior to placing your purchase on CoinJar.
Please keep in mind that the CoinJar spread charge can increase even further as the 1% cryptocurrency conversion rate and a transaction fee are added to the total cost.
Spread Winner: CoinSpot
In comparison to CoinJar's variable market spread, CoinSpot offers tighter spreads, allowing traders to make a higher profit on the deal. As a result, we choose CoinSpot as the winner in this category, although the spread on this exchange isn't the most competitive in the industry.
Customer Support
If you're experiencing difficulties with the platform's functionalities or trading tools, you can email CoinSpot's 24/7 Help Desk, which will usually respond within a day. For more urgent assistance, CoinSpot provides live chat available during business hours, weekends included.
If you have any questions about CoinJar's financial services or your trades, you can contact their customer support team during business hours. Unfortunately, the team is unavailable during the weekend. Also, you'll have to send a support request through email, as CoinJar does not feature a live chat.
Customer Support Winner: CoinSpot
Without a doubt, having live chat help is always the finest kind of assistance, especially when dealing with volatile products where every second could spell financial ruin. Hence, we find CoinSpot to be superior to its rival in this user-oriented aspect.
Mobile App
CoinSpot has created a mobile app compatible with both Android and iOS devices to assist clients in managing their cryptocurrency investments on the go. You can follow CoinSpot's immersive index of crypto assets from your smartphone screen.
To check which trader made the highest profit in the last 24 hours, simply choose between digital currencies. You can also see all of the most attractive investment indicators and statistics for each coin or token.
As for CoinJar, this exchange provides a mobile app that can be used as a digital wallet. The CoinJar mobile app also allows users to do almost all basic trading operations, such as swapping, buying, and selling cryptos, but also view their recent transactions and analyse market dynamics. In addition to the two-factor authentication protocol, CoinJar's mobile app employs biometric and face recognition algorithms to safeguard user data.
Mobile App Winner: CoinJar
As a result of the advanced security mechanisms that have been integrated into the CoinJar mobile application's framework, we have chosen this exchange as the winner in this category.
Deposit Methods
Direct deposits, third-party payment providers like PayID and POLi, OSKO direct AUD deposits, as well as crypto deposits are all options available through CoinSpot. There are no fees for any of these deposit methods. Cash deposits cost 2.5%, but you can avoid the high fee using BPAY instead, which charges only 0.9% of the entire transaction.
By contrast, the vast bulk of AUD and crypto deposits on CoinJar don't impose a transaction fee. Direct debit deposits, accepting cryptos from non-CoinJar accounts or other CoinJar users, are also free.
However, there are additional fees for Blueshyft cash transactions and Instant Buy payments completed using bank cards issued by Visa or Mastercard. The final difference is that in comparison to CoinSpot, CoinJar allows you to pay with your credit or debit card.
Deposit Methods Winner: CoinJar
It appears that CoinJar comfortably wins in this round of comparison since the exchange accepts both credit/debit card payments and has more free payment choices than CoinSpot.
Security
To begin with, CoinSpot holds the ISO 27001 certificate standard for data protection, making it the first exchange in the country to obtain one. The ISO 27001 certification implies that private information housed on the platform is stored in compliance with AML/KYC regulations.
Moreover, the underpinning security protocols integrated into CoinSpot's platform protect user funds and accounts from cyber-attacks. In turn, this exchange can freely boast that it has never been hacked since its introduction to the crypto market.
CoinJar utilises a variety of security measures to ensure the overall safety of the exchange. For this, the CoinJar developers have implemented industry-leading security solutions, including the 2FA protocol and numerous encryption methods to prevent unauthorised parties from accessing your digital wallet and account. Moreover, at least 90% of all virtual money is housed in geographically dispersed offline servers.
Finally, besides being registered with AUSTRAC, CoinJar is also a registered UK firm, and it conforms with UK Anti-Money Laundering (AML) regulations.
Security Winner
When it comes to the security of CoinSpot and CoinJar, it appears that the developers of both exchanges have made significant efforts to safeguard their platforms and the funds of their customers. Furthermore, CoinSpot and CoinJar are both AUSTRAC-regulated, which means they must comply with the most stringent security procedures. So, in terms of security, we seem to have a tie.
Final Verdict
Based on our comparative analysis, we can conclude that both CoinSpot and CoinJar are safe and user-friendly Australian cryptocurrency exchanges that provide a variety of simple and effective trading tools to their users. However, we choose CoinSpot as the ultimate winner since it features a larger portion of coins, a more flexible pricing structure and lower fees, and superior customer service and user interface.
Best Crypto Exchanges Compared
| Exchange | Cryptocurrencies | Fiat Currencies | Trading Fees | Deposit Methods | Sign Up |
| --- | --- | --- | --- | --- | --- |
| Swyftx | More than 320 | Australian Dollars, New Zealand Dollars | 0.6% | Osko, PayID, Credit Card, Debit Card, Bank Transfer, Cryptocurrency | Visit Swyftx |
| CoinSpot | More than 370 | Australian Dollars | OTC: 0.1% Market Order: 0.1%* (applies to LTC, BTC, ETH, XRP, POWR, DOGE, TRX, NEO, XLM, GAS, RChain, RFOX, EOS) Instant Buy/Sell: 1% | POLi, PayID, Cash, Cryptocurrency, Bank Transfer, BPAY | Visit CoinSpot |
| Binance | More than 600 | US Dollars, Australian Dollars, and 8 more | 0% to 0.1% | Osko, PayID, Credit Card, Debit Card, Crypto | Visit Binance |
| Bybit | More than 160 | 50+ | 0.1% to 0.6% | Crypto, EFT, wire transfer, bank transfer, debit card or credit card | Visit Bybit |
| Independent Reserve | 27 | Australian Dollars, US Dollars, New Zealand Dollars | 0.05% to 0.5% | EFT, SWIFT, Osko, PayID, Crypto | Visit Independent Reserve |
| Coinbase | More than 210 | Australian Dollars, US Dollars, New Zealand Dollars | Fees Vary | EFT, SWIFT, Osko, PayID, Crypto | Visit Coinbase |
| CoinJar | More than 50+ | Australian Dollars, Pound Sterling | Taker: 0.04 to 0.1% Maker: 0.04 to 0.1% | Apple Pay, Google Pay, Credit Card, Debit Card, Bank Transfer, Fiat, Crypto | Visit CoinJar |
| Kraken | More than 140 | Australian Dollars, US Dollars, and 5 more | Taker: 0.10% to 0.26% Maker: 0.00% to 0.16% | Apple Pay, Google Pay, SWIFT, Osko, SEPA, Crypto, Wire Transfer, Bank Transfer | Visit Kraken |
| BTC Markets | More than 15 | Australian Dollars | Taker Fee (for Bitcoin pairs): 0.20% Maker Fee (for Bitcoin pairs): -0.05% Australian Dollars Market Pairs: 0.10% to 0.85% | Crypto, BPAY, EFT, PayID, Osko | Visit BTC Markets |
| Easy Crypto | More than 40 | Australian Dollars, New Zealand Dollars, South African Rand | 1% | P2P, POLi, and Bank Transfers | Visit Easy Crypto |
| Coinstash | More than 140 | AUD | Taker fees: 0.85% Maker fees: 0.85% | Cryptocurrency, Bank Transfer, PayID | Visit Coinstash |
| eToro | More than 70 | Australian Dollars, US Dollars, Euro, and 12 more | Vary | Online Banking, Skrill, Neteller, PayPal, Bank Transfer, Debit Card | Visit eToro |
| KuCoin | More than 645 | US Dollars, Euro, Australian Dollars, and 6 more | 0.1% | Credit Card, Debit Card, SEPA, PayPal, Wire Transfer, Crypto | Visit KuCoin |