Cointree Review for 2022
The notion of cryptocurrency trading has brought about seismic shifts in the world of finance. Out of the most forward-looking members of our society, those dedicated to exploring the future and developing new, advanced technologies that will improve civilization from different aspects, cryptocurrency developers are some of those with the most futuristic vision. If it is true that "money makes the world go round", envision a future in which digital money is available to everyone.
This is precisely what the CoinTree trading platform's inventors had set forth as their ultimate aim when they created this exchange in the first place. The CoinTree platform has successfully paved its way to the top of the Australian cryptocurrency exchanges by putting their vision into practice. It's a world of digital economy where crypto trading would be accessible to all – a place where everyone can trade coins for low fees and have their funds secured by top-of-the-line safety mechanisms.
So if CoinTree is one of the top Australian crypto exchanges, what do you think is the key to their success? What trading tools do they make available to their customers, and how do they protect their customers' online data? Let's take an in-depth look to find out.
About the CoinTree Exchange
To begin with, CoinTree was founded in 2013 in Melbourne, Australia, and is widely regarded as one of the most reliable trading platforms available where you can instantly buy and sell cryptocurrency. Offering its trading tools alongside some of the best Aussie exchanges (like Independent Reserve, Coinbase, and CoinSpot), CoinTree allows citizens of Australia to buy Bitcoin and trade cryptocurrencies in their native fiat currency, the Australian dollar (AUD). Moreover, this popular cryptocurrency exchange is regulated by AUSTRAC for anti-money laundering and counter-terrorist financing (AML/CTF) compliance.
One of the most characteristic and unique features that you will discover among the common crypto trading tools on this trading platform is the option of paying your bills in cryptocurrency. For this, CoinTree has teamed up with bill payment automatisation service Gobbill to give the opportunity for cryptocurrency holders to meet their financial obligations by using coins via the BPAY service.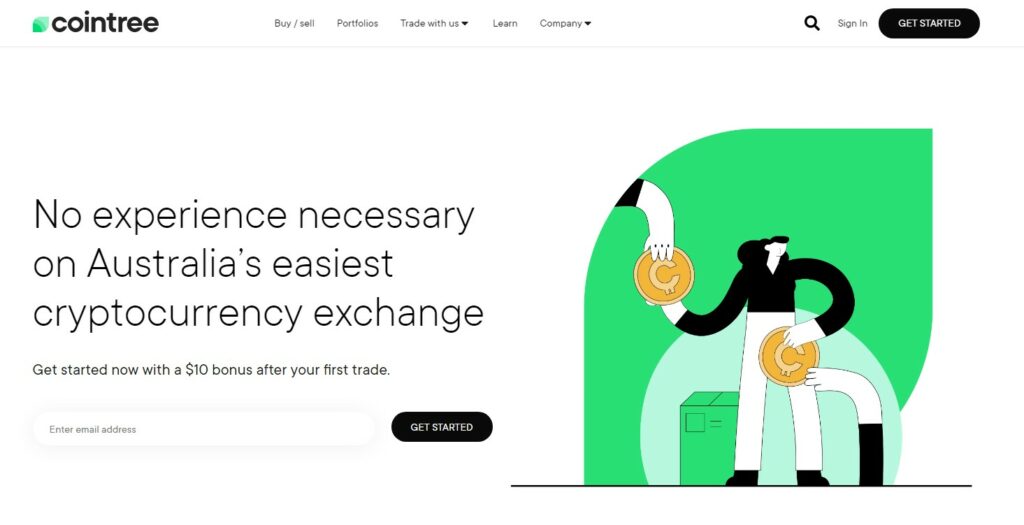 In order to make use of all the money-making tools featured on Cointree.com, first, you need to open a free trading account and authenticate your identity in order to buy or sell Bitcoin. CoinTree offers four types of trading accounts: individual trading account, a self-managed super fund account (SMSF), advisors, and an institutional account for trading on the CoinTree platform.
After setting up the account of your choice, you can quickly transfer AUD to it through the PayID service. There, you're all set to start your new trading venture and build your cryptocurrency portfolio by trading Bitcoin (BTC), Ethereum (ETC), Litecoin (LTC), DeFi tokens, NFT governance tokens, as well as over 160 other digital assets.
CoinTree UI
Upon first glance, the CoinTree user interface leaves an impression that we're doing business with experienced professionals. A wealth of crypto knowledge-packed articles comes to your attention as you simply scroll down from the title underlined with the platform's motto: "Grow your wealth with the world of crypto".
However, despite the powerful information-punch that can leave you with an impression that only seasoned traders could find their way through the labyrinth of crypto know-hows, it's fairly easy to get started on this platform. Just a click on the black 'Get started' icon in the top right corner will bring you to the quick registration form. This step will also add $10 to your account with your first purchase.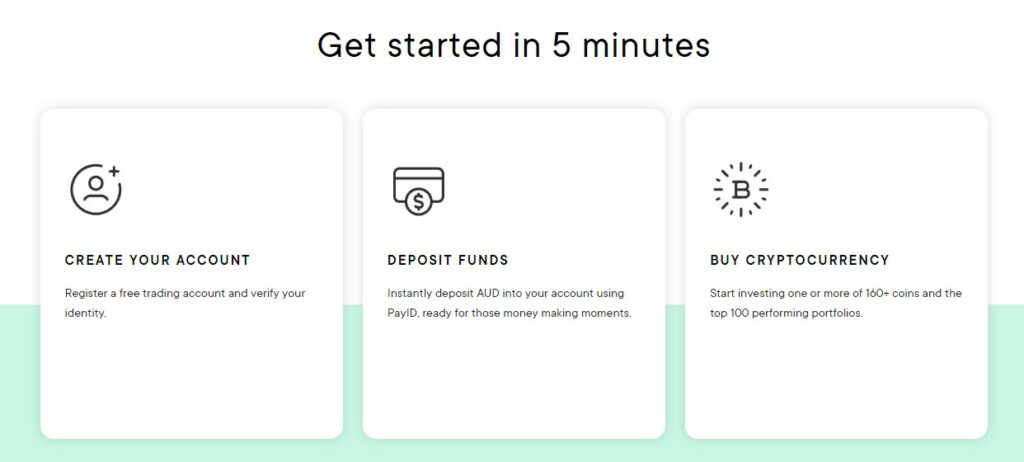 But what we truly appreciated here is that we are assured that the platform we're signing up for is safe, secure, popular, and registered by the AU financial regulators. In one word – we can tell that the platform is trustworthy.
This site also has a beginner-friendly learning hub that offers articles covering all crypto topics conveniently sorted by the degree of a trader's knowledge in the realm: beginner, intermediate, and advanced series of written guides, tips, and explainers are available. Even if you're not into crypto trading and you've landed onto the CoinTree domain by chance, we strongly suggest that you browse this extensive knowledge base, since it's one of the best and most fun ones we've come across in a while. To get a hint on what we mean by this, give this article a read. Super-entertaining, right?
Supported Cryptocurrencies
Bitcoin (BTC) and more than 160 other altcoins, including stable coins, tokens, and NFT governance tokens, are available for trading on the CoinTree exchange.
The following are some of the digital currency projects that are on the CoinTree list of supported cryptocurrencies: Bitcoin (BTC), Ethereum (ETH), Binance Coin (BNB), Bitcoin Cash (BCH), Tether USD (USDT), Bitcoin SV (BSV), Cardano (ADA), EOS (EOS), Solano (SOL), RIpple (XRP), Dogecoin (DOGE), Polkadot (DOT), Uniswap (UNI), Algorand (ALGO), Stellar (XLM), and Tezos (XTZ).
Payment Methods
While you can fund your CoinTree account by placing a crypto deposit via wire transfer, making instant payments through POLI and PayIDor, or even depositing fiat currencies (in AUD) in cash by paying a brief visit to your local bank, you cannot use your credit card as a payment option on CoinTree.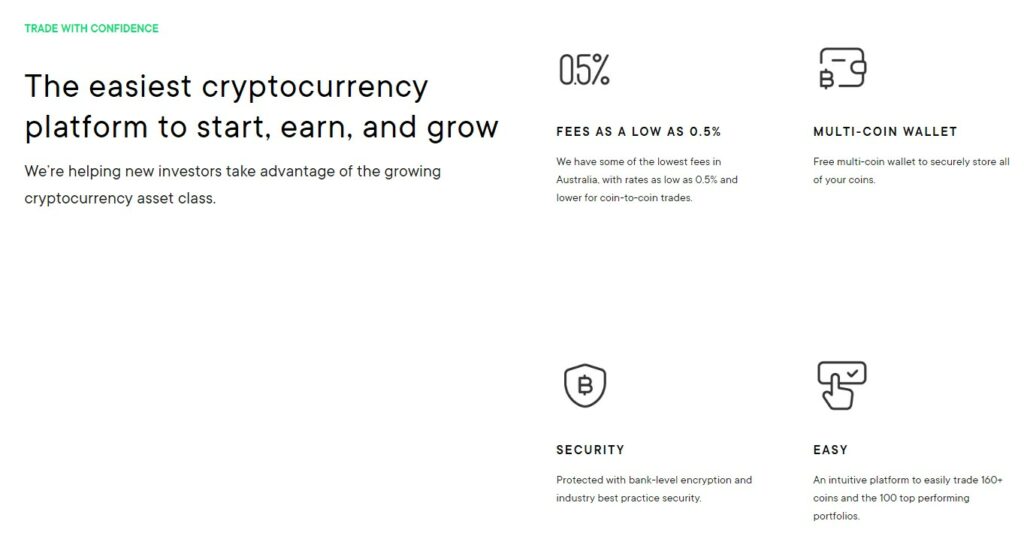 Trading Fees and Limits
CoinTree provides a tiered schedule to determine the transaction fees on the platform. The 5 account levels (bronze, silver, gold, platinum, and diamond) are automatically evaluated on a daily basis that considers the last 30 days' trading volume stated in AUD, and also the past 30 days of new qualifying referrals.
Moreover, CoinTree does not distinguish between liquidity makers and the takers. Both types of traders are charged a flat fee of 0.25% for their transactions. Although these buy/sell fees are not the most exorbitant in Australia, they are also not the most affordable for novices who are looking forward to making their first lucrative crypto deal.
Deposit Fees
CoinTree does not impose fees on fiat deposits to the accounts created on the trading platform. However, there can be some costs levied by the payment providers that typically go from 2.75 AUD to 3.50 AUD per deposit.
Deposits made with cash or PayID will be almost instantaneously available, whereas POLi transfers and electronic bank transfers used as deposit methods would generally take between one and two days.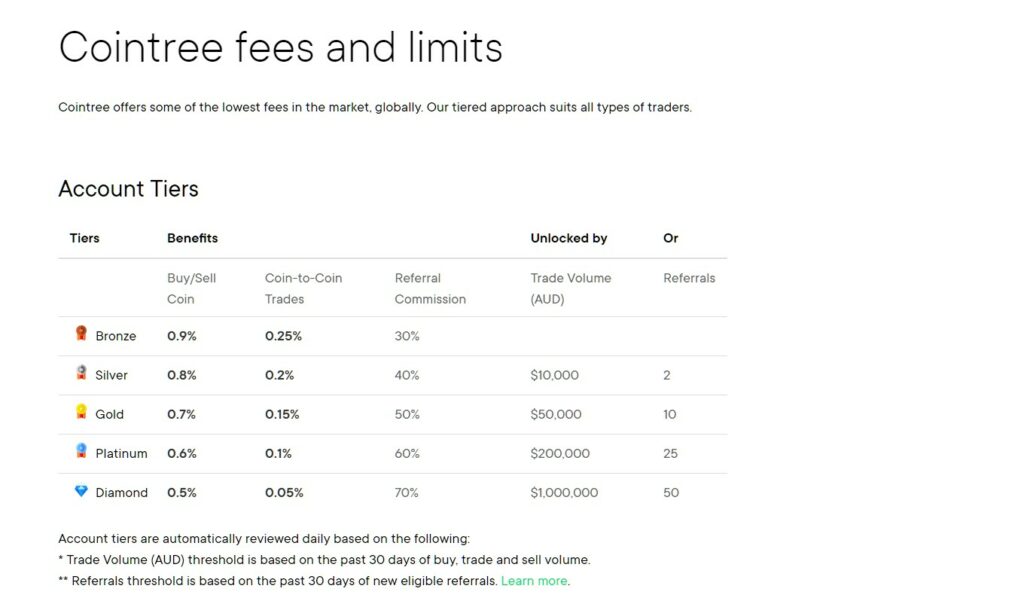 Withdrawal Fees
While the AUD transfer from your CoinTree account to your Australian bank account is free, the withdrawals from the CoinTree platform are subject to the regular mining charges that go to the liquidity providers.
These transaction fees change according to the blockchain's network conditions, and range from 0.5% to 0.9%. A useful fact: withdrawals generally take from three to five days to reach your connected bank account.
Purchase Limits
The purchasing minimum on CoinTree amounts to AUD 20. Normally, the purchase limitations are set at AUD 10,000 per day and AUD 20,000 per week. However, you may also request a higher upper limit by contacting CoinTree's customer service representatives that will do their best to meet your needs.
Is CoinTree Safe to Use?
Committed to safeguarding both the sensitive data and account information of its users, the team behind the CoinTree exchange platform has implemented several methods to provide the most secure trading environment.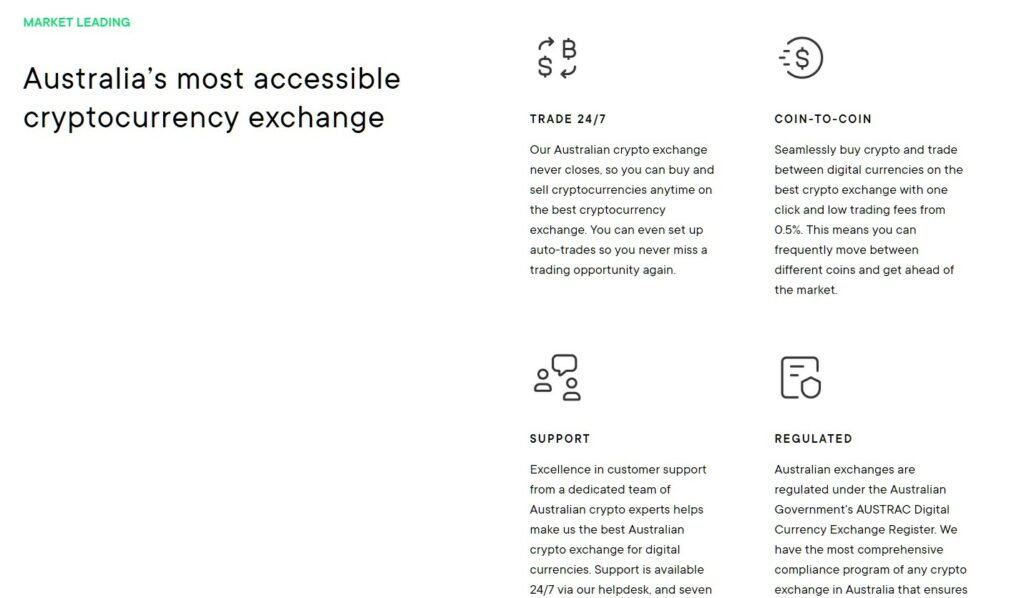 This includes integrating a hot wallet/cold wallet system, encrypted SSL (HTTPS), a two-factor authentication process that's necessary for any fiat currency or crypto withdrawal, hashed passwords, etc. What's more, all CoinTree staff must undergo a criminal background check as part of the admission process. It really seems like the team is seriously dedicated to security and professionalism.
Customer Support
Alongside the rich library of educational material nested in the Help and Support tab in the bottom of the web UI, the CoinTree exchange also offers a dedicated customer support. You can contact the support team by submitting a ticket with your inquiry via the provided email address.
Frequently Asked Questions
Does CoinTree have a mobile app?
No. However, the CoinTree exchange has only a web-based platform that can easily be accessed from any mobile device with an internet connection.
In what countries is CoinTree available?
CoinTree is a global trading platform, available to all countries in the world. However, this at first may not be apparent, as the only fiat currency supported by this Australian exchange is the local AUD. However, due to legal restrictions, some countries can't access this trading platform. Some of them include: Afghanistan, Uzbekistan, United Kingdom, Germany, Singapore, Saudi Arabia, Luxembourg, France, and Ireland, to name a few.
Does CoinTree provide a cryptocurrency wallet?
Yes. When you register and verify your trading account on CoinTree, you'll also be provided with a multicurrency wallet where you can safely hold your digital assets and trade them directly from it. CoinTree's free Bitcoin exchange wallet is especially popular with newbies to crypto trading due to its ease-of-use.
If you want to use a more secure hardware wallet, the CoinTree team recommends choosing a wallet from the third-party Bitcoin wallet providers, such as Trezor, Ledger Nano X, and Exodus.
The Bottom Line
CoinTree is an Australian exchange that has helped the crypto market grow more popular among the residents of this country. Established not long after the introduction of the first cryptocurrency in the world, Bitcoin, it's reasonable to declare that this exchange has established its popularity and credibility upon years of excellent practices in the crypto sphere.
It's quite easy to get involved with this platform. CoinTree does not offer only practical and safe trading tools, but it also offers wealth of information to each crypto investor that visits its learning hub to read up on some crypto concept more extensively, or just to enjoy the clever and insightful articles.
Added to this, they offer relatively low (not the cheapest, though) transaction fees that pretty much round out the CoinTree narrative of success, as a crypto trading platform that caters to its customers' needs. It's all in a pleasant, friendly, and enjoyable setting for traders – simple yet rich in experience, trading alternatives, and informative content, hassle free, trustworthy – all kudos go to CoinTree.
We'll leave you with the fact that Cointree has assisted over 80,000 novices, advanced investors, and high-net-worth traders since its inception on the cryptocurrency scene.