Crypto.com Review for 2023
Every crypto enthusiast would agree that, even after more than a decade since the introduction of the world's first cryptocurrency, it's still critical for everyone involved in the cryptocurrency ecosystem to continue to work on increasing the accessibility of digital assets in order to make them more readily available for use in everyday transactions.
Not a small number of cryptocurrency project developers have been working towards this goal, adhering closely to the ultimate decentralization principle of cryptocurrencies in order to achieve it.
One such project is Crypto.com. A trading platform designed as a centralized hub for all decentralized trading tools with the goal of bringing crypto coins closer to all, the team behind Crypto.com has managed to work its way on the list of the most popular crypto exchanges just by following their true vision.
In this review, we'll take a closer look at what this trading platform has to offer, explore its ease of use and customer support, as well as examine how safe it is in depth, specifically how Crypto.com ensures the security of both sensitive data and digital assets for its customers.
About the Crypto.com Exchange
Crypto.com is a decentralized, open-source blockchain trading platform established by the Crypto.com payment and crypto trading company. As a result of the wide range of products and services that Crypto.com provides to its consumers, it is widely regarded as one of the greatest online cryptocurrency exchange platforms available today.
This trading platform, which was founded in 2016 by Kris Marszalek, provides a variety of trading tools and financial services as part of the development team's endeavour to provide financial independence to each and every one of Crypto.com's clients.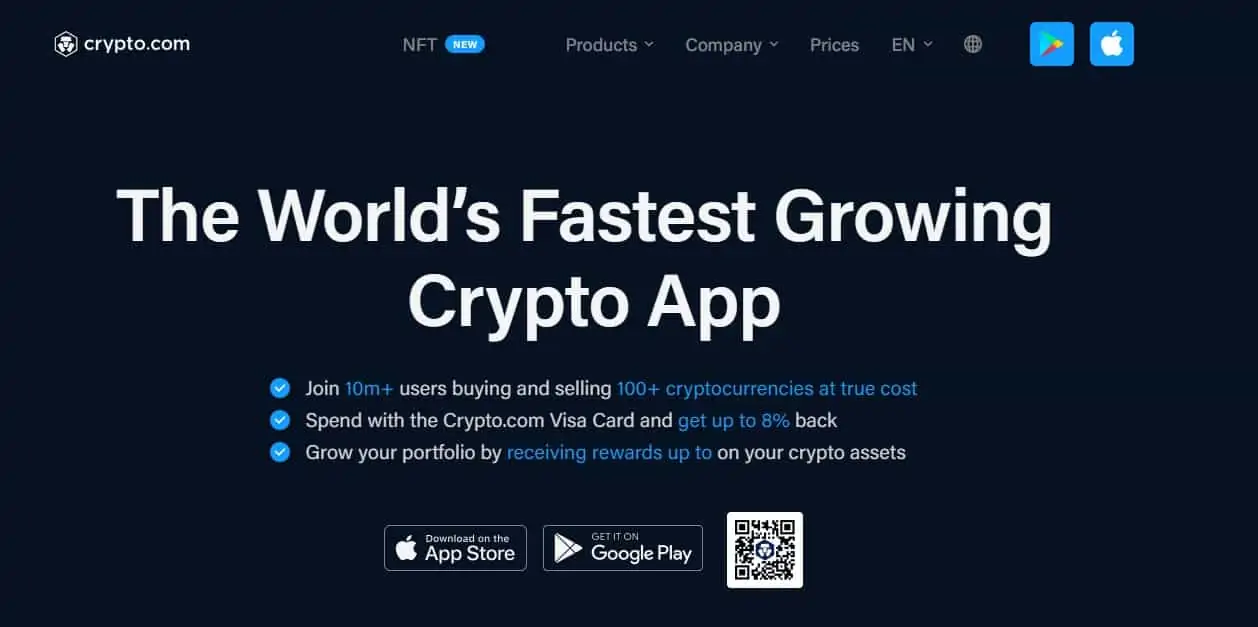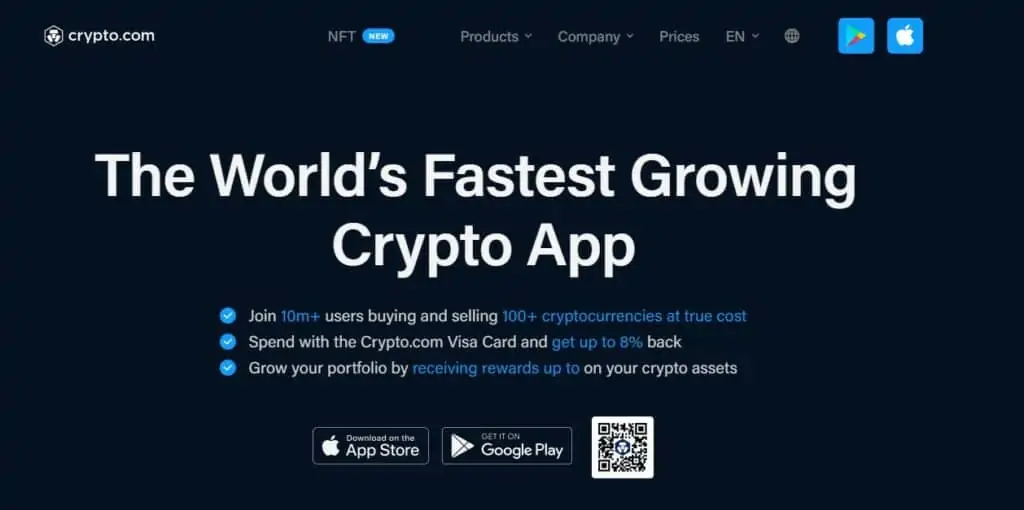 The user interface (UI) of the web platform is simple and sleek, yet it contains a wealth of information and features. While this is beneficial for experienced traders, it might be overwhelming for those who are just getting started in cryptocurrency trading.
The translators come to the rescue of those with less than sufficient fluency in English. Namely, the UI of the Crypro.com web platform is translated into a plethora of languages as a way of making the platform more accessible to everyone not fluent in English.
Crypto.com provides many versatile financial tools, including pre-listed token sales, trading games, crypto staking, and crypto loans, among others. As a part of their offer, the Crypto.com platform enables you to trade your coins by using a Visa card, receive payments in cryptocurrency, deposit your funds into an interest-bearing portfolio, as well as obtain a cryptocurrency loan.
The MCO Visa Cards
In collaboration with VISA, the Crypto.com development team has established their own line of cashback debit cards, known as the MCO Visa cards, to serve their customers. Each of the Crypto.com visa cards is funded by a fiat currency selected by the user.
There are five different card tiers of MCO Visa cards provided by this trading site, and each one offers a unique set of perks to its customers, which vary based on the amount of CRO you hold: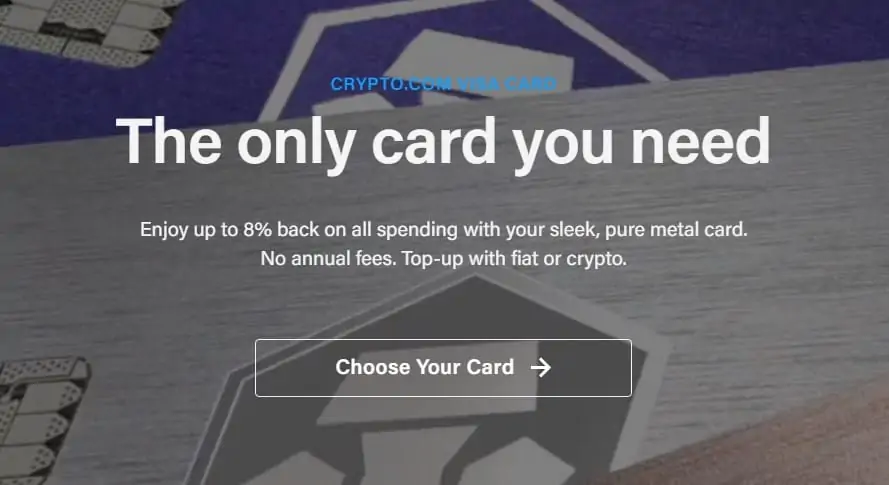 Midnight Blue – This ATM gives a 1% cashback bonus and has a $200 ATM withdrawal limit.
Ruby Steel – It gives a 2% cashback rate and also has a $400 ATM withdrawal limit per transaction.
Precious Metal Series – The Jade Green and Royal Indigo cards are representatives of this card set. They provide a 3% cashback incentive and have an ATM maximum of $800.
Icy White/Rose Gold – These cards give 4% cashback and also have a $1000 ATM withdrawal limit on each transaction.
Obsidian Black – In addition to offering a 5% payback, this card also provides some extra perks like higher interest rates on loans. With a $400,000 CRO stake, this card tier can boost the CRO APY to 8%.
Users of these cards may take advantage of the rebates on specific types of services, such as Spotify, Netflix, and Amazon Prime, as well as free ATM withdrawals up to a certain amount. Moreover, Crypto.com users can also earn cashback for buying gift cards with some of the most popular brands (Macy's, Airbnb, Barnes & Noble, for instance).
The Crypto.com Coin (CRO)
CRO is the native cryptocurrency token of the Crypto.com blockchain platform. Its main function is to power the Crypto.com mobile payments app (Pay Mobile) (Pay Mobile). Apart from this, there are numerous other benefits for the CRO holders, like staking CRO tokens as validators on the Crypto.com blockchain and earning network fees, settling the transaction fees on the platform for even lower fees, earning up to 10% cashback or token rewards, etc.
Supported Cryptocurrencies
When it comes to funding your account, Crypto.com supports the following cryptocurrency projects which you can use for making a deposit:
Bitcoin (BTC)
Bitcoin Cash (BCH)
Ethereum (ETH)
Crypto.com Coin (MCO)
Chainlink (LINK)
Tezos (XTZ)
Cosmos (ATOM)
Ripple (XRP)
Stellar (XLM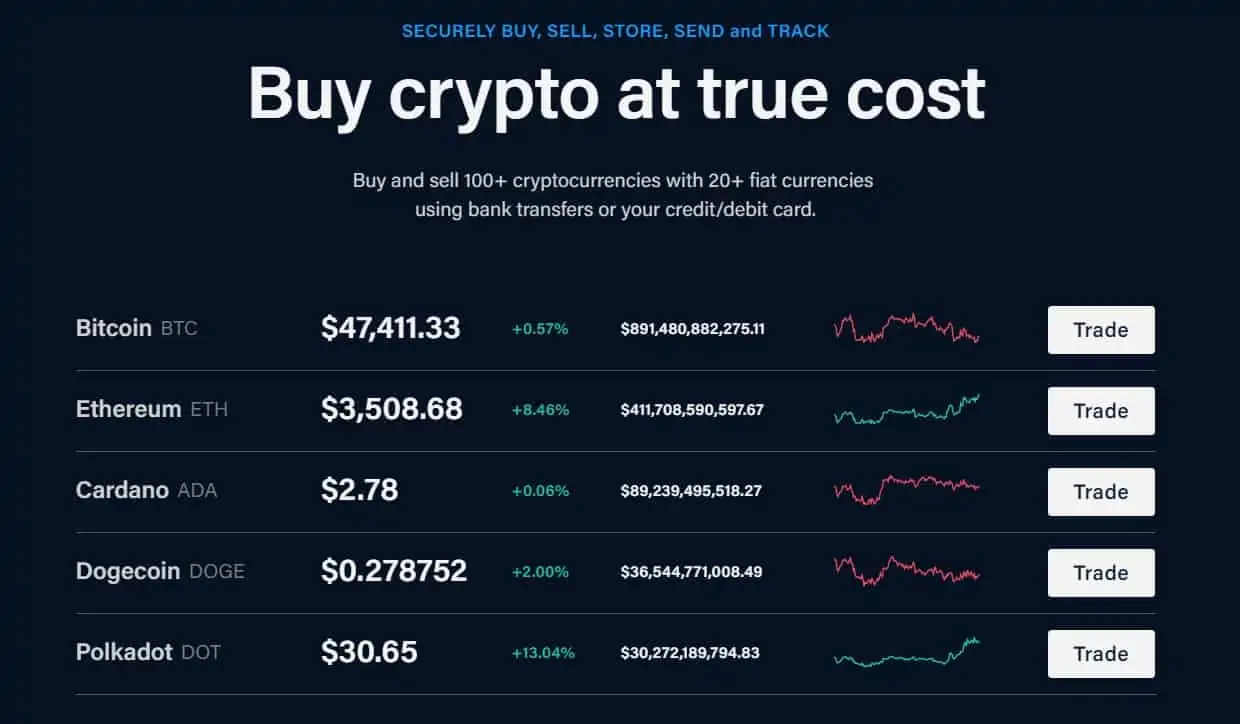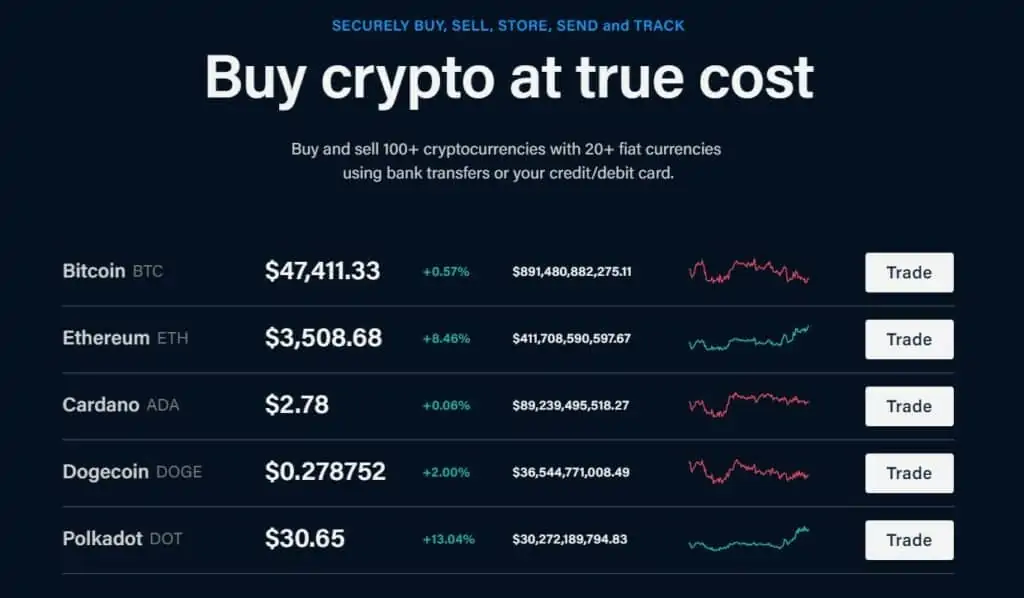 Crypto investors from all over the world (with the exception of the USA and Singapore) can trade the numerous coins, stablecoins, and tokens, including:
BTC
LTC
ETH
USDC
XLM
DOT
DOGE
DASH
Supported Fiat Currencies
A helpful feature provided by Crypto.com is the ability to purchase the coins of your choosing immediately through the trading site in a relatively straightforward and simple manner. Crypto.com maintains its high level of adaptability even when it comes to the option of fiat currencies.
The following is the comprehensive list of fiat currencies included in the offer of this trading platform that you can use for buying Bitcoin, Ether, Litecoin, Dogecoin, Tether, or other altcoins:
United States Dollar (USD)
Canadian Dollar (CAD)
Euro (EUR)
British Pound (GBP)
Australian Dollar (AUD)
Singapore Dollar (SGD)
New Zealand Dollar (NZD)
Swiss Franc (CHF)
Hong Kong Dollar (HKD)
Swedish Krona (SEK)
Norwegian Krone (NOK)
Danish Krone (DKK)
Polish Zloty (PLN)
New Taiwan Dollar (TWD)
Czech Koruna (CZK)
Bulgarian Lev (BGN)
Kenyan Shilling (KES)
Israeli New Shekel (ILS)
Saudi Riyal (SAR)
South African Rand (ZAR)
Russian Ruble (RUB)
Romanian Leu (RON)
Hungarian Forint (HUF)
United Arab Emirates Dirham (AED)
Payment Methods
You can make a deposit on your Crypto.com account by paying through PayPal and TransferWise, or by using your credit card, cryptocurrencies, or SEPA bank transfer.
Trading Fees and Limits
There are trading and withdrawal fees levied by the Crypto.com Exchange. The Crypto.com maker-taker fee structure is based upon the volume of trade. The liquidity providers of this crypto platform gain higher discounts as their trading volume grows. For even greater savings, the users are urged to invest in CRO and settle their transaction expenses in CRO coin. As an incentive, they can increase their earnings on their CRO holdings by 10%.


On the other hand, the lower-volume trading investors are charged higher transaction fees. This is even more so if the traders in question do not possess any amount of CRO coins.
How Does CRO Staking Work?
Through CRO staking, you may cut your expenses further by getting a reimbursement of a portion of your transaction charge in CRO. As an example, if you are eligible for a 10 percent reduction on maker fees (0.04-0.20%) and taker fees (0.10-0.20%) for a 30-day trading volume amounting to less than $25,000, you'll probably pay 0.36 percent rather than the quoted 0.4 percent.
Is Crypto.com Safe to Use?
This cryptocurrency platform operates in accordance with the KYC verification process guidelines in order to provide you with heightened security when it comes to your trading account information. In order to take advantage of this, you'll need to provide your full name, a photo of your ID card, a current photo of yourself, as well as some supporting documentation (these may include your passport, driving license, or your valid ID card).
Moreover, the Crypto.com platform safeguards the crypto assets and the provided data of their users by implementing multiple security features, such as multi-factor authentication, password protection, cold storage through Ledger hardware wallets as their partner, as well as anti-phishing protocols.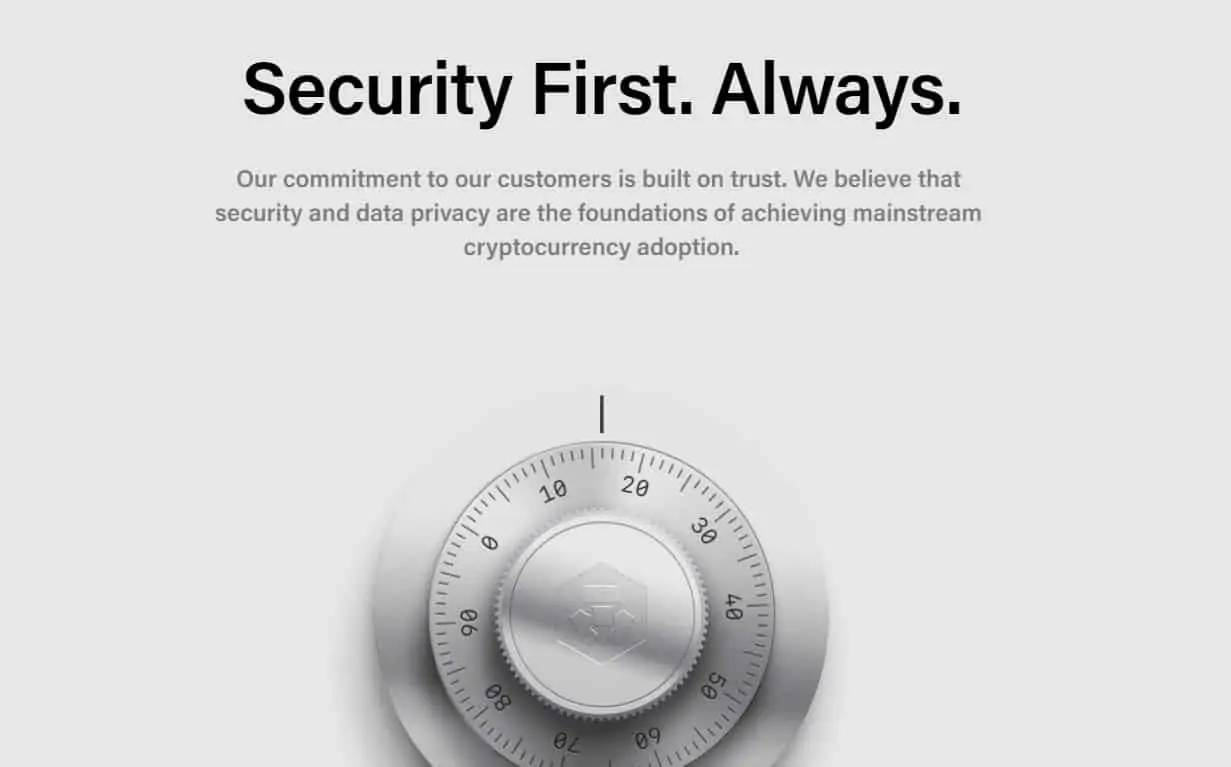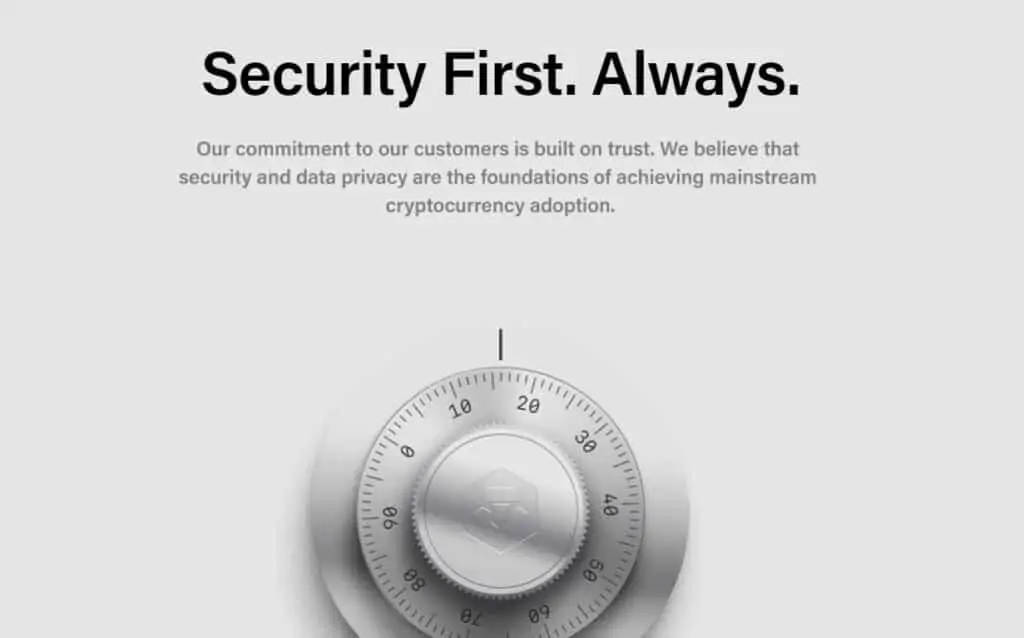 In addition to this, Crypto.com is a platform secured and regulated by several financial authorities. It holds certificates from:
Level 1 PDC: DSS standard for complying with strict requirements in the payment card industry (which is the highest level);
Adaptive (Tier 4) rating — National Institute of Standards and Technology (NIST) Privacy Framework;
Adaptive (Tier 4) rating — National Institute of Standards and Technology (NIST) Cybersecurity Framework;
SO/IEC 27701:2019 Certification for privacy risk management by SGS;
ISO/IEC 27001:2013, ISO/IEC 27701:2019, PCI:DSS 3.2.1, Level 1 compliance and CCSS.
Customer Support
When you visit the Crypto.com website, the first thing you'll undoubtedly notice is the chat service, which is operated by a bot that is available 24 hours a day, seven days a week. It will allow you to leave a note as well as other contact details so that the support team can contact you and address your query as soon as possible. It is not uncommon for members of the Crypto.com team to respond within a couple of hours of receiving your ticket.
In addition, there is a Help center in which you can get comprehensive answers to the most popular queries that Crypto.com customers often ask without actively reaching out to support. However, the knowledge base does not provide some basic info on crypto, which makes it unsuitable for beginners who want to become familiarized with the basic concepts before they dive into trading.
Frequently Asked Questions
Does Crypto.com have a mobile app?
Crypto.com has developed its own mobile application, which enables its customers to purchase and trade cryptocurrencies in no time, from the convenience of their smartphones. The Exchange app is compatible with both Android and iOS platforms and may be obtained from both the Google Play Store or the Apple Store for free.
The Crypto.com app currently has a limited selection of trading tools in comparison to the web platform. These include: spot trading, deposits and withdrawals, stake and earn, CRO fixed staking, soft staking, lending, the syndicate, supercharger, as well as the referral programme.
What countries are supported by Crypto.com?
Based in Hong Kong, the Crypto.com trading platform offers its services to the residents of the United States, Singapore, the United Kingdom, and more than 30 European countries.
Does Crypto.com offer a wallet?
Yes. This platform provides a non-custodial Crypto.com wallet that can be downloaded as an individual app. It's important to note that by utilizing this DeFi wallet for holding your crypto assets, you'll be solely responsible for its private keys.
What is Crypto earn?
Crypto Earn is a Crypto.com product that allows users to earn returns on their cryptos. Specifically, by depositing cryptocurrencies, Crypto.com clients may earn up to 8% (this goes up to 14% for deposited stable coins) of interest which is reimbursed on a weekly basis.
The Bottom Line
Crypto.com is a trading platform that was created to serve as a centralized hub for all decentralized trading tools with the goal of bringing crypto coins closer to the general public. In this regard, maybe the term that describes this platform best is a crypto bank rather than a crypto brokerage.
We can clearly see why this trading platform enjoys such popularity among its users. It's clearly very user-friendly, low-fee, customer-oriented, and offers a variety of trading tools that make it easy for traders to boost profits. The idea of making cryptocurrencies available to everyone is more than obvious in almost all segments of the Crypto.com developers' work.
For this, we can safely conclude that the team behind Crypto.com has managed to make their way into the ranks of the most popular cryptocurrency exchanges by following their true vision.
Crypto.com Compared
| Exchange | Cryptocurrencies | Fiat Currencies | Trading Fees | Deposit Methods | Sign Up |
| --- | --- | --- | --- | --- | --- |
| Swyftx | More than 320 | Australian Dollars, New Zealand Dollars | 0.6% | Osko, PayID, Credit Card, Debit Card, Bank Transfer, Cryptocurrency | Visit Swyftx |
| CoinSpot | More than 370 | Australian Dollars | OTC: 0.1% Market Order: 0.1%* (applies to LTC, BTC, ETH, XRP, POWR, DOGE, TRX, NEO, XLM, GAS, RChain, RFOX, EOS) Instant Buy/Sell: 1% | POLi, PayID, Cash, Cryptocurrency, Bank Transfer, BPAY | Visit CoinSpot |
| Binance | More than 600 | US Dollars, Australian Dollars, and 8 more | 0% to 0.1% | Osko, PayID, Credit Card, Debit Card, Crypto | Visit Binance |
| Bybit | More than 160 | 50+ | 0.1% to 0.6% | Crypto, EFT, wire transfer, bank transfer, debit card or credit card | Visit Bybit |
| Independent Reserve | 27 | Australian Dollars, US Dollars, New Zealand Dollars | 0.05% to 0.5% | EFT, SWIFT, Osko, PayID, Crypto | Visit Independent Reserve |
| Coinbase | More than 210 | Australian Dollars, US Dollars, New Zealand Dollars | Fees Vary | EFT, SWIFT, Osko, PayID, Crypto | Visit Coinbase |
| CoinJar | More than 50+ | Australian Dollars, Pound Sterling | Taker: 0.04 to 0.1% Maker: 0.04 to 0.1% | Apple Pay, Google Pay, Credit Card, Debit Card, Bank Transfer, Fiat, Crypto | Visit CoinJar |
| Kraken | More than 140 | Australian Dollars, US Dollars, and 5 more | Taker: 0.10% to 0.26% Maker: 0.00% to 0.16% | Apple Pay, Google Pay, SWIFT, Osko, SEPA, Crypto, Wire Transfer, Bank Transfer | Visit Kraken |
| BTC Markets | More than 15 | Australian Dollars | Taker Fee (for Bitcoin pairs): 0.20% Maker Fee (for Bitcoin pairs): -0.05% Australian Dollars Market Pairs: 0.10% to 0.85% | Crypto, BPAY, EFT, PayID, Osko | Visit BTC Markets |
| Easy Crypto | More than 40 | Australian Dollars, New Zealand Dollars, South African Rand | 1% | P2P, POLi, and Bank Transfers | Visit Easy Crypto |
| Coinstash | More than 140 | AUD | Taker fees: 0.85% Maker fees: 0.85% | Cryptocurrency, Bank Transfer, PayID | Visit Coinstash |
| eToro | More than 70 | Australian Dollars, US Dollars, Euro, and 12 more | Vary | Online Banking, Skrill, Neteller, PayPal, Bank Transfer, Debit Card | Visit eToro |
| KuCoin | More than 645 | US Dollars, Euro, Australian Dollars, and 6 more | 0.1% | Credit Card, Debit Card, SEPA, PayPal, Wire Transfer, Crypto | Visit KuCoin |