Deribit Review for 2022
The visionary duo of developers, John Jansen and Sebastian Smycznski, have both had extensive expertise in the options trading and information technology fields before coming up with the idea of developing an exclusive futures and options trading platform in the Netherlands. However, Deribit ('Deri' – derivatives, 'bit' – a reference to Bitcoin) was not only the first of its kind in this country but also the first of its kind in the world.
Another striking feature of this online cryptocurrency trading platform is its consistent ability to conduct more than $200 million in transactions per day, indicating a high level of liquidity. The most valid enquiry in this situation would be: how does this platform manage to accomplish this? More importantly, can it be relied upon to deliver what it promises? Here's what we discovered.
About the Deribit Exchange
Deribit is a Bitcoin and Ethereum derivatives trading platform aimed at crypto investors of varied trading preferences and experiences. The site focuses on enabling leveraged trading and gives up to 100x leverage in Bitcoin and close to 50x leverage in Ethereum. It also offers a comprehensive assortment of trading tools, including access to options trading and futures trading. You might even try out margin trading and see how the platform works on the Deribit testnet.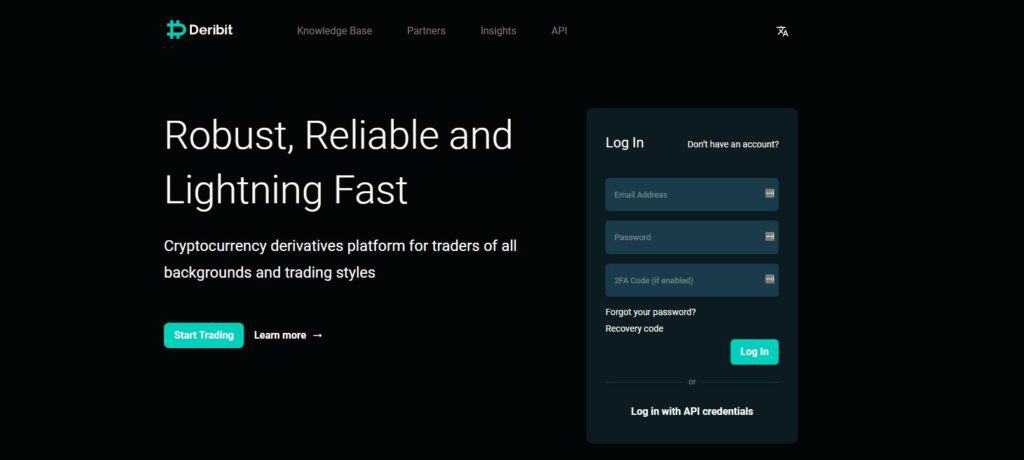 Trading Features
Deribit has a broad spectrum of applications for high-performance trading, but it's not complicated to use. The features include financial tools such as advanced order types, incremental liquidation, trading reports, volatility products, market maker protection, off-exchange settlement, block trade functionality, and portfolio margin, among others.
Beginners in crypto trading may be put off by these trading alternatives, though, because they will most likely find it difficult to start trading on the site on their initial visit.
Futures Trading
When settling a Bitcoin futures contract on the Deribit exchange, the buyer of BTC futures will neither buy the BTC nor will the dealer sell it. Only financial damages and profits will be allocated upon the settlement of the contract. These gains and losses are based on the closing price, which is determined as the final 30-minute median of the Bitcoin (BTC) price index.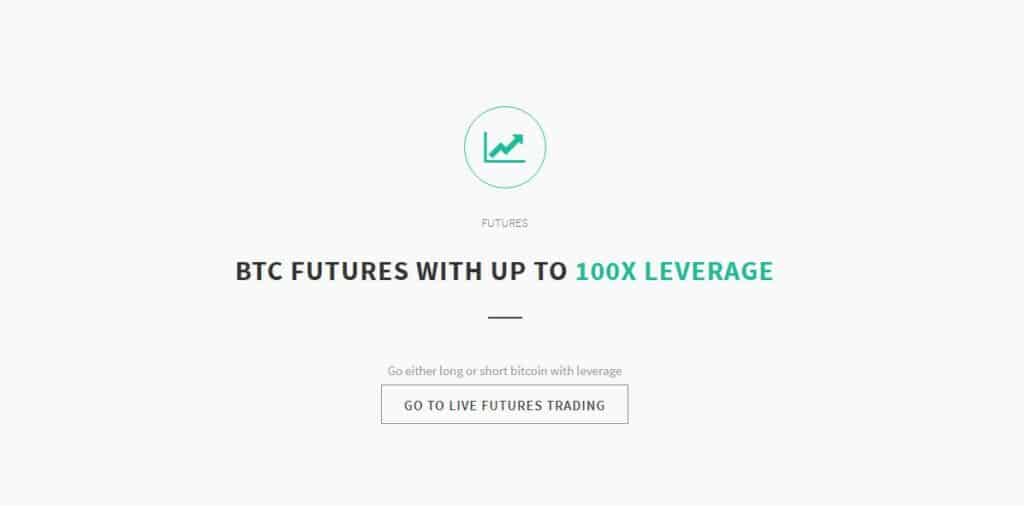 Advanced Order Types
Deribit gives multiple trading possibilities to its clients. These cover the following options types: market, market limit, limit, stop market, stop limit, stop loss, take market, take limit, and more. Some of the more advanced include fixed expiration futures contracts, perpetual contracts, GTC (Good Till Cancel), FOK (Fill or Kill), IOC (Immediate or Cancel), and GTD (Good Till Day) order types.
Block Trade Functionality
One of the most distinctive features on this exchange is that it offers four methods for executing block transactions. Namely, you can do this via their website, through their Telegram group, the application programming interface (API), or through a third-party solution.
Deribit has also instituted a minimum trade size requirement for block trades in order to protect the liquidity of the order book. In this regard, block deals imply privately arranged futures agreements, options agreements, or a bundle of multiple similar arrangements.
Deribit's Matching and Risk Engines
The matching and the risk engines are at the core of the platform's system architecture, which serves as its foundation. Let's have a detailed look at how these two fundamental aspects of Deribit work.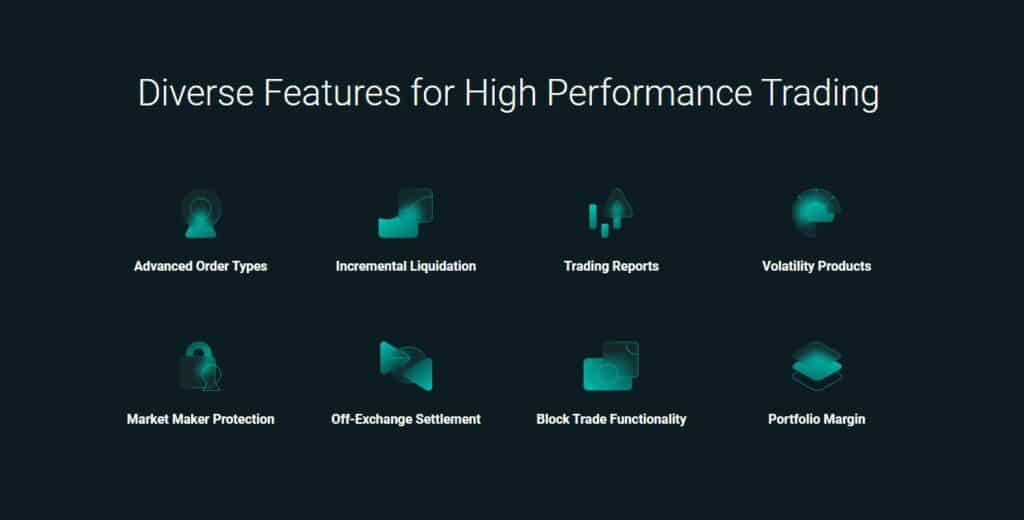 To begin with, the risk engine is an essential component of every derivatives exchange. When the risk engine authorises a transaction request, it will proceed to the matching engine, where it will be matched or logged into the order book, based on the circumstances. A notification is then sent to the user within 2 milliseconds of the order being placed. This message would include an execution log if the transaction was handled instantly.
Then, there's the matching engine that operates on the basis of the "first-come, first-served" criterion with less than 1ms latency. When analysing a single account, the matching engine can handle thousands of transactions per second as well as hundreds of trading orders each second.
Once the risk engine validates the order as eligible, it is fulfilled and prioritised based on the price vs. time information supplied from the matching algorithm. Also, the matching engine and risk engine have an average delay of response measured in 2.0 milliseconds for each operation.
Supported Cryptocurrencies
Only Bitcoin and Ethereum options contracts and futures are currently available on the exchange, with no possibility of trading other coins. Both Bitcoin and Ethereum futures may be exchanged with 100x and 50x leverage, respectively, while a maximum of 10x leverage is available for options on each of these two cryptocurrencies.
Payment Methods
The exchange accepts only Bitcoin deposits on your Deribit account. Traders should also be aware that Deribit accounts with insufficient funds are automatically cancelled by a combination of real-time audits and a proprietary liquidation engine whenever an account appears to have insufficient funds to keep its trading positions.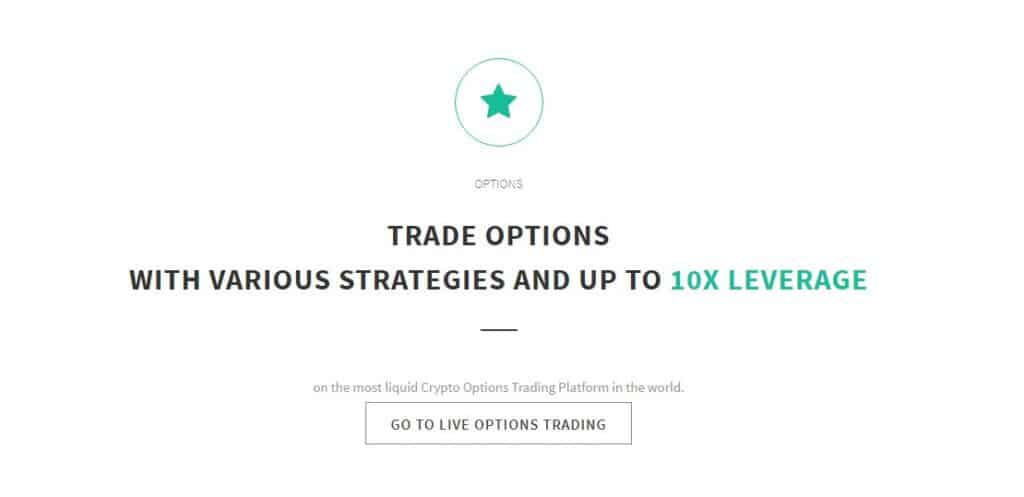 Trading Fees and Limits
Deribit charges transaction fees in the maker fee-taker fee format. This implies that transactions that provide liquidity are subject to a separate set of costs (i.e. a rebate of 0.02%) than those that take liquidity (i.e. a fee of 0.05%). The costs also vary depending on the type of order and are computed as a per cent of the coin included in the contract.
Moreover, Deribit imposes a liquidation fee of 0.35% per each futures contract and a liquidation fee of 0.19% charged on the options contracts. It's worth noting that option fees can never amount to more than 12.5% of the option contract's value.
Deposits and Withdrawal Fees
As we already said, Deribit takes only Bitcoin and Ethereum deposits, but there are no associated deposit fees. Every transaction on the Deribit exchange is executed in BTC. It also depends on the sort of transactions you make—whether or not they are cashed out in Bitcoin or Ethereum.
In order to withdraw funds from the Deribit platform, a charge equal to the current mining fee for the blockchain is applied. This fee is calculated at the time of the withdrawal. Furthermore, since just 1% of the funds on Deribit are kept in hot wallets, withdrawal requests may take a long time to fulfil. Namely, this might take up to 2-3 days, so be prepared to play the "waiting game" with your coins.
Regarding Ethereum-based contracts, you will receive your ETH back once you have completed a transaction.
Is Deribit.com Safe to Use?
There are a number of online defences built into this trading platform that are common for any crypto exchange, including the Secure Socket Layer (SSL) communication protocol, the two-factor authentication protocol (2FA), IP pinning, KYC standards compliance, timed out sessions, and others.

Despite the fact that it has remained unregulated by any financial body for a very long time, the Deribit exchange has garnered a relatively high level of trust among its users, as seen by their evaluations on Trustpilot. However, there have also been reports of withdrawal issues reported by an almost equal number of users, which raises concerns about the exchange's credibility.
A favourable aspect of Deribit is that 99% of its assets are housed in cold storage, which means that hackers have a minimal possibility of gaining access.
Customer Support
Deribit provides its clients with round-the-clock customer support, allowing them to send ticket inquiries. The support team responds promptly to all user enquiries, which is a plus for this service. You can also reach out to the team by email or Telegram.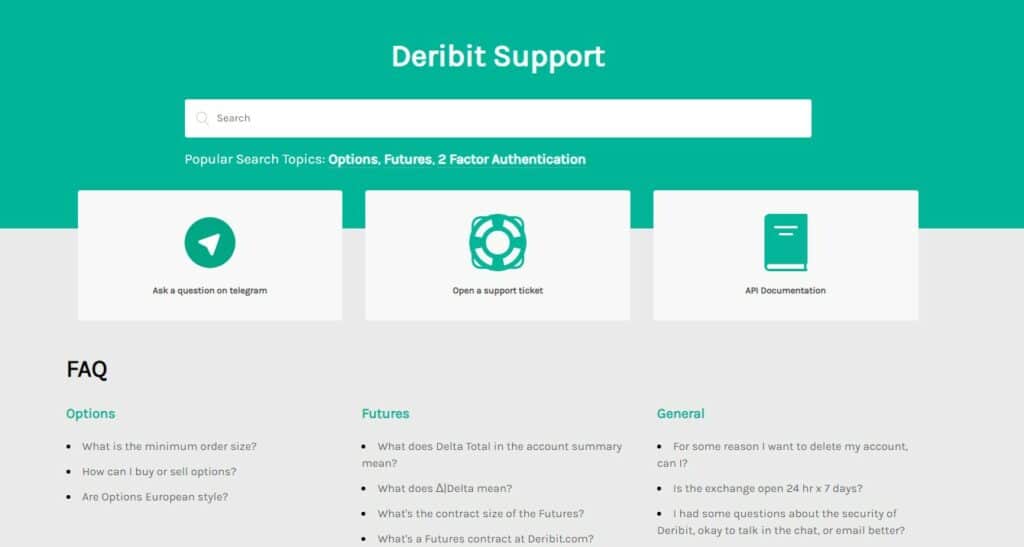 Frequently Asked Questions
Does Deribit have a mobile app?
Yes. Deribit offers a mobile application that is compatible with both Android and iOS platforms. It's linked via an API, which makes this application significantly faster than many other cryptocurrency trading mobile apps. Also, it provides the same trading options, along with the ability to access your order book, recent trades, and trading history.
What countries are supported by Deribit?
Deribit is a global crypto and derivatives trading platform that offers its services globally, excluding the following countries: Canada (Quebec), the United States, Guam, Republic of Korea, Japan, Panama, Syria, Iraq, Sudan, Samoa, Puerto Rico, Sudan, Cuba, and Iran.
The Bottom Line
In general, Deribit as a Bitcoin options and futures trading platform is a good choice thanks to its solid security architecture and outstanding customer service. Deribit's many trading options and leveraged financial services make trading with them one of the most appealing propositions for many traders. Also, Deribit's matching and risk management engines are some of the most powerful and efficient in the world, capable of handling thousands of orders per second.
However, this once-dominant pioneer in the cryptocurrency sector might soon be eclipsed by rival cryptocurrency exchanges such as Bybit, Binance, or BitMEX, which feature a broader variety of cryptocurrency projects and support fiat currencies. Although some Deribit users have expressed concern about glitches in the withdrawal system, we are confident that these "hiccups" can be classified as growing pains and will not impede the future development of this revolutionary trading platform.