Digital Surge Review for 2023
Crypto exchange platforms enable users to easily start investing in crypto, trade assets, and build their portfolio, but not all trading platforms are created equal. In fact, quite a large portion of active crypto exchanges offer relatively poor service, have high fees, low liquidity levels, and a limited choice of available cryptos. Well, Digital Surge isn't that kind of platform.
With Digital Surge, users get exactly what they need to thrive in a fast-paced, highly volatile crypto market. Users can trade more than 300 trending coins and tokens and invest fiat currency directly through various payment methods, including bank transfers, POLi, and PayID. Plus, the platform has a simple interface design that makes it very easy to use, even by total beginners without any previous crypto exchange experience.
Important: Digital Surge has currently halted withdrawals and deposits due to their exposure to FTX (who collapsed following a liquidity crisis), 
When I started using Digital Surge, I was pleasantly surprised to find out the platform is another top-quality Australian crypto exchange, on par with platforms like Swyftx and CoinSpot. With Digital Surge, you really don't need to use any international crypto exchanges if you're an Aussie crypto enthusiast.
Let's dive into the details about Digital Surge, one of the best crypto exchanges in Australia, and I'll show you what I like most.
| | |
| --- | --- |
| Website | Digitalsurge.com.au |
| Country | Australia |
| Mobile app | Yes |
| Deposit Methods | PayID, POLi, Bank account transfers |
| Trading Fees | From 0.5% to 0.1% depending on monthly trading volume. |
| Fiat Currencies | AUD |
| Cryptocurrencies | Bitcoin (BTC), Tether (USDT), Cardano (ADA), USD Coin (USDC), Ethereum (ETH), and more than 300 altcoins. |
Pros
Great selection of cryptos with 300+ coins and tokens.
Some of the lowest fees among Aussie exchanges, between 0.5% and 0.1%.
Tight market spreads.
High platform liquidity.
Very user-friendly interface.
Regulated by AUSTRAC and ASIC.
Cons
Doesn't support debit cards or credit cards.
Lacks advanced trading features.
No advanced technical analysis tools for price charts.
What Is Digital Surge?
Digital Surge is an all-in-one crypto platform. The exchange was launched in 2017 as a native, Australian crypto exchange that offers a broad range of simple, easily accessible crypto features, from investing in crypto, selling coins, and earning staking rewards all the way to innovative features, such as paying bills with Bitcoin and accessing a huge base of educational materials. Despite being a relatively young platform, Digital Surge quickly took over a large portion of the Australian crypto market with its top-quality services.


When I created an account on Digital Surge, I quickly noticed that the platform has a very elegant, simplistic design, with all the key features clearly visible to users at all times. The platform isn't anything like complex trading platforms that use the classic Forex-type trading interface with loads of small screen sections that bombard users with information.
Digital Surge is the exact opposite. I literally created an account, verified my identity in less than 10 minutes and made my first purchase with fiat nearly instantly. The platform is fiat-friendly, although it only supports AUD, but that's quite enough since the exchange is geared towards Aussie traders.
I think the best way to describe Digital Surge is as a simple, very reliable, user-friendly crypto exchange, ideal for quick crypto investments, without any unnecessary hassle.
Who Is Digital Surge Aimed At?
Digital Surge is definitely built with crypto beginners in mind. This isn't a platform for conducting advanced trading orders and implementing complex trading strategies that include margin trading and leveraged contracts. That's because the platform is focused on the vast amount of new users who are constantly entering the crypto market.
If a friend who has no crypto experience whatsoever asked me how they can invest some cash in Bitcoin or Ethereum, I'd definitely recommend Digital Surge to them, since the platform is very intuitive and the buying procedure is fully streamlined. You just need to create an account, go through the Know Your Customer (KYC) procedure, deposit some fiat Australian dollars, and you're ready to buy crypto immediately.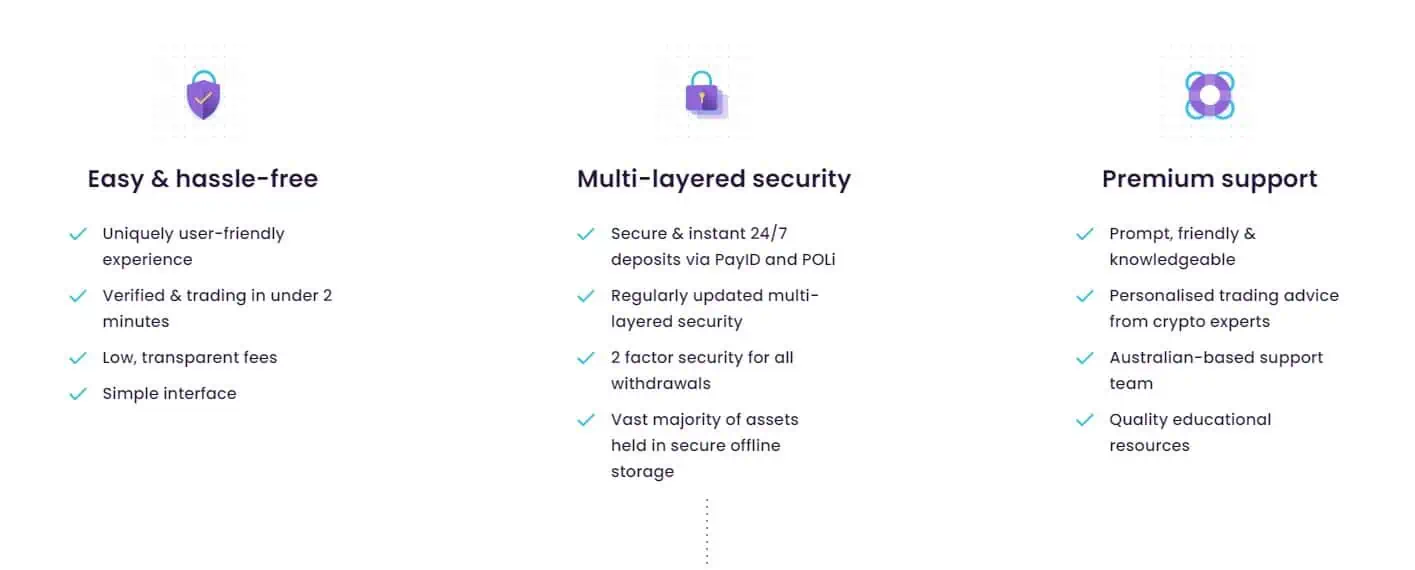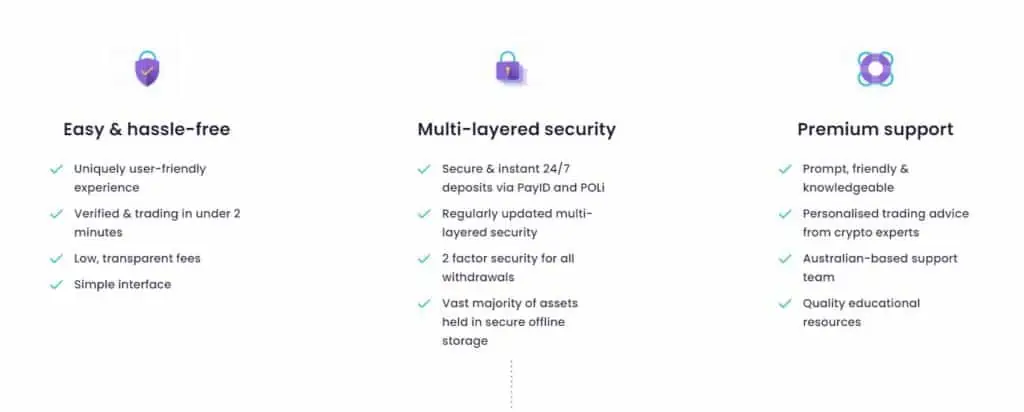 This is exactly the type of experience crypto newcomers are looking for, since people who are totally new to crypto usually don't have the time to spend hours and days studying the dozens of advanced trading features and technical analysis tools available on complex exchange platforms. These users need to be able to quickly invest cash in crypto and carry on with their everyday lives.
The simple user– interface and overall ease of use make Digital Surge a crypto exchange without any entrance barriers, since users don't need any prior experience to use it.
Supported Cryptos: Buy Bitcoin and Crypto With Fiat
The selection of digital currencies is one of the first things I check before I decide to try out a crypto exchange. Platforms with a poor crypto selection usually aren't worth trying. Digital Surge is a true powerhouse when it comes to supported cryptos.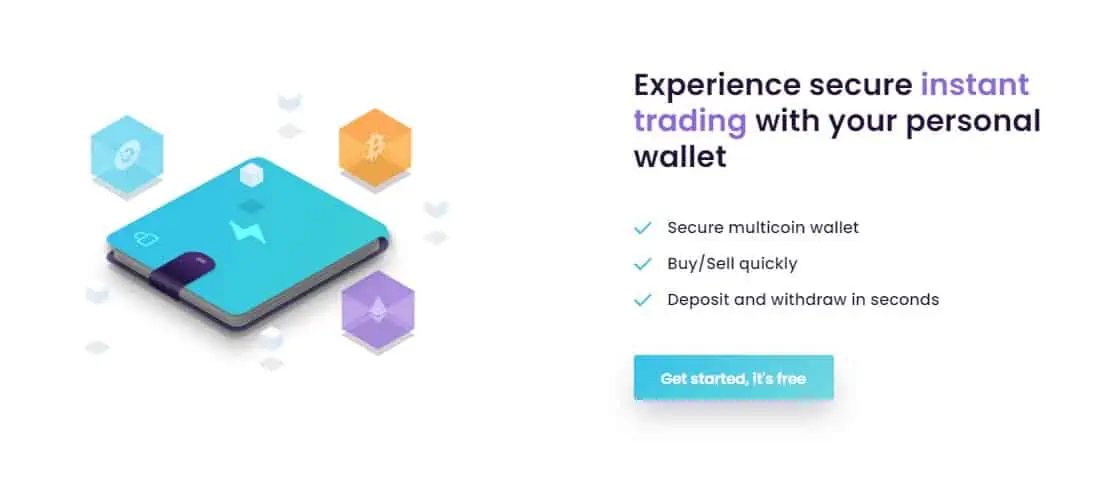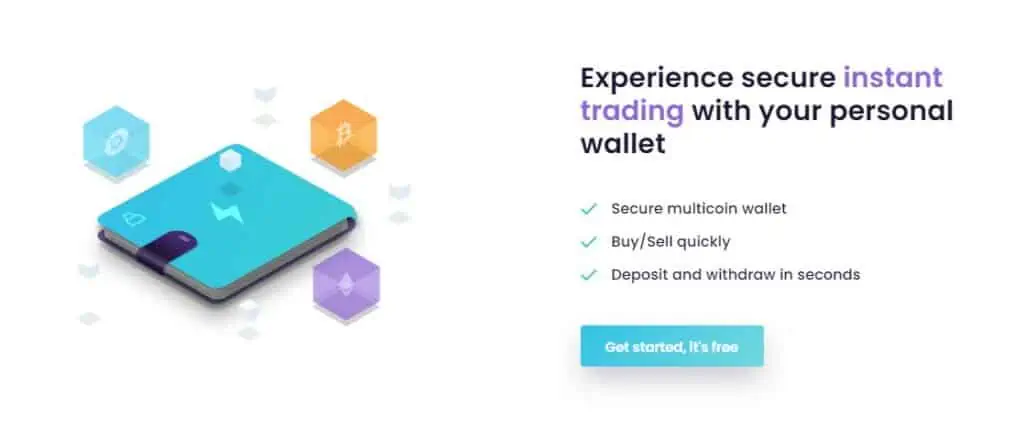 You can buy Bitcoin and more than 300 coins and tokens with fiat AUD on Digital Surge. Available digital currencies include everything from BTC, ETH, ADA, Litecoin (LTC), Algorand (ALGO), Avalanche (AVAX), Decentraland (MANA), Ripple (XRP), Solana (SOL), Dogecoin (DOGE), Bitcoin Cash (BCH), VeChain (VET), and Flow (FLOW) to less popular altcoins such as Glimmer (GLMR), Siacoin (SC), Swipe (SXP), Uma (UMA), Astar (ASTR), and loads of additional cryptos.
Key Features & Advantages of Digital Surge
Now, let's take a look at the key features of Digital Surge that make it a great choice for Aussie crypto investors.
Beginner-Friendly
One of the key advantages of Digital Surge compared to many crypto veteran exchanges is the fact that it's so simple to use and beginner-friendly. The rapidly growing crypto market is growing mainly thanks to beginners who are entering the crypto world by making their first investments in digital currencies.
At the same time, crypto is still far from becoming a fully accepted, mainstream financial asset class, and there are millions of users in Australia who are yet to invest in crypto. For these users, Digital Surge is the solution when it comes to easy crypto investments.
Instantly Buy & Sell Cryptocurrency
With Digital Surge, buying crypto is an instantaneous process. When you log into your platform account, you just need to navigate to the Buy & Sell section of the exchange, and you'll see a list of available cryptos. The assets are listed in the order of their global ranking by market capitalisation, and you can simply scroll the list until you find a crypto you wish to buy, or you can manually type in the asset's name in the search bar.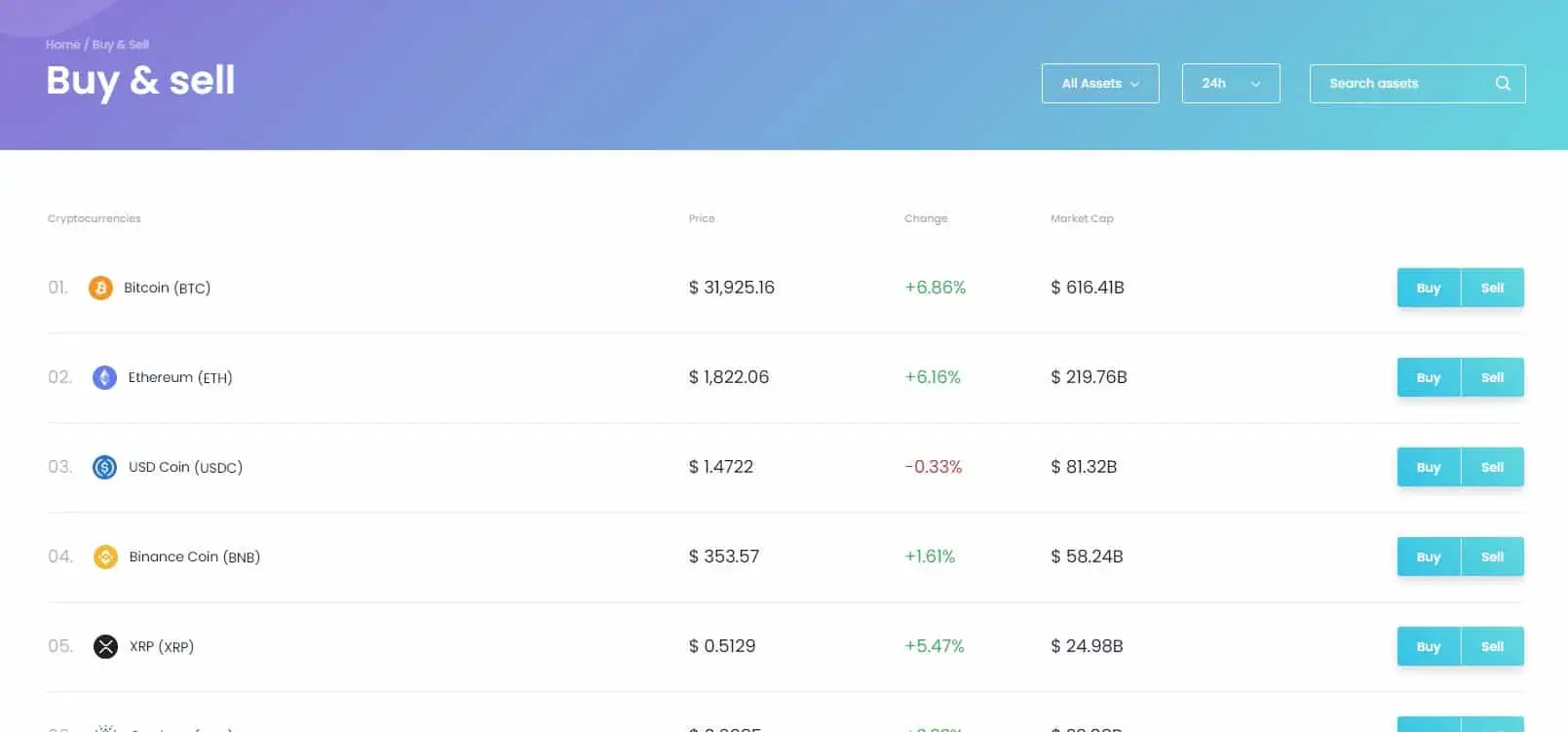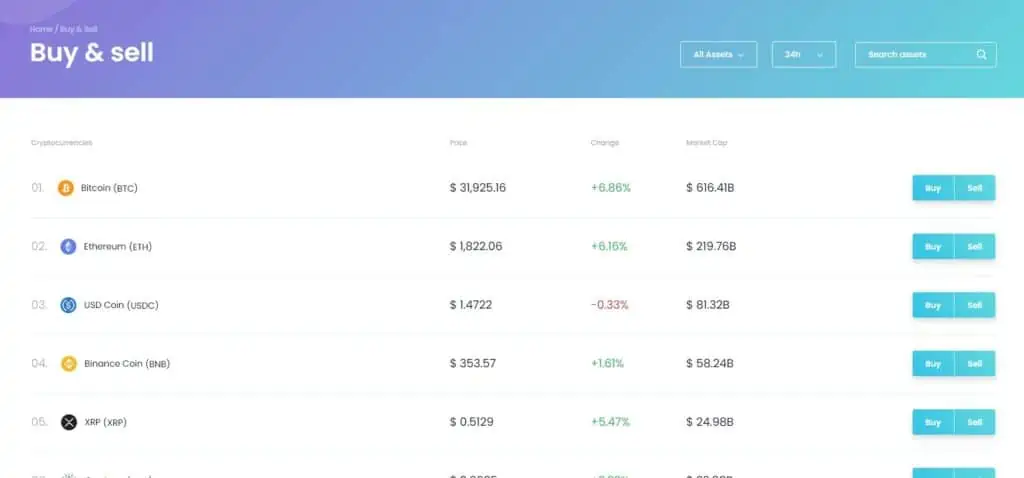 Once you find the desired crypto and click on it, you'll automatically go to the trading page, where you can see the chosen asset's price chart and specify whether you want to buy or sell the crypto. You can either enter how much AUD you wish to spend or how much of the selected crypto you wish to buy. When you finalise the amounts, you're ready to click on the Buy/Sell button and execute the order.
I tried buying some BTC for a bit of AUD, and the whole process took around 5 minutes, which is the average blockchain processing time for Bitcoin transactions. I also tried the procedure with Avalanche since the AVAX blockchain is known to settle transactions within seconds, and I really got my AVAX in my Digital Surge account in less than a minute.
Staking: Earn Interest on Crypto with Digital Surge
Crypto staking is one of the easiest and most popular ways to grow your portfolio through a steady passive income stream. The most important thing is to pick a reliable platform to stake your coins on.
Digital Surge is known to be a very reliable platform that regularly pays out staking rewards to users who utilise the platform's Earn feature.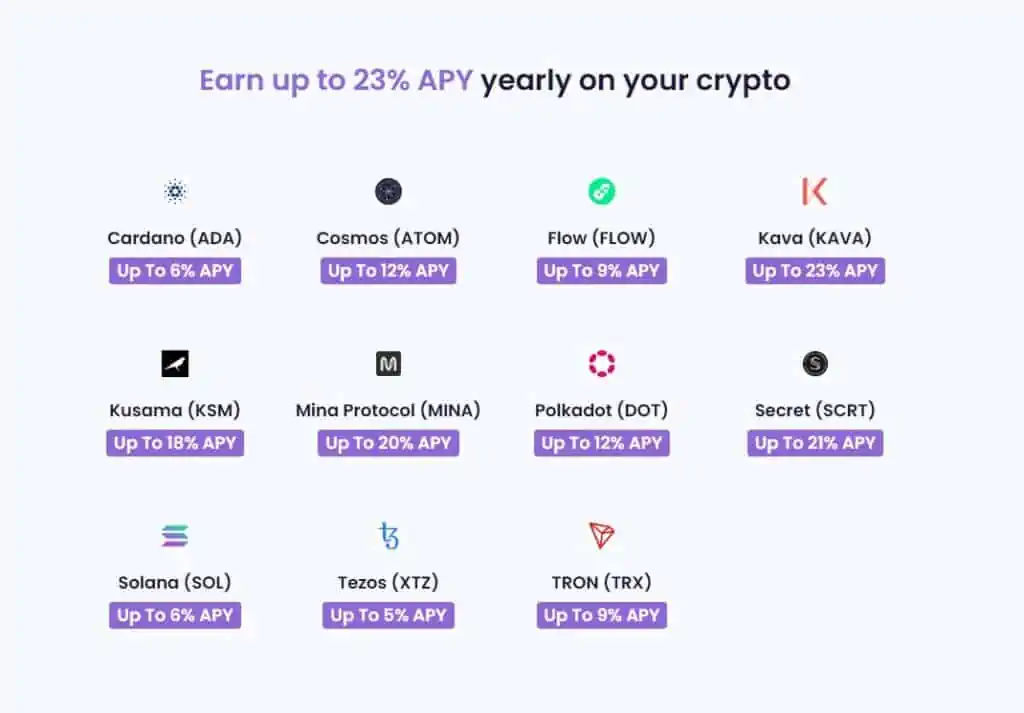 You can stake 11 popular coins and tokens for varying annual percentage yields (APYs), ranging from 5% for Tezos (XTZ) all the way to 23% for Kava (KAVA). The rest of the coins available for staking include ADA, Tron (TRX), SOL, Secret (SCRT), Polkadot (DOT), Mina Protocol (MINA), Kusama (KSM), FlOW, and Cosmos (ATOM).
Mobile App for Convenience
Digital Surge has a great platform interface on its browser version, but the mobile app is even better. Users can browse coins, buy, sell, stake, and manage their assets while on the move with the Digital Surge mobile app, which is available for iOS and Android smartphones. The app is called Digital Surge | Crypto Simple and it's available on the Apple App Store and on Google Play Store.
The simplistic design of the platform is fully transferred to the mobile app. You can easily navigate the app and use all of the platform's features with just a few clicks.
Premium Customer Support
Many crypto exchanges lack functional and efficient customer support, but that isn't the case with Digital Surge, since their support team is super helpful and always ready to respond to user enquiries. The platform has a basic email support option, but the live chat feature is what Digital Surge support is best known for. You'll get a truly personalised customer support experience.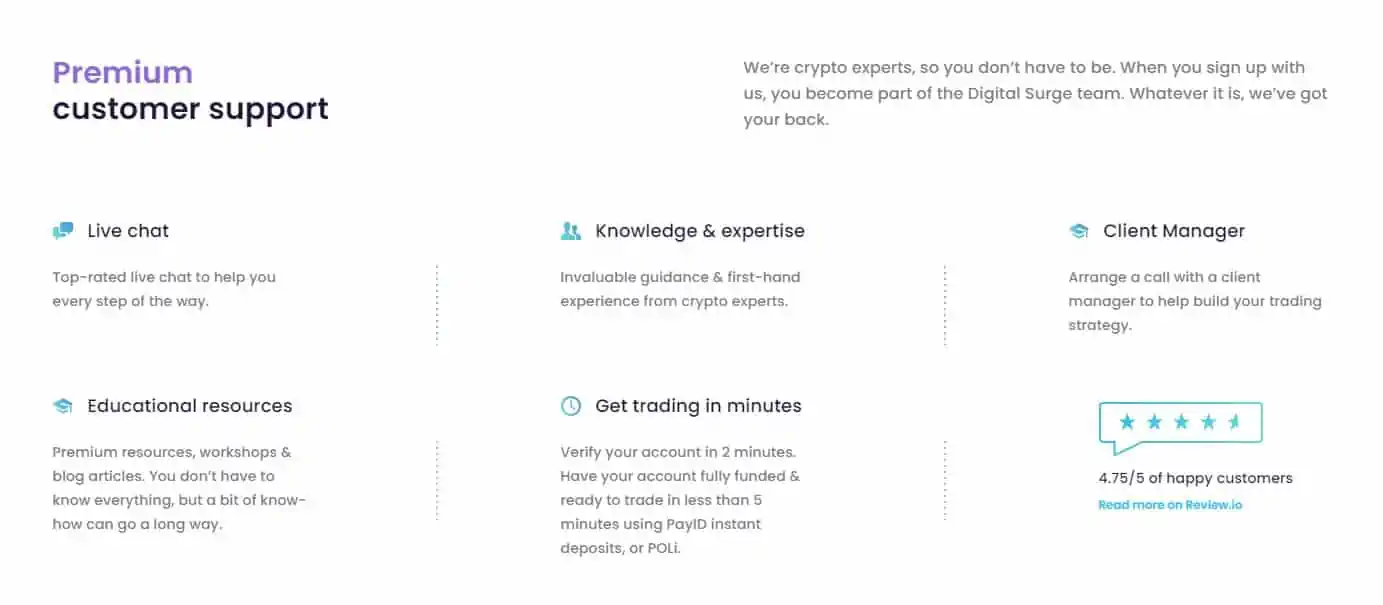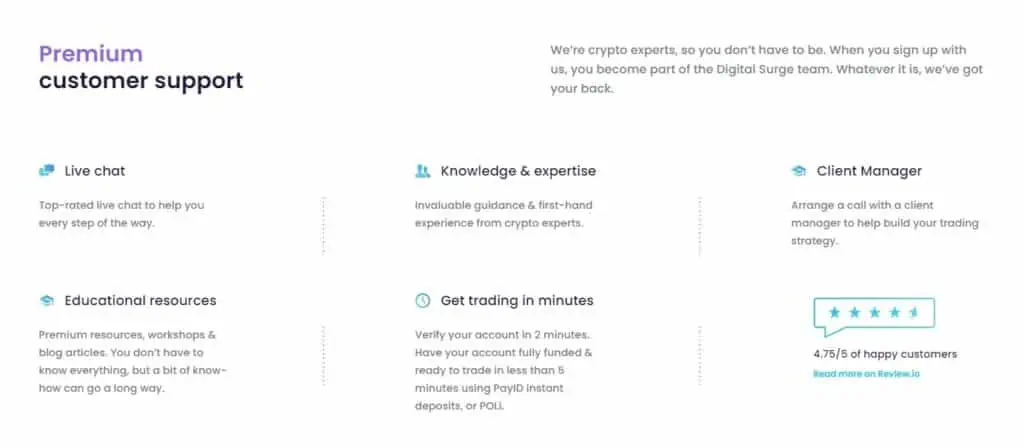 You can directly communicate with an Australian-based support team member and get your platform issues solved in no time. The support team was very helpful when I used the live chat feature to ask for some details regarding payment methods and staking features.
Pay Bills With Bitcoin
One of the most innovative features Digital Surge is known for is the option to pay your Australian bills and credit card debts with BTC. The platform allows users to pay any type of bill that has BPAY transaction codes, with the Bitcoin deposited in their Digital Surge accounts. The best thing about this feature is that Digital Surge handles the whole payment procedure and there isn't any outsourcing to third-party payment services, which means you won't incur any additional service provider fees.


Learning Materials and Documentation
I was quite impressed with the Digital Surge Learn Crypto section, which contains a broad range of educational materials related to various topics from crypto basics such as what is blockchain technology, DeFi, and NFTs, all the way to crypto trading tips and tricks for evaluating potential investments and trading deals. There's even a detailed guide with the most common mistakes crypto beginners make when trading crypto assets.
This section of the platform clearly illustrates Digital Surge's dedication to educating users and helping them improve their overall crypto investment experience.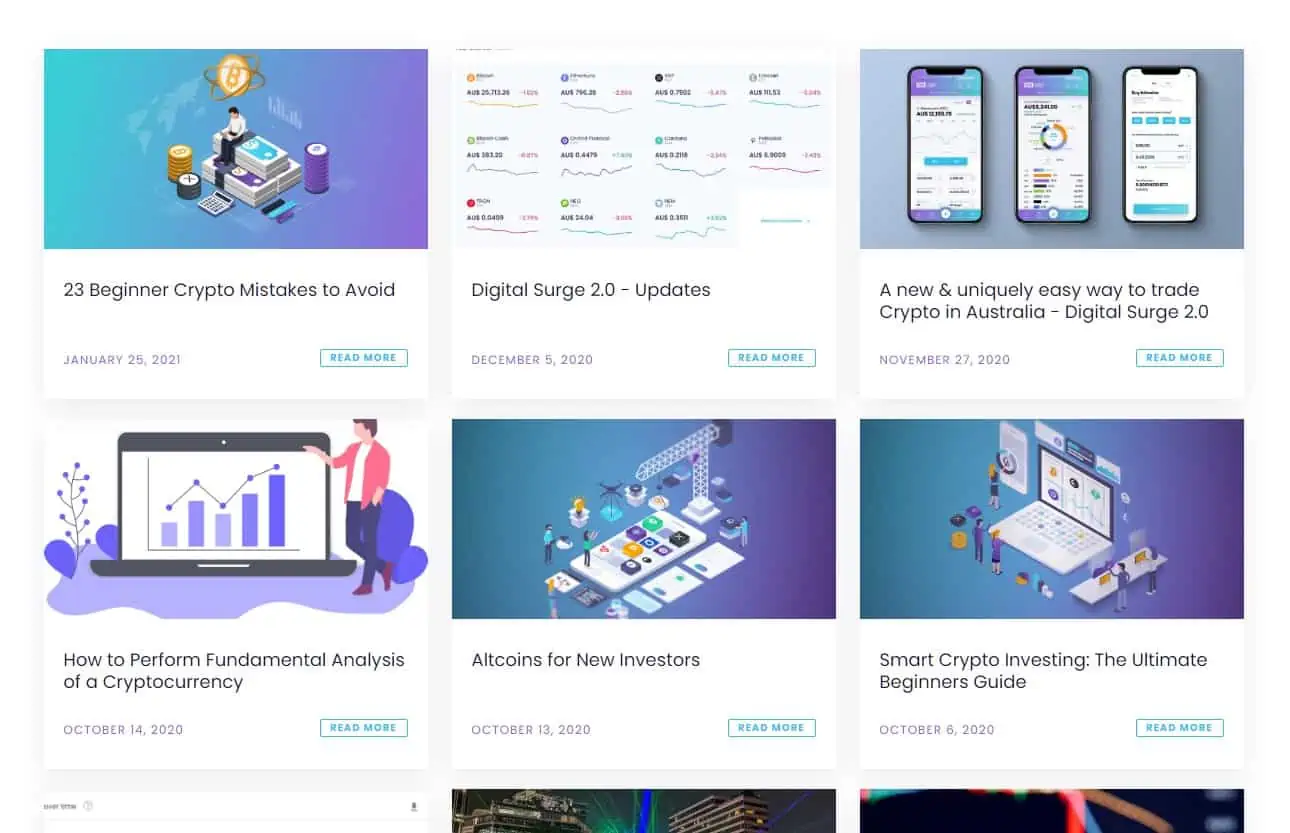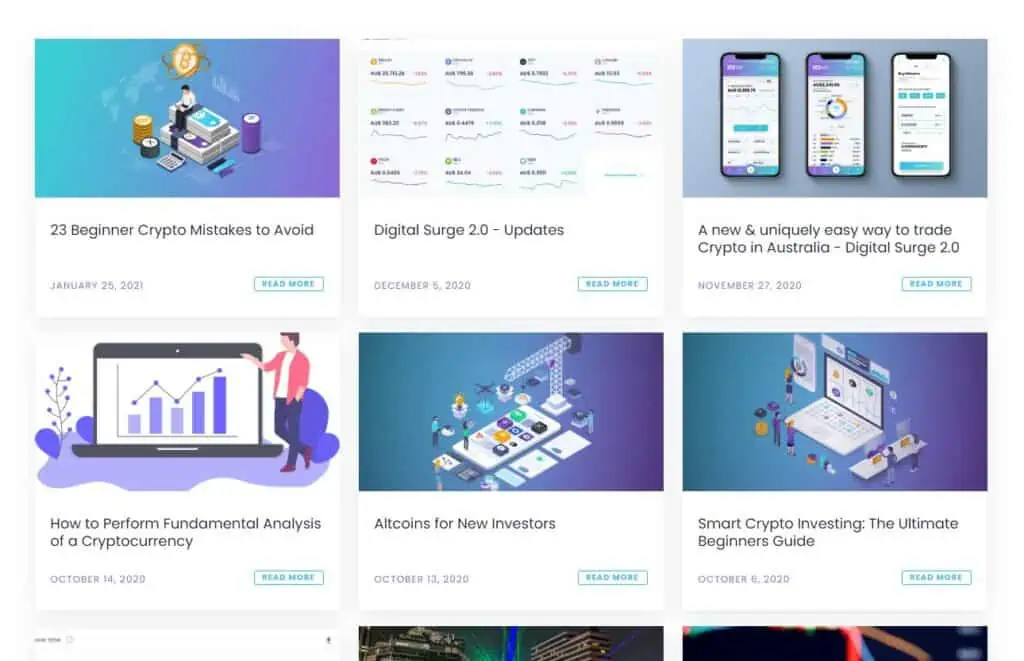 Fees and Costs
Fees can be a real deal-breaker for me if they are too high compared to the provided services. Digital Surge has quite low fees, especially when I compare them to the high quality of provided services.
Trading fees start at 0.5% for traders with a monthly volume below 100,000 AUD, and they can drop down to as low as 0.1% for large-scale investors with a 30-day trading volume of over 1 million AUD.
The market spreads are also some of the lowest among Aussie exchange platforms, with an average of around just 1.4%.
Fiat withdrawals are free of charge, while crypto deposits and withdrawals only incur the standard blockchain transaction fees of the networks in question. PayID fiat deposits are free, while POLi deposits incur a modest fee between 2 and 3.30 AUD.
Is Digital Surge Safe to Use?
As far as security, Digital Surge is perfectly safe to use. The platform has never been hacked and uses a strong combination of security features, such as data encryption, passwords, and two-factor authentication (2FA) to protect user accounts from hackers. Most of the platform's funds are kept in cold storage devices just to make sure no cyber attackers can reach those funds.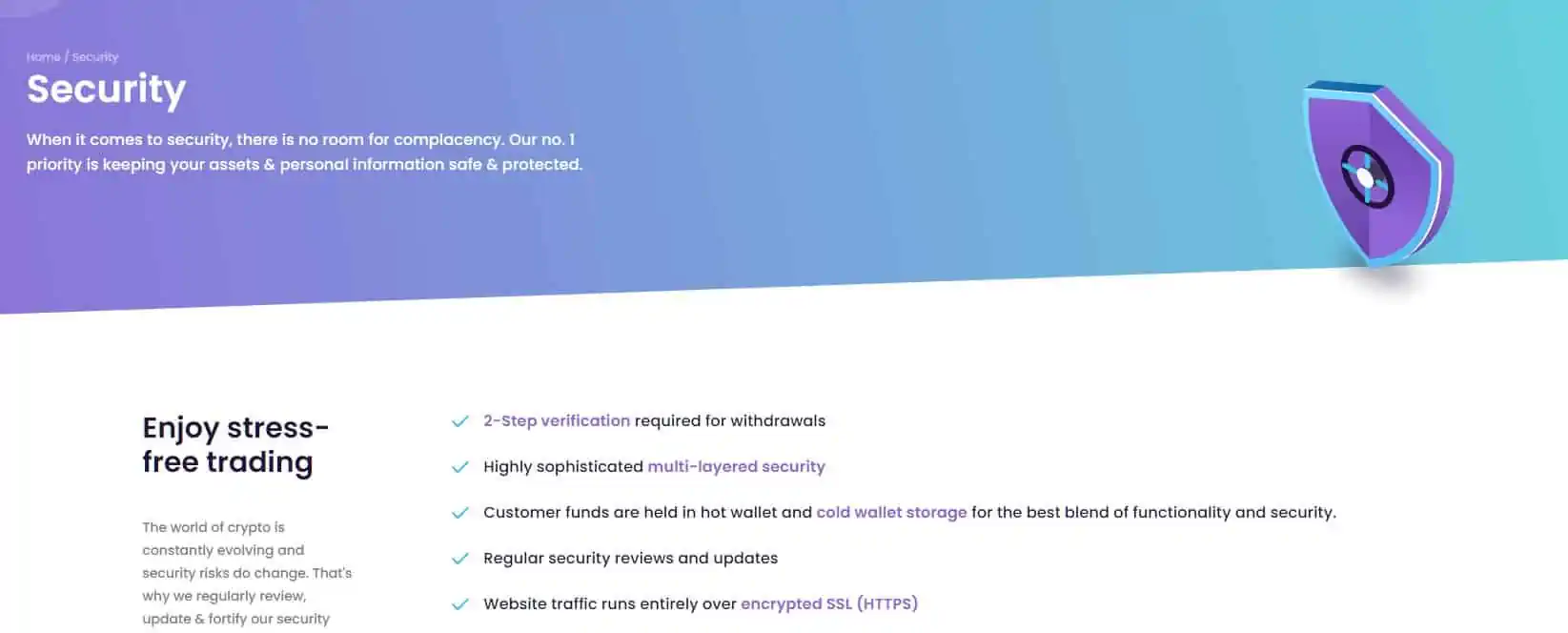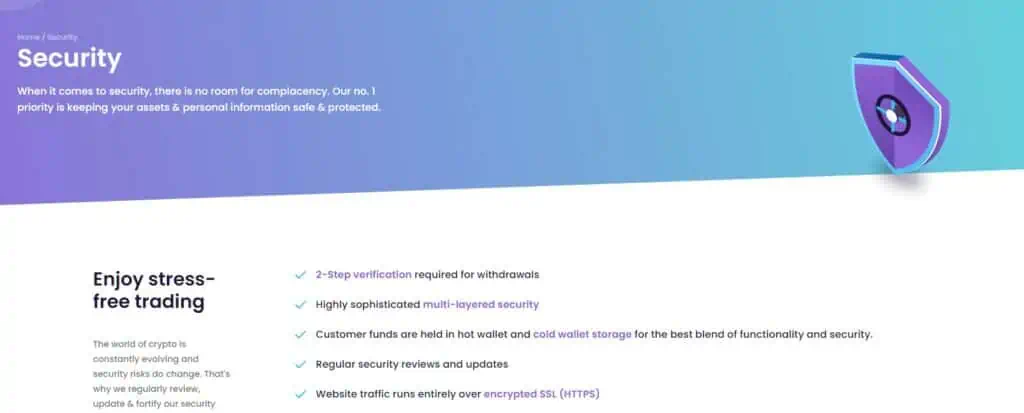 The 2FA verification system requires users to approve every transaction either by entering a unique email code or a code sent to their mobile phone number within a text message. All contents on the platform are subject to SSL encryption, which adds an extra layer of protection against phishing scams and hacks.
Additionally, the platform's cyber security is constantly tested by external security auditors to make sure the exchange is sufficiently protected from external hacks.
Digital Surge Alternatives
Let's take a quick look at some Digital Surge alternatives.
Digital Surge vs Binance
Binance is the largest crypto exchange platform on the market and supports more than 350 digital currencies, as well as more than 10 global fiat currencies. The exchange is globally available and includes numerous advanced trading features, such as margin trading and leveraged contracts. However, the platform is unregulated, meaning it doesn't provide any legal protection to users in case of scams and hacks.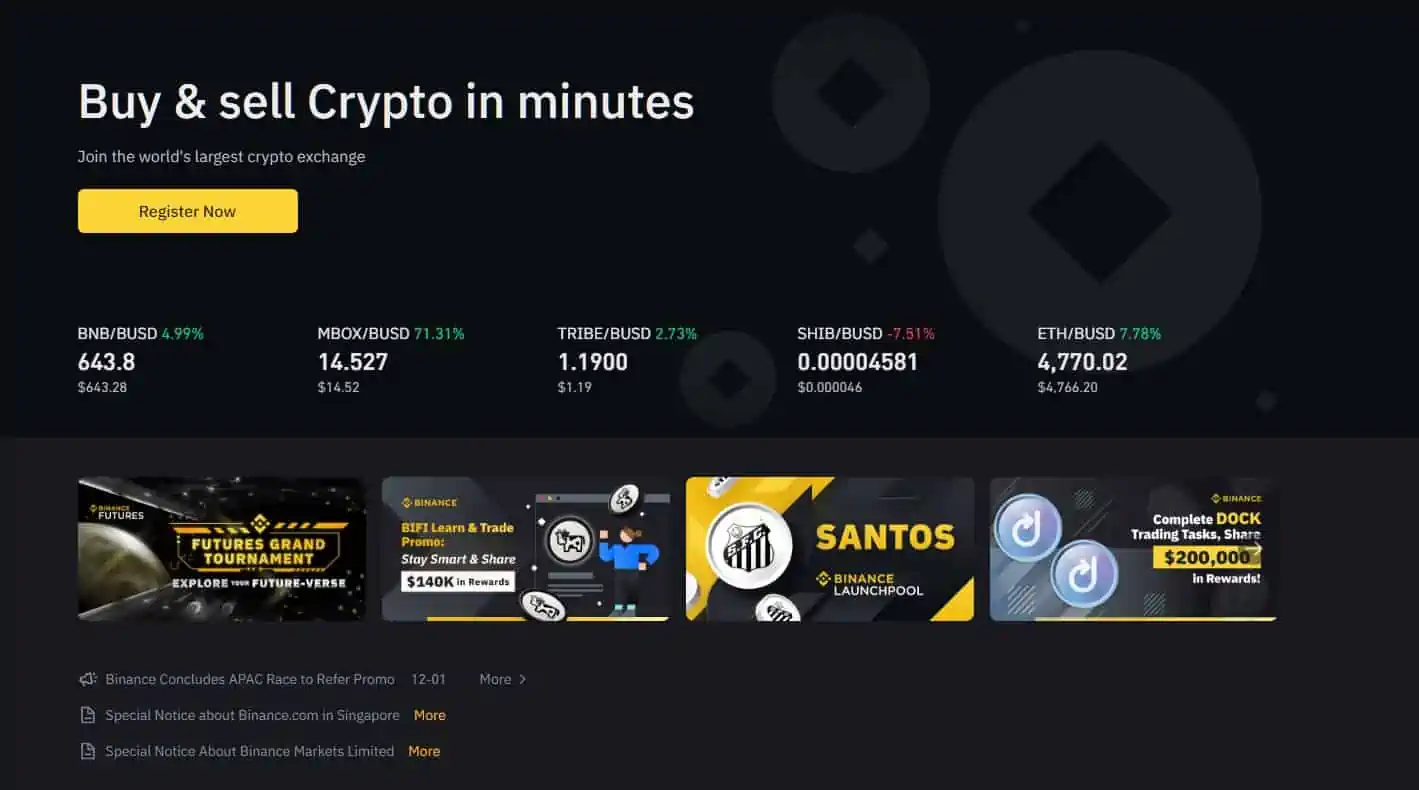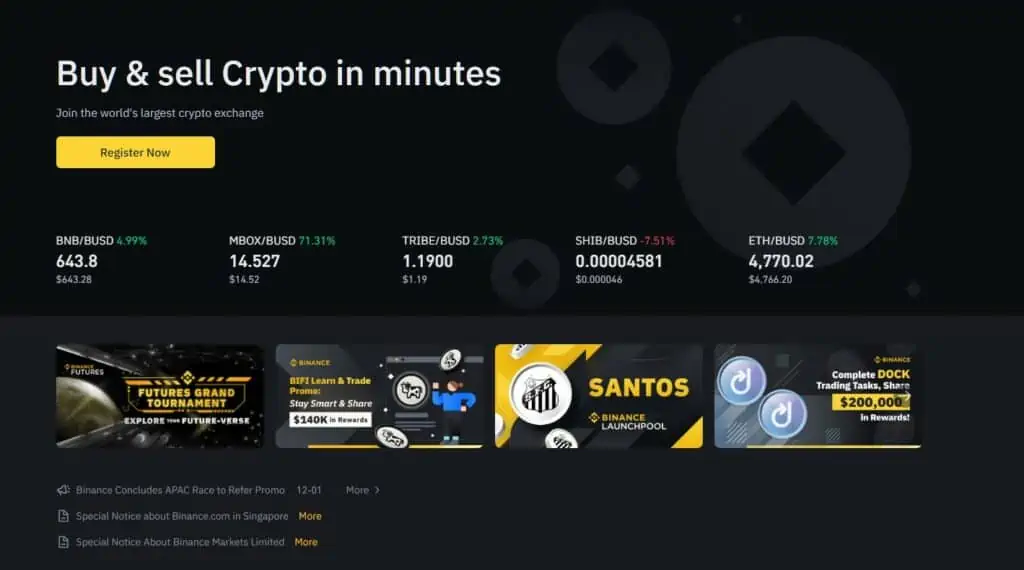 Compared to Digital Surge, Binance might be a better choice for advanced traders who are looking for professional grade trading tools and market analysis features, but for crypto beginners in Australia, Digital Surge is the way to go.
Digital Surge vs Swyftx
When compared to Swyftx, it's much more complicated to state which platform is a better choice. Both exchanges are very user-friendly, simple to use, have great fees, a huge selection of digital currencies, and they are regulated by Australian financial authorities. Honestly, both platforms are a great choice for beginners and average Aussie crypto investors.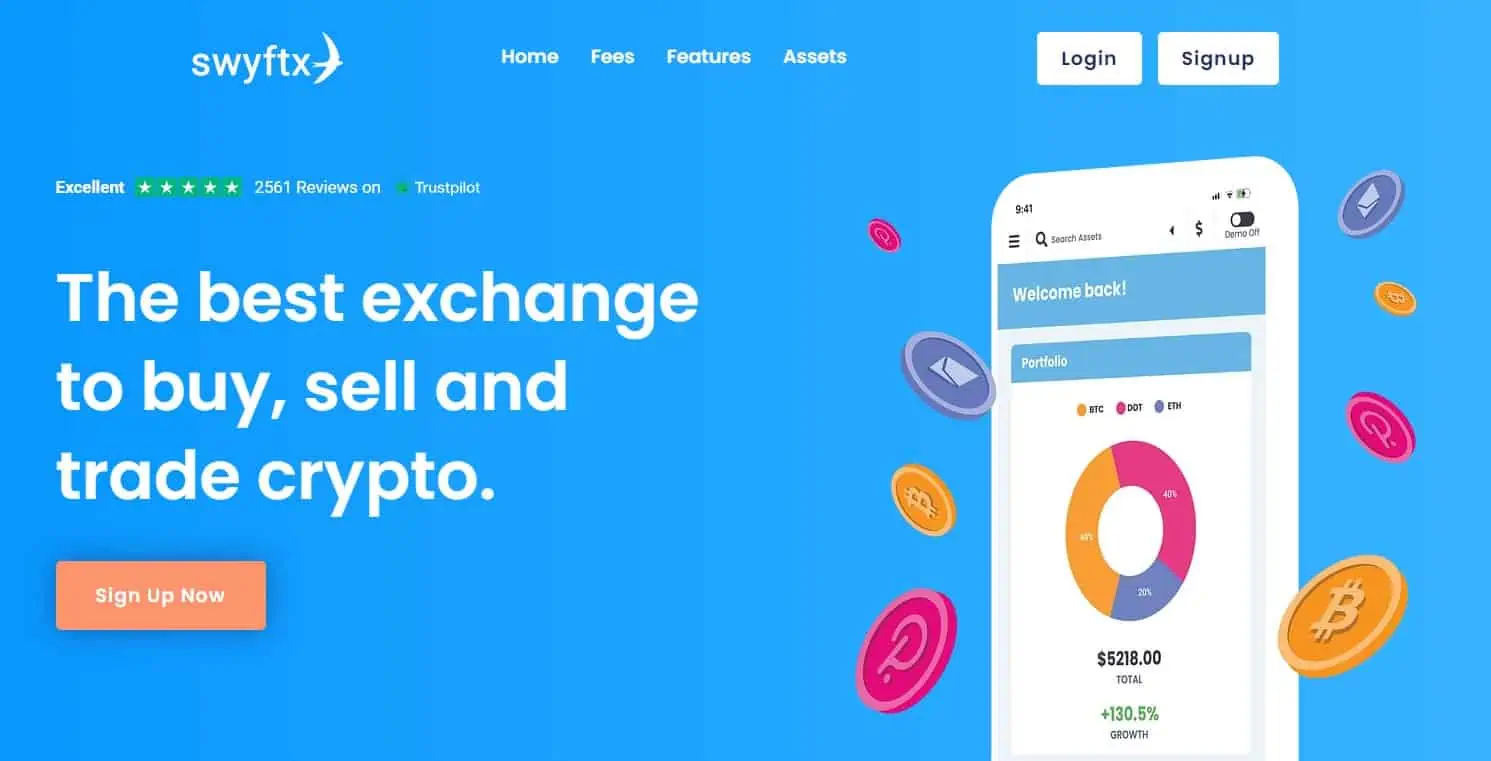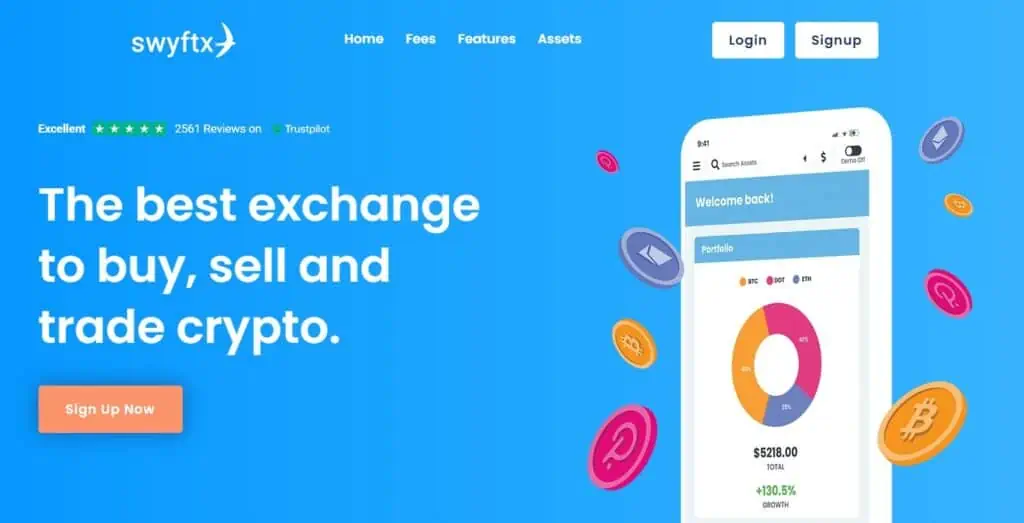 How to Create an Account on Digital Surge?
The account creation procedure on Digital Surge is very simple:
Go to the Digital Surge website and click on Sign up.
Provide your email address and create a strong password with different types of characters.
Accept the Terms of service and click on Create your account.
Now, verify your email by clicking on the verification link sent to your provided email address.
The final step is to verify your account by first verifying your phone number through a code sent to your number.
The final step is to confirm your identity by providing the details from your passport, ID card, or driver's licence.
Once you fill out all the details, your account should be verified in a couple of minutes and you'll be able to start trading on Digital Surge.
Frequently Asked Questions
Who owns Digital Surge?
The platform is founded and owned by two Australian crypto enthusiasts and software experts Josh Lehman and Dan Rutter.
Is Digital Surge a crypto wallet?
No, Digital Surge is a cryptocurrency exchange platform, but it does provide users with a crypto wallet within their accounts. Users can store any cryptos available on Digital Surge in their account's wallet.
How many customers does Digital Surge have?
Digital Surge has quickly grown to become one of the leading crypto exchanges in Australia since its launch in 2017. It's estimated that the platform has more than 300,000 users.
Conclusion
Digital Surge left a really good impression on me after using the platform for a few weeks. Even the highest, 0.5% fees are quite affordable and actually low when you take into account the top-quality trading services you get to enjoy. The trading deals are processed instantly, and the platform doesn't have any issues when it comes to liquidity for the 300+ coins available for trading.
Digital Surge is a great choice for all Aussie crypto beginners and a solid platform for average investors who want to quickly get their crypto trading deals done and don't need any advanced trading tools.
Related:
Digital Surge Compared
| Exchange | Cryptocurrencies | Fiat Currencies | Trading Fees | Deposit Methods | Sign Up |
| --- | --- | --- | --- | --- | --- |
| Swyftx | More than 320 | Australian Dollars, New Zealand Dollars | 0.6% | Osko, PayID, Credit Card, Debit Card, Bank Transfer, Cryptocurrency | Visit Swyftx |
| CoinSpot | More than 370 | Australian Dollars | OTC: 0.1% Market Order: 0.1%* (applies to LTC, BTC, ETH, XRP, POWR, DOGE, TRX, NEO, XLM, GAS, RChain, RFOX, EOS) Instant Buy/Sell: 1% | POLi, PayID, Cash, Cryptocurrency, Bank Transfer, BPAY | Visit CoinSpot |
| Binance | More than 600 | US Dollars, Australian Dollars, and 8 more | 0% to 0.1% | Osko, PayID, Credit Card, Debit Card, Crypto | Visit Binance |
| Bybit | More than 160 | 50+ | 0.1% to 0.6% | Crypto, EFT, wire transfer, bank transfer, debit card or credit card | Visit Bybit |
| Independent Reserve | 27 | Australian Dollars, US Dollars, New Zealand Dollars | 0.05% to 0.5% | EFT, SWIFT, Osko, PayID, Crypto | Visit Independent Reserve |
| Coinbase | More than 210 | Australian Dollars, US Dollars, New Zealand Dollars | Fees Vary | EFT, SWIFT, Osko, PayID, Crypto | Visit Coinbase |
| CoinJar | More than 50+ | Australian Dollars, Pound Sterling | Taker: 0.04 to 0.1% Maker: 0.04 to 0.1% | Apple Pay, Google Pay, Credit Card, Debit Card, Bank Transfer, Fiat, Crypto | Visit CoinJar |
| Kraken | More than 140 | Australian Dollars, US Dollars, and 5 more | Taker: 0.10% to 0.26% Maker: 0.00% to 0.16% | Apple Pay, Google Pay, SWIFT, Osko, SEPA, Crypto, Wire Transfer, Bank Transfer | Visit Kraken |
| BTC Markets | More than 15 | Australian Dollars | Taker Fee (for Bitcoin pairs): 0.20% Maker Fee (for Bitcoin pairs): -0.05% Australian Dollars Market Pairs: 0.10% to 0.85% | Crypto, BPAY, EFT, PayID, Osko | Visit BTC Markets |
| Easy Crypto | More than 40 | Australian Dollars, New Zealand Dollars, South African Rand | 1% | P2P, POLi, and Bank Transfers | Visit Easy Crypto |
| Coinstash | More than 140 | AUD | Taker fees: 0.85% Maker fees: 0.85% | Cryptocurrency, Bank Transfer, PayID | Visit Coinstash |
| eToro | More than 70 | Australian Dollars, US Dollars, Euro, and 12 more | Vary | Online Banking, Skrill, Neteller, PayPal, Bank Transfer, Debit Card | Visit eToro |
| KuCoin | More than 645 | US Dollars, Euro, Australian Dollars, and 6 more | 0.1% | Credit Card, Debit Card, SEPA, PayPal, Wire Transfer, Crypto | Visit KuCoin |