Digital Surge vs CoinSpot 2023
Australian fintech developers have established themselves as some of the most successful makers of crypto trading platforms in the industry. Many cryptocurrency exchanges, such as Swyftx, CoinSpot, Independent Reserve, Digital Surge, or CoinJar, turned out to be great local alternatives to the globally popular Binance, based on their success and dependability among its users.
In this crypto trading platform comparison, we'll look at Digital Surge and CoinJar, two of the best crypto exchanges in Australia. As a result, we hope that our side-by-side review will help you select the best solution for your trading strategies.
Important: Digital Surge has currently halted withdrawals and deposits due to their exposure to FTX (who collapsed following a liquidity crisis), 
Comparison Table
| | | |
| --- | --- | --- |
| Features | Digital Surge | CoinSpot |
| Supported Coins | 280+ | 330+ |
| Trading Fee | Fixed 0.5% buying, and selling fee | 0.1% – 1% for instant buy |
| Market Spread | 0.4% | 3% – 4% |
| Deposit Fee | Free crypto deposits | BPAY – 0.9%, cash deposits – 2.5%, zero fees on AUD deposits to an Australian bank account |
| Withdrawal Fee | 1% | Free |
| Payment Methods | PayID Bank transfer, POLi | Blueshyft, Bank transfers, PayID, POLi, BPAY, OSKO, |
| Regulatory Status | Fully regulated | Fully regulated |
| Customer Support | 24/7 email customer support, live chat, and phone support | 24/7 Help Desk, live chat |


One of the most innovative Australian exchanges, Digital Surge, offers a unique service to its customers apart from the conventional trading options. This Brisbane-headquartered cryptocurrency exchange enables Aussies to pay their utility bills using virtual currencies, alongside other crypto trading options, like exchanging digital currency for the local AUD.
Digital Surge focuses on making crypto trading as straightforward as possible while still meeting the demands of Australian cryptocurrency traders. The exchange provides a wide selection of cryptocurrencies and a user-friendly platform that streamlines the trading processes.
Pros:
Very user-friendly platform;
Enables instant purchases;
Provides Bitcoin payments of your bills;
Wide cryptocurrency selection;
Low market spread;
Employs local payment services;
AUSTRAC and ASIC registered exchange.
Cons:
The exchange doesn't support credit card/debit card payments;
AUD is the only supported fiat currency;
It doesn't have a staking option;
Offers its financial services only to Australian residents.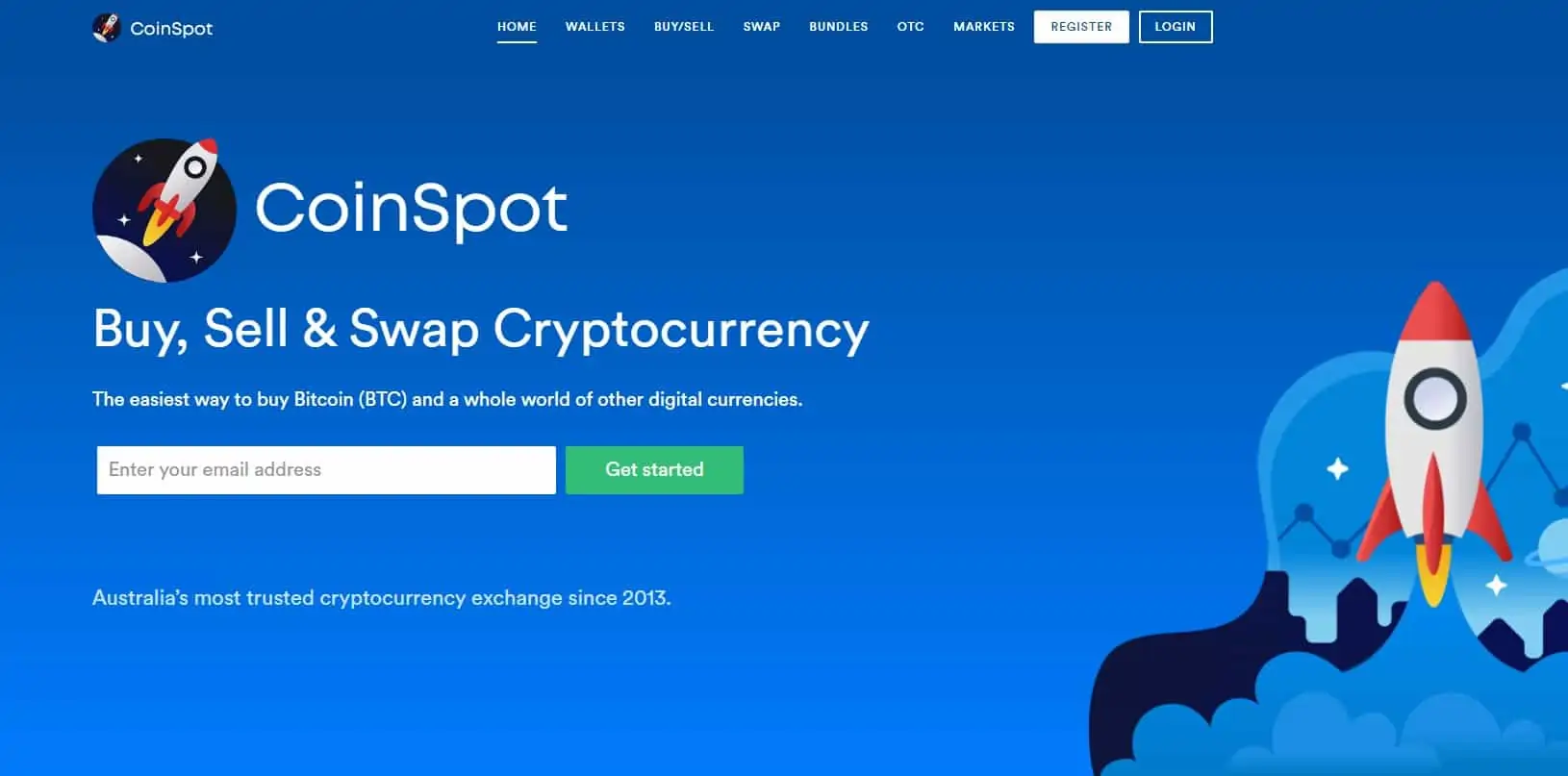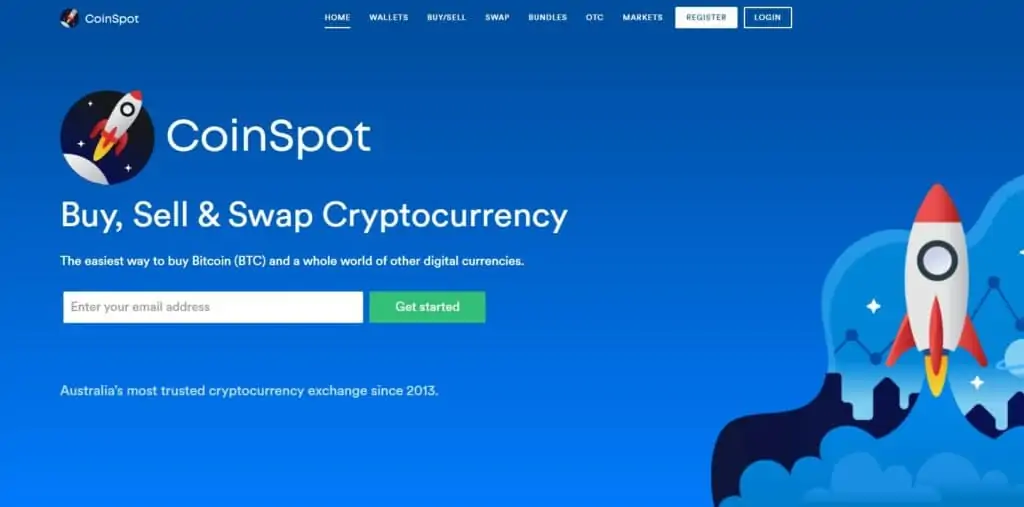 CoinSpot is one of Australia's oldest cryptocurrency exchanges, launched in 2013. This Melbourne-situated exchange's easy to use trading platform features a range of straightforward trading options suitable for digital asset beginners.
However, the more experienced traders would not be disappointed with CoinSpot. Namely, the exchange also provides more sophisticated trading tools, such as over-the-counter trading or exchanging non-fungible tokens (NFTs).
Pros:
A secure and beginner-friendly platform;
Holder of the ISO 27001 data security certificate;
AUSTRAC-regulated exchange;
Dedicated support team available 24/7;
Live chat feature.
Cons:
AUD is the only supported fiat currency;
It doesn't support credit card payments;
Offers its financial services only to Australian residents.
Supported Cryptocurrencies
The difference between the number of supported cryptocurrencies on these two exchanges is not that striking.
Namely, Digital Surge enables traders to utilise more than 270 cryptocurrencies for their trading strategies, including Bitcoin. Similarly, CoinSpot offers around 330 different cryptocurrencies to choose from, making this exchange a leader in the Australian market regarding the number of available assets. Some of the cryptocurrencies that contribute to CoinSpot's liquidity include Bitcoin (BTC), Ethereum (ETH), Binance Coin (BNB), Cardano (ADA), Ripple (XRP), and other altcoins.
Supported Cryptocurrencies Winner: Coinspot
If we had to pick a winner, we'd choose CoinSpot, as traders who use this platform have a slightly broader range of investment choices.
Fees
If you want to make an instant purchase or sell your coins, Digital Surge will charge you 0.5% of the transaction price. This fee can be reduced if your 30-day trading volume surpasses 1,000,000 AUD in value. Also, the exchange levies 1% for crypto withdrawals, but AUD withdrawals are free.
On top of it, the blockchain of the digital asset you use in the transaction will impose a transaction fee each time you move cryptocurrencies from one wallet to another. As the volume of transactions increases, these costs could also increase as the verification time on the blockchain increases due to the large number of pending data blocks.
On CoinSpot, each order type has its own fee structure. For example, a market order or OTC transaction will cost you a flat 1% per transaction. If you choose to use the instant buy option, the option to sell or swap cryptos, set up the recurring buy function, or place a take profit, stop, or limit order, CoinSpot charges you a low 0.1% fee.
Withdrawals to a bank account in AUD are free on CoinSpot, and so are POLi, PayID, and direct deposits. If you want to fund your account with BPAY, you will have to pay 0.9% per transaction. On the other hand, cash deposits are the most expensive payment option on this platform, with a 2.5% fee for each transaction.
Fees Winner: Coinspot
Both of these exchanges provide free AUD withdrawals, but when it comes to low trading fees, CoinSpot's 0.1% charge is considerably cheaper than Digital Surge's 0.5% fee for buying and selling cryptos.
Furthermore, CoinSpot offers additional free options for transferring your coins to your bank account, encouraging us to give CoinSpot an advantage in this category.
Market Spread
Digital Surge provides some of the lowest spreads among Australian exchanges. You can locate the lowest market spreads across a wide selection of cryptocurrencies by using the Buy and Sell option on Digital Surge. The difference between the purchase and sell prices might reach up to 0.4 %, which is a relatively tight spread.
Spreads might range from 3% to 4% on CoinSpot, depending on the digital asset included in the trade. This rather broad CoinSpot spread is not favourable for crypto traders who make large crypto investments.
Spread Winner: Digital Surge
Following this comparison, it should go without saying that Digital Surge offers a more advantageous spread for the market participants who prefer trading crypto through this exchange.
Customer Support
You can contact Digital Surge's customer support team 24/7 by email, on some of their social media channels, or via live chat. The exchange provides a support ticket form that includes the field in which you can categorise your problem so they can find the right professional to address the issue. The support agents are crypto specialists who will readily share their expertise and help you solve your problem during local working hours.
CoinSpot, like Digital Surge, provides excellent customer service to its users, which is available 24/7 through email or from 9 am to 8 pm on weekdays and 9 am to 5 pm on weekends through the Help Center. If you want quick expert assistance, there is also a live chat function. You can even request a transcript of the chat as a future reference.
Support Winner
Both of these exchanges are regarded by their users as trustworthy and constantly ready to assist their consumers. As evidence, Digital Surge and CoinSpot provide a live chat feature, demonstrating their commitment to being closer to their clients and meeting their needs. For this reason, we're calling it a draw.
Mobile App
Users of Digital Surge's mobile app can perform nearly all of the functions available on the desktop version. In addition to managing your portfolio, you can investigate other cryptocurrencies, place buying or selling orders, etc. The Digital Surge mobile app is available for iOS and Android-supported devices.
It is also possible to trade on the go with CoinSpot's mobile app. Using this software, you can purchase, sell, trade cryptocurrencies, transfer crypto assets from your digital wallet, monitor market fluctuations, examine coin statistics, or keep track of your balance.
Mobile App Winner
Both the Digital Surge and the CoinSpot apps allow traders to accomplish practically everything they could do on the desktop versions of the exchanges. Also, both applications have a simple user interface and are easy to navigate. As a result, this category ends in a tie.
Deposit Methods
Digital Surge enables deposits through PaidID bank transfers and POLi, a third-party payment service. PayID allows you to deposit funds into your account in under 60 seconds and is completely free.
Australia Post offers POLi as a payment mechanism on Digital Surge. Use this way to instantly connect to your online banking service and make a transaction. However, be aware that POLi Pay imposes a daily limit of 8,000 AUD, and there is a small fee (ranging from 2 – 3.3 AUD) for each transaction you make.
By contrast, CoinSpot enables payments through a wider variety of payment options, including OSKO direct AUD deposits, PayID and POLi. You can also fund your CoinSpot trading account with cryptos. All of these payment methods are free of charge.
You can also use BPAY or make a cash deposit. However, these payment methods will entail an added cost of 0.9% and 2.5%, respectively.
Deposit Winner: Coinspot
Given CoinSpot's more extensive selection of free-of-charge deposit options, we can easily identify CoinSpot as the superior exchange in terms of payment methods.
Security
Digital Surge has several security measures since it is AUSTRAC-regulated and is thus required to comply rigorously with KYC (Know-Your-Customer) and AML (Anti-Money Laundering) procedures. These user identification mechanisms require a range of documents and a photo ID in some cases, a two-factor authentication protocol for increased account security, and several encryption methods.
In addition, all funds belonging to Digital Surge clients are held in both hot and cold storage to avoid any potential security breaches.
CoinSpot is the first Australian exchange to receive the ISO 27001 certification for data security. This accreditation signifies that the platform's confidential data is susceptible to the AML / KYC requirements.
Furthermore, the various foundational security mechanisms incorporated into the platform's exchange architecture safeguards CoinSpot's clients' trading profiles and investments from cyber attacks, hacks, or unauthorised access.
Security Winner: Coinspot
Both of these exchanges appear to have robust security features built into the platform's design. However, we must not neglect that CoinSpot has been awarded the highest certificate for information security management systems, implying that this exchange offers its consumers the best-in-class data security services.
Final Verdict
Both CoinSpot and Digital Surge are excellent trading platforms that seek to provide the ultimate trading experience for their clients. As much as these two Australian exchanges are similar to each other, they do, however, differ in several key aspects.
According to our analysis, CoinSpot fares a bit better than Digital Surge because it offers more trading possibilities for crypto investors, a more extensive selection of coins, a wider variety of payment methods, and lower trading fees.
Best Crypto Exchanges Compared
| Exchange | Deposit Methods | Fiat Currencies | Cryptocurrencies | Trading Fees | Deposit Fees | Withdrawal Fees | Sign Up |
| --- | --- | --- | --- | --- | --- | --- | --- |
| Swyftx | Osko, PayID, Credit Card, Debit Card, Bank Transfer, Cryptocurrency | Australian Dollars, New Zealand Dollars | More than 320 | 0.6% | Fiat Deposits: $0 Crypto: $0 | Fiat Withdrawals: $0 Crypto: $0 | Visit Swyftx |
| CoinSpot | POLi, PayID, Cash, Cryptocurrency, Bank Transfer, BPAY | Australian Dollars | More than 370 | OTC: 0.1% Market Order: 0.1%* (applies to LTC, BTC, ETH, XRP, POWR, DOGE, TRX, NEO, XLM, GAS, RChain, RFOX, EOS) Instant Buy/Sell: 1% | Direct Deposit: $0 Direct Bank Transfer: $0 BPAY: 0.9% Cash: 2.5% PayID, POLi, and direct deposits: $0 | Fiat Withdrawals: $0 | Visit CoinSpot |
| Binance | Osko, PayID, Credit Card, Debit Card, Crypto | US Dollars, Australian Dollars, and 8 more | More than 600 | 0% to 0.1% | $0 | Vary | Visit Binance |
| Bybit | Crypto, EFT, wire transfer, bank transfer, debit card or credit card | 50+ | More than 160 | 0.1% to 0.6% | Bank transfer: $0 | Network fees | Visit Bybit |
| Independent Reserve | EFT, SWIFT, Osko, PayID, Crypto | Australian Dollars, US Dollars, New Zealand Dollars | 27 | 0.05% to 0.5% | For SWIFT Deposits: $15 for deposits under AU$5,000 equivalent $0 for deposits over AU$5,000 equivalent For EFT Deposits: AU$0.99 for deposits under $100 $0 for deposits over AU$100 | Crypto: Vary Bank Transfer: $0 for AUD, $20 for non-AUD | Visit Independent Reserve |
| Crypto.com | SWIFT, Crypto, Fedwire, Wise, PayPal, SEPA, BPAY, Bank Transfer (ACH), Debit Card, Credit Card | USD, AUD, CAD, CHF and 15+ more | 250+ | 0.04% to 0.4% | 0% for cryptocurrency and fiat currencies | FREE via bank transfer. $25 for USDC withdrawal via SWIFT Network | Visit Crypto.com |
| Coinbase | EFT, SWIFT, Osko, PayID, Crypto | Australian Dollars, US Dollars, New Zealand Dollars | More than 210 | Fees Vary | Debit Card and Credit Card: 3.99% | Spending USDC with Coinbase Card: $0 ATM Withdrawals: 2.49% | Visit Coinbase |
| CoinJar | Apple Pay, Google Pay, Credit Card, Debit Card, Bank Transfer, Fiat, Crypto | Australian Dollars, Pound Sterling | More than 50+ | Taker: 0.04 to 0.1% Maker: 0.04 to 0.1% | CoinJar Users: $0 NPP: $0 Cash: 1.5% | $0 | Visit CoinJar |
| Kraken | Apple Pay, Google Pay, SWIFT, Osko, SEPA, Crypto, Wire Transfer, Bank Transfer | Australian Dollars, US Dollars, and 5 more | More than 140 | Taker: 0.10% to 0.26% Maker: 0.00% to 0.16% | Vary | Vary | Visit Kraken |
| BTC Markets | Crypto, BPAY, EFT, PayID, Osko | Australian Dollars | More than 15 | Taker Fee (for Bitcoin pairs): 0.20% Maker Fee (for Bitcoin pairs): -0.05% Australian Dollars Market Pairs: 0.10% to 0.85% | $0 | Australian Bank Accounts: $0 Cryptocurrencies: Vary | Visit BTC Markets |
| Easy Crypto | P2P, POLi, and Bank Transfers | Australian Dollars, New Zealand Dollars, South African Rand | More than 40 | 1% | $0 | $0 | Visit Easy Crypto |
| Coinstash | Cryptocurrency, Bank Transfer, PayID | AUD | More than 140 | Taker fees: 0.85% Maker fees: 0.85% | $0 | $0 | Visit Coinstash |
| eToro | Online Banking, Skrill, Neteller, PayPal, Bank Transfer, Debit Card | Australian Dollars, US Dollars, Euro, and 12 more | More than 70 | Vary | Vary | $5 (minimum withdrawal of $50) | Visit eToro |
| KuCoin | Credit Card, Debit Card, SEPA, PayPal, Wire Transfer, Crypto | US Dollars, Euro, Australian Dollars, and 6 more | More than 645 | 0.1% | $0 | Vary | Visit KuCoin |