Electrum Wallet Review 2021
About the Electrum Wallet
The Electrum Wallet is one of the first digital wallets available on the market. Electrum was started in 2011 to support Bitcoin and has since been further developed and modified for easier use. This digital wallet is client-based, which means you download it onto your desktop or laptop computer.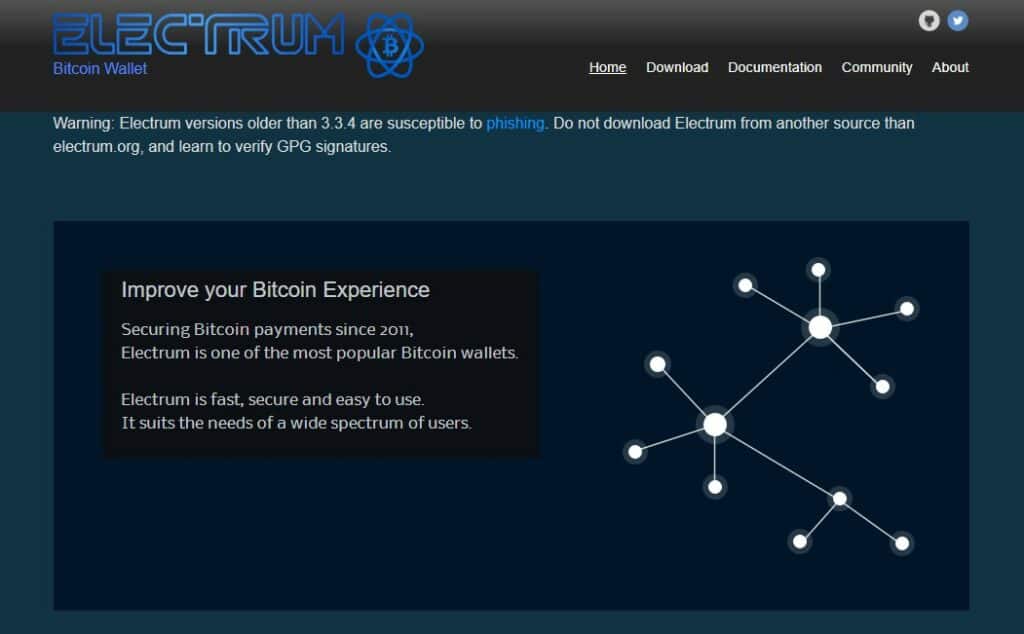 Currently, Electrum is considered one of the pioneers in the digital wallet market and offers a solid, safe option for Bitcoin traders. It's a well-trusted wallet and one of the highest-rated in the industry for this reason.
Supported Cryptocurrencies
Electrum supports Bitcoin, which is limited compared to other crypto wallets, though you can also store Bitcoin Gold, Bitcoin Cash, and similar clones of coins. While the digital wallet doesn't support Bitcoin Cash, it's compatible with Electron Cash, a clone or copy of the Bitcoin version.
If you're planning to trade other cryptocurrencies, you may want to install another wallet as an alternative to Electrum or an additional option. However, since the wallet supports and trades Bitcoin currency only, users must know how this cryptocurrency works, as Electrum does not provide tutorials or step-by-step guides on investing with this option.
Electrum is best suited for crypto investors who understand how Bitcoin works unless you are familiar with this blockchain. If you're new to Bitcoin or cryptocurrencies, it may be ideal to register with another platform or wallet.
Features
Electrum Wallet is considered a lite wallet because you don't have to download the blockchain to access this information in real-time, without any delays or setup issues. It's a high-speed system with excellent privacy and safety features.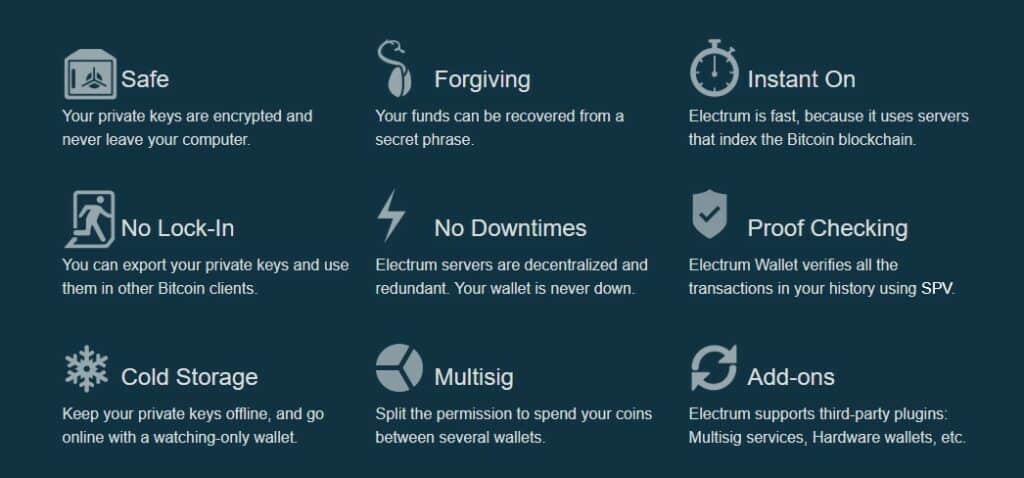 The installation process is simple, which makes Electrum ideal for beginners in cryptocurrency.
The desktop interface is easy to navigate, whether you're looking for a list of previous transactions or how to access the blockchain.
The private keys are safe, as they are encrypted and do not leave your computer.
If you lose or forget your password, a secret phrase can be set up to recover your funds.
The system is compatible with third-party plugins. You can add a hardware wallet or Multisig services to your Electrum wallet.
You'll never experience downtime with Electrum, and since the servers are decentralized, you'll always have access to them.
If you're new to opening a digital wallet, you may find Electrum is not as user-friendly as other mobile apps and newer digital wallets. However, once you get familiar with Electrum and become comfortable with the desktop features, you can open unlimited wallets.
Customer Support
If you need support while exploring Electrum, you'll find the online resources helpful and offer a well-organized list of documents to reference. In addition, you'll also have the option of accessing the Bitcoin category, where you can find detailed answers to your questions about the wallet and trading Bitcoin.
Payment Methods
When you set up your wallet, you can buy and sell Bitcoin using several payment methods. These options include e-transfers from a bank account or a credit card. You can also fund your Electrum Wallet with other Bitcoin-based wallets.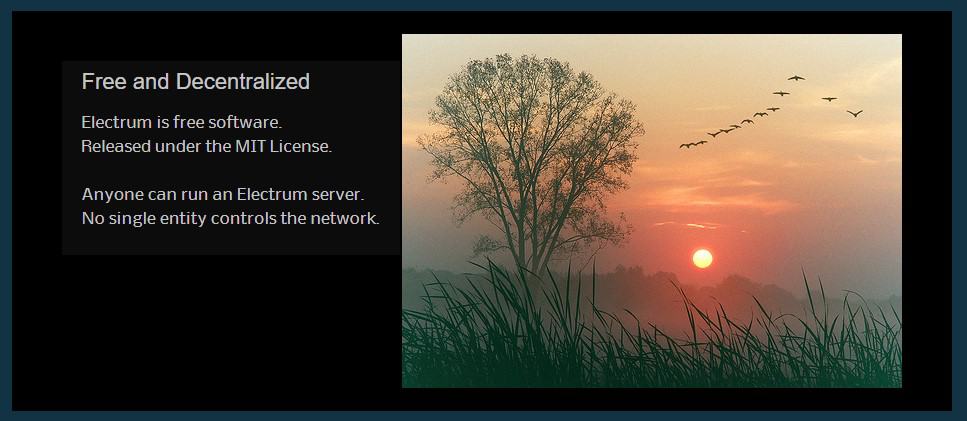 Trading Fees
The default fee for Bitcoin transactions through Electrum is 0.2 mBTC, though this may be reduced depending on the transaction or the amount. If the amount you want to transfer exceeds the available balance in your account, you'll receive a notification to add more funds before you may proceed.
Security and Safety
Electrum is a secure wallet that's protected with a password and an encrypted private key. Your private key is secured on your computer so that if your device no longer functions, you can recover your cryptocurrency funds with a secret or seed phrase. This phrase is initially set up when you register for the Electrum Wallet and before you begin using your account.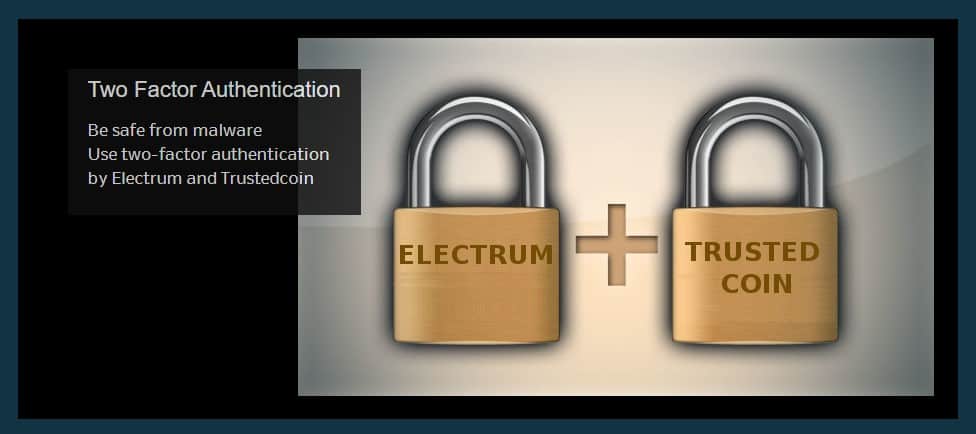 Since this desktop-based digital wallet is secure, you'll likely never encounter any issues while using it. However, you may want to add a hardware wallet, which integrates well with Electrum for improved safety.
Frequently Asked Questions
If you're new to using a digital wallet, getting familiar with Electrum is essential before getting started. This product is accessible to download and set up, though it may take some time to get comfortable with the menu options and navigate the various screens. The following questions and answers offer some helpful information to get started with Electrum.
What happens if I lose my password to Electrum?
You'll have the option of setting up the seed phrase, which you'll need if you forget or lose your password. It's vital to keep the seed phrase stored safely because if you lose this information, you will also lose access to your account.
What happens if Electrum freezes my account, and why does this happen?
When Electrum freezes an account, this is a security feature to protect your funds. This process usually occurs when you're sending a large amount of Bitcoin to another wallet address or online source. Therefore, it's best to transfer or send smaller amounts to avoid freezing your account.
Should I purchase Electrum if I'm new to trading cryptocurrencies?
Electrum is not the most user-friendly digital wallet for new investors. It's generally not recommended for beginners. Suppose you're looking to start investing in Bitcoin. In that case, you may want to consider an online platform or mobile app-friendly option to get familiar with the process before you install Electrum.
Should I add a hardware wallet to support Electrum?
Electrum works well with hardware wallets, and this is an excellent option for enhancing your account's security. Overall, Electrum is a highly secure platform.
Which hardware wallets are compatible with Electrum?
Most Bitcoin-compatible hardware wallets work well with Electrum. These options include Ledger Nano S, Trezor, and KeepKey.
Which operating systems are compatible with Electrum?
You can easily use Electrum with Linux, Mac, and Windows. Since 2016, an Android version of the wallet is also available as a mobile option. Electrum is also compatible with most Bitcoin hardware wallets, which makes the process of integrating both easy.