Electrum Wallet Review 2022
Cryptocurrency wallets are software packages that store transaction records of your virtual currencies to serve as proof of ownership. Contrary to popular belief, crypto wallets have nothing to do with actual wallets where you accommodate your cold cash. However, both physical and crypto wallets share the same purpose: to provide a safe environment for user assets.
If you're a beginner, the crypto wallet will be one of the first concepts you will encounter when trying to make a move toward the blockchain industry. Therefore, you must have the big picture of how they operate, and more importantly, know what type of wallet will suit your personal needs.
Today, we're discussing Electrum, one of the oldest representatives of a Bitcoin wallet. It's a desktop wallet that also has a mobile version. Electrum is categorized as an open-source, lightweight, client-based, and single-cryptocurrency wallet. 
Now, let's go through its distinctive traits together to help you conclude whether Electrum is the right storage solution for your bitcoins.
What Is Electrum?
The Electrum wallet was launched only two years after Bitcoin (BTC) was presented to the world for the first time. Thomas Voegtlin developed it in 2011. Over the years, its performance has been continuously improved by other developers since its open-source nature allows external access to the source code (Electrum is written in Python).
However, as an industry veteran, Electrum has remained loyal to the traditional method of storing BTC—the wallet supports no other altcoins and offers no built-in purchases, sales, and swaps with your Bitcoin.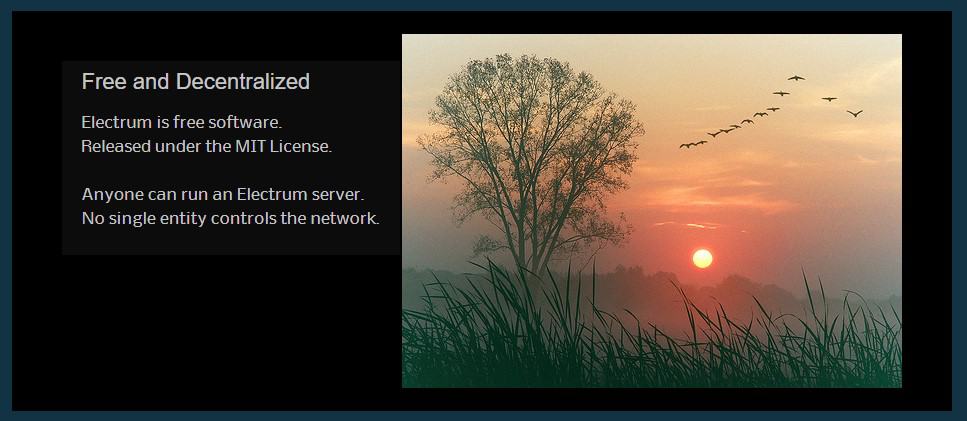 The wallet is a safe, private, and time-efficient software that you can download on Windows, Mac, and Linux. The speed comes from its Payment Verification (SPV) mechanism to verify transactions, which doesn't require you to download the entire blockchain and prevents any possible setup delays.
Most importantly, with Electrum, your info, including public keys and transaction records, will be stored on your desktop and not on the wallet servers. In case your computer gets damaged or infected, you'll be able to recover the wallet with a seed phrase.
Electrum offers different account types based on your preferred security features (you'll find out more about this in the next section). This software wallet can be integrated with the most popular hardware wallets like Ledger Nano S, Trezor, and Keepkey for added security.
How to Get Started With Electrum Wallet
Experienced Bitcoin traders will find the wallet setup pretty straightforward, but configuring Electrum can be a bit overwhelming for first-time users. The wallet doesn't feature an intuitive installation process that guides you through all the settings.
How to Set Up an Electrum Wallet
Initially, you'll have to download Electrum from their official website. Make sure to navigate to the page manually in order to protect yourself from phishing scams that appear in the form of emails, fake websites, or direct links.
Choose the Electrum wallet for the operating system you use. If you use Windows, the system may try to prevent downloading Electrum. To proceed, go to Details and select download anyway.
Now it's time to install your Electrum wallet. First, you'll need to name this wallet since Electrum allows you to open many. 
At this point, you'll have to choose between four types of wallets: standard wallet, wallet with two-factor authentication, multi-signature wallet, or the option to import Bitcoin addresses or private keys. 
The standard one is a deterministic wallet with one key for each Bitcoin address. The majority of users usually go for this version.
With the multisig wallet, you'll get more than one key for each address if, for example, you use the wallet from different devices or share it with another person. You'll need confirmation from both devices/co-users to sign an outgoing transaction.
The 2FA wallet is a type of multi-signature wallet, and you can use it as an extra layer of security. In order to transfer assets from a 2FA wallet, you'll first need approval from Trusted Coin—a third-party co-signer company—to sign and confirm the transaction, but only after you insert the correct Google Authenticator code.
The address and private key import option will allow you to create a wallet with private keys that were previously generated by different software.
Finally, you have the watch-only wallet option that comes with no private keys. As the name suggests, you can use this version to monitor your wallet addresses and balances but not to confirm a transaction.
After completing this section, you'll have to pick a Keystore option. You can select either create a new seed for a brand new wallet or restore an existing wallet by inserting a 12-24-word recovery phrase if your device gets damaged or stolen. Another option for restoring an old wallet is through a master private key. At this stage, you can also choose to integrate an independent hardware wallet (Trezor, Ledger, or Keepkey) and use Electrum as a user interface.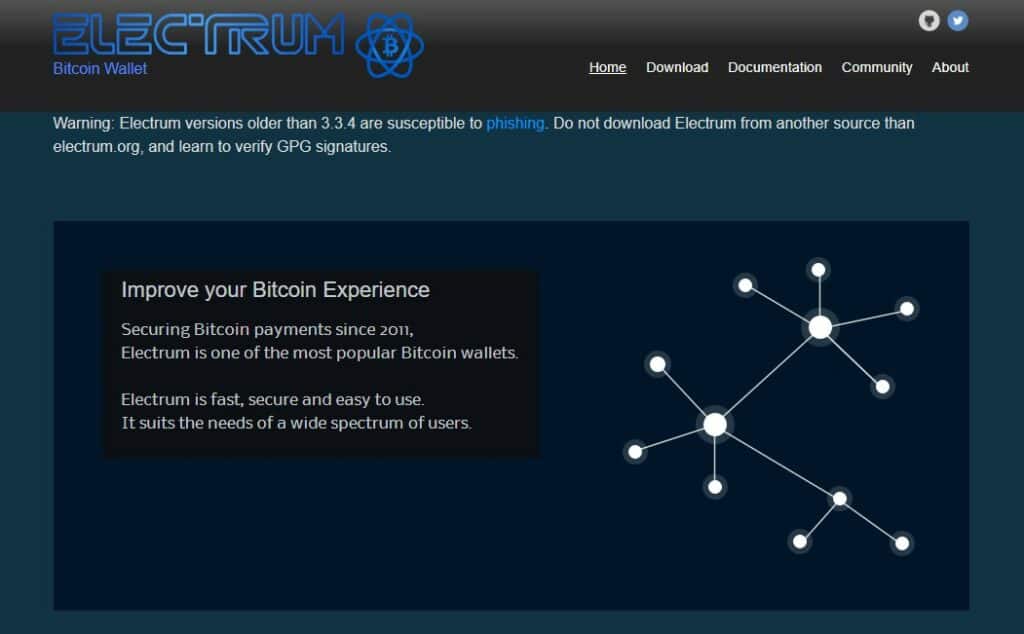 Electrum will also allow you to select between a Legacy or Segwit BTC address. Segwit addresses are a relatively new, upgraded version that provides cheaper and more compact Bitcoin transactions. However, Legacy addresses are still the industry standard and are supported by all cryptocurrency exchanges.
Write down your seed phrase and save it carefully, as it'll be the only backup in case you lose your wallet. It's highly recommended you avoid saving the recovery phrase while your device is connected to the internet.
Insert the saved seed phrase into the relevant field to confirm that it's correct.
Finally, you can optionally encrypt your wallet if you want to protect it against any unauthorized access on your desktop.
Now that you're all set to use your Electrum wallet, remember three things:
You'll need to spend some extra time configuring the wallet to your preference. For example, the default wallet shows Bitcoin in millibitcoin (0.001 Bitcoin) or mBTC, rather than normally used satoshis, bits, or BTC.
Don't keep large BTC amounts solely on Electrum. After all, it's a software interface that cannot provide impeccable security outside the reach of cybercriminals on the same level as hardware wallets.
Special Features
Electrum is one of the favourite storage options of the avid Bitcoin trader community due to the rich set of customizable settings it offers.
Whenever you make a transaction on the blockchain, you have to pay a transaction fee that serves as a reward for miners to confirm the transaction. The rule is very upfront—the higher the fee, the faster the transaction. Naturally, when the network is heavily loaded, the execution of low-fee transactions is delayed. Since blockchain transactions are irreversible by nature, you can't simply cancel the transaction and start the process over. Your bitcoins will usually stay stuck on the blockchain until the network traffic slows down, which can take days or even weeks.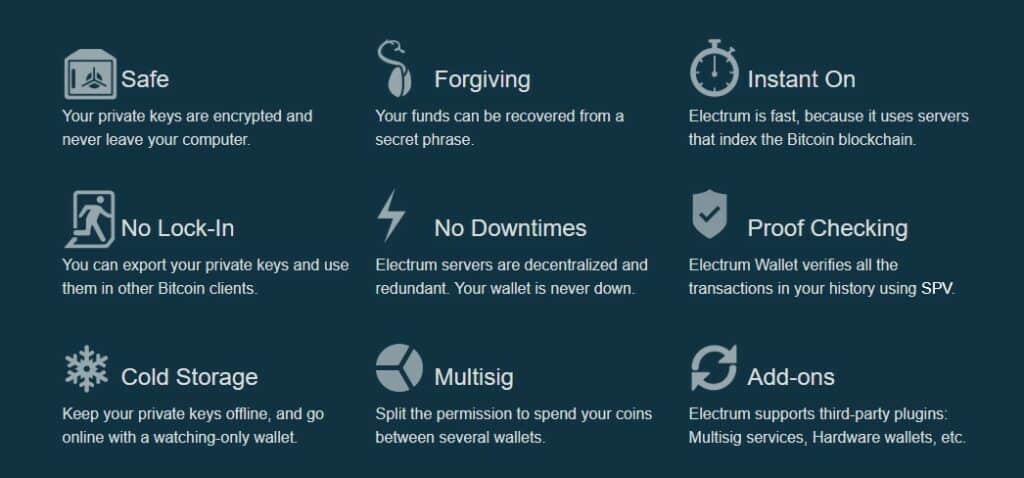 Fortunately, the Electrum wallet offers a unique RBF (Replace By Fee) feature, which enables you to re-make your transaction with a higher transaction rate in case its execution delays with confirmation.
With Electrum, you can also save reference addresses (like a phonebook) to have a better overview of your regular senders. The wallet will also provide the pay to many option, which allows you to send a single transaction to several recipients as well as the possibility to sign messages with your private keys.
Is Electrum Safe?
Generally, software wallets aren't the best storage solution in the long term. They're connected to the internet, which makes wallets of this type simply unsuitable for keeping large amounts. Note that the update system of the Electrum wallet was the victim of a series of attacks between 2018 and 2019.
Namely, hackers prepared a tricky DoS attack that sent users an update notification. Those who accepted the updates got their computer infected with malware that stole all their funds. The Electrum team come up with an unusual strategy to protect users. They used the very same flaw in their software and redirected users to download the patched wallet version. After hackers noticed this, they turned to distributed denial of service attacks (DDoS) before the rescue team eventually regained control over the situation.
Even though the new 3.3.4 Electrum version seems to be more secure, you have to be exceptionally cautious about update notifications and double-check the wallet's official channels, such as its website or social media.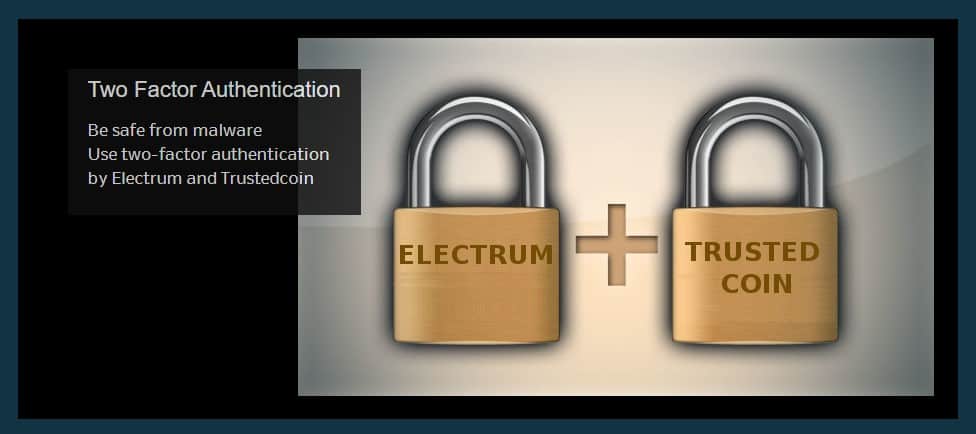 To conclude, as a client-side wallet, Electrum is safe as long as you take proper care of your seed phrase and stick to official sources for wallet-related news. The software itself is good enough for a rich BTC-trading experience, but it should be connected with one of the supported hardware crypto wallets when it comes to security.
Customer Support
As implied in the above sections, the customizable functionalities of Electrum are highly appreciated by seasoned Bitcoiners. However, the wallet also offers extensive and comprehensible documentation, which can help users of all levels of experience.
This comes in extremely handy as there are no direct support lines and channels for communication with the Electrum tech team. On that account, you have Electrum's well-rounded FAQ at your disposal.
For all news and announcements concerning the wallet's performance and updates, you can follow its official Twitter account and get immediate directions or advice from your peers worldwide through the r/Electrum subreddit.
Frequently Asked Questions
Does Electrum support Ethereum?
No, Electrum supports Bitcoin exclusively, and there are no announcements for any plan to extend the list with other altcoins (such as Bitcoin Cash or Litecoin) in the near future.
Is Electrum anonymous?
By its very nature, Electrum is software, not a centralized money provider, so you won't be required to undergo any form of verification that reveals personal or sensitive information.
However, if you don't use a Tor server, Electrum will uncover your IP address to the SPV (Simple Payment Verification) server—the system that allows you to use Bitcoin without downloading the full network node.
Does Electrum have a mobile app?
It does. Bitcoin users can fully rely on the Electrum mobile app (available for Android and iOS users) as it provides nearly identical functionality and a basic design. 
A Few Words Before You Go…
Electrum is a Bitcoin wallet that gives massive controlling power to its users. For that reason, it has a strictly-defined target audience of Bitcoin-savvy professionals who appreciate the given autonomy in the manual setup. The wallet is transparent in setting users' expectations since the first encounter—Electrum expects you to be familiar with basic crypto terminology.
Therefore, if you're looking for a more user-friendly hot wallet, then direct your focus to brands like Exodus and Coinbase. On the other hand, if you're looking to diversify your portfolio with more daring coins, you should definitely try Coinomi instead.
Regardless of your previous experience and trading style, you should know that investing in a hardware wallet is ultimately the best decision for the safe storage of your digital assets. For a full user experience, take advantage of the compatibility between hot and cold wallets to get the best of both worlds—a high level of security and ease of use.