eToro Review for 2023
CrypeToro is a well-known Israeli fintech development company with subsidiaries located in the United Kingdom, the United States, Australia, and Cyprus. Founded in 2007, this social trading platform allows crypto trading and a wide range of other financial services via its platform. It's also considered to be one of the most reputable and popular cryptocurrency exchanges in the digital money industry.

The platform has been named the Best Broker website's 2021 winner in two categories: Best Broker for Cryptos and Best Broker for Social Trading. The evaluation was based on an in-depth examination of more than 70 online brokers, which included evaluating their active accounts. This brokerage likewise receives a steady stream of favourable 5-star reviews from its customers.

It is now our turn to examine the factors that contribute to the success and popularity of the eToro trading platform and determine if our analysis matches the opinion of both crypto enthusiasts and the relevant institutions. Read on.

About the eToro Exchange
eToro is an easy-to-use exchange platform that allows users to copy the trading activities of other investors across more than 2,300 financial services, including commission-free stocks, trading CFDs, ETFs, forex, as well as a wide range of cryptocurrencies.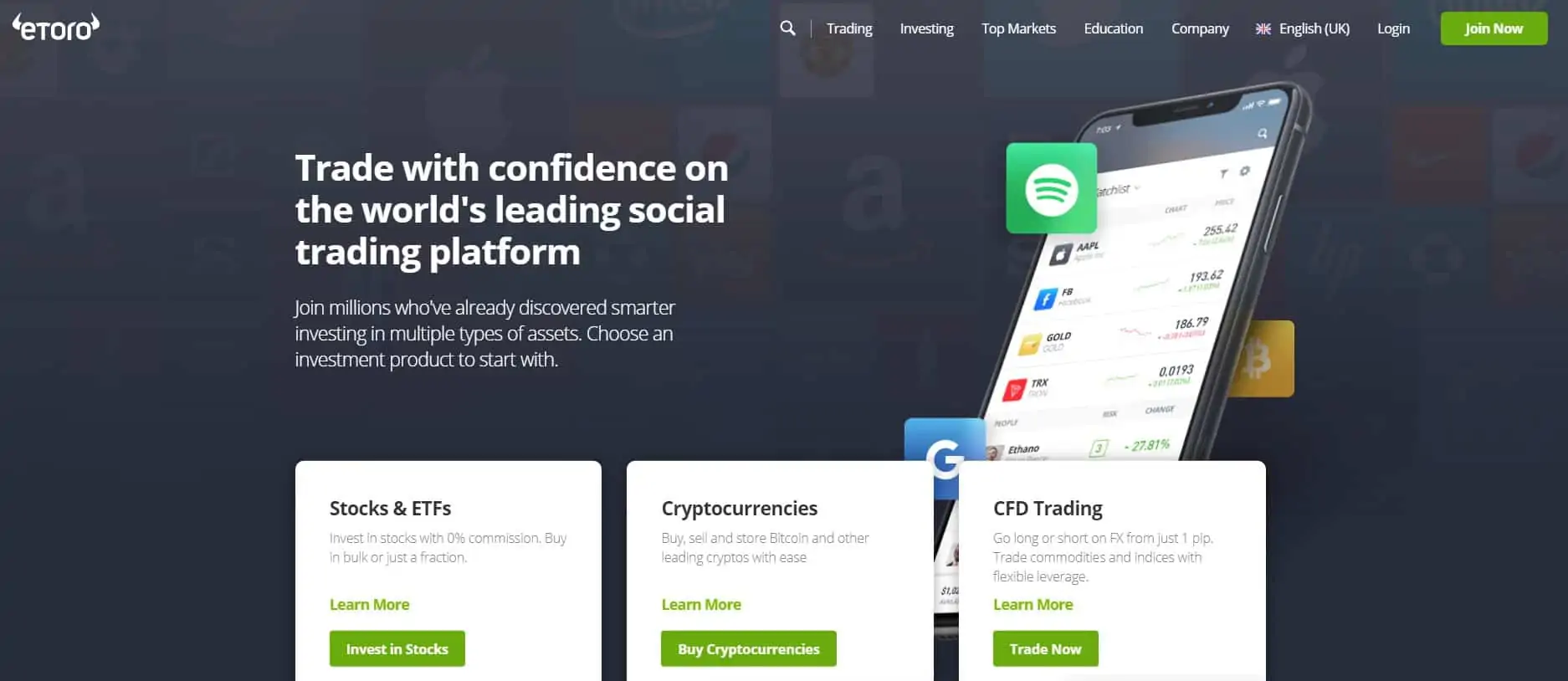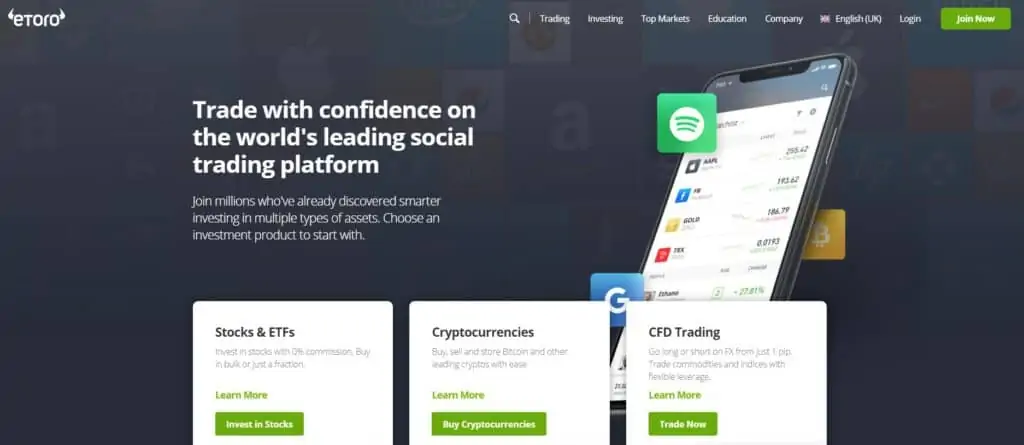 To obtain access to the website of this exchange platform, you must either sign up for an eToro account via a two-step login process, or link an existing Google, Apple, or Facebook account. In order to understand the trading mechanisms on this platform and decide on their preferred trading tool, users can open demo accounts.
Users with visual impairment, reading and focusing problems, or with a liability to seizures, can conveniently customize their eToro content on the website by making it seizure safe (an option that removes the flashes and reduces the colour intensity), improving the keyboard navigation, using a screen reader, etc.
Trading Features
The trading features of eToro are numerous and diverse. By providing advanced trading tools like CFDs and maintaining active social channels, this company provides an excellent user experience on its platform.
CFDs
This multi-asset broker allows many convenient tools of trading via its user-friendly platform, suitable even for crypto beginners. In particular, it enables trading with digital currencies via contracts for difference (CFDs) as well as direct trading of the underlying asset as one of the trading tools available on this exchange platform.


Copy Trader/Social Trading
CopyPortfolios (formerly referred to as CopyFunds) is yet another unique trading instrument offered on the eToro exchange platform. It assists traders in broadening their portfolios, reducing the long-term risk of crypto investing, while capitalizing on present market prospects. The default stop loss for eToro CopyPortfolios is set at 10%.
Supported Cryptocurrencies
eToro lists a vast number of promising new altcoins for trade alongside the most popular digital coins, including Bitcoin (BTC), Ethereum (ETH), Ethereum Classic (ETC), Dash (DASH), Litecoin (LTC), Bitcoin Cash (BCH), Stellar Lumens (XLM), NEO (NEO), Ripple (XRP), EOS (EOS), Cardano (ADA), Iota (IOTA), ZCash (ZEC), etc.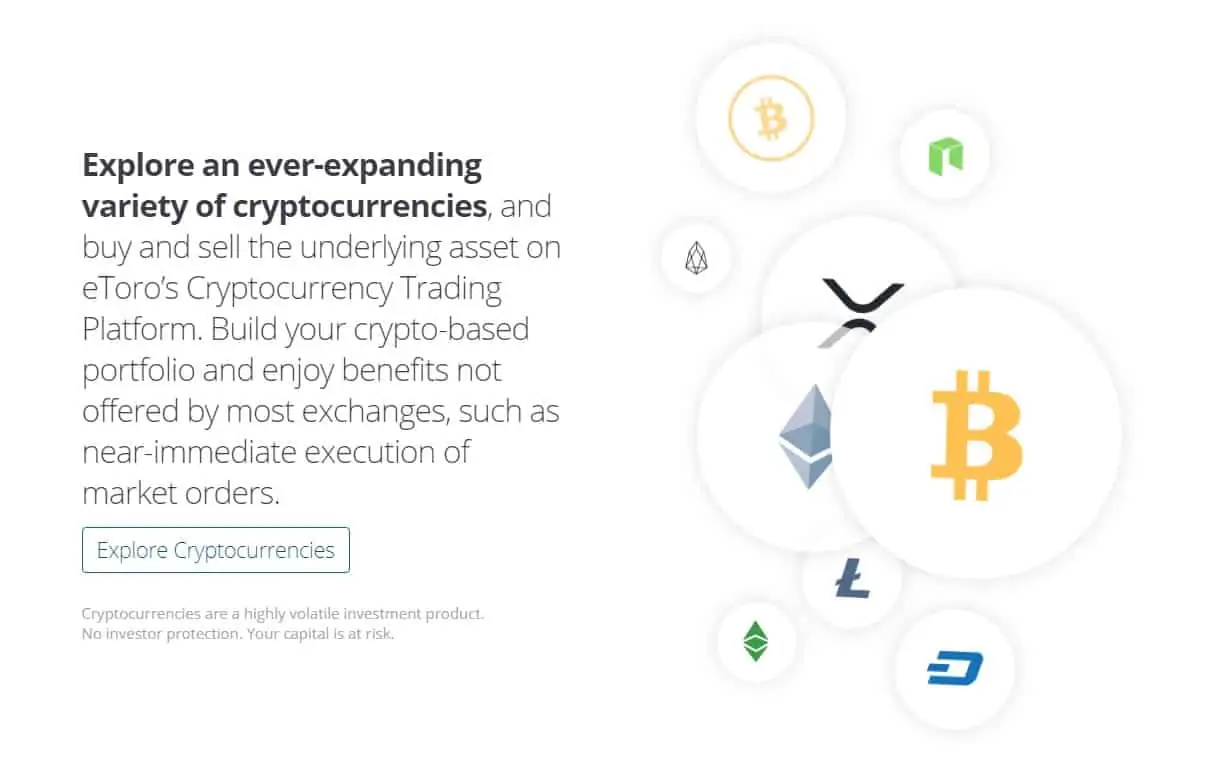 Payment Methods
As an exchange that responds to its customers' requirements, eToro offers a variety of payment options for a more pleasant trading experience on the platform. The users can deposit fiat currencies by using the following methods of payment:
Credit card/debit card (instant payments in USD, GBP, EUR and AUD with a maximum deposit of $40,000 USD);
POLi (instant payments in AUD with a maximum deposit of $40,000 USD);
PayPal (instant payments in USD, GBP, EUR and AUD with a maximum deposit of $10,000 USD);
Neteller and Skrill (instant payments in USD, GBP, and EUR with a maximum deposit of $10,000 USD);
Rapid transfer (instant payments in USD, GBP, and EUR with a maximum deposit of $5,500 USD);
Klarna/Sofort Banking (EUR payments with a maximum deposit of $30,000 USD);
Bank account/bank transfer (payments in 3-7 days in USD, GBP, and EUR with an unlimited deposit);
Online Banking – Trustly (available only for the EU countries; instant payments in EUR, GBP, SEK, DKK, NOK, PLN, CZK with a maximum deposit of $40,000 USD).
There are no fees associated with transferring your digital assets on the eToro platform.
Trading Fees and Limits
The eToro platform charges spreads, a fee based on the difference between the offered quote and the pricing that might alter during periods of high volatility. However, like with other exchange platforms, there is a blockchain transaction fee that is generally paid to crypto miners for network upkeep.
Currency pairs available on this exchange platform are costly to trade, with the cost of trading EUR USD being 3 pips (the price shifts in a given exchange rate or spread). In contrast, other brokers charge between 0.6 and 1 pip per trade. In addition, you'll need to pay conversion fees of 5% whenever you convert fiat to cryptocurrencies or vice versa.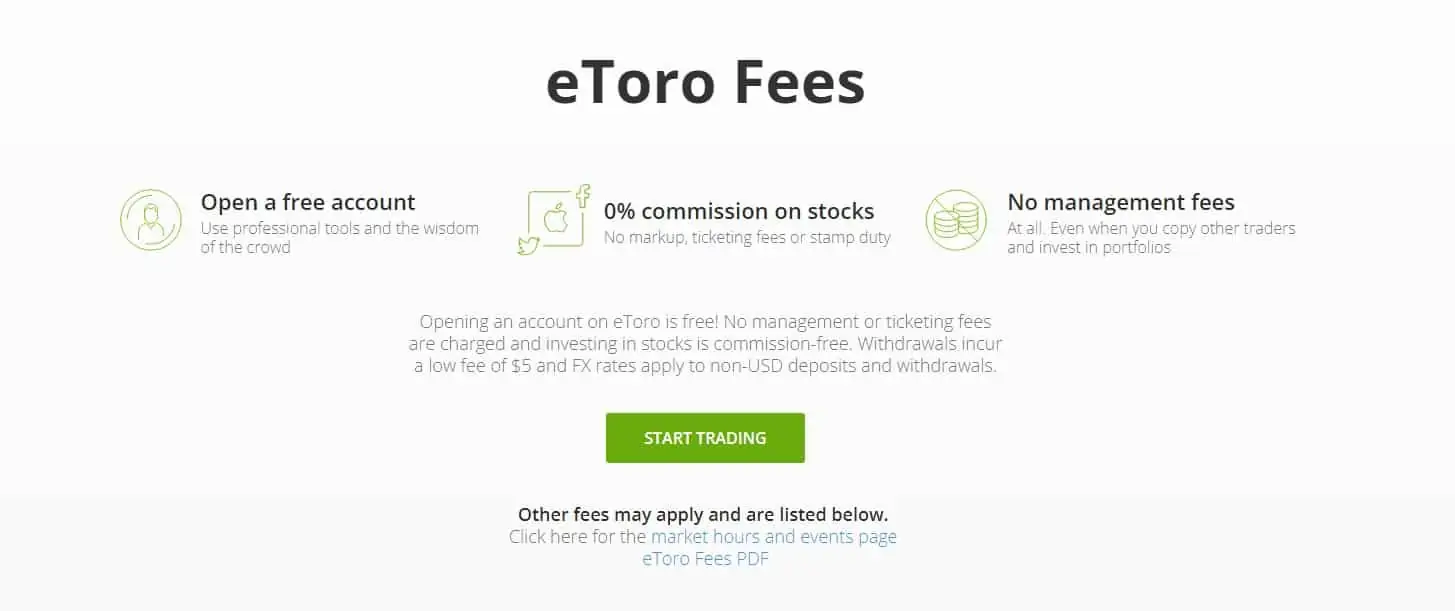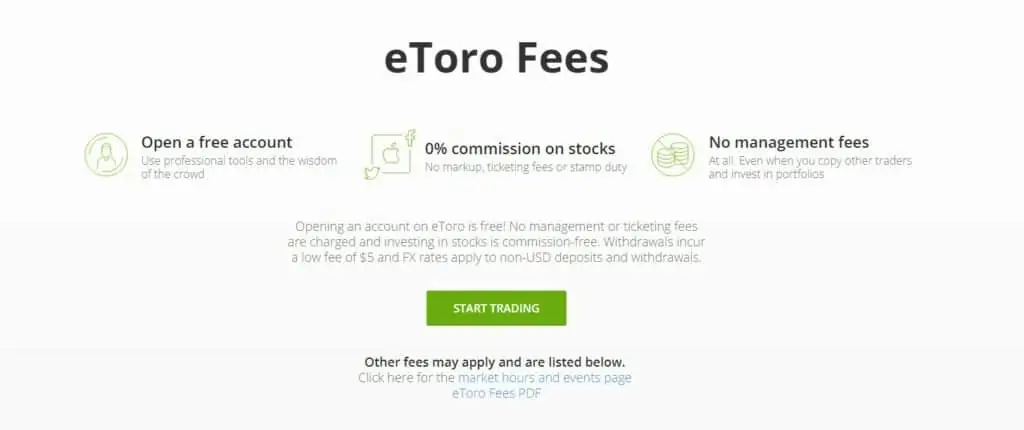 eToro also charges its users $10 per month for non-trading or account passivity in a period of 12 months or longer. The relatively high inactivity fees also include a $5 USD withdrawal fee.
In addition, when a trader makes a cryptocurrency transaction from the eToro investing app to the eToro Money crypto wallet, the exchange platform charges a modest and limited fee. Finally, the minimum amount for opening a trading account on this platform is $50 USD.
Is eToro Safe to Use?
eToro is deemed a secure and trustworthy brokerage since its Australian and UK subsidiaries are licensed via the leading financial regulator bodies. eToro (UK) Ltd provides its users via a division authorized by the Financial Conduct Authority (FCA), while eToro's Australian clients are served through a company regulated by the Australian Securities and Investment Commission (ASIC).
As for the rest of the eToro's users, eToro (Europe) Ltd. is handled by a Cyprus-based entity governed by the Cyprus Securities and Exchange Commission (CySEC).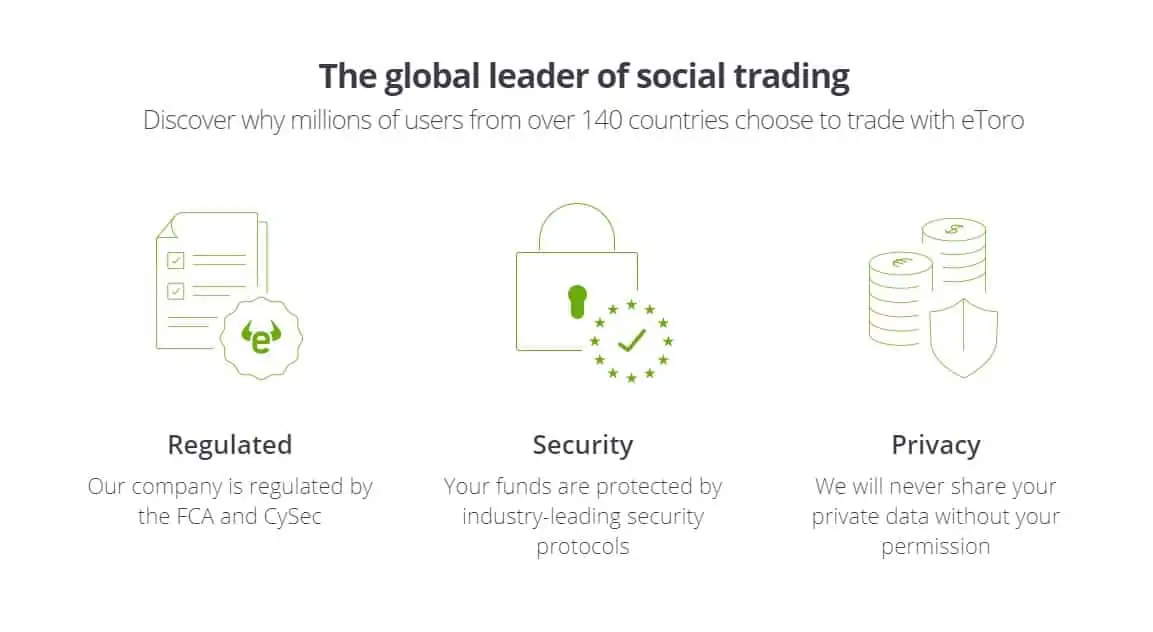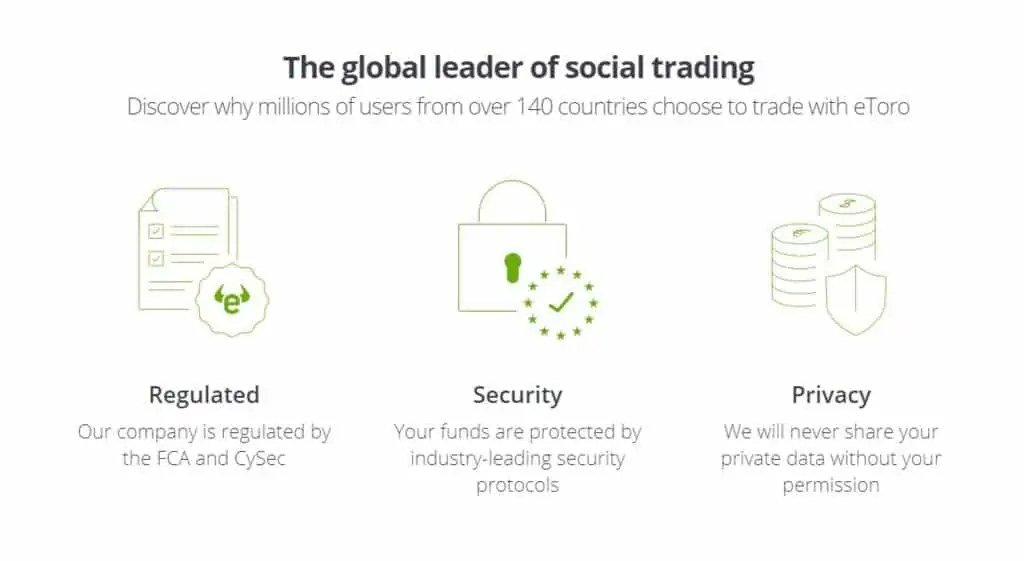 Customer Support
eToro's 24/5 multilingual customer support offers a vast knowledge base that may be valuable to all traders, even if they do not encounter any difficulties when trading on the site. The specialized tabs on the platform's upper toolbar present several major areas of interest with answers on trading, investing, top markets, education, video tutorials, and the company's profile information – all available in 18 global languages.
If your response is not one of the alternatives provided and you are having trouble withdrawing funds or making an investment, you may start a ticket through the customer service center, where you can also track its progress and keep previously resolved tickets for future reference.
Frequently Asked Questions
Does eToro provide mobile trading?
The eToro platform is easily accessible and simple to use on both the web and mobile devices with integrated Android and iOS operative systems. The mobile trading app takes advantage of smartphone intuitive features like push alerts, syncing watchlists, and effective touch interactions. In your portfolio, for example, you may use the swipe over the screen of your smartphone to view the statistics or initiate a transaction. By seamlessly blending all the trading tools with the social trading capabilities and the generated news feed of the website, this app is an excellent solution for traders on the go.
What countries are supported by eToro?
eToro is a worldwide platform that functions in over 140 countries throughout the world. Some of the counties that can utilize eToro's services include Australia, some USA countries, UK, France, Colombia, Cyprus, Greece, Lichtenstein, UAE, etc.
Who pays the taxes on profits made via eToro?
The users of the eToro exchange are obliged to determine the taxable profit made by trading on this platform depending on their account statement. Hence, they need to pay their fair share for the trading gain in conformity with the financial law requirements, as well as with the regulatory framework of their state of residence.
Is eToro the biggest scam among crypto exchanges?
This is not likely at all. Given that this exchange is authorized by numerous state financial conduct authorities in the respective countries where eToro's offices are situated, the odds of a user being a victim of a licensed exchange scam are close to none.
The Bottom Line
The Israeli fintech development company, which is the main subject of our review, is a user-friendly, copy-trading platform. eToro offers its users a clean and intuitive web interface, with a highly simplified account registration process, numerous cryptocurrency trading services, and a rich social trading experience. In addition to the extensive range of trading indices, this company also cares for their visually impaired users or people with seizures by allowing them to customize the intensity of light, colours, as well as access to the website's content.
Overall, the never-ending thirst for technological innovation in the field of finance and online trading, as well as the commitment to making the platform a friendly and highly functional place for all users regardless of physical impairments, make all the raving reviews of the eToro exchange well-deserved incentives for the exchange's continual development.
Stocks via eToro Service ARSN 637 489 466 promoted by eToro AUS Capital Limited ACN 612 791 803 AFSL 491139. Investing in shares via a managed investment scheme does not result in direct ownership of the underlying assets. Capital at risk. See PDS, TMD and full disclaimer.
eToro AUS Capital Limited ACN 612 791 803 AFSL 491139. Crypto assets are unregulated and highly speculative. There is no consumer protection. You risk losing all of your capital. Refer to our Terms and Conditions. See full disclaimer.
Related: