eToro vs CoinSpot 2023
CoinSpot is among the best cryptocurrency exchanges in Australia. eToro Australia is a well-established broker that offers cryptocurrency as an investment options. Which one is better in the case of an Aussie who would like to get started investing in cryptocurrency?
I have looked into the various features of both platforms to decide which is my preference. I would recommend CoinSpot as Australia's most reliable and secure exchange because it offers more than 360+ coins, less charges and live Chat assistance.
Comparison Table
| | | |
| --- | --- | --- |
| | CoinSpot | eToro |
| Amount of Cryptocurrencies | 360+ | 75 |
| Trading Fees | Market: 0.1%, Instant buy: 1% | 1% |
| Deposit Fees | POLi, Bank transfer, PayID, OSKO: Free; BPAY: 0.9%, Cash: 2.5% | Currency conversion fee |
| Withdrawal Fees | Free | $5 + currency conversion fee |
| Payment Methods | Cash Deposit, Bank transfer, OSKO, BPAY, POLi, PayID | POLi, Direct deposit, PayPal, Credit/Debit card |
eToro Pros and Cons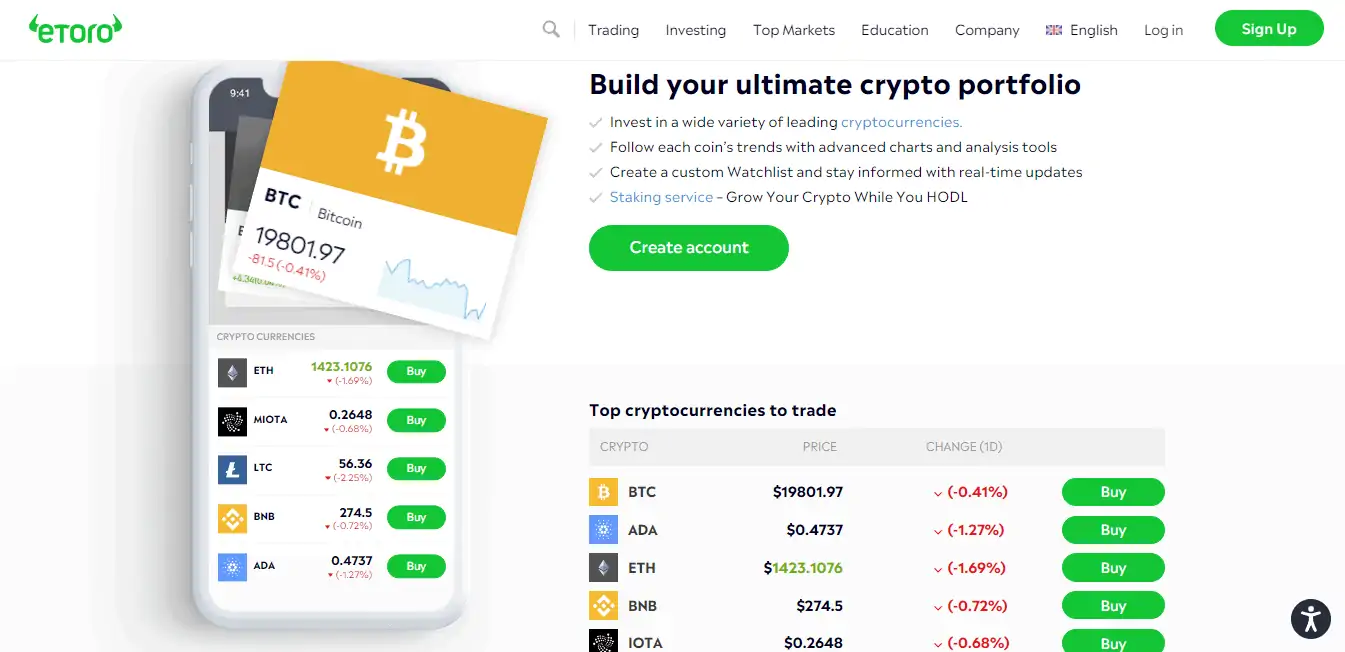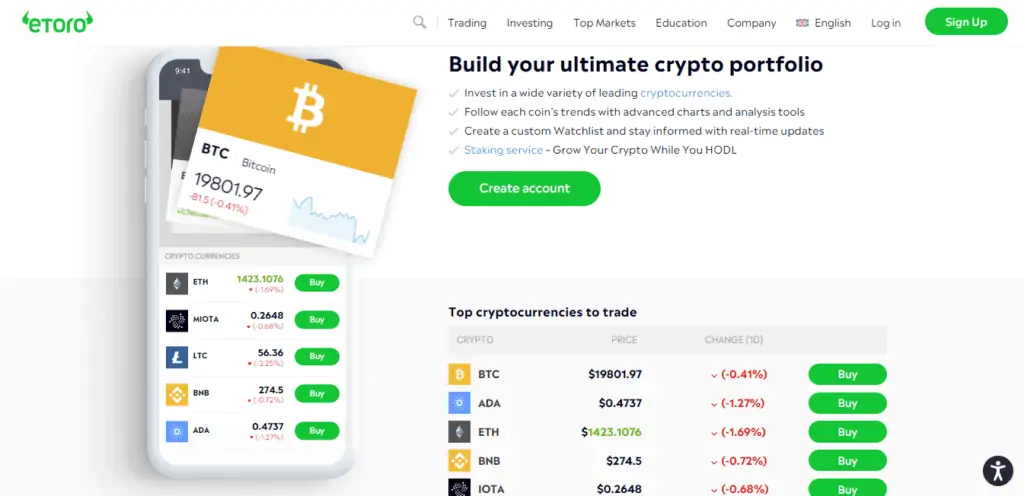 Pros
You can open a demo account with $100,000 free virtual money
Trade 75 different crypto assets
Crypto staking is available to earn interest and passive income
Offers mobile app and eToro Money wallet for your convenience
Comes with social trading features like copy trading
Cons
High trading fees of 1%
Their live chat is only available to eToro Club members
USA residents cannot access  CFDs or stock trading
CoinSpot Pros and Cons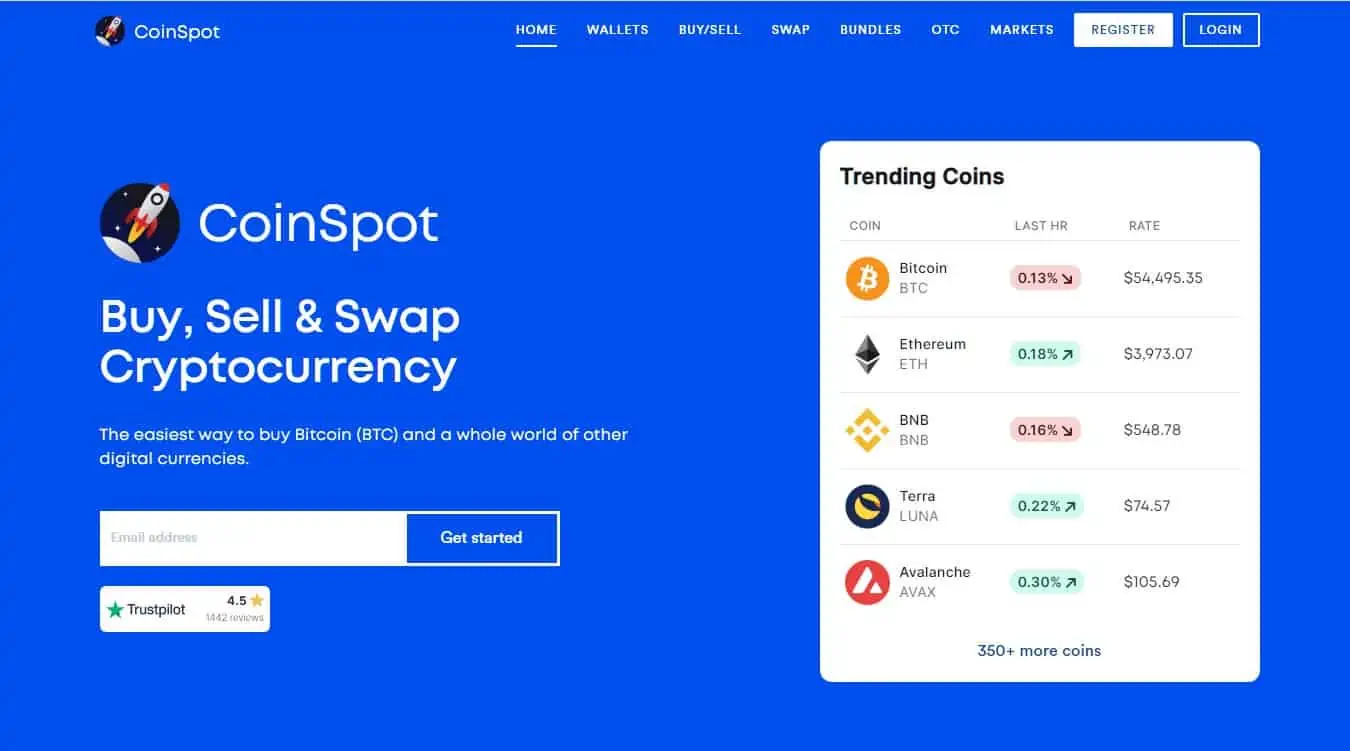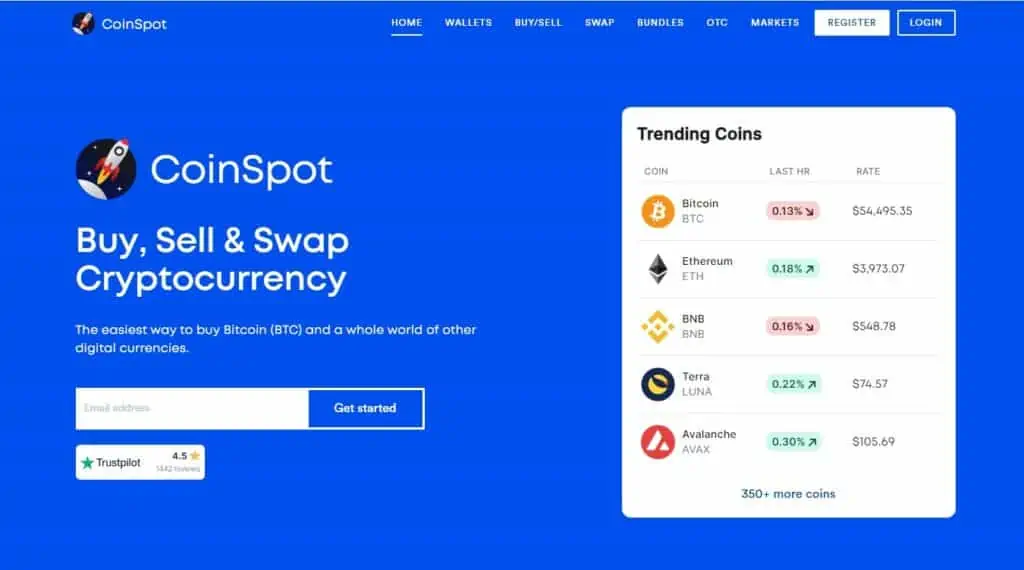 Pros
Great selection of 350+ cryptos, with high liquidity levels
Very low market order fees at 0.1%
Simple interface design and very easy to use, fit for beginners
Markets interface includes advanced technical analysis tools
Regulated by AUSTRAC
Cons
Doesn't have margin trading or futures contracts
The Instant buy/sell fee is a bit high at 1%, but the low spreads somewhat compensate for the fees
The market interface is only available for 15 asset pairs
Features
CoinSpot is a great choice for making a simple easy-to-use cryptocurrency exchange that will draw newcomers into cryptocurrency. They offer a simple buy/sell feature, live chat with a responsive interface as well as email support should you have any issues. There aren't any complex markets available on CoinSpot this means that it's really simple to navigate the site.
eToro Australia has a ton of options, including non-cryptocurrency-related markets, including forex, stocks and CFDs. The platform is designed around social trading, which means that there's a feed of news which allows you to stay up-to-date on the latest developments, and you can also leave comments or ask questions or write articles.
It is also possible to use CopyTrading which copies automatically the trading strategies that successful traders have made. You can also use a demo mode that lets you use $100,000 play money in order to test your trading and determine the strategies that work best as well as earn passive earnings from various coins by placing bets.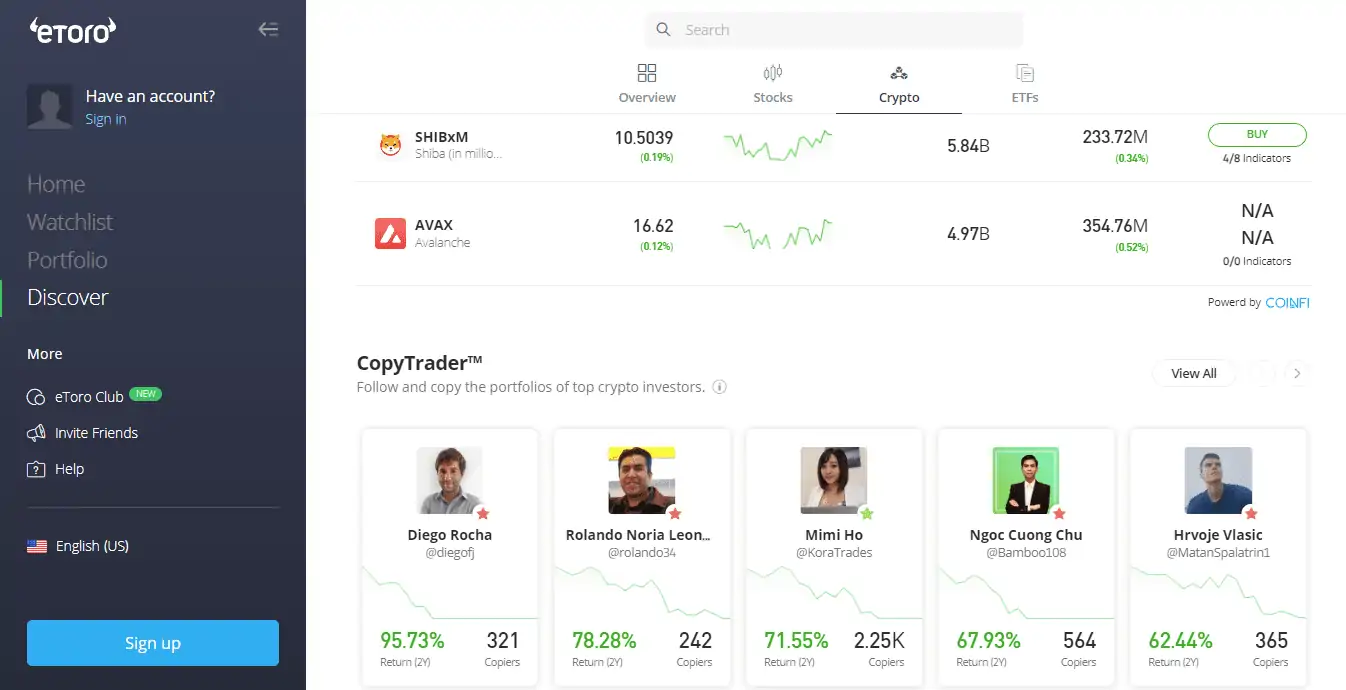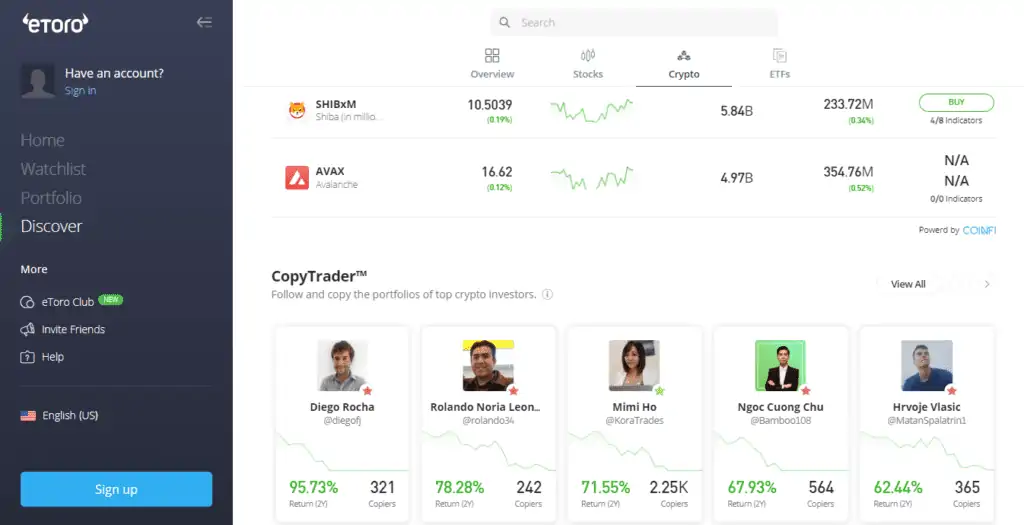 eToro Australia has so many options that are suitable for novice and experienced traders, and also offers options to trade different assets including forex and stocks.
Winner: eToro Australia
Supported Cryptocurrencies
CoinSpot offers a wide range of coins – it's the biggest of any Australian cryptocurrency exchange with more than 360 different cryptocurrency.
eToro Australia only offers 75 different cryptocurrency.
CoinSpot is the clear winner in this category and offers a wide range of coins available.
Winner: CoinSpot
Fees
CoinSpot offers a variety of deposit methods that are available free of cost: POLi, PayID, OSKO. Depositing using BPAY costs 0.9 percent or 2.5 percent if you make a cash deposit. Refunds of AUD are absolutely free. Instantly purchase and sell crypto cost the user 1%, however trade on the markets will cost 0.1 percent. But only 14 coins are traded in the marketplace.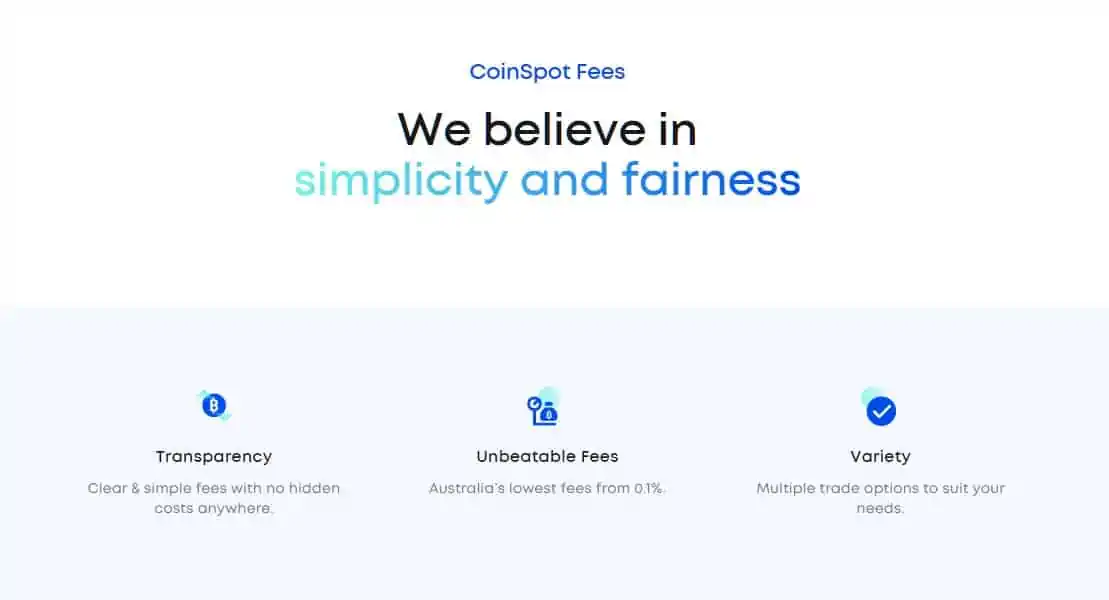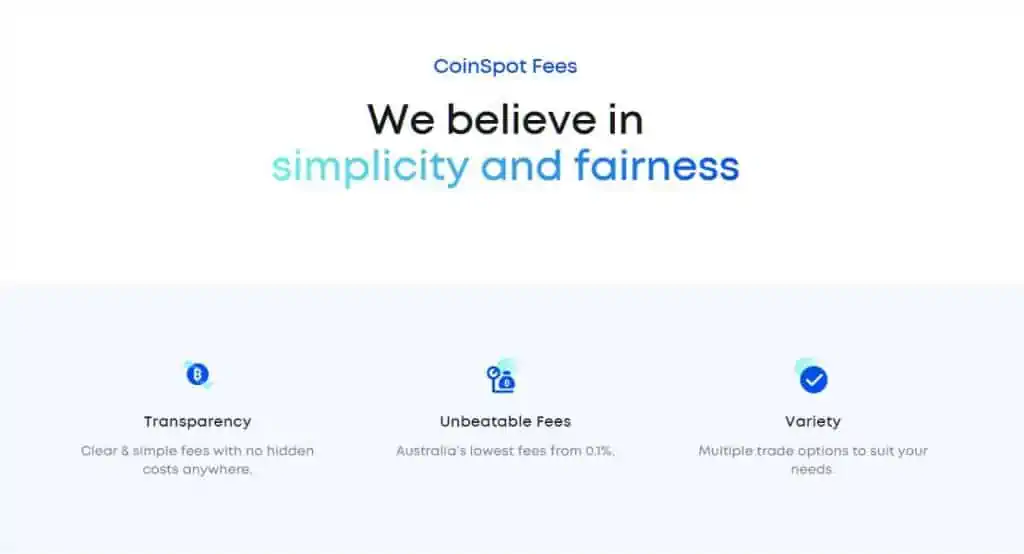 eToro Australia does not charge an amount for deposits in USD, however there is a conversion fee. If you deposit with a banks transfer method, then the fee for conversion is 50 pips. This is approximately 0.7 percent, however when you deposit using other deposit methods that is 100 pips, which is 1.38 percent. When you withdraw currency that is fiat from eToro it will cost you $5 in addition to the 50 pip (0.7 percent) the fee for currency conversion. If you trade cryptocurrency on eToro there is a fee of 1% that is charged for each transaction.
CoinSpot can be the best affordable alternative, as eToro charges an exchange fee for currency withdrawals and deposits, as well as the $5 charge to withdraw fiat.
Winner: CoinSpot
Customer Support
If you have any problems you have, CoinSpot's Live Chat support is available all hours of the day to assist you. I've utilized CoinSpot's Live Chat support a few times, and I'm always connected to a live human (no bots) within less than one minute. The customer support to be friendly, professional and able to resolve my concerns quickly. Additionally, you can get in touch with CoinSpot's expert support team through its Help Desk or use the new Request-a-Call option to set up calls with an CoinSpot Support member.
The customer service department at eToro is multilingual and available 24 hours a day. However, it's not as straightforward as it seems since you must log into your account to make a support ticket if you would like to contact the customer service.
CoinSpot is the clear winner due to its expert customer service that is available 24/7. This assists CoinSpot gain the trust of numerous customers.
Winner: CoinSpot
Deposit Methods
CoinSpot provides a range of deposit methods , including Direct Deposit, PayID, POLi, BPAY and cash deposit. cryptocurrency.
eToro offers bank transfers credit cards, debit card, POLi as well as PayPal for Australian customers.
CoinSpot as well as eToro both accept a variety of deposits methods. Which one you prefer is based on you prefer to deposit with. CoinSpot has BPAY, PayID, crypto and cash deposits that aren't available on eToro. eToro offers credit and debit cards, and PayPal.
Winner: Tie
Security
CoinSpot is the standard to be used for security on the Australian cryptocurrency market. CoinSpot is the highest reputable accredited, secure, and audited crypto exchange in Australia. The only one to have ISO 27001 certification, and is a member of Blockchain Australia. The security measures offered include 2FA logins Geo-locking, anti-phishing code, geo-locking and cold storage for large amounts of crypto offline.
eToro Australia can be described as a safe trading platform that was founded at the end of the year 2007. eToro is compliant with ASIC, FCA and CySEC regulations, and therefore has security measures in place to safeguard their customers. The funds of clients are stored securely in top-tier banks, and their personal information is stored securely under SSL encryption.
Each of CoinSpot along with eToro Australia are secure platforms however, CoinSpot is the winner because they are the more reliable and verified trading platform available in Australia.
Winner: CoinSpot
Conclusion
CoinSpot is the better choice when compared with eToro, which is no surprise, since CoinSpot is a long-established cryptocurrency-exclusive platform. CoinSpot is user-friendly and has a simple interface, with more than 360 coins, with 21 coins, with lower charges as well as Live Chat support.
eToro is a fantastic exchange platform to trade other kinds of investments like commodities, stocks, and forex However, when looking at crypto trading, it's difficult to match exchanges specifically designed for cryptocurrency. The fee for currency conversion on withdrawals and deposits as well as the limited selection of coins make it tough to compete with the top Aussie cryptocurrency exchanges.
A highly secure exchange that has low fees, a wide variety of currencies along with Live Chat support mean CoinSpot is the winner in this match-up.
Frequently Asked Questions
Does eToro provide mobile trading?
The eToro platform is easily accessible and simple to use on both the web and mobile devices with integrated Android and iOS operative systems. The mobile trading app takes advantage of smartphone intuitive features like push alerts, syncing watchlists, and effective touch interactions. In your portfolio, for example, you may use the swipe over the screen of your smartphone to view the statistics or initiate a transaction. By seamlessly blending all the trading tools with the social trading capabilities and the generated news feed of the website, this app is an excellent solution for traders on the go.
What countries are supported by eToro?
eToro is a worldwide platform that functions in over 140 countries throughout the world. Some of the counties that can utilize eToro's services include Australia, some USA countries, UK, France, Colombia, Cyprus, Greece, Lichtenstein, UAE, etc.
Who pays the taxes on profits made via eToro?
The users of the eToro exchange are obliged to determine the taxable profit made by trading on this platform depending on their account statement. Hence, they need to pay their fair share for the trading gain in conformity with the financial law requirements, as well as with the regulatory framework of their state of residence.
Is eToro the biggest scam among crypto exchanges?
This is not likely at all. Given that this exchange is authorized by numerous state financial conduct authorities in the respective countries where eToro's offices are situated, the odds of a user being a victim of a licensed exchange scam are close to none.
What are the accepted payment methods on CoinSpot?
CoinSpot accepts a wide range of popular AUD deposit methods, including POLi, PayID, BPAY, cash deposits, and direct deposits from a bank account.
What types of NFTs are available on CoinSpot?
You can find loads of NFT gems on the CoinSpot NFT market, including market leaders such as Bored Ape Yacht Club, Azuki, Vee Friends, Cool Cats, Invisible Friends, and a wide range of other trending NFT projects.
Is CoinSpot regulated in Australia?
Yes, CoinSpot is regulated by AUSTRAC, which means that it complies with all financial rules and regulations in Australia. CoinSpot users are legally protected in case the platform gets hacked or goes bankrupt.
How do I cash out on CoinSpot?
Cashing out crypto on CoinSpot is very simple. The first thing you need to do is sell cryptocurrency for AUD, either through the instant trading feature or through the market section if you're selling one of the coins eligible for market orders.
Once you've sold your crypto for AUD, you just need to initiate a cash withdrawal to your bank account through the WITHDRAW AUD option in your account dashboard. Just follow the instructions and enter your bank account details before submitting the withdrawal request. It's that simple.
Related:
eToro AUS Capital Ltd ACN 612 791 803 AFSL 491139. eToro offers both real crypto assets as well as crypto assets as OTC Derivatives.
Real crypto assets are unregulated & highly speculative. Being unregulated, there is no consumer protection. Your capital is at risk.
Leveraged positions and short positions are OTC Derivatives, which are regulated financial products. OTC Derivatives are considered risky financial products, speculative and include leverage. Not suitable for all investors. Capital at risk. See PDS and TMD.