Exodus Wallet Review for 2023
Whenever something new and complex emerges in the tech industry, everyone's ultimate objective is to make it simpler to understand and utilize. Such was the case with cryptocurrencies when Bitcoin appeared – an idea that made quite a stir in the world of finance due to the novel concept of trading that is presented along with features such as safe storage.
From the moment it entered the cryptocurrency scene, the Exodus Bitcoin wallet has been stirring up the digital assets market with its outstanding features and overall efficiency. Are you curious about why this wallet garners the support of both users and financial industry reviewers? We certainly were, so we set out to discover more about this crypto coin storage solution.
About the Exodus Wallet
Launched in 2015 by JP Richardson and Daniel Castagnoli, the Exodus Bitcoin and altcoin wallet is considered to be one of the best and safest technological solutions when it comes to ensuring the security of your digital assets. Apart from the fact that this multicurrency wallet is available in three different varieties (desktop wallet, mobile app, and an integrated app for hardware wallets), it also opens the door to a whole new generation of digital currency apps that empower coin holders with greater control over their assets.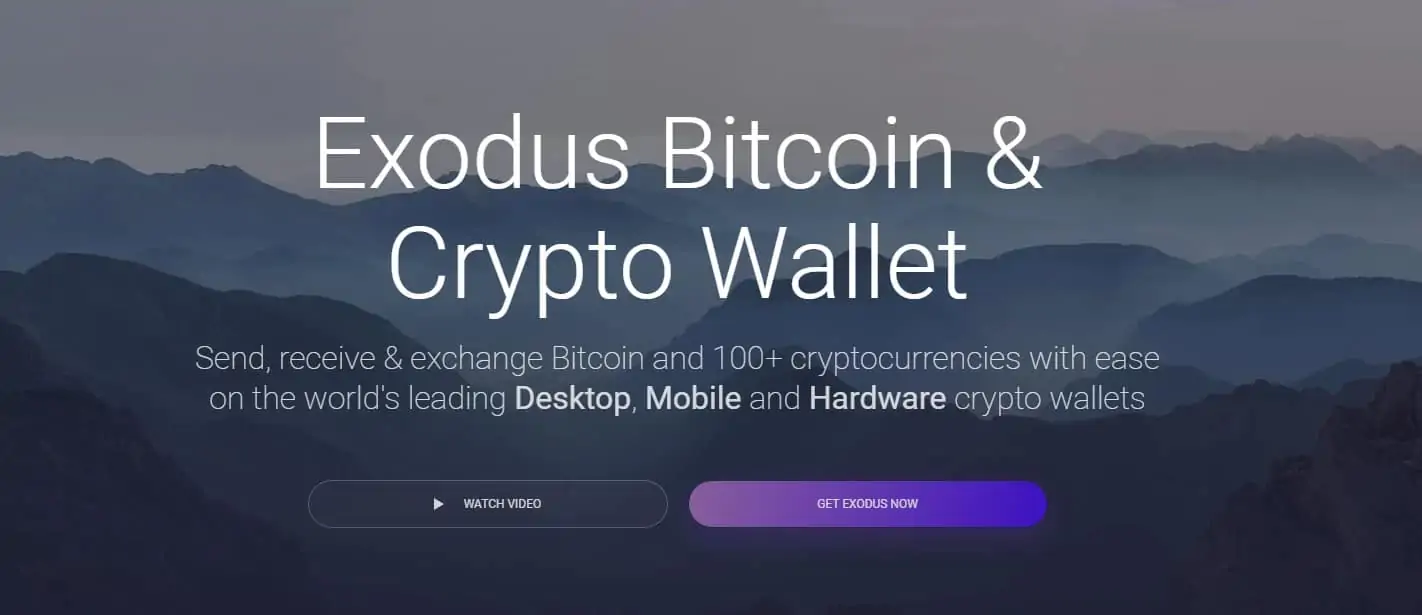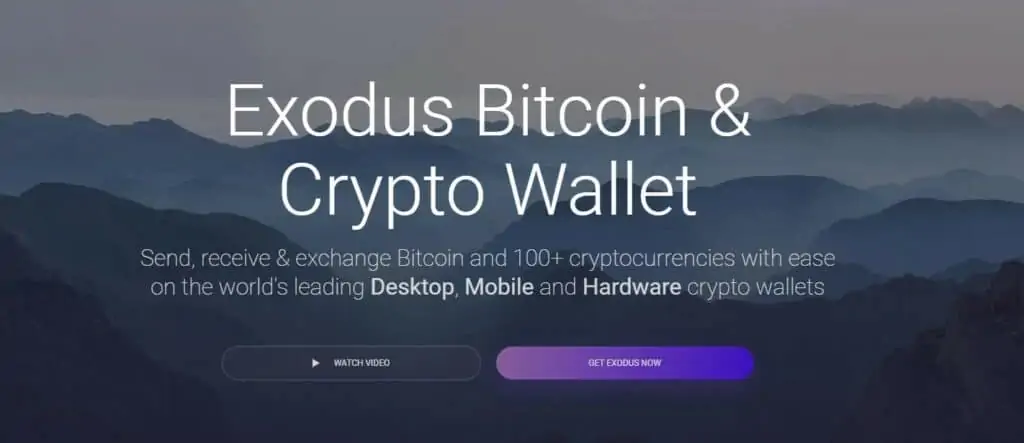 With a complexity of tools fit for a highly experienced trader, Exodus is first and foremost a safe solution for your Bitcoin, Ethereum, and other altcoins. But even beginners in crypto trading could easily figure out how to use it since the UI of this crypto wallet is highly intuitive. Its ease of use provides rich opportunities for personalization that could only boost any newbie's confidence in regard to handling their coins
The Exodus In-Build Exchange
Exodus lists over 150 coins you can store, but it also provides you with a built-in exchange that allows you to trade among the ever-growing number of cryptocurrencies supported by this multi-currency wallet. You can send and receive coins via a QR code or an address, and Exodus will automatically verify all addresses for any possible inaccuracies.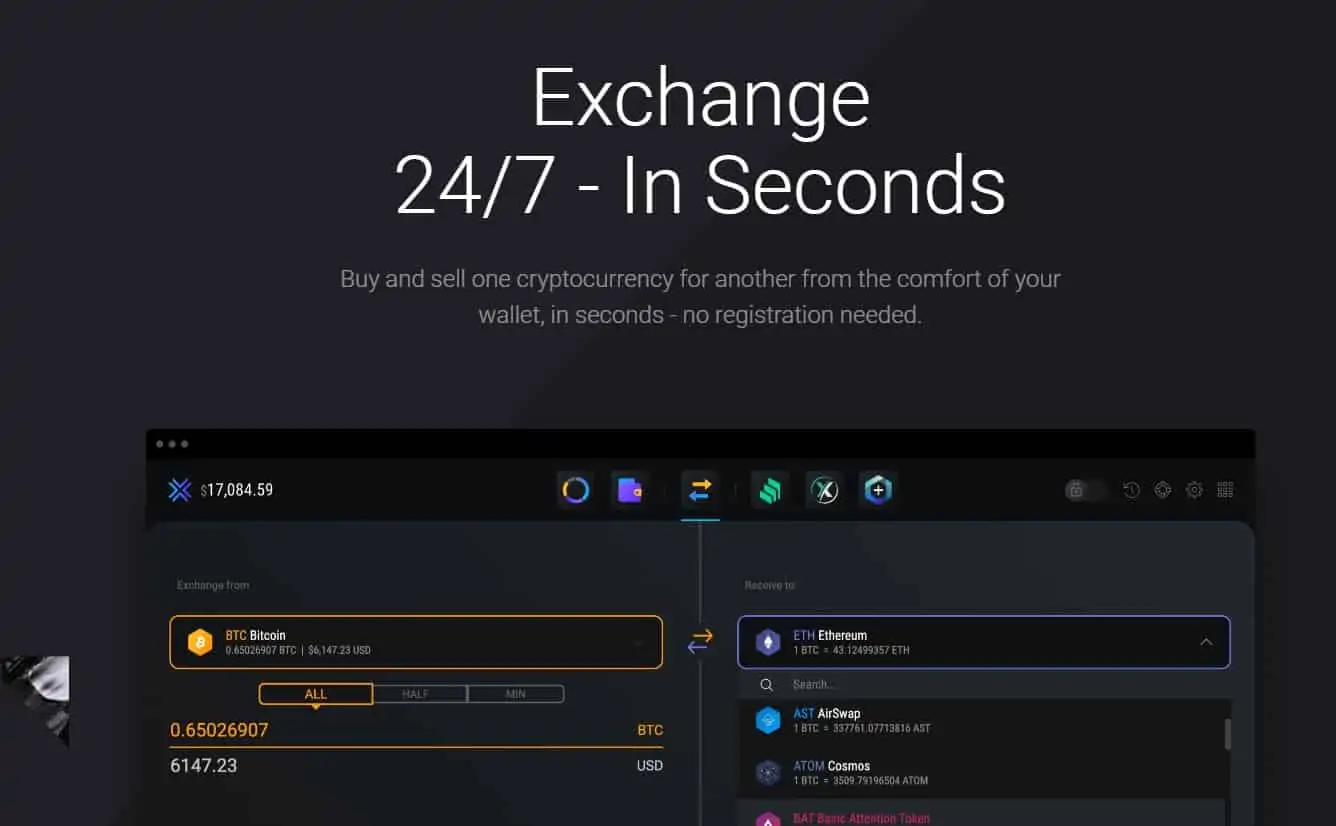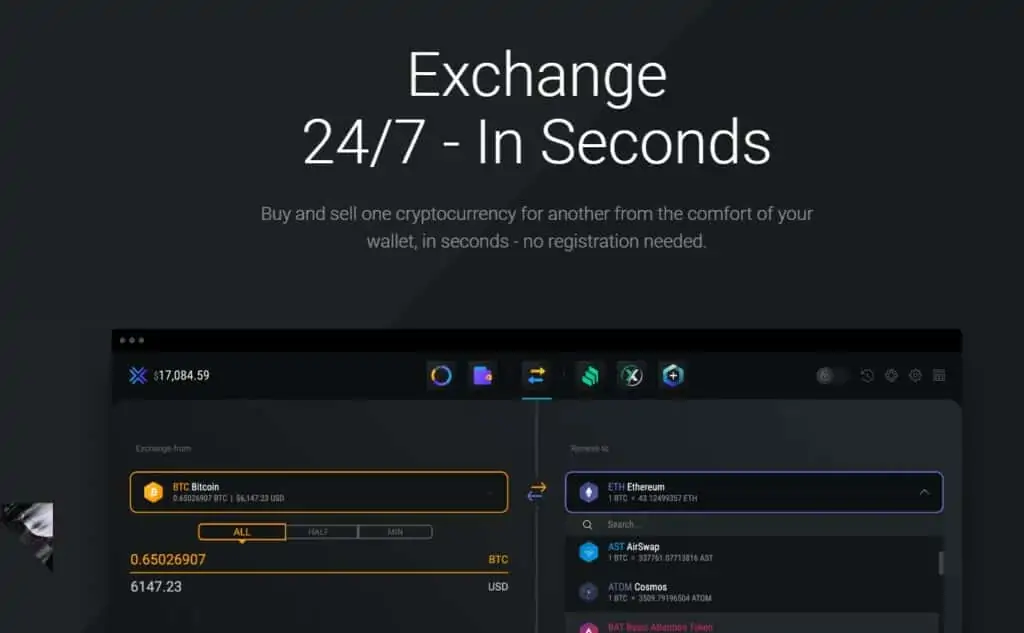 Multiple criteria, such as the liquidity of the pairing of currencies you wish to swap, and also the competitive market dynamics at the time of the exchange, are taken into consideration when the upper and lower limits are set regarding the amount of assets that can be exchanged.
User Interface of the Exodus Crypto Wallet
The creators of this digital wallet appear to have placed the ideal user experience at the top of their list of priorities when they were developing this crypto wallet project. In order to establish a comfortable trading atmosphere devoid of any uncertainty that may lead to a bad investment decision, they avoid using highly technical phrases and strident signaling tones.
At first glance, the UI of the Exodus crypto wallet seems like entering the deep crypto universe – it's mystically dark but intriguing, nonetheless. A further exploration of the wallet opens up a simple and sleek colorful layout that has all the necessary tools and information for you to effortlessly start trading on the spot.
Last but not least, the smooth animations only contribute to the masterfully built user interface which not only fascinates Exodus users visually, but also allows them to glide through the trading tool menu with ease and fluidity. There is no doubt that the final result will be an effortlessly conducted, successful transaction, and a happy user, as well.
How Does the Exodus Wallet Work?
Exodus is a software platform. As a result, it is regarded as a lite desktop and mobile wallet, which indicates that it would not download a complete record of a certain crypto's blockchain in order to validate data. Since it's lite, it can successfully function on a broad range of devices.
This software is suitable for use with desktop units, mobile phones, and even on hardware wallets, such as the Trezor hardware wallet. It can be easily installed on Windows, Mac, Ubuntu, and Linux operating systems, as well as on Android and iOS-based smart gadgets.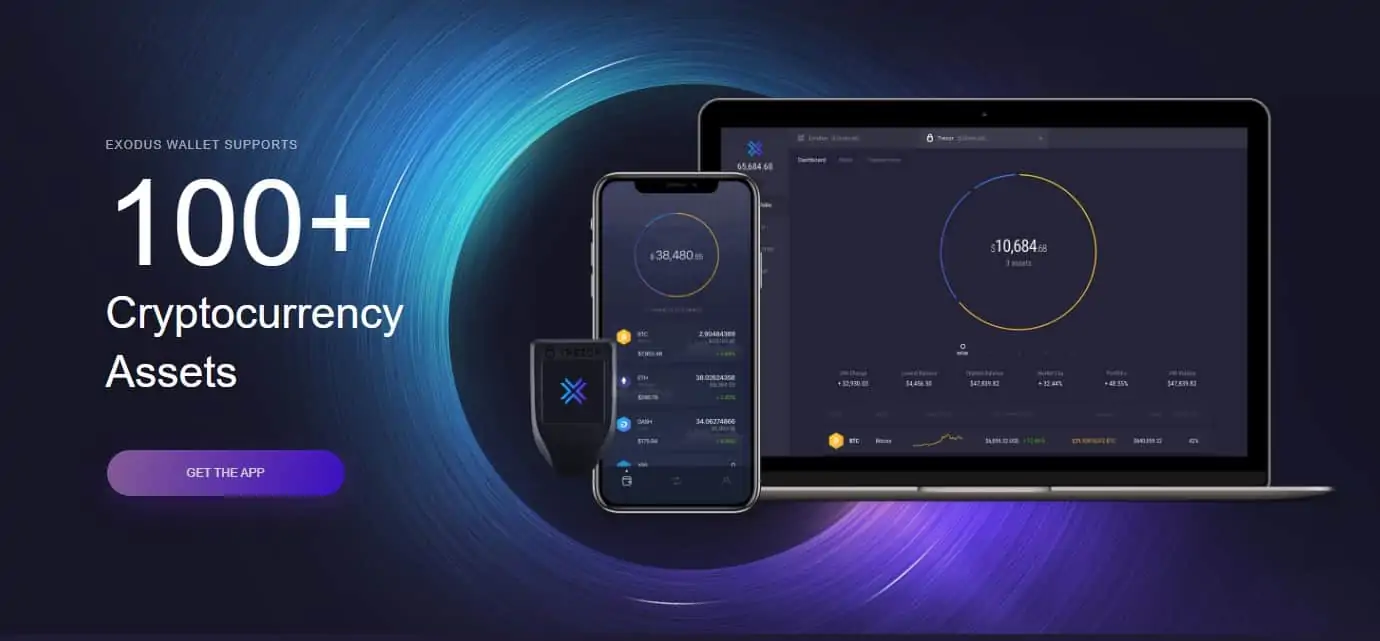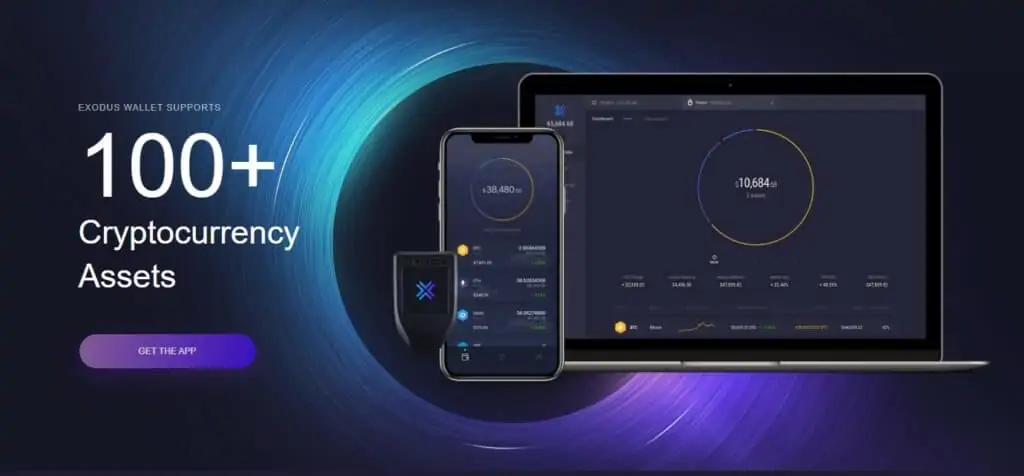 Despite the fact that its primary function is to securely store your coins, Exodus wallets also have an integrated crypto exchange, which allows you to effortlessly trade your prefered cryptos selected from the huge variety of cryptocurrencies. This functionality is provided in partnership with the ShapeShift platform, which enables quick and simple cryptocurrency swaps.
You can buy, sell, and exchange digital assets through this DEX (decentralized exchange) from the comfort of your digital wallet, which eliminates the need to transfer them to an online cryptocurrency exchange before making the transaction. However, Exodus does not support fiat currencies, such as USD, EUR, GBP, or CAD. As a result, in order to fully utilize the built-in cryptocurrency exchange, you may be required to deposit cryptocurrency into your Exodus wallet first.
Is the Exodus Wallet Safe to Use?
The Exodus software wallet encrypts all sensitive data and stores them on your smart device or desktop computer, including private keys and transaction data. Regarding the security features of this cryptocurrency wallet, there's also a back-up mechanism that gets activated in case your PC unit or smartphone crashes.
In such an event, the Exodus support staff will give you a reactivation link via the email address you provide, which will be protected by a 12-word passphrase and an Exodus key (i.e. safe code) that you will need to enter. Even your backup files do not include any of your personal information, nor do they contain your private keys, which are required to get access to your coin storage vault.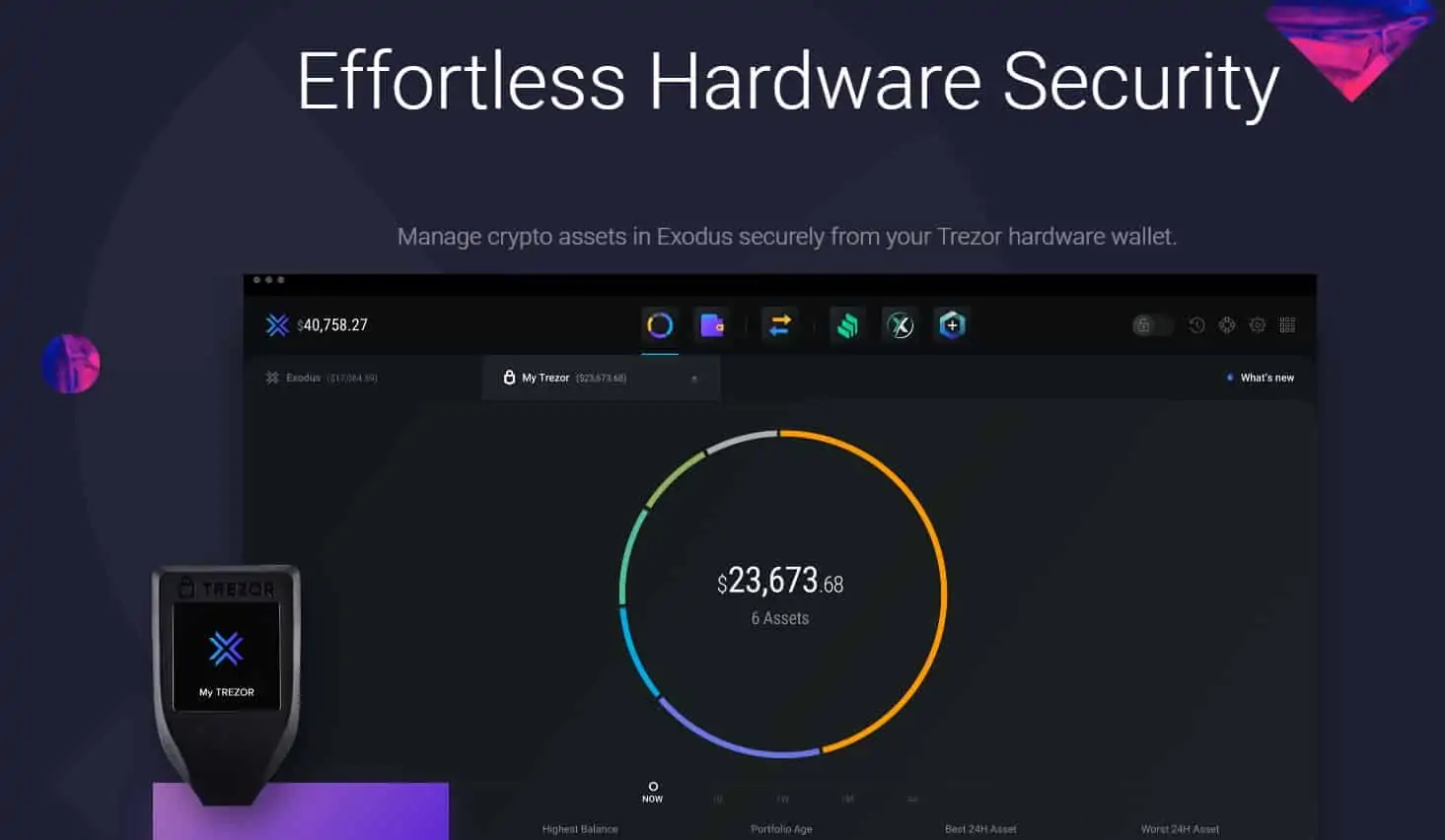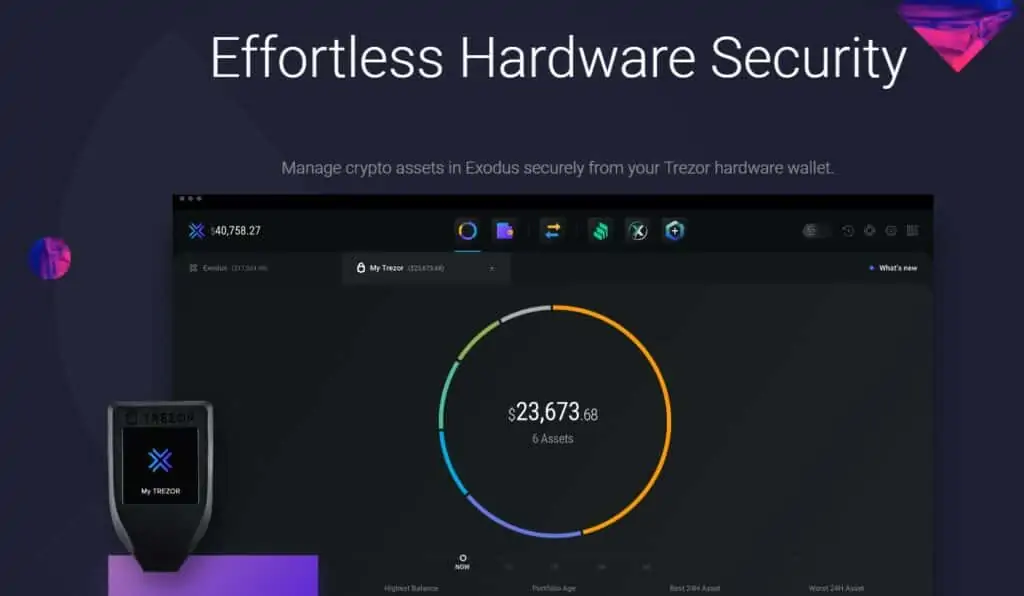 The Exodus wallet, on the other hand, does not make use of the two-factor authentication ()2FA protocol, which has been standard practice for enhanced online data security on blockchain platforms.
Supported Cryptocurrencies
Labeled as a multi-currency wallet, the Exodus wallet supports more than 150 different cryptocurrency projects. The following is a non-exhaustive list of coins supported by this crypto wallet:
ERC-20 tokens
Bitcoin (BTC)
Bitcoin Cash (BCH)
Ethereum Classic (ETC)
Cardano (ADA)
Binance Coin (BNB)
Litecoin (LTC)
Vertcoin (VTC)
Zcash (ZEC)
Bitcoin Gold (BTG)
Ethereum (ETH)
0x (ZRX)
Aragon (ANT)
Augur (REP)
Dash (DASH)
Dogecoin (DOGE)
Decred (DCR)
Digibyte (DGB)
Basic Attention Token (BAT)
Bancor (BNT)
Civic (CVC)
Monero (XMR)
Ripple (XRP)
Tether (USDT)
Golem (GNT)
OmiseGo (OMG)
SALT (SALT)
SingularDTV (SNGLS)
Storj (STORJ)
Status (SNT)
District0x (DNT)
EOS (EOS)
Edgeless (ENG)
FirstBlood (1ST)
FunFair (FUN)
Gnosis (GNO)
WeTrust (TRST)
iExec RLC (RLC)
Matchpool (GUP)
Metal (MTL)
Numeraire (NMR)
Wings (WINGS)
Exodus Wallet Fee Schedule
As the Exodus cryptocurrency wallet places higher value on performance and security than better transaction rates, it keeps watch of the blockchain network modifications and adapts the fees as needed. As a result, it is not possible to establish a permanent transaction fee schedule.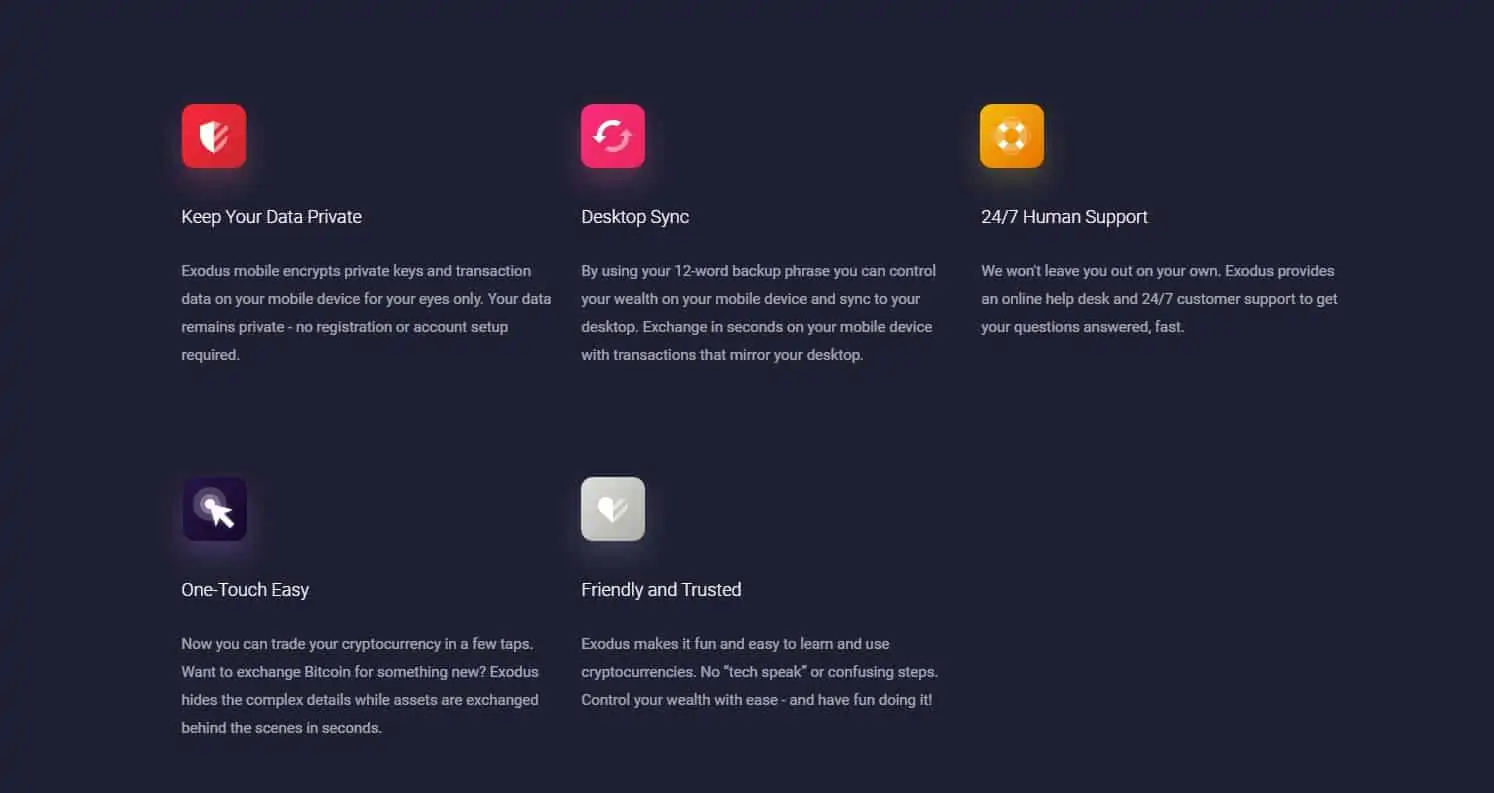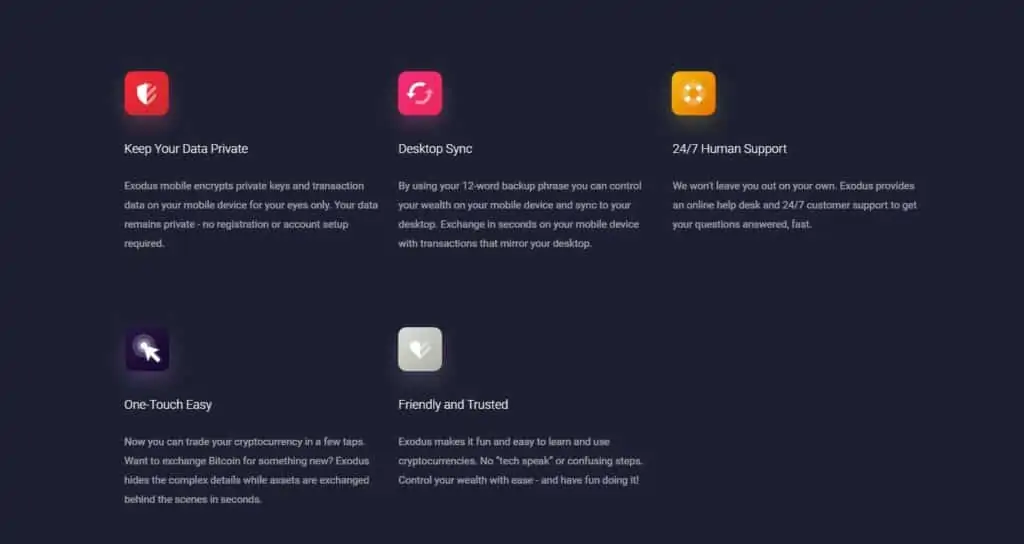 Also, the fees are not collected by Exodus. This crypto wallet does not charge any fees for sending or receiving cryptocurrencies, other than the mining fees that are contributed to the blockchain network of each respective cryptocurrency. So, any fees are sent directly to every blockchain network depending on the cryptocurrency that is involved in the transaction (such as Bitcoin, Ethereum, EOS, etc.).
Customer Support
The Exodus wallet's customer service is available 24/7 to assist you with any problems or issues you may be experiencing. The Exodus team will never require you to submit any personal information, such as a seed phrase, password, or private keys, in order to accomplish this goal. You can easily get in touch with them via the Exodus wallet's social network pages on Twitter and Facebook, or by writing them an email on support@exodus.com.
Frequently Asked Questions
Do Trezor One & Trezor Model T wallets work with Exodus?
Yes. You can safely manage and exchange your cryptocurrencies in Exodus securely from your preferred Trezor wallet. There is no need for you to create an account to start using this cold wallet.
On the other hand, Exodus does not support the hardware wallet models from the Ledger Nano series.
How do I integrate Trezor Model T with Exodus?
To begin using your Exodus-stored coins from the safety of a hardware wallet, you must first download the Trezor Model T wallet from the Trezor website. Install the Trezor Bridge utility next, which will allow for a more reliable connection between your Exodus software and the Trezor hardware wallet. After you've successfully linked Exodus and Trezor Model T, you'll be able to begin making use of their combined features.
Can I use the same Exodus wallet on multiple devices?
Yes – in a way, that is. This is technically feasible, but due to the application's architecture, it may become tricky. Assume one of the devices' wallets does a crypto transfer. In this scenario, there is no way for the wallet on the second device to be synced with this update, which may result in inaccuracies and potential losses.
A Few Words Before You Go…
The Exodus crypto wallet was created with the goal of empowering individuals to take full ownership over their assets. It is one of the best technical solutions available that relieves you of any concerns you may have about the security of your coins.
This powerful and user-friendly multicurrency wallet allows even crypto newbies to explore a new universe of digital trading. By providing a built-in peer-to-peer crypto exchange, Exodus also enables investors who have never used a trading platform before to participate in coin swapping without feeling like they are testing the crypto waters for the first time.
The bottom line? Despite being a hot wallet (i.e. more vulnerable to cyber-attacks), the Exodus multicurrency wallet allows you to enjoy your cryptocurrency trading sessions to the fullest extent without having to worry about the security of your coins.
As a result, it's safe to say that the Exodus developers have come up with a solid solution that not only secures your crypto assets, but also gives you peace of mind despite the fact that it's a hot wallet.