Gate.io Review
Even though cryptocurrency is new and volatile, trading cryptocurrency is becoming an increasingly popular way to make a profit. But to successfully trade, you need to use a platform that can safely and securely exchange your cryptocurrency in different markets.

And that's where a service like Gate.io comes in. Gate.io is a platform on which you can exchange various cryptocurrencies in a secure environment. So continue reading for our overview of Gate.io.
About Gate.io
Gate.io is a crypto-crypto exchange platform that trades in almost 400 markets and supports 180 different cryptocurrencies. It is a highly functional trading platform and works on mobile devices through its apps. Gate.io matches buyers and sellers between different cryptocurrencies on a secure platform for a small fee like any trading platform.

The company, which emerged from China, has been operating since 2013 and is one of the oldest bitcoin exchanges. But after a hack in 2015 and problems with the Chinese government in 2017, the company rebranded itself as Gate.io.
Since its rebranding, it is no longer associated with China and exists under the parent company Gate Technology Inc. At that point, it also dropped its feature of exchanging fiat currency and is currently restricted to only trading in cryptocurrency. Each day, Gate.io trades an average of 3500 bitcoin (BTC).
Supported Cryptocurrencies
Bitcoin, launched in 2009, was the original cryptocurrency and is now valued at well over $100 billion. But today, bitcoin is far from the only currency—there are now thousands of cryptocurrencies that in total, are valued at $2 trillion.
And while no single platform can accept all cryptocurrencies, the best ones trade as many as possible and operate in as many markets as possible. And that is one of the benefits of Gate.io, which trades in over 400 markets and supports 180 different cryptocurrencies.
Some of the key cryptocurrencies supported by Gate.io include:
Bitcoin (BTC)
Ethereum (ETH)
Avalanche (AVAX)
Cardano (ADA)
Polkadot (DOT)
XRP
Cosmos (ATOM)
But other than these top-traded cryptocurrencies on the platform, Gate.io deals with over 100 other popular currencies, including Filecoin, Dogecoin, Terra, and Litecoin. But as a crypto-crypto trading platform, it does not deal with fiat currency. Therefore, while secure, it remains unregulated, and you cannot deposit fiat money.
Features
Like any platform, Gate.io will have pros and cons when compared with other cryptocurrency exchanges. For example, some cons of Gate.io are that you can't deposit fiat, the interface can be tricky for beginners, and it is an unregulated platform.

But these cons are outweighed by the features that Gate.io does have. They include:
Supporting 180 different cryptocurrency coins
Supporting at least 400 different crypto markets
Gate.io generally has lower service fees
High-level security—it has been rated among the most secure cryptocurrency platforms.
It has fantastic customer support, including a database of FAQ, support tickets, and 24/7 live chat.
That is by no means an exhaustive list of all of Gate.io's features, but those are the main ones that set it apart from many of the other trading platforms.
Customer Support
Gate.io has a help center on their website with customer support that is available 24/7. You can contact them through live chat, email, or with a request/support ticket.

But before you even need to contact them, chances are that you can find an answer to your problem in the extensive database of frequently asked questions and articles. They break down the articles and guides by topic and there is a handy search feature as well. So if you want to get started with Gate.io but feel intimidated, be sure to check out these helpful articles.
And on top of the common questions, there are video tutorials as well.
Payment Methods
As mentioned, Gate.io does not support any fiat currency. So to put money into your account, you have to add it through your cryptocurrency wallet. And Gate.io provides account holders free access to a wallet.
In terms of service providers to put money into your wallet, you can use a debit/credit card BANXA, Advcash, Mercuryo, and Coinify.
Trading Fees
There are multiple fees that Gate.io takes in exchange for using their service. However, these fees are competitive and generally lower than many other platforms.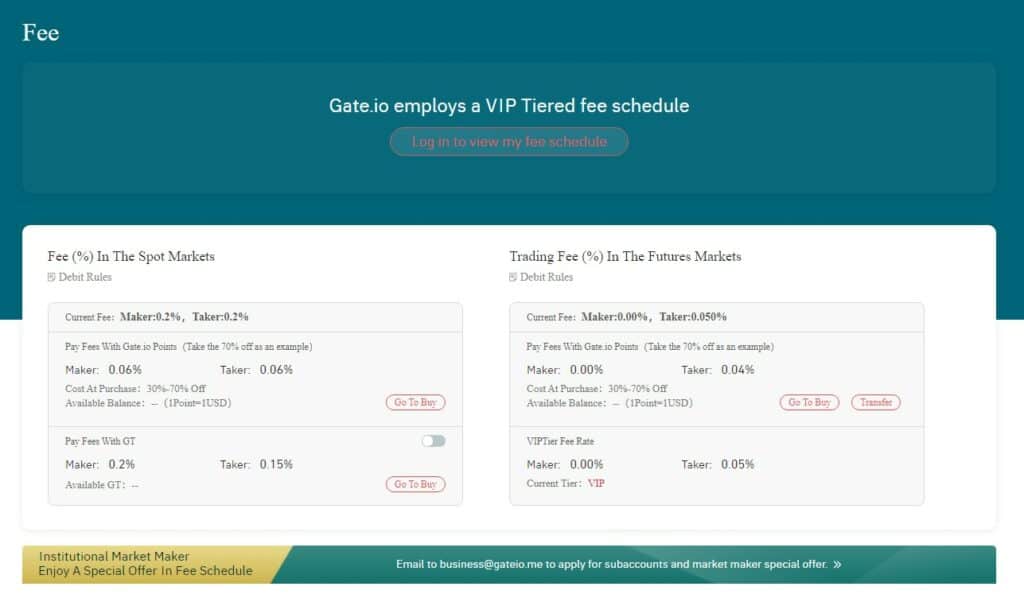 There is no fee for deposits, but there is a small fee for withdrawals. The withdrawal fee changes depending on which cryptocurrency you are taking out, so how good Gate.io's pricing depends on which coin you're working with.
And lastly, Gate.io charges a 0.2% trading fee on all trades between different coins. But it is worth noting that the platform offers a discount on its fees as you become a more active trader.
Security and Safety
As mentioned, Gate.io takes its security seriously and protects your account and funds through various measures. Of course, there is never a 100% guarantee when it comes to security, as evidenced by the hack in 2017—hackers stole 7000 BTC.
In terms of standard security practices, Gate.io makes use of login/account verifications. They use two-factor authentication as well as secondary passwords during withdrawals of funds. In terms of safeguarding your actual funds, Gate.io uses hot and cold wallets and has other measures not disclosed to the public.
But unlike regulated banks that deal in fiat currency, it is an unregulated exchange and you should be aware of the risk going in.
Frequently Asked Questions
Especially since Gate.io is unregulated, some of the following questions might be running through your mind.
Can I Trust Gate.io?
It is not the case that you can trust an unregulated cryptocurrency exchange as much as a regulated bank, but overall, Gate.io is top-rated for its security.
Who Runs Gate.io?
Even though it has roots back in 2013 China, Gate.io rebranded in 2017 and now operates under the parent corporation Gate Technology Inc. Gate Technology has a registered business address in Virginia, USA.
Conclusion
Because of its more complicated interface, Gate.io might not be the best choice for a beginner. But between the features, low fees, and security, it is a fantastic option for trading cryptocurrencies.