Gate.io Review 2023
The cryptocurrency exchange Gate.io, according to CoinmarketCap, is one of the top cryptocurrency exchanges in the world in terms of trading volume.
This cryptocurrency exchange, which was established in 2017, has managed to outperform its immediate and more experienced competitors in the market in a very short period and despite the fact it's relatively new on the market. We couldn't help but wonder what was behind its meteoric rise to prominence, so we dug a little more into the platform's security features, trading tools, and overall operation. Here's our Gate.io review.
About the Gate.io Exchange
At first, it appears as though this exchange was designed with professional traders in mind by similarly competent and experienced masters of the trade. It doesn't take long to become overwhelmed by the sheer amount of "gates" that connect to an enormous plethora of different apps, trading tools, knowledge bases, and help features in the interface. However, even those new to cryptocurrency trading may find this user-friendly platform to be highly engaging and simple to operate after some time.


Apart from promoting a secure platform for traders to trade cryptocurrency by employing a range of financial instruments in a safe and user-friendly environment, Gate.io also provides extensive data on the crypto market. In this regard, the site offers a variety of useful functionalities, such as an order book, transaction history, and elaborate TradingView charting, among others.
The site not only provides helpful crypto guides and detailed information on a wide variety of coins, altcoins, and tokens, but it also assists in price monitoring of Bitcoin (BTC), Ethereum (ETH), Qtum (QTUM), and Tether (USDT). In fact, these four cryptocurrencies are among the largest by market cap and are frequently represented in the most active trading pairs of over 2000 crypto-to-crypto combinations featured on Gate.io.
Moreover, you can use quite a few financial tools provided by Gate.io to perform various types of trading, such as:


Spot trading and margin trading;
Perpetual contract trades;
Trade leveraged, combined, and inverse ETFs;
Lend or borrow digital assets;
Transfer digital assets at a specific price to another account by using the Push functionality;
Make period investment plans;
Participate in the USDT/USD liquidity mining for a lucrative reward;
Instantly swap coins through the Flash Swap tool;
Enter into perpetual derivative contracts; trade futures;
Generate income through the HODL and Earn scheme;
Ensure the price of your deal by opting for call warrants or put warrants, etc.
Supported Cryptocurrencies
The number of cryptocurrency projects that have been listed on this exchange is quite remarkable. Namely, Gate.io supports the following coins: Bitcoin (BTC), Ethereum (ETH), Eos (EOS), Tron (TRX), Litecoin (LTC), Tether (USDT), as well as more than 800 (yes, you read that right!) other popular cryptocurrencies.
Payment Methods
Gate.io allows you to make only crypto-to-crypto purchases via P2P transfer, your Visa or Mastercard credit/debit card supported by the BANXA payment service, Mercuryo, Simplex, Advcash, and Coinify payment service providers.


Payments in fiat currency are not supported by this trading platform, which may be a drawback for some crypto investors, particularly those who are less experienced and would benefit from a more seamless transfer from the world of traditional banking to the realm of digital finances.
Suppose you're wondering why a great crypto exchange like Gate.io doesn't offer a financial tool like this. In that case, the explanation is that Gate.io is not a regulated trading platform like most of the platforms that do offer fiat deposits.
Trading Fees and Limits
The trading fees on this exchange are one of the platform's biggest selling points. Unlike the majority of exchanges on the cryptocurrency market, Gate.io relies on a flat fee structure, which means that both liquidity providers (makers) and liquidity takers pay the same transaction cost, which is around 0.2%.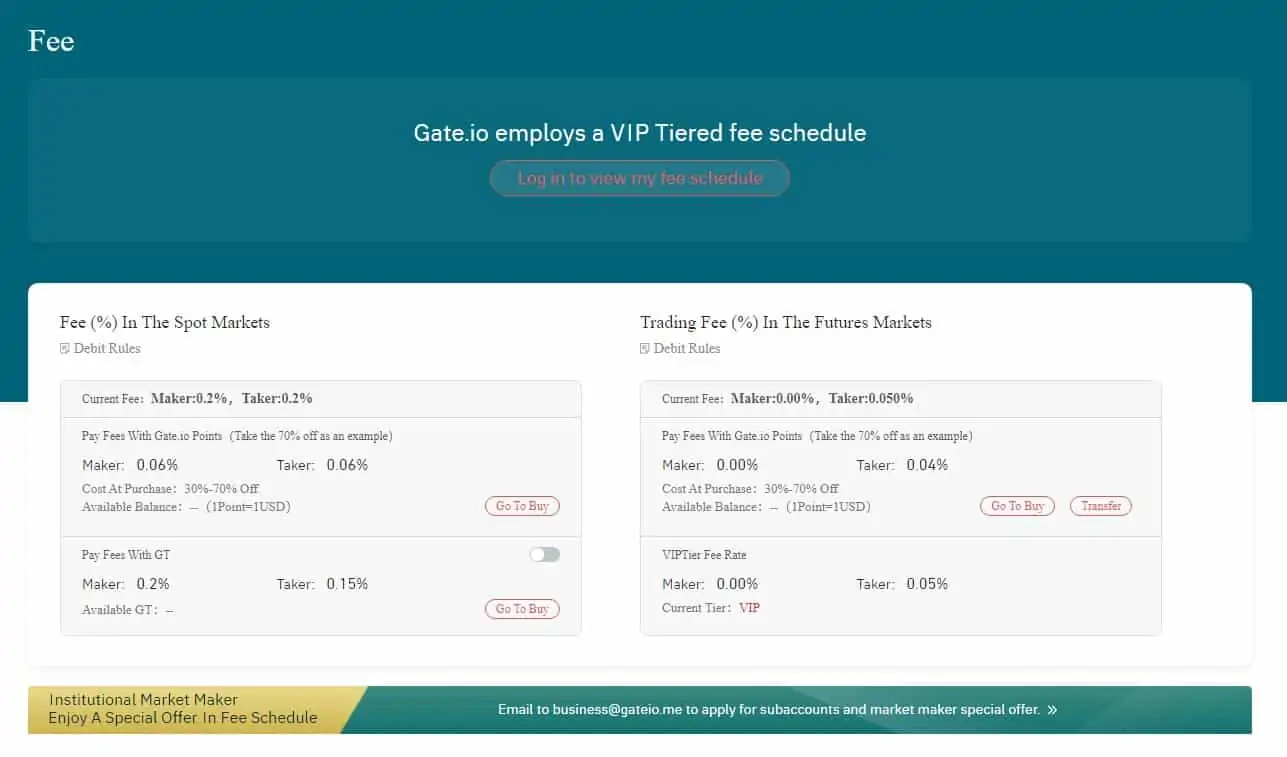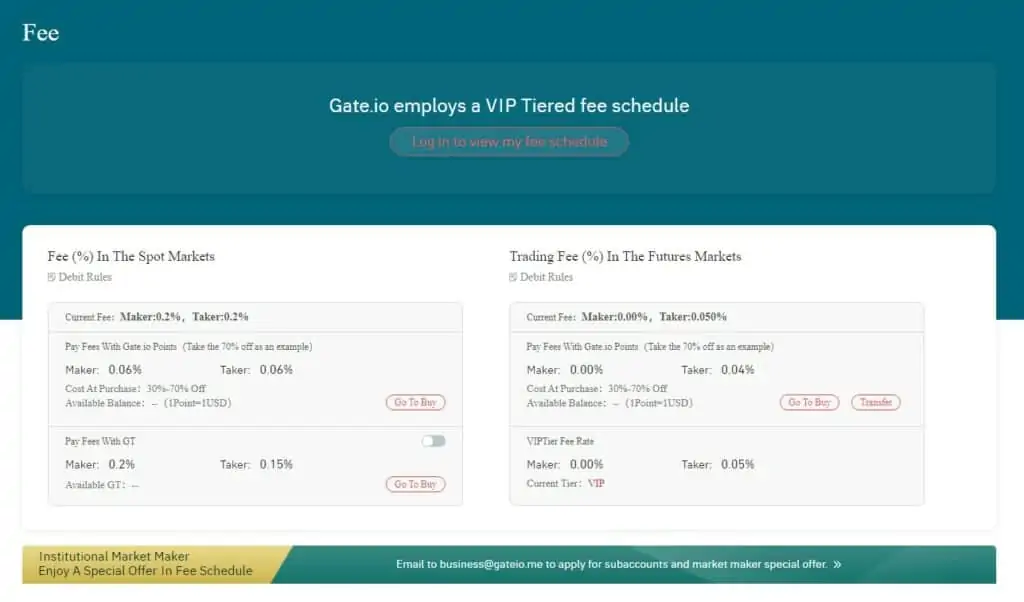 However, while Gate.io does not charge any deposit fees nor impose withdrawal limits, the platform imposes withdrawal fees, which are rather cheap compared to the average in the sector.
Is Gate.io Safe to Use?
Committed to providing a highly secured and trustworthy crypto trading environment to their clients, Gate.io strictly adheres to KYC verification in order to prevent unauthorized access to users' funds and sensitive data.
Furthermore, as an added layer of protection, most of the digital assets held by Gate.io clients are kept in cold wallets. The two-factor authentication protocol (2FA), SSL encryption technology, as well as the possibility for users to get real-time SMS notifications in the event of a security breach of their Gate.io account all contribute to the enhanced security of the Gate.io crypto exchange platform.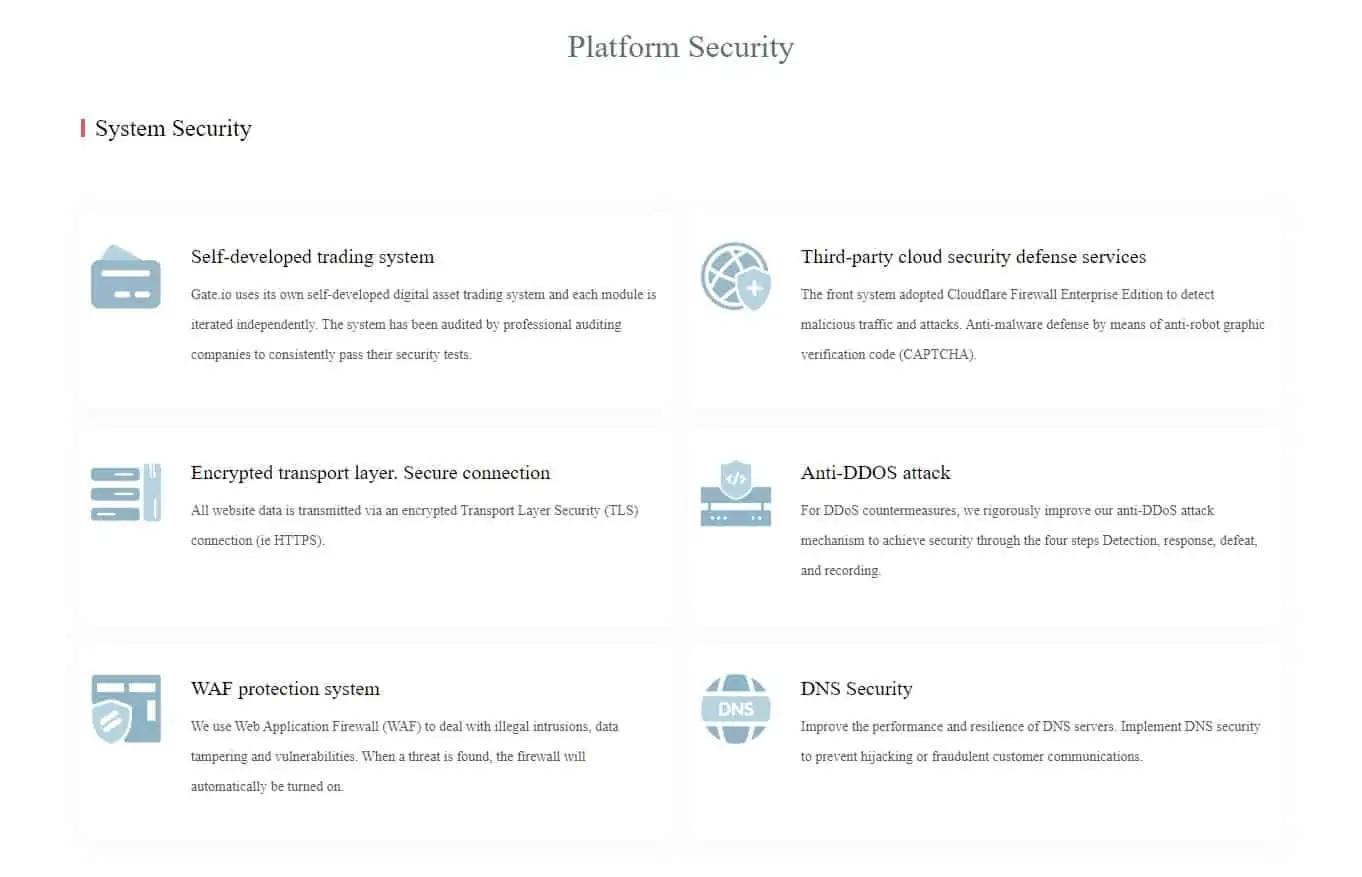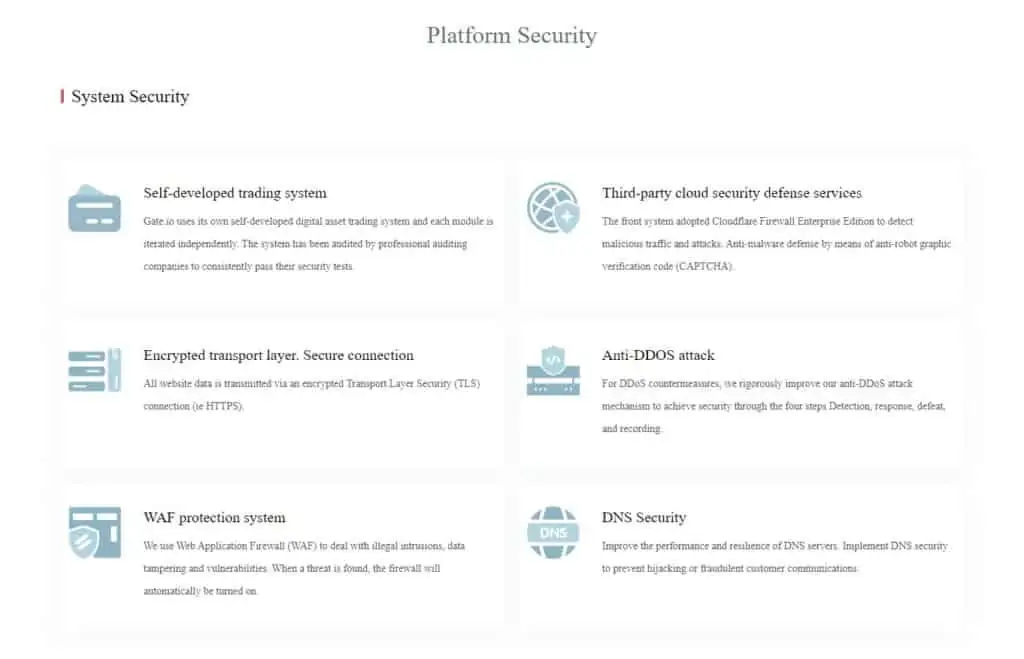 However, despite the committed efforts to build a highly protected trading platform, Gate.io did note an inglorious event in its operating history. Namely, the online platform became a target of a cyber-attack through an ETH hack in 2018. Although, this security breach was swiftly overcome, and nowadays, Gate.io enjoys a reputation as one of the most trustworthy exchanges.
Customer Support
There's no customer support phone number provided on the site—the only way for you to submit a ticket is via email.
The creators of Gate.io are also committed to keeping users up-to-date with crypto. They provide multiple channels for communication among their clients to share their user experiences and best practices. These channels incorporate a crypto news feed, posts site, chat room, a Gate Blog containing the most up-to-date crypto news and opinion pieces, as well as a Gate Podcast that explores all things blockchain and more.


There's also a Cryptopedia portal on this platform, which allows you to browse through a big knowledge base that covers the bulk of blockchain-related phrases and concepts.
Frequently Asked Questions
Does Gate.io have a mobile app?
Yes. The Gate.io mobile app is available for both Android and iOS devices.
Installing the Gate.io app is a really simple task. All you need to do is download the software from the Google Play Store for Android-compatible devices or App Store for iOS-compatible smartphones and approve the installation. After the installation is completed, you will be able to trade cryptocurrencies on your smartphone.
What countries are supported by Gate.io?
Gate.io is a worldwide digital cryptocurrency exchange whose financial services are available to most countries of the world. However, citizens of the following jurisdictions are barred from using the site: Washington, New York, Syria, Iran, Iraq, Crimea, Vanuatu, Ethiopia, Korea, Cuba, Bosnia and Herzegovina, and Uganda.
Does Gate.io provide a cryptocurrency wallet?
Yes. Gate.io provides a digital wallet that allows you to manage all of your portfolios in one convenient place. The Wallet.io, which is protected by two-factor authentication, can be synchronized with all of your smart devices.
Also, your stored assets may be accessed and tracked at any moment on the blockchain, which is another benefit. Not even wallet.io is able to access your funds, which is an added security benefit of holding your coins in this digital wallet.
The Bottom Line
Probably the most impressive thing about this exchange is the massive number of supported cryptocurrency projects, alongside the fact that every one of the tabs in the toolbar of the platform's UI contains an equally astonishing number of financial tools to assist you in mastering the tricks of the crypto trade.
On the other hand, be mindful of the fact that this is a DEX, which means it's not a regulated entity. If you're looking for a CEX, search elsewhere, such as Binance or HitBTC, for instance.
We also struggled to uncover some basic information about this exchange (such as more info on Gate.io's developers and their professional experience), so a little more transparency would be really appreciated. Additionally, there's one thing that we would want to see in an exchange that appears to have it (almost) all—the possibility to purchase crypto with fiat currencies. That would be a significant step forward for the exchange.
When it comes to the hacking episode, Gate.io did an excellent job of consolidating their platform security shields shortly after the incident and has continued garnering the trust of its users ever since.
All things considered, Gate.io seems to have it all: low fees, secure platform architecture, rich offer of financial tools. This equals high liquidity and many happy traders. The few security and regulatory hiccups could be a real deal-breaker in some cases. So, instead of a disclaimer, we'll just add that it's your call.  
Gate.io Compared
| Exchange | Cryptocurrencies | Fiat Currencies | Trading Fees | Deposit Methods | Sign Up |
| --- | --- | --- | --- | --- | --- |
| Swyftx | More than 320 | Australian Dollars, New Zealand Dollars | 0.6% | Osko, PayID, Credit Card, Debit Card, Bank Transfer, Cryptocurrency | Visit Swyftx |
| CoinSpot | More than 370 | Australian Dollars | OTC: 0.1% Market Order: 0.1%* (applies to LTC, BTC, ETH, XRP, POWR, DOGE, TRX, NEO, XLM, GAS, RChain, RFOX, EOS) Instant Buy/Sell: 1% | POLi, PayID, Cash, Cryptocurrency, Bank Transfer, BPAY | Visit CoinSpot |
| Binance | More than 600 | US Dollars, Australian Dollars, and 8 more | 0% to 0.1% | Osko, PayID, Credit Card, Debit Card, Crypto | Visit Binance |
| Bybit | More than 160 | 50+ | 0.1% to 0.6% | Crypto, EFT, wire transfer, bank transfer, debit card or credit card | Visit Bybit |
| Independent Reserve | 27 | Australian Dollars, US Dollars, New Zealand Dollars | 0.05% to 0.5% | EFT, SWIFT, Osko, PayID, Crypto | Visit Independent Reserve |
| Coinbase | More than 210 | Australian Dollars, US Dollars, New Zealand Dollars | Fees Vary | EFT, SWIFT, Osko, PayID, Crypto | Visit Coinbase |
| CoinJar | More than 50+ | Australian Dollars, Pound Sterling | Taker: 0.04 to 0.1% Maker: 0.04 to 0.1% | Apple Pay, Google Pay, Credit Card, Debit Card, Bank Transfer, Fiat, Crypto | Visit CoinJar |
| Kraken | More than 140 | Australian Dollars, US Dollars, and 5 more | Taker: 0.10% to 0.26% Maker: 0.00% to 0.16% | Apple Pay, Google Pay, SWIFT, Osko, SEPA, Crypto, Wire Transfer, Bank Transfer | Visit Kraken |
| BTC Markets | More than 15 | Australian Dollars | Taker Fee (for Bitcoin pairs): 0.20% Maker Fee (for Bitcoin pairs): -0.05% Australian Dollars Market Pairs: 0.10% to 0.85% | Crypto, BPAY, EFT, PayID, Osko | Visit BTC Markets |
| Easy Crypto | More than 40 | Australian Dollars, New Zealand Dollars, South African Rand | 1% | P2P, POLi, and Bank Transfers | Visit Easy Crypto |
| Coinstash | More than 140 | AUD | Taker fees: 0.85% Maker fees: 0.85% | Cryptocurrency, Bank Transfer, PayID | Visit Coinstash |
| eToro | More than 70 | Australian Dollars, US Dollars, Euro, and 12 more | Vary | Online Banking, Skrill, Neteller, PayPal, Bank Transfer, Debit Card | Visit eToro |
| KuCoin | More than 645 | US Dollars, Euro, Australian Dollars, and 6 more | 0.1% | Credit Card, Debit Card, SEPA, PayPal, Wire Transfer, Crypto | Visit KuCoin |