Hotbit Review 2021
Selecting a cryptocurrency exchange to manage your portfolio can be super challenging. The ideal cryptocurrency exchange should offer great charting features, minimal fees, multiple trading pairs, and reliable security. 
Hotbit is a global company that ticks the above boxes thanks to its next-level platform. Hotbit's exchange platform offers users ETF and spot markets alongside over 150+ trading pairs.
In this Hotbit review, we'll take a closer look at the exchange's features, fee structure, and more.
About Hotbit
Hotbit is a digital currency (crypto) exchange — a platform where you can swap digital assets. The platform has served investors and traders since January 2018. Through its registration is in Hong Kong and Estonia, Hotbit currently has operations in Taipei and Shanghai.
Hotbit's stated mission is "to be a global crypto exchange." Due to SEC regulations, investors from some major countries like the U.S can't trade on the platform. Perhaps the management team will work on that minor point in the future.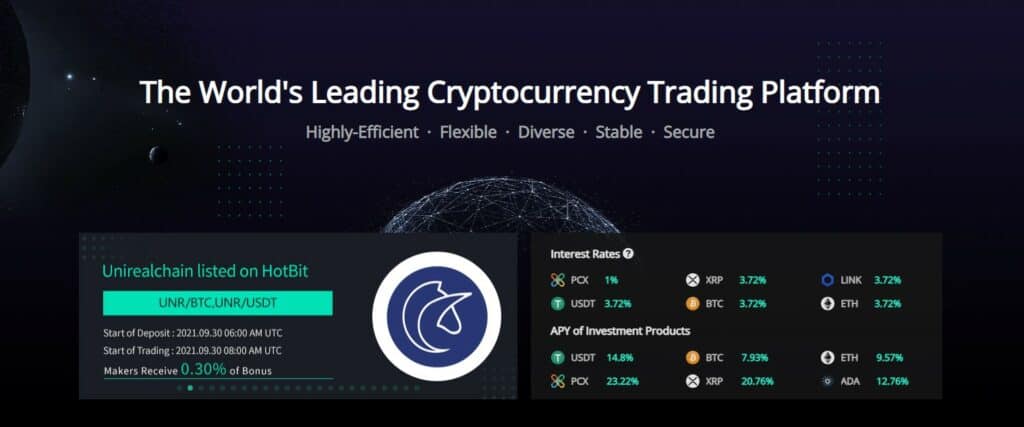 Hotbit's focus is primarily on the Eastern market. Interestingly, the platform supports six languages which makes it accessible to a larger audience. Traders who speak English, Chinese, Russian, Korean, Thai, and Turkish can use Hotbit without any language issues. In perspective, the multi-language accessibility gives credibility to Hotbit's mission statement.
It's worth noting that Hotbit is available to users in about 170 countries around the world. The platform has over 1 million registered users globally, and only about 10% of that number is Chinese.
Supported Cryptocurrencies
Hotbit comfortably supports over 200 pairs of tradable assets. Hotbit allows users to transact with both cryptocurrencies and Defi tokens.
You can also trade a vast number of altcoins on the platform. Of course, Hotbit supports all significant projects, including BTC, ETH, LTC, LINK, ADA, and more.
Features
While all exchanges have mobile apps, few can hold a torch to the simplicity of the Hotbit mobile app. The Hotbit mobile app enables you to transact on the go from anywhere and at any time. In terms of compatibility, the app is available for both Android and iOS users.
Hotbit also claims to have some of the most advanced charting tools in the crypto market. The toolset provides information and add-ons that simplify trading for Hotbit investors. Its integrated trading charts provide adequate market analysis data. Plus, it's easy to understand; even beginners will find their way around with minimal problems.

One of Hotbit's most prominent features is leveraged exchange-traded funds. It's a tradable security option that harnesses financial derivatives to boost the extent of returns. For crypto traders looking to increase their profit margins, Hotbit's leveraged ETF is ideal. The leveraged ETF also comes with advantages like reduced liquidation risks.
While this is not necessarily a feature, it's very much worth mentioning. Hotbit has partnership agreements with various blockchain and tech powerhouses. Some notable mentions include:
The Blockchainer
Spark Pool
Wandarin
Slow Mist
MyToken
HashQuark
We're looking forward to the results of these partnerships.
Customer Support
For quick solutions, the Hotbit team maintains active customer support channels. The go-to seems to be a ticketing system available on their official website. Customers can also reach customer support via WeChat, Twitter, and Telegram.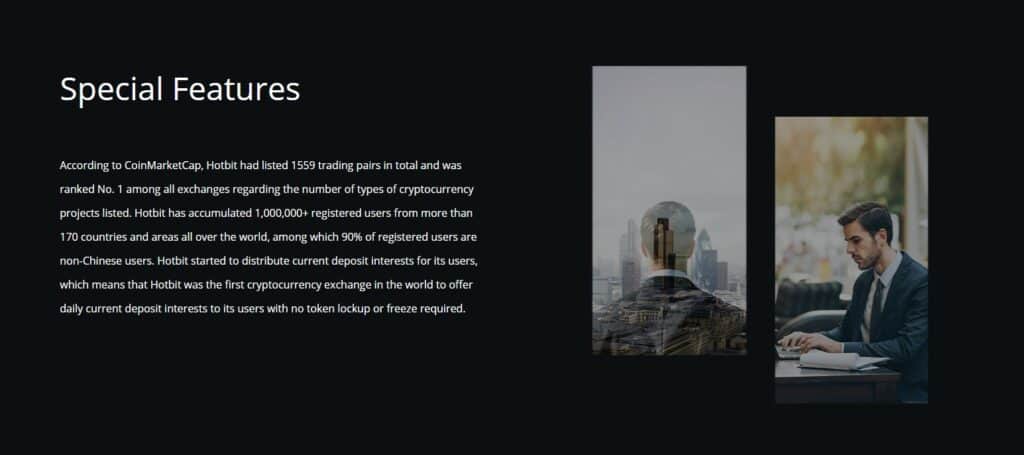 Payment Methods
You can pay for services using any of the cryptocurrencies accepted on the platform. You can also use ePay, which enables you to deposit USD on Hotbit. However, this method attracts a 1% transaction fee charge.
Trading Fees
Like most of the other exchanges, Hotbit charges maker and taker transaction fees which depend on your choice of trading option. Global Select, Global, and Growing are the three trading options available on Hotbit.
Averagely, maker fees are usually about 0.05% for 'Global Select' and 'Growing' plans, while the 'Global' plan attracts a 0.15% charge on the transaction.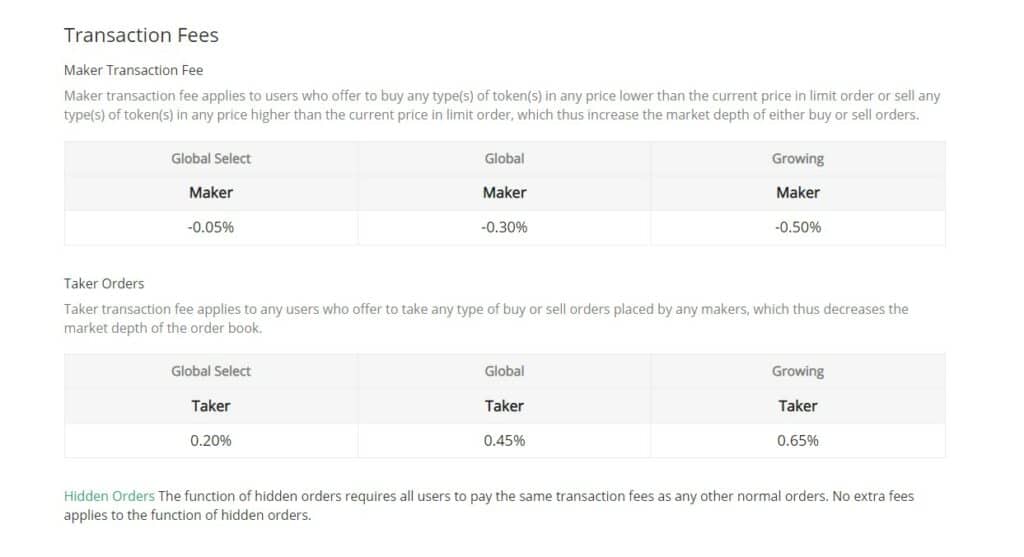 The 'Global Select' plan attracts 0.20% fees for taker fees while 'Global' only costs 0.30%. 'Growing' costs 0.65%, which is significantly more than the other two.
Hotbit also charges withdrawal fees on most of the tokens and coins on the platform. This charge is dependent on the asset and the volume you're withdrawing. There's no set percentage on the amount the platform can charge.
The withdrawal fees are a function of the crypto token. Bitcoin withdrawals come with a charge of 0.001 BTC. For USDT withdrawals, users can expect to part with up to 2 USDT. Finally, ETH withdrawal fees sit at 0.01 ETH.
Security and Safety
Hotbit exchange takes the security of user accounts seriously. Hotbit is fully regulated, and customers have protection from any unfavorable policies from the company. Hotbit also uses two-factor authentication for all deposit and withdrawal transactions. Overall, the platform has a good security rating from auditing firms SlowMist and Beosin.
In early 2021, Hotbit did suspend all trading activities to investigate a possible breach on its platform. The reports indicated that hackers tried to breach a few online wallets but were deterred by internal security systems. They did manage to access sensitive user information like email addresses, phone numbers, and portfolio information.
Frequently Asked Questions
Here are some of the most commonly asked questions by others looking into Hotbit.  
Do I need KYC to use Hotbit?
No, you don't. Hotbit doesn't require users to complete KYC documentation before registering an account. You can trade cryptocurrencies right after funding your Hotbit account for the first time.
Does Hotbit have a Demo Account?
No, Hotbit doesn't have a demo account. You need to deposit funds in your Hotbit account to perform any transactions on the platform. It's a bit of a downer that starters don't get to test their skills before getting into the real deal on the forum.
Final Take 
If you're looking to trade a variety of altcoins, you should consider Hotbit. The crypto exchange platform supports a high number of trading pairs. If you're looking to get ahead before a new crypto project takes off, Hotbit can give you that trading edge.
Hotbit offers new traders an intuitive platform whose functionalities they can quickly learn. It's a great platform to start your first forays into the crypto market.