Hotbit Review 2022 – An International Crypto Exchange
Choosing the most appropriate exchange that delivers fast, secure, and cost-effective trading while also providing a diverse range of innovative financial tools and a large selection of crypto projects to pick from is quite the endeavor nowadays. Given the abundance of cryptocurrency trading platforms that comprise the crypto ecosystem, a trader should have several main aspects in mind when making such a choice.
The most important aspects to examine in a cryptocurrency exchange are the available trading pairs, the transaction fees, charting tools (the order book, order history, and price chart), the safety of the platform, its ease of use, as well as the effectiveness of its customer service. 
All these (and more) are also the features that we'll try to evaluate today in order to present you with an insight into what the Hotbit crypto exchange platform has to offer.
About the Hotbit Exchange
Registered in 2018, this relatively new CEX on the crypto market headquartered in both Estonia and Hong Kong has already managed to develop a significant portfolio of backed cryptocurrency projects. Namely, so far it boasts over 500 currencies, altcoins, and tokens listed for trading, which means it has one of the biggest coin listings among crypto exchanges.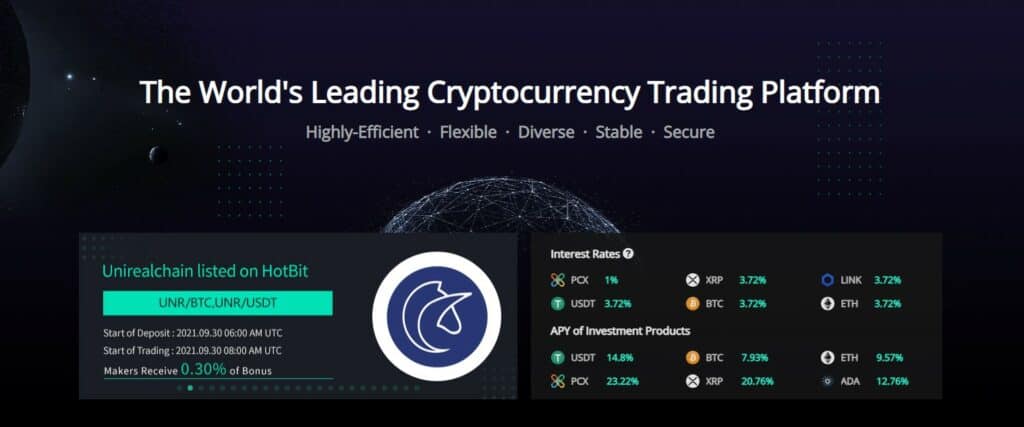 Developed by a team of experienced professionals in the field of DeFi and cryptos, the Hotbit web-platform welcomes its users with a highly informative, sleek, and intuitive UI. The Hotbit dashboard opens up a world of interactive TradingView charts to keep the traders up to date with the current market changes, a discrete but highly informative news feed section, elaborate spot trading, and ETF (exchange-traded funds) trading listings.
In this regard, the market analysis model integrated on Hotbit.io provides high liquidity and lucrative trading for the platform's users by using over 250 market factors and a built-in artificial intelligence market maker that matches Wall Street's stringent criteria. According to CoinmarketCap, the Hotbit exchange is among the top 50 crypto exchanges by 24-hour trading volume.
The Hotbit Token (HTB) 
The Hotbit token is the native cryptocurrency on the Hotbit platform. Built on the Ethereum blockchain, HTB has been issued in a total supply of 2,500,000,000 HTB tokens.
This tokens' value has been pegged to the Ether, so 1 ETH equals 110388 HTB. Compared to the US Dollar, 1HTB equals $0.01045 USD. Token holders have the ability to vote on the next cryptocurrency project to be listed on the exchange, as well as get HTB tokens as a reward for participating in the platform's many activities.
Supported Cryptocurrencies
Continuously supporting and listing great cryptocurrency projects, the Hotbit CEX is offering its consumers diverse forms of financial services when trading with over 500 coins, altcoins, and tokens, including Bitcoin (BTC), Ether (ETH), Tether (USDT), and Litecoin (LTC), to name a few. There are also more than 130 cryptocurrency pairs that can be traded on this platform. Currently, Hotbit offers only crypto-to-crypto trading, as this CEX does not support fiat currencies.

If you want further information on the cryptocurrencies accepted by this cryptocurrency exchange, you can easily find it by accessing the Coin Information tab from the Hotbit Support Center.
Trading Fees and Limits
When it comes to deposit fees, the Hotbit exchange does not impose any fees when you fund your Hotbit trading account with cryptocurrency.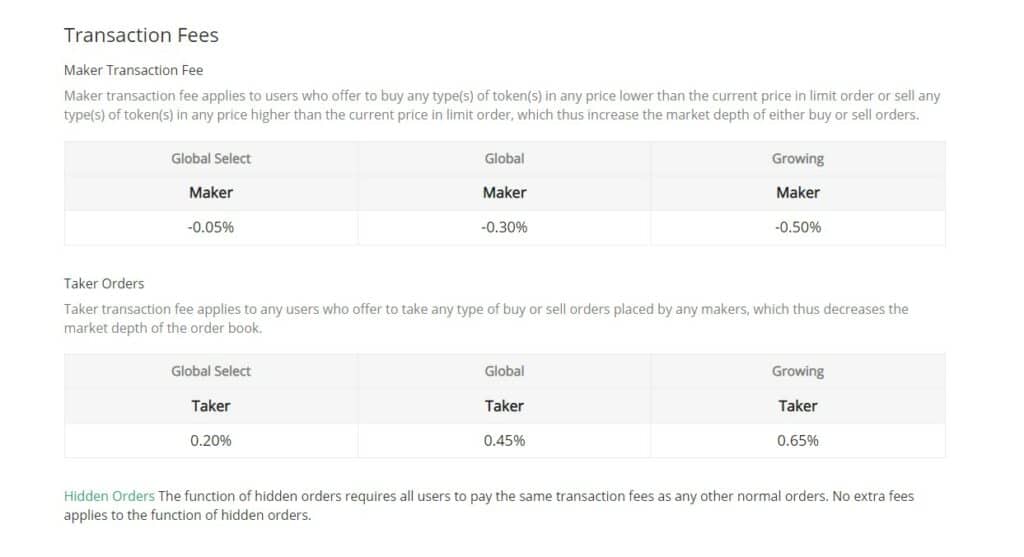 However, the Hotbit withdrawal fees are governed by the expenses of network mining of the respective coin, rather than the platform itself. The fact that the trading expenses on Hotbit are a little higher than the fees imposed by other crypto exchanges in the industry might be quite beneficial for traders in the long run, considering the convenience of Hotbit's trading offers. Again, this isn't something out of the ordinary or extreme.
Is Hotbit Safe to Use?
As part of its risk control system, Hotbit uses a multi-level firewall, the two-factor authentication protocol (2FA), and a cold wallet storage solution, as well as a network that meets the standards set by the Financial Industry's IT surveillance logical structure. This ensures that their systems keep working effectively.
This exchange platform is also regularly monitored by three auditing companies dealing with cyber and blockchain security, SlowMist, Mytoken, and Beosin, so you don't have to worry about this trading platform being a scam.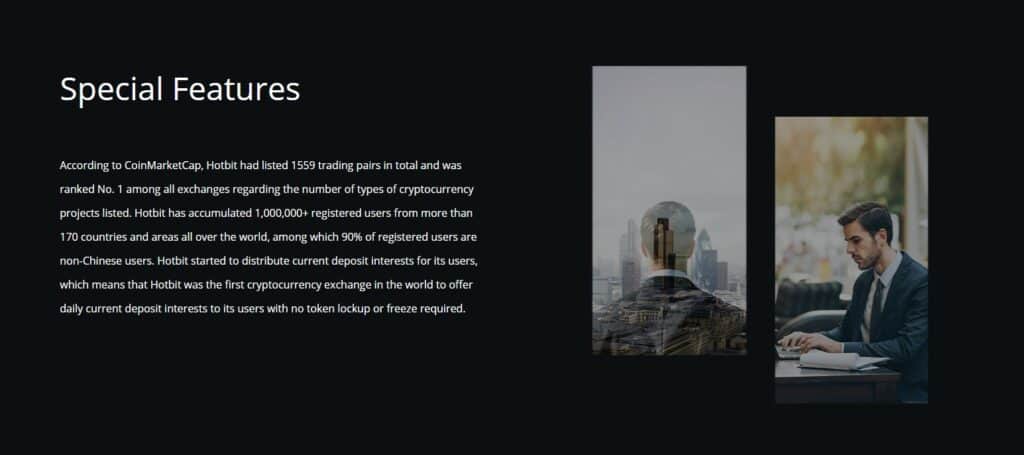 On the other hand, when you register, swap coins, or withdraw your funds on Hotbit, you do not need to disclose your KYC information. The system will require a user to provide KYC data provided that it determines that some action made by a user has activated the security mechanism of the risk control system. This is designed to safeguard both the users' digital assets and the sensitive data held on the platform.
Customer Support
To begin with, all information on the Hotbit website is translated into six languages including English, Chinese, Korean, Russian, Turkish, and Thai, so you can use Hotbit in your prefered language. The quite responsive customer support team is available to assist you 24 hours a day, seven days a week with any issue or concern you may have when trading cryptocurrencies on the Hotbit platform.
You may simply contact the team of specialists for technical help by sending an email with your inquiry, or by contacting them through one of their social media channels, such as Telegram, Facebook, or Twitter.
Frequently Asked Questions
Does Hotbit have a mobile app?
Apart from the web-based platform that is accessible from any device at any time, Hotbit provides a mobile app for trading on-the-go, as well as a local client service. The mobile app is compatible with all iOS and Android smartphones.
What countries are supported by Hotbit?
There are more than 1.5 million authorized members from more than 210 countries worldwide who have put their trust into Hotbit as a safe and trustworthy trading platform. Hotbit is a global crypto exchange that offers its financial services to most of the countries in the world, excluding the United States. 
The Bottom Line
With around 700,000 authorized users from more than 210 countries across the world, Hotbit has established itself as a safe and reputable trading platform in a very short amount of time after it entered the cryptocurrency market. Users' trust in the platform is more than well-founded when you consider the number of innovative trading tools the platform offers, the intuitive user interface that boasts comprehensive trading charts, the mobile application that makes swapping coins even more convenient when trading on the go, as well as the highly professional and reliable customer support team available 24/7.
But, all good things come with a high price tag. When it comes to the Hotbit exchange, the transaction fees are likely the sole drawback for traders, as they seem to be slightly higher than what other cryptocurrency exchanges charge. Ideally, margin trading API functionality could be introduced in the future to justify the platform's slightly higher transaction fees.
However, knowing that this trading platform has one of the largest currency listings in the industry, as well as some of the most comprehensive security protocols, we might easily overlook this aspect and concentrate on the excellent trading opportunities that this CEX has to offer. We give it the green light, but – do proceed with caution, as with all things crypto.